26 Best Yogurt Desserts You Can Recreate At Home 2023
Are you tired of plain yogurt, so now looking for the best yogurt desserts to elevate the flavors after mealtime? Or you want to turn the gifted yogurt into a delicious sweet. Don't worry! I'm here to help.
This article will give you more than twenty sweet recipes, from the simplest to the fanciest. Some may even be big surprises to your family because of their outstanding flavors. So get your pen ready because you will note a lot of ideas here!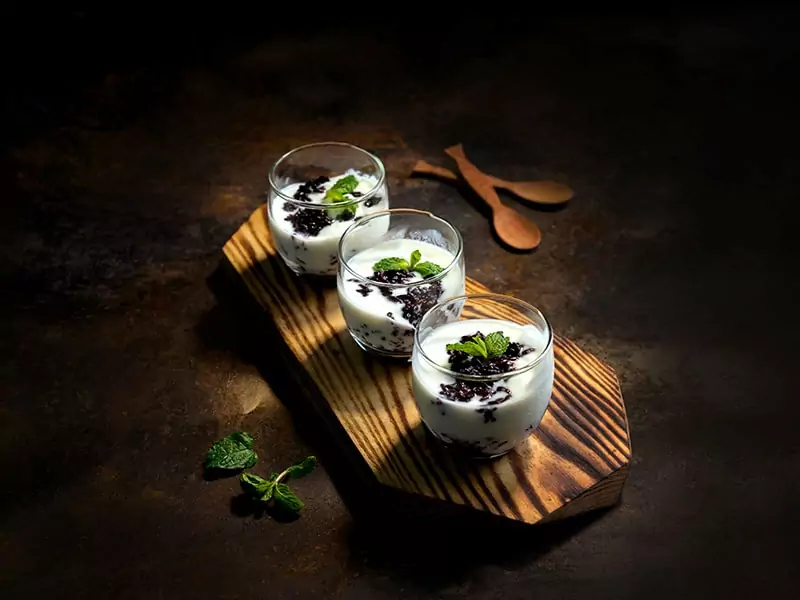 26 Perfect Yogurt Desserts For An Outstanding After-Dinner Treat
Many love yogurt for its digestive enzymes. But eating the same plain ones may get boring. No biggie! Below are various ways to turn yogurt into exciting sweet treats.
Total Time: 15 minutes
First, I will introduce this strained yogurt with honey, a traditional Bulgarian dessert. Though it only contains three familiar ingredients, it still can blow your mind with its beautiful appearance when layered in glasses.
Trying a spoonful of this treat, you find many flavors at once: sweet honey, tangy yogurt, and nutty walnuts. Strained yogurt also provides a smooth, creamy texture, resembling cream cheese.
Feel free to swap honey and walnuts for blueberries or strawberry jam if you want some tartness. If there is no available Bulgarian yogurt, you can use Greek yogurt instead.
Total Time: 15 minutes (excluding 6 hours of refrigerating and 10 minutes of standing)
Panna cotta in Italian means cooked cream, which refers to heavy cream as the main ingredient. However, my recipe calls for Greek yogurt and milk for a lighter mouthfeel.
The sweetness of this yogurt panna cotta pairs perfectly with some tart hints of macerated berries. They lend you a simple yet delicious dessert to impress the family.
Moreover, gelatin provides a lovely texture for this delicacy. Make sure to put in the right amount. Too much gelatin will cause your panna cotta to become a jelly, while too little gelatin leads to a runny panna cotta.
Panna cotta is not a suitable recipe for creativity. Instead, follow the recipe, and the result won't disappoint you.
Check out this simple homemade Greek yogurt panna cotta!
Total Time: 10 minutes (excluding 30 minutes of chilling)
This Jello yogurt fluff is creamy but low in calories, thanks to the sugar-free gelatin and nonfat yogurt. Since my recipe uses plain yogurt, you can pick any favorite flavored gelatin. My suggestions are berries or citrus ones.
When it comes to the toppings, your cup of melt-in-your-mouth dessert can go with many fruits. Raspberries or blueberries are ideal. Or you can decorate it with some slices of apples or pears. They will look pretty on a dollop of white yogurt.
Total Time: 10 minutes (excluding 3 hours of freezing)
Here comes one of the easiest strawberry desserts on the list. These strawberry banana frozen yogurt bites are a refreshing end to any summer party. More importantly, there is no bake required.
You only need to stir Greek yogurt, banana, and diced strawberries. Then, place the mixture on the store-bought waffle. With a strawberry slice on top, your dessert is perfect inside out.
However, this delicacy requires some setting time in the freezer. Therefore, you may want to make it in advance, so dessert is ready when guests arrive.
Total Time: 30 minutes (excluding freezing time)
With this tart frozen yogurt, you'll know the secret behind these yummy in-store yogurt bowls. In particular, Greek yogurt and plain one is the key to a nice consistency of creaminess.
Best of all, you can modify this frozen yogurt's tartness to your preference. Just add more sugar if you find it too acidic.
Besides, low-fat or whole milk yogurt can work well in this recipe. The former is healthier, while the latter is creamier. However, if you don't serve right away, you should not choose low-fat types, or your yogurt will be icy.
Total Time: 5 minutes (excluding at least 4 hours of freezing)
A cup of cookies and cream frozen yogurt is my go-to dessert on hot days. Every spoonful of smooth yogurt consists of numerous crushed cookies. So once you eat it, you can feel the tangy and bittersweet flavor in every bite.
The greatest thing about this recipe is that it doesn't require an ice cream machine. You only need to blend all ingredients in a food processor (or liquidizer). Then, leave the mixture in the freezer until frozen. Either way will bring you a creamy treat.
Let the blender help you with these hearty cookies and cream frozen yogurt!
Total Time: 1 hour (excluding 4 hours of chilling)
The extra tanginess of this first-class dessert with honey will wow you. The specialty is an excellent combination of Greek yogurt and Ricotta cheese, whose marriage gives birth to an example of Greek cuisine at its best.
After straining these two ingredients overnight, mix them with lemon zest, honey, and vanilla for a flavorful filling. The sour undertone cuts through the creamy mouthfeel to reduce the overall greasiness.
On the other hand, melted butter and graham cracker crumbs are in charge of the bottom crust. So once you finish the baking, the filling is jiggly while the crust is crumbly.
Don't skip the honey and crushed walnuts for toppings, as their additional nutty sweetness will satisfy your sweet craving from the very first bite.
Total Time: 37 minutes (excluding at least 4 hours of freezing)
Next up is another pastry dessert – frozen yogurt pie. This pie is also another no-bake dessert, so its crust is similar to the previous cheesecake but has honey for a sweeter flavor.
Meanwhile, the filling is a whole new world. Besides the smooth Greek yogurt, heavy cream lends a fluffy texture, whereas vanilla paste is in charge of flavor.
Let your creativity fly, and decorate this delicacy with your favorite fruits. My ideal choices are mandarin, strawberries, and kiwi. Moreover, you can store yogurt pie in the freezer for up to three days. Be sure to only place the fruits before serving.
Total Time: 25 minutes
Fruits and yogurt are a perfect couple, so how can I ignore this Mediterranean fruit salad? It has plenty of fruits soaking in a tangy Greek yogurt. Sprinkle some chopped almonds on top, and your salad is perfect to go.
The highlight of this fetching fruit dessert is that you can make it all year round. According to the fruit season, you can experience different tastes. However, the top of my mind is always peaches, apples, and berries. These fragrances will suit anyone's taste, even the pickiest one.
Total Time: 5 minutes (excluding 2 hours of freezing)
This frozen yogurt one gets inspiration from chocolate barks. However, instead of a bitter candy, plain yogurt and honey come together in this delight, turning it into a tangy yet refreshing dessert during summertime.
Yogurt bark is easier than you thought. Your kids can even help you to stir the ingredients before pouring the mixture onto the baking sheet. Some sliced strawberries and chopped almonds will be a nice addition.
Once the yogurt is frozen, divide it into bite-sized pieces. Serve them immediately after 2 – 3 minutes of sitting. Or, you can keep these barks in the freezer for later. They will remain in good condition for up to three months.
Here is the best raspberry frozen yogurt bark for your kids!
Total Time: 10 minutes
If you think the previous recipe takes too much time, this trifle can meet all your demands about a quick yet elegant treat.
It uses Greek yogurt instead of heavy cream, leading to a lighter texture. On top, there are layers of angel cake and berries. All combined provide a sweet-tart balanced dessert.
However, the yogurt can melt within an hour, depending on your room temperature. Therefore, it is best to serve immediately instead of preparing ahead.
Total Time: 40 minutes (excluding at least 2 hours of chilling)
Strawberry yogurt mousse has an extraordinary appearance that your kids are sure to love: A nice pink color with some red strawberry slices and white whipping cream.
Strawberries and full-fat yogurt are the keys to flavors. They offer a little tartness before a sweet touch of sugar rounds off the taste.
If you want your mousse to become fluffy, chill the bowl and heavy cream beforehand. Then, place the ice bowl under the one with heavy cream to maintain the low temperature when whisking.
Whip at a low speed until cream peaks. Make sure you do not over-process the heavy cream, or it may become butter.
Total Time: 20 minutes
The next dessert is truly a crowd pleaser. Fruits and angel cake create a lovely skewer. On the side, there is a unique dip made of cream cheese, yogurt, and vanilla. It adds creamy, silky goodness to your skewers.
To save time, you can prepare the condiment a night ahead. Then assemble skewers in the morning and refrigerate them until serving. So when the guests arrive, the dessert is already chill to serve.
But if you are the only eater, just toss all the ingredients in one bowl. You don't need all the fancy skewers, do you?
Total Time: 40 minutes
Vla-flip is a famous dessert in the Netherlands celebrating King's day. Like other custard desserts, eggs, milk, and cornstarch are gathered to make this one. Moreover, there are two extra elements: yogurt and berry compote.
Though this combination sounds strange, the result is delectable. The custard melts in your mouth while a dash of yogurt cuts through with a nice tang. Lastly, the sweetness of the compote beautifies all the flavors.
Don't forget to garnish this dessert with some fresh berries. This natural balance of tartness and sweetness will add extra sensations to every mouthful.
Let's discover how to make your Dutch Vlaflip from scratch!
Total Time: 15 minutes (excluding 2 hours of refrigerating)
Mango Shrikhand, also known as Aamrakhand, is one of the most loved desserts in India. It is not only insanely divine but also easy to make at home. All you need is a bowl, a whisk, and a strainer.
Shrikhand is simply a strained yogurt recipe, so Greek yogurt is ideal. To achieve a thicker texture, you need to squeeze out excess liquid. The rest is simple. You whisk all ingredients until you get the smooth cream.
Be careful not to overmix them if you do not want your dessert runny. Over hours of refrigerating, your final dish should be entirely aromatic until the last spoon.
Total Time: 15 minutes
This yogurt bomb will make a big bang on your dessert list with its outstanding taste and appearance. The reddish-purple compote melts over a thick white curd, making a volcano-like presentation on the dessert plate.
Aside from Greek yogurt, this delicacy also contains heavy cream, so its texture is somewhat creamier. On the other hand, the zesty hints of lemon elevate the flavor. Together, they complement sweetened berries, hence a more balanced flavor.
Nevertheless, the curd straining takes at least 12 hours, so you should spare some time to prepare it in advance. Plus, strain the yogurt mixture in the fridge to prevent it from getting too sour the next day.
Total Time: 50 minutes
Instead of a regular breakfast bowl, refresh your morning meal with this strawberry shortcake yogurt bowl. It is sweet, crunchy, and creamy at the same time.
Coconut flakes and pecans combine with rolled oats to recreate a shortcake texture. Vanilla and maple syrup are natural sweeteners helping enhance their flavor.
Of course, how can you forget the yogurt? The triple cream yogurt tastes the best with oat rolls and macerated strawberries, as they balance its creaminess and sweetness.
Total Time: 10 minutes (excluding 4 hours of freezing)
These berry yogurt popsicles are a perfect treat for your kids, especially on hot days! They have three layers: vanilla yogurt, berry yogurt, and sweet granola.
Just divide the yogurt into two parts. One is your white layer with a floral taste from vanilla and maple syrup, whereas the other will go with frozen Oregon blackberries for a sweet purple layer.
Though the layers are not separated, their diffuse color makes the dessert eye-catching. Plus some crunchy granola, nothing can rival your delicacy in entertaining the family.
How about simplifying your yogurt popsicles with only homemade berry compote and yogurt?
Total Time: 26 minutes (excluding 4 – 6 hours of soaking)
This delectable yogurt treat comes from Vietnam, a small Southeast country. It's a harmonious combination of yogurt and black sticky rice (gạo nếp cẩm).
This unique black rice is the highlight of this delicacy. It is sweet, chewy, and super aromatic. In a glass, its dark purple color gives out a gorgeous blend of the white creaminess of yogurt.
Best of all, sữa chua nếp cẩm is a healthy consumption. Yogurt provides digestive enzymes, while stick rice offers antioxidants and protein, enhancing your heart health.
Total Time: 22 minutes
These blueberry yogurt cookies will mesmerize you with the lovely tartness of yogurt and blueberries. Besides, this decadent has a pleasing aroma once baked, thanks to the presence of lemon.
And if you notice, there is no butter in this recipe since the Greek yogurt itself has enough moisture to keep your cookies from being dry. Moreover, the acidity of yogurt also contributes to the rise of cookies in addition to baking soda. So it is a win-win situation!
The most awaited moment in this recipe is when you take the batch out of the oven. The cookies reveal a golden brown outside, purple highlights on the inside, followed by a sweet fragrance. Those things are enough to captivate diners.
Total Time: 2 minutes (excluding 1 hour of freezing)
The upcoming yogurt creativity is these frozen donuts. They look like donuts but don't need frying, thus suitable for summer days. Simply combine Greek yogurt with raspberry jam. The creaminess of yogurt will be the backbone of this dessert. while jam infuses a summer taste.
Sprinkle chopped pistachios and frozen berries before pouring the yogurt mixture into donut molds. Then your delight will be ready after a couple of freezing hours. Remember to let it sit outside a few minutes before serving to avoid hurting your teeth.
Total Time: 20 minutes (excluding 4 hours of chilling)
Believe it or not, this not-so-familiar Indian dessert requires the least ingredients on the list. To make this sweet, you only need to whisk Greek yogurt and condensed milk before baking.
The baked yogurt will have a cheesecake-like creaminess: smooth, slight jiggle when shaken. Once you have a scoop of it, the decadent tastes sweet with a tangy tone, thanks to the condensed milk.
Moreover, there are many ways to make your dessert more flavorful. First, swap plain yogurt for flavored ones. Vanilla should be an option to please everyone. Or add spices like saffron or cinnamon for a more Indian style.
Lastly, let your toppings be the flavor decision. Pureed or fresh fruits are always the best choices for yogurt. Or, you can add a handful of nuts if you love the extra crunch.
Let's add extra cream for an insanely delicious smooth Bhapa Doi.
Total Time: 28 minutes
Is the combination of chocolate and yogurt possible? Do not worry! You can count on me in these fudge cupcakes. The Greek yogurt will lend a nice tang to chocolate cake, making it the star of the dinner dessert.
Like the previous recipes, yogurt is responsible for moisture recreation in this delicacy. However, its richness is not as overwhelming as butter, so it is more pleasing to any strict eater.
Furthermore, Greek yogurt also appears in the buttercream. It helps elevate the chocolate flavor of cocoa powder while making the cream melt in your mouth.
Total Time: 1 hour 6 minutes
This recipe will turn a simple cake mix into a fancy dessert. All you need to do is toss frozen strawberries, melted butter, and cake mix in the baking dish one at a time. Then bake until the cake is bubbly golden.
In the meantime, whisk whipped topping and yogurt together. And serve this mixture on top of the cake with some strawberry slices. The fluffy cream will intensify the extra strawberry flavor of the dump cake, making it more divine in every mouthfeel.
Total Time: 10 minutes (excluding 4 hours of freezing)
Prepare to lose yourself in the refreshing tang of this amazing pineapple-infused treat. Though it only has three ingredients, each is the key to the whole dish's deliciousness. While fresh pineapple adds the main flavor, honey enhances sweet notes, and yogurt offers a creamy texture.
Scoop this frozen yogurt into the empty pineapple shell for an impressive serving. But a regular bowl is still fine. Your guests will devour this yogurt in seconds.
Total Time: 50 minutes
Besides flour and eggs, yogurt is a crucial element in this lemon yogurt cake. It replaces butter to create the moistness of the overall pastry. It also offers a tangy flavor with lemon zest.
Wait until the cake is out of the oven. Everyone will adore how gorgeous the golden crust is. Keep in mind to only grate the outer golden zest of the lemon as the white pith is bitter and can ruin your delicious cake.
Combine all the handy ingredients to make this lemon yogurt cake!
Let Yogurt Whip Up Your Sweet Dessert In No Time
After reading, you now know yogurt is not simply a plain dessert. Instead, it is the incredible ingredient whose tangy creaminess has a position in numerous sweet recipes, from West to East. So why not grab one yogurt and make many dishes?
Tell me your thoughts in the comment box once you finish your favorite yogurt dessert recipe. Whether compliment or complaint, people will read it for learning, so feel comfortable!
As always, hit the like button and share my post. Your care is valuable to me and the development of the cooking community. Thank you, and see you soon!
Nutrition Facts
4 servings per container
---
Amount Per ServingCalories289
% Daily Value *
Total Fat 1.6g

2

%
Cholesterol 7mg

3

%
Sodium 123mg

6

%
Potassium 371mg

11

%
Total Carbohydrate 49.2g

17

%
Protein 16g

32

%
---
* The % Daily Value tells you how much a nutrient in a serving of food contributes to a daily diet. 2,000 calories a day is used for general nutrition advice.