22 Best Carrot Desserts To Whet Your Appetite 2023
There are many best carrot desserts that you can make every day. Each of them is highly delicious and offers many health benefits. With simple ingredients and not too complicated cooking methods, you would not believe carrots could be used to make so many different desserts.
When people are full, they are less likely to want to eat anything else. But you can use the recipes below to evoke people's interest and curiosity after they have finished their main course.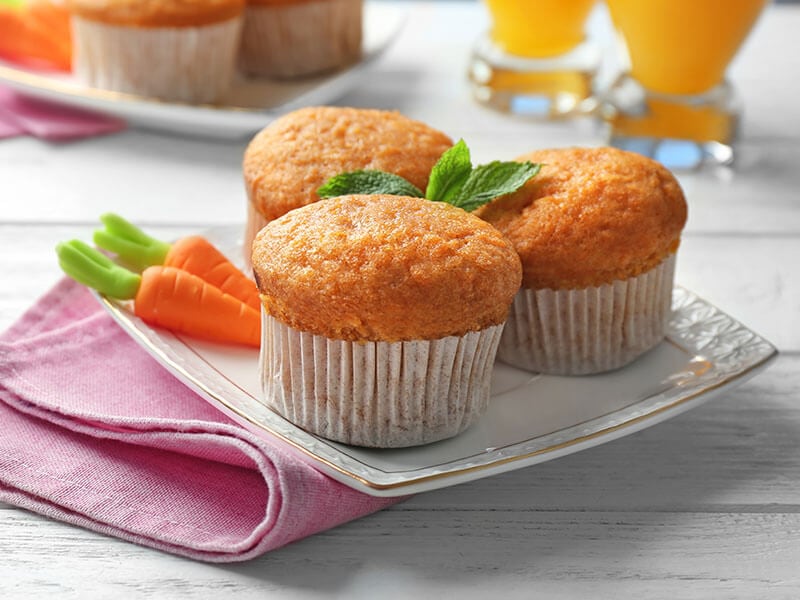 Carrot Desserts Is A Great Way To Finish Your Heavy Meal
Carrots are commonly used in soups, salads, and main courses. However, the menu below will help you become acquainted with preparing this root vegetable for sweet treats, such as fantastic fall desserts. Consider this a new challenge in your journey to becoming a kitchen master!
Total time: 45 minutes
The first name of the menu might sound a little weird. Have you ever heard of a combination of carrots and coffee cakes before? Don't be confused; this dish is relatively simple to prepare and makes a big impression on everyone.
Carrot coffee cake is based on a basic and popular cake with most families: the coffee cake. The highlight here is the shredded carrots in the mixture. They give additional texture to the cake, making it firmer and thicker.
You may want to add some chopped nuts for an extra nutty and crunchy texture on top. Do not use pre-shredded carrots in the supermarket because they might be too dry and unsuitable for baking.
Total time: 55 minutes
Want to enjoy a small dessert that you can hold in your hand rather than a gigantic cake? If so, those attractive carrot cake bars are your guy. You can easily make and share them with your friends and neighbors.
The cake truly amazes everyone with its simple yet stunning appearance. Those minced orange carrots on the brown surface make the cake more attractive as well as diversity its texture.
But your dessert can only be complete with the frosting on top. Aromatic cinnamon and ginger are must-have ingredients for your sweet treat, while cream cheese will make the frosting smoother.
Carrot cake bars are ideal for eating with your hands, especially at buffets.
Total time: 1 hour 5 minutes
"Blondie" is the shortened form of "blonde brownie", referring to the main color of the cake. You can easily make this delicious dessert at home without spending too much time and money.
The cake's overall flavor is derived from the mixture of unsalted butter, sugar, all-purpose flour, and of course, carrots. Besides, cinnamon and vanilla extract will make the cake more fragrant and enjoyable to savor.
You do not need to worry if they are too dry. The cream cheese frosting can totally balance the overall texture with its creaminess and smoothness.
Total time: 3 hours ( including 2 hours of rising time )
If you're exhausted from following other carrot cake recipes, try these cake cinnamon rolls. The cooking method is straightforward, but the result is wonderful. I am confident that your children will enjoy it.
Mix the ingredients, including basic baking ingredients, milk, and grated carrots. To get a beautiful appearance, you have to roll the dough flat into a rectangular shape. Sprinkle brown sugar and spice mixture to achieve a light sweetness.
Serve these golden brown spiral rolls to your guests. When you have a bite, a mix of a sweet filling and a fluffy layer of baked dough will please your appetite. If you want to vary its texture, try putting nutmeg on every roll before serving.
Total time: 20 minutes
Do you like to have a donut but still hesitate because of its greasiness? Then I believe this "no-frying" version can meet your needs without requiring too much time for cooking. Take a bite and feel the difference.
You will need eggs, butter, vanilla, and sugar for the mixing. Besides, add some orange juice to create a mild sour taste. Then combine baking powder, baking soda, salt, and all spices for donut batter.
Of course, you can not make a carrot donut without the carrot. Bake the combination by using a donut pan to shape it beautifully. The vanilla glaze will complement the flavor of the donuts.
Be warned that you will not be able to stop eating these donuts because their soft, fragrant crust and sweet exterior will always stimulate your taste buds.
Total time: 50 minutes
You can make carrot cake whoopie pies by combining 2 soft carrot cake cookies with a dense layer of cream cheese icing in the middle, creating a sandwich-like dessert.
You may be interested in the soft texture of carrot cake cookies at your first bite. Next comes the creamy and buttery taste. The cream cheese filling is very smooth and will melt in your mouth immediately.
To get a nutty and crunchy texture for cookies, you may want to add some chopped pecans or walnuts. I recommend using shredded coconut due to its milky color and nutty flavor to enhance the dish.
Make carrot cake whoopie pie for your guest on Easter, and they will ask you to do it again.
Total time: 55 minutes
It would be a mistake to dismiss these cupcakes as a boring dessert at first glance. Believe me: one bite, and you will never forget it. Many people have tried making this tasty sugar-free delight, and they all agree that it is far more delicious than the regular one.
To make the batter, prioritize the use of Xanthan gum power. This, along with blackstrap molasses, will infuse every bite with an amazingly sweet flavor.
The moment you chew through the muffin, the distinct fragrances of the ingredients combined with the melted cream cheese frosting will convince you that making this dish is the best choice you can make.
Total time: 30 minutes
It is not necessary to make vegan carrot muffins as a dessert. You can start a new day by making these for breakfast or even as a healthy snack for children. You can be self-assured about their deliciousness as well as nutritional value.
These muffins have a moist and fluffy interior. You can experiment with different toppings to create new flavors and textures. For me, I would love to add some chocolate for a bittersweet taste.
Try mixing some vanilla glaze with powdered sugar and almond milk to make the muffin sweeter if you enjoy eating sweets.
Total time: 45 minutes
Have you still not decided what to make for your guests on Easter? This dessert recipe is the answer. Impressing the guest with small round carrot cakes is not a bad idea for an important occasion.
These carrot cake ball truffles are unlike any other carrot cake you have ever had. They have a soft and moist texture on the inside, giving everyone a pleasant mouthfeel. Do not forget the pecan chips, which also give every ball a fatty flavor.
Another difference in this dish is that the cream cheese is mixed into the cake to add flavor and firmness. To get the white milky outer layer, dip all cake balls in melted white chocolate before serving.
Follow this guide, and you will learn how to make the healthiest carrot cake balls for a quick snack.
Total time: 1 hour 35 minutes
One more carrot-based dessert for holidays that you can easily make at home. Anyone can get excited about a slice of cheesecake, but an extra layer of carrot cake? Well, that will make the dessert even more interesting.
Although the preparation phase will take a little longer, the results will exceed your expectations. The cheesecake layer on top will be a welcome addition to the carrot cake layer beneath.
The rich cheese flavor is the highlight that elevates the otherwise mundane carrot cake flavor to a new level, especially when both layers are soft and break away nicely in your mouth.
Total time: 1 hour
Despite being made from simple ingredients, the cream cheese carrot cake trifle is a dessert that exudes elegance and sophistication to your guests. It looks great, tastes yummy, and represents an excellent choice for serving the crowds.
Because of its special texture, when you eat it, you will clearly feel all the fluffiness and sweetness of carrot cake and cream cheese in your mouth with just 1 scoop.
You can also make the trifle more creamy and fluffy by adding whipped cream to the filling, though this is an optional step. But finishing the trifle with sprinkled walnuts to get an attractive appearance is not.
Total time: 1 hour 15 minutes ( including 20 minutes of cooling time)
You can improve the traditional carrot cake by adding other ingredients. Full-flavored tropical fruits can serve as a terrific addition, such as pineapples.
You'll fall in love with it the first time you try this improved carrot cake recipe. The sweetness combined with the slight sourness of the pineapple really elevates the flavor of the cake.
When you have a bite of this treat, this amazingly stimulating taste will flood your tongue with waves of tingling sensations. The more you eat, the more your tongue will be bathed in this tropical goodness.
Total time: 1 hour 10 minutes
This recipe encourages you to experiment with carrots and apples, strange as that may sound. In return, you can receive a delicious and nutritious carrot and apple loaf for the entire family.
The first step is to grate the apples and carrots. Select firm and flavorful apples that won't break during baking, like the Granny Smith variety. Next, mix them with a batter formed from spices and usual baking ingredients before sending everything to the oven.
Bake the cake for about 50 minutes, or until it turns soft, gold brown, and overflowing with the combined aroma of carrots and apples. However, don't forget that the baking time may change according to the moisture of the ingredients as well as other variances.
Carrot apple bread is always excellent for your breakfast. Learn how to prepare it here.
Total time: 40 minutes
A pastry from far away will enrich the variety of your dessert menu. Turkish carrot truffles are perfect for those who want to try dishes with unusual appearances and tastes. Let's find out what they are.
To make these beautiful carrot truffles, boil carrots with a pressure cooker first before pureeing them. After that, simmer carrots with a little sugar. After the mixture has completely cooled, roll it into balls and coat with crushed coconut or pistachios.
The toppings serve as an additional seasoning, making the truffles richer and more colorful. This dish tastes better when cold, so store it in the refrigerator in an airtight bag. However, you should not keep them in the refrigerator for more than one week.
Total time: 1 hour 5 minutes
Many people care more about the price and taste of food than the nutritional value though this aspect is quite important. You can easily solve the latter problem by including some vegetables or nuts in your daily meals, like adding chia seeds to your carrot cakes.
They have a unique texture when combined with other liquid foods, in addition to their awesome nutritional benefits. It thickens the mixture, giving the perfect pudding dessert a special texture that delights the eater.
You may want to refrigerate the dessert at night to enjoy the next morning. If you want it to be more crunchy and nutty, try to put some chopped nuts on top.
Total time: 30 minutes
Traditional waffles usually consist of flour, eggs, milk, and sugar. But this recipe offers a more interesting twist by including shredded carrot, spices, and some other aromatic ingredients. The fragrance of cinnamon and vanilla extract really levels up its flavor.
You can choose between pecans or walnuts as an additional ingredient to improve the texture of the dish. In case you wish for chewy waffles that are fun to bite, I recommend you cook them for a few extra minutes.
Waffles, but tastes like carrot cake? Have you tried it before?
Total time: 22 minutes
Try to make some carrot cake oatmeal cookies if you enjoy sweets but are concerned about your diet. These cookies taste exactly like classic carrot cake but have a healthier nutritional profile.
The star of the recipe is undoubtedly oatmeal and shredded carrot. They combine nicely with each other to create delectable cookies that will give you plenty of fiber and nutrients.
Have a bite, and you will find that these palatable goodies with honey have a pleasant and natural sweetness that isn't much of an overkill like refined sugar. The flavor of the cake will be further enhanced by the distinctive scent of cinnamon.
Total time: 1 hour 10 minutes
Following the menu, I want to introduce a special dish from India, carrot Halwa spring roll. This variation will be a good option for your family if you are tired of mundane desserts.
You should begin by making the filling and cooking grated carrots in milk (I suggest condensed milk). You will love the milky sweetness that this mixture brings to every roll. Add your favorite nuts to make this dessert more flavorful.
Finally, assemble the spring rolls and deep-fry them in oil before serving with ice cream. The combination of warm rolls that comes with cold ice cream will impress everyone. Each roll can be coated with a thin layer of syrup for a light sweetness.
Total time: 55 minutes
Italy is a lovely country with many delectable dishes. And today, I am bringing Italy to you with this Italian carrot bundt cake. You can make it any time of year for your breakfast, snack, or dessert after the meal.
This dish does not include traditional carrot cake ingredients such as seeds or nuts. Instead, orange juice and orange peel are used to enhance the flavor of the main ingredient: carrots.
As a result, the cake will have a beautiful orange outer layer as well as a slight orange flavor when you eat it. Not only that, but the cake's interior is extremely moist, making it the ideal snack for everyone.
Do you want a beautiful carrot bundt cake for a special occasion? Check out this tutorial!
Total time: 50 minutes
Have you ever considered making cakes with raw carrots instead of cooked carrots? If you have that thought, let me tell you that idea can lead to a very delicious result.
Let's start with grating the carrots and squeezing out the liquid. Blend them with dates in a processor. Now, let's combine what you've just made with a mixture of coarse oat flour, ground walnut, salt, coconut, and spices.
Finally, place the batter in a pan before moving it to a freezer. Creating a perfectly crunchy texture for the cakes takes at least 30 minutes. So during the waiting time, you may want to make cashew lemon cream to ice the finished cakes.
Total time: 2 hours
Try this pecan-stuffed caramel carrot cake at least once to experience the difference that caramel adds to an ordinary carrot cake.
One simple thing you need to do is caramelize the pecans, then add them to the mixture. After that, prepare salted caramel from sugar, butter, and warm heavy cream for the middle layer.
As a result, you will have a 2 layer of carrot cake with caramelized pecans and cream cheese frosting. The beautiful brown color of caramel mixed with cream color can charm anyone and stimulate their stomach. No one can resist the cake's many layers of alternating flavors.
Total time: 5 minutes
This is most likely my favorite dish on the menu, not only in overall nutritional value but also in terms of versatility. Any kind of nuts or vegetables you like can go into this smooth and velvety treat with an amazing flavor.
A perfect carrot smoothie should have a smooth thick texture and beautiful golden orange color. The main ingredients for this dish are also various appetite-stimulating fruits, such as bananas or pineapples.
You might feel it tastes exactly like a carrot cake in liquid form. Feel free to use it as a meal replacement for kids. The dish's smooth and creamy texture will make it easier for children to eat.
Make Carrot Desserts To Get A Healthier Meal
Desserts are not only a simple dish at the end of each meal; they are also a tool to help people relax and connect over a friendly chat. A delicious and nutritious carrot dessert will help conversations flow and make people get closer to each other.
Therefore, it will be a huge motivator for me if those sweets can really satisfy you and your family. Will you share this post with everyone to spread the love? Please leave any comments or questions in the section below, and I will respond as soon as possible.
Nutrition Facts
10 servings per container
---
Amount Per ServingCalories293
% Daily Value *
Total Fat 13.5g

20

%
Cholesterol 48mg

16

%
Sodium 236mg

10

%
Potassium 130mg

4

%
Total Carbohydrate 41g

14

%

Dietary Fiber 1.4g

4

%
Sugars 23.9g

Protein 3.5g

6

%
---
Calcium

41

%
Iron

1

%
Vitamin D

14

%
* The % Daily Value tells you how much a nutrient in a serving of food contributes to a daily diet. 2,000 calories a day is used for general nutrition advice.