If you want an elegant party, preparing some seafood appetizers should be the first thing on your mind. Usually, when it comes to starters, people tend to focus too much on chicken, pork, or veggies. Hence, switching things up with some seafood will add a spark to your party.
And don't worry; these recipes won't take you all day to prep. They are quick, simple, and tasty and will make your guests feel like they are enjoying the meal at a fancy restaurant.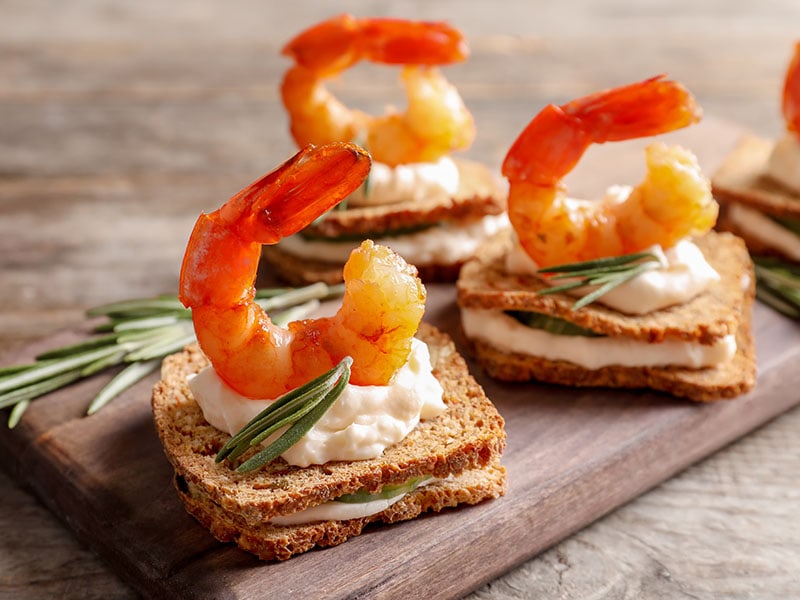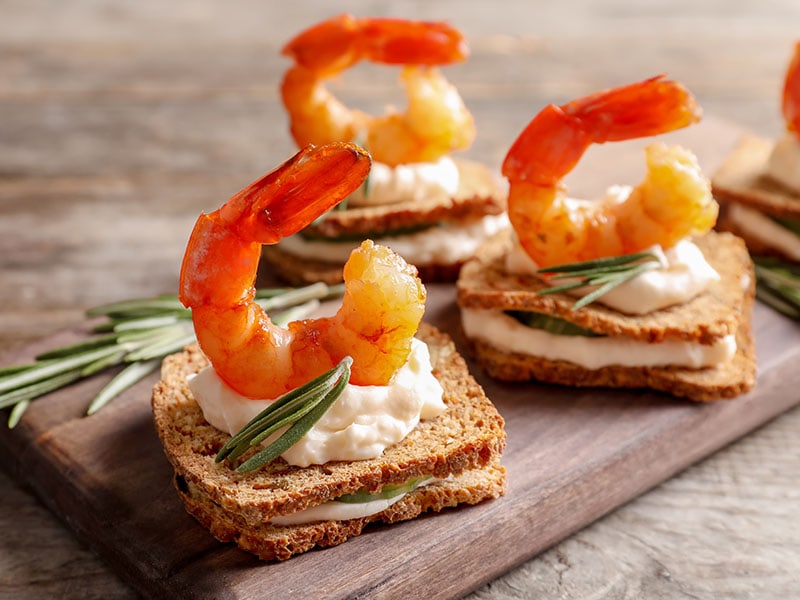 Be Careful; These Seafood Appetizers Can Steal The Spotlight!
When someone mentions seafood, the first thing that comes to mind is fish or shrimp. But if you have thought about it, the possibilities of seafood snacks are as vast as the ocean's bounty.
Every kind of seafood is versatile, from fishes, crabs, and shrimp to other less-obvious choices like clams, scallops, and oysters. They are suitable for any occasion and add freshness to hot and cold dishes.
That's why seafood is the perfect choice to start a meal. If you don't believe me, look at the extensive list below for some inspiration!
Total time: 21 minutes.
These homemade crab rangoons will remind you why you bought an air fryer in the first place: They are quick to make, less greasy, and a lot more delicious than the ones you can get from Chinese takeout!
Although this flavorful air fryer dinner recipe is so simple, there is one thing you should note beforehand: Remove the excess liquid from the crab meat before cooking. If you forget this step, your wontons will become soggy, which is something everybody dreads!
Mixing some full-fat cream cheese with crab meat using an electric mixer will make your wontons much richer. Remember not to stuff your wontons with more than a dollop of the mixture. Otherwise, they won't be able to close.
Air fry them for 6-8 minutes, and your creamy, savory fried dumplings are ready! Aside from the taste, what's good about this recipe is that you can prepare these rangoons ahead of time and freeze them. You can toss them in the air fryer straight from the freezer.
Total time: 30 minutes.
No one can resist this: Crispy bacon strips wrap around juicy scallops. Scallops are wonderful on their own, but try covering them in bacon, and you will end up with a restaurant-quality appetizer suitable for any occasion.
For most home cooks, the idea of preparing scallops might seem intimidating. But don't worry, just make sure you pat them completely dry before cooking to get a crusty sear. Then, you only have to pan-fry them with the bacon for 3-4 minutes per side.
After pan-searing them, the scallops will have a tempting golden crust. Top them with an indulgent garlic-butter sauce, then serve and enjoy!
Gourmet dinner at home is possible with this bacon-wrapped scallop recipe!
Total time: 11 minutes.
Any American can die for some savory buffalo chicken wings. But if you are looking for a different take on this all-time favorite, let's get creative with this succulent shrimp starter, which is coated in flavorful buffalo sauce!
This is one of the simplest shrimp recipes you can find out there. Just coat the shrimp in Cajun seasoning and grill or broil them for a few minutes. After taking them out of the oven, dip them in buffalo sauce. There you are!
The blend of garlic powder, paprika, and cayenne powder in Cajun seasoning will introduce all sorts of flavors to your mouth. This is further elevated by the distinct tangy, spicy taste of buffalo sauce, making the taste so addictive. After one bite, you won't be able to stop!
Total time: 20 minutes.
Are you looking for something quirkier than simple crabs or shrimp? In that case, this fragrant recipe with clams is for you!
The key to success is to choose the right type of clams. Being the smallest and sweetest variety of quahogs, littleneck clams are the perfect option for steaming. Look for them when you go to the seafood counter.
The process is straightforward: Melt the butter, add some garlic, and pour some white wine. Then, you will stem the clams in this aromatic, tasty mixture.
Pair your buttery, garlicky shellfish with a chilled glass of white wine, and your quintessential summer appetizer is ready to serve. You can almost hear the waves crashing on the beach!
Total time: 20 minutes.
Shout out to all corn lovers! This recipe is truly special because it features corn in 3 different forms: Creamed corn, cornmeal, and, of course, regular corn kernels.
While corn kernels contribute to the sweetness, cornmeal makes your cakes crispy on the outside, and the soft, moist interior is thanks to creamed corn. Altogether, they create the most addictive bites that will fly off the plate in no time.
But still, cajun shrimp is the highlight. The fresh shrimp flavor with a satisfying crunchy texture will make you finish the cakes in one go!
Total time: 60 minutes.
For weight watchers, the benefits of shrimp are obvious: Not only are they high in protein, but they are also incredibly filling, despite being low in calories. In this recipe, you will pair them with fiber-loaded sweet potatoes. Yes, these adorable bites are packed with goodness!
What's more, they are absolutely luscious: Slice sweet potatoes into coins, roast them in the oven with some Cheddar cheese sprinkled on top, then top them with chipotle shrimp and cilantro. The spicy and smoky chipotle sauce complements the semi-sweet shrimp perfectly.
Overall, these shrimp & sweet potato coins will be the perfect, healthy starter for your party.
Total time: 60 minutes.
Phyllo cups are extremely versatile: You can enjoy these crispy pastry bites hot or cold with any filling. They are suitable for both formal dinners and quick snacks.
Now, let's load them with cold shrimp dip and make them a hit at your next party! For this recipe, I don't like to use too many spices. If you are too generous with the dressing, sauce, or spices, they might overwhelm the mild flavor of shrimp.
Therefore, I'm going to mix the shrimp with celery, mayo, green onion, lemon juice, and parsley. These provide just the right amount of tanginess to complement the shrimp without overshadowing it, creating the best appetizer with phyllo cups ever.
With the clean shrimp flavor and a refreshing touch from the herbs, this will get any summer gathering off to a great start!
Total time: 45 minutes.
Decadent, mouth-watering, and impressive – these crab-stuffed shrimp will be amazing for a party or even a romantic date night meal for two.
The jumbo shrimp are butterflied and filled with a buttery mixture of crab meat that will melt in your mouth. You will season the crab meat with cilantro, lemon juice, paprika, black pepper, creole seasoning, and old bay to give it a fresh herbal taste that's pleasant to the taste buds.
Make sure you add a generous amount of butter before baking. That way, the shrimp and crab meat will maintain their moisture, making them luscious.
These crab-stuffed shrimps might be the best shrimps you have ever tasted!
Total time: 35 minutes.
These creamy low-carb bites are spectacular. They feature a savory and cheesy taste that won't overpower the juiciness of crab meat. Even better, those yummy mushroom-based appetizers are quick to prepare, and you can even heat them using the microwave in no time at all!
For this one, I'd suggest using fresh Alaska King crab. You will have delicious, bright white meat, but getting them out of the shell can be a bit challenging if you don't often cook. If you find Alaska King crab too difficult to work with, the blue crab is a good choice, too.
Fill the mushrooms with crab meat, cream cheese, and parmesan cheese, then put the whole thing in the oven until the mushrooms are tender and the filling turns deliciously brown. Your guests will be craving more!
Total time: 30 minutes.
Like clams and oysters, mussels have a mild "ocean" flavor with a faintly sweet, mushroom-like undertone. Their distinctive flavors will stand out even more if you pair them with garlic and butter.
Fresh mussels are, of course, the key to this wonderful dish. Let your nose guide you: The good ones should look wet and smell like the sea air, salty and clean. In addition, their shells should close tightly.
Once you finish the shopping, you are halfway there. Whipping up this crowd pleaser is extremely easy, requiring only 9 ingredients and roughly 30 minutes. Once you open the oven, you will be greeted with the creamy, pleasant aroma of melted butter and fresh seafood!
Total time: 2 hours and 15 minutes.
Regarding entertaining, nothing matches some fresh and crunchy calamari!
Wanna know the secret to its enchantment? Buttermilk, my dear! Begin by soaking the squid in buttermilk for a few hours before cooking. Because of its lower pH, this liquid is slightly acidic. Hence, it tenderizes the calamari.
It's a bit more time-consuming, you might think, but worthwhile. Furthermore, the extra thickness of buttermilk helps the breading adhere to the ring, so you don't have to use beaten eggs.
With fine, pebble-like grains, cornmeal gives calamari the satisfying crispiness everyone loves. Enhance the flavor with cocktail sauce, marinara sauce, or lemon aioli sauce, depending on your preference.
Find out the secret blueprint to the extra-crispy calamari!
Total time: 30 minutes (excluding 24 hours of refrigerating time).
So you are a fan of Mexican tacos and sweet, spicy, creamy bang bang sauce? Well, this delicious, well-balanced recipe is for you!
These fish taco bites are crispy and flavorful with battered salted cod. They are texturally interesting and feel more decadent than they really are. But the real MVP here is the condiment, which contributes to the perfect combination of sweetness and spiciness.
The result is fabulous. You will get addicted to the flaky texture of the fish with the crispy batter smothered in that heavenly topping. The savoriness of salted cod and the sauce's spiciness make these tiny bites a flavor bomb!
Total time: 1 hour.
Perhaps green peas are not everyone's cup of tea, but how about green pea dip? No matter how often I make it, this dip has always been a hit with my guests. Even self-avowed pea haters find themselves parking in front of the bowl!
This creamy puree goes so well with pan-seared scallops. Brought to us by the sea, this exquisite delicacy features a subtle combination of sweet, buttery, and nutty flavors that can be overwhelming, but green pea dip makes them shine.
Decorate these scallops with salmon caviar or bacon chips, and you have an appetizer that's delicious and Instagramable! With the heavy cream and seafood, this dish will become indulgent, so I suggest serving no more than 2 cups per guest.
Total time: 25 minutes.
This lively dip is another quick-to-prep hors d'oeuvre that allows you to spend more time with your guests than working in the kitchen.
Well, there is a reason this ooey-gooey cheese with chunks of crab became a classic. Everyone loves it, and you can always whip it up even when you are short on time.
Hot crab dip features a perfect balance of crab meat with a swirl of creamy ingredients, fresh and tangy seasoning, and a touch of heat. Lump crab meat, melty cheese, cream cheese, and mayonnaise combine to create a rich and oh-so-flavorful dip.
This "hot" crab dip is not "hot" like "spicy", but "hot" like "warm and melty and comforting". Prepare a lot of crackers because everyone won't get enough!
No matter what you say, hot crab dip is always the king of appetizers!
Total time: 30 minutes.
What's not to love about fondue? Sometimes perfection is just a pot of melted, ooey-gooey cheese. It sounds like a super fun thing to do, especially at a friend or family gathering.
The idea of this traditional Swiss dish sounds exciting because it allows you to play with the food. Yes, you can dip whatever you like, but you won't want to try any other dipper once you take a bite of this iconic lobster appetizer!
Generally, lobster bisque is sweet and succulent, with a touch of freshness from lemon juice that combines so well with the rich and mild cheese. If possible, I would gladly dunk my whole life in this huge bowl of super cheesy lobster!
In all the cozy, creamy glory of both fondue and lobster bisque, this treat would be most suitable for cold days. You can also use it as a simple yet tasty way to utilize leftover lobster. Let this decadent treat warm you up from the inside!
Total time: 40 minutes.
Things may have changed, but shrimp cocktails are always the party's star. This simple treat is a healthy indulgence that will please even the most fastidious guests. And you can even prepare it ahead of time!
Just like any Mexican dish, this shrimp cocktail is a combination of savory and earthy flavors. Of course, fresh shrimp take the spotlight, but most of the aroma comes from the mix of chili powder, smoked paprika, jalapeno, and horseradish.
Unlike the traditional shrimp cocktail, in this recipe, you will pan-searing the shrimp instead of boiling it. This will help you save a lot of time since you only need 5 minutes to cook the shrimp. Pan-searing boosts the flavor and odor, too!
Total time: 15 minutes.
If you are a fan of Nashville hot chicken wings, you will love this fascinating oyster-based starter! Swapping chicken with oysters is also a cool way to reduce calorie intake while still enjoying your favorite treat.
Just like the original appetizer recipe made from juicy chicken, these Nashville fried oysters are crispy and filled with a major kick of flavors. The oysters get a hefty dose of spices thanks to hot sauce and cayenne in the coating and the spicy sauce drizzled over the top.
However, since this is meant to serve as a starter, I often make the oysters milder than the original Nashville Hot recipe. If you prefer them hotter for a nice snack, just go wild with the cayenne!
Total time: 40 minutes.
What does "Rockefeller" mean? In the Seafoodies' dictionary, it stands for "rich"! As the name states, you will mix creamy oysters with butter, parmesan cheese, Worcestershire sauce, tabasco sauce, and spinach before broiling the mixture to perfection.
The original oyster Rockefeller dip recipe also includes Pernod – an anise-flavored liqueur from France. It has a distinctive taste, especially when paired with seafood.
However, it's quite costly and hard to find in American grocery stores, so I don't recommend buying Pernod.
Instead, you can replace it with tabasco sauce and Worcestershire sauce. Their spiciness will add just the right flavor without overpowering the oysters and spinach.
This restaurant-style oyster Rockefeller dip is perfect for Christmas, Valentine's Day, and any occasion!
Total time: 35 minutes.
I love oysters because they are so delicious, even without cooking. For most people, they taste even better raw. That means you can prepare this simple, flavorful tidbit in the blink of an eye. All it takes is some mixing of ingredients on your part.
To make a sweet and tangy dressing, you will use wild blueberries, fine-chopped shallots, Prosecco vinegar, and black pepper. Then, spoon it over the oysters in their shells. You can add a sprinkle of lemon zest for extra tanginess if you like.
This unique dressing gives the dish an unmatched flavor, a vibrant splash of color, and an elegant, high-class vibe that no one will know you prepared in just 10 minutes.
Total time: 20 minutes.
Foodies are all familiar with the scrumptious croquette. This French-based dish often consists of minced meat or veggies coated with egg and bread crumbs.
But today, let's refresh these common croquettes with some salmon! Slice fresh salmon filets and blend them with parmesan cheese, shallot, Worcestershire sauce, panko bread crumbs, and eggs using a blender. Then, fry the mixture on each side for a few minutes (usually 5).
Fresh salmon and cheese contribute to the richness and buttery taste, while the outside is satisfyingly crunchy. Not every day can you see salmon croquettes, so after taking a bite, your guests will be blown away by surprise.
Total time: 20 minutes.
Smoked salmon and cucumber are the best choice for anyone who loves tasty cucumber appetizers. And you can never get bored of it: Crunchy cucumbers, lemony cream cheese, juicy smoked salmon, and a touch of dill make a refreshing and addictive combination.
Since it requires no cooking skills, your children can help prepare this lovely delicacy with leftover salmon for the upcoming party. Also, instead of just placing the salmon and cream cheese on cucumber slices, making cucumber rolls will make them more elegant and pleasing.
Note that you should only prepare these smoked salmon and cucumber rolls shortly before serving. If you keep them in the fridge for too long, the cucumbers will release their juice and become soggy.
These smoked salmon and cucumber rolls will make your mouth water, and you don't even have to cook!
Total time: 20 minutes.
Smoked trout tartines are something you often find in fancy French restaurants. It's an open-faced French sandwich topped with delicious smoked trout – a time-tested favorite enjoyed throughout the world for millennia.
The mild flavor of white wine vinegar balances out the smokiness of trout. Dress it up with a classic French take on smoked fish: Aromatic dill, crème fraîche (soured cream), piquant mustard, and, most importantly, a salty-sweet pop of shallots.
Just like that, you are ready to start the meal like a Parisian!
Total time: 30 minutes.
I love the spicy deviled eggs, and I love the shrimp, so I combine the two. With mayo and mustard for extra creaminess and tanginess, the deviled eggs already stand their ground.
Nonetheless, the pan-cooked shrimp and smoked paprika make an interesting twist that takes the dish to the next level.
If you prefer your eggs without mayonnaise, you can replace them with Greek yogurt. Add a drop of honey to the mixture to balance the yogurt's tangy taste. A combination of mashed avocado and yogurt would also work well in the place of mayo.
Total time: 30 minutes.
Crispy and spicy on the outside, sweet and tender on the inside, make these Thai shrimp cakes a more affordable alternative to crab cakes.
It doesn't get any less appetizing, though: The flavor profile is intense and delightful, thanks to a combination of chili-garlic sauce, coriander, and sweet Thai chili sauce. The panko bread is a binding agent for the cake, giving it a gratifying crunch.
You can serve Thai shrimp cakes with fresh green salads or make tiny seafood sandwiches by wedging them into small buns. Just don't forget the chili aioli sauce since it's the best creamy accompaniment.
These dynamic spicy shrimp cakes will bring a Thai flair to your party!
Total time: 30 minutes.
"Poke" (pronounced POH-keh) stands for "slice or cut" in Hawaiian. To prepare this dish, the cook will slice raw, unmarinated fish (typically tuna) and mix it with chunks of vegetables. Drizzled on top is a savory, umami-packed sauce.
Recently, this hearty Hawaiian classic has been rising in popularity as a refreshing way to enjoy seafood. Tuna poke can be an appetizer, too, if you serve it with crackers or crispy plantain chips.
In fact, if you get some sushi-grade tuna filets, you can toss them with only soy sauce, and they will taste fabulous. Other ingredients, such as sesame seeds, white rice vinegar, garlic, and onions, make it taste much better.
Total time: 5 minutes.
If you want a versatile appetizer, look no further than this salmon mousse. It can be a dip for your vegetable sticks, a spread on the bread, or a part for the charcuterie board. I usually top it on the cucumber rounds, perfect for a bite-sized starter.
And don't think it'll be a complicated dish. This mousse only takes 1 step: Blend the smoked salmon lox with cream cheese, lemon juice, dill, and other seasonings until smooth. Super easy, right?
Not to mention, you can use your creativity for this recipe. For example, it's an excellent dish to make use of canned salmon. Or, if you want some heat, add wasabi paste/powder or horseradish to the mousse. Lemon zest can increase the tanginess in the mousse.
Total time: 20 minutes.
There were many foodies in love with crabbies in the old days, but their number has dwindled. While crabbies used to be a famous appetizer with crab meat, their popularity slowly decreased over time. Yet that doesn't mean crabbies aren't delicious. Try this recipe once, and you'll make it repeatedly!
You only need several minutes to complete these crabbies. First, blend all the ingredients into a paste. Then, spread it on muffins and bake them in the oven for about 10 minutes. The result will be crusty muffins with melted cheese and savory crab meat.
And, you can make these crabbies into meal prep. Use wax paper or parchment paper to wrap your muffins and freeze them. Next time you want to eat them, take these muffins out and pop them in the oven for approximately 15 minutes.
Diving Into A Sea Of Flavors With These Starters!
That's it, the best seafood appetizers for you to try out for the upcoming party! They prove that seafood dishes are not complicated at all. Anyone can prepare these wonderful finger foods even without much cooking experience.
So, are you ready to impress your guests? Take inspiration from our list, but be careful: Some of these ideas can steal the spotlight from your main courses!
Do you have any wonderful seafood appetizer ideas? Share with me in the comment section! If you get inspiration from this article, introduce it on social media so others can learn and make these recipes themselves!
Nutrition Facts
4 servings per container
---
Amount Per ServingCalories522
% Daily Value *
Total Fat 35.3g

54

%
Cholesterol 166mg

56

%
Sodium 1212mg

51

%
Potassium 130mg

4

%
Total Carbohydrate 39.6g

13

%

Dietary Fiber 1g

4

%
Sugars 2.1g

Protein 22.4g

44

%
---
Calcium

260

%
Iron

2

%
Vitamin D

4

%
* The % Daily Value tells you how much a nutrient in a serving of food contributes to a daily diet. 2,000 calories a day is used for general nutrition advice.