23 Best Food Processor Recipes Nobody Should Miss In 2023
Why should you save these best food processor recipes immediately? The answer is super simple: they are so delicious and easy to make, especially with the help of this wonderful kitchen gadget!
A food processor is highly versatile. It can do just every task you want: dice, shred, slice, blend, etc. Therefore, recipes that you can make with it are endless. A food processor facilitates making salsa, hummus, salad, bread, and so on.
In today's post, I collected the best food processor recipes you can bring to your dining table. Let's jump in now!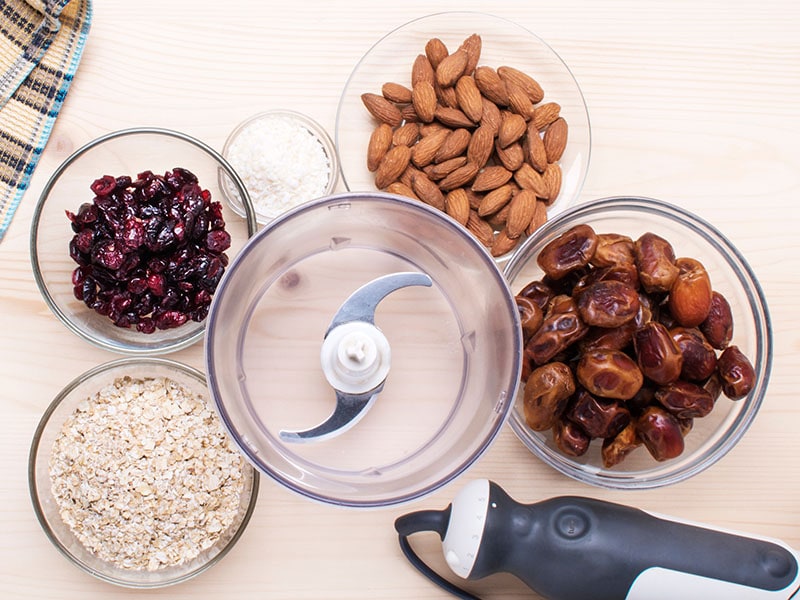 A Food Processor Is Indispensable In Your Kitchen!
As promised, here are the 23 best food processor recipes for you. If you have a food processor on hand, you're halfway to delicious meals.
Total time: 10 minutes
Belonging to Mexican cuisine, Guacamole is a dip made from avocados, lime juice, onions, tomatoes, and other ingredients. It's very easy to make with a food processor. You only need to place all ingredients into your food processor and blend until it's smooth.
It's possible to adjust its spiciness to your liking. For example, add more chili or jalapeños peppers to the mixture. Also, you can sprinkle with a pinch of warm, earthy cumin or citrusy cilantro to add more flavors.
Guacamole is a great accompaniment for many Mexican dishes, especially tortilla-based dishes. It can be a dip or topping for tacos, nachos, burritos, or enchiladas. Besides, you can enjoy it with your toasts, veggies, or even casseroles.
Total time: 44 minutes
Honduran tortillas are an integral part of baleada, a traditional street food in Honduras. A baleada involves tortillas stuffed with fried beans, crumbled cheese, and Honduran sour cream. In this recipe, let's learn how to make the most important part of this treat.
First, blend the flour with other ingredients with a food processor. Then, knead the dough until smooth and allow it to rest. Next, cut the roll of dough and roll it out into balls. You can use a tortilla press to make thin tortillas or simply roll the balls into thicker ones.
To cook the Honduran tortillas, you place each side of the tortillas on a pre-heated griddle to cook. Cooked tortillas can last in your fridge for three days. Then, when you want to eat them, simply pop them in the microwave or reheat them on a griddle to restore their crispiness.
Total time: 10 minutes
Tofu ricotta is a dairy-free answer to the Italian ricotta, a whey cheese made from the milk of sheep, cows, goats, etc. This vegan version has a creamy white texture, the same as the classic one. Besides, tofu ricotta is free of gluten, oil, and sugar, which suits many diets.
With a food processor, you can decide whether your tofu ricotta is smooth or chunky. Then, either blend the ingredients at low speed to create a smooth, creamy version or give the mixture pulses until it's chunky.
Tofu ricotta is an integral part of a tasty, vegan-friendly pasta dish. Besides, it can become a pasta sauce, veggie dip, or pizza topping. Lastly, slathering tofu ricotta on toast or sandwich brings deliciousness to your breakfast table.
Learn how to make vegan tofu ricotta and some ways to use it now!
Total time: 15 minutes
Get ready and make these vegan quesadillas! With only 15 minutes, you will have the most mouthwatering quesadillas full of chickpeas, tomatoes, and garlic. You will pulse all the filling ingredients in a food processor until partly blended and wrap them in a large tortilla.
After folding the quesadillas, you also need to toast the tortilla on both sides to make it turn golden brown. If you like spicy food, you can boost the heat by adding jalapeños
Guacamole or tomato sauce is among the most suitable pairings for these quesadillas. In addition, you can prepare a salad on the side. Cabbage and kale slaw is never wrong to accompany these delicious vegan quesadillas.
Total time: 35 minutes
These peanut butter chickpea muffins are made without flour but are still very tasty. To make them, you need some simple ingredients: chickpeas, peanut butter, baking powder, and others. Besides, you need to use natural creamy peanut butter to create fluffy muffins.
You can change some ingredients if you don't have some of them at home. For example, almond or cashew butter may be a good substitute for peanut butter. Also, maple syrup can give way to honey, making your muffins a bit sweeter.
Like other muffins, these peanut butter chickpea muffins can keep good on the counter for one day. If it's over that duration, remember to refrigerate them and pop them in your microwave when you want to serve.
Total time: 5 minutes
If you want another way to utilize your avocados, this creamy avocado cilantro lime dressing is for you. The dressing is a light and flavorful blend of those quality fruits and veggies.
The dressing is healthier than you may think. It contains avocado and other fresh ingredients, a great source of fiber, healthy fats, vitamins, and more. Besides, this dressing is free of carbs and low in calories, which is perfect for a delightful salad.
This avocado cilantro lime combines well with many dishes. For example, it is a great dressing on salads, a sandwich spread, and a dip for fries or veggies. You can also use it to garnish tacos or grain bowls.
Total time: 40 minutes
Hummus is a puree made with cooked chickpeas, tahini (sesame seeds and olive oil paste), lemon juice, and sometimes garlic. It has a tangy, nutty flavor and smooth texture, making it a good dip for crispy pita and fresh vegetables.
Besides classic hummus, you can add some fresh, leafy herbs to make a green goddess hummus, while using Kalamata olives creates a fattier version. You can also roast some ingredients beforehand to make roasted hummus.
Regarding garnishes, there are also many options. For example, some ground sumac or paprika added will bring colors to the hummus. Besides, you can top it with sesame seeds or chopped fresh parsley.
Hummus is so easy to make at home with a food processor and some simple steps.
Total time: 20 minutes
After Easter or Christmas, your family will likely have some leftover ham. I've got you covered. A ham salad is a perfect solution to turn leftover ham into a creamy, delicious meal. All you need is leftover ham, mayonnaise, celery, onions, eggs, and some condiments.
You can slather a ham salad on a slider bun or cracker to have a quick and simple snack. In addition, blend it once more and mix in pickle juice to make a dip. If you want a filling dish, combine this ham salad with macaroni or rotini to make your favorite ham pasta salad.
Leftover ham salad can stay good in an airtight container in your fridge for about five days. Just a note that it doesn't freeze well because the mayonnaise loses its original texture under such conditions.
Total time: 10 minutes
Believe it or not, you make this banana ice cream with only two ripe yet firm bananas. Simply put frozen bananas into a food processor. I will get the work done in minutes. This ice cream is such a creamy and refreshing dessert.
You must freeze the banana to the hardest to have the best ice cream. Your ice cream will be soggy if they are not completely frozen. A tip is to start with pulsing the frozen bananas and then give it a quick blend before serving.
Banana ice cream is versatile in terms of ingredients. Peanut butter, chocolate, mango, coffee, etc., are great options to include in the recipe. For serving, you can enjoy the ice cream immediately or move it back to the freezer to make it firm like ice creams.
Total time: 3 hours 55 minutes (with 3 hours 10 minutes of resting time)
Skillet focaccia ( Italian bread) couldn't be more delicious as a delectable treat to pair with pasta salad. Instead of kneading continuously, you can make the dough with a food processor. Simply add flour, salt, and yeast to this useful kitchen gadget and pulse them into a perfect dough.
The focaccia is moist (thanks to olive oil) and fragrant with rosemary. Cooking it in a cast iron skillet creates a crisper golden crust. Apart from rosemary, thyme, oregano, sliced lemons, or even some Parmesan cheese are all perfect toppings.
Skillet focaccia can combine with mortadella and cheese to become an Italian-style sandwich. Or, you can go for any favorite add-ins, such as grilled veggies or a steak. Also, focaccia is a great substitute for bread to mop up any savory sauce.
Total time: 8 minutes
Almond butter is another one-ingredient recipe you can easily make with a food processor. Feel free to spread the almond butter on sandwiches, toast, or pancakes for a quick breakfast. Since it refrigerates well, you can make and store it in your fridge.
The flavor of your almond butter varies depending on what almonds you use. Salted roasted almonds are great for making flavorful almond butter. You can buy it at stores or roast the almonds by yourself.
Not only is almond butter tasty, but it is beneficial for your health. It's a good source of protein, fiber, healthy fats, and plenty of vitamins and minerals. In addition, using almond butter regularly facilitates weight loss since its healthy fats and fiber make you full for longer.
Total time: 10 minutes
Carrot cake energy bites are full of protein and carbs, providing abundant energy for activities. They are essential for a workout, camping, or hiking. Besides, they have a natural sweetness from carrots, dates, almond butter, and maple syrup.
Dates may be the most nourishing ingredient as it contains plenty of iron, potassium, and magnesium. This date-dependent after-meal course calls for soft, moist dates, so you may want to soak them in hot water and drain them well beforehand.
You can keep these energy bites in your fridge for a week. After this time, the fresh carrots may change their taste. Nevertheless, these energy bites can last longer when you freeze them, so simply put them into a sealed container and place them into your freezer.
No one could resist those tasty carrot cake energy bites.
Total time: 33 minutes
Roasted red pepper sauce is dairy-free, with cashews and red pepper as the main ingredients. The sauce doesn't contain cheese, but there's still a cheesy flavor. That's because the recipe uses nutritional yeast, which has a savory taste similar to this dairy product.
In this recipe, you will need to roast the bell peppers before blending them with other ingredients in a food processor. If you find it a hassle to roast them, simply use jarred bell peppers.
The pepper sauce is perfect for dipping both roasted and raw veggies. Also, you can pair it with all kinds of pasta. Lastly, meaty flavors in chicken or fish will greatly enhance when you marinate them with this sauce.
Total time: 10 minutes
Another easy-peasy recipe to utilize your food processor is fresh tomato salsa. It comes together in minutes with plenty of easy-to-find veggies, such as Roma or plum tomatoes, onions, bell peppers, and cilantro.
In making the best salsa, tomatoes play the biggest role. You may want to select firm and fleshy tomatoes because they are perfect for chopping in a food processor. Otherwise, your salsa will be very soggy if it includes over-ripe tomatoes.
Fresh tomato salsa is most refreshing when served immediately from the food processor. If there are leftovers, you can store them in your fridge for five days.
Total time: 15 minutes
White bean sun-dried tomato dip is a familiar recipe containing cannellini beans (white kidney beans), canned beans liquid, and sun-dried tomatoes. Unlike other dips, this one is free of cheese, sour cream, and mayonnaise, hence a super light vegan dip.
Before draining the beans, remember to reserve the liquid (also known as aquafaba). As an ingredient, it makes your dip creamier. You can top the dip with cayenne pepper or hot sauce to give a subtle heat. Besides, a splash of olive oil makes it a bit richer.
For serving, simply dip raw vegetables, crusty bread, or crackers in the sauce. Besides, the sauce is a good spread for sandwiches, toast, or pita bread.
Total time: 40 minutes
You can easily make tahini by blending sesame seeds into a smooth paste with a food processor. With its nutty flavor and versatility, tahini is used in many dishes worldwide, notably in Mediterranean and Middle Eastern cuisine.
As you may know, sesame seeds contain many proteins, vitamins, and antioxidants. However, their hard, bitter-tasting outer layers may prevent you from fully enjoying the oilseed's nutty taste. But tahini made with hulled, ground sesame seeds solves this problem nicely.
Hummus is the dish that uses tahini the most. Besides, you may see tahini in Baba Ganoush, an eggplant dip containing roasted or grilled eggplant, tahini, and other ingredients. People also use tahini to make sauces, salad dressings, and baked cookies.
Total time: 10 minutes
If you are a chocolate fan, you mustn't miss these marvelous chocolate sweet creations in your next meal. You just need some ingredients and minutes, making it a breeze to make. These larabars are packed with a familiar flavor of chocolate chips and cacao powder.
Each ingredient has a different texture. For example, sweet dates are chewy, while blanched almonds have a fairly soft texture. Therefore, you should carefully blend all ingredients to ensure the final texture is smooth, firm, and moist.
These larabars are good and nutritious to include in your diet. However, they may contain high calories, so consume them in moderation if you follow a low-calorie diet.
Total time: 5 minutes
Chimichurri is an Argentina sauce with parsley, oregano, garlic, vinegar, and olive oil. The sauce is available in two main types: chimichurri verde (green version) and chimichurri rojo (red version). Both are flavorful condiments.
In the past, people chop the ingredients manually to create the sauce. Nowadays, you can use a food processor to make it, saving a great deal of time. This convenience also helps you to make a large amount.
This sauce is essential for grilled meat, such as picanha steak, beef, chicken, or fish. For storage, keep the sauce in a sealed container in your fridge for two weeks.
Chimichurri sauce is perfect for accompanying your favorite grilled meat!
Total time: 4 minutes
As the name implies, this sauce is delicious. To make this tangy, spicy condiment, you need tomato paste, mayo, garlic, and some spices. Unsurprisingly, it is much cheaper than store-bought products.
You can boost the sauce's flavor with some optional add-ins. First, just a little hot sauce gives your sauce a spicy flavor. Second, you can add an intense and smoky flavor with paprika. Finally, the sweetness from maple syrup complements that of fried onions.
The sauce is an ideal dip for roasted vegetables. However, some of its variations are also great. For example, switch tomato pastes to ketchup to make a Yum Yum ketchup. Also, you can make a healthier sauce by omitting mayo and adding plant-based yogurt and vinegar.
Total time: 35 minutes
Many people are unwilling to make gnocchi because they find it tiring to knead the dough continuously. Luckily, for this vegan sweet potato gnocchi, the dough can be made with a food processor.
It's possible to make gnocchi in advance. First, form the gnocchi and store it in your fridge. Then, simply boil it when you want to serve. Besides, you can also extend the shelf life of gnocchi by freezing it. Interestingly, you don't need to thaw them before cooking.
Making a nice accompanying sauce with vegan butter and fresh sage is a must. After that, toast and coast the boiled gnocchi with the sauce until slightly brown. Finally, serve with fresh sage and vegan Parmesan cheese on top.
Total time: 2 hours 23 minutes (with 1 hour 45 minutes of resting time)
This one is another no-knead recipe that you want to share. French bread has a fine texture and a slightly crunchy crust. It goes well with various dishes, including soups, stews, sauce, salads, etc.
You can use all-purpose or white bread flour to make successful French bread. You can also use whole wheat flour to include more protein, fiber, and minerals in your bread. However, whole wheat flour needs more water and may not produce a crackly crust.
You should enjoy warm French bread several hours after you bake it because the crisp crust will soften over time. Keep the bread in a resealable bag and place it in your freezer for longer storage.
Total time: 45 minutes
You may be familiar with chicken nuggets, so why don't you give it a vegan twist? These vegan nuggets made with chickpeas are as crispy as other chicken nuggets. They are also tender and flavorful with all the quality ingredients.
The breadcrumbs take these nuggets to the next level of crispiness. Whisked eggs help the breadcrumbs bind to the chickpea nuggets. Meanwhile, the seasoning of paprika, garlic powder, and onion powder lends its multiple flavors.
Vegan chicken nuggets are a perfect choice to go with baked potatoes as well as other types of baked veggies, especially. Also, they and green salad can make a combination that everyone yearns for.
Total time: 30 minutes
Let's complete today's list with a raw vegan carrot cake. It contains a base of sweet, sticky carrot cake and a creamy cashew frosting. The most interesting thing is that it's a raw cake, meaning no baking is needed.
For this recipe, you need to use Medjool dates because they are sweeter than regular ones. Besides, it has a moist texture that makes the cake sticky. You also need to select raw unsalted cashews for a flavorful and smooth texture of the frosting.
For serving, allow the cake to chill in the fridge for some hours after you finish all steps. Then, slice into small portions and enjoy. Note that the cake softens over time when you put it at room temperature.
You can make this beautifully delicious raw vegan carrot cake with no baking!
Cooking With Food Processors Couldn't Be Simpler!
Have you finished reading all the recipes? I hope you are now happy with some favorite food processor recipes above. Then, it's time to gear up and make delicious dishes. I'm sure the result will surprise you!
If you find my list useful, don't hesitate to share it with those who may need it. They will be happy about that! Also, if you have tried any recipe I recommend above, let me and other readers know how it was. Your ideas are always welcome.
Nutrition Facts
4 servings per container
---
Amount Per ServingCalories226
% Daily Value *
Total Fat 19.8g

30

%
Sodium 595mg

25

%
Potassium 686mg

20

%
Total Carbohydrate 13.5g

5

%

Dietary Fiber 7.9g

29

%
Sugars 2.9g

Protein 2.8g

4

%
---
* The % Daily Value tells you how much a nutrient in a serving of food contributes to a daily diet. 2,000 calories a day is used for general nutrition advice.