27 Easy Leftover Apple Recipes You Must Have In 2023
Easy leftover apple recipes are essential for every family, especially those usually stocking a lot of apples to consume during the week. At the end of the week, you may look at the leftover apples and don't know what to do with them. Today's post leaves no apple wasted.
Although some old apples are wilted on the outside, their flesh is still good to use. Apples are versatile and long-lasting fruits that you can convert into tasty desserts, cookies, salads, etc.
If you need these recipes, I've got you covered. In this post, I'll provide many easy recipes featuring leftover apples. I hope you can save for yourself as many dishes as possible to reap the benefits of those healthy fruits.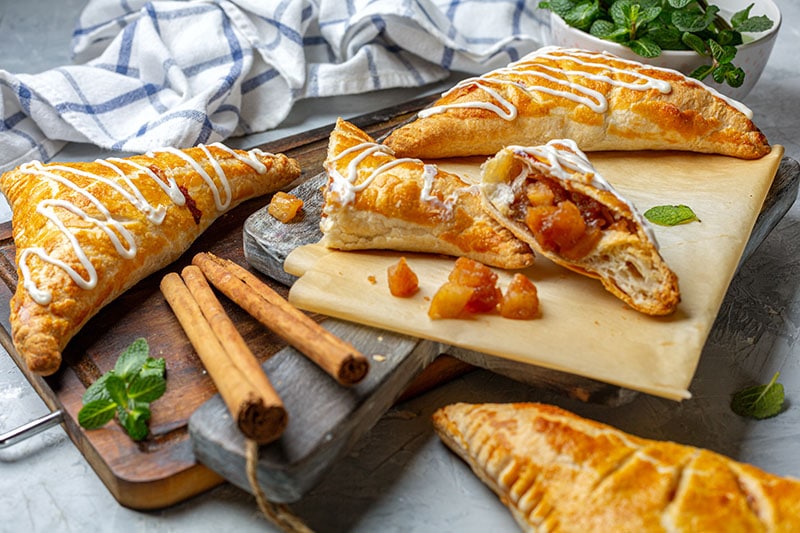 Leftover Apple Dishes Are Super Easy To Make!
It's great to eat fresh apples, but making dishes with leftover ones has its own beauty. Here are 27 leftover apple recipes you may want to save immediately. Keep scrolling to explore them!
Total time: 1 hour 40 minutes
Let's begin my list today with an apple sour cream coffee cake. This cake is a crumb mixture made with apples, oatmeal, sour cream, and many other ingredients. It's so tasty to accompany a morning coffee or tea.
The sour cream keeps the cake moist and soft, while the diced apple brings a nice chewy texture. While baking, if you notice the cake's top gets brown quickly, cover it with aluminum foil. Doing so helps the filling to get cooked while the top doesn't burn.
You can also add a scope of ice cream or whipped cream to make it more enjoyable. Store the covered leftover cake at room temperature for up to 4 days. You can also keep it in your fridge or freeze it to extend its shelf life.
Total time: 31 minutes
If you are on a ketogenic diet, you can still enjoy tasty apple fritter cookies. Although apples contain more carbs than other fruits, it's fine when consuming a small amount. Therefore, each cookie is low in calories and carbs.
The cookies are soft and chewy inside. The use of coconut flour makes the mixture less granular and becomes fluffier, while xanthan gum helps with the chewiness.
The recipe calls for two sweeteners, namely allulose and erythritol sweetener. The former also helps create a chewier texture, while the latter provides its sweetness. If you don't have both, you can use either of them.
Total time: 1 hour 10 minutes
Making apple syrup is a great way to use your leftover apple scraps. This delicious liquid can be a good substitute for maple syrup when you make pancakes or oatmeal. The recipe is also very easy to make with simple steps.
Any kind of apple is good for making this syrup. But choosing some sweetest apple variants like Gala, Honeycrisp, or Pink Lady will give a nice extracted syrup. The more peelings and cores you simmer in the stockpot, the more syrup you get.
When making a small amount, you can store apple peel syrup in jelly jars. But if you make a large batch of syrup, use bigger pint jars.
Total time: 1 hour
If you love apple pies, don't miss this apple crisp. It tastes like an apple pie with all the signature flavors. Surprisingly, you spend much less time on this recipe than on an apple pie. This one consists of two layers: a soft apple base and a crunchy oat topping.
The recipe calls for brown sugar. Feel free to add granulated sugar to make the crisps sweeter. It only takes 15 minutes to prepare and 45 minutes to bake, so making the apple crisps is a breeze.
These crisps are good enough to serve alone. Nevertheless, try them with vanilla ice cream to see how it goes. You can add your favorite toppings, such as pecans, caramel, and maple syrup.
Without a doubt, this apple crisp will be your favorite after your first try.
Total time: 2 hours
You won't regret spending some time preparing the apple pie filling and the graham cracker crust. This combination leads to a warm, sweet, and nutty apple pie. Besides, crumb topping brings you a spicy taste of cinnamon.
Most types of apples are ideal for making this apple pie. You can go for either Pink Lady, Honeycrisp, or Granny Smiths. Nevertheless, if you want a saucier apple pie, you can choose softer apples such as Golden Delicious or Cortland apples, which release more juice when baked.
The apple pie can be stored in the refrigerator, although it's okay to store it at room temperature. You should enjoy it within two days because the juice from the apple pie filling will gradually make the graham cracker crust soggy.
Total time: 30 minutes
Many people use store-bought unsweetened applesauce for their baking and cooking, yet they may not know that making it is super simple. You only need apples and some pantry ingredients to create this ingredient at home and use it to make many delicious recipes with applesauce.
It is unnecessary to peel the apples. Applesauce with peels contains more nutrition than those made from peeled apples. Lemon juice helps to reach appropriate acidity levels and prevent the applesauce from browning.
Homemade unsweetened applesauce can stay in your fridge for about two weeks. Freezing is also a great way to store a large amount of applesauce. When frozen, the applesauce can last for about two months.
Total time: 1 hour 35 minutes
Caramel apple cinnamon rolls contain a flavorful cinnamon apple filling and sweet caramel frosting. For convenience, you may incorporate crescent rolls into the sweet treat to avoid having to make the dough from scratch.
The delicious frosting combines heavy whipping cream, sugar, butter, and vanilla. You don't want it to be too thin or too thick. If the frosting thickens while it cools, you can add some more cream or briefly pop it in your microwave and stir.
Most apples are good for making caramel apple cinnamon rolls. Granny Smith is perfect if you want more tartness. Crispy apples like Golden Delicious or soft ones like Gala also work well.
Total time: 1 hour 15 minutes (with 1 hour of refrigerating time)
If you are looking for a healthy salad to accompany your sandwich or dinner, look no further than this delicious leftover pulled pork recipe. It is loaded with pulled pork, cheddar cheese, and apples.
The salad is a real party of flavors. Crisp apples bring fresh and tart flavors, while the pulled pork is smokey and savory. Besides, I couldn't help but mention a pungent flavor from the cheese and a tangy yet sweet flavor from pickled onions.
Nevertheless, the soul of this salad is the homemade dressing made with honey, olive oil, and apple cider vinegar. This perfect combination of vinegar's sour taste and honey's sweetness rounds out your apple salad.
Total time: 30 minutes
Puff pastries are so convenient for making many laid-back apple starters, ranging from small turnovers to large apple pies. These apple turnovers are not an exception. Each crispy puff pastry turnover keeps plenty of flavorful apple cubes inside.
Making these puff pastry apple turnovers is a breeze if you opt for store-bought puff pastry. In terms of apples, Royal Gala and Ambrosia are the best varieties, perfect to use due to their sweetness and firm texture. Even if the apples are a little old, their tastiness is still the same.
These turnovers are good to reheat, so feel free to make a big batch and store it in your fridge for five days. Then, simply pop the turnovers in the oven and enjoy them when you have a craving.
These month-watering puff pastry apple turnovers are easier to make than you think!
Total time: 7 hours 10 minutes (with 5 hours of chilling and cooling)
With an abundance of apples in your home, try making a large apple tart! It tastes great even if the apples are no longer fresh. The tart has an elegant look with rows of apple slices beautifully laid on a flaky puff pastry crust.
Although making the pastry dough, pastry cream, apple layer, and glaze separately may be tricky, the results are fantastic. The apple and cinnamon bring a classic flavor to the apple tart, while the glaze makes the tart more appealing and adds a hint of tartness.
Slicing apples in the same sizes is the secret to making your tart look more fantastic. If you have a tart pan set, that will allow you to make and move the tart more easily.
Total time: 35 minutes
An apple galette is a filling treat in fall when the hot temperature gradually decreases and leaves change their colors. Also, you can make it more easily with an air fryer. Although smaller than an oven, an air fryer bakes faster and still has enough space for this recipe.
Granny Smith apples are best to use, while other types like Honeycrisp also work. To create a golden brown color for your apple galette, cover the edges with egg yolk or milk and a dusting of cinnamon sugar.
You can serve a piece of apple galette with ice cream or whipped cream. The leftovers can store for three days in your fridge and for longer when you freeze them. When you are ready to serve, simply air fry them.
Total time: 15 minutes
Originating from Italy, the panini is a classic dish containing brie cheese and Italian bread and is often served warm. For this recipe, you also use ciabatta (an Italian white bread) to hold a savory combination of tender chicken, gooey cheese, and tart-sweet apple slices.
Brie cheese is a soft cheese made from cow milk, bringing a nutty and earthy flavor to this comfort food. Besides, quality honey rounds out the dish with its natural sweetness.
This chicken, brie, and apple panini combo is a comfort food you can enjoy for an easy brunch or weeknight meal. You can prepare the panini in advance, then keep it in your fridge. Then, when you are ready to serve, cook it in a heated pan.
Total time: 30 minutes
If you are following an autoimmune protocol (AIP) diet, you know that AIP dishes are somewhat time-consuming because it usually requires many steps to cook. Then you may want to save this turkey, apples, and onions hash that comes together in only 30 minutes.
Although a typical hash usually includes potatoes, fresh apples make a nice twist to this recipe. As a result, the hash is juicier and gets an earthy flavor from ginger and sage. While this is a perfect ground turkey dish, you can also go for pork or lamb.
The dish comes in many colors thanks to the various quality ingredients mentioned, making it a perfect one-pan meal for breakfast or even dinner.
Total time: 45 minutes
Everyone loves tiny desserts, like these chewy and flavorful mini crumb apple pies. They taste amazing and are convenient to serve individuals. If you are looking for brilliant dessert ideas for dinner in which many guests are present, count them in.
When making small pies, you will need to cut the crust into small pieces before adding the apple filling. For this step, use a cookie cutter, a glass, or a jar lid. In addition, mini muffin tins are the magical tools to fill and bake these apple pies.
It's important to pre-cook the apples before assembling the pies to have a fluffy filling. A crumble topping is one of the easiest options you can sprinkle on these apple pies. Or, make a lattice top (weaved pie dough) to turn your apple pies into beautiful masterpieces.
Make tasty mini crumb apple pies with this easy tutorial today!
Total time: 8 hours 10 minutes (with 8 hours of resting time)
If you haven't tried overnight quinoa and apple for breakfast before, this recipe should be on your list now. It's a healthy and refreshing quinoa dish that is easy to make with a few dishes.
This dish is great if you want to lose weight because plenty of fiber found in quinoa makes you feel full longer. Besides, fiber can prevent and treat constipation. Also, you can get plenty of plant-based protein when including quinoa in your diet.
You can include milk in this recipe. If you use unsweetened almond milk, don't forget to include chia seeds and protein powder so that the almond milk will be better absorbed.
Total time: 50 minutes
Apple and blueberry crumble is a nice baked treat with a delicious streusel topping. It would be even more delicious to serve with ice cream or custard. Who can resist such a wonderful combination?
A tip to have a crispy topping is to freeze it for some minutes. In addition, be sure to use old-fashioned oats (rolled oats) instead of instant oats, which can make your topping overly soft.
The crumble topping can be made in advance for several days. For the fruit mixture, you can make it only one day ahead. Lastly, you can freeze the leftover apple and blueberry crumble covered with aluminum foil.
Total time: 25 minutes
These French toast roll-ups contain bread slices, peanut butter, and fresh apples. They are free of refined sugars. Besides, they are rich in proteins and fibers, making them a healthy breakfast for busy mornings.
Preparing these French toast roll-ups is so easy and fun that even kids love to do it. They can help by slathering peanut butter mixture onto the bread and making lovely roll-ups.
You can serve the tasty roll-ups with various sauces for dipping. For example, dip them into maple syrup for extra sweet and woody flavor or a chocolate sauce for a familiar flavor. In addition, serving them with fruits or vanilla yogurt is a good idea.
Total time: 15 minutes
Apple cinnamon oatmeal is another easy and healthy dish on your breakfast table. The dish comes together in just 15 minutes. This one-pot oatmeal includes chunks of apples, rolled oats, and cinnamon sautéd in virgin coconut oil.
There are always handy tips to make the best apple cinnamon oatmeal. First, briefly sauté the apples in coconut oil to soften them before you stir in the oatmeal. Another tip is to stir the mixture frequently with a porridge spurtle or similar utensils to avoid lumps.
A factor that makes this oatmeal healthy is that it doesn't contain any refined sugars. Rather, you may want to top with some maple syrup to get a natural sweetness.
Total time: 1 hour 30 minutes
Caramel apple pull-apart bread is perfect for serving a crowd. Everyone can pull the bread apart into smaller rolled biscuits packed with caramelized apples. With 20 minutes to prepare and an hour to bake, you can create a crowd-pleaser.
The size of each biscuit depends on your bread pan. Simply flatten every biscuit into a circle or rectangle shape that vertically fits your bread pan.
For serving, pull apart the bread by tearing a slice or two and moving the piece to your plate using forks. You can serve the dish warm or garnish it with some ice cream for a cold dish. Lastly, leftover bread stays good in a sealed container at room temperature.
Even the fussiest eaters love this caramel apple pull-apart bread.
Total time: 20 minutes
The chickpea apple broccoli salad gathers plenty of fresh veggies drenched in a honey dijon dressing. It is a great side dish to accompany any meal, from lunch to picnics.
The dressing is tangy and beautifully balanced⁠ with olive oil, apple cider vinegar, and spicy dijon mustard. Interestingly, apple cider vinegar in this dressing slows down the enzymatic browning of apples and other veggies.
The salad is so healthy with all the fresh veggies, providing many essential nutrients such as potassium, folate, dietary fiber, and vitamins. If you want a vegan version, simply switch honey with maple syrup.
Total time: 50 minutes (with 10 minutes of cooling time)
These candy apples' history traces back to 1908 when candymaker William W. Kolb first made them as a display to sell his cinnamon candy. Nowadays, they are a popular candy to make at home on Christmas and Halloween.
These candy apples involve apples covered with a shiny red coat made with sugar, syrup, food coloring, and cinnamon candy. The recommended apple is green apples such as Granny Smith since they accompany the sweetness of the coat and keep their shape well.
Because the hard coat may be sharp for young kids, you can slice your candy apples. Doing so makes it safer and more convenient for your little ones to enjoy these delicious candy apples.
Total time: 4 hours 10 minutes (with 3 hours of chilling time)
Apple cheesecake bars are perfect for those who love apple pie and cheesecake. The bars have a crispy crust, a diced apple layer, and a creamy cheesecake filling. They are also covered with flavorful streusel topping.
You can store these apple cheesecake bars in your fridge for 3-5 days. For freezing, cover with plastic wrap and place them in an airtight container in your freezer for about a month. Remember to thaw the frozen bars before serving.
These apple cheesecake bars are not too sweet for you to enjoy. If you have a sweet tooth, try a common variation of these bars: caramel apple cheesecake bars. Apart from a similar streusel topping, they have a tasty caramel drizzle.
Total time: 35 minutes
Muffins are always top of mind whenever you need a dessert with a high protein profile to keep you full for a long time. Save this recipe to make apple cinnamon muffins at home with your leftover apples! Spend time preparing the apples and turn them into a quick breakfast or snack.
The apple and cinnamon give the most intense flavors. Regarding the texture, the muffins have crispy edges and a fluffy base inside. In addition, the chunks of apples create a pleasing chewiness.
You can store these muffins at room temperature or in the fridge for longer storage. However, the cinnamon topping becomes soft and somewhat soggy after a day. To bring the muffins to life, pop them in an oven for 10 minutes.
Total time: 1 hour 20 minutes
This recipe is a little different from the typically deep-fried apple fritters. Apple fritter bread is a baked cake containing chopped apples and a cinnamon sugar mixture. You can also notice an old-fashioned creme glaze made from powdered sugar and milk or cream.
Once the break is done baking, you should cut it into slices as it's still hot. Doing so helps the ingredients, such as apples and brown sugar topping, to cool and thicken up faster. This is important for them to stick to and hold each other better.
The bread stays good in an airtight container or resealable bags at room temperature for 5 days. The bread will dry out if kept in the fridge, so store it in the freezer with plenty of wrapping in case you want to save it for later.
Gear up and make a country apple fritter bread packed with flavors!
Total time: 45 minutes
You can't imagine how delicious apples can become when stuffed with a hearty filling of oats, nuts, dried cranberries or raisins, and cinnamon. These beautiful individual appetizers or desserts will be the highlight of your party, where everyone can't take their eyes off them.
Interestingly, the recipe is versatile to best fit your nutrition needs. For example, you can switch coconut oil to unsweetened applesauce or almond butter to omit oil from the recipe. Stuffed apples go well with vegan whipped cream and a little maple syrup.
Besides, normal oats are the only ingredient that may contain gluten, so select gluten-free oats if you have gluten intolerance. Lastly, you can omit the nuts and use applesauce to replace oil for a low-fat option.
Total time: 25 minutes
Sweet potato bake with apples is a simple and quick option for decent holiday meals. It comes together in only 25 minutes, meaning you have more time to spend on other dishes on busy occasions.
To make a large batch, you can double the recipe. Simply cook the sweet potato in a larger skillet and use a 9×13 baking dish containing all baking ingredients.
The bake is a nice main dish and goes well with many other dishes. For example, you can enjoy it with some bacon, baked chicken thighs, sausage, or veggies such as steamed green beans or roasted Brussels.
Total time: 32 minutes
My list today ends with these delicious apple fries with caramel cream dip. The apple wedges get coated when you toss them with flour, dip them into the beaten eggs, and finally into graham cracker crumbs.
I suggest you peel the apples well because the peels are not something for air frying. Also, keep the apple slices thick when you chop them. The thicker ones can bring out more apple flavors, which is great to combine with the crispy coating and the caramel dip.
After air frying, you have apple fries that are crispy outside yet soft inside. These apple fries are much tastier when you dip them into a creamy caramel dip. The smooth dip is simple to make by mixing the cream cheese and caramel sauce.
Follow These Recipes To See How Great Leftover Apples Are!
You have learned many ways to use up leftover apples. Most recipes call for simple ingredients, but the results are always delicious. I'm sure you are no longer worried about how to deal with old apples in your home now.
I hope you have already saved some fantastic recipes. Don't hesitate to share this handy list with those who love apples. Also, remember to tell other readers and me how you have put leftover apples to good use in the comment section below. See you next time!
Nutrition Facts
4 servings per container
---
Amount Per ServingCalories208
% Daily Value *
Total Fat 0.5g

0

%
Sodium 4mg

1

%
Potassium 249mg

8

%
Total Carbohydrate 55.5g

19

%

Dietary Fiber 5.8g

20

%
Sugars 47.4g

Protein 0.7g

0

%
---
* The % Daily Value tells you how much a nutrient in a serving of food contributes to a daily diet. 2,000 calories a day is used for general nutrition advice.