22 Best Seafood Crockpot Recipes To Try At Least Once In 2023
If you want the best seafood crockpot recipes, look no further than my post today. I will give you many recipes for fresh seafood, especially with the convenience of a crockpot. The list gathers various dishes, including soups, stew, chowders, dips, casserole, etc.
A crockpot uses moist heat to cook food, helping extract and slowly intensify your seafood's flavor. Besides, using this wonderful kitchen gadget minimizes the time you spend on stovetop cooking, which is ideal for those who lead a busy lifestyle.
Without further ado, let's get started and pick up your favorite dishes!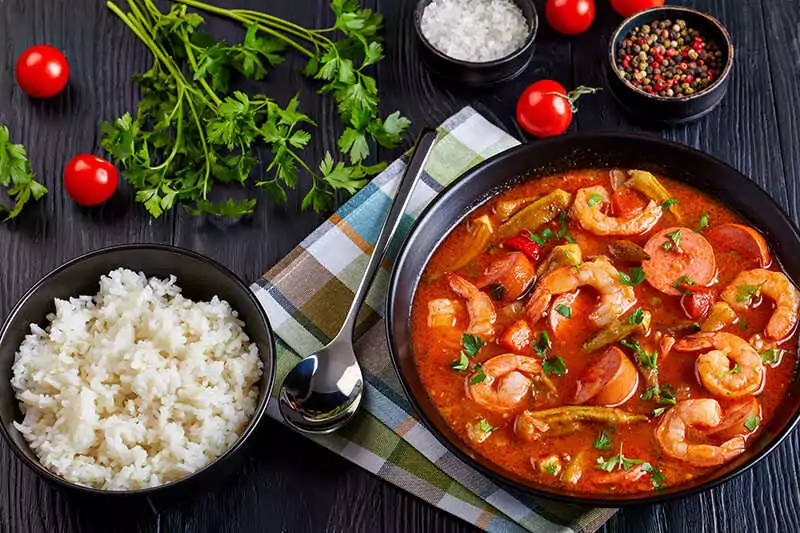 Save The Best Seafood Crockpot Recipes Now!
You can choose from numerous seafood, such as shrimp, crab, salmon, etc. Here are the 22 best seafood crockpot recipes that I like the most. Have a look!
Total time: 1 hour 30 minutes
First mentioned in a cookbook in 1920, this dish traditionally uses scampi, a small crustacean similar to a lobster. Nowadays, people usually cook with shrimp. That's why people call it "shrimp scampi".
The shrimp is slowly cooked in a crockpot with chicken broth, lemon juice, and other ingredients. After some hours, the dish combines a sour taste of lemon and the intense flavor of shrimp.
You can enjoy the shrimp as-is or include it in delicious pasta. Remember to add some Parmesan cheese for a nutty taste. In addition, a side salad also goes well with a shrimp scampi.
Total time: 7 hours 20 minutes
Chowder is usually a thickened soup and has a chunky texture. While it has many variations, this version is a comforting meal with clams and shrimp for cold weather.
The chowder has a creamy base of evaporated milk and chicken broth. Meanwhile, you can also enjoy a variety of veggies, including corn, diced potato, and carrots.
Regarding the taste, the sweetness of white cooking wine goes well with the chowder's saltiness. Therefore, seafood chowder is a great dip for French country bread or homemade bread.
Total time: 2 hours 10 minutes
Crab Rangoon is a Chinese crisp dumpling appetizer with a creamy filling of crab, cream cheese, and seasonings. In this recipe, you'll learn how to make that creamy filling and enjoy it as a delightful dip made in a crockpot.
The dish made of a mini crockpot uses crab meat or imitation crab meat, cream cheese, sauce cream, onions, and seasoning. Put all ingredients into a crockpot and let it cook to combine the flavors. To let the cream cheese melt easily, stir the mixture every 30 minutes.
For serving, you can fry or bake some wonton skins to dip into this wonderful dip. If you can't find them nearby, dip crackers and tortilla chips are good alternatives.
Make a bowl of Crab Rangoon dip in your crockpot with simple steps!
Total time: 4 hours 35 minutes
This seafood boil features fresh shrimp, sausage, and plenty of veggies, including potatoes and corn. The prep meal takes only 20 minutes, and the crockpot helps you with the remaining work.
The sausage and veggies come into the crockpot first. Then comes some squeezed lemon and water. After 4 hours, you put the shrimp into the mixture and continue cooking until the shrimp are cooked through.
You can serve your seafood boil while still hot because it has the best taste right after freshly cooked. Then, simply enjoy it with some garlic bread or green veggies.
Total time: 5 hours 45 minutes
Another tasty seafood crockpot recipe is Key West crab and lobster bisque. It is a hearty, filling lunch or appetizer loaded with various quality ingredients. Besides, it has a seafood taste and interesting texture that will win your heart.
Don't discard lobster shells because you can utilize them to make the bisque broth. Simply cook them with vegetable broth and seasonings, then keep the liquid and discard all the solids. Believe it or not, the shells bring out a strong seafood flavor.
You can still skip using shells and buy only lobster meat and crabmeat. In addition, it's a worth-trying dish to make with leftover lobster. And feel free to make slight changes to your liking. For example, substitute veggie stock with chicken or fish broth, or use other onions to replace red onion and shallot.
Total time: 5 hours 5 minutes
Belonging to Mexican and Tex-Mex cuisine, a fajita is grilled strips of meat and veggies wrapped with a tortilla. While this recipe has shrimp as the main ingredient, popular side dishes for standard fajitas still pair nicely with it.
The shrimp is so tender and juicy, and the dish gathers the sweetness of bell peppers and onions. People serve it with tortillas and optional toppings. The recipe is good for frozen meal prep, and you can reheat it whenever you want to enjoy it.
Using low-carb tortillas, you can include the fajita in your keto diet. Besides, you can remove gluten ingredients to make a gluten-free version.
Total time: 4 hours 10 minutes
Typical jambalaya is a savory dish with meat, seafood, veggies, rice, and spicy seasonings. For this recipe, let's keep it simple yet still flavorful with shrimp, sausage, and tomatoes. When you get enough ingredients, cooking jambalaya creole is a breeze.
Jambalaya also shines as a crockpot dish that is keto, low-carb, and gluten-free. Therefore, you can enjoy this nourishing soup even on a diet.
For serving, it can stand alone or pair with other side dishes, like steamed vegetables and riced cauliflower or broccoli. If you don't mind the carbs, enjoy the savory sauce of Jambalaya creole with rice, pasta, or some crusty bread.
A bowl of jambalaya will not disappoint you. Cook it now!
Total time: 4 hours 10 minutes
Originating in San Francisco, California, this cioppino contains fish filets with tomatoes in a wine sauce. And, of course, you can make this comforting dish with any leftover fish or your favorite types, such as salmon, cod, or halibut.
The saucy cioppino is full of seafood flavors and has a savory sauce. It is great to enjoy with some loaves of crusty bread. Also, try it with a green salad, crackers, or homemade focaccia (flat Italian bread).
Since it's very versatile, there are many variations. For instance, you can replace wine with seafood, vegetable, or chicken broth to exclude alcohol from your meal. Also, while the recipe calls for canned clams, it's still good to go for mussels or clams with their shells on.
Total time: 7 hours 15 minutes
Salmon chowder is a creamy and satisfying canned salmon recipe that is so convenient to make with easy-to-find ingredients. Also, everything comes together in one pot, which requires minimum clean-up.
The chowder contains salmon, diced veggies, and seafood seasoning, making a filling and flavor-packed dish. The dish is hearty enough to enjoy as it is. Alternatively, you can make a green salad and crusty bread to include more fiber and proteins in your meal.
You need to blend hot ingredients into a smooth chowder. Make sure to do it in small amounts and tightly cover the blend's top with a kitchen towel. Otherwise, the ingredients may splatter and cause burns.
Total time: 1 hour
The cod, shrimp, vegetables, and seasonings blend into a warm, hearty stew, which couldn't be better for rainy days. Although you would consider it a stew, the ingredients have appropriate doneness that is not too soft.
The recipe calls for cod with a mild flavor to combine with the delicious sauce. However, you can switch to other seafoods like monkfish, haddock, scallops, or mussels. A combination of different fish is also great!
You can eat the stew as-is or pair it with mashed cauliflower, spaghetti squash, or some lettuce wraps. Besides, you're never wrong to enjoy this stew with brown rice or pasta.
Total time: 3 hours 10 minutes
Salmon filets and Asian vegetables are easy to throw together in a crockpot. You only need to put your salmon on top of the veggies, add seasonings and soy sauce, then let the crockpot cook. The results are tender and packed with flavors.
You can change the ingredients for variations. For instance, if you aren't a fan of salmon, simply switch it to your favorite fish. Next, add pepper flakes or hot sauce for extra spiciness. Lastly, use lemon juice and white wine to make the sauce and customize it to your taste.
If you use frozen fish, you can cook it immediately without thawing it beforehand. But remember to set the cooking time a bit longer so that the fish thaws as it cooks in the crockpot.
Crockpot salmon filets and Asian vegetables are beautifully delicious!
Total time: 2 hours 30 minutes
Gumbo is a warm comfort stew with a flavorful liquid base and ingredients such as chicken, seafood, sausage, ham, tomatoes, etc. This seafood gumbo is pleasing with shrimp and crab in a flavorful "roux".
The "roux" liquid base in seafood gumbo is a golden mixture of butter and flour. While you make it, frequently stir because it may burn quickly. Besides, adjusting the suitable temperature is important to make the best roux.
Seafood gum is best to serve over cooked rice on the same plate. Don't forget to prepare cornbread and green salads to accompany the dish at a gumbo party.
Total time: 2 hours 5 minutes
It's time to add an Indian-inspired curry to the list today. The shrimp takes on coconut milk's greasiness and unique curry powder taste. Garnish with some cilantro to add a fresh, citrusy taste.
The recipe calls for full-fat, canned coconut milk to create a creamy texture. If you can't find it, coconut cream or light coconut milk does the trick. Before adding the shrimp to the crockpot, pour extra water into the sauce if it looks concentrated.
Hot rice or mashed cauliflower makes the best serving companions for this curry. You can also enjoy it with quinoa or even pasta.
Total time: 4 hours 5 minutes
Grits are thick cornmeal porridge that is less sweet and starchy. You can enjoy grits for breakfast, lunch, or dinner. For this recipe, you cook grits with shrimp in a crockpot and top with optional garnish.
Either fresh or leftover shrimp can make a flavorful dish. You can make your grits heartier by adding your favorite ingredients, such as bacon, Parmesan cheese, or veggies. The additions will pair well with warm and creamy grits.
To reduce your calorie intake, replace pork bacon with turkey bacon. Water can also make a good substitute for chicken stock.
Gear up and make slow cooker shrimp and grits for any dish of the day!
Total time: 3 hours 30 minutes
Fish pie is such a comfort food that no one can resist. You can make it with any kind of fish, such as salmon, haddock, or cod fish. In addition, a fish pie is low in fat and calories, making it a good choice if you want to lose weight.
The pie base is a thickened sauce with flour, milk, and butter. The vegetables can be on the side of the pie or put together into the crockpot. For example, adding peas or corn kernels brings a crunchy texture to your fish pie.
After baking, you can notice a beautiful golden brown color on top. For serving, you can eat it as-is or simply accompany it with some steamed veggies and ground black pepper.
Total time: 1 hour 50 minutes
You may wonder why to cook salmon in a crockpot, not bake or fry it. The reason is that after spending just 20 minutes preparing, you are free from the kitchen to continue your unfinished work. In addition, the salmon is softer and juicier when you cook it in a crockpot.
Crockpot salmon are fantastic, either hot or cold. It accompanies cooked rice and mashed or steamed veggies well. Besides, a glass of white wine on the side is not a bad accompaniment.
It's okay to prepare and place all ingredients in resealable bags in advance. When you are ready to cook, move them into the crockpot. You can store leftover cooked salmon in an airtight container. It can last four days in your fridge and three months in your freezer.
Total time: 2 hours 35 minutes
These Alaska cod fish tacos are a nice treat for either lunch, dinner, or any time of the day. It may be tricky to prepare all the various ingredients to marinate the cod and make the sour cream sauce and garnishes. However, it's worth your efforts!
The tacos are full of flavors from the fillings, the tortillas, and the cream sauce. However, the last one seems to be the greatest contributor. It is made from sour cream, lime zest, lime juice, cilantro, and clove, bringing a slightly tart and somewhat spicy flavor.
Before serving, assemble your tacos by adding fish pieces to the cooked tortilla and top with the cream sauce, cabbage, and tomatoes. If you want more freshness, place a green salad on the side.
Total time: 2 hours 50 minutes
Paella is more well-known as a pork or chicken dish, yet corporating seafood into the dish makes it so delicious. In this crockpot paella, the sweet shrimp is exactly what rounds out the paella besides the chicken and pork.
The tasty shrimp and chicken delicacy is perfect when you use authentic ingredients. First, it's the expensive saffron, which gives a unique flavor and a beautiful yellow color. Second, round medium-grain rice is recommended because it absorbs the chicken stock quicker.
Paella pairs well with roasted vegetables. You can also go for some buttermilk bread or yeast rolls. Lastly, some cupcakes may be a nice option for after-meal desserts.
Crockpot paella is so filling with quality ingredients!
Total time: 2 hours 25 minutes
As you may or may not know, tuna noodle casserole is great to cook with a crockpot. It contains tuna, egg noodles, cheese, pimentos, and more. For serving, a sprinkle of cheese and bread crumbs finish this delicious slow cooker casserole.
Although the casserole uses canned tuna for convenience, the deliciousness remains the same. However, you may want to select the tuna kept in water, not the one kept in oil. Then, if you mistakenly grab the oil-based version, you can remove the oil to use the tuna.
As always, the cheese will bring your casserole to life. Feel free to use your favorite cheese types, such as cheddar, Monterey Jack, or American cheese.
Total time: 3 hours 30 minutes
If you are not quite sure what to have for dinner or to bring to a potluck party, try these Cajun smothered potatoes with sausage and shrimp. They are loaded with sausage grease and a fresh flavor from shrimp. Besides, other veggies like bell pepper and onion are also tasty.
A handy tip is to refrigerate the shrimp while you cook the potatoes. Doing so helps to keep the shrimp fresh until you place it into the crockpot. In addition, the shrimp will absorb all the flavors from other goodies, so you needn't marinate it beforehand.
You can make all ingredients ready a day ahead. Doing so helps you reduce the steps for actual cooking and save some time. For serving, a quick green salad is the simplest thing you can pair with this delicious dish.
Total time: 2 hours 40 minutes
If you plan to host a party, remember to add crab and artichoke dip with some baguette slices to the menu. Crab meat, artichoke hearts, shredded cheese, and Old Bay seasoning combine to create a gooey, irresistible appetizer.
The prep work takes only 10 to 15 minutes, and the cheesy sauce will bubble to perfection in a crockpot. Try to use fresh crab meat sold at your nearby seafood counter for the best dip. The canned one is still good, although its aroma is not as strong as the fresh meat.
You can store leftover crab and artichoke dip in your fridge for up to 3 days. To reheat, pop it in the microwave until warm. Also, you can combine the leftovers with pasta or turn them into an omelet filling.
Total time: 2 hours 15 minutes
In today's list, I saved the best for last! A cod curry with a spicy flavor and a creaminess of coconut milk will not disappoint you. Enjoy with cooked brown rice, and you have a super filling meal.
Cod has firm, flaky flesh with a mild flavor. A tip is to put the entire filet into the crockpot and break it apart later. Breaking it into equal pieces helps it to cook evenly. Full-fat or lite kinds work for the coconut milk, although the former produces a creamier curry.
You can store the leftover curry in your fridge in an airtight container for three days. Then, when mealtime comes, simply place it on the stove or pop it in the microwave to reheat.
Crockpot Seafood Is Fantastic!
Seafood is such a delicious staple that you can enjoy all year round. Given the help of a crockpot, making seafood dishes couldn't be more convenient. Now that you scrolled through all the recipes, I hope you can pick some fantastic ones.
Cooking is always funnier when having companions. Why don't you send this post to them? If you have any questions about my list, don't hesitate to contact me anytime. I also want to know your cooking experience, so feel free to share via a comment below.
Nutrition Facts
4 servings per container
---
Amount Per ServingCalories259
% Daily Value *
Total Fat 14.8g

22

%
Cholesterol 254mg

85

%
Sodium 424mg

18

%
Potassium 230mg

7

%
Total Carbohydrate 3.6g

1

%

Dietary Fiber 0.1g

0

%
Sugars 0.2g

Protein 26.4g

52

%
---
Calcium

112

%
Iron

1

%
Vitamin D

4

%
* The % Daily Value tells you how much a nutrient in a serving of food contributes to a daily diet. 2,000 calories a day is used for general nutrition advice.