These Texas desserts are the first things you need to check out if you plan to make some classic sweets. Texas has some of the most delicious treats across the nation. Best of all, Texans often go bold with their desserts in both size and flavors.
Texas' foods are famous for their large size. Besides, this state is a significant producer of pecans. These two things greatly impact the Texas desserts as they are usually in large portions and contain generous servings of pecans.
From sheet cakes and cowboy cookies to pecan pies, there are many famous names on the list waiting for you to explore. Let's go! I won't make you wait longer.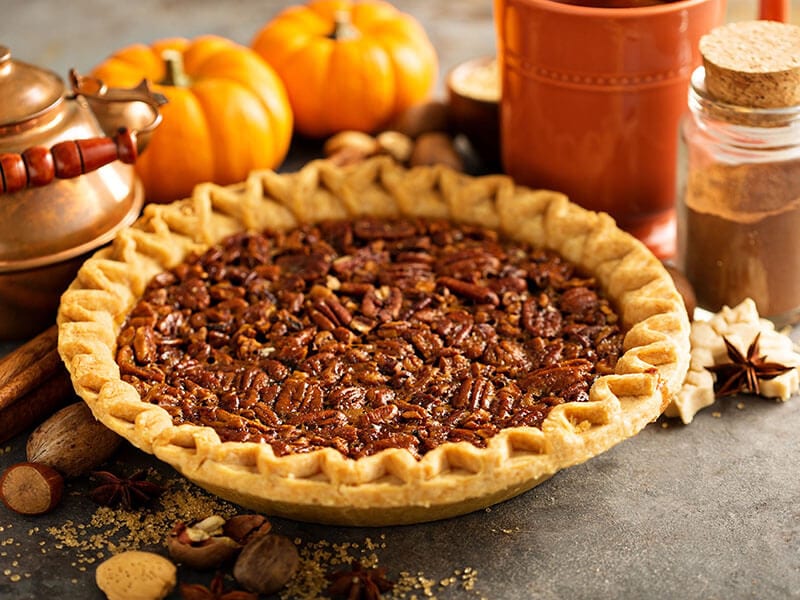 These Texas Desserts Are A Whole New World
These Texas famous sweets are on another level in the dessert world. They are not the best options for your health (or teeth), but I'm sure they can light up your mood any time of the day.
Total time: 1 hour
Speaking of Texas desserts, the first name that popped up in my mind was this tornado cake. Every delicious bite is filled with fruits, crunchy nuts, and creamy coconut icing. You will whip up this delectable yet inexpensive dessert without breaking the bank.
The sweetness of the fruit cocktail and the nuttiness of the sugar-walnut streusel topping results in a perfect combination of delicious flavors. And did I tell you about how the chewy coconut icing covers the moist and fluffy cake? All those flavors just feel great in your mouth.
Note that this recipe uses evaporated milk for the icing. Never replace it with sweetened condensed milk because the taste won't be the same. As for serving, double the deliciousness with a scoop of vanilla or Snickerdoodle ice cream.
This Texas tornado cake will take the dinner table by storm!
Total time: 42 minutes
Sheet cakes are one of the most iconic Texas desserts. Many prominent variants are out there, but today's recipe is about this white Texas sheet cake. Well-known for its enormous size, this dessert is a perfect choice to feed a big crowd, accurately 24 people.
Like other cakes, this gem uses essential ingredients such as flour, baking powder, and vanilla extract. And assembling and frosting a layer cake is not as hard as you think. A pan, mixing bowls, and a saucepan are all the equipment you need.
The soft cake with butter white icing and rich-tasting walnuts will tickle your taste buds. I recommend toasting the walnuts for the depth of flavors and textures. What's unique about this cake is that it doesn't need chill time, and you're free to frost it while it's warm.
Total time: 45 minutes (including 10 minutes of cooling time)
The next name on my list is the Texas sheet cake cookies. The USA's mega-state sheet cake is famous for its large portions and rich flavors, so its cookie version is no different. Underneath a sweet chocolatey frosting is an insanely soft and dense inside.
Simply put, this dessert combines Texas sheet cakes and traditional cookies. Therefore, a cake mix is a shortcut to making the cookie dough with egg and oil. It also takes a few minutes to complete the chocolate frosting with butter, cocoa, milk, and sugar.
Be sure not to overbake and give your cookies some time to cool down. Leaving them in the oven for too long leads to stiff and crumbly results. These cookies are fine at room temperature and under cold storage. Refrigerating them helps extend the shelf life to 3 – 4 days.
Total time: 55 minutes
Another excellent pick for Texas desserts is these chess squares. You may know them as Texas gold bars or Marcus bars. The pleasantly golden color of this cake adds a pop of color to your table, while its taste is phenomenal.
The ingredient list is short with a box of yellow cake mix, cream cheese, eggs, and butter. Also, the making is simple to follow. Mix the ingredients and form them into a soft dough that you have to press into the bottom of the pan. Pour the cream mixture on top and bake for 40 – 50 minutes.
When finished, the chess squares will have a flaky and crispy crust with a soft and buttery ready to melt in your mouth. Pair it with a cup of coffee or tea to balance the sweetness.
Total time: 25 minutes
The Texas flood pie always hits the spot, especially when it's a luscious chocolate dessert combined with peanut butter, marshmallows, and pecans. Better yet, you may experiment with up to 4 types of chocolate. Plus, the duo's salty-sweet flavor will spoil your palate.
This sweet is an upgrade to the muddy Mississippi cake. More specifically, the Texas-style is bigger and takes less time to finish, not to mention that it will let you swim in the flood of chocolate sauce.
On the other hand, the saltiness of Ritz crackers is well-balanced with the sweetness from sugar and chocolate. Meanwhile, every bite gives you a different texture and taste. And make them ahead if you want. Only 20 minutes of thawing at room temperature are enough.
Total time: 60 minutes
This Coca-Cola cake is a new twist on the classic Texas sheet cake. The homemade chocolate frosting and extra chocolate chips on top are a bonus to the sweet tooth. Plus, the key ingredient here lies in the coke, and you will be amazed by what it can do.
Coca-Cola cake is a Southern staple, reportedly first appearing in the mid-20th century. Generally, it is similar to Texas sheet cake in flavor and texture, but with the addition of coke in the batter, along with buttermilk, vanilla extract, and all-purpose flour.
The flavor of Coca-Cola is hardly noticeable, but it offers many uses. For instance, the acids in the coke balance the cake's sweetness. Meanwhile, the carbonation in soda acts as a leavening agent to give the baked goods rise and lightness. Opt for Dr. Pepper or root beer if desired.
This Coca-Cola cake is rich, moist, fudgy, and worth your effort.
Total time: 1 hour and 5 minutes (including 10 minutes of cooling time)
Looking at this Texas sheet cake Bundt cake, you may think it's hard to make. But in contrast, it is simple to make. The Bundt cake is moist beyond imagination with rich chocolate frosting and nutty pecans. And thanks to the cake mix, you only need minimum ingredients.
The main difference between this Bundt cake and the regular ones is the doughnut-like shape with a hole in the center. The cake looks extremely elegant and eye-catching when it has no decoration.
Make sure to check its doneness with a toothpick and judge based on the number of crumbs on the toothpick. Another thing to remember is only to pour the warm frosting on the cooled cake. Wait until the frosting is set to serve.
Total time: About 10 minutes
Who wants to make wonderful after-meal ice cream using snow? This Texas snow ice cream is something else. Make the fun winter-time treat for your kids with just four ingredients: fresh-fallen snow, heavy cream, condensed milk, and vanilla with the sprinkles for extra flare.
Using fresh snow to make ice cream sounds bizarre, but the result turns out to be better than you expected. It's rich, sweet, and packed with flavor. Condensed milk is best to add richness and sweetness to the ice cream. In terms of food safety, use the clean and newly-fallen snow.
The ice cream is fun and easy to make, so take advantage of this opportunity as a bonding activity with your kid. If there are leftovers, freeze them in an airtight container to enjoy later.
Total time: About 1 hour and 5 minutes (including 10 minutes of cooling time)
Say hi to another excellent choice for Texas dessert: the German chocolate cake. Don't let its name fool you, though. The cake didn't originate in Germany but in Texas in the late 50s. The layered chocolate cake with delicious coconut pecan frosting is 100% addicting.
Making the chocolate cake from scratch is fine. But this sweet recipe will be easier with a boxed cake mix. Be sure to let your ingredients come to room temperature before using them. When you take the cake out of the oven, let it cool before frosting.
The cake tastes better on the second day, so feel free to make it in advance. It can retain the flavor for 2 – 4 days at room temperature and 4 – 6 days in the fridge.
Total time: 20 minutes
These Texas almond sheet cake donuts will mesmerize you on the first try with their softness and unmistakable almond-flavored icing. Moreover, the slivered almond toppings add a natural sweetness and crunchy texture to devour.
Like other donuts, you'll need all-purpose flour, baking powder, sour cream, or milk to make the batter. Meanwhile, the frosting incorporates butter, milk, and powdered sugar. The almond extract enhances the flavor in both the batter and icing.
Remember to spray your donut pan to avoid sticking dough. And bake until the donuts are light golden or bounce back to their original shape when touched. Make sure the sweets are cool enough to dip them into the glaze.
Total time: 35 minutes
This famous honeyed pastry is undoubtedly available in many Texas restaurants. Topped with honey and cinnamon sugar, sopapillas (fried pastry) have a delicious taste sensation that you shouldn't miss. Create a sweet version or savory bites with your desired filling.
Sopapillas, literally mean "honey cake" in Spanish, a well-beloved dessert in Texas. They even became the Texas official state pastry from 2003 to 2005. These fried balls contain a few ingredients, including all-purpose flour, salt, or canola oil. No special equipment is needed.
After frying them, dust these delicious bites with the cinnamon-sugar mixture to make sweet desserts or stuff them with pork or refried beans for savory meals. However, remember to cover sopaipillas with the seasoning mixture while they are still hot for a better taste.
Bring back your childhood with homemade sopapillas, one of Texas's most famous Tex-Mex treats.
Total time: 1 hour and 20 minutes
If you have tried the sopapillas, there's no reason you will say no to these buñuelos. You may encounter this dessert in many Tex-Mex restaurants along Mexico to Texas. Serve them at room temperature with the homemade piloncillo syrup for the most authentic Mexican taste.
Buñuelos are a typical food in Latin America and the Southwestern United States. Thin, round, and crispy with a hint of cinnamon, they are a warm endnote for family dinner or holiday feast. A classic version consists of piloncillo (raw cane sugar), flour, and ground cinnamon.
People often confuse buñuelos with sopapillas. The critical difference is that Buñuelo dough uses less baking powder than sopapillas, so it's less fluffy. Moreover, the dough resembles a tortilla in shape and is fried on both sides. Therefore, Buñuelos are lighter and crispier.
Total time: 1 hour and 15 minutes
Although Hummingbird cake's birthplace is Jamaica, this food starting with H has become integral to Texas cuisine. The cake is creamy, sweet, and tropical, with banana-pineapple spice mix and cinnamon.
Its recipe dates back to the 60s, and it rose to fame quickly after being one of the most requested recipes in Southern Living magazine in 1990. The cake is sure a safe pick for desserts. But it's possible to serve it as breakfast too.
With every bite, you can sense the soft and chewy texture of the cake. The sweetness and light tartness of bananas and pineapples may linger on your tongue. Enjoying it with a cream cheese frosting is a fantastic idea.
Total time: 15 minutes
Next on my list of best Texas desserts is the spicy s'mores quesadilla. A subtle heat from cayenne pepper is tolerable for most people. Let's see how Texans make s'mores with simple ingredients such as milk chocolate, graham crackers, and marshmallows.
In this recipe, your version is on the sweeter side with s'mores ingredients. S'more stands for "some more," combining a chocolate bar and toasted marshmallow sandwiched between graham crackers. It is a must-have ingredient for many delicious dessert recipes cooked by the campfire.
For a bigger batch, prepare the quesadillas separately on the stovetop, and put them on a plate while making others. Then move all the cooked ones onto the skillet, top with cinnamon sugar and marshmallow, and broil them together. It's best to enjoy these desserts while they're warm.
Total time: 50 minutes
Peach cobbler is one of the first Texas desserts to appear on the table in summer. Peach cobbler is a delightful sweet that comes in a ramekin, with a Texan twist recipe. Seasonal juicy peach filling with a pancake batter creates an unusual but delicious Texas-style peach cobbler.
Instead of biscuits on top, you will use the batter to cover the fruit. It is a mixture of melted butter, baking powder, and all-purpose flour. Make sure not to stir the batter after pouring them over the ramekin, then add the fruit mixture on top and bake.
This recipe yields two servings, so two 10-ounce ramekins perfectly fit. But if they are unavailable, try switching them with small baking dishes that can hold enough 2 cups of liquid. Serve it with vanilla ice cream or whipped cream for a lovely ending to any summer meal.
Total time: 30 minutes
Pecan trees are native to southern states and offer many delicious treats, including these Texas pralines. These sweet homemade candies are made with pecans, heavy cream, white sugar, and corn syrup, creating a chewy and crunchy texture.
Pralines are sugary and nutty candies. This Texas-style version is a modification of a French classic, which uses almonds. Of course, the taste is not inferior compared to the original. Each bite will shatter in your mouth, melting into a luscious, nutty sweetness.
These sweet treats are a lovely gift and dessert that Texans often prepare for Christmas. Although this confectionery contains sugar, it is a healthy treat for you. After all, pecans are rich in protein and good fats for your body.
Express gratitude to your loved ones by gifting them these delicious homemade Texas pralines.
Total time: 30 minutes
You'll adore these cowboy cookies if you love life's simple pleasures. These perfectly shaped and baked cowboy cookies should be on your list of Texas must-try items.
Interestingly enough, many people deem that cowboy cookies are the state cookies of Texas. In addition, this recipe also has a glorious history as it won a prize at the Texas Governor's Mansion Cowboy Cookies in 2000. So I guarantee that these cookies are 100% delicious.
Also, what sets these cookies apart is their enormous size and calorie-loaded. They are packed with nutrient-dense ingredients such as coconut, pecans, oats, and chocolate chips. Do not worry about the thickness of the dough because the result will surely surprise you.
Total time: 5 hours and 15 minutes (including 4 hours of cooling time)
Pecan pie was a signature of Texas cuisine when it became the state's official pie in 2013. This award-winning dessert will also win your heart with a perfectly soft base, wonderful treacle filling, and aromatic roasted pecans.
All you need for a tasty pecan pie are pie crust, corn syrup, pecans, and a few more. Remember that corn syrup is essential in this recipe, so try not to skip it. If you don't have corn syrup, other acceptable options are golden and maple syrup. Follow the ratio closely for the best results.
The perfect balance of salty and sweet, with a creamy filling and crunchy crust, will tickle your taste buds. Each bite is spectacularly rich and decadent. Therefore, instead of traditional pumpkin pie, serve this tasty treat for your Thanksgiving party. It will make an excellent change.
Making the classic pecan pie is easy, and you can learn to prepare the pie crust too.
Total time: 20 minutes
Texans love fairs, festivals, outdoor events, and funnel cakes. These funfair favorites are a marriage between a doughnut and churros. They originated in Philadelphia, but Texans bring their character into this dish by making it bigger and better.
Traditional recipes use a fairy standard batter: flour, eggs, sugar, and milk. It is necessary to have a funnel to make this dessert. However, if you don't have one, utilize your measuring cup with a spout. Drizzle and stream the batter in a circular motion, and you'll be fine.
Warm, sweet, and messy, they have everything you want for a fun dessert. Tasting like a donut-cake hybrid, these Texas desserts go well with many toppings and sauces. Whether you prefer fruits, chocolate sauce, or ice cream, the funnel cakes taste fabulous with anything.
Total time: About 1 hour and 25 minutes (including 10 minutes of cooling time)
The famous Ladybird Johnson's lemon pound cake came on the scene in 1966 and has stood the test of time ever since. Despite being similar to Italian Genoa cake and traditional pound cake, this beauty has all the American and Texan characters.
Be prepared because you're going to make a big cake full of butter and eight egg yolks. Don't treat these two ingredients as optional because they are essential to make the cake spongy, fluffy, and moist. Also, the cake flour is low in calories and keeps the cake tender and soft.
The lemon icing is optional, but you should give it a try for a more exquisite taste. Remember to let the cake cool down before covering it with the frosting. About storing, this cake goes great at room temperature for 2 – 3 days. Opt for refrigerating or freezing for more extended storage.
Total time: 1 hour
Buttermilk pie is a familiar face on the dinner table in the south. It may be relatively old-fashion, but I'm sure you cannot resist this pie's smooth texture and delicate custard base. Regarding flavors, buttermilk pie tastes like crème brûlée with custard-like quality.
Rumors say that buttermilk pie came from England and was predominantly made in Texas. This version calls for butter, sugar, flour, and of course, buttermilk. Some may confuse buttermilk pie with chess pie due to the custard texture. But the latter only uses cornmeal, not buttermilk.
People in the south often serve buttermilk pies on Thanksgiving. Good strong coffee is also an excellent match with the pastry to balance the sweetness. A dollop of fluffy whipped cream is delicious too.
This buttermilk pie will beat any custard-style pie in a second.
Total time: 2 hours and 30 minutes (including 2 hours of cooling time)
Another fantastic choice for Texas desserts is the chocolate Bourbon truffles. Some say an authentic Texas dessert should contain bourbon, so these tasty balls fit the bill. Moreover, you can make this magical dessert with only three components.
There are a few items on the table so use the good ones. Semi-sweet chocolate, heavy cream, and bourbon are the essential elements. Double the bourbon amount for a more powerful Texan taste. Besides, feel free to add unsweetened cocoa powder and chocolate sprinkles.
Chocolate is phenomenal when paired with bourbon. The oaky velvet characteristic of bourbon tangos is well with the sweet milk chocolate.
Make A Memorable Trip With These Texas Desserts!
Texas is not only famous for BBQ, live music, or its hot temperature. It's also home to some of the most amazing desserts. Once you have tasted them, you will never forget these uniquely Texan sweets.
Even though you don't plan to make these recipes, bookmark this article so you will know what to enjoy on the following Texas trip. Give them a try and see why the Lone State's sweets receive only good praise.
Come back and share with me if you have made these recipes successfully. And I will be more thankful if you spread this article on your social media.
Linda Dean is a talented food blogger and cookbook author with a passion for creating simple and delicious recipes. With a focus on using wholesome ingredients and showcasing their flavors with minimal fuss, Linda's recipes have become a favorite among busy home cooks looking for quick and nutritious meals.
With years of experience in the kitchen and a love for experimenting with new ingredients and flavor combinations, Linda has honed her culinary skills and developed a signature style that is both approachable and sophisticated. Whether she's sharing a classic recipe with a twist or showcasing the latest food trends, Linda's work is always fresh, innovative, and inspiring.