These best ginger desserts will give you an eye-opening experience with many ginger-based dishes. When the cold bites, there's nothing better than staying at home and enjoying comforting foods with the warm scent of gingers.
The mild spicy taste and pleasant aroma of gingers complement many sweet treats. Instead of overshadowing other ingredients, the flavor of life blends in and enhances the overall taste of the food. Besides, this ingredient is an ideal source of nutrients that are good for your body.
Continue reading, and you will find many wholesome dessert ideas with ginger, from panna cotta and cupcakes to biscuits. Let's start this delicious journey immediately.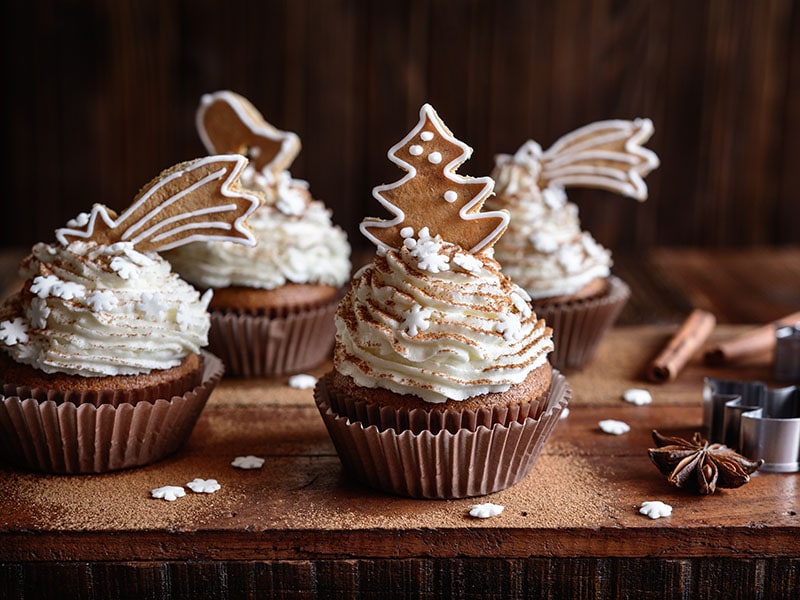 Ending A Great Meal With These Best Ginger Desserts
Healthy and delicious, these ginger desserts are win-win recipes for me. They will satisfy your guests' taste buds and sneak extra beneficial nutrients to the table.
Total time: 4 hours and 25 minutes (including 4 hours of chilling time)
Spice up your dinner night with this fancy gingerbread buttermilk panna cotta. Its silky texture and sweet taste with a hint of seasonal spices will surprise you. Besides, it's a fuss-free dessert with only a few minutes on the heat, and it sets all on its own in the fridge.
Panna cotta is a classic Italian dessert, roughly translated to "cooked cream." A classic version is about heated heavy cream with gelatin and flavored with vanilla extract. This recipe contains warm spices from nutmeg, cinnamon, and gingers to make something different.
Make any substitutions that suit you best. Ground cardamom is an excellent alternative for whole cardamom pods if you're in a pinch. Or use whole spices instead of all ground ones to form a lump-free mixture.
Total time: 2 hours
The unique thing about these triple gingersnap cookies is that the more affluent the ginger flavor is, the better. This may not be the easiest recipe, but these cookies are worth your effort.
These cookies satisfy any ginger lover with three kinds of gingers, from fresh and ground to crystallized ones. A tip for grating the ginger easier is to do so with its frozen root. Get rid of the skin and leave the ginger root in the freezer for a few hours. Then use a microplane to grate it.
Best of all, these gems have a long shelf life, at least about two weeks at room temperature. Therefore, they will be the best treats to spread around on holidays. Make a big batch, wrap them in decorated paper and add a ribbon. Everyone will love them.
Give these triple ginger snaps cookies a chance because they will be a big holiday hit.
Total time: 23 minutes
When the holiday season arrives, fill your kitchen with the festive scent by making these gingerbread muffins. Also, gingers and other beneficial ingredients such as cinnamon, allspice, or buttermilk give these treats extra healthy points.
The secret to a fluffy muffin lies in sifting the dry ingredients first, such as four, baking soda, or powder. Stifling helps remove impurities and lumps and aerate the flour mixture. In addition, don't overmix your batter. Otherwise, the muffins will be tough.
Ginger not only adds delicious flavor to your muffins, but it's also full of nutrients. It is rich in antioxidants, which help reduce stress and damage to the DNA. In addition, it can control blood sugar and prevent other chronic diseases.
Total time: 1 hour and 10 minutes (excluding 20 minutes of cooling time)
A richly spiced scent with bold notes of gingers, melted butter, and vanilla, this triple ginger pound cake is a real deal for the holidays. As its name implies, the three types of gingers join forces to create this yummy treat, from ground ginger and fresh root to crystallized ones.
Although buttermilk works wonderfully in this recipe, ordinary milk is delicious too. Also, it's best to use non-stick loaf pans. Alternatively, line or grease your pan to prevent sticking.
The cake boasts the perfect balance of sweetness and spice. Plus, it's light, moist, and bursting with ginger flavor. Double the gingery deliciousness with a ginger glaze. The glaze blanket adds extra flavors and presentation points. Otherwise, go for vanilla glaze if you want.
Apart from that, this recipe yields two loaves of cake. If there are leftovers, slice the cake into slices first and freeze them.
Total time: 1 hour and 10 minutes (including 10 minutes of cooling time)
This fresh dessert will make the most of your pears in season. Each slice of this dense and fluffy cake is filled with flavors of ginger, cardamon, and juicy pears that melt right in your mouth. And yet, this is a one-bowl recipe, so you can skip a pile of dirty dishes.
The belle of the show is the freshly grated ginger. It gives a distinctive flavor and pleasant aroma but does not overwhelm other ingredients. If fresh gingers and cardamon are not your things, replace them with vanilla or almond extract.
About the pear, make sure to choose the ripe ones for the best decoration. There are no rules regarding topping the pears. However, for a restaurant-appearance dish, arrange them in a spiral pattern.
This delicious treat can fill your stomach (and soul) at breakfast or lunch, but it'll also be a sweet ending to your weeknight meal.
Total time: 2 hours (including 1 hour of rising time)
Gingers always bring a lovely festive vibe, and these frosted gingerbread cinnamon rolls are no different. They're super soft, fluffy, gooey, and full of the classic gingerbread flavor, let alone the delectable cream cheese frosting on top.
These cinnamon rolls will put the classic ones to shame. With the traditional ingredients in the dough, warm spices, and molasses, they are never lacking in flavor. The eggnog cream cheese glaze embraces the cake's sweetness with the perfect vanilla, nutmeg, and cinnamon flavors.
To save more time, make the dough a day earlier and let the cut rolls rise in the fridge for 8 – 12 hours, ideally overnight. Thaw them at room temperature the next day and allow them to rise for another 1 to 1 ½ hours. This slow rise is sure to bring fluffiness and deep flavors.
Total time: 1 hour (excluding 20 minutes of chilling time)
How about adding these classic gingerbread cupcakes to your must-bake collection? Molasses and warm spices like cinnamon, nutmeg, and cloves give these cupcakes the best seasonal flavors. Top them off with beautiful frosting swirls with sparkling sugar; what not to love?
This cake is a great treat to include with brown sugar, better yet, you may mix it with molasses for a sweetener. Not only that, brown sugar brings additional moisture to baked goods. With tangy cream cheese frosting, each bite is super moist and loaded with gingery generousness.
Chilling is a crucial step in this recipe, so do not skip it. Keep in mind to let the ingredients come to room temperature before making. In addition, your cupcakes can stay in the fridge for about three days. Thaw them at room temperature before serving.
Consider these gingerbread cupcakes if you don't know what to bake this Christmas.
Total time: 1 hour and 30 minutes (excluding 30 minutes of cooling time and 4 hours of refrigerating time)
Capture the colors of the fall in this honey ginger pear cheesecake. It comes together in about 1 ½ hours with simple ingredients such as bran cereal, dates (date palm), cream cheese, and honey. Newbie bakers shouldn't fear because this pretty dessert is super easy to make.
Sweet, fruity, and creamy, you'll get triple deliciousness from the crisp crust, tangy filling, and tasty roasted pears with honey drizzle on top. Pear, ginger, and honey are true besties because they combine harmoniously to make up the filling.
To test the doneness of this smooth and buttery treat, make sure that its outside is firming up while the center is still soft. Cooling is necessary, so let the cake stay for 30 minutes in the oven. Then transfer it to the fridge for about 4 hours before continuing the next steps.
Total time: 6 hours and 45 minutes (including 6 hours of chilling time)
Enough for the baked goods; let's move on to something icy for the summer. This fresh and sweet mango ginger sorbet will cleanse your palate with mangoes, gingers, lime juice, and mint leaves.
A sorbet is a non-dairy yet sweet delight with only fruit and sugar. As a result, its texture is scoopable but not creamy. A remarkable thing about this recipe is the alcoholic elements. Feel free to add vodka or rum to the mixture before churning for better flavors and softer textures.
Regarding nutrition, sorbet may be the healthiest frozen dessert as it does not contain dairy and saturated fat. Plus, mangoes and gingers are tasty and good for you. Gingers offer anti-inflammatory effects, while mangoes are a great source of vitamins A, C, and B6.
Total time: 50 minutes
No ginger dessert list is complete without a classic gingerbread. Moist and nicely spiced, the cake is a delightful balance of ginger, brown sugar, and vanilla extract. The festive Christmas smell of the freshly baked cake will linger in every corner of your home.
Remember to whisk the molasses in hot water before adding it to the batter. Hot water helps loosen the thick consistency of molasses, which helps incorporate it into the batter. Also, it's normal if the cake batter is thin. After all, the results will be dense, soft, and buttery.
Add the last touch with a dollop of whipped cream or butterscotch sauce. Alternatively, a drizzle of caramel sauce or a sprinkle of powdered sugar also works. Even better, let the cake cool completely and top it with cream cheese frosting. Choose whichever suits you best.
Total time: 1 hour and 15 minutes
I love this date and ginger pudding because it's egg-free and dairy-free. Moreover, sticky date pudding is something hard to beat with the unique ginger flavor. Things only get better with the nutty and sweet tahini caramel sauce.
This creamy pudding sweet treat has some new twists from the regular ones. Apple puree, as a substitute for eggs, helps keep the baked good moist and fresh for a longer time. Besides, the bi card and baking powder will act as leavening agents, giving your cake a good rise.
Speaking about the caramel sauce, it's a combination of sweet and salty flavors. When combining it with the moist cake, you can feel absolute heaven on every bite.
Total time: 15 minutes
Who can imagine that a broiled fruit would make a perfect dessert? This healthy and addictive honey dessert will win you over on the first bite, when the fruity sweetness and fragrance, along with the nutty flavor from macadamia nuts, send your taste buds into hyperdrive.
Broil the grapefruit with the honey ginger mixture on top to caramelize for a few minutes. Next is adding the chopped macadamia nuts. Let them broil for another 1 – 2 minutes and enjoy. Ready in 15 minutes, this recipe makes a quick and less fussy dessert to serve at any time.
Undoubtedly, this recipe is nutrient-dense with all healthy ingredients. Grapefruits and macadamia nuts are both antioxidants powerhouse. They help neutralize free radicals and reduce the risk of diabetes and heart disease.
Total time: 15 minutes
No words can describe how much I adore this Asian-style tofu pudding dessert. Every spoon of soy bean tofu smothered with a sweet, spiced ginger syrup will melt in your mouth. You'll be able to get this tofu sweet delicacy from street vendors or even fine restaurants in many Asian countries.
Tofu pudding dessert, or douhua, is about silken tofu soaked in ginger syrup. Although store-bought silken tofu is always available at stores, making it from scratch with soy milk is an absolute pleasure. All it takes is soy milk, sugar, and gelatin.
This recipe calls for commercial soy milk, but unfortunately, it doesn't thicken nicely. Therefore, cheat with gelatin to solidify the mixture. Avoid adding gelatin to the warm and hot soy milk for a lump-free mix.
Make your tofu pudding dessert more authentic with Chinese slab sugar instead of regular ones.
Total time: 4 hours and 15 minutes (including 4 hours of freezing time)
If you need to ease the heat of summer days with fresh and chilling ice cream desserts, this vegan turmeric ginger ice cream will fit that bill. You're free to experiment with a new mixture of ice cream with turmeric, ginger, and cinnamon from the sweet coconut milk base.
Stick with the freshly grated turmeric and ginger for the most authentic taste. You may notice that the ice cream color changes based on your ingredients. Moreover, with a rich turmeric taste and spicy undertone, this treat resembles golden milk in taste.
Besides, the candied pecans toppings are not compulsory. But I recommend you give it a go because their sweetness balances the solid spiced flavors. This sweet ginger dessert only takes 15 minutes to prepare. Thanks to the ice cream maker, things go smoothly and quickly.
Total time: 50 minutes
I bet this gingerbread biscotti will be a new favorite name on your Christmas baking list. Who dares to say no to a crunchy piece of cookie covered in a sweet chocolate glaze? Dunking it in a hot cup of coffee or cocoa will be a heavenly experience.
Biscotti is a long, finger-shaped cookie that has been baked twice to have a hard texture. Add each side of the cookie for 1 – 2 minutes more for extra crunch on the second bake. Conversely, the biscotti is softer when you reduce the baking time.
In addition to the signature crunch, this recipe's goodness has a balanced sweet-and-spicy flavor, thanks to warm spices and white chocolate, making it a great post-meal dessert.
Total time: 15 minutes
Lighten up your day with these golden ginger kisses biscuits. These fluffy ginger sponge biscuits come with a few ingredients, such as flour, golden syrup, and spices. In about 10 minutes, these golden gems with ooey-gooey buttercream filling are table-ready.
Ginger kisses are a popular treat in the food culture of Australia and New Zealand. The sweet and slightly peppery ginger mingles wonderfully with the soft, moist cake and creamy filling. You may customize the filling for more variations, and feel free to adjust their size depending on your liking.
Its soft texture will remind you of a sponge kiss or whoopie pie. Yet, unlike the store-bought biscuits, the homemade version will harden up in a few days, so you'd better finish them quickly. Cover tightly and freeze the biscuit mixture if you don't plan to serve them immediately.
Total time: 1 hour
The store-bought candied gingers may be a little pricey, so these homemade versions will save you money. Easy and economical, these confectioneries are made with two main ingredients: fresh gingers and white sugar.
This spicy and sweet food has a crackly sugar crust and a chewy center. The strong and sweet ginger flavor will linger on your tongue for a long time. Also, save the delicious syrup because it will be helpful in many other dishes, such as pancakes or waffles.
Moreover, gingers bring both flavor and health benefits from a health standpoint. For an extra healthy treat, replace sugar with honey or skip sugar coasting. These candies are also a cure for your indigestion, sore throat, or nausea.
Make a big batch of candied ginger and send them to your loved one this Christmas.
Total time: 1 hour and 25 minutes (including 15 minutes of resting time)
Even if you're not a fan of bread, this ginger cardamom banana loaf will give you a second thought. Moist, tender, and flavorful, this loaf is an exciting twist on traditional banana bread, starring fresh ginger and ground cardamom.
While cardamon and gingers offer earthy notes and peppery flavors to your bread, the classic vanilla and banana duo are not here to disappoint. A wonderful marriage of flavors will make you ask for more slices.
Cut the bread loaf into slices and enjoy its sweetness whenever you want. A hot cup of ginger tea will be a great companion to this treat in every meal.
Total time: About 2 hours and 34 minutes (including 20 minutes of additional time and 2 hours of refrigerating time)
Lemon and ginger are dynamic duos, and they prove their power again in these ginger lemon bars. Moreover, the shortbread crust is a perfect base to complement the tart lemon and peppery ginger.
To recreate the bars, you have to make and pre-bake the shortbread crust with specks of candied ginger. The next step is making the lemon filling and pouring it into the pre-baked crust. Then, bake again for the filling to set. After 2 hours of refrigerating, cut the bars and garnish.
The lemon and ginger bring freshness to each bite. All your favorite flavors are in an addictive bar, from sweet and tangy to peppery. In addition, I suggest you enjoy these bars one day after making them. Allowing the flavors to have time to settle so they taste even better.
Total time: 35 minutes
With this recipe, you will whip out the traditional German gingerbread in a matter of time. It's also known as "Elisenlebkuchen," a classic treat for Christmas from Nuremberg, Germany. Who can say no to the moist cookies filled with nuts, candied fruits, and delicious frosting?
These German cookies may share some similarities with other common gingerbreads. However, Lebkuchen is darker, denser, and chewier. Thanks to the abundant nuts and candied citrus, every bite contains a rich, nutty, and zesty flavor.
Interestingly, this recipe offers two glazes: chocolate and icing sugar. The chocolate glaze is made from melted semi-sweet chocolate. Meanwhile, the latter is the combination of powdered sugar and water. Cover your cookies with glazes and wait for them to harden enough to enjoy.
These German gingerbread cookies may be your new favorite Christmas treat.
Total time: 20 minutes (excluding 4 hours of chilling)
Here comes another cheesecake on the menu. Nevertheless, this no-bake stem ginger cheesecake brings a different vibe with a more robust gingery flavor. Easy, fuss-free, and delicious, this ginger delight is a perfect make-ahead option for your party.
As its name suggests, this dessert is full of ginger flavor, from a biscuit base and smooth cheesecake mixture to plenty of chopped stem ginger for garnish. Gingers are a natural match for cheesecake as the spiciness is a proper cut to the creaminess and sweetness.
This cake needs 4 hours of chilling in the fridge to firm up before serving. Only add the stem ginger and syrup before you want to enjoy it. Plus, it will last in cold storage for about five days. Allow the cake to rest at room temperature for 30 minutes after removing it from the fridge.
Total time: 1 hour and 10 minutes
Have a slice of this orange ginger carrot cake, and I promise you will be smitten by it immediately. This classic carrot cake got a new flavor makeover with orange zest and fresh ginger, elevating the taste to another level.
This delicious cake has a touch of orange for extra flavor, moisture, and sweetness. As for the flavor profile, you will focus heavily on the spices, especially ginger and cinnamon. A warm and comforting smell will fill your house when you bake this cake.
This delish dessert filled with orange essence should be enjoyed alongside a cup of hot tea for the best experience. Decorate it to your liking. The silky and tangy cream cheese frosting goes well with all types of garnishes.
These Ginger Desserts Will Warm Your Heart
There's something about ginger that always makes me feel warm and comforting. The hot and spicy aroma brings out a festive vibe, perfect for cold days of winter. Therefore, these ginger desserts will be excellent candidates if you want to warm your winter mood.
If you have anything to share with me and other readers, feel free to comment below. Plus, introduce these recipes to other gingers' fans that you know. It's time to say goodbye now. See you in more awesome content!
Nutrition Facts
12 servings per container
---
Amount Per ServingCalories160
% Daily Value *
Total Fat 9.6g

15

%
Cholesterol 14mg

5

%
Sodium 124mg

6

%
Potassium 255mg

8

%
Total Carbohydrate 17.8g

6

%

Dietary Fiber 0.3g

2

%
Sugars 11.3g

Protein 1.3g

3

%
---
Calcium

56

%
Iron

1

%
Vitamin D

1

%
* The % Daily Value tells you how much a nutrient in a serving of food contributes to a daily diet. 2,000 calories a day is used for general nutrition advice.
Linda Dean is a talented food blogger and cookbook author with a passion for creating simple and delicious recipes. With a focus on using wholesome ingredients and showcasing their flavors with minimal fuss, Linda's recipes have become a favorite among busy home cooks looking for quick and nutritious meals.
With years of experience in the kitchen and a love for experimenting with new ingredients and flavor combinations, Linda has honed her culinary skills and developed a signature style that is both approachable and sophisticated. Whether she's sharing a classic recipe with a twist or showcasing the latest food trends, Linda's work is always fresh, innovative, and inspiring.