23 Easy Toaster Oven Recipes To Blow Your Mind 2023
Why do you even need easy toaster oven recipes? Because there are times when an oven is too much, while other cooking tools are not as convenient. A toaster oven is also suitable for those living alone or with only one other person.
This list of ultimate recipes to make with a toaster oven will help you enjoy food from cooking to serving and cleaning. All of them are created to diminish kitchen work for you.
Are you eager to add such recipes to your cookbook? Don't wait any longer. Grab your notepad, and I'll walk you through this post.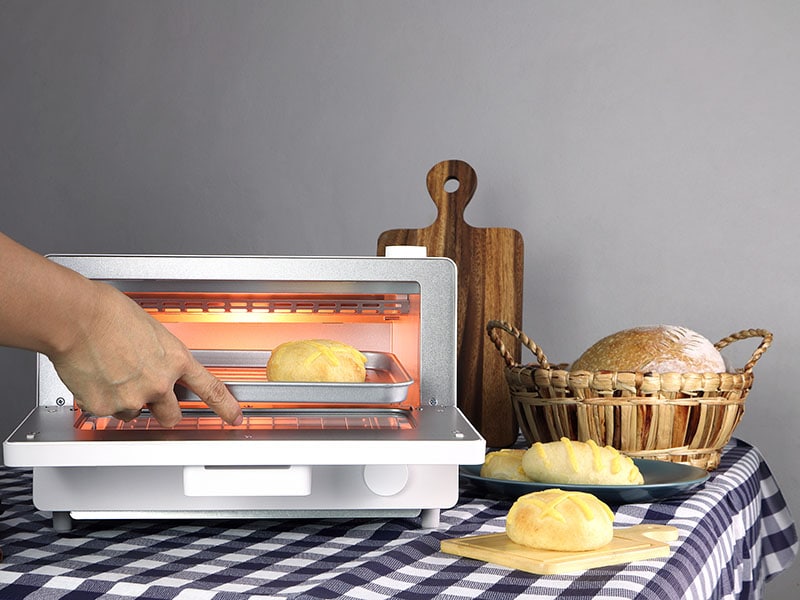 Let's Whip Up Delicious Food With Your Toaster Oven
In case you have doubts about the following recipes, they have all passed my test with excellent outcomes. Cooking with a toaster oven is generally straightforward, but this post will provide you with pro tips to guarantee success.
Total time: 25 minutes
Macaroons are sweet meringue-based confections with white eggs as the main ingredient. They are bite-sized, a little crunchy, and perfect for a toaster oven in case you don't have an oven.
After baking them for 15 to 20 minutes in the toaster oven, you will get golden, slightly charred macaroons that get firm as they cool. A drizzle of melted chocolate on top will add extra crunch and flavor to these treats.
The coconut is slightly sweet, nutty, and has a strong scent. Its smell is so distinctive that you cannot mistake it for any other fruit. Milk chocolate will provide sweetness, while dark chocolate can balance the taste with its bitter flavor. Pick your favorite option.
Total time: 15 minutes
A toaster oven is smaller than an oven, so it heats up faster and becomes an efficient tool for small recipes. For example, this cheesy egg toast recipe brings a quick breakfast side for one or two people.
All you have to do is form a "pool" at the center of a toast and rim the toast with soft butter and cheese. Then, crack an egg inside the rim, season it to your liking, and put it in your toaster oven.
The egg yolk will end up runny as it's not fully cooked. I like it this way, but those who like hard egg yolk can toast for a longer time.
A cheesy egg toast is an instant and healthy breakfast to make in the toaster oven.
Total time: 45 minutes
A breakfast tart is a puff pastry consisting of common food such as egg, bacon, and cheese. The puff pastry base has a golden brown color and crispness. Meanwhile, the egg yolk is still liquid, the bacon ends with crunchy edges, and the spinach remains green.
The toaster oven cooks everything evenly, hence the perfect family meal. It's worth noting that you can adjust the ingredients with whatever you like for breakfast. Feel free to create a vegetarian version using only eggs and veggies.
If you are making one for yourself, store it in the fridge for one to two days and reheat the dish when you want to.
Total time: 20 minutes
Eggs in purgatory are basically poached eggs in hot tomato sauce. Usually, the dish is cooked and served in a skillet, but this recipe uses ramekins, making it easy for individual servings.
Each ramekin has a layer of tomato sauce at the bottom to prevent burning. The next is two eggs, followed by a little cream or milk. At the top is grated cheese, cooked until golden and stringy under heat.
The treat is delicious, featuring a flavor reminding you of pizzas but with egg filling. For cutting down the time to prepare breakfast in the morning, keep this recipe up your sleeves.
Total time: 10 minutes
When making English muffin pizzas, you put together pepperoni pizzas with English muffins. It takes only 10 minutes for these small treats to come together, which you can prepare instantly in the morning for a quick lunch or snack.
The way of assembling these lovely cheesy treats is the same as assembling a regular pizza. So, there are no learning curves here. It's so easy that you can even involve your kids for help if you're not in a rush.
Plus, the toppings are flexible. Switch pepperoni out for other ingredients like sausage, ground beef, etc., for more options.
Total time: 15 minutes
Grilled cheese appears in this post as another effortless recipe for toaster oven owners. It doesn't require much work, time, or ingredients to come together. However, it turns out fatty, cheesy, and as delicious as the best grilled-cheese sandwich ever.
For those wondering what type of cheese to use in making this dish, cheddar is the most common one. There are three other alternatives: havarti, muenster, and smoked gouda. They are all great options with rich texture, flavor, and good melt ability.
The grilled cheese sandwich is cheesy, salty, and crispy. Therefore, it's best to pair it with soup or green salad whenever you want to make a bigger meal.
Making grilled cheese for one is very easy in a toaster oven. Here's a detailed instruction!
Total time: 50 minutes
Potato cakes are thin pans of spiced mashed potatoes. Deep-frying is the conventional way to make them, but a toaster oven is also a great piece of cookware. At the same time, the flour helps keep the cakes in shape.
After half an hour in the toaster oven, your potato cakes will be crispy on the outside and soft on the inside. Their flavor easily meets your appetite, and they are a little chewy due to the flour. Potato cakes taste amazing on their own, but you can pair them with other side dishes.
This recipe shows the process of making the cakes from scratch. If you use leftover mashed potatoes, you can reduce the total time by at least 20 minutes.
Total time: 40 minutes (including marinating time)
Miso-glazed salmon flesh is loaded with umami flavor, while its surfaces are perfectly browned and caramelized thanks to sugar. The delectable, tender, and moist salmon will make you satisfied.
Moreover, it calls for little effort. Apart from mixing the marinade, you barely have to do anything. And there's no cleaning as long as you line the baking pan with foil.
This miso-glazed salmon provides an easy option for lunch or dinner. Depending on your preference, you can serve it with rice or a green salad.
Total time: 1 hour and 15 minutes
Chicken enchiladas in a toaster oven are an extremely delicious dish. It consists of corn tortillas rolling around the chicken filling. The sauce helps build the treat with its thick texture, rich flavor, and appealing red hue.
Besides, a sprinkle of cheese on top adds extra thickness and a salty taste to the enchiladas. The instruction requires one cup of Monterey Jack, but increase the amount if you are a cheese lover like me.
The tip to avoiding soggy tortillas is brushing a little oil on both sides. The oil will prevent them from absorbing the sauce.
Total time: 10 minutes
Making pizza crust on your own is time-consuming and not suitable for beginners. Hence, I included this quick recipe using tortillas instead of traditional crust to eliminate all that work.
The tortillas will crisp up as the cheese melts, and other ingredients are cooked. You will get a stringy cheese pizza as good as regular pizzas. Top it with fresh or dried basil, and the dish is complete.
There are many advantages to this toaster oven pizza. It's low in calories, vegetarian, and healthier than flour-based pizza crusts.
See how a quick toaster oven pizza comes together in this video.
Total time: 20 minutes
Here's a quick and protein-packed breakfast, lunch, or dinner to prepare with your toaster oven, especially on busy days. The filling is yummy: sour pickles, creamy mayonnaise, crunchy celery, and chewy tuna. Cheese is a must-have to make this dish more exotic.
With each bite of Deli Tuna Melts, you will first meet the slightly crispy, brown bread. Then comes the cheesy, juicy, flavorful filling full of ocean-vibe taste. Though all the ingredients are blended, you can still easily recognize each.
To mix it up a little, feel free to add avocado slices, roasted red peppers, or bacon. Pick anything that goes wonderfully with this sandwich.
Total time: 30 minutes
This is one of the best chicken wrap recipes to make with a toaster oven in such a short time. It's a nice combination of softness and crispness.
Grilled chicken is the star of the show. You can cook it on a grill or a skillet, but it should have a golden color, a slightly charred finish, and a signature smoky flavor of grilled meat. The meat is as tender as the steamed broccoli, while the tortilla is crispy.
If you don't have 30 minutes to make these wraps, you can grill the chicken ahead and work on the rest right before serving. Also, it's best to shred the cheese on your own because it will melt better.
Total time: 2 hours and 40 minutes (including rising time)
There are two reasons why it's a good idea to make bread with a toaster oven. Firstly, bread doesn't last long without preservatives. Secondly, there's no point in heating the entire kitchen with your oven just to bake a loaf of bread.
When making bread, the step where the dough rises is very important. The recipe requires an hour of rising time, but it may change depending on the real-time temperature. The colder the weather, the longer the time.
In the end, you will achieve a loaf of bread that's golden all over. You can cut it into slices to make sandwiches or toast with toppings.
To give your toaster oven bread extra flavor, use this guide for reference.
Total time: 5 minutes
Toasted pine nuts are quite common in cooking and baking. They are a great addition to various dishes, such as pasta, salads, and grains. They carry a rich, buttery, nutty flavor and crunchy texture. The nuts are also fragrant, making food smell much better.
Toasting pine nuts with a toaster oven takes more time, but it doesn't need supervision during cooking. While the cookware does its job, you can spend time on other dishes or relax.
Don't forget to let the nuts cool completely before using. Nuts are very hot after cooking, and they may take a while to cool down, so don't rush, or you may get burned.
Total time: 35 minutes
It's safe to say that a toaster oven can cook whatever a regular oven can, but in a smaller size, including cornbread, which works for breakfast, a side dish, or a snack. Cornbread in a toaster oven is as soft, moist, and wonderfully sweet as ever.
Especially, this cornbread's flavor is elevated with honey. This natural sweetener not only makes the dish gently sweet but also gives it a very nice scent. Add bacon, cheese, and even jalapeno peppers if you want to spice things up a little.
With a toaster oven, preheating is not needed because it heats up very quickly. In case your cornbread comes out with little cracks on the surface, don't worry. Like other types of quickbread, it takes a few cracks for cornbread to form.
Total time: 1 hour and 20 minutes
A pound cake is most famous for its buttery flavor, moisture, dense texture, and a hint of vanilla that deepens the flavor. The dessert is so filling that only one or two slices are enough for one person.
The special thing about this recipe is that it uses half all-purpose flour and half almond flour. Almond flour is grainier, so it enriches the cake's texture while making it a little healthier.
A pound cake often goes with fresh strawberries and whipped cream. However, you can get creative and pair it with lemon curd, other fresh fruits, or vanilla ice cream. I sometimes just enjoy it with hot tea to balance out the sweetness.
Total time: 1 hour (excluding refrigerating time)
The next recipe is adapted from a brand of toaster pastries that has been around since 1964. The proprietary dessert consists of a pastry crust, a sweet filling, and icing. It's most common in the US, Canada, UK, etc.
Toaster oven pop tart is a fun treat you cannot miss when you are having a playdate for your kids and their friends. Even adults will love them too, I'm sure. The outside is fairly crunchy, while the strawberry jam filling is runny, bright, and refreshing.
The instructions show you to make pop tart from scratch, so it calls for a little more effort than the other recipes. But don't worry, it's not tricky at all. Give it a try!
Total time: 4 minutes
Bagel with cream cheese and scallions is a 4-minute breakfast snack recipe to quickly make in your toaster oven. This sandwich using bagels is so simple that you can complete one or two servings even on your busiest days.
All you have to do is pick a bagel, slice it into halves, and brush them with butter. Toast them in the toaster oven. Then, spread cream cheese and sprinkle the scallions on top. Top them off with some olive oil and seasonings.
The result is a crispy bagel with a strong buttery flavor, sweet and sour cream cheese. The number of scallions can be adjusted depending on your appetite.
Total time: 23 minutes
I always make sure there's a jar of granola in the kitchen because sometimes I'm too lazy to cook breakfast or crave something to munch on during movie nights. It is cheap, super easy to make, and takes little time to complete.
On top of that, this simple treat is highly customizable, meaning you can adjust the ingredients to your appetite as long as you use whole oats, nuts, seeds, and dried fruits. This recipe also involves other ingredients to flavor the granola, like honey and salt.
Another great thing about granola is that you can leave it at room temperature for a month without problems, though refrigerating it will maintain the crunch better. Whenever you want to enjoy it, serve it with yogurt, milk, or right from the jar.
Total time: 45 minutes
Roasted garlic with a drizzle of oil is a two-ingredient side dish you can pair with a lot of dishes to form a perfectly delectable course. You can roast garlic on a pan, but a toaster oven doesn't make you do much.
Simply chop off the pointed top of the garlic bulb, grab it in foil, leave the top uncovered, and bake for 40 minutes. The result is sweet, so tender that it melts in your mouth and dispenses a special aroma.
To give your roasted garlic more flavor, add herbs like rosemary, thyme, basil, or seasonings of your choice.
Total time: 30 minutes
I know it's not really good to eat roasted veggies because of the extra fat and seasonings we consume. But guilty as I feel, it's the only way for me to eat my greens sometimes, and one of my all-time favorites is asparagus in a toaster oven.
Roasted asparagus is tender with a mild taste, making it an excellent choice to serve with surf and turf at parties. It should also remain green, just a bit darker than its natural shade. Top it with the pre-mixed herb sauce, and the side dish will be significantly more flavorful.
It's worth noting that the color will change after baking purple asparagus. It means it won't be as eye-catching as using the green one.
Toaster oven asparagus is a super easy side dish anyone with a toaster oven can make.
Total time: 1 hour and 5 minutes
Whenever I want a different way to enjoy fries, I turn to this recipe. Biting a piece of baked skin-on potato with simple seasonings makes me feel like relaxing in the countryside, where everything is light and breezy.
The presence of rosemary offers a herby scent and makes the whole fries tray look vivid. Served hot right after baking, the strongly infused fries are great on any day, even the coldest ones.
Whether you are making a batch for a side dish or snack, rosemary fries will win everyone's hearts.
Total time: 37 minutes
This sweet recipe with carrots is cupcakes suitable for individual servings. The small treats keep the classic grated carrot, which results in a rich texture. However, it also adds raisins to make the sponge chewy and cinnamon to infuse an unforgettable scent.
While the cupcake is sweet, the cream cheese frosting contributes a salty, sour taste with its smooth, thick texture to form a perfect match. Last but not least, the crunchy shredded coconut further enriches the treat.
You can buy carrots all year round, but their seasons are late spring and fall. During these times, the veggie could have the best quality and will make the best cupcakes.
Pick A Recipe, Get Ready, Set, And Bake!
A toaster oven allows you to cook a dish perfectly while leaving it unattended, and these recipes cover all types of meals for you. You will surely find a recipe to try immediately from breakfast to dinner, from appetizer to dessert.
Which one will you work on first? I'm excited to hear your feedback on these recipes. If you come up with useful tips as you cook, share them with me in the comment section, won't you?
Don't forget to send this recipe list to other toaster oven owners. They could be wandering the internet searching for such a well-curated list like this one, too.
Nutrition Facts
1 servings per container
---
Amount Per ServingCalories305
% Daily Value *
Total Fat 25.5g

39

%
Cholesterol 224mg

75

%
Sodium 272mg

12

%
Potassium 122mg

4

%
Total Carbohydrate 5.9g

2

%

Dietary Fiber 0.6g

0

%
Sugars 1.7g

Protein 13.9g

26

%
---
Calcium

233

%
Iron

1

%
Vitamin D

19

%
* The % Daily Value tells you how much a nutrient in a serving of food contributes to a daily diet. 2,000 calories a day is used for general nutrition advice.