What to serve with tuna steak for dinner? You want to treat your family to tuna steaks but can't stop wondering which side dish is a good fit with tuna steaks. This is no longer a big deal because there's a full list of side dishes for tuna steaks.
I've drawn up this list with sides that go well with tuna steaks, consist of familiar ingredients, and offer a flavorful taste. Some top side dishes come from many regions of the world that you won't be able to stop eating.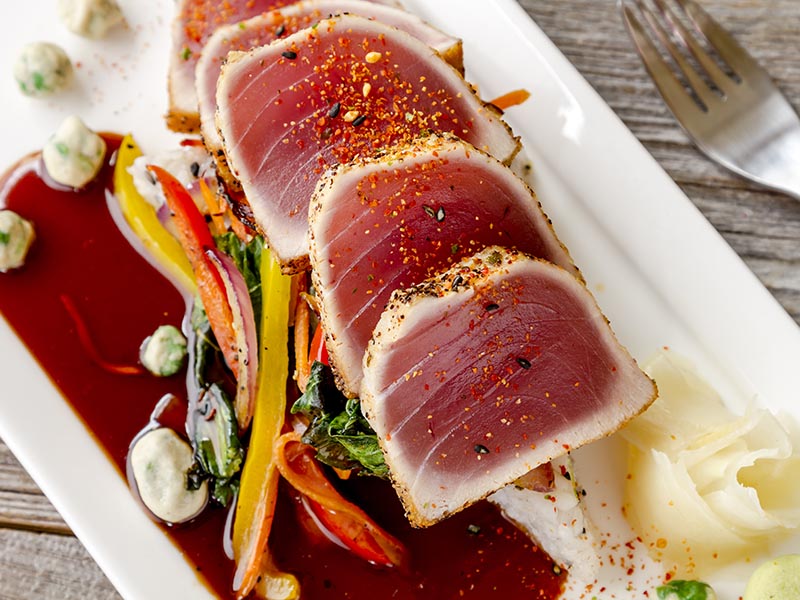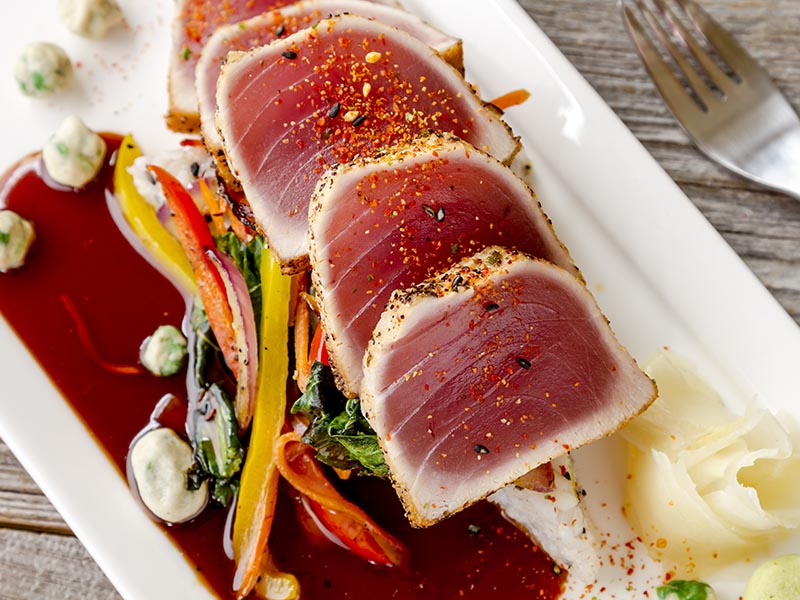 Go Beyond The Taste With Best Side Dishes For Tuna Steak
Let's spice up your tuna steaks with these suggested side dishes from my own experience. They include easy steps and familiar ingredients but are full of flavors. More importantly, I also prepare some special side dishes for your kids.
Total time: 25 minutes
Classic Caesar salad never gets old as a delicious pairing with chicken parmesan or tuna steak. Though it only takes a few basic ingredients, the taste is always bold and intensive. This is a special combination of fresh and organic lemons, olive oil, and some slices of croutons.
If you don't prefer croutons, substitute them with raw egg yolk. By squeezing some slices of lemon, you can balance the taste of the salad. This will increase the acidic flavor as well as stimulate your taste buds.
Total time: 15 minutes
It's no coincidence that they frequently mix cucumbers and tomatoes in many dishes. This combination perfectly strikes a balance between the slight bitterness of fresh cucumbers and the sweetness and sourness of tomatoes.
Cucumber and tomato salad is the best side dish ever for those looking for something fresh and juicy. Add a small amount of red wine vinegar, high-quality olive oil, salt, and pepper to make your side dish more delightsome.
You can make a flavorsome salad from cucumbers and tomatoes.
Total time: 15 minutes
Let's bring the taste of summer to your salad! It's hard to believe you can resist the flavor when tossing fresh spinach, juicy strawberries, creamy avocados, and nutty almonds in a slightly sweet poppy seed dressing.
Feel free to replace or add other types of fruits and nuts to the salad as you wish. The taste will never go bad. Some suggested substitutes can be cherries, pomegranate arils, pecans, etc. With this strawberry avocado salad, even your kids will become fans of salad.
Total time: 40 minutes
A refreshing roasted sweet potato salad will definitely spice your tuna steaks up. This salad side dish can sweep away all your worries about what to offer alongside tuna steak. Enjoy this yummy and healthy salad!
The secret to keeping your sweet potatoes full of their original sweetness is to toss whole sweet potato chunks with oil and salt before roasting them in the oven. Leftover roasted sweet potato salad can last for 2 days if you store it in airtight containers in the refrigerator.
Total time: 10 minutes
It's always nice to have elegant yet tasty French-style sides to materialize at home. Classic French carrot salad is not only crunchy and delightsome but also healthy and easy to make. Believe it or not, the main ingredients for this salad are only fresh carrots and parsley.
Their mixed flavors will satisfy you when tossing carrots and parsley with a lemon Dijon salad dressing. French carrot salad should be your priority when you would love to prepare a quick salad as a side dish.
French-style carrot salad is tasty, healthy, and simple to make.
Total time: 30 minutes
Here is another gluten-free side dish that uses carrots as one of the main components. This salad brings out the culinary features of Moroccan cuisine. This mixture of different vegetables and ingredients creates the final pleasant taste.
This Moroccan carrot and chickpea salad are healthy and flavorful with the deliciously tangy flavor of lemon and the spicy tastes of cinnamon, ginger, and cumin. Plus, you can keep this salad in your fridge and enjoy it after 3 days.
Total time: 10 minutes
Who said salad couldn't be made from fruits? Apple walnut salad can be a typical example of a fruit and nut salad. Once you try this salad, you will soon become addicted to its flavor. What makes this side dish so special?
You can find the answer after eating this apple walnut salad. Crisp apples and crunchy walnuts combine perfectly with balsamic vinaigrette. To prevent apple slices from turning brown, let them soak in lemon water before adding them to the salad.
Total time: 35 minutes
Let's turn your classic pasta salad into something "Greek" with some ingredients such as pasta, herbs, feta cheese, other veggies in your fridge, and olive oil. You can use tahini or mayonnaise to make a creamy dressing for the salad.
There are 3 steps to preparing this premium salad. Firstly, make the dressing with red wine vinegar, honey, and tahini. Secondly, make the salad. Finally, boil the pasta. Now, it's time to serve your tuna steak with the colorful and delicious Greek olive pasta salad.
Total time: 1 hour 15 minutes
Potatoes are one of the most common ingredients to whip up breathtaking Mexican side orders, especially for serving with steaks. The spicy mixture of cumin, cinnamon, and dried onion coats crispy potato cubes. I'm sure your family won't be able to stop eating this.
The crispier the potato dices are, the more successful the dish is. After covering potato cubes with the mixture of cinnamon, dried onion, and some other ingredients, lay the cubes in one layer and bake until golden brown and crispy.
Total time: 40 minutes
For those who prefer a simple style, pan-fried potatoes and green beans will become the ideal side dish. Whether it's in winter or summer, lunch or dinner, you'll never get bored of this classic but yummy combination.
It's better to blanch green beans before pan-frying. Quickly cook the beans in boiling water for several minutes, drain, and soak them in ice water to keep the green beans from being soggy. Don't forget to remove the ends of green beans for best results.
Total time: 50 minutes
Crispy potato wedges are an old but gold side dish, particularly when served alongside various steaks. You may be unable to resist these crispy potato wedges because of their light, salty, and spicy taste.
Crispy potato wedges can be the easiest side ever with 3 steps: quickly boiling potato wedges, seasoning, and baking. Additionally, you can serve crispy potato wedges as a snack. If you have any leftovers, store them in the fridge or freezer.
Crispy potato wedges are a brilliant decision for a delightsome side dish.
Total time: 1 hour 5 minutes
Mini potato stacks can be a notable example of excellent side dishes made from potatoes. Your kids may never get tired of these. It also enhances the flavor of many main dishes, including tuna steaks.
The creaminess of parmesan combined with the crispy, salty, and spicy potato stacks will completely satisfy your taste buds. Save the recipe for when you'd love to treat your family with these appetizing mini potato stacks.
Total time: 40 minutes
Who said spinach was just for salads? Spinach and broccoli cheese casserole will soon change their mind. This side dish recipe is not only creamy and delightsome but also low-carb and healthy.
The brown and bubbly texture of this dish will make your mouth water. Some primary ingredients for this creamy and flavorful side dish are frozen broccoli, fresh spinach, mozzarella cheese, mayonnaise, and other seasonings.
Total time: 1 hour 15 minutes
You've already preheated your oven! Why don't you bake something to serve with your tuna steaks? Something as cheesy and starchy as a creamy corn casserole. All you need to prepare is frozen corn, jalapeno peppers, cream cheese, cheddar, and butter.
If you don't have fresh corn, feel free to make this recipe with canned corn. If there's no oven, using an instant pot or a slow cooker will be no problem. Creamy corn casserole is also easy to take away. Have no worries when carrying this side dish to your outdoor steak picnic!
Corn casserole is one of the best side-orders for tuna steaks.
Total time: 25 minutes
Roasted broccoli and mushrooms are always a great idea to serve with grilled steaks. Now, you don't need to go any further to find the ingredients for the side dish. Mushrooms and broccoli are right at your local markets and grocery stores.
Your food will be ready within 5 minutes to prepare and 20 minutes to bake in the oven. Tossing green broccoli and tender mushrooms with salt, olive oil, and lemon pepper seasoning makes the dish full of fresh fragrance.
Total time: 14 minutes
Roasted okra will make for a fulfilling plant-based treat to serve alongside tuna steaks with a tropical vibe. Okra is notable for its nutritional content and health benefits. When you don't have much time to prepare complicated side dishes, roasted okra can fix your problem.
Wait! Don't just roast raw okra, or you're going to waste it. Spend a few minutes seasoning the okra with salt, garlic powder, and pepper. This way, your roasted okra will be ten thousand times more flavorsome.
Total time: 25 minutes
My list of side dishes for tuna steaks will be insufficient if lacking asparagus. I assure you, even if you're not a fan of asparagus, you'll consider trying it once you notice how delicious cheesy sheet pan asparagus is.
This hearty side dish isn't as challenging as you thought. A bit of salt, ground pepper, and olive oil are enough to take your asparagus to the next level. Add mozzarella and parmesan cheese on top for a bubbly and golden brown top.
Cheesy sheet pan asparagus brings an appealing look and a tasty taste.
Total time: 45 minutes
Are you looking for grilled vegetable recipes? Grilled eggplant never disappoints your expectations as a next-level side to enjoy with cod or tuna steak. You may not realize that grilling or roasting eggplants produce a strong, satisfying flavor.
To avoid making eggplants soggy, you should grill them within 6 minutes for slices from ¼ inches to ½ inches thick. Grilling eggplants with mushrooms or bell peppers makes your side dish more wholesome.
Total time: 3 hours 18 minutes
The list of appetizing grilled side dishes for tuna steaks is endless. You may become familiar with zucchini and summer squash recipes. Nevertheless, have you ever tried serving tuna steak with something as fresh and flavorsome as grilled zucchini and summer squash?
Let's upgrade the old-fashioned taste of summer squash and zucchini by marinating them in a lemon-herb marinade. Marinating can take a couple of hours, but after they're fully marinated, it only takes a few minutes to grill quickly.
Total time: 32 minutes
Your kids will become fans of cauliflower if you treat them to crispy cauliflower chips. Besides, this delicacy is surprisingly toothsome when served with all types of tender steaks.
Homemade cauliflower chips are not only as easy as pie but also healthier than store-bought ones. There are no more than two main ingredients: cauliflower and parmesan cheese. This only takes half an hour to make.
Total time: 1 hour
There is an outdoor steak picnic, and you want to amaze your guests with a new, tasty side dish. Never mind! They will instantly ask for the recipe when you dish up baked broccoli pumpkin tots.
Baked broccoli pumpkin tots stand out from others because they offer a crispy outer layer and a soft and tender taste of pumpkin puree inside. Of course, this finger food snack is healthy and gluten-free. It's tastier when you dip these pumpkin tots in your favorite sauce.
Total time: 30 minutes
I can say there are no limited ways to make side dishes from vegetables. If you get enough salad, how about enriching your tuna steaks with honey sriracha Brussels sprouts? The new side dish is made from familiar ingredients.
To enhance the original taste of these Brussels sprouts, you should season them with salt, garlic powder, black pepper, and olive oil. After baking, toss them in the honey sriracha glaze and continue baking for 5 minutes.
Total time: 35 minutes
Utilizing soup recipes with a creamy base to make a combo with steaks may sound strange, but it is surprisingly yummy. Once you take the first sip, this creamy vegetable soup may become one of your favorite side dishes, especially in winter.
Creamy vegetable soup is what you need for a light and quick side dish. There is no need to use cream, and it only takes 20 minutes to cook. Also, you can freely substitute any type of vegetable you want. How would you rate this kind of soup?
Total time: 25 minutes
When you want a homemade side dish as superior as those in fine restaurants, I suggest roasted cabbage wedges. If you've never tried roasting cabbage before, let's give it a try. You'll get addicted to its special flavor in no time.
What are the ingredients? Cabbage, some spices, and seasonings in your kitchen. You can start by drizzling the cabbage wedges with olive oil and seasoning them with pepper and salt. After finishing, let's make an onion Dijon sauce to serve with.
Roasted cabbage wedges are easy to prepare.
Total time: 55 minutes
Sausage and herb stuffing is a must-cook side for every sausage lover. You can match this with various main dishes at parties or gatherings throughout the year. Sausage and herb stuffing is a wise choice for a delicious, low-carb side dish.
This is the recipe for everyone of all ages. It won't take much effort, but the result is always satisfying with the creamy butter, the meaty sausage, and the tender bread. For any leftovers, you can keep them in the fridge for up to 3 days.
A Simple Side Dish Can Boost The Taste Of Tuna Steaks
It's always worth it when you spare a little time to prepare a side dish, even if it's the simplest. From vegetables, fruits, nuts, meat, or whatever you have left in the fridge, they can turn out delectable and irresistible sides that make your meal loaded with flavor.
Salads, casseroles, or chips, everything can go well together with tuna steaks and only takes an average of less than an hour. Let's leave a comment on how many of these you've tried, rate them out of ten, and share this recipe list with everyone who loves the kitchen!
Nutrition Facts
5 servings per container
---
Amount Per ServingCalories348
% Daily Value *
Total Fat 26.7g

40

%
Cholesterol 61mg

21

%
Sodium 1327mg

56

%
Potassium 218mg

7

%
Total Carbohydrate 19.6g

7

%

Dietary Fiber 1.5g

4

%
Sugars 2.3g

Protein 10.3g

20

%
---
Calcium

131

%
Iron

4

%
Vitamin D

4

%
* The % Daily Value tells you how much a nutrient in a serving of food contributes to a daily diet. 2,000 calories a day is used for general nutrition advice.