What To Serve With Tamales?
Tamales are a popular Mexican dish if stand-alone, but it can be tricky figuring out what to serve with tamales, especially if one is not that familiar with the Mexican cuisine. No worries, in this article, you will find plenty of ideas for sides for both Mexican and American styles.
Imagine the warm summer nights when you can invite your friends over to sit on the veranda and enjoy an ice-cold beer, fruits, and then after sunset, a nice dinner.
Tamales fit perfectly to that summer breeze as they are usually served cold or slightly warm and are easy to eat and go perfectly well as a snack along with alcoholic drinks. To make them become a full meal, find the matching sides here further down.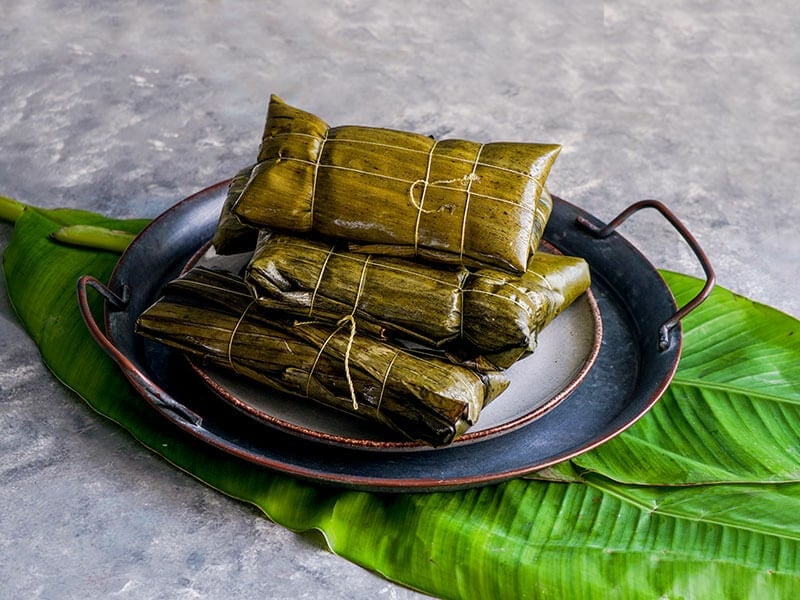 Tamales – What Is It?
In case you never heard of that, let me quickly explain to you what this food is. It originates from Mexico and neighboring countries and is a very common food there.
It is usually made of corn-based, starchy dough, which is filled with various ingredients, such as meat, cheese, vegetables, or chilies, and then wrapped in a banana leaf, or alternatively a corn husk during steaming.
As it is steamed instead of frying, it contains less fat and is therefore also suitable for people who are not that much attracted to fried food.
Tamales Wrapping Help
If you need a little help on how to roll and fold tamales, along with seeing how to make the filling, you can imitate all the cooking steps from this video to make sure your dinner party will be a true success.
Easy Authentic Tamales That Anyone Can Make Video
Part 1: Mexican Sides To Serve With Tamales
To stay with similar tastes and style, you can pair these Mexican sides with your tamales.
Cilantro Rice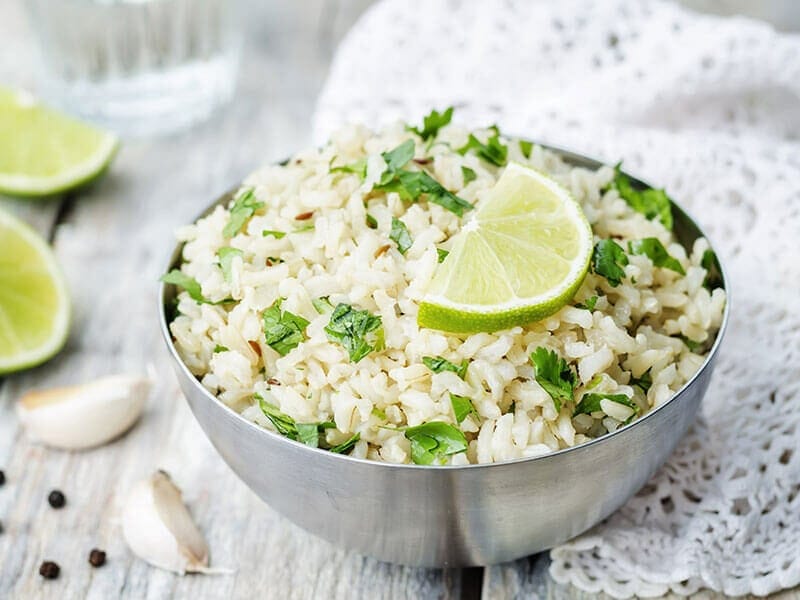 It may sound a bit odd as tamales already contain plenty of dough, so there should not be the need to add more staples to it. However, it is a common treat to make using a rice cooker that keeps you full longer after consuming the tamales.
In contrast to normal rice, which is cooked in plain water, you can cook it in chicken broth to get an even stronger flavor. Following that, infuse it with some cilantro, small pieces of onion or scallion, and lime juice, and you have a totally new, matching taste.
Egg And Salsa
What tamales are missing is proteins, especially if they are not filled with meat. Hence, it can be a good idea to add those by serving a sunny-side-up egg. As it is summer, also add some salsa simply by cutting a tomato in small dices and add some cilantro with cayenne powder.
Combining the mild and creamy taste of the egg yolk with the spicy salsa will create a well-balanced mixture that goes perfectly with the tamales.
Black Bean Soup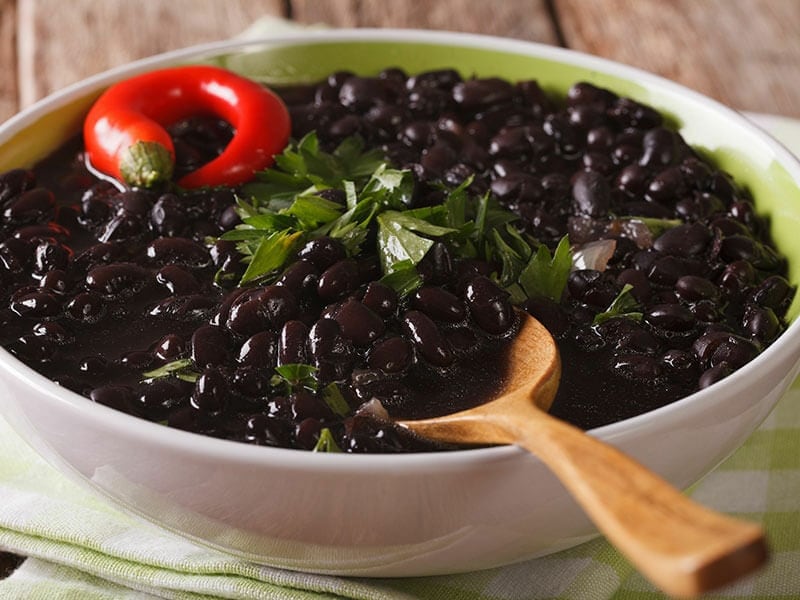 This soup which is made from black beans, is a traditional staple side in Mexico, which means it is a perfect option to pair it with another famous Mexican dish. It is relatively simple to prepare as it consists only of black beans, chicken broth, salsa, and a few regular spices.
Depending on the filling you have chosen for your tamales, the slightly sweet taste will be a good contrast for the rich and spicy filling. You can also add some sour cream to the top of the soup to make it a little creamier if you like.
Jicama Slaw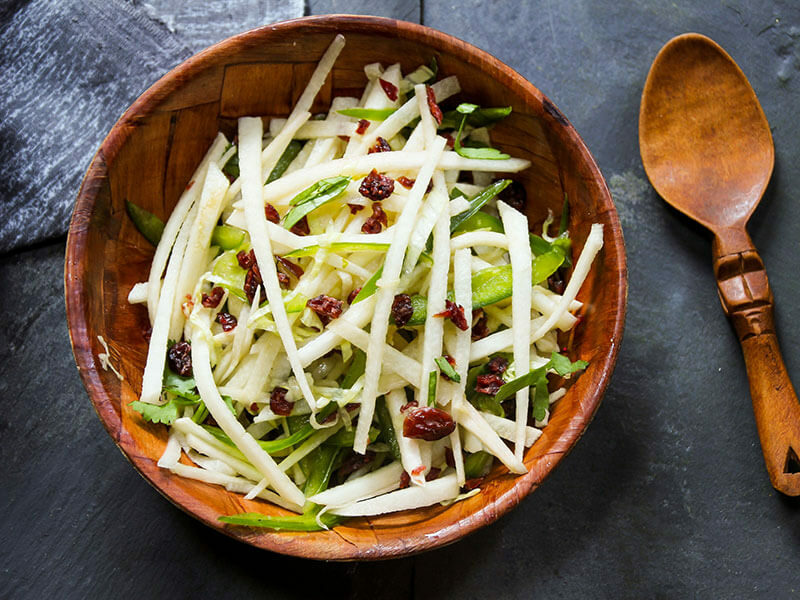 This refreshing Mexican side specialty possesses a crisp and sweet profile. Due to its crunchy texture, you will receive a nice contrast to the rather soft and spongy tamales. It is really easy to be prepared as you simply take narrow stripes of jicama, carrots, and of course cabbage.
You can choose various types of dressings, but I recommend creating a mixture of lime juice, vinegar, ancho powder, avocado oil, and honey, and spice with salt and pepper if you wish to make it a little more exotic, slice in some pieces of fresh mango or orange.
Mexican Corn Bread
In Mexico, cornbread is a very popular staple. Despite the fact that it has an originally sweet taste, it is not only eaten for breakfast but also as a side to lunch or dinner meals.
In contrast to the Louisiana cornbread, the Mexican version also contains cheddar cheese and some chilis, which makes a nice twist of salty, spicy, and sweet flavors. As both the cornbread and the tamales dough are based on corn, they match very well.
Corn Chowder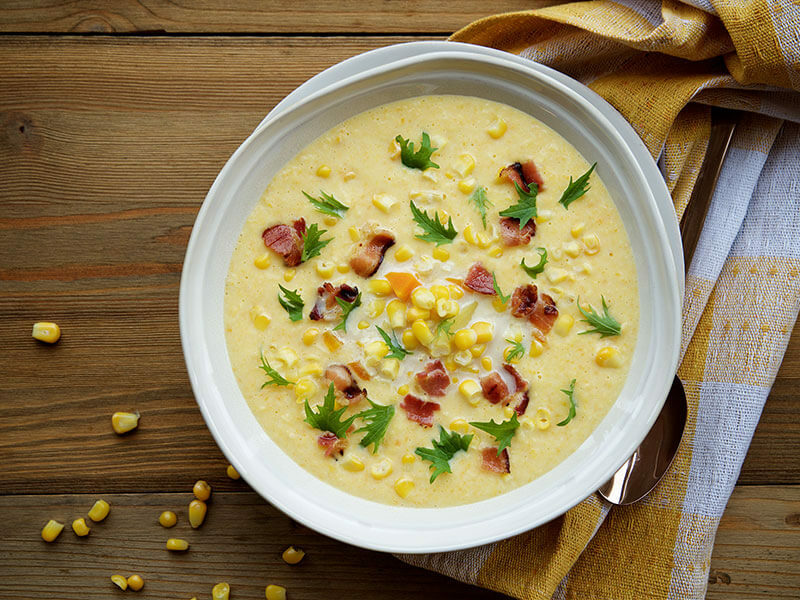 If you are looking for a rather sweet side but one that is not made with dough, then I can recommend corn chowder. It appears like a sweet porridge but is even more creamy and buttery.
The taste of the chowder itself is rather not dominant, which means that it is a great option to pair with tamales as it will not overlay the taste. On the other hand, you can spice it up by adding some toppings such as chicken or pork meat or grilled vegetables.
Mexican Ranch Crème
The Mexican ranch crème, also called crema Mexicana, might not be a full side, but it is one of the best dipping sauces for tamales. It can be compared a little to sour cream as it is made from yogurt and cream, which will sit for about two days.
Hence, if you want to serve it, you need to get started in advance. However, you can freeze it, which means that you can produce it in bulk volumes and then defrost it whenever you need it.
Avocado Soup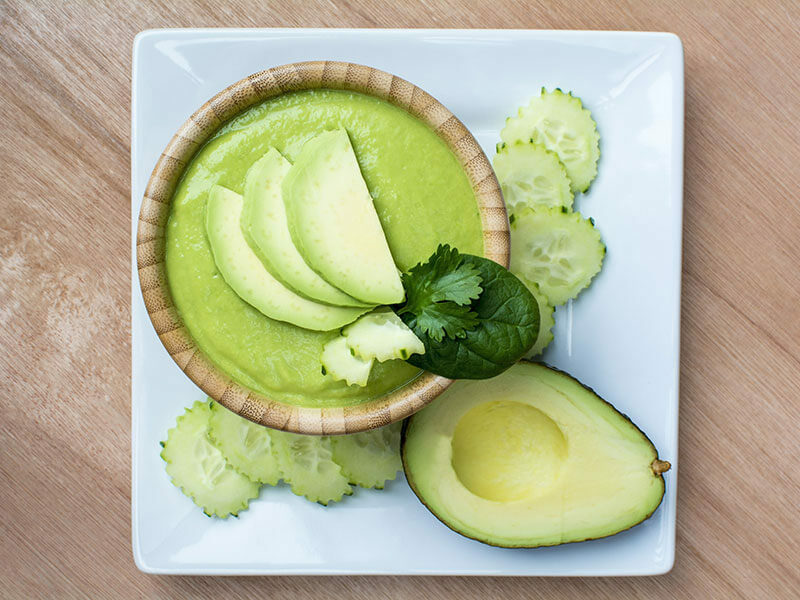 In addition to serving the stomach, we also serve the eyes when preparing food, and with this unique creamy soup recipe, you have definitely done that part. The wonderful avocado green color will catch a lot of eyes and may actually steal the show from your tamales.
However, the cold soup is a perfect match as you can use the mild and sweet avocado flavor to offset the spicy notes of the tamales filling. It also works well as a dip to soak it up with the tamale's dough.
It is also prepared rather easily, as you mash avocado slices with chicken broth, lemon juice, cilantro, and water, and season according to your taste with onions, chili, garlic, salt, and pepper.
Mexican Street Corn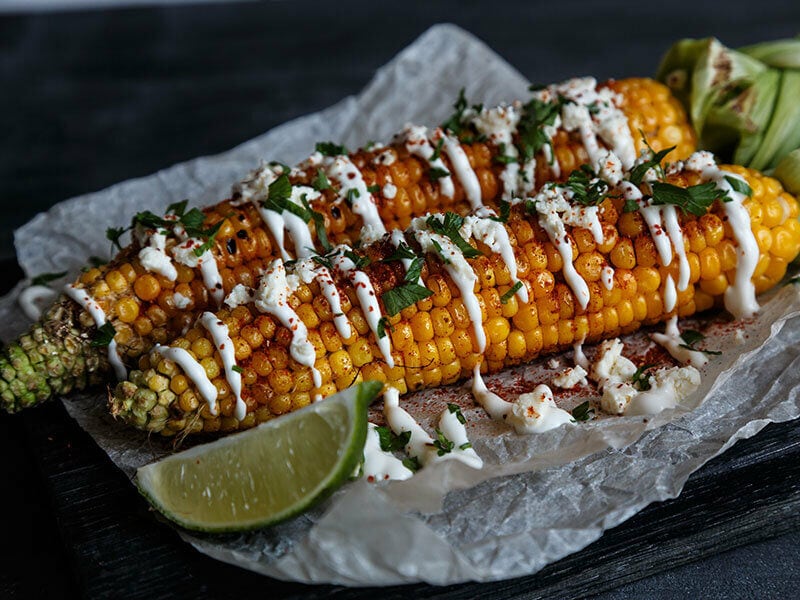 Mexican Street Corn is the version of corn on the cob sold on Mexican streets. It all starts with an ear of grilled corn on the cob that is upgraded with many more delicious ingredients. As corn is a common side, it will work well with tamales.
You do not need to live on a Mexican "calle" to enjoy that as it is possible to make it at home. Simply throw an ear of corn on the cob onto the grill and heat it for about six to ten minutes. In the meantime, prepare a sauce by using mayonnaise, chili powder, black pepper, salt, and garlic.
Fill it into an empty ketchup bottle and splash it over the corn. Then, top some thin slices of cotija cheese and serve it with a lime wedge. You can also add some paprika powder over the entire plate to garnish it.
Part 2: American Food
In the event you prefer to pair American food with your tamales, I can share with you some real diner originals together with some new ideas.
Coleslaw Salad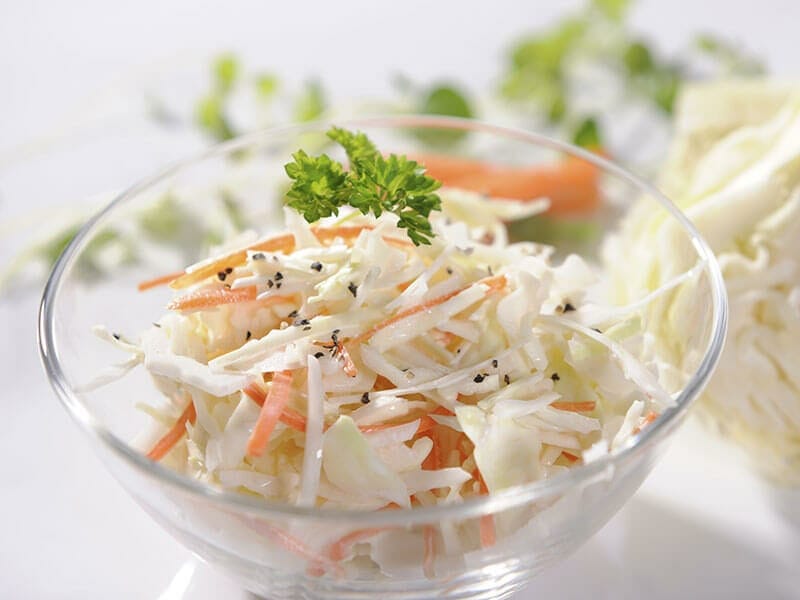 You might know this side from steakhouses or diners, as this is a real American classic. Coleslaw is considered to be a salad; however, it is not a skinny meal such as a green salad due to the heavy dressing.
A true coleslaw consists of white cabbage and carrots, which are served in a dressing made from butter, mayonnaise, mustard, sugar, and apple cider. As you can read, it is rather a heavy side, but it has a great taste and can go well with spicy dishes due to its slight, sweet taste.
Baked Potato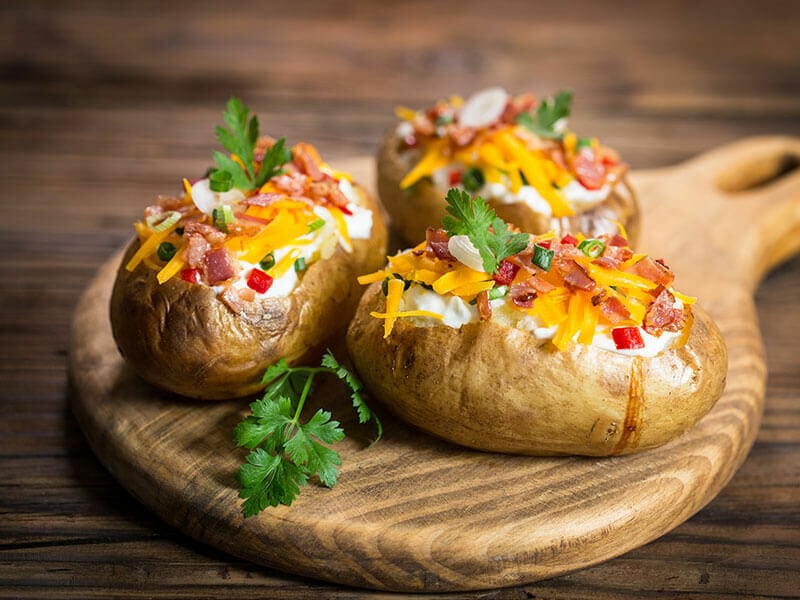 Another classic recipe for starting BBQ is the baked potato filled with sour cream. Relatively easy to prepare, and if you want to add some more Mexican style, simply replace the sour cream with the crema Mexicana.
A strong bonus is that you can prepare everything in advance and then have the potatoes sit in the oven until you need them. If, in addition, you want to give some extra effort, you can prepare a few more sauces or dips to have some variation, such as Mexican guacamole.
Fresh Fruit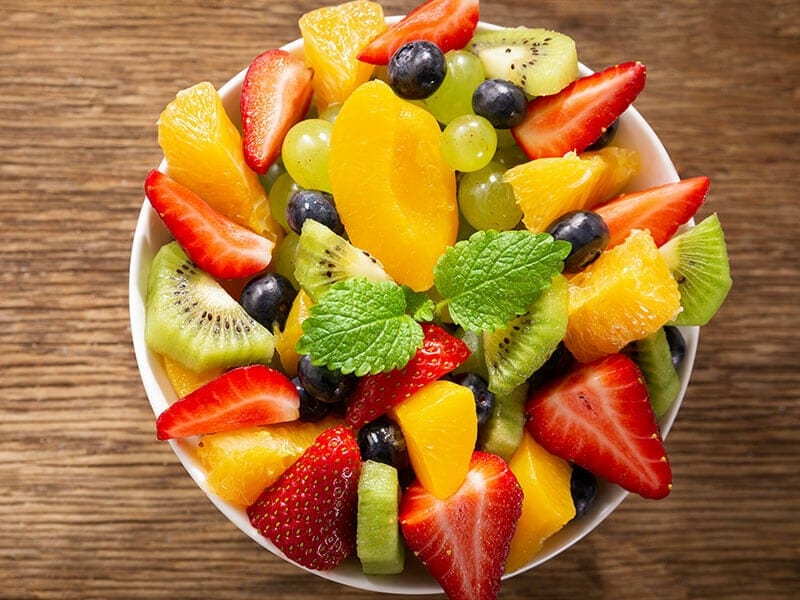 A very healthy, refreshing, and sweet option is to serve fresh fruit as an aside. It may sound like you are serving the dessert already, but it is common to feature fruits in appetizers or sides at many restaurants, often offered as a replacement for unhealthy French fries.
If you are planning to prepare the fruit cups in advance, which I recommend as there is a lot of time needed for peeling and cutting, I advise you not to use apples or pears as they quickly turn brown.
Instead, choose fruits such as melon, pineapple, mango, kiwi, and berries as those are fruits people do not eat too often. To be honest, who finds it fun to cut watermelon or mango.
Caesar Salad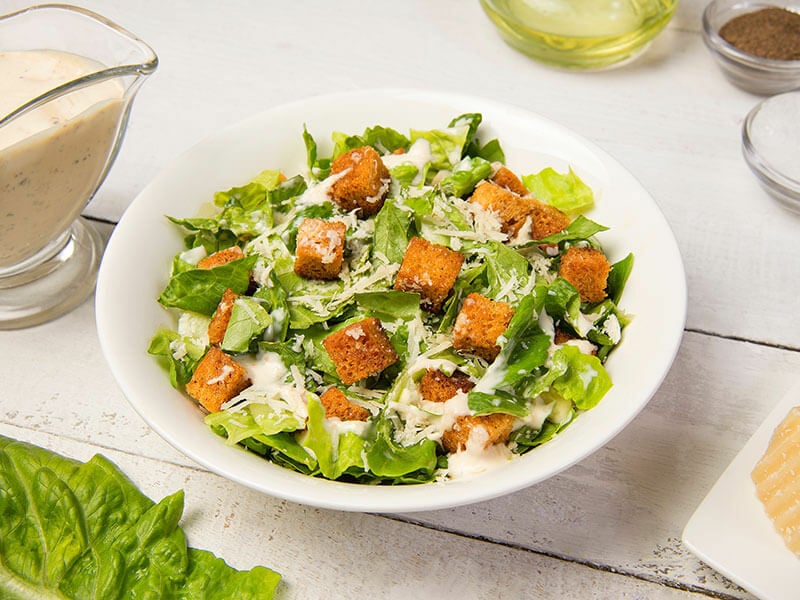 This special type of salad is very famous as well and is a very suitable side for warm summer days as it makes you full but is still easy to digest. It is based on romaine lettuce and must include roasted croutons, and is topped with parmesan cheese.
It has its name, however, due to the dressing, which contains Worcestershire sauce and Dijon mustard primarily. While originally, it was prepared at the table, you can, of course, prepare it in advance and keep it in the fridge until the tamales are served.
Chicken Noodle Soup
Not anymore fully American, but a chicken noodle soup is a very common dish as well and indeed serves great as a side for tamales.
If you have some broth left, it is very easy to make. The intensive chicken flavors will perfectly complement the tamales as the watery soup will be a great contrast to the spongy, tamales which are full of dough.
Depending on how much you are serving from both dishes, you can either have the soup to be the side actually or else wise, call the chicken soup your main dish and serve the tamales as an aside, for example, as an alternative to bread.
Milkshake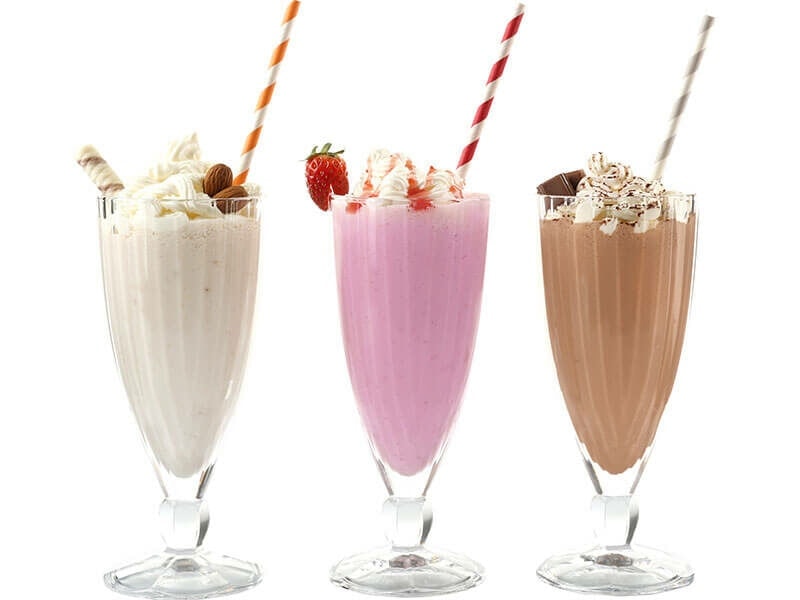 Now, you can get the point that a milkshake is a dessert, and yet I still say that many people actually drink it together with a burger in a diner.
The reason is that the sweet taste and the milk have a kind of neutralizing effect on the taste and allow us to taste every bite the way we would have just started eating. When pairing it with tamales, the same effect happens, which means that everyone can enjoy the spicy, filled buns much longer and may ask for a refill of the plate.
In addition, with a lot of dough as the main meal, a liquid is very appreciated as it is much easier to chew and digest the food.
Fun Facts About Tamales
Do you want to show off at your dinner party with some useless but nice to have knowledge about that Mexican food? Here is your input.
Tamales are a great roadside snack as they can be eaten without a plate. The banana leaf packaging will serve as a plate. That is why street vendors love this, as they do not need to stock on extra dishes or bother about cleaning.
The Mayas ate tamales often during festivals and feasts.
1894 was the year where tamales were the most popular ethnic food in Los Angeles
There are variations of Tamales, such as tamale pie, which is sold as Mexican food in the U.S., although those variations are not eaten in Mexico.
Which Side To Finally Choose?
After I have provided you many options, you are left with the task of picking one for your dinner party. If you cannot make your choice yet, I recommend picking something that you are confident to prepare.
It always looks better to serve something mainstream in a well-done way than having tried something very exotic which did not go successful. If you cook for yourself, please try out a lot of new things, but if you expect guests, cook something that you are sure will succeed.
Leave a comment below and share your experience on which side you have finally chosen to serve and how you and your guests liked it. I am curious to read your stories.
Good Luck!