What To Serve With Taco Salad: 12 Ideas Not To Miss 2023
"What to serve with taco salad" is not the most straightforward question to answer. Tacos are a famous Mexican staple, but eating them can be messy because taco shells easily break, and you can spill out the filling. Then taco salad came to the scene as a more convenient alternative.
Taco salad shares almost the same ingredients as the classic version, such as meat, beans, sour cream, or cheese. Therefore, like its brother, taco salad is an excellent stand-alone dish. However, paring it with other sides will unlock new flavor combos you haven't figured out.
More Mexican side dishes are waiting for you to discover, from Spanish rice and salsa to guacamole. Okay, enough talking. Let's start your delicious journey now.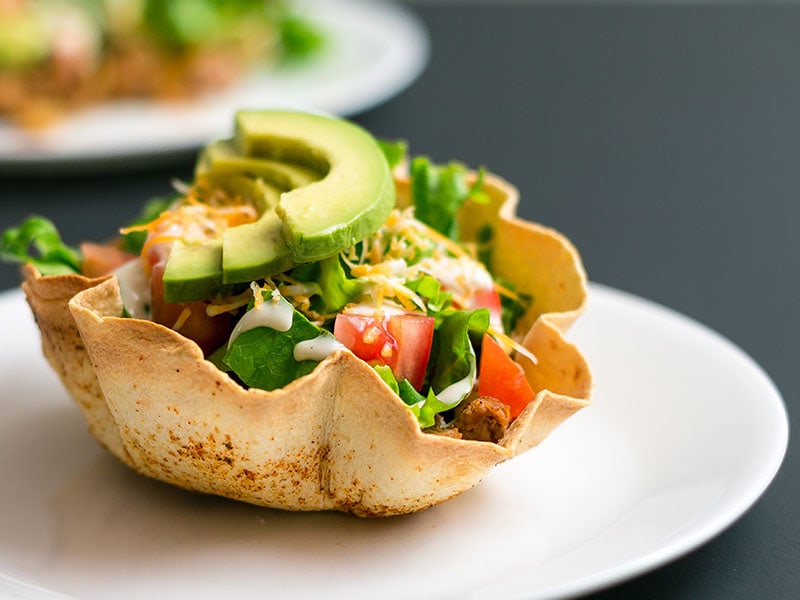 These Dishes Will Be Great Compliments To Your Taco Salad
Besides popular dishes usually served with tacos, you can come up with more creative ideas. Taco salad is already flavorful, but it doesn't hurt to add more fun twists to dinners or taco nights by pairing it with other side dishes. Play with the flavors and see how well the results turn out.
Total time: 24 minutes
Let's warm up with this yummy Spanish accompaniment. Since it goes great with Mexican meals, it will work well with taco salad. Thanks to the rice comprising its base, I love how filling this recipe is. Make a big batch to serve the crowds because it will be gone quickly.
Spanish rice is full of southwestern flavorings. The main ingredients are short grain rice, bell peppers, onion, and tomato puree. And the seasonings to go with it include garlic, paprika, and other herbs. This is a one-pot recipe, so cutting down on dishes is a huge bonus point.
Best of all, Spanish rice does not overpower other staples on the table, thanks to its mild taste. The result should be tender and smoky rice with subtle heat from the chili and hot sauce. Not only that, lemon juice adds a zesty flavor and refreshing vibe to the dish.
Making a bowl of Spanish rice is never easier. Try now!
Total time: 30 minutes
Rice is versatile but can get a little boring sometimes. Therefore, this cilantro lime rice will stir things up a bit. Chopped cilantro and lime make the rice a citrus delight to pair with any Mexican dish, especially your favorite taco salad.
This recipe boosts your health as it is gluten-free and vegan-friendly. Adding butter and veggie broth gives the rice its signature buttery flavor and tender texture. Furthermore, everything is much faster and easier with the pressure cooker.
You will use Basmati rice because it's easy to take on the flavor. So don't substitute it for brown rice because the result won't be the same. Since this is an instant pot recipe, there is no need to rinse the rice before cooking. But if you don't want to skip the rinsing part, go for it.
Total time: 20 minutes (including 10 minutes of chilling time)
Every Mexican meal wouldn't be complete without some chips and salsa. But instead of regular salsa sauce, let's blow up the guests' palate with this sweet and spicy strawberry salsa. I'm sure you don't mind more fruity bowls to pair with flavorful taco recipes or taco salads.
If you have tried pineapple or mango salsa, you won't find this strawberry version strange. The slight tart and faintly sweet strawberry go great with red onion, jalapeno pepper, and fresh cilantro. This fruit will give the classic salsa an adorable pin and a pop of color.
Before serving, don't forget to taste your desired sweeteners. Remember to let your salsa stand for at least 10 minutes for the flavors to mingle and blossom. Toss them in the fridge for an additional 1 – 2 hours if possible.
Total time: 20 minutes (including 10 minutes of chilling time)
Pico de gallo is another long-standing classic side dish that guarantees the success of your taco salad. Alternatively, this common taco complementary delicacy has an addicting spicy and chunky profile. This recipe comes with only six ingredients and is a few minutes away.
Pico de gallo can be translated to "beak of rooster," a salsa with uncooked ingredients and meat-free. All you need are tomatoes, red onion, garlic, and a few more. For the best flavors, go for Roma tomatoes and fresh lime juice. Also, control the spiciness with the added jalapenos.
Like other salsas, pico de gallo needs chilling time, preferably 10 minutes to 1 day. The flavor will improve over time, so this uncooked salsa is an excellent make-ahead option. You can make this dish 4 hours in advance.
About storing, cover it tightly and refrigerate pico de gallo for about a week. Remember that it will lose the crunchiness over time.
This delicious pico de gallo (fresh tomato salsa) is a perfect dish to celebrate Cinco de Mayo.
Total time: 12 hours and 15 minutes
Whether you serve the taco salad as an appetizer or main course, these slow cooker Mexican beans will greatly accompany it. Every home cook's dream is this fuss-free side dish with a handful of ingredients and a few simple steps.
This recipe only needs several ingredients, such as dried pinto beans, garlic, Pace Picante sauce, or bacon. If you can't find Caldo de Tomate (a powdered tomato bouillon), go for chicken bouillon and tomato paste.
The earthy flavor of crock-pot beans stands out in stark contrast with the fresh or cheesy ingredients of taco salads, such as vegetables or cheese.
Although this is a dump-and-go recipe, it's best to prepare this dish a day in advance because the process will take more or less than 12 hours. You should leave the beans cooked overnight and serve the dish at dinner the next day.
Total time: 10 minutes
When you're unsure what to serve with taco salads, add this mango guacamole to the menu. Guacamole delivers extra freshness and creaminess to your taco salad with avocado, mango, and other vegetables.
Avocado is usually the main star of classic guacamole. This time, the fruit will share the spotlight with mango, Roma tomatoes, and red onion. Please don't get scared of the long list of ingredients, as many are pantry items, such as garlic, chili powder, or salt.
The making is so simple that you only mix all the prepared elements and serve. In addition, the sweetness of mango and tomato, the avocado's creaminess, and some zests from lime juice will be a heavenly flavor combo that bursts out in your mouth.
If you haven't tried mango guacamole before, learn to make it here.
Total time: 29 minutes
The taco salad is already meat-based with fresh vegetables, so why don't you add more crispy bites that may be missing from the salad. Avocado fries will surely bring more variety to your taco nights, and this is a perfect time to try them out.
The contrasting texture between the crispy panko exterior and creamy avocado interior will be your new obsession. Plus, the trio of cumin, coriander, and salt ingredients delivers an earthy note to your fries. A finishing touch with a few pinch of salt will enhance the flavor.
Even though this recipe uses the baking method, it is possible to air fry these fries. Set your air fryer at 390°F and leave the avocados there for 10 – 13 minutes. Or take them out when they reach your desired crispness and serve.
Total time: 20 minutes
This Tex-Mex chili con queso's creamy flavor will complement the taco salad's crunchiness. Apart from other essential ingredients, you will have a secret weapon: bone broth. This new element adds more beneficial protein and nutrients to your cheese dip.
You can prepare this famous dipping sauce (also known as "chile con queso" or "queso") from cheese, jalapenos, cumin, and some other condiments. Naturally, these ingredients guarantee that the sauce can be an indispensable side dish for shrimp tacos as well.
There are many rooms for cheese here, so opt for pepper jack cheese or sharp cheddar cheese based on your liking. Plus, use either fresh jalapenos or canned ones. If you choose the latter, remember to combine the peppers with other ingredients in step 3.
Total time: 5 minutes
Speaking about drinks for a Mexican night, a Margarita glass will tango well with taco salad. This well-beloved cocktail is easy to make with only a few ingredients, such as tequila, orange liqueur, or lime juice.
Margarita is a great start for newbies to the world of cocktails. With only five ingredients, you can whip up this drink in under 10 minutes. Make sure to add lime juice just before serving. And you're welcome to use sea salt or kosher salt to rim your cocktail.
If a cocktail shaker is unavailable in your kitchen, stir the mixture in a clean glass and transfer it to the salted rim later. Moreover, add agave, simple syrup, or extra orange juice to make your Margarita glass on a sweeter note. Finish with a lime slice for decoration.
You can never go wrong with a classic Margarita glass.
Total time: 5 minutes
If Margarita is not your cup of tea, a Paloma cocktail will be an excellent plan B for your party. This classic Mexican cocktail will bring more flavors to your savory taco salad. This citrus beverage plays on the combination of club soda, tequila, grapefruit juice, and fresh lime juice.
Once you taste the bittersweet-sour-salty combo of Paloma, your cocktail journey will never be the same. Moreover, the drink is full of strong and fruity flavors that can easily chase away the greasiness that some well-known recipes with leftover taco meat have when you enjoy the two together.
Pamola takes the tequila mix drinks to another level. However, you can leave out the alcoholic elements, and no need to worry about the drink's deliciousness. No wonder it beats Margarita to become the Mexican most beloved cocktail.
Total time: 50 minutes
Let's continue this list with something sweet. How about sopapillas? Trust me, this homemade fried bread is of the restaurant quality and will make a perfect end to any Mexican-style meal.
These easy sweet fried bread turn essential pantry items, such as flour or baking powder, into delicious desserts. They're also easy to customize, so any neutral oil with a high smoke point will do. In addition, add more spices or turn these sweets into a vegan version if you prefer.
The sopapillas taste best when enjoyed hot and fresh off the fryer. You can tag them along with honey for drizzling or dipping. And don't forget to dust the sopapillas with powdered or cinnamon sugar when finished.
Sweeten your taco night with these golden brown sopapillas.
Total time: 30 minutes
There is no reason why you cannot serve flavorful and effortless Mexican desserts with taco salad, such as these churros. Their outside is crispy and crunchy, while the inside is tender and chewy. They will create an explosion of flavor in your mouth.
Churros are fried dough made from all-purpose flour, unsalted butter, egg, and spices. The long tube of dough is fried in fat and coated in cinnamon and sugar. This treat has gained popularity in Spain and Latin America as a snack or breakfast.
Make sure to fry the churros in batches because overcrowding the pan leads to soggy and less crunchy results. If you don't want to serve them immediately, let the churros stay in the oven at 170°F. They can maintain the crispness until serving.
Create A Well-Rounded Dinner With These Taco Salad Sidekicks
Taco salad is a classic dish that is adored by both children and adults alike. It contains the same nutrients and flavors but is less problematic than the original tacos. And a right side for taco salad will complete your Mexican-style meal.
With different mixes and matches of the flavors, these side dishes will bring new air to your favorite Southern food. I promise that they are so good that you have to prepare a double batch for the next time.
It's time to say goodbye. If you find my article interesting, hit the like button. And please remember that your comments and sharings motivate me to produce better daily content. Ciao!
Nutrition Facts
6 servings per container
---
Amount Per ServingCalories263
% Daily Value *
Total Fat 3.1g

5

%
Sodium 523mg

22

%
Potassium 246mg

8

%
Total Carbohydrate 52g

18

%

Dietary Fiber 1.6g

4

%
Sugars 1.9g

Protein 5.8g

10

%
---
* The % Daily Value tells you how much a nutrient in a serving of food contributes to a daily diet. 2,000 calories a day is used for general nutrition advice.