Planning a hearty dinner but not knowing what to serve with potato salad is a common concern of many people.
Potato salad is a prevalent dish that is easy to eat, make, and able to pair with many different dishes. So how do you choose a dish to go with it that will make the dinner you personally prepare even more memorable?
Your mentor, I am, is here to tell you a few recipes that you definitely can't miss.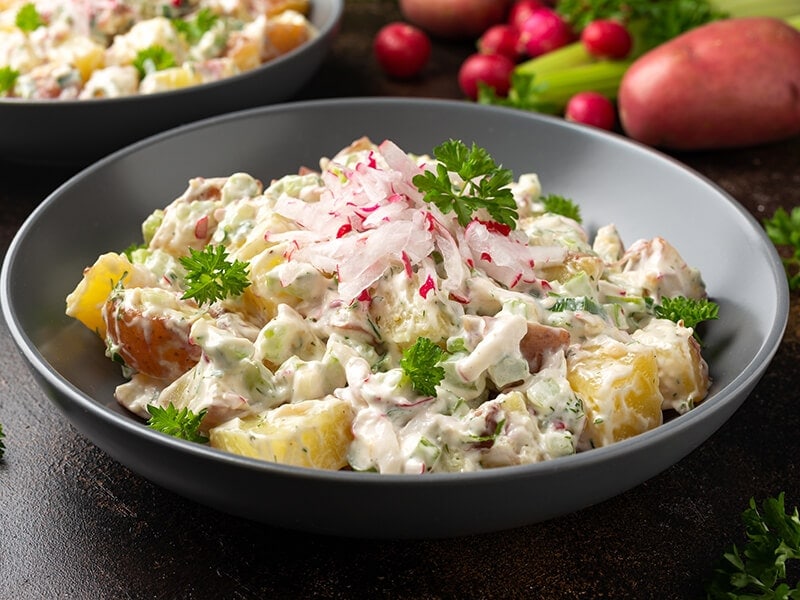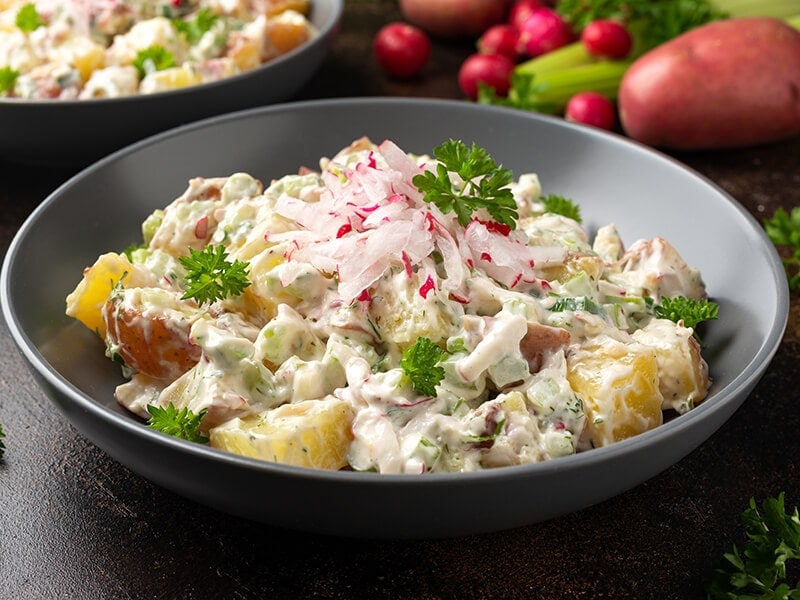 19 Recipes To Serve With Your Potato Salad
Potato salad is simple, delicious, and easy to pair with dishes. There are many ways to make a bowl of potato salads, but in general, you might expect a waxy, perfectly cooked potato, a bit of sour from the dressings, and creaminess from the dairy ingredients.
This dish's attractiveness is about this gorgeous simpleness. Potatoes can go well with almost all proteins such as poultry, meats, and even seafood like fish or shrimp. Therefore, I will suggest to you some recipes that can pair well with your potato salads.
A whole roasted chicken is a perfect option for a fancy dinner. The robust flavor from the olive oil, lemon zest, and garlic can appeal to you from a far distance. This flavorful chicken dish can be a perfect match for your creamy potato salads.
Your lemon roasted chicken will not be that tricky if you follow the steps!
Arguably one of the best sandwich dishes, turkey sandwich is easy to prepare and might be the most straightforward pair with potato salad on this list. You might have almost everything you need for this recipe in the refrigerator. It's perfect in the simplest way.
You can use any part of a chicken to make this fantastic recipe. The distinctive flavor of mustard can magically lift your chicken dish's taste to another level.
This recipe might be pretty intense indeed for people who are not a fan of mustard, so serving with potato salads can make it more balanced.
Duck and chicken are all poultry and can pair well with potato salads, but the taste of duck is so unique. This poultry tastes like red meat and fits well with the smoking processing. You can have a tender, juicy and appealing fat with a nice mix of spices in one bite.
This smoked duck recipe might take a long time to prepare and requires skills to make. But believe me, the result is worth every minute.
Smoking the whole duck – The best guidance here!
Preparing excellent fall-off-the-bone BBQ pork ribs may appear challenging, but it is relatively simple. The ribs will be moist and delicious, thanks to a touch of apple juice, and your knife will glide through the flesh like butter.
Still have some leftovers after your meal? How about preparing some flavorful dishes with leftover ribs? My suggestion is the BBQ pork rib taco, which boasts a fantastic flavor combination that will blow you away.
A fantastic dish to serve for dinner, meatloaf is a hearty, savory dish that can be made of various types of meat and ingredients. There are many variants of meatloaf, and all of them can fit well with a light salad on the side, especially potato salads. You would never regret trying them together.
Step-by-step how to make a perfect meatloaf for your family dinner. Watch this video:
Is it possible that whiskey and burgers will work out? Yes, it is. Strange as it may sound, whiskey and burgers are a match made in heaven. It is so delicious that it can replace conventional burgers and "participate" in any backyard party.
Another burger recipe I would recommend to you is this Tuscan burger. The delicious, hot burger with perfect juicy, cooked meat goes so well with the fresh ingredients that make every bite a taste bomb. Mouthwatering!
Another idea for a dinner or family gathering party is to prepare these beer brats. In less than an hour, you can have these on the table for five portions. The beer can upgrade the taste of normal bratwursts so well. It's a recipe you should not miss.
I recommend you to serve these brats with German potato salad, phenomenal!
Let's roll up your sleeves and make some grilled beer brats!
Not only go well with strong savory dishes, but your creamy potato dishes can also go well with some light and vegetable side dishes like sautéed green beans.
Eating them together can reduce the overwhelming feeling when consuming a lot of milky and cheesy food at a time.
This ham steak recipe is so easy to make, and the highlight of it is the glaze that goes with the steak. It is undeniable that sweetness and savory can go well together. This dish requires only under 20 minutes to complete, perfect for a busy day.
We have gone through the meat dishes; now I will suggest some other seafood dishes. Since grilled and smoked dishes can complement well with the creamy taste of your salads, grilled salmon is my first suggestion for grilled seafood on this list.
Watch out! This easy-making salmon dish may overtake your current favorite fish dish because it is so yummy.
Smoked salmon is also a great competitor on this list. The fatty taste of salmon mixed with the smoky flavor through the smoking processing, makes your fish dish bring out a very different taste.
Then the rustic lightness of potato salad can bring a perfect plus for a full-flavored dinner.
This is how to make a perfect smoked salmon dish from A to Z! Watch this video to know:
Tuna steak, the name tells all. Tuna is meatier and has a meat-like texture when cooked; it has a signature delicate fatty and juicy texture from an omega-rich fish. If you want healthier proteins to go with your potato dishes, tuna should be on the top listed.
You might think these two, shrimp and potato, how can they be relevant? The light seafood and clean taste of shrimp can add a unique flavor when served with a creamy, milky potato salad.
Its mild saltiness can also balance well the starchy taste of the potatoes. Are you curious? Just try it!
Smoking is also an excellent way to deal with delicate proteins like shrimp. Just a light touch of spices and salt is enough to make your shrimp shine together with your lovely potato salad.
Baked beans can play an exciting role besides your potato salad. You can mix them into your salad or enjoy them as a side dish; both ways are okay. These humble, salty, and spicy beans are just potatoes' best friend.
Anyway, a slight twist can make your baked beans hit the point!
If you're looking for another salad recipe to go with your potato salad, coleslaw is a great option. Its flavor is as simplistic as its preparation process. This recipe will complement your potato salad rather than dominate it, making it a lovely subtle side dish.
If you want to make a new version with your traditional potato salad, change the sauce or the dressing. You might be familiar with the creamy sauce; how about trying to serve it with mustard sauce today. This change will not make you disappointed!
Easy-peasy 5-minute mustard sauce for an outstanding potato salad! Watch this video:
Take A Nice Seat And Enjoy Your Meal
The massive changes might happen on the dinner table, I have heard that quote somewhere, and it's right on some perspectives. Family meals are substantial and delicious food can become an unforgettable piece of memory to remember.
I hope that with the 19 recipes for food to serve with your potato salad I have suggested today, you can create a wonderful meal or gathering party at home.
If you have any other interesting recipes that can go well with potato salad, don't hesitate and leave the comment below.
Nutrition Facts
4 servings per container
---
Amount Per ServingCalories456
% Daily Value *
Total Fat 29.4g

45

%
Cholesterol 91mg

31

%
Sodium 7279mg

304

%
Potassium 117mg

4

%
Total Carbohydrate 6.9g

2

%

Dietary Fiber 1.1g

4

%
Sugars 2.4g

Protein 42.1g

84

%
---
* The % Daily Value tells you how much a nutrient in a serving of food contributes to a daily diet. 2,000 calories a day is used for general nutrition advice.