Haven't you got any ideas for what to serve with chicken wings? You have to agree that the wings are one of the best finger foods, but the eating experience is not complete without some great side dishes. I'm sure at least one of the ideas below will solve your problem.
People often serve chicken wings with French fries or other high-calorie foods. However, don't just be a follower in the kitchen and be adventurous with more unique ideas for your side dishes. I promise they all turn out amazingly.
From classic mashed potatoes and salads to some mind-blowing pairings, you are welcome to try them all! Let's rock these recipes!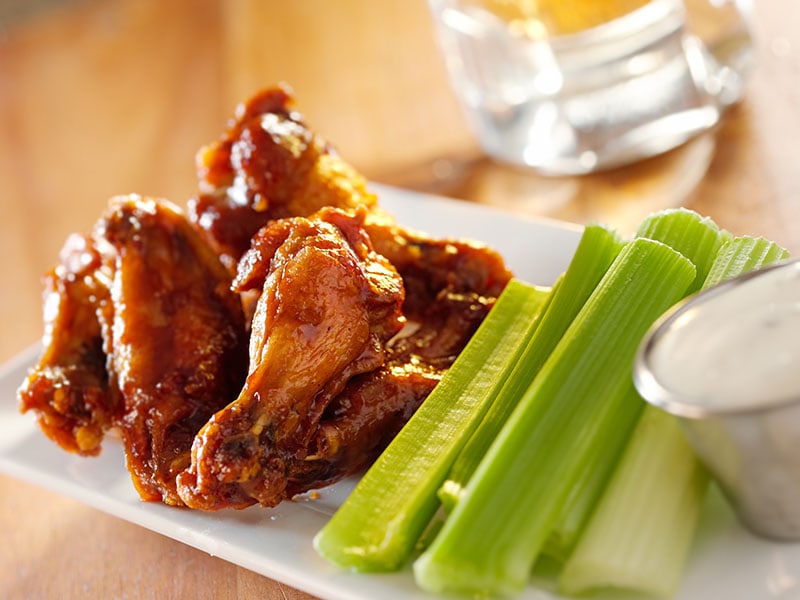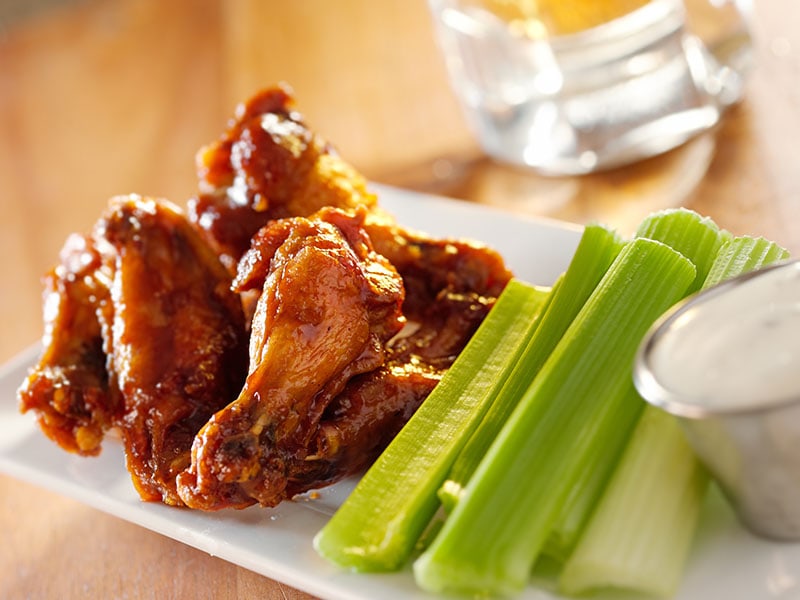 Turn Chicken Wings To A Meal With These Side Dishes
As I already mentioned, chicken wings can go well with almost everything, so it is easy to find a great pair for your wings. Also, adding some variations can make some classic dishes more interesting. Wait and be amazed by some unexpected combinations!
Total time: 40 minutes
Garlic roasted potatoes have to be one of the most beloved made-with-potato sides to feature on Thanksgiving or Christmas. Not only does it have an eye-catching appearance (red skin), but it also has a crisp exterior and soft texture on the inside.
In this recipe, you could go with any favorite choice of potatoes, but I recommend the red ones and leave their skin on because they are thin and will be soft enough during roasting. Yukon Gold is a popular choice with an even more crisp texture when done.
Remember not to put too many potatoes on the pan so they can be roasted evenly. Moreover, don't flip the potatoes until one side turns golden brown to ensure that all sides are evenly roasted. Flipping them frequently also leads to damage and pokes.
Total time: 20 minutes
Use all your summer produce and turn them into a bowl of cowboy caviar. The colorful appearance will make you want to whip off this dish immediately. You can serve it everywhere, from picnics and potlucks to parties.
If you make the salad ahead of time, the veggie will get even more marinated, adding more richness to the flavor. However, this may not be necessary in case you plan to use it as an easy accompanying dish for jerk chicken or other types of spicy, flavorful meat.
Sugar will balance the acidic taste of lemon and white wine vinegar, giving the dish a sweet, savory richness. But instead of vinegar, opt for balsamic vinaigrette or any vinaigrette you want. Besides, a ½ teaspoon of cayenne pepper will add a special kick.
Make your guests go wild with this mouth-watering cowboy caviar bowl!
Total time: 25 minutes
Sweet and creamy Southern-style skillet corn is a go-to side dish for an outdoor party. Impress your guests with these Southern-style chicken wings.
To make this recipe, start with dropping the corn in a skillet, then add butter, water, and sugar. Next, cover and cook for 15 minutes at medium heat. Then open the lid and stir the mixture frequently. In the meantime, add milk and flour slowly and whisk until smooth.
You can call for frozen corn if the fresh one is unavailable. There's no need to defrost it. Put the corn directly in the skillet and do the rest steps as normal. The corn skillet goes great with anything, from chicken and pork to steaks.
Total time: 15 minutes
Parmesan zucchini corn can also be a great addition to chicken wings and any main dish. It's a simple dish and ready in 15 minutes.
All ingredients in this recipe are fresh. And I highly recommend fresh garlic because its fragrance is utterly different from minced ones.
Plus, suppose you want to know whether zucchini is cooked, check its appearance. Cooked zucchini is slightly translucent (or brown) and soft. Zucchini will soften as soon as it comes out of the hot pan, so it's best to enjoy it right after serving.
Total time: 23 minutes
With only three ingredients in less than 30 minutes, you can materialize a luscious buttermilk specialty to go with any dish. The golden-brown biscuits with a crispy exterior are great treats for kids and baking newbies.
This recipe calls for self-rising flour, stick butter, and buttermilk. However, be creative and alter other options to your liking. If you don't have self-rising flour, feel free to use all-purpose flour. Likewise, use shortening instead of butter if you like.
To ensure the biscuit puffiness, keep the dough cold and sticky and not add too much flour when kneading. Also, make sure that butter and buttermilk are always in cold condition.
Total time: 1 hour 15 minutes
Deviled egg potato salad is a famous companion with chicken wings. A classic potato salad married with devilled eggs, and their result is magnificent!
The deviled egg is an egg yolk mashed, mixed with some other elements, and then stuffed back into the halves. It will bring creaminess to the salad, whereas the mustard and relish will add more depth to the flavor. Add crispy bacon for more flavor and texture.
About storing, you can keep the salad in the fridge. However, never freeze your salad. Although the salad is still edible, spuds will get mushy after thawing, while the mayonnaise will lose its original texture.
Total time: 25 minutes (excluding 1 hour of chilling time)
You can learn a thing or two about making marvelous cold pasta treats with this Amish macaroni salad. This vibrant recipe is a mixture of hard-boiled eggs, celery, red bell peppers, and more. All soak in a light and creamy dressing made of Miracle Whip or mayonnaise.
The dressing adds a sweet and sour flavor, with a hint of spiciness from the mustard, to the whole salad, while the egg yolk brings a nice creaminess.
After coating, cover and leave the salad to rest for one hour before serving. The great thing is that you can prepare this dish three days in advance, and its taste will get richer and more complex over time.
You don't need to be a pro chef to whip up this Amish macaroni salad recipe. Try it now!
Total time: 55 minutes.
Southern baked mac and cheese with breadcrumbs will be a comfortable side dish to dip with wings. You won't be able to say no to the melted Gruyere, greasy cheddar cheese, and crispy golden brown breadcrumbs.
Pre-shredded and freshly grated cheese is optional, but I'd prefer the latter. Combine two different kinds of cheese for the best results. Gruyere brings out the creaminess, while the cheddar adds more tang and cheesy flavor to your delicacy.
Moreover, refrigerated mac and cheese can last for five days. When in use, you need to reheat it at 350F until the cheese starts to melt. This delicacy would be a start for any holidays or family dinners.
Total time: 20 minutes
It may sound strange at first, but you'll love the unique combination of mayonnaise and mashed potatoes in this Duke's version. Trust me; the flavor is creamy and fabulous. Plus, no need for cream or butter involved.
Not all mashed potatoes are the same quality, and homemade will ensure the best result. The safe choice is to go for the potato masher or ricer. Another option is the mixer, but it may turn everything into glue.
This recipe needs Duke mayonnaise, a favorite in the South. The pairing of the Duke's mayo with homemade mashed potato will create a creamy texture with a perfect buttery flavor.
Total time: 35 minutes.
Add a new twist to the standard fries with baked avocado fries. Like French fries, they are crispy, tangy, and crunchy and would be a massive hit with chicken wings. Moreover, avocados have a high amount of good fat, making them healthier fries.
The ingredient list is short and straightforward, but panko may make you wonder. In short, it is Japanese-style breadcrumbs, a coating for fried food. If panko is unavailable, use coarse breadcrumbs as an alternative, though they may not have a crispy texture like panko.
Dip the avocado slices in flour and spices, then lime juice and oil. Coat the pieces into a panko a few times and bake the avocado at 425F until the outer turns golden. After 12 to 15 minutes in the oven, your fries are ready to serve.
Total time: 10 minutes
For those who are fans of this KFC meal, this is your recipe. As the name suggests, this dish is a copy-cat version of KFC coleslaw. Of course, this version is sweet, tangy, and creamy like the original.
The secret to the authentic taste is the onion. Remember to grate them, not chop or mince. Also, never skip or replace the buttermilk because it gives your dish a signature tang.
Fortunately, this coleslaw can be made ahead and kept in the fridge for at least 3 to 4 hours before serving. It's even better because the flavors have more time to mingle and settle.
Noticeably, the taste is at its peak under cold temperatures, so enjoy the coleslaw right after you take it out of the fridge.
Say goodbye to the store-bought KFC coleslaw because you can make a big bowl at home now.
Total time: 45 minutes
Chicken wings and fries are a classic combo. But let's mix things up with standard fries and create these crispy baked parmesan garlic fries. In addition, the epic combo of parmesan and garlic will make this delicacy stand out even more.
No more oily fries. You will make this side healthier by baking the potatoes. The baked fries will have the same crispy exterior and soft interior without much change in flavor. My go-to potato when making french fries is russet.
Remember to flip the potato slices halfway through baking so that the high heat will touch them evenly. Season your fries with garlic butter, salt, pepper, and parsley. They taste best when served hot. Enjoy your fries!
Total time: 15 minutes
For fried chicken wings, I suggest you try this fire and ice cucumber recipe. The freshness and light tartness of this side dish will give a nice balance to the oily chicken.
The fire calls for red chili flakes and cayenne. It can be quite spicy for the younger guests, so be sure to adjust the amount if you want it to be a kid-friendly side dish. Meanwhile, feel free to substitute white onions with yellow or red ones.
English/European cucumbers are the chosen one for this recipe. I suggest you leave the skin on because it is edible and suitable for a representative look. However, if you choose larger or Persian cucumbers, peeling and seeding them are better ideas.
Total time: 15 minutes
The Thai-inspired salad will bring freshness to your palate with cucumbers, fresh cilantro, and mint. One great thing about this salad is that it is gluten-free and vegetarian. What's not to like?
Deliver an Asian flavor to your salad with the Thai-inspired dressing. The rice vinegar and fish sauce will pull all the flavors together. You can alter the avocado oil with any neutral-flavored cooking oil, but don't forget to add your desired sweetener.
Finish everything by tossing all the ingredients in a big bowl and adding the dressing. Mix and transfer them to a clean bowl or plate to serve. To spice things up, give the salad some sliced Thai bird chilies or crushed pepper flakes.
Total time: 38 minutes
Corn hush puppies have a crispy outside and a tender inside with cornbread, jalapeno, and onion. These golden nuggets are versatile as they can be an appetizer, a quick snack, or a mess-free side dish to your catfish aside from crispy fried wings.
Remember that the white cornmeal mix already has flour, salt, and baking powder, so you don't need to add more salt to taste. After the cornmeal batter is ready, add extra ingredients, such as corn, seafood, cheese, or any items you like.
Fry the hush puppy batter in an electric fryer for two or three minutes on each side. Wait for them to cool for a few minutes and serve. These little golden nuggets are bite-sized and savory-sweet with a hint of spiciness from jalapeno pepper.
Learn to make the simple and delicious sweet corn hush puppies here!
Total time: 20 minutes.
Greek wedge salad serves great as a nutritious vegetable side meal with an eye-catching appearance on the dinner table. The salad comes quickly together with only 20 minutes from start to finish.
People often use iceberg lettuce to make a wedge salad, but today's recipe will add a twist to this classic green with romaine lettuce. With a high content of vitamins, these leafy greens will be the perfect veggie alternative for all health-conscious eaters.
The salad is not only coated in the flavorful Greek dressing but also loaded with nutty chickpeas for an extra earthy taste. There are only 191kcal calories per serving, you can enjoy the Greek salad without feeling guilty.
Total time: 55 minutes
Broccoli rice casserole can complement any main dish, from pork and steak to wings. This dish could be a cheat for kids with yummy cheese and rice and hidden broccoli underneath.
Feel free to choose white or brown rice, and prepare it beforehand according to the package direction. Similarly, choose your favorite cheese to replace cheddar.
To make this recipe, stir rice and broccoli with cheese sauce. Then spoon it into a casserole or baking dish, and sprinkle the rest of the cheddar on top. Bake for 25-35 minutes or until it gets all hot and bubbly and turns slightly browned around the edges.
Total time: 35 minutes
Crispy breaded air fryer zucchini sticks have officially become my new obsession. You will utilize an air fryer to make these sticks, so they are less oily than deep-fried zucchinis.
Remember to drizzle oil evenly on both sides of the zucchinis. Once these sticks come out of the air fryer, they will have a nice crispy golden brown exterior with magnificent flavor. Panko makes the sticks extra crunchy, but opt for regular breadcrumbs if desired.
Breaded zucchini sticks alone are already flavorful and delicious. But it can be better with marinara sauce or ranch dip/dressing.
Total time: 25 minutes
Corn ribs, also known as riblets, are a cob of corn seasoned with sauce and cut into rib-shaped portions. These bite-sized strips will be less messy than corn on the cob. Corn ribs are a great side dish for grilled chicken and other BBQ dishes.
The most challenging task, I believe, is cutting the corn because its center is hard. Regarding safety, don't forget to cut both ends so the corn can stand fixed on a flat surface.
The corn strips don't need heavy seasoning before it hits the grill. Just a little oil, salt, and pepper are enough. Yet, before serving, drizzle with Mexican crema (a condiment similar to sour cream), spicy aioli (a mayonnaise flavored with garlic and others), cilantro, and parmesan.
The sour and tangy-sweetish flavor of sauces will pull all the ingredients together.
Corn ribs have been on a trend lately, and I'm sure you don't want to miss how to make them.
Total time: 30 minutes
This go-to salad will fit with any main meal, including chicken wings. Basically, it is a bowl of avocado chunks, homemade croutons, and fresh kale, all glued together with tahini dressing.
To whip up this dressing, you will need tahini, lemon juice, apple cider vinegar, and garlic. Shake them in a jar or stir in a bowl with some salt and pepper until the mixture is smooth. Store them in the fridge for later use.
The light acidic tahini dressing will tie all the ingredients together, while baked crouton will be a nice crunch to bite. Trust me; your salad will be a big hit and spoil your taste buds.
Total time: 25 minutes
Salads are supposed to be light dishes, but this Mediterranean chickpea version will keep your stomach full for a while. A bowl of fresh herbs, crips cucumber, grainy chickpea, and crumbled feta will bring freshness to every bite.
For different variations, feel free to choose any canned bean to swap with chickpeas, such as black beans or kidney beans. Likewise, switch to cherry tomatoes or diced ripe avocado if olives or bell peppers are not your ultimate option.
The secret weapon is the lemon-parsley vinaigrette. With the perfect tartness and spice kick, this dressing can pull off any ingredients. If you don't use all the sauce, keep the leftovers in an airtight container and refrigerate. It can last for ten days.
Total time: 30 minutes
Have you ever thought about pairing the Swedish pizzasallad with fried chicken? The punchy cabbage slaw with vinegar dressing will balance the greasiness of fried wings.
As its name implies, you'll likely encounter this slaw as a side dish alongside pizzas in Sweden. It is possible to make this salad with only cabbage or with shallots, peppers, and carrots. Customize to your liking.
Mix oil and vinegar with the oregano, chili flakes, and black pepper to make the dressing. Pour over your salad and mix with sunflower seeds. On a side note, I recommend refrigerating your salad for a few hours before serving time, but you could enjoy it immediately.
Total time: 15 minutes (excluding 30 minutes to an hour of chill time)
Meet Caribbean Coleslaw and enjoy your favorite shredded veggie soaked in the classic sweet-and-sour mayo-based dressing. Wait! What's more, diced pineapple and sliced mango will add extra crunchiness and sweetness.
There are no pre-cooked ingredients, all fresh and simple. A little chopping and stirring are all you need to make sure raw ingredients are evenly coated with the dressing. Remember to let the slaw chill for 30 minutes to an hour before serving.
The standard Caribbean coleslaw should be tangy, spicy, and sweet. However, adjust the ingredients according to your taste. The light and fruity side dish would be a great combo with heavily seasoned wings at BBQ parties.
Total time: 25 minutes
Raw carrots already go well with chicken wings, but these brown sugar-glazed carrots are a game-changer. People will ask you how to make these tender, sweet, orange-flavored carrots.
Although this recipe includes baby carrots, any kind of carrots is welcomed. In addition, instead of keeping the original carrot taste, you'll step up the game by adding more flavors with orange juice and fresh thyme.
Not to mention, these glazed carrots can stay in the fridge for three days. Wait for the carrots to cool down completely and seal them in an airtight container. Reheat the cooked food in the saucepan for 5 to 10 minutes when ready to eat.
The caramelization on these brown sugar-glazed carrots is amazing. Want to give it a go?
Total time: 1 hour
A side dish made over charcoal? The possibilities are endless with Cuban mojo potatoes. The combo of lime, red pepper flakes, cilantro, and garlic in this Cuban-originated recipe will bring authentic Cuban spiciness to your table.
Because the ingredients are wrapped in aluminum foil and cooked directly over the charcoal, the dish will have an extra smoky touch and beautiful caramelization on the onions. Not to mention, the lime adds some zestiness and will kick off your taste buds.
Adjust your chili flakes to fit what you want. And no grill? Worries not because you can also make Cuban potatoes in the oven. The taste won't be much different.
Total time: 2 hours and 25 minutes
Cauliflower potato salad is a low-carb, keto, and gluten-free version of the classic summer potato salad. In this recipe, in place of potatoes, cauliflower will be the main ingredient, so you can eat the salad freely without worrying about your waistline.
The cauliflower version taste is not inferior to the classic potato salad. Soft steamed cauliflowers are covered in a slightly sour and spicy mayo-based sauce with Dijon mustard, vinegar, salt, and pepper. Plus, onions and pickles will bring extra crispness.
This cauliflower salad is best served cold. Let it stay in the refrigerator for 2 to 3 hours to help the seasonings blend and deepen in the veggie. This side dish is also a great make-ahead option. Refrigerated cauliflower salads can last for 3 to 5 days.
Total time: 30 minutes
Add a fresh twist to your summer cook-out or outdoor gathering with zucchini Caprese salad. Colorful, simple, yet healthy! This salad calls for cherry tomatoes, mozzarella, basil, and zoodle.
"Zoodle" sounds strange, but it's spiralized zucchini noodles. Making homemade zoodles is simple enough: use spiralizers and peelers or cut them into small, thin strips. If you don't want to make one, ready-spiralized veggies are available at most groceries.
Combine zoodles with your favorite ingredients and a sweet balsamic drizzle, and your salad is ready in 10 minutes. The best part? No need to focus on exact measurements for any elements, so feel free to experiment.
Total time: 1 hour
Mac and cheese are fried chicken wings' best friend, but some may find the pair too boring. So let's add more fun to this classic with the green goddess mac and cheese.
For your information, the green goddess was a famous salad dressing in the 70s, with sour cream, parsley, anchovies, and parsley. The slight tanginess of this dressing will bring a whole different experience to your mac cheese.
Expand your options! Switch to Worcestershire sauce instead of anchovies, or set either aside if you opt for a vegetarian dish. Also, it's not necessary to use fresh baby spinach and parsley. Defrosted frozen spinach is acceptable in this case.
Total time: 25 minutes
This recipe is a great way to turn leftover mashed potatoes into a dish that your family will love. These fried mashed potato balls will melt right into your mouth from the first bite.
Unfortunately, leftover mashed potatoes may not retain their original texture due to cold storage. If they get thinner in consistency, mix it with cornstarch or all-purpose flour until it becomes fluffy again.
You could make this side in both stovetop and air fryer, so be flexible. However, with an air fryer, they will be a bit healthier for your little eaters. Don't forget to season the balls with salt before enjoying them.
You cannot resist these loaded mashed potato balls. Try them now.
Total time: 1 hour
Feel sorry for your waistline while enjoying chicken wings with calorie-rich barbecue sauce? How about serving your wings with chopped grilled vegetables for a more well-balanced meal?
Choose your desired combination of vegetables and let the fire start. After grilled, serve this dish in salad form by chopping the vegetables into bite-sized pieces and mixing them in a large bowl with a drizzle of sour and spicy vinaigrette dressing.
Otherwise, keep the char-grilled vegetables whole and serve them off the grill or at room temperature. No need to worry about the bland taste because before grilling, you will coat them with oil and lightly season them with salt and pepper.
Total time: 15 minutes
If the thought of cooking another meal is just too much to bear, give this vibrant-tasting beetroot and orange salad a try. No cooking is required, and all ingredients are fresh and plant-based, featuring spiralized beets, oranges, and onions, served with citrus dressing and sumac.
It's worth noting that raw beets are less sweet and more earthy than cooked ones. Processing the beets can be messy, so remember to do it next to a sink. But no spiralizer? Use a julienne, mandoline, or a knife to cut the vegetables into long thin strips, and you're all set.
Making this salad is easy enough: toss all the veggies in a medium bowl and add dressing. Garnish with nigella seeds and sumac. The leftovers can stay in the fridge and maintain their deliciousness for the next day.
Total time: 1 hour
Ever tried loaded potato skins before? Don't miss this chance to add this side dish to your favorite menu. The baked potato skins are topped with crispy bacon and cheddar and garnished with sour cream and chopped chives.
The most important thing to making perfect potato skins is the size and type of potatoes. Use russet potatoes due to their oval shape and firm skins. Bake potatoes in the oven until tender and save the inside for later cooking ideas.
If you want the skins to have extra crispness, turn the skins upside down and bake for an additional 5 minutes before adding the toppings. The classic combo is bacon, cheddar, and chive with sour cream. But feel free to customize with your favorite toppings.
Add these loaded potato skins to your menu because they are more than perfect.
There Are Endless Options For Your Favorite Chicken Wings
Forget about raw veggies or calorie-dense food. Whether you prefer your chicken spicy or sweet, fried or baked, there is always at least one perfect side dish to go with it. You don't need to settle for less.
Choose one of the ideas above, or better yet, try them all and find the one you like best. Chicken wings and their great side dishes can whip out your blue-mood feelings right away – promised!
If you enjoyed these side dishes served with chicken wings, hit the like button and leave me some reviews in the comments. Also, remember to introduce this list to your fellow chicken wing fans. Stay tuned for more fantastic content. Thank you!
Nutrition Facts
6 servings per container
---
Amount Per ServingCalories184
% Daily Value *
Total Fat 8.2g

13

%
Cholesterol 3mg

1

%
Sodium 247mg

11

%
Potassium 700mg

20

%
Total Carbohydrate 24.9g

8

%

Dietary Fiber 2.7g

8

%
Sugars 1.5g

Protein 4.5g

8

%
---
* The % Daily Value tells you how much a nutrient in a serving of food contributes to a daily diet. 2,000 calories a day is used for general nutrition advice.