Vietnamese recipes have all the goodness you never knew you needed. They contain great harmony in flavors, creating versatile yet balanced dishes you will want to eat time after time. Your dinner nights will never be boring again as long as these dishes are included.
Simple and fresh ingredients play an important role in authentic Vietnamese cuisine. The subtle spices and aromatic herbs are distinctively good while being healthy at the same time. Find out how you can bring that authenticity into your meals with this list.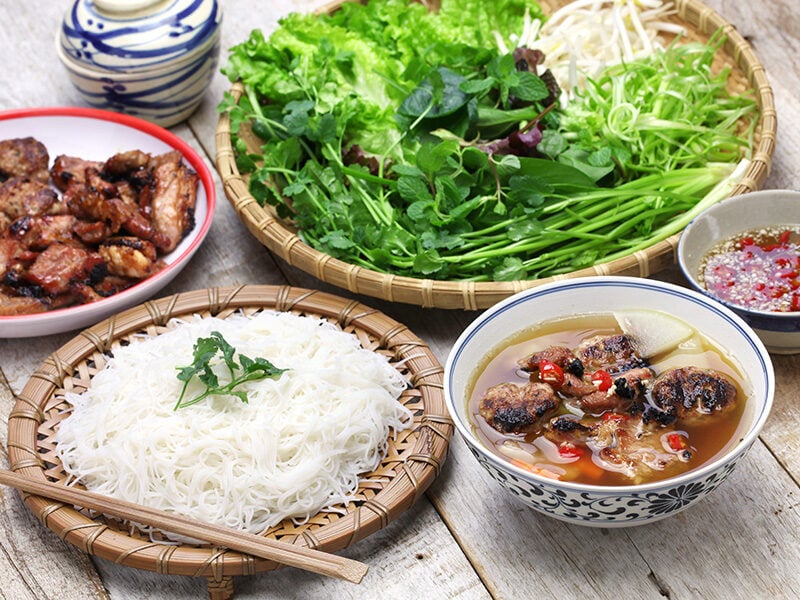 28 Vietnamese Recipes To Make Your Meals More Diverse
Vietnamese cuisine is incredibly diverse and fascinating, with so many dishes being made in unique ways. This list puts them into five categories: Cakes & Sandwiches, Rolls, Noodles, Salads, and Fried Dishes.
Vietnamese Cakes And Sandwiches
Banh Mi (Vietnamese Sandwich)
Banh Bao (Vietnamese Steamed Pork Buns)
Vietnamese Rolls
Goi Cuon (Vietnamese Spring Rolls)
Vietnamese-Style Chicken Summer Rolls
Banh Cuon (Vietnamese Pork Mince Rice Rolls)
Cha Gio (Vietnamese Fried Spring Rolls)
Vietnamese Noodles
Pho (Vietnamese Noodle Soup)
Mi Xao Bo Toi (Vietnamese Garlic Butter Noodles)
Bun Thit Nuong (Vietnamese Grilled Pork Rice Vermicelli Noodles)
Bun Cha (Vietnamese Grilled Pork Patties With Noodles)
Cao Lau (Vietnamese Noodles with Braised Pork)
Pho Xao Thit Bo (Vietnamese Stir Fry Rice Noodles with Beef)
Bun Mam (Fermented Fish and Noodle Soup)
Banh Canh (Vietnamese Thick Noodle Soup)
Bun Bo Xao (Vietnamese Beef Noodle Salad)
Vietnamese Salads
Goi Xoai (Vietnamese Mango Salad)
Goi Du Du (Vietnamese Papaya Salad)
Vietnamese Fried Dishes
Bot Chien (Vietnamese Fried Rice Flour Cake)
Vietnamese Fried Rice
Vietnamese Fried Tofu
Banh Xeo (Vietnamese Sizzling Crepes)
Banh Khot (Vietnamese Mini Savory Pancakes)
Banh Tom (Vietnamese Shrimp & Sweet Potato Fritters)
Vietnamese Sweet Dishes
Che Bap (Vietnamese Sweet Corn Pudding)
Banh Flan (Vietnamese Creme Caramel)
Xoi La Dua (Vietnamese Pandan Sticky Rice)
Other Vietnamese Dishes
Tom Rim (Vietnamese Caramel Shrimp)
Vietnamese Lemongrass Chicken
Top 2 Traditional Vietnamese Sandwich And Buns
Forget all your typical impressions of buns and sandwiches. These savory Vietnamese versions will blow you away with both their unique textures and flavors.
Straight from the streets of Vietnam, banh mi is a delicacy loved by many all over the world. It uses a baguette instead of the regular white bread, which gives it a very crispy and large exterior. The inside is an explosion of flavors from all the different meat and vegetable fillings.
This flavorful sandwich is incredibly easy to make and so customizable as well. Just grab your favorite ingredients and stuff them in freshly baked bread, drizzle a creamy sauce over it, and have yourself a filling meal at any time of the day.
There are several similarities between Vietnamese and Chinese cuisine. And banh bao is one example. It's the Vietnamese version of Chinese steamed buns. You can find this street food everywhere, and many eat it as a quick breakfast because of how small yet filling it is.
This fluffy bun is stuffed with ground pork, hard-boiled quail eggs, and a few vegetables. It is best enjoyed as a steamy and tender hot treat, but you can always save some and reheat it for later.
All the essential instructions that you need to make banh bao. You can see this video to know more:
4 Delicious Vietnamese Rolls You Can't Stop Munching On
Treat yourself to a light meal with these Vietnamese rolls. They are filled with various ingredients, from meat to vegetables, keeping you healthy and energized without having to eat too much.
Bright, colorful, and healthy, these Vietnamese spring rolls are the ideal appetizer for your summer festivities. They are often loaded with shrimp, rice noodles, herbs, and salad, all wrapped up in rice paper. Everything is tied together by a salty fish sauce or a peanut sauce.
The DIY aspect of this dish tends to scare many away, but it's actually one of the best things about it. You can adjust the fillings' ingredients to your likings and diet. As for the wrapping process, just practice a little bit, learn a few small tricks, and you will master it in no time.
This recipe slightly twists the classic spring rolls by using chicken instead of the usual shrimp or pork belly, giving it a refreshing new taste. These summer rolls come together extremely quick, with no baking or frying necessary, just a few minutes of hand-rolling.
The traditional way to eat these rolls is by dipping them in "nuoc cham", a slightly salty fish sauce. However, many also love to pair them with a creamy peanut sauce. This sauce is a perfect mixture of sweet, savory, and spicy that completely enhances the overall flavor of the dish.
This delicate dish is guaranteed to be one of the most special things you will ever make or eat. These steamed rice rolls are filled with seasoned minced pork and mushrooms, then topped with some chopped cucumbers or bean sprouts.
Many people's first impression of these rolls is how tender they are. From the cover to the filling, everything is light and smooth but still very flavorful nonetheless. It's a lovely dish that you can eat as a light meal or snack at any time of the day.
Make a simple plate of banh cuon at home with no trouble at all. You can see this video to know more:
These golden and crispy spring rolls are a staple in most Vietnamese meals, whether it's in a fancy restaurant or a cozy dining room. Cha Gio are fried rice paper rolls with fillings consisting of ground pork, vegetables, and glass noodles.
Fried spring rolls taste very different from the original fresh version. The exterior is deliciously crunchy, while the inside is still very soft and tender. They carry a delightful mixture of salty, savory, and mildly aromatic flavors, all tied together by a tangy bowl of nuoc cham.
The best techniques for making Vietnamese fried spring rolls. You can see this video to know more:
Explore Vietnamese Cuisine With These 8 Traditional Noodle Dishes
If there's anything Vietnamese cuisine is known for, it's their various types of noodles and soups. Each dish has its own original flavor and beauty, bringing you a brand new experience with every new recipe.
Considered Vietnam's national dish, pho is truly a must-try for anyone who wants to see all that this country's cuisine has to offer. It consists of broth, rice noodles, vegetables, and meat like beef or chicken.
The special thing that makes pho so good is the broth. Simmered for many hours, it retains all the complexity of the foods and spices, creating a deep and rich soup base for the other ingredients to swim in. It's full of the warmth and comfort we all love so much in a homemade dish.
Making pho has never been easier with these detailed guides.
This simple-looking dish will have you hooked from the very first try. Just as the name suggests, it's noodles cooked with butter, garlic, and a hint of Parmesan cheese with some savory sauces to enhance the overall taste.
The highlight of this dish is probably the addicting aroma created from the contrast in flavors between the garlic and butter. The added cheese melts everything together and gives the dish a smooth texture. This recipe works on all kinds of pasta and noodles, so feel free to use what you like.
Your taste buds will burst with flavors when you taste this dish. It's packed full of delicious ingredients like grilled pork, rice vermicelli noodles, vegetables, and fried spring rolls. The best part is, despite the overwhelming appearance, it's incredibly easy to prepare.
This recipe holds every flavor you love in a bowl. The meat and spring roll provides some savory parts while the veggies balance it out with some freshness, top it off with some toasted peanuts and salty "nuoc cham" for a complete and filling dish.
Bun Cha is a hearty combination of grilled pork patties, rice noodles, and fresh veggies bound together by a vibrant sauce. This sauce is a mixture of fish sauce, lime juice, other spices, and green papaya. This is also one of Bun Cha's biggest differences from Bun Thit Nuong.
If you ever need a light and easy dish to prepare, this one is a perfect choice. Aside from the pork patties and dipping sauce, everything else can be eaten fresh. Even so, it is surprisingly flavorful and versatile, each bite filling you with a lovely blend of flavors.
This dish of noodles is unique in every way imaginable. It contains slightly chewy noodles, well-seasoned pork, crispy rice crackers, and fresh vegetables. Unlike most noodles, there is very little broth, and it is quite thick in texture and rich in flavors.
Cao Lau's taste is also very diverse. It's a distinctive mixture of sweet, herbal, and deeply aromatic, giving you an incredibly heart-warming dish. The flavors can easily be adjusted to your own liking by adding some extra herbs or spices.
Here is a quicker and easier way for you to enjoy pho. This stir-fry version only takes around fifteen to twenty minutes to put together, and it's still so tasty in its own way. It only needs a couple of simple ingredients like rice noodles, beef, and vegetables.
Unlike regular pho, this recipe seasons everything with a mixture of oyster sauce, soy sauce, and fish sauce, giving you a tender and savory plate of tasty foods. Give it a try to discover a brand new dish for your everyday meal.
This dish is not for the faint of heart. Your first impression of bun mam will be its intense and pungent smell, which can be off-putting at first. However, this soup also holds incredibly deep and savory flavors that you will appreciate once you get used to the scent.
Bun mam contains rice vermicelli cooked in a dark fish fermented soup with various toppings like seafood, pork belly, vegetables, and several aromatic herbs. It will fill all your senses in the best way possible, leaving you with a unique and unforgettable culinary experience.
This is one of Vietnam's famous comfort dishes because of its homey and cozy taste. It uses a particular type of thick round noodles quite similar to udon but a lot gummier. The broth is quite flavorful, and it's the perfect base for various meat and vegetable toppings to swim in.
There are many different versions of this gorgeous soup. The flavor changes according to what ingredients you use for the broth and add-ons. Many like a rich, savory taste with crab, shrimp, and coconut milk. Others like a milder and softer pork-based version.
This dish is more of a hybrid between noodles and salad. It comes in layers, with the vermicelli noodles at the bottom, stacked over by pieces of flank steak and loads of fresh vegetables. These ingredients make it filling and satisfying enough for you to eat as a light meal.
The highlight of this dish is the flank steak, which is thoroughly marinated in traditional sauces, brown sugar, oil, and spices. This makes it wonderfully tender and flavorful, diversifying the textures and flavors of the dish completely.
3 Fun And Easy Vietnamese Salads You Easily Make
Vietnamese salads are full of fresh ingredients, but they are also very flavorful. They combine a perfect mixture of vegetables, spices, and even meat, so your dish is guaranteed to be quite entertaining to enjoy.
There is no dish using mango similar to this Vietnamese mango salad. It features a delightfully crunchy green mango with a balanced sweet-sour flavor. Other ingredients include shrimp, herbs, and a generous amount of toasted peanuts.
The various foods used in this recipe give the dish great complexity. It has layers and layers of fresh and aromatic flavors, with a mouth-watering sweet and sour base. Everything is blended together with savory fish and soy sauce, giving you an exciting plate of colorful veggies.
This is an extremely easy salad recipe that you can put together in less than fifteen minutes. You don't need to cook anything or do much; just prepare the ingredients and blend them together for a colorful and tasteful appetizer.
The original recipe calls for a green papaya, which is often unripe, tangy, and very crunchy. You can also use ripe yellow papaya if you prefer a sweeter touch. If you have beef jerky, add some small pieces to the dish for an extra layer of savory taste.
6 Vietnamese Fried Dishes You Will Fall In Love With
Say goodbye to plain boring meals with these fried dishes. Simple in cooking method yet complex in flavors, they will have you full and satisfied in no time.
This is a well-loved street food many like to have as a quick main dish on busy days because it's affordable and filling. It's as simple as can be, just a little rice cake cubes fried to golden perfection, then topped with a few eggs, green onions, and a distinctive soy sauce.
The texture of this dish is what makes it so exciting and enjoyable. It's utterly crispy on the outside but becomes soft and chewy on the inside. The taste is relatively plain, but that's what makes it so good when paired with the sweet and tangy dipping sauce.
This fried rice is a nice way to use your leftover rice. It comes with pretty straightforward cooking methods, so anyone can do it. The rice carries a light brown color from being seasoned with soy sauce, so the overall dish has a lovely light and tangy taste.
This dish is quite flexible and versatile, so you can use almost anything you like for toppings. It can be entirely vegan, but you can also add meat like pork or chicken. It also contains various bits of small crunchy toppings like carrots and green onions, so it's incredibly fun to eat.
This rustic dish can be the latest side dish for your vegan menu. For something that sounds so simple, fried tofu can surprise you with just how good it is. The pieces are golden and crispy on the outside but melt right into your mouth as you bite into them.
There are many ways to make fried tofu more exciting. A flavorful way to eat it is by pairing it with a deliciously sweet tomato sauce. You can also take the traditional route and pair it with a simple fish sauce. It's a quick and easy dinner recipe for days when you just need an effortless meal.
This Vietnamese take on crepes is one you won't want to miss out on. These delightful crepes with a savory taste are sizzlingly crispy on the outside while being filled with loads of meat, shrimp, bean sprouts, and other vegetables.
These bright yellow crepes will have your taste buds bursting with flavors. The crepes themselves are mildly sweet with a subtle fragrance that perfectly complements the various foods within. Pair them with a traditional dipping sauce, and you will have an unforgettable main course.
These mini pancakes are unlike anything you have tasted before. They are crispy around the edges but extremely rich and creamy towards the center. Topped with massive shrimps, these bite-sized babies will surprise you with the overwhelming amount of flavors they have.
These pancakes make incredible warming treats for all your family-bonding meals. Wrap them up in some fresh veggies and dip them in a savory sauce for a delightful light snack or appetizer.
Banh Tom is a popular Vietnamese street food that you can easily bring right into your home kitchen. These fritters are made by frying sweet potatoes and shrimp in a thick batter of flour, turmeric powder, and cornstarch.
These "banh tom" are snacks you won't be able to stop munching on. They are fried to crispy perfection with a gigantic tender shrimp right in the center. Served with a traditional dipping sauce, they make a fantastic treat for all your hungry moments.
Explore New Ways To Eat Dessert With These 3 Vietnamese Sweet Dishes
Besides savory dishes, you can find many sweet treats in Vietnamese cuisine. Here are three unforgettable desserts for you to wrap up your meals with.
Che is a Vietnamese dessert with a special texture, like a mixture between a pudding and a soup. They come in so many different flavors with endless topping combos, this one specifically features corns, tapioca pearls, and coconut milk.
This soup is a dairy-free sweet delicacy, so everyone can try it. The corn is cooked to a delightful tenderness and then seamlessly blended with the tapioca pearls, thanks to the creamy coconut milk. It tastes amazing, both warm and chilled, so eat it whenever you want.
This Vietnamese version of custard will have your mouth watering over how delicious it is. It's covered in a layer of slightly bitter caramel. The custard is unbelievably smooth and bouncy, with a delightful sweetness from a mixture of egg yolks and milk.
Vietnamese have a very particular way of eating this plan, which is to drizzle dark coffee over it. This creates a unique contrast that completely deepens all the flavors, giving you a rich dessert you will be tasting on your tongue days later.
This sweet treat will wow everyone from the very first sight with its vibrant green color. This mainly comes from the pandan essence it is infused with. Pandan is a plant commonly used in Asian cuisine for its unique mixture of grassy and floral scents.
Just as the name suggests, this dessert has a very special sticky texture because it's made from glutinous rice. Its flavor is a balanced mixture of sweet and salty with a wonderful aromatic undertone. The rice makes it quite filling, so it's great to eat both as breakfast and dessert.
2 Other Vietnamese Recipes You Should Check Out
Here are two incredible Vietnamese takes on some familiar dishes. They are savory, flavorful, and unbelievably easy. Introduce them to your daily meal to treat your loved ones with some good food.
This is hands down one of the best ways to eat shrimp. Large, juicy shrimps are sautéed and simmered in a thick and rich mixture until they are glossy and flavorful. The secret to a tasteful dish is in the fish sauce. It will bring great depth to the shrimps and enhance the overall flavors.
Because these shrimps are caramelized, they are intensely sweet and savory with a garlicky scent. Being cooked in high heat makes them extremely tender and bursts with flavors as you bite into them. Serve them with a bowl of white rice, and your dinner nights will be completed.
Lemongrass is a plant native to South India whose leaves are often used in medicine and cooking. It has a very unique taste, like a combination of citrus and earthy, with a minty undertone.
Infusing your chicken with this particular plant will give your dish an undeniably lovely scent. Many also like to add tamarind to the recipe, which adds an extra layer of sweet and sour flavor. With so many aromatic ingredients, this dish will fill up your senses in the best ways possible.
How to quickly whip up a delicious plate of lemongrass chicken. You can see this video to know more:
Enjoy Homemade Meals With These Vietnamese-Inspired Recipes!
Family love is a major inspiration behind many traditional Vietnamese recipes. There's nothing quite like bonding with your loved ones over a vibrant and heart-warming dish after a long day. As you make and eat these dishes, hopefully, you can feel this peacefulness too.
They also value great harmony and balance in tastes and flavors, pairing ingredients that complement each other marvelously. You can never have a dull moment when experimenting with Vietnamese cuisine. Give it a try, and let me know how you enjoyed the journey.
Nutrition Facts
15 servings per container
---
Amount Per ServingCalories148
% Daily Value *
Total Fat 1.9g

2

%
Cholesterol 32mg

11

%
Sodium 76mg

4

%
Potassium 72mg

3

%
Total Carbohydrate 17.7g

6

%

Dietary Fiber 0.9g

0

%
Sugars 2.4g

Protein 6.6g

12

%
---
* The % Daily Value tells you how much a nutrient in a serving of food contributes to a daily diet. 2,000 calories a day is used for general nutrition advice.