Vietnamese desserts also deserve special attention, like other delicious dishes from Vietnamese cuisine. These sweet treats are your go-to option if you want to explore new flavors and try new recipes.
There are a wide variety of delicious treats to pick from, but I have come up with the 30 Vietnamese desserts that are worth trying. This collection is diverse and interesting, including everything from cake, biscuits to sweet soups and puddings that you've probably never heard of.
Top 30 Vietnamese Desserts That You Wish You Tried Sooner
There is a plethora of delectable delights in Vietnam that are delicious and incredibly simple to create! Some desserts are moderately sweet and packed with healthy ingredients. Moreover, you can easily adjust the sugar level when making them at home.
Cakes, Biscuits, And Waffles
1. Vietnamese Sponge Cake (Banh Bong Lan)
2. Vietnamese Honeycomb Cake (Banh Bo Nuong)
3. Pandan Waffles (Banh Kep La Dua)
4. Vietnamese Jello Mooncakes
5. Vietnamese Pig's Ear Biscuits (Banh Tai Heo)
6. Vietnamese Fried Sesame Balls (Banh Cam)
7. Vietnamese Sesame Hollow Donuts (Banh Tieu)
8. Steamed Layer Cake
9. Vietnamese Sweet Pandan Rice Cake (Banh Duc La Dua)
10. Husband And Wife Cake (Banh Phu The)
11. Mung Bean Cake
12. Vietnamese Steamed Banana Cake
Puddings And Sweet Soups
13. Vietnamese Three Color Dessert (Che Ba Mau)
14. Vietnamese Sweet Corn Pudding (Che Bap)
15. Vietnamese Fruit Cocktail (Che Thai)
16. Vietnamese Banana Tapioca Pudding (Che Chuoi)
17. Taro Pudding (Che Khoai Mon)
18. Vietnamese Sticky Rice Pudding (Che Dau Trang)
19. Pandan Jelly (Che Banh Lot)
20. Vietnamese Glutinous Rice Balls In Ginger Syrup (Che Troi Nuoc)
21. Lotus Seed Sweet Soup with Longan (Che Hat Sen Long Nhan)
22. Vietnamese Pomelo Sweet Soup (Che Buoi)
Ice Cream And Refreshing Vietnamese Desserts
23. Vietnamese Yogurt
24. Vietnamese Avocado Mousse Ice Cream (Kem Bo)
25. Vietnamese Coffee Flan
26. Vietnamese Banana And Coconut Ice Cream (Kem Chuoi)
27. Vietnamese Milkshake
28. Ice Cream With Sticky Rice (Kem Xoi)
29. Grass Jelly With Basil Seeds
Other Vietnamese Desserts
30. Cassava And Coconut Milk
Cakes, Biscuits, And Waffles – Awesome Vietnamese Desserts You Should Know
There are vast arrays of Vietnamese desserts that you should not miss, and these cakes, biscuits, and waffles are such good examples.
Sponge cake is a famous dessert in Vietnamese cuisine, and it can be found in most Vietnamese bakeries throughout the world. In Vietnam, sponge cake is called "banh bong lan", and it is favored for the light and fluffy texture.
Moreover, it is delicious and not excessively sweet. Originated in France, Vietnamese sponge cake's primary components are eggs and cake flour. Vietnamese sponge cake is traditionally baked in a cake pan using charcoal until it is perfect.
Since this sponge cake is not excessively sweet, it is light and wonderful for all occasions. With only a few common ingredients found in every pantry, you can quickly make the Vietnamese sponge cake that is delicious and simple to share with the whole family.
Another well-known Vietnamese dessert is honeycomb cake, with and it is also known as "banh bo nuong". The name "honeycomb" is derived from the characteristic honeycomb pattern. When you slice the Vietnamese honeycomb cake, you will see pockets of expanding gas.
This dessert pairs perfectly with a hot cup of tea, and it is commonly served warm. There are a number of flavors available, the most frequent of which is pandan. This is certainly my favorite flavor since it adds brilliant green color and a pleasant smell.
In addition, the vanilla brown sugar flavor is also tasty and worth trying. This cake is fancied for its pillowy soft, and slightly chewy texture. At first sight, you may think that it is similar to the classic sponge cake, but its flavor and texture are truly one-of-a-kinds.
Are you a waffle fan? These Vietnamese pandan waffles are out of this world with a crispy exterior and soft, chewy interior! From the mixture made of creamy coconut milk and aromatic Pandan flavor, these waffles are then baked until golden brown.
Not only do these Vietnamese pandan waffles boast creamy, coconutty flavor and beautifully vivid green colors, but they also feature a chewy, fluffy, and slightly crunchy texture. In addition, the aroma of pandan is impressive, and you can easily make these pandan waffles at home.
You can make these delicious and aromatic pandan waffles in only a few steps. These pandan waffles are perfect for any time of the day. With golden brown outside surface and tender inside, they are really worth considering!
In Vietnam, mooncake is the dessert symbol for autumn, or Mid Autumn Festival, to be exact. It's a festival on the 15th of the eighth month on the Lunar Calendar. These jello mooncakes have their outside layer made with coconut cream, while the inside uses taro or green tea.
At Mid Autumn Festival, Vietnamese families will join together, enjoy delicious mooncakes with hot tea, and light lanterns to signify family reunion as well as wish for good health and luck.
If you don't like to use taro and green tea for the jello mooncake's filling, you can use any flavor to your likings. For the outside layer, you can use condensed milk if you don't like coconut. One requirement for making Vietnamese jello mooncakes at home is that you have to be fast as the agar-agar powder hardens speedily.
Vietnamese pig's ear biscuits feature a characteristic bright and dark swirl design and are generally fashioned like "pig's ears". These biscuits are favored for their excellent taste and exciting look.
Making them only requires a few ingredients such as flour, sugar, desiccated coconut, and water. While you are out and about, it is ideal for enjoying these on-the-go snacks. They are lightly sweet and crunchy, so they become such a delightful treat that you and your mates will quickly fall in love.
Vietnamese Pig's Ear biscuits remind every Vietnamese people of their childhood since they are incredibly addictive and perfect for sharing with other friends. The secret tip to making these snacks is using rice flour. If you don't have rice flour, you can use all-purpose flour or wheat flour instead.
Fried sesame balls can be a dessert, a breakfast, or also a snack with the crunchy outside while the filling is sticky and delicious. Like other deep-fried dishes, this dessert is best served after frying.
This Vietnamese delicacy usually contains a sweet mung bean paste, red bean paste, lotus seed paste, or shredded coconuts. First, the outer surface is made with glutinous rice flour dough. Then the dough is made with sesame seeds and deep-fried until perfection.
The hardest part of making these fried sesame balls is preparing the dough. Therefore, you should pay careful attention to the ratio between glutinous rice flour and regular rice flour so that you can achieve the sesame balls with crunchy outer and sticky filling.
These Vietnamese sesame donuts are different from the regular western ones. Vietnamese donuts feature a soft hollow in the center and aromatic sesame seed coating. Since it just has enough sweetness, many children usually love to consume a large amount at once.
If you are fond of fried goodness, these Vietnamese sesame hollow donuts are a must-try. Their texture is quite distinctive. They come with a crispy outside while the inside is soft and chewy.
You want to enjoy some deep-fried pleasure, right? So let's follow the recipe to get the incredibly crispy donuts with a delectable sugar frosting. Have fun!
With vibrant green and yellow layers, the steamed layer cake looks so appealing! This beautiful and delicious treat is sweet, soft, and slightly chewy. In Vietnam, it is called "Banh Da Lon" (pig skin cake) because there are many thin and shining layers like the pork's skin.
Vietnamese steamed layer cake is a traditional cake from Northwest Vietnam, and it is a delicious and creamy dessert many people adore. The green layer is made from pandan leaves, and the yellow layer is made of mung bean paste.
There are also other variations of this dessert, and you can use durian or taro for the filling if you don't like mung bean filling. One good news about this dessert is that you can make it ahead of time and refrigerate it for use later.
Pandan Rice Cake is also known as Banh Duc La Dua in Vietnamese, and it originates from the Southwest of Vietnam. It is made up of a combination of tapioca flour, rice flour, and mung bean starch.
This dessert features a sticky and chewy texture, and it is served with ginger syrup and coconut milk on top. You will feel the jelly-soft and pleasant pandan aroma in every bite. As it is a popular street snack in Vietnam, you can easily have a chance to enjoy this dessert on your next trip to Vietnam.
Making it at home is also a great choice since the easy-to-follow recipe will be of great help. If you can't find mung bean starch, you can use corn starch instead.
10. Husband And Wife Cake (Banh Phu The)
Husband and wife cake or "Banh Phu The" is a traditional Vietnamese dessert, which originates from Hue. This cake comprises two pieces that are joined together in an exquisite box made pandan leave and tied with a coconut string.
This cake represents joy and everlasting love, and marriage. Therefore, it cannot be missed in every Vietnamese wedding. According to mythology, Vietnamese husband and wife cake comes from King Ly Anh Tong (1136 – 1175)'s story.
His Queen gave him a special cake on his way to the war to demonstrate her love. He was impressed by the significant and meaningful cake, and he gave the name "banh phu the" to the cake. And husband and wife cake has become a symbol of love until now.
You are curious about this special cake, right? Let's watch the following video to see how the Vietnamese lady makes this cake!
11. Mung Bean Cake
Mung bean cake (green bean cake) is a popular dessert and famous specialty in Hai Duong, a province in northern Vietnam. Whenever people have a chance to Hai Duong, they usually purchase a box of mung bean cake as a gift for their family and friends.
Mung bean cake is the perfect option to enjoy with hot tea. However, you can also make mung bean cake at home using a rice cooker, and it will be easier for you to control the sugar level. First of all, you will need to cook mung bean in the rice cooker.
Then add the cooked mung beans to the bowl and puree them until smooth. Next, stir-fry the pureed mung beans in the pan to achieve a smoother and softer texture. Adjust the sugar level to match your likings when you are stir-frying. Anf finally, place the mung bean into the mild and put it in the fridge.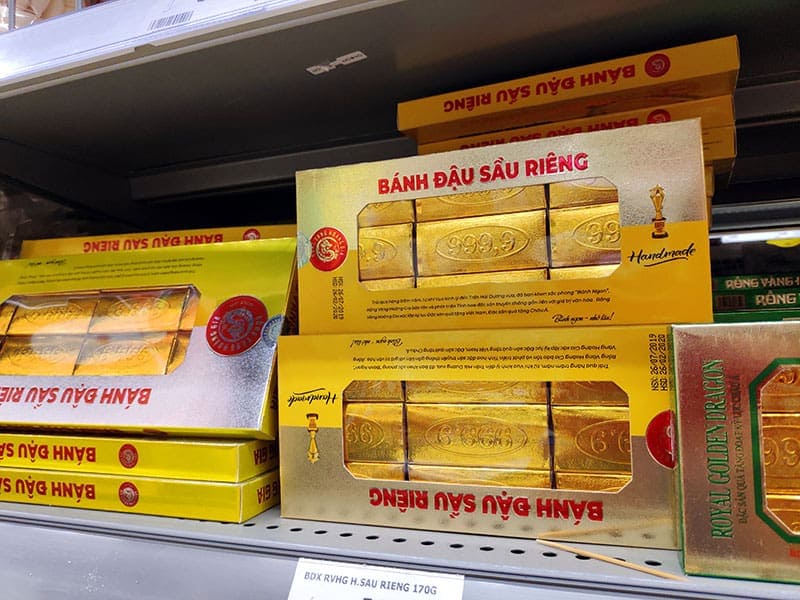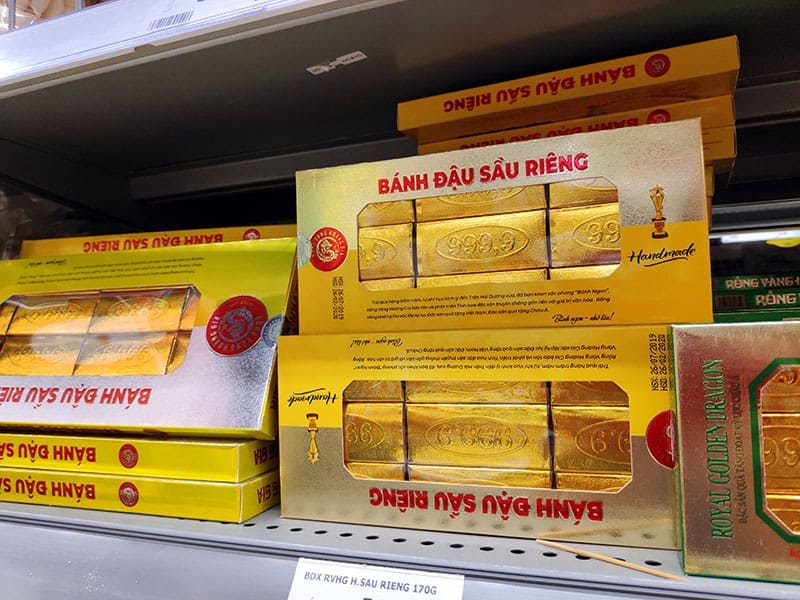 One of the most incredible desserts of Vietnam is steamed banana cake, thanks to its delectable taste, pleasant aroma, and sweet flavor from ripe bananas. Moreover, the chewy and soft texture of these steamed banana cakes also makes them unique.
This dish will necessitate the use of a steamer and some common ingredients such as ripe bananas, rice flour, and coconut milk. If you don't have rice flour, you can use tapioca flour instead.
Steam banana cakes are not too sugary and are covered with rich coconut sauce and toasted sesame seeds. You need a dairy-free, vegan-friendly, and gluten-free sweet treat, right? Feel free to opt for this one!
Popular And Delightful Vietnamese Puddings and Sweet Soups For Desserts
Sweet soup or "Che" is a popular dessert in Vietnam. Making sweet soup does not require any complicated equipment or expensive ingredients. Moreover, sweet soups and puddings are perfect for fulfilling your sweet craving and cooling you down on hot sunny days.
As its name implies, this dessert comes with the exciting three colors: the yellow layer of mung bean, the green layer of pandan jelly, and the red bean layer. Another appealing characteristic of the Vietnamese three-color dessert is the creamy coconut sauce on top.
It is one of the best Asian desserts and shares a lot of similar features with Filipino halo-halo. So, if you plan to serve this dessert next weekend, you can prepare the three layers ahead of time. Then, when your guests come, just add shaved ice and coconut sauce on top and enjoy!
For making coconut sauce, you can simply combine coconut milk and sugar if you don't have enough time to cook the mixture. How about the shaved ice? You can make use of the blender to create perfect shaved ice for this refreshing dessert. Remember to refrigerate all the ingredients to make sure everything stays cold when serving.
Is there any better treatment than the Vietnamese sweet corn pudding this summer? You can enjoy this sweet corn pudding warm or cold; the sweet, juicy, and crispy flavor of corn makes this dessert appealing.
Vietnamese sweet corn pudding or Che Bap is simply sweet corn soup. However, the texture of this dessert is similar to rice pudding, so it is called "corn pudding" rather than sweet soup.
Vietnamese sweet corn pudding is your perfect match if you are tracking a dessert that is dairy-free, vegan-friendly, and gluten-free. Like other Vietnamese sweet soups, this sweet corn pudding is also served with coconut sauce on top.
This fruit cocktail is why many mistake Vietnamese for Thai cuisine. It's a variant of "Tub Tim Krop", a Thai dessert with water chestnuts and coconut milk. With many refreshing ingredients, this Vietnamese fruit cocktail brings many flavor layers in just one bite.
It sounds interesting, right? Making this dessert is not kind of difficult since you can purchase canned tropical fruits. You can choose the fruits to your likings; here are some examples: longans, lychees, toddy palms, ai-yu jelly, jackfruit, grass jelly, tapioca balls, etc.
One significant feature of this dessert is the "red rubies" that are made with chestnuts and coat with tapioca starch. You also need some red food coloring to achieve the red color. Like Vietnamese three-color dessert, you should refrigerate the ingredients ahead of time so that all the ingredients stay cool and boast a refreshing flavor.
If you are finding a warm dessert for this winter, you should consider the Vietnamese banana tapioca pudding. The fruity aroma of banana, creamy and sweet flavor of coconut soup and the chewy texture of tapioca makes this dessert hard to resist.
The texture of this Vietnamese dessert is somewhat similar to other Western puddings, and it is thick and creamy. However, Vietnamese sweet soups are usually not so sweet since they are made with the natural sweetness of fruits.
That's why this recipe calls for a large number of bananas, and you just have to add a small amount of sugar. This dessert is best served warm, and it is perfect for warming you up on cold winter days.
Are you a fan of Vietnamese sweet soup? If Yes, you should not miss the Taro pudding, which is a typical Vietnamese delicacy. Taro pudding is a delicious and hearty meal that can be served hot or cold on all occasions.
Like other Vietnamese sweet soups, this dessert has creamy coconut sauce on top and is made with taro root and glutinous rice. Taro pudding one of the most popular desserts in Vietnam and other Asian countries.
The perfect combination of aromatic coconut milk and buttery taco makes this dish worth trying. For quicker and easier preparation, you can use the pre-peeled taro at the supermarkets.
The Vietnamese sticky rice pudding is a popular Vietnamese delicacy with a mixture of sticky rice and black-eyed beans. This thick, creamy, and gooey dessert is really addicting. You can reduce the preparation time by using canned beans.
This dish is perfect for feeding a crowd, and it is ideal for serving at family gatherings. Making it is just quick and easy and I think your whole family will love it. This thick and sticky rice pudding can be found in almost any food area in Vietnam, and don't forget to try it when you have a chance to visit Vietnam.
If you are in favor of Asian desserts, this pandan jelly dessert is not unfamiliar to you. Vietnamese pandan jelly dessert or Che Banh Lot is the Vietnamese version of Cendol. This is the well-known street food in Vietnam because of the perfect combination of worm-like pandan jellies, sweet and creamy coconut milk, and palm sugar syrup.
Enjoying Che Banh Lot brings a lot of fun, thanks to the chewy and somewhat slippery texture. However, it becomes a delicious sweet treat that can quench your thirst on hot sunny days when serving with ice.
You can create worm-like jellies by using a potato ricer, a colander with large holes, or a large slotted spoon. If you don't have palm sugar for making the syrup, you can use brown sugar instead.
Another delightful Vietnamese dessert I would like to recommend is Che Troi Nuoc, which consists of rice balls packed with mung beans. This dessert is served warm in sweet and slightly ginger syrup and creamy coconut sauce.
Sometimes, there are also sesame seeds on top. The exterior surface is made of glutinous rice, so it has a chewy and light texture. The filling is made with mung bean for sweet and delicious flavor. In addition, the warm ginger syrup makes this dessert an absolute pleasure for chilly fall or frigid winter days.
Lotus seed sweet soup with logan or "che hat sen long nhan" is a great summer treat with an aromatic scent, pleasant sweetness that leads to a perfect relaxation effect at the end of your busy day.
This sweet soup can be served cold or warm. However, I prefer the cold version because it provides a calming and relaxing effect. Want to beat the heat of this summer, right? This dessert is the go-to option.
22. Vietnamese Pomelo Sweet Soup (Che Buoi)
Vietnamese pomelo sweet soup is a delicious, refreshing, and healthful dish that has captured the hearts of people of all ages. But, do you know that pomelo brings great benefits to human skin, hair and heart?
The ingredients this dessert requires are pomelo skin, coconut milk, peanut, peeled mung bean, tapioca starch, salt, and sugar. The pomelo skin is chewy and crunchy, which makes people easily addict to this dessert.
Another standout point of this dessert is the combination of pomelo seeds and juliennes, creamy coconut sauce, soft and sweet mung bean, and crunchy peanuts. This refreshing and energy-boosting dessert is perfect for beating the heat and helping you feel more energetic.
How to make Vietnamese pomelo sweet soup? The following video will give you the answer!
Ice Cream And Refreshing Vietnamese Desserts – Delicious And One-Of-A-Kind
Need some sweet and refreshing treat for this summer, right? Why don't you try these ice cream and refreshing Vietnamese desserts?
French colonists brought yogurt to Vietnam, and its popularity has expanded significantly. In Vietnam, yogurt is such a common dessert, and you can find yogurt in various places such as restaurants, coffee shops, and even on the plane.
Which is the difference between Vietnamese yogurt and American yogurt? It is because this dessert uses condensed milk. Thanks to this ingredient's sweetness, yogurt's sour flavor is balanced.
The live active microorganisms in yogurt are responsible for converting milk into lactic acid and delivering the yogurt's sour taste. Moreover, yogurt is rich in vitamin B, calcium, and trace minerals.
The probiotics contained in yogurt also helps boost your digestive health. And you should also bear in mind that making yogurt at home enables you to control the sugar level and ensure you can enjoy the best quality yogurt.
When you crave some nice sweet treats using avocados, you can try the Vietnamese avocado mousse ice cream. This frozen dessert is also a famous street food in Da Nang, one of the most attractive cities in Vietnam.
All the ingredients complement perfectly with each other. There is mashed avocado at the bottom layer, and the next layer is ice cream. Then add some coconut sauce and toasted coconut flakes on top. So many different flavors and textures to enjoy, right?
The smooth and rich avocado mousse is the perfect reason to fall in love with this ice cream. The coconut sauce provides a creamy taste and a mild coconut aroma, while the toasted coconut flakes are crunchy and nutty.
Flan is first brought to Vietnam by the French. Since then, it has become an important element of Vietnamese cuisine. This delectable treat was widely accessible across the South of Vietnam.
Vietnamese coffee flan is made with simply caramelized sugar and occasionally with coffee. The smooth and creamy custard is topped with a dark amber caramel. The slightly bitter flavor cuts through the custard's richness to provide a rich yet well-balanced dessert.
The Vietnamese coffee flan is remarkable for the use of condensed milk, and steaming is the preparation method. When serving, there will be shaved ice black coffee drizzles on top.
These banana and coconut ice cream will remind you of the bustling streets of Vietnam. It is such a nutritious snack that the whole family will enjoy after meals. These tropical-flavored frozen desserts are ideal for the summer months.
Bananas are encased in a decadent pandan-infused cream. Then add golden toasted peanuts and coconut shreds on top. The top trick for making this dessert is using ripe bananas for added sweetness.
If you are craving something sweet and you are willing to try something new, a Vietnamese milkshake is what you are looking for. Creamy and flavorful, the Vietnamese milkshake is made with blending fruits and condensed milk.
Making Vietnamese milkshakes is quick and simple; you just need a few ingredients, such as seasonal fruits found in Vietnam, condensed milk, and milk for extra consistency. The fruity flavor pairs well with the rich and exquisite flavor of milk.
This milkshake is a significantly easy-to-make drink in Vietnam. You only need to combine all the ingredients, and your milkshake will be ready quickly. Remember to adjust the amount of milk to get your desired consistency.
Ice cream with sticky rice or "Kem Xoi " is a famous Vietnamese dessert that is rich in taste, scent, and texture. This dessert is also a common street snack in Vietnam. During Vietnam's hot and humid summer, this wonderful dessert can make people crazy.
The green color of the sticky rice is made with panda, while the ice cream is made with coconut milk. The two flavors pair nicely with each other, and all of the ingredients work really well together, and you'll be shocked at how addicting it is.
29. Grass Jelly With Basil Seeds
In the summer months, Asian weather is usually freaking hot. A refreshing glass of grass jelly and basil seeds will be perfect in this case. The distinct fragrance of jasmine flour's essential oil coupled with grass jelly and basil seeds will generate a magnificent sensation in your tongue.
The more ice you add, the more incredible it tastes. This dessert will certainly help you lower your body's heat. It is perfect for enjoying grass jelly with basil seeds after lunch or dinner. Making this refreshing dessert is quick and easy since you can purchase canned grass jelly for added convenience. What you need to do is cut it into cubes and serve!
You don't know how to make this dessert, stop worrying since the following video is ready to help!
Other Vietnamese Desserts To Satisfy Your Sweet Cravings
Apart from these Vietnamese desserts, I also have something special and interesting for you to try this weekend.
Vietnamese people have many desserts made with coconut, and the dessert I will introduce to you is not an exception. Thanks to the coconut milk, this dessert is sweet and creamy.
The quality of this will rely on your source of cassava. Buying high-quality and soft cassava is the key to tender cassava after cooking. You can top this dessert with shredded coconut and nut medley to add a burst of sweet and salty flavor.
If you are afraid of having to peel the cassava skin, you can buy pre-peeled cassava for added convenience. This dessert is best served warm, and it is ideal for serving the whole family for a movie night.
It's Dessert Time Somewhere!
Vietnamese desserts are one of the most appealing treats in Southeast Asia. Aside from Vietnam's well-known main and side dishes, there is also a world of sweet and fruity sensations to discover.
There are numerous unusual Vietnamese desserts while traveling around Vietnam, and you can note down the desserts that interest you from this post and remember to try them on your next trip to Vietnam.
Have you tried one of the 30 Vietnamese desserts above? Can you share your feelings? Do you know other incredible Vietnamese desserts? Feel free to share your thoughts with me via the comment. Also, don't forget to share this post with your mates if you find it helpful!
Nutrition Facts
8 servings per container
---
Amount Per ServingCalories316
% Daily Value *
Total Fat 12.7g

19

%
Cholesterol 70mg

24

%
Sodium 109mg

5

%
Potassium 280mg

8

%
Total Carbohydrate 48.9g

16

%

Dietary Fiber 1.5g

4

%
Sugars 26.7g

Protein 4.2g

8

%
---
Calcium

72

%
Iron

1

%
Vitamin D

7

%
* The % Daily Value tells you how much a nutrient in a serving of food contributes to a daily diet. 2,000 calories a day is used for general nutrition advice.