15 Easy Triscuit Appetizer Recipes For Every Game Day 2023
This post includes easy Triscuit appetizer recipes to make at every party, dinner, and crowd-gathering. There are numerous ways to create the most pleasant appetizers from Triscuit crackers. For sure, all of your guests will fall in love with these crumble treats.
If you're finding preparing appetizers takes a great deal of time and effort, these Triscuit first courses are a game-changer. I promise you these Triscuit recipes allow you to prepare wholesome appetizers at lightning speed and without a drop of sweat.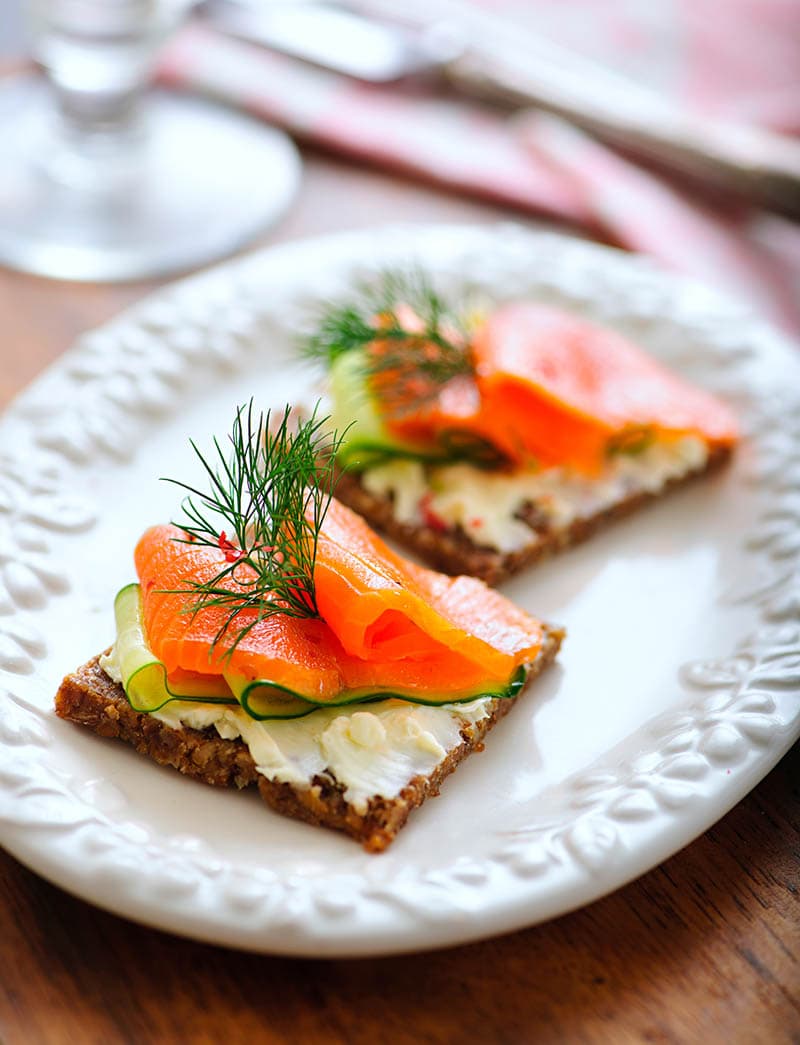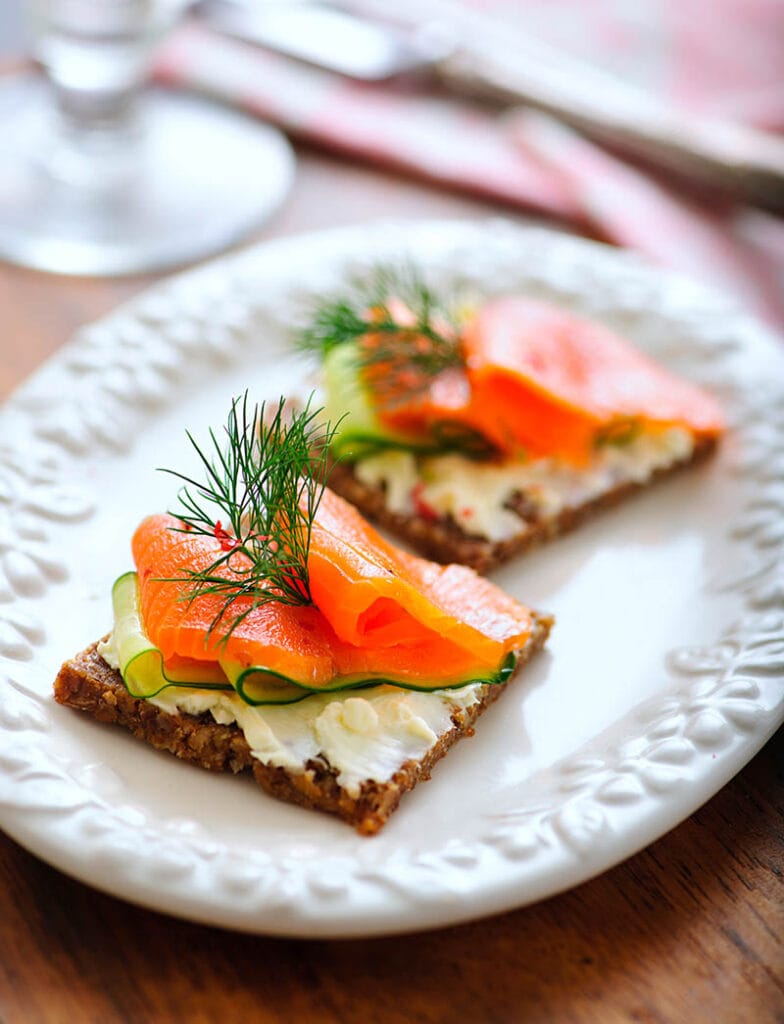 15 Simple And Irresistible Triscuit Appetizers To Please A Crowd
Triscuit crackers are everyone's favorite snack of all time. That's why these crackers are an ideal ingredient for many tasty and fun appetizers. Of course, the deliciousness of these treats is fascinating and irresistible. Let's jump to the recipe list right now!
Total time: 15 minutes.
Serving Triscuit crackers alongside a blackberry-infused sweet treat makes for a creative appetizer for every get-together. Fresh blackberries, marshmallow creme, and cream cheese go well with the salty and crumbly crackers.
After completely blending fresh blueberries, place a fine mesh colander in a bowl and press out the excess liquid with the back of a spoon. This method can help you remove the remaining pulp easily and effectively.
Total time: 20 minutes.
Buffalo chicken Triscuit nachos can become a hit at your next game-day party. From kids to grown-ups, all will fall for the delectable flavor of buffalo sauce, meaty chicken, mild Greek yogurt, and fresh celery. This healthy snack is much cheaper than any ready-made food.
One box of Triscuit crackers is enough to fill up a baking sheet. Follow the instructions for a successful result. After spreading crackers on the sheet, drizzle the mixture of yogurt and buffalo sauce first, then mozzarella, chicken, and cheddar. When done, garnish with fresh celery.
Total time: 20 minutes.
Everyone loves Triscuit and pizza, so why don't you combine them together? Triscuit pizza will definitely be a big hit at your next party. This interesting pizza contains a crunchy base made from crackers, topped with a spaghetti sauce and a creamy cheese layer.
Honestly, this Triscuit pizza is tastier, healthier, and more entertaining than a store-bought pizza. It's also easier to serve with individual cheesy crackers.
When it comes to toppings, let your imagination run free. But here are a few suggestions for an eye-catching pizza appetizer: chicken, black olives, and onions. Remember to cover the sheet with some foil to make it easier to clean up.
Triscuit pizza is so simple to make but filled with flavors.
Total time: 25 minutes.
Prosciutto and pea crackers are elegant individual appetizers that you can serve on every occasion. With prosciutto, feta cheese, and fresh peas on top, these colorful bites are salty, meaty, and creamy.
For those who don't know about prosciutto, this is an unsmoked and dry-cured Italian ham. For this recipe, you only need to cut prosciutto into quarter slices, fold, and place them on top of each cracker.
The English peas and cheese are also the stars of the appetizer. After boiling and draining, toss peas with the champagne vinaigrette, mash a little bit, and combine with the feta and cheddar cheese mixture. The pea and cheese mix creates a chunky texture for the treat.
Total time: 10 minutes.
A staple featuring Brie cheese to provide a cheesy, sweet, and savory taste along with honey and walnut will conquer your guests' taste buds. There's no need to cook. You will gather the ingredients and top them on each Triscuit cracker.
So simple, yet so delicious. For this appetizer, you'll need Bie cheese, toasted walnuts for the toppings, and honey to balance the taste. If Bie isn't available, you can substitute Camembert instead. Keep the cheese at room temperature before topping the crackers.
Total time: 10 minutes.
Pepper jelly cream appetizer is a tasty Triscuit bite with a vivid color look. That's true, the pepper jelly is really the show's highlight. It creates an alluring look for the dish and enhances the taste. Your visitors will be impressed with its flavor, for sure.
The pepper jelly brings out the spicy and slightly tangy flavor, balanced with the saltiness of crackers and the creaminess of the cheese. If you prefer a grassy taste in your appetizer, let's sprinkle dried or fresh chopped dill on top. It makes the dish more flavorful.
Total time: 10 minutes.
There are endless ways to turn simple snacks into the perfect appetizer for game days. These cucumber feta bites are an amazing combination of fresh cucumbers, hummus, and feta cheese. Feel free to serve these all day because they're totally healthy.
Remember these small notes for flawless bites. For the cucumbers, you should peel and scoop the seeds first. Just any hummus you like or the Tribe Tzatziki as in the recipe. Also, for the Triscuit crackers, try the ones with sweet potato and sweet onion flavor.
Total time: 10 minutes.
Are you looking for a spring appetizer? Triscuits crackers with smoked salmon and avocado salsa can work in this case. These crackers are fresh and delightful with smoked salmon, creamy avocado, delicate baby spinach, and slightly tangy lemon juice.
To assemble this starter, combine all the ingredients (except Triscuit crackers) and add salt and pepper to taste. Then, on each Triscuit cracker, add a spoonful of the mixture. Now, it's time to serve them to our guests.
Total time: 30 minutes.
Cotija corn avocado Triscuit crackers are flavorful with grilled corn kernels, smooth avocado, and Cotija cheese. They are the best to serve at any summer party or get-together. Besides the original Triscuit flavor, other flavors can work well in this recipe.
It can take a few more minutes to cook the corn. However, this step is extremely easy. After boiling the corn, remove the husk and place it on a heated grill for a nice char. Charred corn kernels will have a deeper sweet taste.
Now, deal with the rest. Spread all the crackers, top them with small sliced avocados, place the kernels carefully to keep them from falling apart, and sprinkle some Cotija cheese. Within a few simple steps, you've successfully prepared a perfect summertime treat.
Total time: 5 minutes.
This Triscuit appetizer is super quick to make but so fresh and yummy. Caprese Triscuit snacks will become the star of your party with their charming look and incredible taste.
The flavor of this 5-minute appetizer is a mix between crunchy grape tomatoes, herbal basil, creamy Mozzarella cheese, and spicy ground pepper.
This is the trick to creating the glamorous appearance of the bites. After tossing the ingredients, start by placing a basil leaf on the cracker first, then a slice of cheese, and finally a grape tomato on top. Use an appetizer pick to hold the toppings.
Total time: 15 minutes.
This quick salsa bite is a hearty treat that combines an iconic Mexican-inspired appetizer with Triscuit crackers. These bites are especially delicious when topped with a meaty and cheesy layer.
For the best outcome, let's use shredded Mexican blend cheese. To assemble the salsa bites, lay out all the ingredients on every Triscuit snack, baking for a few minutes until the cheese melts.
You can make the bites ahead of time and place them in the fridge. When you're ready to serve, take them out and put them in the oven. The bites are still good if you heat them in a toaster oven or a microwave.
Total time: 5 minutes.
Serving a Triscuit cracker with a slice of cucumber and mint leaves on top can bring out the extremely refreshing and crunchy mouthfeel. These cucumber, cream cheese, and mint Triscuit crackers will surely become your family-favorite appetizer.
Amazingly, this recipe requires only 4 ingredients, which may be all available in your fridge. Keep some boxes of Triscuit crackers in your kitchen, so you can always make this enjoyable appetizer whenever there is a visitor.
Learn to make Triscuit appetizers with cucumber and mint and two other ways!
Total time: 8 minutes.
Do you prefer a rich flavor of cheese? Let's give these fresh cream cheese Gremolata toppers a try. These creamy bites have the bold flavor of cool cream cheese and a homemade Gremolata (Italian green sauce).
This homemade Gremolata is simple by only mixing some ingredients like garlic, parsley, and lemon zest in the food processor. Add 1 ½ tablespoons of milk to the mixture to reach the desired creaminess. Place it into a piping bag to assemble the cheese bites easily.
For more varied flavors, you can purchase a box of Triscuit with Mediterranean olive crackers or your favorite flavors besides the original one.
Total time: 20 minutes.
This tropical appetizer will please your taste buds with the sweetness of grilled pineapple and the creaminess of the avocado hummus. For the hummus, put chickpeas, avocado, lemon juice, and some spices in a food processor and blend until smooth.
Grilling the pineapple also doesn't take much effort. Heat the grill for several minutes first, and grill both sides of pineapple slices until some dark brown lines appear. The last step is to top each cracker with a full spoon of hummus and a grilled pineapple piece.
Total time: 20 minutes.
Triscuit crackers can go with a wide range of ingredients, and each combination is delicious enough to amaze you. Let me illustrate that truth one more time with this flavorsome appetizer made from steak and blue cheese.
To prepare the steak for this appetizer, you should season the flank steak with garlic salt and pepper first, grill the steak to your desired doneness, and let the steak cool enough to slice. Make sure to cut the steak across the grain and into thin slices.
The grilled onions are also the best part of these steak bites. Prepare some fresh red onion slices and grill them for around 10 minutes until charred and soft. Topping a Triscuit steak bite with grilled red onion will enhance the pleasant fragrance of the dish.
There are several ways to create your blue cheese Triscuit appetizer.
Everything Seems To Be Perfect With Triscuit
With an available box of Triscuit in your home, you can always top the crackers with anything in the fridge, from meat, greens, jam, to cheese. Preparing pleasing Triscuit appetizers is so fun, simple, and creative with all the above recipes.
Are there any awesome Triscuits recipes you want to share? How many of them have you tried and highly recommended? Leave a comment to let me know. If you find this post amazing, support me by sharing this with your friends to make it more accessible to others.
Nutrition Facts
12 servings per container
---
Amount Per ServingCalories384
% Daily Value *
Total Fat 13g

20

%
Cholesterol 16mg

6

%
Sodium 687mg

29

%
Potassium 363mg

11

%
Total Carbohydrate 58.8g

20

%

Dietary Fiber 7.7g

29

%
Sugars 0.3g

Protein 11.8g

22

%
---
Calcium

9

%
Iron

5

%
Vitamin D

1

%
* The % Daily Value tells you how much a nutrient in a serving of food contributes to a daily diet. 2,000 calories a day is used for general nutrition advice.