These 15 extremely easy tomato appetizers are so refreshing and nutrient-rich. Your taste bud will be tantalized by the tomato's sweet and tart flavor. These dishes won't overfill your guests before the main courses.
Besides serving these dishes as starters, they are also the perfect snack for brunch time or every hot summer afternoon. Try making these for your family; they will be surprised at how fresh and nourishing they are.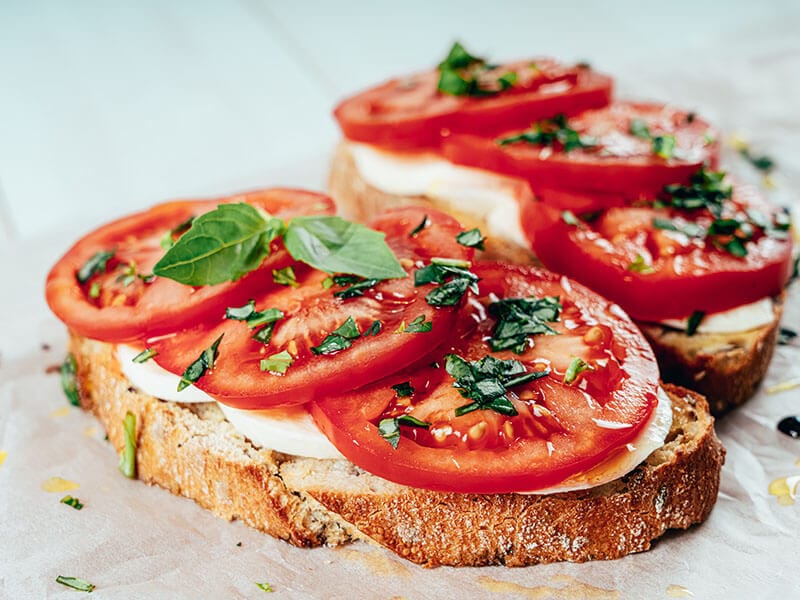 Tomato-Based Appetizers Deserve More Recognition!
Not only do they play an important role in salads and sauces, but tomatoes are also an extremely suitable ingredient for making simple and delightful treats. Let's dig into the 15 delicious delicacies where tomatoes are the headliner.
Total time: 20 minutes
Bruschetta is one of the famous Italian specialties served with toasted bread with salt and olive oil. For this tomato variation recipe, a mixture of tomato cubes is topped on the bread, or it can be served as a dipping sauce. This dish is delightful with a little kick of sweet-and-sour flavor.
You will need tomatoes, basil, garlic, onion, and vinegar for the topping and some baguettes to complete this dish.
After dicing the tomatoes, put every ingredient (except bread slices) in a bowl and start mixing until they combine. Slice the baguettes and toast them with some olive oil.
Many types of tomato can be used for this dish, but the recommended one is Campari tomato. It has inherent sweetness and is savory, yet does not contain too much juice. Remember to remove the tomato seed to prevent the bruschetta from drenching.
With this recipe, you will be able to make Italian tomato bruschetta.
Total time: 1 hour
The next entry I bring in is super healthy because it is filled with nutritious ingredients. This fresh spinach stuffed tomato recipe is a perfect treat for everyone as it is vegetarian. Plus, the presentation of this dish is so tempting as it seemingly looks like a fine-dining dish.
Half of a tomato is filled with spinach, onion, breadcrumb, parmesan cheese, and other herbs. You might think that is too much to stuff into half of the tomato, but it tastes amazing thanks to all the listed ingredients.
Everything is so balanced; all the flavor comes together so well with a little crunchiness from the onion and the breadcrumb. This dish should use ripe vine tomatoes to give the best flavor.
In contrast, it is not highly recommended to opt for big tomatoes or green tomatoes as they will eventually be stiff after being baked.
Total time: 25 minutes
This Caprese salad is a straightforward canape specialty representing Italian cuisine apart from pizza and spaghetti. This salad is so simple that it only requires a few ingredients yet so comforting and is perfect for getting your meal going.
For this recipe, you need to boil the balsamic vinegar to create balsamic reduction. This balsamic reduction will result in better flavor and better presentation. After that, glaze the balsamic, salt, and pepper on the sliced tomato, mozzarella cheese, and basil leaves.
This salad is so versatile. Besides being an appetizer, it can be served as a side dish in an Italian diet with other food like beef and bread, as a main dish salad, or even as a brunch or afternoon snack. This salad is truly a festival of flavors in which every ingredient is so balanced.
This Caprese Salad tutorial will teach you how to make this iconic Italian dish.
Total time: 25 minutes
If you are looking for a cheesy, creamy starter with a tomato base, then this baked tomato goat cheese dip is here to impress you. This cheese dip dish is so simple and can also go well with any starchy side orders, from bread to crackers.
The cooking process of this dish involves only 2 steps: saute the tomatoes and bake the tomatoes with goat cheese. And voila, the dish is ready, and you can dip whatever you favor into this cheese heaven.
You can replace most of the ingredients in this dish with similar ones in terms of cheese and tomato. Another variation you can try is adding some balsamic vinegar to the dip to create a Caprese-similar version.
Total time: 20 minutes
There is no better way to start a meal better than a delightful salad. This refreshing salad only asks for 3 main ingredients: tomato, cucumber, and onion. When this trio appears together in one dish, all I can describe the dish is: crunchy, fresh, and healthy.
The dressing for this salad is a very common mixture of olive oil, salt, sugar, and vinegar. Feel free to use any other type of dressing that suits your palate. Regarding the cucumber, there are plenty of varieties for you to choose from, but make sure to peel their skin if necessary.
To get a perfect salad, you must toss all the ingredients gently so that they are all covered in the dressing. The next thing is to store them in your fridge to retain the crunchiness and freshness.
This tomato, cucumber, and onion salad brings out the best flavor of vegetables.
Total time: 25 minutes
Just like bruschetta, crostini is another iconic Italian starter consisting of sliced bread and topping. For this recipe, the combination of BLT (bacon, lettuce, and tomato) is the main star. It is layered on top, followed by cheese, and finally sliced bread at the bottom.
This dish combines all the top characteristics of a perfect appetizer, such as fresh, crispy, creamy, and cheesy, especially in small servings.
You can say that this delicacy is a mini version of regular sandwiches. It is also a small snack or finger food that won't make you full.
To make this dish, you have to roast the baguette slices first. Then, spread cheese on the baguette slices and top with the mixture of BLT. With only 2 straightforward steps, your cheesy BLT crostini is ready to serve.
Total time: 1 hour
Bacon stuffed cherry tomato is among the perfect dishes using cherry tomatoes to kick off your meal. This dish is the same as a regular bacon salad, but this time, it is covered in tomatoes and served as a portion of finger food.
This delicacy combines cherry tomatoes, chopped green onion, mayonnaise, and crispy bacon. When baking the tomatoes, make sure to turn them upside down so that the juice can be drained. After that, you can fill them with a mixture of green onion, mayonnaise, and bacon.
Once you bite into the tomato, it feels like having a party in your mouth. The saltiness and crunchiness of roasted bacon, the creamy and fatty flavor of the mayonnaise, plus the tanginess of tomatoes, all come together to create an unforgettable culinary experience.
Total time: 15 minutes
These caprice salad sticks have a creative and unique presentation. And by the way they look, you can tell that these sticks can be prepared without breaking a sweat. This dish is extremely refreshing with fresh basil and tomatoes with a hint of mozzarella cheese.
For the cooking process, you need to divide the mozzarella ball into small cubes and pick basil leaves. After that, put a cube of mozzarella, a basil leaf, and a cherry tomato on a small cocktail stick. Just before serving, add some balsamic glaze, salt, and olive oil.
This dish includes similar ingredients to Caprese salad with a little twist in the presentation. However, that is not important because enjoying the same dish in different ways will result in distinctive experiences.
Total time: 5 minutes
How can you skip the salsa sauce when listing tomato-based delicacies? Originating from Mexico, the symbolic sauce is favored by locals for being a solid taco side treat in traditional dishes. All it takes is 5 minutes to prepare this spicy and smooth sauce.
Jalapeno peppers are an indispensable ingredient when making salsa sauce. It is used to adjust the spiciness of the sauce. By removing the seeds, their spiciness will be mild. Another important ingredient is the lime juice which gives this sauce that freshness and sourness.
Without the fire-roasted tomato, you will miss out on a kick of flavor. However, other types of diced tomato will work just fine. The more crucial component is cilantro. It is a must-have herb in every salsa sauce recipe due to its fragrance and freshness.
You can recreate the famous salsa sauce with this guild.
Total time: 45 minutes
There is no better way to get a course going than dipping some bread into a thick savory sauce. This roasted tomato whipped feta dip carries the freshness of tomatoes and herbs as well as the cheesiness and richness of feta cheese.
Apart from the mentioned flavors, this dish also bursts in flavor with the tanginess of lemon juice and zest. However, some honey is added to soothe such sourness, creating balance for this dish. Not to mention, a few teaspoons of olive oil also enrich the dip's flavor.
There are 2 steps involved in the process of making this great dip. First, you need to simmer the tomatoes with olive oil, garlic, and herbs. For the feta cheese, blend it with other ingredients until they become smooth. Place the tomatoes on top, and it is ready to serve.
Total time: 10 minutes
These marinated tomatoes are the ideal summertime starter. Olive oil and lemon juice are poured over ripe, luscious tomatoes. This dish is similar to the Caprese salad but without the mozzarella cheese.
The ingredients that you need for this recipe are simple, just like its name: tomatoes, vinegar or lemon juice, minced herb, olive oil, and garlic. Once you have all of them, put them into a bowl and gently toss these ingredients.
These tomatoes will need some time to rest and absorb the marinade. Therefore, 2 to 3 hours in the fridge is the ideal amount of time to get them ready. Before serving, make sure to let them cool down to room temperature.
Total time: 30 minutes
A light and healthy roasted veggie appetizer or salad is perfect for kicking off any meal. This balsamic parmesan roasted asparagus and tomatoes dish is inspired by Italian cuisine. This recipe carries a strong Italian vibe with a touch of balsamic and parmesan cheese.
To prepare this food, you need to roast the asparagus and tomatoes together with the parmesan cheese first. While baking, take your time and boil the balsamic vinegar to make the balsamic reduction.
When the cheese and vegetables are done, sprinkle some basil on top for flavor. You can never go wrong with adding basil to Italian dishes. After that, drizzle some balsamic reduction glaze on the vegetables for extra sweetness and tanginess.
Total time: 15 minutes
Baked tomatoes with mozzarella and parmesan is another combination of tomatoes and cheeses. This mozzarella cheese hors d'oeuvre is here to satisfy your family and guests' craving for a cheesy treat. This recipe is effortless to make, quick, and tasty. It also has an appealing appearance.
To recreate this recipe, you will need to slice the tomatoes in half first. Next, add as much mozzarella and parmesan to the slices as possible. Because cheese, tomato, and basil are indispensable, you need to top some basil on the cheese.
After that, glaze a bit of olive oil on them. Finally, bake the tomatoes for 10 minutes as it is when the cheeses start to melt. These 2 types of cheese mingle so well, and they complement the natural flavor of tomatoes perfectly.
Total time: 1 hour 5 minutes
One of the best ways to start a meal is by featuring heartwarming creamy soup recipes on your dining table. This creamy roasted tomato soup is vegetarian and is packed with the sweetness and sourness of ripe tomato plus the creaminess and cheesiness of heavy cream.
What makes this delicacy special is the natural sweetness of slow-roasted garlic, onion, and ripe tomatoes with a small touch of olive oil and other herbs. All together, they create a complex umami flavor.
The roasting process is crucial in this soup making because this is where all the soup's flavors are extracted. The inherent sweetness in these ingredients will be lost if you roast them too quickly.
You can now make creamy roasted tomato soup with this tutorial.
Total time: 7 minutes
The last delight on this list that I want to introduce is the red pesto. This is a wonderful appetizer that can go well with many sides. It is extremely rich in flavor and has a little kick of sourness.
This simple dish only includes 3 components: lime juice, sun-dried tomatoes, and garlic. Once your ingredients are ready, start blending them. If the mixture is too thick, add some jarred oil to loosen it.
The sun-dried tomatoes are already seasoned, so do not add salt to the mixture before you taste this dish. For preservation, the mixture of red pesto can last in the fridge for up to a week, so preparing it in advance is recommended if you are having a big party.
Tomato Appetizers Awaken The Taste Buds
Appetizers are essential for every meal. The purpose of the starter is to stimulate the sense of taste and encourage the consumer to eat more. It is important to have something light but delightsome to fill you up and get you pumped for more great things to come.
From finger food, salad, and soup to the dipping sauce, there are hundreds of tomato hors d'oeuvres to kick off your meal. With the list of 15 dishes above, I believe you have your pick on what savory and nourishing tomato dish to begin with.
If this post is useful and informative to you, please click that like button. Share it on social media to give your friends and family more options for tomato specialties. Best wishes and thank you!
Nutrition Facts
6 servings per container
---
Amount Per ServingCalories103
% Daily Value *
Total Fat 7.2g

12

%
Sodium 259mg

11

%
Potassium 170mg

5

%
Total Carbohydrate 8.9g

3

%

Dietary Fiber 1.2g

5

%
Sugars 3.4g

Protein 1.9g

4

%
---
* The % Daily Value tells you how much a nutrient in a serving of food contributes to a daily diet. 2,000 calories a day is used for general nutrition advice.
Linda Dean is a talented food blogger and cookbook author with a passion for creating simple and delicious recipes. With a focus on using wholesome ingredients and showcasing their flavors with minimal fuss, Linda's recipes have become a favorite among busy home cooks looking for quick and nutritious meals.
With years of experience in the kitchen and a love for experimenting with new ingredients and flavor combinations, Linda has honed her culinary skills and developed a signature style that is both approachable and sophisticated. Whether she's sharing a classic recipe with a twist or showcasing the latest food trends, Linda's work is always fresh, innovative, and inspiring.