Whoever comes up with these best tea sandwich recipes is just so brilliant. Tea has been around for thousands of years and has spread to every corner of the world as a familiar ingredient. Nothing can compete with the tasty flavor and affordable price of this drink.
It also brings tremendous health benefits, helping boost your immune system and detoxicate the toxins. Meanwhile, sandwiches are a delicious dessert that adds more sweetness and satisfaction to life.
Just give this duo a try, and you will have a great time enjoying your afternoon tea. So with no further ado, let me walk you through the beauty of these magical desserts.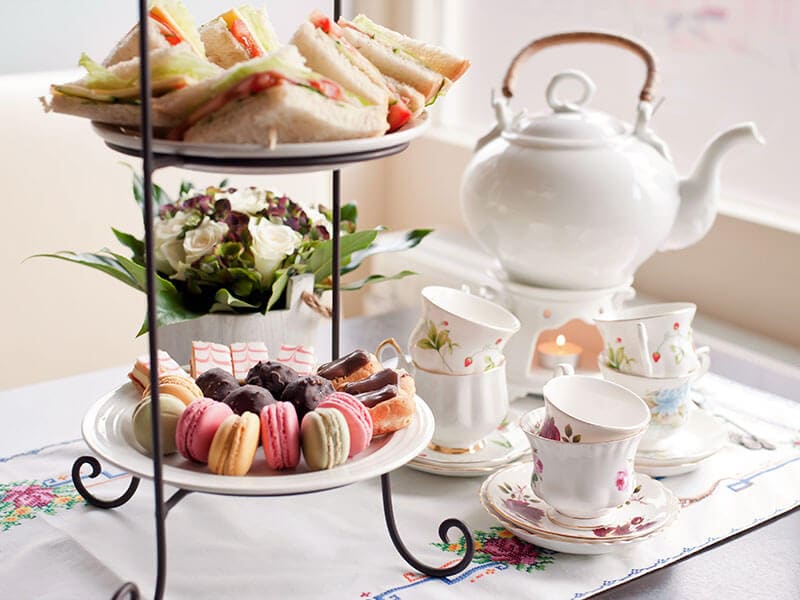 Bring Your Afternoon Tea To The Fullest With These 25+ Tea Sandwich Recipes
Typically, an authentic tea sandwich should come in thin and dense slices with a traditional white texture. Also, the sandwich crust is often removed when assembling so the other ingredients can spread to every edge of the sandwich.
Lastly, tea sandwiches are meant to be small, not in large and heavy patches. They are commonly served with cream cheese and butter, which are all available in these recipes.
Knowing these basic rules, preparing these delicious tea sandwiches won't be a challenge for you. Now get ready to discover the best tea sandwich recipes in the world!
Total time: 10 minutes
The brilliant appearance of this recipe using leftover salmon has drawn my attention. You will rarely find any tea sandwich covered with an outer cucumber layer. The gooey salmon filling stuffed in green cucumber sandwiches looks so appetizing for afternoon tea.
But don't let their beautiful appearance intimidate you. These chic salmon and cucumber sandwiches are very easy to prepare, even for people with moderate cooking skills. Just put a few minutes, and you'll end up with these eye-catching and delicious mini desserts.
The secret ingredient that sticks the cucumber slices to the salmon sandwich crusts is cream cheese. It also gives the sandwiches that slightly sour and savory flavor, which combines so well with the chic salmon.
Total Time: 20 minutes
These posh fish finger sandwiches taste better than any store-bought snacks. Their finely baked and crispy crust filled with the herby and savory flavor of tartar sauce creates an irresistible tea snack.
The tartare sauce is the soul of this recipe, which is a mix of chopped shallots, capers, cornichons, mayonnaise, and a squeeze of lemon zest. This cold and creamy condiment will add more freshness to the sandwiches and an airy white texture in the middle.
All you have to do is combine the ingredients in a small bowl to make the tartare sauce. Then spread half of it on the toasted buns. After putting the goujons on the buns, spread the other half of the sauce to serve.
Did the posh fish finger sandwiches fascinate you? Learn to prepare them with this easy guide!
Total time: 25 minutes
There can't be a better snack for afternoon tea than tomato tea sandwiches. Tomatoes usually go with cucumbers in sandwiches, but this recipe takes a step further by adding red onions to the filling.
The beautiful slices of tomato mixed with red onions give these sandwiches a vibrant reddish look. Besides the classic kosher salt and black pepper duo, this recipe also uses cream cheese and summer sauce (a mix of basil sauce and fresh uncooked pomato).
These condiments help strengthen the refreshing and mildly sweet flavor of potato, giving you a heavenly snack to enjoy with a cup of sweet tea. You can also prepare these delicious sandwiches one day in advance to treat your friends and guests.
Total time: 10 minutes
The bacon and benedictine tea sandwiches are a popular dessert in the Southern region. Though Benedictine is the name of a popular herbal liqueur, you can rest assured that this recipe doesn't contain any alcohol.
Instead, it involves simple and healthy ingredients like cucumbers, onions, cream cheese, sauce, and bacon for that meaty taste. Green food coloring is also used to create that airy greenish spread, but feel free to remove it if you don't prefer this component.
Without the green food coloring, the sandwiches still have a beautiful and natural green cucumber. Each bite of these tea sandwiches is a perfect blend of flavors, from the umami and sweet taste of bacon to the mild savory undertone of cream cheese.
Total time: 15 minutes
Incorporating tuna in these cucumber sandwiches is a brilliant idea, creating a super simple and versatile snack to enjoy the whole day. This recipe uses store-bought canned tuna to save time, but the flavors it brings are still wonderful.
The best thing about this recipe is that it works with various toppings like tomatoes, greens, or pickles, and the sandwich still tastes delicious. By flexibly adjusting the seasoning materials and ingredients used, you can create a unique blend of flavor.
To achieve the finest texture and taste, you should choose the canned tuna mixed with water instead of the oily ones. It's because you can add additional olive oil later, and the sandwiches don't get too oily.
In addition, this recipe works with all types of bread. If you are allergic to gluten, opt for gluten-free products. Goat cheese is also a much healthier substitute for mayonnaise, giving the sandwich a gooey and refreshing texture.
Why is the tuna cucumber sandwich so tasty? Let this video tell you!
Total time: 50 minutes (plus 1 day of pickling time)
The sweet butter and radish are a classic duo in various tea sandwiches, but this recipe is a bit more special. By pickling the radish, these little sandwiches bring a satisfying sour and sweet flavor while not sacrificing the crispy and beautiful texture of fresh radishes.
You can find the pickled radish sold in nearby groceries stores and supermarkets. This bright yellow veggie also contains a lot of healthy nutrients and vitamins, making these sweet butter tea sandwiches a healthier substitute for meat-based snacks.
However, the radish takes up to one day of pickling to achieve the finest texture and taste. So set up the schedule if you choose to prepare your own pickled radish. Also, remember to cover the radish thoroughly and put it at room temperature during the pickling process.
Total time: 15 minutes
As the name suggests, these green goddess tea sandwiches possess an exotic appearance of green cucumber filled between brown rye cocktail bread and a cream cheese layer. It's hard to find a more beautiful and classy snack for afternoon tea.
My heart just bumps faster the first time I try these little sandwiches. They feature a satisfying blend of flavors from chive, parsley, garlic, and tarragon. All these components are thoroughly mixed in the processor, creating an appetizing garlicky and herby aroma.
Unlike the whole wheat or white sandwiches, the rye cocktail bread brings a brighter and more earthy flavor. It actually tastes like strong herbal teas, which is a perfect match for these green tea sandwiches. Still, you can use whatever type of bread you have on hand.
Total time: 30 minutes
Sometimes the vegan tea sandwiches can't satisfy my food craving. I accidentally found these tasty hot pastrami sliders when dining at a fancy restaurant. A question instantly popped into my head: What if I serve these tender and buttery sliders for afternoon tea?
Though the idea is a little extreme, with suitable pairings for pastrami sandwiches, their flavors and melting textures won't disappoint you. The baked slices of pastrami also emit an irresistible meaty scent.
These hot and delicious sandwiches are full of protein and nutrition, making them an ideal appetizer or light breakfast. With mostly store-bought ingredients, you can prepare the warmest and tastiest pastrami rolls in just half an hour!
How to prepare the most delicious hot pastrami sliders? Follow this guide to find out!
Total time: 15 minutes
Here comes another healthy and mouth-watering vegan cucumber sandwich to fill your tea break with joy and satisfaction. These vegan cucumber sandwiches are perfect for vegetarians and people following diets due to their low content of fat and dairy.
If you haven't tried vegan cream cheese, it gives a surprisingly good taste with a powerful tangy and savory flavor. There are many vegan cream cheese products on the market that don't contain any dairy or gluten. But you should check the description to ensure.
You can also use vegan mayonnaise or substitute it for vegan sour cream or yogurt to make this dish even healthier. The cream cheese and mayonnaise are inherently delicious, but some little salt and pepper will help you achieve the finest flavor.
Total time: 12 minutes
If you are looking for a savory and nutritious egg recipe for the weekend tea break, don't hesitate to try out these simple egg salad tea sandwiches. They are loaded with savory and rich hard-boiled eggs mixed with a creamy sauce of yogurt, mustard, and mayonnaise.
These egg salad tea sandwiches are very easy to assemble and can be stored for a few days. However, just put the filling on the sandwiches right before serving, or they will become soggy and ruin that creamy texture.
You can use whole-grain or whole-wheat bread as long as they are fluffy and soft. Cut the sandwich crust and slice them diagonally into four triangle parts to assemble the dish and serve. It can be enjoyed with the other tea sandwiches for a fun afternoon tea break.
Total time: 1 hour 15 minutes ( including 1 hour of refrigerating time)
The kids will surely love these ham and pimento cheese tea sandwiches. They look like savory bites from heaven with a white and creamy texture topped with a little piece of pickled okra.
Pimento cheese is a mix of cheddar cheese, mayo, pimentos, and cream cheese. Besides the cheesy and creamy texture, it adds a peculiar spicy undertone to the sandwiches. You can either use the store-bought pimento cheese or make it at home for this recipe.
Remember to soften the pimento cheese first so you can spread it on the bread easier. However, the cheese will make your sandwiches soggy, so you can freeze the bread slices 30 minutes in advance to harden them.
Total time: 30 minutes
There is no ingredient that can replicate the nutty and earthy flavor of avocado. These avocado egg salad tea sandwiches are another healthy substitute for sugar treats with their refreshing and buttery undertone.
However, it's the creamy and smooth texture of avocado that makes it stand out from the other fruits. With thin slices of cucumber, chopped celery, and some eggs, these avocado egg salad tea sandwiches look like a giant salad filled with nature's goodness.
In addition, this recipe is suitable for those following a diet with low calories and sugar. Instead of sugar and sweeteners, it uses low-fat mayonnaise and mustard to enhance the flavors. The dense and nutty taste of white bread is also a plus point of this sandwich.
No one can resist these tasty avocado egg salad tea sandwiches. Here's how to prepare them.
Total time: 10 minutes
Here are your long-awaited shrimp sandwiches mixed with cucumber, sour cream, and mayonnaise. To me, shrimp is the best seafood on the earth because it doesn't come with an overwhelming fishy taste and aroma.
The mild sweetness and saltiness of the shrimp will combine so well with the fresh cucumber in this recipe. In addition, shrimps also give these sandwiches a creamy and chewy texture that will please you with every bite.
Spread the seasoning mixture (a mix of mayonnaise, Tajín, and sour cream) on the bread slices before assembling the shrimp, radish, and cucumber. You can cut each sandwich into four equal rectangular bites to serve!
Total time: 20 minutes
The classic buns served with crispy bacon and filling honey in this recipe make an irresistible triplet. The addition of honey Dijon chicken creates a delicious sandwich for breakfast with its tasty and nutritious texture made of a few simple ingredients.
Besides the savory bacon slices, this sandwich incorporates tender boneless chicken breasts. It's also a healthier substitute for red beef and pork, adding more protein and nutrients to this delicious chicken sandwich recipe.
You can store the cooked chicken breast, bacon, and cheese in a separate freezer bag and freeze them for later use. When the hunger kicks in, you just need to assemble the sandwiches and enjoy!
Total time: 20 minutes
I'm glad to bring you the classic English tea sandwiches with cheese, butter, vegetables, and ham. This recipe is a little more special as it gives you many variations of flavors, such as the combination of apples and almond butter or ham and gouda cheese duo.
If you want to turn your afternoon tea into a party of flavors, then these English tea sandwiches won't let you down. Each recipe involves two different ingredients, thus bringing a distinct taste and texture.
Obviously, spread the flavoring material on the bread, put on the staple ingredient, and top with the remaining bread to assemble the sandwiches. Preparing two sandwiches for each variation is sufficient for one serving. Remember to remove the bread crust to serve!
Total time: 45 minutes
Besides shrimp, crab is my favorite seafood with its slightly fishy and unmistakable oceanic flavor. Though I didn't like the idea of incorporating crab in sandwiches at first, the exotic taste of these unique crab-based appetizers changed my mind.
Don't worry if you can't find fresh crab at the local market. The canned crab is applicable to this recipe. This recipe uses familiar seasoning materials like mayo, salt, pepper, and paprika to enhance the sandwiches' flavor.
Dijon mustard is also a must-have for any seafood dish, but don't overuse it, or the delicious fishy crab flavor will fade. You can adjust the seasoning added to achieve your favorite taste. Top these sandwiches with a delicate dill garnishing and enjoy with tea!
Making these crab salad sandwiches is a real art! Follow this video to learn more!
Total time: 15 minutes
Are you a fan of Havarti cheese? If you have never tried it, these cinnamon apples and Havarti tea sandwiches are in for a treat! Their buttery, sweet, and pleasant flavors turn them into a crowd-pleaser for any tea party.
Havarti cheese is the key ingredient in this recipe. It possesses a creamy and smooth texture. As a cheese lover, the mild yet satisfying buttery taste of this ingredient amazed me, which is more subtle than any regular cheese I have tried.
The brown raisin bread filled with green apple slices also creates an eye-catching and vintage appearance. Remember to slice the apple thinly so you can assemble the sandwiches more easily.
Total time: 40 minutes (including 30 minutes of cooling time)
A search through the best egg sandwiches revealed me to these yummy truffled egg salad tea sandwiches. Sometimes simplicity creates the best flavors, and this recipe demonstrates that point.
The mouth-watering mashed eggs seasoned with mayo, salt, and pepper are enough to make you hungry. Obviously, start with boiling the eggs in a saucepan at medium heat and let them rest for around 15 minutes.
Peel and mash the eggs with truffle oils, scallions, chives, and other seasoning materials using a fork. Then assemble the sandwiches and cut each one into four equal triangles to serve. Don't forget to remove the bread crust before assembling.
Total time: 50 minutes
Sometimes I'm curious why grilled chicken tastes so good. The heat source from grilling adds to the chicken a subtle and smokey undertone characteristic of grilled dishes. That's why this chicken Caprese sandwich is peculiarly addicting.
Unsurprisingly, this recipe comes with tomato slices and salad, which are classic ingredients to be served with grilled meat. You should marinate the chicken half a day in advance before grilling.
The result is a tender and flavorful grilled chicken with a fabulous smoky aroma. Besides the delicious taste, the eye-catching and crispy texture of toasted bread crust spread with olive oil is a plus point to this sandwich.
What is the secret to making the best chicken Caprese sandwich? This video will tell you everything!
Total time: 10 minutes
Why do you love sandwiches? Is it because of their simple preparation and tastiness? For me, the best thing about sandwiches lies in their versatility. You can add random ingredients of your favorite, and the sandwiches' flavor still comes out so good.
Speaking of this recipe, it involves diverse and fresh ingredients, ranging from roast beef and spices to fresh veggies. By incorporating these nutritious components, each bite of this sandwich is overflowing with healthy proteins and fibers that can make you full the whole day.
Of course, the sandwich would taste so dull without seasonings. Besides the old good kosher salt and pepper duo, this recipe adds a little mayo and lemon zest. They will help you get the most of the refreshing and yummy taste in these horseradish sandwiches.
Total time: 25 minutes
These apple tea sandwiches are an excellent addition to any fall tea party with their tasty flavor twist and crunchy texture. If you pay attention, the deli turkey brings a more powerful and distinct flavor. This recipe tastes better than the regular chicken sandwiches.
Preparing these apple tea sandwiches is child's play. You first need to blend cranberry sauce and mayonnaise using a food processor. When the mixture is fully combined, spread it evenly on the bread slices.
Finally, put the apples, turkey, spinach, and cheese on the bread to serve. You can cut each sandwich into four triangles to enjoy with tea. Remember to cut the veggies and turkey into thin slices. It will make assembling the sandwiches easier.
Total time: 20 minutes
The shredded chicken is inherently tasty, but combining it with honey lime will level up the flavor. This mouth-watering shredded chicken recipe is a perfect blend of savory taste and sweetness, making them an ideal side dish for tea parties and dinners.
However, a sandwich cannot taste good if it lacks veggies, so this recipe involves simple slaws like shredded carrots, cilantro, zucchini, and cabbage. Without suppressing the meaty flavor of chicken, these veggies add more freshness and nutrition to the sandwiches.
The big and fluffy buns work best with this recipe, which is available in any grocery store. You can prepare ingredients in advance and assemble the sandwiches to serve whenever the hunger kicks in. It takes just a few minutes for a full and hearty meal.
Total time: 40 minutes
Needless to say, Devonshire cream is born for these basil tea sandwiches. It is a mixture of sugar, cheese, and heavy cream, which tastes quite similar to a premium unsalted butter.
With Devonshire cream, these sandwiches feature a medium richness between regular whipped cream and butter that combines so well with the natural sweetness of strawberry. Meanwhile, the basil leaves add a subtle sweet and savory undertone to the dish.
I believe that you can imagine how well these delicious sandwiches combine with the refreshing taste of tea. They are flavorful and healthy dishes with quality ingredients. Plus, this recipe barely involves any meat-based products or processed food, making them ideal for vegetarians.
Total time: 30 minutes
The Hawaiian rolls packed with tender chicken, marinara sauce, and all types of cheese are the best Luau finger food in the world. By layering the filling with butter topping and baking at medium heat, these tender and creamy sliders will melt like heaven in your mouth.
To achieve the best-baked texture, you should wrap the sliders in tin foil and bake for the first 20 minutes, then remove the tin foil and bake for the last five minutes until their crust turns golden brown.
You can substitute chicken with the eggplant cutlet for the vegetarian version of this dish. Though the taste isn't as good as meat, its pleasant and somewhat bitter undertone is worth a try. Don't forget to prepare some marinara sauce to serve with the sliders.
Don't rush to make the chicken parmesan sliders if you haven't watched this instruction!
Total time: 15 minutes
Both adults and kids will get fascinated by these creamy orange cinnamon tea sandwiches. Don't underestimate this recipe despite its somewhat simple appearance. Their delicious flavor and creamy texture will blow your mind.
The gray and vintage color of the sandwiches come from the cinnamon swirl bread. However, the thing that attracts me about these sandwiches lies in their nutty and floral scent. They smell just like the best of autumn and nature, which is perfect for a tea break.
These tea sandwiches give a mild forestry aroma with the pecans and an appetizing buttery smell. The mandarin oranges also add more spiciness and sweetness to this yummy dish. With a little brown sugar to enhance the taste, they can easily satisfy your hunger.
Total time: 20 minutes
I begin this list with chic salmon and cucumber sandwiches, so ending it with another delicious cucumber cream cheese sandwich is not a bad idea. This recipe is suitable for people of all ages and tastes with its simple yet delicious flavor.
The ingredients needed are very simple: an English cucumber, soft white bread, and a little cream cheese. Besides the black pepper, lemon zest, and salt, you can add some Chopped fresh chives to enrich the sandwiches' flavor.
No wonder these cucumber cream cheese tea sandwiches take only 20 minutes to prepare. Just assemble the ingredients and serve them fresh. No baking or cooking is needed. However, don't leave the assembled sandwiches for too long, or they will get soggy.
These Fabulous Tea Sandwich Recipes Will Keep Lingering In Your Mind!
On peaceful afternoons, I usually serve a cup of hot tea with a plate of yummy and colorful tea sandwiches. Combined with my favorite soundtrack, it becomes the most pleasant time of my day.
Afternoon tea is a time for warming up and healing the soul with solace and relaxation. I'm certain that you will love doing the same thing. With these super tasty and simple tea sandwich recipes, you can derive the most pleasure from this valuable time.
So, which sandwich recipe will you pick for your afternoon tea? What are the dishes and flavors that catch your attention? I'm eager to know your thoughts, so please comment and share with me. Also, don't forget to share and give the post a thumb up.
Linda Dean is a talented food blogger and cookbook author with a passion for creating simple and delicious recipes. With a focus on using wholesome ingredients and showcasing their flavors with minimal fuss, Linda's recipes have become a favorite among busy home cooks looking for quick and nutritious meals.
With years of experience in the kitchen and a love for experimenting with new ingredients and flavor combinations, Linda has honed her culinary skills and developed a signature style that is both approachable and sophisticated. Whether she's sharing a classic recipe with a twist or showcasing the latest food trends, Linda's work is always fresh, innovative, and inspiring.