19 Best Surf And Turf Side Dishes To Enrich Your Menu 2023
Similar to appetizers and entrees, the best surf and turf side dishes help establish your whole meal. They enforce the foods they accompany just by their presence and presentation. There's no simpler way to elevate your main dishes by serving them alongside various sides.
Surf and turf are lavish, but that doesn't mean that the side dishes need to be like that, too. They can be simple and humble, like roasted asparagus or potatoes. However, these sides also do not lack charm in both flavors and appearance.
Whether you want a light and simple side dish, or a more sophisticated accompaniment, there is something for everyone. Let's dig into and explore the best surf and turf side dishes have to offer.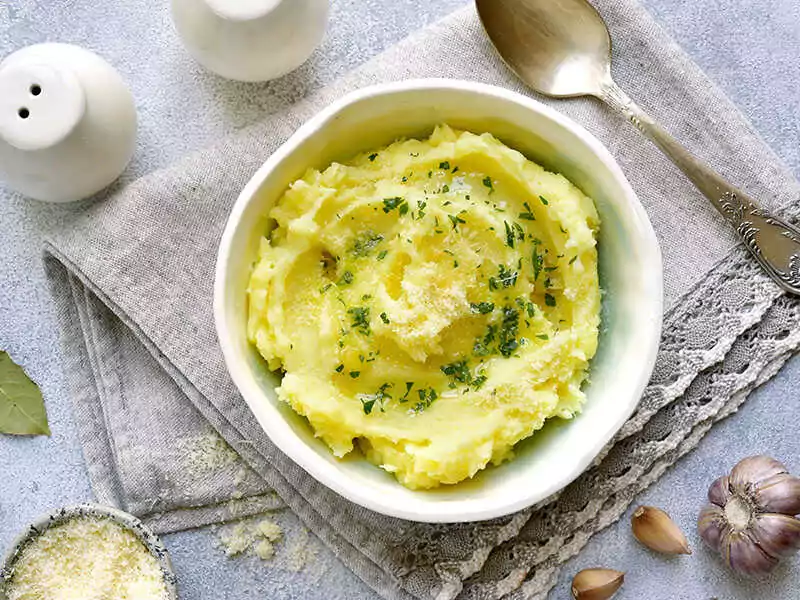 The Most Amazing Surf And Turf Side Dishes For Highlighting Your Meal
To create a perfectly balanced diet, you need to learn about fascinating sides that pair well with seafood and also elevate the meat's profile. Thus, it's a win-win; you can have a tasty full course while keeping yourself healthy.
Total time: 40 minutes
Now, this is a classic. French fries are well-known throughout the globe, so I won't introduce them anymore. These golden brown crispy fries add a nice crunchiness and potatoey taste to the whole dish.
Homemade French fries use all the usual ingredients: potatoes, olive oil, flour, parmesan cheese, and seasoning. All you need to do is fry the potatoes coated in a prepared batter. Remember to soak the potatoes beforehand to remove starch and increase crispness.
This is not a deep-frying only recipe. You can make French fries by other means: air-frying or oven-baking. Whichever way you go, it won't take longer than an hour to get the simple and tasty meal onto your plates.
Let's explore how a professional chef cooks restaurant-quality french fries.
Total time: 12 minutes
Roasted asparagus may not be considered a luxury dish. But these starter-worthy asparagus can pair well with your favorite surf and turf. Plus, the dish is easy to make, ideal for when you have your hands filled with the main dishes already.
Before seasoning and baking, remember to snap off the woody ends as they are tough and inedible. If the asparagus is too thick, use a peeler to trim it to the desired thickness. Then just season the plant and pop it into the oven at 425℉ for about 9-12 minutes.
What's special about this roasted asparagus is it comes with many dressing options. Besides salt and pepper, you can put in Italian seasoning, lemon pepper, onion, Cajun seasoning, etc. Alternatively, you can coat the plant in minced garlic and oil.
Total time: 35 minutes
Pairing a decadent lobster treat with seafood and red meat is always a good idea. The soup provides a warm touch to the meal without making you feel full. This classic lobster bisque is one such dish. Your belly will happily enjoy its smooth and highly-seasoned taste.
You can turn the dish into dairy-free food. To do so, replace the heavy cream with cashew cream. The catch is you may have to add more stock to thin the consistency when reheating the meal. What's more, this recipe is Paleo, Whole30, and Keto-friendly, too.
The kitchen tools required are a large dutch oven, a pan, and a high-speed blender. In case you can't find a high-powered blender, feel free to blend the soup for an extended period until reaching the desired consistency.
You can have a good time with the lobster bisque by following these simple cooking steps.
Total time: 2 hours (Excluding 1 hour of resting time)
Dauphinoise, also known as potatoes au gratin, is a dish from Dauphiné, a region of Southeastern French. Traditionally, you can use a casserole to make this potato-based dish with the finishing product requires a rest of 45 mins to 1 hour before serving.
Dauphinoise does not restrict to potatoes only. You can make the base gratin Dauphinoise and use other ingredients to create more variants. For instance, adding ham, bacon, or other veggies like sliced mushrooms, zucchini, or asparagus is a good choice.
The slow-cooked potatoes immerse nicely into the thick cream-milk mixture. Digging into the soft texture, the excellent flavors of the dish will greatly complement any surf and turf you pair it with.
Total time: 35 minutes
Lettuce goes well with seared steak. So, it makes sense that iceberg wedge salad can be a good side dish for almost all surf and turf meals, too. The crisp texture with a clean and light taste can satisfy your needs for something plain and crunchy.
But that's not all. The flavor of blue cheese dressing and crunchy toppings adds so much depth to this simple-at-first-glance offering. You can make the dressing one to two days ahead.
You can recreate a premium full-course meal at home by pairing wedge salad with surf and turf.
Total time: 20 minutes
How could I forget about salad? If surf and turf combine the best of the sea and land, there's no reason to add some plants and greens to the mix. Red raspberry spinach salad is a no-bake and no-fuss recipe you can make in 20 minutes or less.
There is a whole heap of fruits and veggies in one serving: spinach, romaine heart, pear, etc. The whole dish has a crunchy texture, thanks to the variety of added ingredients. The sweet-tart raspberry flavor is more noticeable, among other flavors.
The cooking steps are simple: put all the items into one bowl and toss to combine. As for the dressing, use a blender and let this machine handle the rest. In case you don't have one, throw all the ingredients in a jar and shake. Once done, combine the salad and the dressing and enjoy.
Total time: 25 minutes
You can never eat enough veggies and greens, especially when the surf and turf dishes are typically protein-rich. Thus grilled brussels sprouts are ideal as a side dish as they provide the much-need nutrients of vitamin K, C, carbs, antioxidants, etc.
Plus, who can resist the temptation of caramelized, slightly charred brussels sprouts and their sweet-spicy maple dijon sauce? They even look so adorable, too. The little greens are put on a skewer and grilled to perfection.
To prepare the brussels sprouts, remove yellowed or blemished leaves and cut off the stem. When coating and grilling them, remember to save some extra sauce for dipping. You can add salt to the remaining dipping sauce if desired.
Surprise your friends and family with this impressive maple dijon brussels sprouts side dish.
Total time: 1 hour 30 minutes
The recipe is broiled potato halves filled with smooth crab meat mixture and sprinkled with grated cheese and chives. The combination of the items above offers a creamy, delicate, and oniony taste.
What's better to enjoy alongside the seafood and red meat than potatoes and crabmeat? If you want something smoky, you can put in some crumbled-cooked bacon. Are you saying the dish is bland-looking? Then sprinkle the dish with sweet paprika for extra colors.
As the crabmeat and sour cream are already savory, you don't want the creamy cheese to overwhelm these two tastes. For that reason, it's better to go for milder cheese like cheddar cheese or Parmesan cheese.
Total time: 45 minutes
If you dislike the French fries for their oiliness, consider making these healthier oven-fried zucchini sticks. They fare pretty well against the French fries in terms of flavors and crunchiness. Both are golden goodness, but the zucchini sticks also feature creamy cheese.
Similar to most fries, you can serve the sticks hot as-is or with some warmed marinara dipping sauce. The dish is an ideal method of enjoying the in-season veggie without sacrificing the healthy nutrients for a crunchy experience.
Let's upstage your surf and turf meal with the healthy zucchini sticks.
Total time: 1 hour 5 minutes
I am back again with more veggies. I mean, when you have meat and seafood on your plates, you prefer some fruits and veggies to go with them than anything else, right? The dish brings out the best of carrots, parsnips, beets, and more.
This recipe is vegan, gluten-free, and paleo-friendly. Therefore, it is perfect for foodies who are concerned about their health. The roasting step cooks the vegetables and helps them develop more flavors simultaneously.
You can enjoy the crispy texture of these veggies with very few steps: slicing, seasoning, and roasting. For extra taste, you should use high-quality flaky sea salt.
Toss the veggies with olive oil, flaky sea salt, rosemary, and garlic. Then roast the whole thing for about 30 minutes. Once done, stir them well and pop them into the oven for another 12-25 minutes, and you are golden. Season more if need be.
Total time: 35 minutes
Not to be confused with their sweet and chewy British counterpart, the North America-inspired buttermilk biscuits make for a savory side dish. You can whip up these mesmerizing buttermilk creations with tender, high-rising, and flaky textures at home without much time and effort.
The easy buttermilk biscuits call for 4 simple ingredients: self-rising flour, cold unsalted butter, non-fat buttermilk, and unsalted butter. One bite, and you can taste the sweet and acid flavor of melted butter and the dough.
You should make buttermilk biscuits; it is no hard work at all.
Total time: 35 minutes
Pasta is one of the best and most savory side dishes. They come in various shapes and sizes, not to mention the numerous sauces. Truffle mac and cheese is the perfect side dish for any meal, not only surf and turf.
The rich and creamy flavor does not only pair well with the land and sea combo but also adds more to the fancy and luxurious aspect. Moreover, the earthy tone of the mac and cheese also elevates your whole course without overwhelming anything.
This truffle mac and cheese is also customizable. Feel free to use any cheese of your choice. For instance, white cheddar and Swiss are great for added creaminess and flavor, respectively. The recipe also requires no particular pasta, so use any that suit your liking.
Total time: 33 minutes
Let's explore an iconic meal from Southern Louisiana. Aside from surf and turf dishes, the simple Cajun corn Maque Choux may become a beloved partner with jerk chicken on your menu. This corn-based recipe consists of onions, peppers, Jalapeno, and Cajun seasoning.
You can use either frozen or fresh corn. Canned ones, however, are out of the question. To cut the corn on the cob with its husks and tassels removed, place a smaller bowl upside-down onto a larger one. Then cut the kernels off the upright cob, which stands on the smaller bowl.
Lastly, stir and saute all the ingredients with the yellow corn in a large skillet over medium-high heat for about 23 minutes. If done correctly, you can have 4 tasty Cajun corn Maque Choux servings full of flavors.
Total time: 45 minutes
If you are craving something creamy with chunks of meat in it, clam chowder is among the favorite cooking ideas utilizing clam for a succulent meal. It is thick and loaded with clams. I'm sure you won't disappoint when pairing the warming soup with surf and turf offerings.
You can use fresh clams. But for ease of convenience and budget-friendly reasons, canned clams are superior. Plus, they are ready as you open the can, thus streamlining the cooking procedure and saving time.
You can make this treat with half-and-half and adjust the amount for the desired consistency. With little effort, the creamy and flavorful clam chowder can be ready to be served on your plates in less than an hour.
Whipping up creamy clam chowder without breaking a sweat with this detailed cooking guide here.
Total time: 20 minutes
Here is another salad, but with an entirely different cast: kale, broccoli, almonds, carrots, cranberries, and sunflower seeds. From the ingredient list, you can tell this is going to be a dish with a complex and mouth-watering flavor.
There's still the dressing, which you can adjust to be sweet or tart based on your preferences. Add more lemon zest if you want more tartness. On the other hand, put in extra sweetness if you prefer the other way around.
The finished dish is a colorful combination of green, purple, and orange. Broccoli kale salad is a great way to include the in-season veggies, so be creative and add more items. There's no stopping you!
Total time: 25 minutes
Bread is a staple food as well as a side dish that goes with anything, from simple soup to luxurious meals. If you fancy an Italian-inspired bread with garlicky, buttery, and gooey goodness, then you mustn't miss out on this recipe.
Despite having the garlic in its name, the cheesy garlic bread combines minced garlic, garlic powder, fresh parsley, and paprika. Isn't that what you can get more than you bargained for? With this yellow-colored and flavorsome bread recipe, it certainly is.
There are three components: mozzarella and parmesan cheese, crust Italian bread, and flavored butter. There are many garlic bread variants out there, but this one shines thanks to being well-seasoned with a rich mix of both minced and powdered garlic.
Total time: 25 minutes
I am giving you more creamy and cheese goodness because you need it for the surf and turf duo. The mashed potatoes is one of the ideal options for creating potato-centric sides that won't make you feel too full.
However, these are not your everyday mashed potatoes as they have a twist: cream cheese. Whole milk, cheese, and garlic blend nicely, creating a far more cheesiness and extra flavor you can't imagine.
As you can make and store the mashed potatoes in an airtight container in a fridge for up to 3-4 days, they make for a perfect make-ahead dish. You can reheat the meal by various means: slow cooker, oven, stovetop, or microwave. Remember to stir in some milk when reheating.
Be careful, or you might start making this cream cheese mashed potatoes recipe every day before you know it.
Total time: 30 minutes
If you are looking for a more robust combination with steak or tasty fish, roasted honey-glazed carrots fit the bill. The results after about 20-25 minutes of roasting will be a tender, sweet dish with a carrot taste and tart orange zest, which introduces a nice contrast to the plant.
Here's a tip: make sure the carrots are of similar sizes so that they can be roasted evenly at the same time. You can cut, trim, or peel the veggie. On that note, it's fine to skip peeling them altogether. There's not much nutrient difference between peeled or unpeeled carrots.
Roasted honey-glazed carrots are also highly customizable. Putting in items like cinnamon nutmeg or half carrots and half parsnips can completely transform the dish. Alternatively, try replacing honey with maple syrup or orange zest with dill for a new experience.
Total time: 33 minutes
Just like bread, rice is one of the easier side dishes to accompany various foods. Rice Pilaf consists of rice and meat cooked together. People believe that it originates from Persia. Over time, the dish found its way to the Middle East, Asia, Europe, and eventually America.
You should use long-grain white rice for this recipe to work, not instant rice. Because using the wrong one will affect the cooking time and may mess up the whole dish. For a better result, stir in butter before serving. It's not a necessary step, but I recommend you do so.
The magic of rich rice Pilaf comes from the combination of seasoning and chicken stock. The rice soaks up these two elements and gains a handful of flavors. Therefore, the whole dish becomes enriched with a depth of taste and aroma.
With a bit of effort and time, you can make an excellent serving of rice Pilaf.
Make Your Surf And Turf Better With These Simple Yet Scrumptious Side Dishes
Reading this far, how many of the listed recipes have been added to your repository? Is there anything in particular that catches your eyes? Let's share your options in the comment section. I and others will make sure to discuss with you to your heart's content.
When you think about surf and turf, do you think about the best side dishes to eat along this combo? They are not only a good addition to the classic duo but also a simple and great way to upgrade your full-course meal.
Still, many people don't know what they should pair their seafood and red meat with. You can help them by hitting that share button. It doesn't amount much, but your action may help someone in a pinch with these best surf and turf side dishes.
Nutrition Facts
4 servings per container
---
Amount Per ServingCalories117
% Daily Value *
Total Fat 7.4g

11

%
Sodium 296mg

13

%
Potassium 576mg

17

%
Total Carbohydrate 11.2g

4

%

Dietary Fiber 6g

24

%
Sugars 5.3g

Protein 6.3g

12

%
---
* The % Daily Value tells you how much a nutrient in a serving of food contributes to a daily diet. 2,000 calories a day is used for general nutrition advice.