17 Tasty Stove Top Stuffing Recipes
Preparing stove top stuffing recipes is so satisfying and easy with the help of a stuffing box in your cupboard. This versatile box of stuffing is great for making casseroles, bread, cake, burgers, sandwiches. Additionally, you can even use it to fill shells and other things.
Traditionally, you have to wait the whole year for Thanksgiving to enjoy your favorite stuffing dish. Here is the good news for you! You have to wait no longer! With one or two stuffing boxes in your cupboard, you can generate a plethora of stove top stuffing recipes effortlessly.
Now, I want you to take out a pen and some paper. Let's join me in the exciting journey to stuff more ideas into your Thanksgiving culinary collection with the following 16+ stove top stuffing recipes!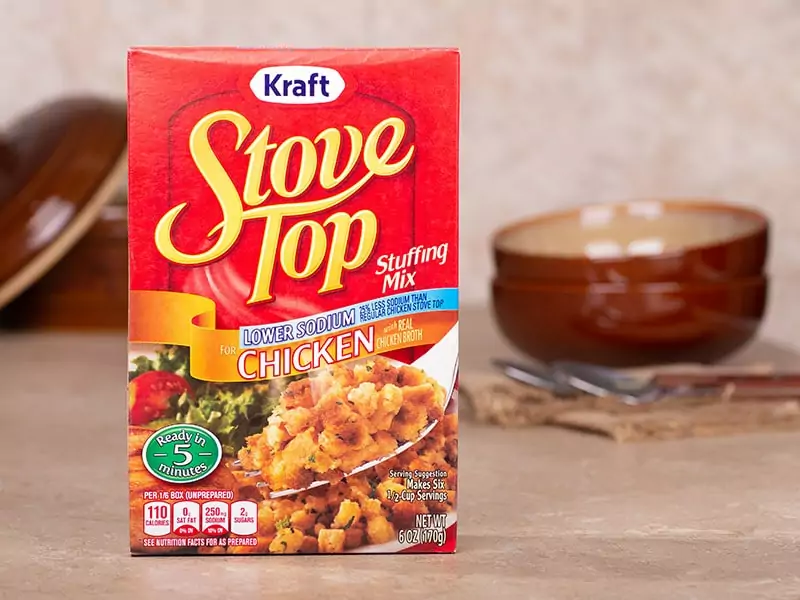 Full Compilation Of 16+ Tasty Stove Top Stuffing Recipes
All my suggested stove top stuffing options in one place! Isn't that what you are expecting, especially those with little free time on hand? I hope you will find this section beneficial in providing you with a straight shortcut to your desired dish.
9 Tender Stove Top Stuffing Chicken Recipes
Chicken Stuffing Bake
Chicken Broccoli Casserole
Chicken Bruschetta
Chicken Cordon Bleu
Chicken Stuffed Shells
Chicken Zucchini Casserole
Shredded Chicken Sandwich
Swiss Chicken Casserole
Chicken Stuffed Acorn Squash
3 Fulfilling Stove Top Stuffing Pork Recipes
Bacon-Wrapped Stuffing Bites
Sausage Stuffing Balls
Stuffed Pork Chops
2 Nourishing Stove Top Stuffing Vegetable Recipes
Cranberry Pecan Stuffing
Spinach Stuffing Balls
2 Juicy Stove Top Stuffing Beef Recipe
Mini Meatloaf Muffins
Stuffing Meatloaf
1 Robust Stove Top Stuffing Seafood Recipe
Stuffed Shrimps
9 Tender Stove Top Stuffing Chicken Recipes
Chicken is so versatile that you can use it in tons of creative dishes. Its tender texture blends nicely with many spices and elements, generating a harmonious flavor. Below are nine recipes introducing the pleasant combination of stove stop stuffing and chicken. Let's check them out!
Amid my busy weekdays, sometimes I wish there was a simple recipe that could quickly render into a fulfilling meal for my family and me. Then, I accidentally stumbled upon this fantastic Stove Top Chicken Stuffing Bake!
Besides other cozy options for the incoming winter months like chicken soup or quinoa fajita, this recipe is also a succulent dish to try with multiple layers of seasoned chicken, stove top stuffing, and creamy sauce coming together in a single plate.
Its irresistible taste does not stop there! The real surprise is that you can assemble this chicken bake in just minutes. Yet, I guarantee the final result will satisfy your entire family, owing to the wonderful mix of stove top stuffing, protein from meat, and fiber from veggies!
The best thing about this stove top stuffing recipe is the freedom it grants you. You can choose to prepare everything from scratch or utilize your leftover stuffing to generate a fresh and exciting dish.
It is so difficult to go wrong with this recipe, as the combination of chicken and broccoli is impeccable. The use of stove top stuffing accelerates your preparation process significantly, allowing you to have a quick meal on any hectic weeknights.
There you go! An ultra comforting meal is ready in less than 15 minutes. Making your creamy dish more fulfilling by serving it with some mashed potatoes or roasted carrots. It is the recipe worth noting, as your whole family will be demanding it very often!
Making Chicken Bruschetta with stove top stuffing is a simple but inventive way to enjoy your dinner in a fancy Italian style. However, don't be put off by the word "fancy", as this delicious recipe is surprisingly easy to prepare in just 30 minutes.
One headache for most parents is to encourage their children to eat more. To do that, having a few delicious and healthy recipes on hand is really important! And this Stove Top Stuffing Chicken Bruschetta is certainly one of them.
I can proudly assert that this recipe is not only a crowd-pleasing main meal that your whole family will enjoy but also a big hit for the little angels. Such a family-friendly and simple recipe, isn't it? Try it out, and come back to give me a "high-five" if you find what I said above is true!
Cordon Bleu is a dish of meat wrapped in cheese and then fried in a skillet or deep fryer. Simply speaking, if you fancy some meaty recipes, cordon bleu is the perfect keyword to go for! But before you type that on Google, let me show you this simple Chicken Cordon Bleu Casserole.
It is another line on the endless list of chicken and cheese combinations. This delicious family-friendly instant pot chicken cordon bleu comes together in a flash. It is a really easy supper in a bowl that's ideal for a weekday dinner.
After cooking, you can try a spoon and fall in love with its crunchy texture and creamy filling. Unlike the conventional rolled and breaded cordon bleu, this recipe removes the breading vibe yet still possesses brilliant flavors to your every mouthful.
If you love the concept of shells but despise the idea of having to stuff each one separately, let's try my simple Stove Top Stuffing Chicken Stuffed Shells. This substantial recipe involves a box of mini shells to help speed up the making process.
Thanks to such speedy enhancement, you can now enjoy stuffed shells easily on those chilly winter days. Not only is it fast to prepare, but the dish is also simple with all ingredients you have on hand, making it an ideal treat for those days when you are unable to make it to the shop.
Using a packaged stuffing mix like stove top stuffing further accelerates the making of this recipe. The final result will fill your mouth with tender chicken, creamy sauce, and flavorful stuffed shells, bringing delightful smiles to your face throughout the entire meal!
Serving a side salad alongside this creative recipe is also a good idea. It helps round out the savory flavor coming from your stove top stuffing and increases your green intake.
If you are looking for a hearty, fail-proof dinner that your whole family will enjoy, this Stove Top Stuffing Chicken Zucchini Casserole is definitely it! The recipe is ridiculously delicious, soothing, and bursting with flavors.
I fall in love with both the crispy pieces of filling on top and the delicate zucchini bites of this nourishing dish. These two elements complement your tender chicken wonderfully and are extremely filling, hence requiring no extra seasoning.
As delicious as this casserole is, the dish is incredibly simple to make as well. This dish is indeed a quick and nutritious supper option that takes just a few minutes to put together. Thus, consider this hearty dish to be one of your Monday night dinner ideas right away!
Explore this brilliant way to generate the hearty, fail-proof Stove Top Stuffing Chicken Zucchini Casserole.
You are looking at a relatively regional meal of Ohio residents: the classic Stove Top Stuffing Shredded Chicken Sandwich. Like most sandwich recipes, everyone can pull off this popular shredded chicken dish in a breeze, making it ideal for potlucks and big parties.
Since the stove top stuffing of this delectable sandwich includes a plethora of spices and flavors, it eliminates the need for many components and thus simplifies the ingredient list.
Have a bite, and you will know why this messy chicken sandwich is a big hit in Ohio and other surrounding regions. Even the pickiest eaters fall for this fast and delectable recipe!
Making casseroles is so exciting as you can try all your desired mixture. If you are looking for a new way to enjoy a cheesy casserole, look no further than this Stove Top Stuffing Swiss Cheese Chicken recipe.
You find this dish ready in no time as it requires very few ingredients. Basically, you will assemble chicken, Swiss cheese, and the versatile stove top stuffing to cook this recipe in just an hour. The final result contains tender chicken covered in bubbly cheese and savory toppings.
I love to make this chicken casserole for my family as it can please both adults and children. It is a challenging mission to satisfy these two segments with one single recipe. That is why this recipe is always on top of my list when I have limited time and no idea what to cook for dinner.
This Acorn Squash stuffed with chicken and stove top stuffing is a show-stopping dish that will get rave reviews! If you prepare this meal on Thanksgiving, it may outperform the popular turkey dish with its silky smooth and delectable buttery taste.
No matter if you are a first-time chef, a newlywed, or a parent in need of a leisure weeknight meal, you must try out this recipe! It will not only attract your children to eat more but also be an easy-to-prepare celebratory dinner for a small group.
I highly recommend pairing this buttery supper with a chopped salad. This side is brimming with dried cranberries and pecans, which adds a beautiful crunchiness to your dinner. So, let's get started on this buttery supper.
3 Fulfilling Stove Top Stuffing Pork Recipes
Blending stove top stuffing with pork is definitely a fantastic idea you can experiment with in your kitchen. With a bit of creativity, you can easily come up with various playful dishes. Yet, if you want some top options, follow these four fulfilling stove top stuffing pork recipes right below!
These Stove Top Bacon-Wrapped Stuffing Bites are the most straightforward bacon appetizer you will ever prepare. All you need is crispy bacon and stove top stuffing. While stuffing is delicious on its own, everything tastes better when bacon-wrapped in ball-sized bites.
This bacon recipe is perfect to enjoy while sitting on the sofa and rooting for your favorite football team. Things get more cheerful if you can share this delectable finger food with family and friends.
The great thing about these bites is that you can prepare them in advance. In this case, simply wrap these bites in plastic and put them in the refrigerator until you want to bake this delightful meal!
All holidays consist of large family dinners with a few intimate meetings taking place in between these major meals. In these little meetings, friends gather to play games, exchange presents, and enjoy finger food such as Stove Top Sausage Stuffing Balls.
The recipe has all of your favorite holiday ingredients, such as rolled cheese, bacon, sausage, and stuffing for a perfect bite. These sausage starter treats are so tender and flavorful that you need to prepare them in large batches to prevent out-of-stock situations.
One good practice is to make them in advance and freeze them until consumption. Serve them on toothpicks or little skewers for easier grasping. It is so wonderful that you will see them vanish before your eyes.
Stove Top Stuffed Pork Chops are creamy, crispy, and incredibly simple to make. It comes up tender and tastes incredible. With the use of mushroom cream, you can prevent your pork chops from drying out, allowing the filling to stay soft in the center and crispy on the outside.
Putting in stove top stuffing helps elevate your ordinary pork chops to a whole new level. Although the classic dish is delectable on its own, when stuffed, these Stove Top Stuffed Pork Chops transform into a totally different feast!
As you can tell, the ingredient list for this recipe is super short, making it a pretty inexpensive dinner with exquisite tastes. Simply add a salad or steamed broccoli to enjoy alongside this delectable dish.
2 Nourishing Stove Top Stuffing Vegetable Recipes
If you fancy a more healthy way to enjoy stove top stuffing, why not combine it with some nourishing veggies? I guarantee it will be an interesting mixture to try out! For those who do not know where to start with this trend, let's try out these two recipes below!
With a touch of sweetness and savory flavors, this delicious Stove Top Cranberry Pecan Stuffing will quickly become a family favorite. This recipe is the perfect combination of store-bought stove top stuffing flavor and extra hearty components of your choice.
In this delectable stuffing dish, dried cranberries give a touch of sweetness to the savory tastes, while toasted nuts offer a delicious crunch. Altogether, you can enjoy a light and crunchy treat that is ideal for any occasion.
Your Stove Top Cranberry Pecan Stuffing is equally wonderful on its own. Thus, there is no need for extra toppings or side dishes to enjoy along.
How would it taste if you combine spinach, stuffing, mushrooms, margarine, and parmesan cheese into little balls? I believe this flavorsome spinach appetizer will be the next big hit in your family.
If you are fed up with the ordinary meatballs, why not give spinach balls a try? They are an excellent side dish to prepare ahead of time for your holiday meals.
Your family and guests will adore their traditional stuffing flavors that are crusty on the outside and moist, delicate on the inside. This recipe pairs great with the turkey stuffing on the Thanksgiving holiday!
2 Juicy Stove Top Stuffing Beef Recipe
Juicy beef is famous for being extremely versatile, as it is the main star in tons of delectable dishes. However, the accompaniment of beef and stove top stuffing is quite rare. Allow me to introduce you to the two gems below.
These tiny fellas of Mini Meatloaf Muffins have been around for a long period of time, with hundreds of identical variations. For this recipe, I classify it as a semi-homemade dish due to the use of stove top stuffing.
With the use of this packaged ingredient, you don't need to add anything more since it has all of the spices you desire in the meatloaf. However, you can toss in a bit of chili powder and salsa for an extra layer of flavor.
Feel free to serve these lovely Italian meatloaf muffins as an appetizer or a main course. They will fill your mouth with a juicy and flavorful taste without requiring an hour-long cooking period! Make these comfort treats to enjoy on any hectic weeknight on your schedule!
These mini meatloaf muffins will provide you with juicy and flavorful taste without having to spend hours to make them!
If you had prepared meatloaf before, you would agree with me on this: meatloaf is super straightforward to make. Now, with the help of Stove Top Stuffing, you will have an easier way to put meatloaf together in less than ten minutes.
To me, this Stove Top Stuffing Meatloaf is the best version out there, thanks not only to its simplicity but also to the incredible flavor and texture it delivers.
If you follow the recipe correctly, you will get an irresistible meatloaf that is soft and juicy on the inside and brimming with sweet, tangy glaze.
There are countless options to serve alongside this tasty meat dish. You can go with roasted green beans, honey-glazed carrots, or my personal favorite – baked zucchini.
The use of store-bought stove top stuffing grants this meatloaf version the best flavor and texture.
1 Robust Stove Top Stuffing Seafood Recipe
This section will conclude my suggested stove top stuffing recipe list with an incredible dish featuring seafood. I am sure this robust dish will be a crowd-pleasing gift you can try out at your very next dinner.
If you wish to enhance the taste of your shrimp dish to the next level, look no further than these Stove Top Stuffed Shrimps. This recipe is a time-honored New England restaurant favorite that is simple enough to recreate right in your kitchen, making it an excellent special occasion meal.
This one-of-a-kind dish will leave your guests satisfied and their taste buds begging for more. Every bite of them is brimming with a buttery and flavorful aroma, with just the right amount of seasoning.
The wonderful thing about this recipe is that you can prepare it ahead of time and refrigerate it whenever you want to serve the dish. This recipe allows you to save a lot of time to focus on experimenting with other delectable dishes.
Expand Your Thanksgiving Collection With Stove Top Stuffing!
Hopefully, my list of Stove Top Stuffing recipes has inspired you to roll in the kitchen for some refreshing experiments with Thanksgiving meals. Of course, there are still numerous ideas surrounding this versatile ingredient.
That is why I would love to hear more from your side in the comment section below. What are your favorite stove top stuffing recipes? Share your thoughts and know-how with other folks and me so that we can expand our Thanksgiving collection together!
Nutrition Facts
6 servings per container
---
Amount Per ServingCalories464
% Daily Value *
Total Fat 13.8g

20

%
Cholesterol 95mg

32

%
Sodium 872mg

37

%
Potassium 761mg

22

%
Total Carbohydrate 31.7g

11

%

Dietary Fiber 3.2g

12

%
Sugars 5g

Protein 38.8g

76

%
---
Calcium

207

%
Iron

11

%
Vitamin D

2

%
* The % Daily Value tells you how much a nutrient in a serving of food contributes to a daily diet. 2,000 calories a day is used for general nutrition advice.