I promise the best steak sauce recipes below will never fail you at any meat-based dinner. Whether you serve ribs, sirloin, or tenderloin, these sauces are a perfect companion for your steak. Note down this collection because they will come in handy someday.
Making the sauces from scratch is more economical than store-bought ones since you can double the recipe or adjust the consistency for a bigger batch. Not to mention, you are free to change the flavors to suit your taste best.
And since there are so many fun and different sauces, you will find at least one favorite to level up your steak or other dishes using leftover steak. This list offers many options, from cilantro pesto and Chimichurri to classic French sauces.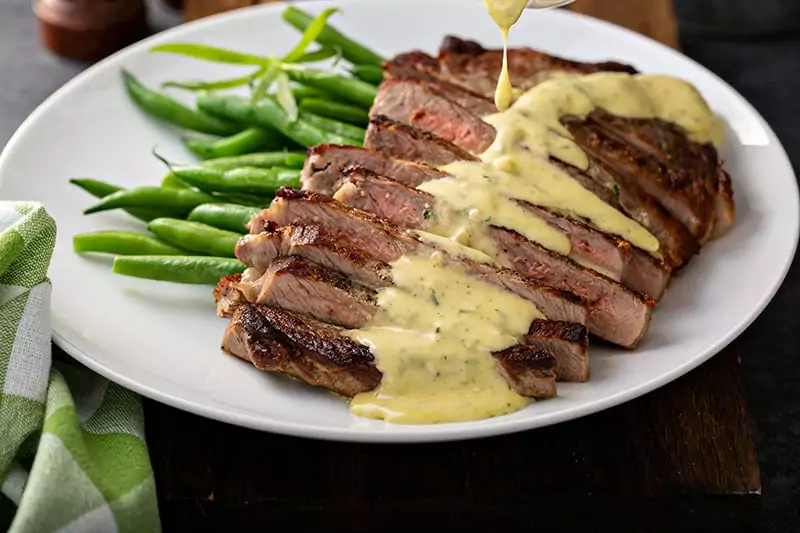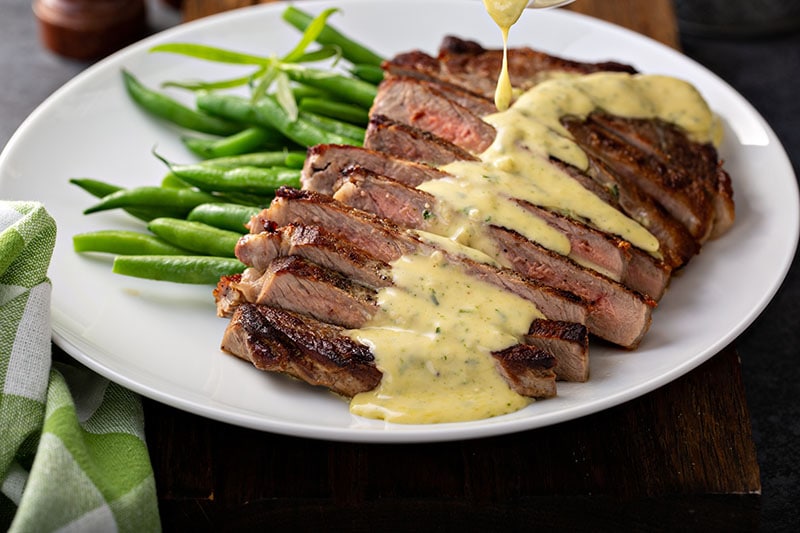 Elevate Your Dinner With The Best Steak Sauce Recipes
There are no boundaries with these yummy steak sauces. Tag along, and you will realize that they don't act as just a sauce for meat but also as a marinade and dip for other dishes for dinner.
Total time: 25 minutes
If you want a creamy, rich, and cheesy condiment, this mushroom sauce is a match for your medium-rare steak. Mushrooms, heavy cream, and Dijon mustard are the basics of this recipe.
Brown mushrooms with caramelized onions will elevate your sauce. Meanwhile, Dijon mustard helps step up the flavor game. Its tanginess harmonizes with the richness of the sauce. Also, black pepper will add the right kick of heat.
Because mushrooms have tons of water, you should avoid boiling them. To do so, stir them once in a while. Besides, to prevent the sauce from splitting, lower the heat before adding cream. On a side note, you can thicken the sauce with cornstarch and a cold water mixture.
Total time: 10 minutes
This cowboy butter dipping sauce doesn't require any unique ingredients. Butter, garlic, lemon, and Dijon mustard are enough.
For more interesting variations, try Worcestershire sauce instead of lemon. The sauce's tangy, buttery flavor goes so well with the savory steak. It also has a subtle kick from cayenne pepper.
There are endless serving choices for this sauce. It can be a nice partner for baked potatoes or a dip for cheese bombs. It also adds more flavor to your boiled seafood. However, the cowboy sauce with a perfectly seasoned steak is the ultimate pairing.
This cowboy butter sauce will be a big hit at your dinner.
Total time: 10 minutes
There is nothing better than this Alabama white BBQ sauce for grilled food. Unlike regular BBQ sauce, this recipe uses mayonnaise as the base. Vinegar, mustard, and spice also join the equation to create this creamy and tangy masterpiece.
The making is simple enough that you don't need any gadgets. Whisk everything in a jar or a bowl if you want. However, remember to measure the ingredients first for the best results. The sauce tastes terrific after a few days in the fridge, so you don't need to use it immediately.
Tangy, sweet, and peppery, this Alabama white BBQ sauce is made for your steak or pork shoulder. Moreover, it can be a drizzle for your salad or a dip for fries and veggies. This condiment is enough to bring flavor to all the dishes at your party.
Total time: 5 minutes
Your steak will become even tastier with this creamy garlic butter sauce. It can also be a top-notch dish to go with pork chops and roasted asparagus for restaurant-grade dinners. Everyone will be raving about it.
This recipe takes only 5 minutes and four ingredients. Begin with cooking butter, garlic, and stone ground mustard over medium-high heat. Next, add the cream and stir until the mixture thickens. After 4 – 5 minutes, your sauce is good to go.
The strong buttery flavor of this sauce provides a luxurious mouthfeel. Apart from steak, try it with more options, like baked potatoes, green beans, or grilled asparagus.
Total time: 10 minutes
Light up your steak dinner with this green Chimichurri sauce, a vibrant blend of parsley, jalapenos, and cilantro. Its herby and zesty notes offset rich steak in a lovely way.
The combination of cilantro and parsley brings an herbaceous flavor, while the lime juice offers a welcome tartness. A kick of heat from red peppers makes things more interesting.
Like most of the sauces on this list, no need to spend much time making this sauce. Just process the sauce ingredients while preparing your steak, and the meal will come together in 10 minutes.
Try this fool-proof Chimichurri sauce because it won't fail you.
Total time: 9 minutes
Thai cuisine is famous for its rich flavors, and this Nam Jim Jaew sauce is no exception. It's no surprise that this sauce goes well with almost anything from rice to meat. However, the extra smokiness of this sauce is surprisingly compatible with your grilled steak.
The Nam Jim Jaew originates in northeast Thailand and receives much love from the locals. This recipe uses fish sauce, lime juice, and cilantro. Khao Khua (toasted rice powder) is a must to bring out the authentic taste. If it's unavailable, use raw cashew and hemp seed hearts.
Regarding taste, this Thai chili sauce is a different route from the Thai sweet chili. Its predominant flavor is sour and salty with thin consistency. However, the sauce is also sweet, spicy, and smoky. Meanwhile, Thai sweet chili is sweeter and has a thicker texture.
Total time: 5 minutes
The next time you have five minutes to spare, whip up this top-notch homemade steak sauce. This homemade sauce is a perfect condiment to your favorite steak dish, packed with sour, peppery, and rich flavors.
Ketchup with garlic, white vinegar, and soy sauce creates an irresistible flavor to this sauce. There is no rule that this meaty-tasting goodness can only go with steak. It's versatile enough to accompany anything you like.
This recipe is so simple that you don't need to be a pro chef to make it. Toss the ingredients in a pot and simmer them until the mixture thickens. I recommend making a big batch and saving it in jars for later use.
Total time: 25 minutes
Thinking about the steaks dipping in the gorgonzola cream sauce is enough to make my mouth water. Much to my surprise, this one is super easy to make.
While reducing the cream, the sauce will vigorously bubble up. Therefore, be sure to use a saucepan with a large surface area. If not, watch the pot closely and remove the saucepan promptly off the heat when the giant bubbles appear.
Refrigerated sauce stays good for about seven days. Rewarm it on the stovetop or in a microwave until it is hot enough. For longer shelf life, freeze the sauce into ice cubes, which will last about three months.
Total time: 10 minutes
For decadent diners, serve them this red wine reduction sauce. It's basically reduced red wine combined with garlic, herbs, and aromatics. Tasty and dedicated, this sauce will make your steak dinner restaurant-worthy.
The base of this recipe is the wine, so choose it carefully. For rich and fruity notes, try Cabernet Sauvignon or Merlot. Or opt for Pinot Noir and Chianti for a lighter version. Quality red wine delivers a robust flavor to the overall taste.
In addition to the wine, steak drippings are also a vital part of this sauce. Thus, use the same pan you seared the steaks in to make it. Also, keep the lid off when reducing the wine so the vapors will escape faster. Remember to always keep an eye on the heat.
Make your steak fancier with this red wine reduction sauce.
Total time: 20 minutes
Now you can whip up this delightful recipe using applesauce in your kitchen instead of buying a premade version. Feel free to pour it on any food you like, from steaks and pork to fries.
This copycat version is not much different from the original. It's a beautiful mixture of ketchup, unsweetened applesauce, yellow mustard, and a few more. The sweetness of raisins takes this sauce to another level of deliciousness.
After blending the mixture, strain it for extra smoothness. For more herby flavor, toss in chopped basil or cilantro. Even better, add dried oregano, rosemary, garlic, and onion to make it an Italian version.
Total time: 45 minutes
What could be a better accompaniment to steak than a Bourbon balsamic sauce? A good spoon of this spick and savory sauce over the juicy steak will please your diners. Serve it hot for the best results.
Make sure to choose the right size of the skillet. A large surface area will allow your sauce to reduce faster. Be mindful that reducing requires simmering, not boiling. A boiled stock is bitter, cloudy, and greasy because fats will emulsify into the liquid.
This sauce contains no preservatives, so it's better for your health. In return, it won't last long in your fridge, about one week at most. Seal it in an airtight container or for better storage. Bourbon sauce tastes best when it's hot, so you'd better reheat it before serving.
Total time: 36 minutes (including 30 minutes of chilling time)
Next is the zingy and zesty blue cheese sauce, perfect for a heavily-seasoned steak. Double or triple the recipe for larger servings or bottle it for later use.
The bold flavor of blue cheese fits right in with tangy buttermilk, sweet garlic, and creamy sour cream. This sauce's texture is chunky. Therefore, feel free to blend it with the food processor if you're into a creamy texture.
All it takes is 6 minutes to finish this sauce. However, you must wait 30 minutes for the flavor to meld before serving. After that, enjoy it immediately with some crumbled blue cheese on top, or keep them in jars for future consumption.
Total time: 20 minutes
Cilantro pesto doesn't receive enough recognition like its basil sibling, but I think it's the jack of all trades. Put it on steak, salad, or even pasta, and you will have a delicious and nutritious dinner.
This pesto is a herby mix of cilantro, garlic, pecans, and a few more. Choose any type of nuts you want. Pine nuts, pumpkin seeds, or almonds are fine. Lemon juice and white wine vinegar are also interchangeable in this recipe.
No doubt that once served, the pesto will disappear in a matter of time. But if you don't intend to use it immediately, let it hang in the fridge for three days. Giving your sauce jar a little olive oil will keep the pesto green.
Be prepared to amaze your guest with this cilantro pesto with grilled steaks.
Total time: 5 minutes
Let's bring the East flavor to your steak dinner with this homemade ginger sauce. The bright, zingy, and refreshing sauce will taste like what you have at an authentic Japanese restaurant.
This flavorful recipe only needs a food processor and six ingredients. Blending onion, ginger, tamari, and others only takes 5 minutes. Feel free to adjust the ginger amount to your liking for a more robust or milder taste.
Anything can go along with this sauce, from steak and sushi to egg rolls. Even better, use it as a marinade and spread it over your baked/grilled food. A huge plus point is that this recipe is plant-based, so vegans can mix it with rice, noodles, and veggies.
Total time: 10 minutes
One of the most influential names on this list is the horseradish sauce. The fantastic flavor is perfect for serving with nearly anything. Ready in 10 minutes, this sauce is a blessing for your chaotic BBQ party.
Simple, fast, and with minimal ingredients, this recipe is all good, except for grating the fresh horseradish. Be cautious with the pungent odor coming from horseradish root when you grind it. Alternatively, use the ready-made horseradish or change to wasabi for more convenience.
As its name suggests, you can expect this sauce to be spicy, savory, sweet, and tangy. The balance of these flavors will create a party in your mouth. Be adventurous and make it spicier with strong ghost pepper hot sauce.
Total time: 10 minutes
If you're curious about how to make the Cajun garlic butter sauce, this recipe is your answer. This refreshing and bright sauce will balance the rich flavor of your steak.
This Cajun recipe is an upgraded version of a regular garlic butter sauce. An addition of Cajun seasoning gives the sauce a bold, spicy flavor and subtle earthiness. What's more, a squeeze of sour lemon will brighten up the overall taste.
If the sauce looks thin, whisk in flour to reach your desired consistency. When done, the result should be thick and velvety with an appealing orangish-brown color. It will complement every dish, whether it's steak, shrimp, or veggie.
Total time: 50 minutes
A few sauces can compare to the savory richness of red meat, and the Bordelaise is one of those. Demi-glace and bone marrow come together with red wine for this punchy condiment. Spoon it over roasts or steaks, and you'll be on cloud nine.
Bordelaise is derived from Espagnole (brown sauce). It has a rich brown appearance with deep darkness, thanks to the red wine and shallots. This classic French side dish delivers a rich, beefy, savory taste that hits your palate.
Staining the sauce through a sieve is a must for a silky texture. This step helps remove the excess sediments. After that, stir the diced bone marrow in the strained mixture and serve. No need to cook the marrow because the sauce is warm enough for the proteins to dissolve.
This step-by-step tutorial will help you succeed in making this Bordelaise sauce.
Total time: 9 minutes
Bearnaise sauce makes everything it touches taste better. With a blender, it'll get ready in about 10 minutes. This classic recipe features butter, eggs, herbs, and lemon. Together, they create a luscious sauce with an exquisite taste.
Bearnaise sauce is a child of Hollandaise with shallots and tarragon. Compared to its parent, the Bearnaise texture is creamier and more flavorful. Thanks to additional ingredients, it also has a fragrant and savory twist.
Most importantly, I don't recommend you reheat it in the microwave because the sauce's texture will change when it's under high heat. For the make-ahead option, warm it on the stove over low heat. Whisk the sauce vigorously to keep eggs from scrambling.
Total time: 3 minutes
The copycat Outback Bloomin onion sauce is what any steak dinner needs. Mayonnaise, horseradish, and spices are what make this sauce irresistible. The good news is that it's a one-bowl recipe, meaning fewer steps, simple ingredients, and quick clean-up.
The secret of the sauce lies in the power of horseradish. The mild horseradish kick gives a signature bite to the creamy sauce. However, the taste can be intense for some people. Thus, add it little by little, so you won't end up with overly pungent sauce.
Ideally, you should finish this sauce within one week to enjoy its best quality. Once you have used the sauce, eliminate the excess and do not re-refrigerate it for health reasons. To avoid waste, serve a moderate intake at a time.
Don't Pass These Homemade Steak Sauce By Any Chance!
Do you believe in my words now? All the sauces above are versatile, quick, and accessible. You don't need more burden in preparing food for parties or weeknight dinners. Just make the sauce and the steak simultaneously, and your perfect meal is complete.
Whether you have succeeded or failed with these recipes, please don't hesitate to tell other readers and me. And it would be great if this article gets more recognition through your sharings. Stay tuned, and check out other fantastic content on this website.
Nutrition Facts
4 servings per container
---
Amount Per ServingCalories246
% Daily Value *
Total Fat 22.4g

34

%
Cholesterol 53mg

18

%
Sodium 146mg

7

%
Potassium 532mg

16

%
Total Carbohydrate 8.6g

3

%

Dietary Fiber 1g

4

%
Sugars 2.4g

Protein 3.7g

6

%
---
Calcium

49

%
Iron

1

%
Vitamin D

19

%
* The % Daily Value tells you how much a nutrient in a serving of food contributes to a daily diet. 2,000 calories a day is used for general nutrition advice.