17+ Easy Steak Appetizer To Star On Your Menu In 2023
It's always fantastic to begin a meal with easy steak appetizers to stimulate your taste buds. Steak has long been a solid choice to feature in any part of the meal. The meat is super tender and possesses a sweet natural taste.
Depending on how you process the steak, it can have different flavors to suit your palates. So take out a notepad to write down your favorite appetizer. Remember, these recipes are easy to recreate at home with little effort in the cooking process.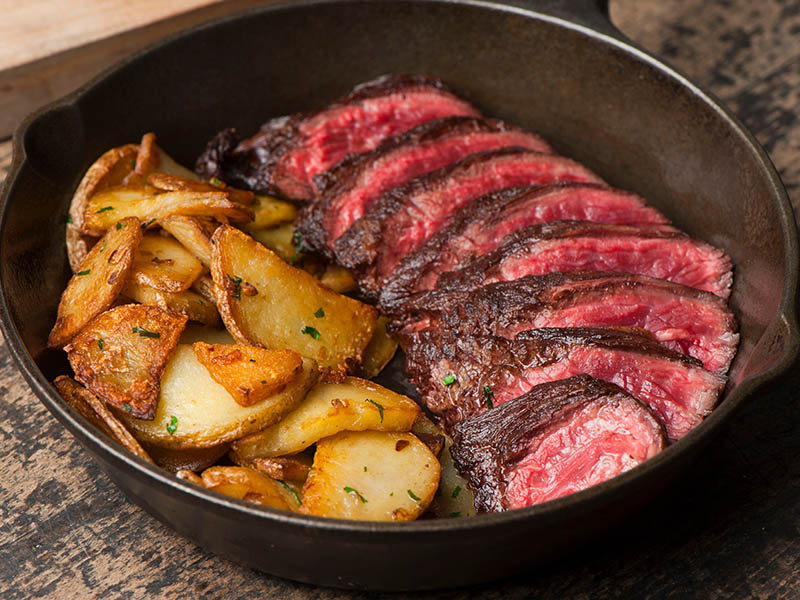 Mouth-Watering Steak Starters To Serve At Home
Steak makes for a solid choice to add to your appetizer menu. With creativity, you can have many variations with different flavors for each occasion. Let's get the show on the road with these beef steak entrees.
Total time: 35 minutes.
Steak Crostini is an ideal appetizer for any holiday occasion. This recipe is simple to make with tender beef and horseradish cream served on a nice crunchy slice of bread. Every steak piece perfectly fits your mouth to create an indulgent and elegant experience.
The easiest step is to make the horseradish cream, as you only need a combination of horseradish with sour cream, apple cider vinegar, and Worcestershire sauce. Set the cream aside while preparing to cook the steak for at least 2 minutes on each side.
I prefer using butter and rosemary to infuse the steak with some flavors. As for the Crostini bread, grab a baguette and toast the slices until golden brown with garlic spread on both sides. Assemble the appetizer with Crostini bread as the base, followed by steak and a dollop of cream.
Total time: 45 minutes.
Beef Wellington is a dish from England made famous by French chefs and restaurants worldwide. This beef specialty is a simple concept of wrapping the piece of beef in pate and a layer of puff pastry. However, I'd like to introduce you to the mini version of beef Wellington.
This miniature version requires small beef steaks combined with chopped mushrooms, ham, and puff pastry. You want to season and sear all sides of the steak's surface. Next, cook the chopped mushroom with butter and thyme until you get a soft mixture.
Lay the steak over a piece of ham with some mushrooms and wrap it up. Then, you want to grab a few pieces of rounded puff pastry to seal off the filling. Give the dough a couple of brushes of egg wash to get a beautiful golden brown color after baking.
Since these beef Wellingtons are only the size of small bowls, they are perfect for kicking start anyone's taste buds before the main event.
Check out the simple method to recreate mini beef Wellington at home.
Total time: 20 minutes.
Are you seeking to kick start a party with a bang? Look no further because this steak with blue cheese and balsamic vinegar will do the job wonderfully. In some ways, the dish is very similar to the Crostini but with an intriguing twist.
Instead of using a toasted bread base, I suggest swapping it for crackers. Although it may sound strange, the salty crackers make for an incredible combo with tangy blue cheese. Simply season the steak with your favorite spices before grilling it to your liking.
In addition, you should char some onion slices to pair with the meat. Assemble the dish by layering the cracker with beef and onion spread with crumbled blue cheese. For a final touch, drizzle a bit of balsamic vinegar before serving.
Total time: 20 minutes.
If you don't like going through a complicated cooking process, I suggest returning to the drawing board with this classic honey garlic steak recipe. The pieces are coated in sticky sauce, making them an addicting choice to start dinner.
First, you need to cover the meat with corn flour before searing both sides of the meat. I recommend combining honey with sesame seeds, beef stock, and chili to create a rich sauce for your steak.
Simmer the steak with the concoction until the sauce thickens and fully coats the meat pieces. Kill the flame and serve the recipe with your choice of side dishes, but make sure that they are suitable dishes to go with steak.
Total time: 23 minutes.
Perhaps, you're seeking a more compact entree to make. I got you with this flank steak roll specialty. The nice thing is that the dish only calls for a handful of ingredients to produce an unskippable scent.
You should cut the beef into thin and long strips for this recipe. Season the strips with simple seasoning and place cheese with lemon zest over the meat. I prefer including spinach as it adds some green to the dish.
Roll the strip tightly along with the filling to a pinwheel. After searing both sides for around 2 – 3 minutes, pop the rolls into the oven to melt the cheese completely. Enjoy your pinwheel flank steak creation.
Learn from the expert to create a beautiful flank steak roll.
Total time: 20 minutes.
If you only have a handful of ingredients like leftover bacon and steak, you can still create a decadent starter. This steak wrapped in bacon is perfect for whipping out when you're rushing to prepare a hearty meal.
Simply cut the steak into small cubes; don't get greedy because you need the bacon to cover the meat pieces fully. After sprinkling some simple seasoning like salt and pepper over the beef, wrap the cubes in bacon strips to complete this nutritious dish with bacon.
A small secret for you: toothpicks are ideal for keeping the bacon wrap in one place while baking in the oven. The result is a funk appetizer with crunchy salty outer bacon and tender steak on the inside.
Total time: 35 minutes.
Here's another idea to serve bite-sized steak pieces with flavorful Miso ginger dressing. If you're unfamiliar with Miso, it is a type of Japanese fermented condiment which frequently appears in soup recipes.
The addition of white Miso paste is a concoction of fresh ginger, rice wine vinegar, and honey to create an explosion of umami flavor with a hint of spiciness. As for the steak, you usually need to cook it after dealing with rice and bok choy.
Assemble the cooked elements into a bowl and drizzle it with the umami-packed Miso ginger dressing. If you don't like bok choy, you can use other leafy vegetables to accompany the beef and rice.
Total time: 20 minutes.
Garlic butter is an iconic option to pair with steak. The recipe is simple to bust out whenever you want to treat your family or friends with a decadent appetizer before the main course. The best thing about this recipe is that it only takes a handful of ingredients to work.
Aside from the apparent sirloin, you may want to whip up a garlic butter mixture consisting of butter, garlic, and parsley. Don't forget to season the steak pieces with generous salt and pepper.
Sear all sides of the meat until they become brown. Once you get the meat to your liking, reduce the heat and drop in a dollop of garlic butter. Let heat gradually melt away the butter to infuse the beef with incredible flavors.
Discover the steps to nail a classic garlic butter steak.
Total time: 1 hour.
Steak and potatoes are always a loveable duo because people adapt these two ingredients in many ways. These stacks of steak and potatoes are one of the creative methods to impress everyone at the dinner table.
For each stack, you want to have three potato slices and two steak pieces. Toss the potato slices with seasonings like garlic powder, onion powder, and sweet paprika. Bake the seasoned potatoes for around 20 – 30 minutes.
I suggest searing for 1 – 2 minutes if you want to experience medium-rare meat. Finally, assemble the stack with a potato slice at the bottom, followed by a steak piece. Stack the steak and potato slices interchangeably to get the best appealing result.
Total time: 30 minutes (excluding the 2 hours marinating period).
Bruschetta is an Italian bread specialty with various toppings for you to pick. This cowboy version of Bruschetta tweaks the original Italian recipe by using steak strips as the primary focus. Aside from being an appetizer, you can serve cowboy Bruschetta as the main course.
Commonly, you should marinate the beef in a blend of oil and pesto sauce for at least 2 hours. Next, grill the meat until it reaches your desired doneness. Spread the bread slices with pesto sauce and bake them until golden brown.
Once the bread is ready, add cream cheese to each slice. Top the bread with some thin steak cuts and chopped tomatoes. Cowboy Bruschetta tastes best when you enjoy them warm to experience the crunchy bread with a light touch of garlic flavor from the pesto sauce.
Total time: 12 hours 8 minutes (including 12 hours of marinating).
The mesmerizing skewer is one of the perfect candidates for a camping trip or a picnic meal. All you need is flank steak with several seasoning blends to infuse the meat with outstanding taste.
Cut the beef into thick slices to marinate with beer, lime juice, and Worcestershire sauce. Ideally, you may marinate the meat the night before for the best result. Remember to soak the skewers in water to avoid burning them in the grilling process.
Commonly, you want to work around 3 – 4 minutes on each side of the skewer. The outcome you get is a smoky dish perfect for any occasion.
BBQ party is a brilliant time to bust out a beef skewer recipe.
Total time: 25 minutes.
It's time to take a little detour to Asia and look at what people can cook up using potatoes and steak. An outstanding example is this superb Asian recipe, which marries so well the rich flavors of these two ingredients in one pan.
For the best chewing experience, you want to cut the meat into one-inch cubes. Cook the potatoes first with some simple seasoning of salt and pepper until you get a soft texture. Once you sear the beef on both sides, throw in the potatoes to continue cooking.
For the final touch, throw in butter and drizzle the mixture with soy sauce. Be careful not to overcook the beef, and remember to give the dish a taste test before serving.
Total time: 20 minutes.
Philly cheesesteak bombs are an explosion of incredible tastes. The dish's idea is to stuff biscuit dough with flavorful ingredients so the filling will burst out once you take a bite. It's a fun appetizer to treat everyone in the family.
People often stir-fry the onion with steak strips until tender. Flatten out the dough and place a reasonable amount of filling. For each bomb, you need a small cube of cheese for a creamy texture.
Grab the edge of the dough and pinch it to seal the Philly cheesesteak bombs completely. In addition, I suggest grabbing slices of bacon to wrap around the dough. Deep fry the Philly bombs until the dough gets a beautiful golden brown. Serve the bombs hot for the best experience.
Total time: 30 minutes.
Tartare is a representative of French cuisine; the dish is a super strange experience when people usually consume raw steak or horse meat with herbs and various spices. If you're up to a challenge and have no problem handling raw food, this Tartare is ideal for an exotic meal.
A small tip for you: putting the meat in the freezer helps it easier to cut into pieces afterward. In a bowl, you need to bring together Worcestershire sauce, dijon mustard, and red wine vinegar to mix with the raw steak.
I suggest whipping up some pickled shallots by incorporating shallots with red wine vinegar, salt, and pepper to accompany the meat. The tangy flavor of pickled shallot helps balance out the overall Tartare taste.
Traditionally, people serve Tartare with an egg yolk in the middle of the raw meat. In addition, steak Tartare frequently goes with side options like chopped capers, pickled cucumbers (cornichons), or a few toasted bread slices.
Explore the strange requirements to make an authentic Tartare.
Total time: 2 hours 15 minutes (including 2 hours of marinating).
People often dream of having a simple tenderized steak with flavorful seasoning at the beginning of a meal. Instead of imagining it, let's materialize a Korean recipe of savory marinated steak bites from your lovely kitchen.
To create the marination mixture, people often combine a concoction of sesame oil, Medjool date (a type of Moroccan date), and garlic. As an optional choice, you may add some Gochugaru (Korean pepper flakes) for an authentic kick of spiciness.
Allow the meat to marinate for at least 2 hours, but the best is to leave it overnight. Aside from searing steak on the stovetop for 2 minutes on each side, you can also use an air fryer to cook the beef within 10 minutes.
Total time: 30 minutes.
A steak tortilla cup is an authentic way of starting a meal with incredible Mexican flavors. This Mexican delicacy combines the ingredients in one tortilla (Mexican flatbread), so you can enjoy all the tastes in one bite.
First, slice the meat into thin pieces to marinate with various seasonings. Since it doesn't take long to cook the beef, I suggest stir-frying the peppers and onions first. Furthermore, the steak filling is ideal to accompany with a Guacamole sauce consisting of avocado and lemon juice.
Another type of sauce that you need to prepare is the tomato Serrano which delivers a refreshing taste to the dish. For the tortilla, I recommend using a muffin cutter to cut the dough into pieces that would fit the muffin mold.
After you've toasted the tortillas until they become golden brown, it's time to assemble this terrific tortilla dish. Place the steak and other ingredients on the base before seasoning everything with the two sauces. Dig in now while the cups are still hot!
Total time: 25 minutes.
Nacho is a heavenly creation to grab everyone's attention at the start of any party. Every bite at this Nacho is a blessing of excellent Guacamole taste and addicting creamy cheese. Of course, the appearance of steak elevates the Nacho to a new level.
This dish is an incredibly suitable dish for leftover steak, as you only need to layer the meat over the Nacho with cheese. However, you can still make the steak from scratch with simple seasonings and quick cooking time.
In addition, you may want to include some shredded cabbage to make the dish more appealing. After you melt the cheese, choose your favorite toppings and sprinkle them over the Nacho to enjoy.
Start every party with a blast by serving up this deluxe steak Nacho.
Total time: 35 minutes (excluding the 6 – 8 hours marinating period).
There are hundreds of ways to serve cut-up steaks; one of my favorites is to pair the beef pieces with Chimichurri sauce for an exotic yet delicious experience. For your information, the Chimichurri is a South American sauce loaded with refreshing herbs and spices.
Let's handle the sauce by incorporating herbs like parsley, cilantro, and oregano with olive oil. In addition, people also add red wine vinegar to create a tangy profile for the Chimichurri. Mix in some garlic for fragrance, and you're done with the sauce-making process.
As for the steak, you need to marinate the beef with Worcestershire sauce, orange, and lime juice. Ideally, you want to give the meat a marinating time of 6 – 8 hours. Once the oil is smoking from the skillet, cook both sides for at least 1 minute.
Rest the steak for around 5 minutes to lock in the flavors before cutting it into smaller pieces. Serve the dish with refreshing Chimichurri sauce.
Total time: 8 hours 20 minutes (including 8 hours of marinating).
There's no doubt that grilling is the best way to enjoy meat, especially steak. Therefore, I want to bring you another special skewer appetizer infused with a beautiful Korean BBQ sauce flavor. If you're planning for an outdoor event, this is a must-have recipe.
Simply marinate the steak strips with lemon juice, soy sauce, and oil to create the base flavor. As for the sauce, you want to bring together vinegar with soy sauce, brown sugar, and chili sauce to a boil. Add cornstarch to help thicken the sauce concoction.
Skewer the meat and grill for around 3 minutes on each side. Pay close attention to the fire as you may overcook the juicy skewered appetizer, resulting in an undesirable chewy texture. For a final touch, sprinkle some green onions or sesame seeds over the skewers to serve with the sauce.
Steak Is A Wise Choice To Start Any Meal With A Bang
These easy steak starters are superb for opening up any party. So if you're still wondering about a dish to begin your meal, just pick one of these steak options. The plus side of working with steak is that you never run out of ideas to experiment with and have fun while cooking.
Spread this article to everyone who knows your close ones may treat you with one of these fantastic steak delicacies. In addition, you may drop your opinion in the comment section to tell everyone about your experience handling steak dishes.
Nutrition Facts
4 servings per container
---
Amount Per ServingCalories491
% Daily Value *
Total Fat 26.4g

40

%
Cholesterol 83mg

28

%
Sodium 755mg

32

%
Potassium 39mg

2

%
Total Carbohydrate 33.9g

11

%

Dietary Fiber 1.4g

4

%
Sugars 4.1g

Protein 26.3g

52

%
---
Calcium

48

%
Iron

4

%
Vitamin D

1

%
* The % Daily Value tells you how much a nutrient in a serving of food contributes to a daily diet. 2,000 calories a day is used for general nutrition advice.