22 Best Spinach Appetizers To Impress Everyone 2023
A list of best spinach appetizers is such a life-changer for those who are in a love-hate relationship with this vegetable. I grew up watching Popeye, so I was extremely curious about spinach when I was a kid.
Since then, I have learned to incorporate spinach into appetizers and "lure in" those who don't like this green. Interestingly, all of them gobbled on these dishes, from kids to adults.
It turns out that most people dislike spinach because it's not properly prepared. So, in this article, I will share with you a list of the best ways to sneak this nutritious vegetable into appetizers and make people drool.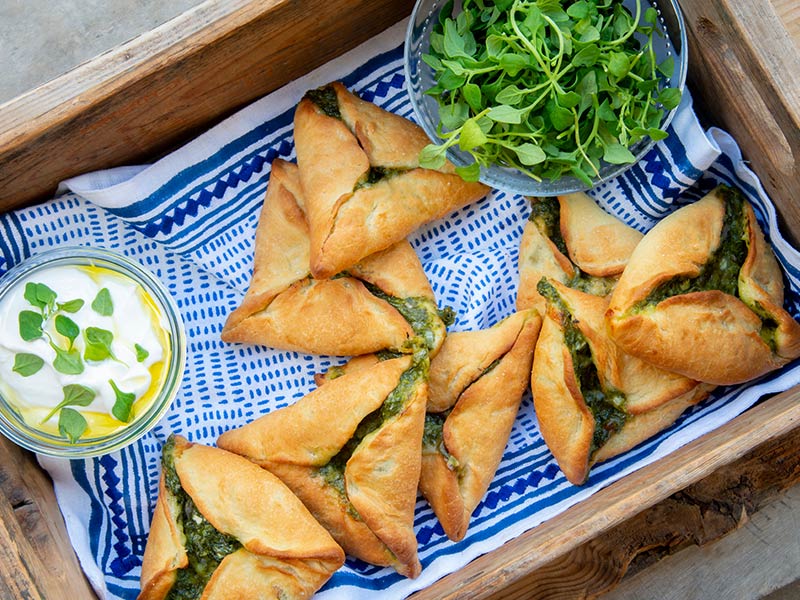 22 Spinach Appetizers To Level Up Your Meals
If you are looking for the best ways to include this healthy vegetable in your menu rotation, you have come to the right place. The following list includes enough spinach appetizers to please everyone, whether they love or hate this veggie.
Don't believe me? Why not try a random dish here and let the result speak for itself? I'll give you a detailed description of these dishes. All you'll have to do is to pick whatever you feel like cooking, whip it up, and make Popeye proud!
Total time: 55 minutes
Spanakopita triangles are the first thing that crosses my mind when it comes to spinach starters. Originating from Greek cuisine, these savory snacks feature a layer of phyllo pastry filled with chopped spinach and seasoning.
When baked, the phyllo pastry takes on a golden color with a delicious and crispy texture to go with the savory filling inside. The feta gives the dish a briny, tangy taste and accentuates the spinach flavor. Meanwhile, the addition of herbs offers a nice, earthy tone.
As a result, these scrumptious phyllo cup appetizers boast a perfectly balanced flavor profile that will flood your mouth with a lot of amazing sensations. How could people know there is spinach underneath these cuties?
Learn how to make spanakopita – a timeless Greek treat.
Total time: 40 minutes
Spinach and cheese are one of the most popular pairings. And these retro spinach cheese squares do such an excellent job of taking advantage of this flavorful combo.
Cheddar cheese is characterized by its sharpness and earthy notes. As it bakes, the cheese softens and gets a creamy and rich profile. Meanwhile, frozen spinach produces a robust taste.
When combined, the cheese levels out the bitterness of the spinach, creating a bold, flavorful appetizer. At first blush, these bite-sized squares do not sound exciting. It's their aroma and deliciousness that makes everyone stop to give it a try.
Total time: 35 minutes
These little bites are essentially the good old spinach artichoke dip with a touch of carb. I like the addition of the crescent dough because it really brings a new twist to the spinach appetizer.
The dough is baked to a beautiful golden color with a nice and crunchy texture to go with the cheesy filling. With just the right amount of frozen spinach, jarred artichoke hearts, and peppers, they make the tastiest finger food that will be gone in less than a minute.
I like to prepare these bites one day in advance and bake them the next day. It's my favorite go-to when I need a quick, easy, make-ahead appetizer for a big gathering.
Total time: 40 minutes
I love these balls so much that I make them on a regular basis. They are pretty, bite-sized, and easy to make. Inside their crispy exterior is a dreamy creamy filling that melts in the mouth.
Unlike canned spinach, fresh spinach has a mildly sweet taste with an earthy tone. Meanwhile, mashed potatoes take on a soft and rich texture. When combined, these two pair nicely with each other, creating a flavorful appetizer.
Total time: 46 minutes
It is no exaggeration to say that anything with the spinach and cheese combo will make a delicious appetizer. While spinach often employs a strong flavor with a subtle lingering bitter taste, cheese comes with a perfectly rich profile to balance that out.
Pairing with buttery pie crust, they create delectable mini tarts to put on the party table. The buttery pie crust lends them an appetizing golden look, while its crispy and crunchy texture pairs well with the cheesy filling. Pretty and delicious, these little tarts will surely be your new favorite.
Total time: 1 hour 55 minutes
While crescent roll starters are my favorite treat, I always feel like I can make them tastier. I need to fill it with something. And the idea of stuffing these buttery rolls with the spinach and artichoke dip is a genuine success.
Not only does the filling help add a touch of nutrition and richness, but it also offers a perfect melt-in-your-mouth texture. After being set in the fridge for an hour, the dip comes in a smooth and creamy assembly that sits well inside the flaky golden brown crescent roll.
You can feel the beautiful harmony of butter, spinach, and cheesy goodness when taking a bite. Apart from its distinctive flavor profile, the spinach dip crescent roll ring also gets an aromatic smell and a beautiful, festive look that will go nicely on your dinner table.
Total time: 50 minutes
This Greek-inspired spinach appetizer is incredibly easy to make and absolutely irresistible. As it bakes, the buttery puff pastry turns golden brown, and the delicious dark green filling is revealed, making the whole dish look so inviting.
These puffs embrace hints of butteriness and saltiness. Their filling primarily includes frozen spinach, whose strong flavor is balanced out by the briny feta and dill. Meanwhile, the addition of onions, garlic, and scallions boosts the overall flavor.
Along with lemon zest, nutmeg, and pepper, it gets a complexity of flavors to go nicely with the crunchy, airy texture of the puff pastry outside. As a result, you'll have a scrumptious spinach appetizer for get-togethers like Christmas or New Year's Eve.
Total time: 20 minutes
Not only are these veggie rainbow wraps healthy, but they also have tons of flavor.
Made with multigrain tortillas, these beautiful sandwich wraps are packed with fiber. Meanwhile, the combination of baby spinach, red bell pepper, and olive hummus offers a touch of crunchiness and freshness. The cheddar cheese helps add a fuller mouthfeel.
Ultimately, these nutritious wraps come with vibrant color and a sushi-like look, bringing a lot of fun and a luxurious feel to the party table. I promise this dish will make your guests drool.
Your kids will adore these colorful veggie rainbow rolls.
Total time: 40 minutes
What do you mean you love the flavor pairing of cheese, spinach, and artichoke hearts, but you haven't made these robust pinwheels before? Come on; you are really missing out!
The buttery crescent rolls are baked to gorgeous golden brown with a perfect crispy texture to go with the cheesy spinach and artichoke dip. Besides, the addition of earthy spices and herbs helps bring instant depth and aroma to each bite with salty and garlicky hints.
These cheesy spinach and artichoke pinwheels are absolutely stunning, mouth-watering, and full of flavor. I'm just running out of words for this tasty appetizer. You need to try it yourself.
Total time: 25 minutes
This appetizer features light yellow tortillas filled with cheeses, spinach, and mushrooms. In which the fresh baby spinach and mushrooms are stuffed between layers of cheddar and mozzarella.
When baked, the cheeses start to melt, and the veggies get cooked. Meanwhile, the tortillas crisp up. As a result, each bite gives a crunchy touch outside and a rich mouthfeel inside.
The best part about these amazing quesadilla recipes is their versatility. You can pair them with juicy meats like chicken or sneak in more nutritious greens like artichoke hearts. Either way, these spinach quesadillas turn out so good that your family will fall in love with them.
Total time: 45 minutes
These cuties are basically a twisted version of the classic Greek spanakopita. Using easy-peasy puff pastry, these spinach pinwheels take on a fattier note and a signature airy, crunchy texture.
Besides, all-butter puffs are made into a well-rounded form, which is excellent at showing off the cheesy green filling. Meanwhile, these pinwheels still embrace the deliciousness of the original version with the briny feta and seasoned spinach.
Ultimately, this delicious puff pastry appetizer is a real showstopper. Save up its recipe and bake it for your upcoming events. Everyone will definitely ask you for more.
Total time: 2 hours 50 minutes
This recipe is a perfect choice when you want your appetizer to have a Middle Eastern flair. The combination of spinach, lemon, herbs, and crispy dough will capture the heart of your family.
For the best-tasting pies, try to make the spinach filling 1 or 2 days in advance and let it set in the refrigerator. The veggies will soften and infuse your pie mixture with more flavors during this time. If you're in a rush, allow for at least 30 minutes of rest time.
Speaking of saving time, you can use pizza dough instead of homemade dough. Make sure to use high-quality dough and, if possible, get it from a Lebanese bakery.
Check out an easy way to cook up authentic spinach fatayer.
Total time: 1 hour 20 minutes
This charming flatbread recipe looks like a delicious pizza at first sight. Truth be told, its taste can certainly rival a full-fledged pizza. The best part is that it's surprisingly simple to make and is a great make-ahead option.
Garlic roasted tomatoes, spinach, and mozzarella cheese come together to create the excellent flavor of this recipe. Indian naan, which will crisp up nicely when baked, makes for the perfect flatbread base.
Don't forget to sprinkle a generous amount of basil on top to complete the dish. You can serve it as an appetizer or pair it with a fresh salad for a light meal.
Total time: 1 hour 5 minutes
If you want to surprise your friends with an irresistible appetizer on game day or simply want a delectable pretzel dough appetizer, this recipe is right up your alley. I mean, who can say no to such a herbaceous, cheesy dish? Certainly not me!
Spinach and artichoke is a classic food combo that tastes great with basically anything. The addition of three well-loved cheese types and fresh herbs will take the flavor up a notch. Make sure that you enjoy this tender pull-apart bread right out of the oven.
If you need to make the dish ahead of time, prepare all the necessary ingredients and store them covered in a fridge.
Total time: 1 hour 10 minutes (including 1 hour of chill time)
Time for another tasty finger food that you can whip up in a short time. This recipe is essentially rolled-up tortillas filled with creamy, cheesy spinach dip. Simple as it sounds, you'll be surprised by how fast these rollups disappear.
Besides common ingredients like cream cheese, mayonnaise, and cheese, the mouth-watering dip also includes bacon bits. The savory bacon will create a unique texture and enhance the overall flavor.
Total time: 30 minutes
Despite their tastiness, most of the mentioned recipes are not really suitable for a low-carb diet. Well, worry not, as here is a delicious dish that is both low in carb and vegetarian-friendly.
Instead of bread or pastry, you'll be using mushrooms for this recipe. In particular, small to medium-sized mushrooms, such as button mushrooms and baby Bella mushrooms, are the best options. Portobello mushrooms can work, too, but you'll need to adjust the cooking time a little.
Another important thing to remember is to thaw and strain the spinach carefully. Otherwise, your elegant mushroom hors d'oeuvres will end up with a watery mixture. In addition, feel free to increase the quantity of dairy products if you prefer a richer taste.
Don't miss this 2-minute guide to making yummy spinach artichoke dip stuffed mushrooms.
Total time: 20 minutes
Phyllo cups are one of the quickest appetizers to throw together. More importantly, they are a big hit at parties ten out of ten times.
Making this attractive finger food consists of three main steps: make the spinach and cheese dip, scoop it into phyllo cups and garnish, then bake until the cheese melts. Don't hesitate to throw in some red pepper flakes if you want a spicy kick in flavor.
Phyllo cups, which turn crisp and flaky when baked, are the perfect choice for this recipe. However, you can also use shortcrust pastry cups in a pinch.
Total time: 20 minutes
This is an impressive-looking appetizer that's actually super easy to make. The dish requires only 2 main components, a hollowed-out cob loaf (preferably homemade) and a spinach and cheese mixture for the filling. If you're short on time, it's fine to use store-bought bread.
To make the cob loaf more appealing, toast it and the bread pieces for about 10 minutes until they turn crispy. A tip for thinning out the dip mixture if it's too thick is to add some milk and cream.
Total time: 55 minutes
Cheese sticks are always a well-loved appetizer at parties. How about leveling up the conventional mozzarella sticks with the addition of spinach dip?
Making the cheesy dip requires cream cheese, shredded mozzarella cheese, spinach, grated parmesan cheese, garlic powder, and a sprinkle of salt and pepper. Panko breadcrumbs or Italian-style breadcrumbs work best for the flour mixture.
You don't need to spend too much time cooking these sticks. About 30 seconds to 1 minute on each side should suffice. Don't forget to prepare a bowl of marinara sauce to dip the sticks into!
Total time: 40 minutes
Summer gatherings ask for summer-appropriate fresh appetizers that don't take too long to whip up. Well, here's a dish that can meet both requirements.
There's no need to prepare a dough or batter of any sort since you'll be using mini peppers. Don't worry; these peppers are not spicy at all if that's what you're thinking. In fact, they are even sweeter than bell peppers.
Feta cheese, with its rich and salty flavor, is the star of the dip. Of course, you can't forget about the spinach, which gives the filling a beautiful green color. Sprinkle grated parmesan cheese on top before baking so it can melt gracefully over the peppers.
Total time: 30 minutes
When in doubt, turn to a good old bowl of spinach soup. People love having soup for appetizers for many reasons, one of which is how quick and easy it is to make.
Basically, all you need to do is throw the ingredients in a large pot (remember to follow the order written in the recipe), stir occasionally, and cook until the veggies become tender. After that, blend the soup using an immersion blender to smoothen it.
The use of heavy cream gives this dish a creamy texture that pairs perfectly with croutons. You can also garnish your soup with more cream to create an elegant appearance.
This easy-to-follow recipe will help you make the perfect spinach soup every time.
Total time: 45 minutes
Let's finish today's list with a starting delicacy from Spain: spinach croquette. This recipe is famous in Spanish tapas bars, and for good reasons.
The best part is that you can easily recreate them at home in under an hour! I'm sure your family will love the crunchy exterior and creamy filling of these finger foods.
Packaged spinach is great for making this flavorsome dish, but you can also use frozen spinach (remember to thaw and drain it properly). For the breadcrumbs, the plain type works the best as flavored ones might outshine the spinach.
Give These Tasty Spinach Appetizers A Try Today!
Besides being an incredibly healthful vegetable, spinach is also the perfect ingredient for making mouth-watering appetizers. If you have never tried this veggie before, these dishes will be the perfect first step.
Have you chosen a dish to try for your next dinner? Honestly, just pick a random one, as I believe you can't go wrong with any recipe in today's article. If this post has helped you discover new delicious dishes, please give it a like and share it with other people!