21+ Spanish Side Dishes To Satisfy Your Craving In 2023
Spanish side dishes remain some of the most popular delicacies belonging to the rich Mediterranean culture. One of the biggest reasons is that Spain has a lot of regional cultures with distinct cooking styles. This creates a blend of so many variants of the same food.
Another reason is that most Spaniards eat up to 5 meals a day. The smaller portion of Spanish side dishes offers an excellent alternative to a heavier full meal.
In case you want to recreate an authentic Spanish feast, you've come to the right place. I've compiled a list of the most savory Spanish recipes for you to test your cooking skill. Without further ado, let's get straight into the main event.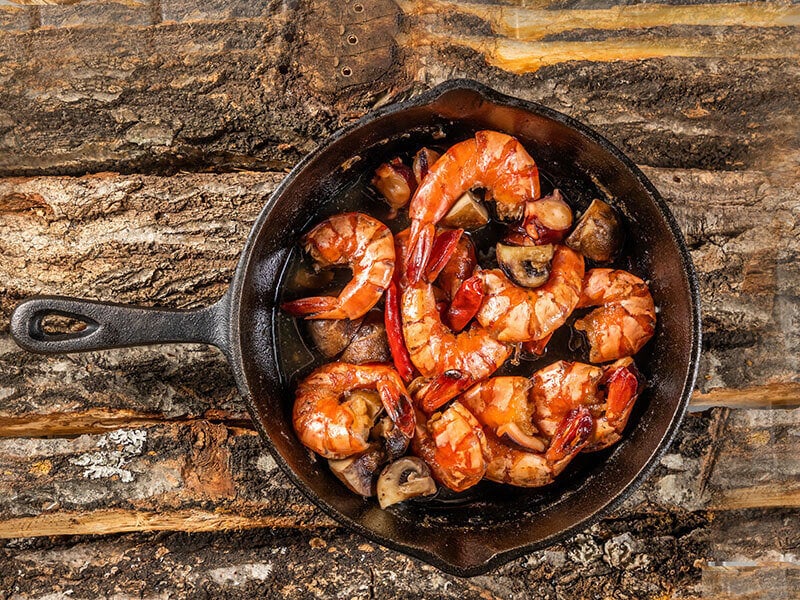 Must-Have Spanish Side Dishes On Your Table
These tasty, quick, and easy side dishes are diverse, ranging from fresh salads to light soups. You have a lot more options to choose from, and your family will also appreciate this new menu.
Total cooking time: 50 minutes
To start, I will introduce a favorite side dish using potatoes from many Spanish families. Ensalada Rusa, or Spanish potato salad, is a creamy Spanish salad from Russia in the 1860s. The creator was a Belgian-Russian chef named Lucien Olivier.
To make Ensalada Rusa, you will need the main ingredients like potatoes, eggs, and olive oil. You can also add in extra vegetables if you like. The first thing you need to do is boil the potatoes. Then, you make a mayonnaise dressing with both the eggs and olive oil.
The result will be a very healthy salad to have. The spongy hard-boiled eggs go well with the starchy potatoes. The mayonnaise adds a hint of creaminess to the salad. It's perfect for both vegans and meat-eaters.
There is nothing more refreshing than a fresh plate of Spanish Potato Salad.
Total cooking time: From 15 to 30 minutes
Another fresh Spanish salad to have in your arsenal is the Ensalada Mixta or Spanish Mixed Salad. This is a staple side dish of Spanish cuisine in many restaurants or as a family meal. This salad is often served on a large plate, so many people can share it.
It's effortless to prepare Ensalada Mixta as the ingredients are just vegetables you might find in an average grocery store. These include tomatoes, onions, and lettuce. You can also add an extra source of protein, like canned tuna, if you want.
The only step you need to do is chop up all the vegetables into bite-sized cubes. After that, you can mix the vegetables with vinegar and olive oil. In the end, you will have a very fresh and crunchy plate of salad. This salad goes really well with a slice of crusty bread.
Total cooking time: From 5 to 20 minutes
Besides the above two, Spain also has another salad for you. Bean salad, or Ensalada de Alubias Blancas, is a popular Spanish appetizer in Southern Spain, particularly in the Murcia region. This chilled salad is often a lifesaver for many in the hot summer.
The main ingredients for the White Bean Salad are any type of white beans, slices of pepper, and onions. For the main portion, you boil the beans and chop up the bell peppers and onions. For the dressing, you need to mix olive oil with vinegar.
After all the ingredients are done, just mix them all. Once you're done, the final product is a refreshing salad that will relieve the annoying summer heat. The soft white beans, the umami tomatoes, and the sour dressing combine for a memorable salad.
Total cooking time: From 55 minutes to 1 hour 20 minutes
If salad is not your cup of tea, then let me introduce a different set of side delicacies using vegetables. This Pisto comes from Murcia, Castilla La Mancha, and Extremadura regions. It's very similar to a French specialty named Ratatouille.
To make Pisto, you need tomatoes, bell peppers, and zucchinis. You need to dice the bell peppers and zucchinis into small cubes. After dicing, you can saute the vegetables on a pan.
For the sauce, you will need tomatoes. You also need to chop the tomatoes into smaller cubes and saute them. You need to keep stirring until the tomatoes turn mushy. That's when the sauce is done. The final step is to add the vegetables to the tomato sauce.
The final result is a very fragrant vegetable stew that you can eat with white rice. The texture of the stew is thick. The ingredients add a ton of flavors to the stew. If you want to, you can add chopped sausages to the stew for that sweeter meat taste.
Pisto offers a good alternative if you don't have to make many side dishes.
Total cooking time: From 30 to 45 minutes
There is a nice Spanish vegetarian recipe in Priorat, Catalonia, that you might not have heard of. Its name is Crema De Calabacin or Zucchini Soup. You often see this creamy soup as a starter in Priorat and its surrounding areas.
For the preparation, you will need zucchinis, onions, and seasoning. You need to chop up the zucchinis and onions. Then, you put the ingredients into a pot and saute until they turn soft. After you're done with this step, you put the vegetables into a food processor and blend them.
After blending the ingredients, you will have a fine soup with a smoothie-like consistency. You can top the soup with roasted almonds. Like many vegetable soups, Crema De Calabacin is very refreshing. The soup is very light while containing a lot of flavors.
Total cooking time: From 15 minutes to 1 hour 30 minutes
What if you want a refreshing Spanish soup to fight off the heat? Don't worry. Gazpacho comes from the Southern part of the Iberian Peninsula, consisting of both Spain and Portugal. This side dish is popular during the summer because of its chilled nature.
You need the following ingredients: tomatoes, onions, vinegar, and olive oil. In many versions of Gazpacho, you only need to chop up the vegetables before drizzling a bit of olive oil and vinegar on top. People often use bread in this version to thicken up the sauce.
Another popular way to make the Gazpacho is to blend the vegetables, like Zucchini Soup. This creates a thicker type of soup. The cook then puts small vegetable cubes on top as garnish. Gazpacho also has a hot version called Gazpacho Manchego.
Depending on what version you eat, you will experience different consistency. For the unblended version, the vegetables are still fresh and crunchy. For the blended version, the soup is light, perfect for increasing your appetite. Both are good at relieving heat.
Facing the summer heat? It will be fine with a cold bowl of Gazpacho.
Total cooking time: 1 hour 30 minutes
Another Spanish soup you might want to try your hands on is the Menestra De Verduras, another type of Spanish vegetable soup. It's a delicacy from the regions of La Rioja and Navarra. However, it is not common to see this soup in restaurants anymore.
To make Menestra, you will need to prepare the vegetables and sauce. For the vegetables, you will need artichoke, asparagus, and potatoes. You have to chop the vegetables up and saute them in a frying pan. This will soften the vegetables before adding them to the stock.
For the sauce, you need beef stock, olive oil, and thinly sliced ham. First, saute the ham with olive oil until the ham turns crispy. Then, you add the olive oil and white wine to make the sauce. Finally, you can transfer the vegetable into the sauce.
As a result, you will have a nice plate of vegetable soup. Menestra De Verdura is great if you want a healthy side dish for the whole family. Not to mention, the beef sauce helps the vegetables stay juicy and firm.
Total cooking time: From 40 to 45 minutes
Not all of Spain's popular soups consist of vegetables; sometimes, you can find a meaty type of soup that will warm you up during a cold winter. Chorizo Soup is one such example. The origin of this delicacy came from the Andalusia region around the 19-20th century.
The main ingredients for this soup are Chorizo, tomatoes, and paprika. Chorizo is a kind of spicy sausage available in many Spanish-speaking countries. Chorizo is made entirely of pork.
For the carbs, you can use either corn or beans. First, you need to saute the Chorizo. If you don't have Chorizo, you can replace that with another type of spicy pork sausage. After that, you add the chopped tomatoes and paprika.
At the end of the cooking process, you will have a soup containing many varieties. It has the spiciness of sausage and paprika. The starchiness from the carbs helps reduce the spiciness a bit. This dish goes really well with bread.
Total cooking time: 1 hour 30 minutes
This is another Spanish specialty that is similar to both Pisto and Ratatouille. Tumbet, or Tumbet Mallorquin, is a baked vegetable delicacy that originates from Majorca, an island to the East of Spain. Traditionally, people serve Tumbet in a terracotta tray called Cazuela.
Just like Pisto, the main ingredients you will need are eggplant, zucchinis, and potatoes. Instead of chopping the vegetables into small cubes, you only need to chop them into thin slices. The cook then places these vegetables inside the tray and adds a mixture of olive oil – and tomato sauce.
After baking the tray, the vegetables will be very tender. The spices will seep into every slice of eggplants, zucchinis, and potatoes. Tumbet goes well with a side serving of eggs or cheese.
Why don't you try your hands at making Tumbet, a healthy appetizer?
Total cooking time: 2 hours 15 minutes
For my next entry, Escalivada originates from the regions of Catalonia, Murcia, and Aragon. The name of this specialty translates to "to cook in ashes" in the Catalonian language. This is a reference to how people made this dish in the past without an oven.
Escalivada is made from a variety of vegetables, including eggplants, bell peppers, and onions. First, you preheat the oven and wash all the vegetables. Once the oven is hot enough, place the vegetables on a tray, add a bit of olive oil and roast them.
When the roasting is done, the vegetables will turn soft. You can peel off the skins, chop them into thin slices, and put the vegetables on a plate. Escalivada often goes well with a slice of toast.
Since this delicacy doesn't have any meat or harmful fat, this can be a good addition to your diet plan. If you serve Escalivada on a toast, the crunchiness will contrast greatly with the tender and refreshing vegetables.
Total cooking time: From 20 to 35 minutes
The Patatas A La Pobre, or Poor Man's Potatoes, has its origin in the Middle Ages. During that time, peasants usually made food with whatever they could find on the land. Nowadays, Patatas A La Pobre has become a popular side dish in many restaurants.
The ingredients you will need are potatoes, green peppers, and garlic. First, you cut the potatoes into cubes and boil them until the potatoes turn slightly soft. Once done, strain the potatoes and leave them to the side.
The next step is to cut up the other vegetables. Then, you saute the vegetables before adding the potatoes. Cook for a little bit more before plating the Patatas A La Pobre. You can garnish the plate with a bit of parsley.
Many people would order Patatas A La Pobre in Spain with a strip of steak or fried eggs. Despite its easy recipe, the delicacy will still surprise you with how fantastic it is.
When times are tough, this Poor's Man Potatoes recipe will save your budget.
Total cooking time: From 20 to 35 minutes
This following specialty comes from the Canary Islands, a territory of Spain off the coast of Morocco. In the Canary Islands, Canarios, residents call potatoes by their indigenous name, "papas". That's also where the dish got its name.
The type of potatoes that most Spaniards use for Papas is smaller compared to other potatoes. The cooking process is relatively simple. First, you clean the potatoes without peeling the skins off. After that, you boil the potatoes in a pot of salt water.
When the potatoes become softer, take them out and plate them. You can sprinkle a bit of paprika on top of the dish to make it spicy. It takes no effort at all to make Papas; all you need are just two ingredients. The potatoes will also taste better than just boiling them straight.
Total cooking time: From 40 minutes to 1 hour 30 minutes
Patata Bravas, or Fried Potatoes, is a good side dish to your meal. This particular delicacy is a common Spanish appetizer in many bars and restaurants in Madrid. It's easy to make and doesn't require any complicated ingredients.
The ingredient list consists of potatoes, olive oil, and various condiments. You need to choose the best quality potatoes for frying. In this instance, I recommend Yukon Gold or Russets potatoes. You need to cut the potatoes into cubes and fry them in a skillet.
You need to keep frying until the potatoes turn yellow and the crispy coat appears. Then, transfer the potatoes to a plate and add the condiment of your choice. It can be mayonnaise or a special sauce called Bravas sauce.
With this recipe, you will understand why Patata Bravas is so popular.
Total cooking time: From 25 to 40 minutes
When it comes to side dishes, no one can deny that mashed potatoes are easily one of the most popular in the world. This means Spain also created their version, called Pure De Patatas.
Mashed potatoes only require some essential ingredients, including potatoes, milk, and butter. First, boil the potatoes until they become soft enough to mash with a spoon or a fork. These days, you can find a "potato masher" device that can help you tremendously.
While mashing, pour milk and add a stick of butter into the potatoes. If you want to spice up Pure De Patatas, you can add garlic and paprika. The creaminess of the mashed potatoes will stay the same, but it has a nice punch to your taste bud.
Total cooking time: 15 minutes
This specialty from the regions of Aragon, Navarre, and Basque Country will surely turn a lot of heads. Chistorra is a type of sausage similar to the Chorizo sausage that I mentioned above.
In the Aragon Pyrenees, there are two types of Chistorra sausages. The first type consists of just pork. The second type has a mixture of pig lungs, head, and pancreas, called Berica. The sausage is heavily seasoned with paprika, hence its red color.
To make this dish, you will need Chistorra sausage, Mussels, and Txakoli, a type of Spanish white wine. First, you need to cut the sausage into smaller pieces before sauteing them. When the sausage is brown enough, drain the excess oil before adding mussels and the wine.
The final step is to close the lid and let the dish steam by itself. This specialty goes well with a small piece of Spanish bread. Thanks to the sausage, this seafood dish has a slight kick. The broth from the mussels adds another dimension to the dish.
Total cooking time: From 15 to 25 minutes
Not only a popular food in Spain, but Calamari is also available in many countries surrounding the Mediterranean. Each country has its unique spin on Calamari, but today, I will talk about the Spanish version, which is called Calamares.
The main ingredient for Calamares is, of course, squids. Like most seafood cuisine, Calamares will taste better if you buy them fresh. You just need to slice the mantle of the squids into rings thinly. After that, you prepare a batter by mixing eggs and flour.
After the above steps are done, just dip the rings into egg batter, roll them onto the bread crumbs and deep-fry the rings. When they turn crispy, you take the rings out. Calamares goes well with a squeeze of lemon.
This dish has a very exquisite texture. The crispiness from the batter combined with the chewy squid can excite your sense of taste.
Total cooking time: From 7 to 10 minutes
Pan Con Tomate is possibly the "jewel" of Catalonia cuisine. In Catalonia, Pan Con Tomate is known as Pa Amb Tomaquet. This dish seems to have originated very recently in Spain, unlike most traditional food. The first mention of this specialty came in the late 19th century.
Pan Con Tomate is relatively simple to prepare; you will need mainly tomatoes, olive oil, and bread. First, slice the tomatoes into small cubes and season them however you want. I suggest a pinch of salt, sugar, and pepper. Then, mix the tomatoes with olive oil in a bowl.
Finally, you spread this mixture on top of a toasted slice of bread. If you like a simple Spanish snack for a busy day, Pan Con Tomate is perfect. It is crunchy, savory, and flavorful. This delicacy goes well with a glass of white wine.
Pan Con Tomate offers a healthier alternative to a bag of chips.
Total cooking time: From 12 to 30 minutes
In this next entry, I will be introducing one of the most famous Spanish seafood recipes in Spain. You often see this served at many bars and restaurants as a type of Tapas, which is the Spanish version of an appetizer/snack.
The two main factors for a good Garlic Shrimp are shrimp and Al Ajillo sauce. This sauce consists of garlic and oil (olive oil for Spain, paprika oil in other Spanish-speaking countries).
First, you need to wash the shrimps and peel them. Then, you add the oil and chopped up garlic into a frying pan to make the Al Ajillo. After the garlic turns golden yellow, you finally add in the shrimps. You have the option of sprinkling a pinch of paprika on top.
Gambas Al Ajillo is very fresh and rich. The smell is not too strong since most of the oil has absorbed the garlicky flavor. If you're someone who doesn't like garlic, Gambas Al Ajillo might change your mind.
Total cooking time: 15 minutes
Aside from the Gambas Al Ajillo, Spain also has another well-known Al Ajillo, the Championes Al Ajillo, or Garlic Mushroom. This specialty is a prominent bar-top snack across many regions of Spain.
As for the recipe, you will need button mushrooms, garlic, and lemon. First, you need to slice up the mushrooms and garlic. Next, add the sliced garlic to a pan with a bit of olive oil. Wait until the garlic turns golden before adding the mushrooms. Lemon is used as a garnish at the end.
The garlic-infused oil adds a lot of its aroma to the food. Combined with the existing umami from the mushrooms, Championes Al Ajillo is something you will never forget once you eat it. If you want a stronger impact on your taste bud, you can add a little bit of Paprika to the dish.
You can whip up the Spanish Garlic Mushroom in no time, thanks to this tutorial.
Total cooking time: 5 minutes
Another I will be introducing is the Fried Padron Peppers or the Pimientos De Padrón. This type of pepper comes from the Padron municipality of the region of Galicia. Padron peppers only have a mild level of spiciness compared to other chili peppers.
To make this, you only need three simple ingredients: Pedro peppers, salt, and olive oil. First, you need to wash the peppers. Then, you heat the olive oil in a skillet before putting the peppers in. Wait until the peppers become soft before taking them out.
Since the frying evaporates almost all of the moisture, the peppers will turn wrinkly. You serve Pimientos De Padron on a plate with a little sprinkle of salt on top. In most Tapas bars, this dish often comes with a side serving of potatoes or eggs to help reduce the spiciness.
Total cooking time: From 55 minutes to 1 hour 30 minutes
The delightful Spanish pork recipe is very simple, yet the quality is undeniable. Locals like to call it Albondigas En Salsa, or Spanish Meatballs. The origin of this delicacy dates back to the period of Muslim rule.
It has quite a lot of similarities to an Italian meatball, yet the size of Albondigas is suitable for a light meal instead of its Italian cousin. The main ingredients for the meatball are minced pork, minced beef, and onions. First, you need to chop the onions up and add them to the meat.
Then, you need to roll the mixture into little balls and saute them in a skillet. Once the meatballs turn brown, take them off the heat. Canned tomato sauce is among the most popular dishes to go with these meatballs.
If you brown the meat correctly, it will add a bit of lightly charred flavor. Plus, the caramelization of the onions provides some sweetness to the meat. The umami flavor from the tomato sauce is a nice finish to the flavor package.
Total cooking time: 15 minutes
While this is not technically a side dish, Mojo sauce is a rather popular sauce that many Spaniards have on their dining table. Mojo sauce comes from the Canary Islands, a territory of Spain off the coast of Morocco. The main variants are red and green Mojo sauce.
For the green Mojo sauce, the ingredients are primarily green vegetables like green pepper, coriander, or parsley. On the other hand, the red Mojo sauce consists of various red peppers from La Palma island or paprika.
To make the red version, the makers dry the chilies and blend them up. For the green version, the makers also blend the vegetables up, but the spiciness of this type comes from garlic. Both versions of Mojo sauce have olive oil as well.
In Spain, you mostly eat seafood with the red Mojo sauce while you have meat with the red version. Mojo sauce has a kick that is similar to your average hot sauce. This greatly improves your palate.
The Spanish Side Dish Feast To Impress
As you can see above, Spanish cuisine offers a lot more varieties than just your standard side dishes. That is one of the biggest advantages that Spain's huge cultural diversity can offer. Not only that, these recipes are very beginner-friendly that you won't have any troubles mastering.
I hope that my article will be able to help you give your family a pleasant mealtime. And maybe this will inspire them to research more international dishes on their own.
If you like what you read, please consider leaving a like and sharing this on your social media accounts. I appreciate every bit of your support. As always, have a good meal.
Nutrition Facts
4 servings per container
---
Amount Per ServingCalories434
% Daily Value *
Total Fat 15.4g

24

%
Cholesterol 101mg

34

%
Sodium 1774mg

74

%
Potassium 917mg

27

%
Total Carbohydrate 32.7g

11

%

Dietary Fiber 3.9g

12

%
Sugars 7.2g

Protein 38.4g

76

%
---
Calcium

61

%
Iron

4

%
Vitamin D

258

%
* The % Daily Value tells you how much a nutrient in a serving of food contributes to a daily diet. 2,000 calories a day is used for general nutrition advice.