22 Amazing Spanish Appetizers You Need To Try In 2023
Many people often regard Spanish appetizers as one of the best in the world, thanks to the popularity of Tapas. What is Tapas, you might ask? It's essentially the Spanish version of appetizers, consisting of small meal portions or just snacks.
Like many cuisines around the world, appetizers in Spain can be hot or cold. These dishes are very easy to make, so they don't require that much time. That's why, other than restaurants, you will see a lot of pubs and bars serving these meals.
And you can now recreate some of these tasty but easy appetizers with the help of my recipe list below. Not only will you be able to spice up your life, but you also might receive a lot of attention from loved ones. Alright, let's head right into it.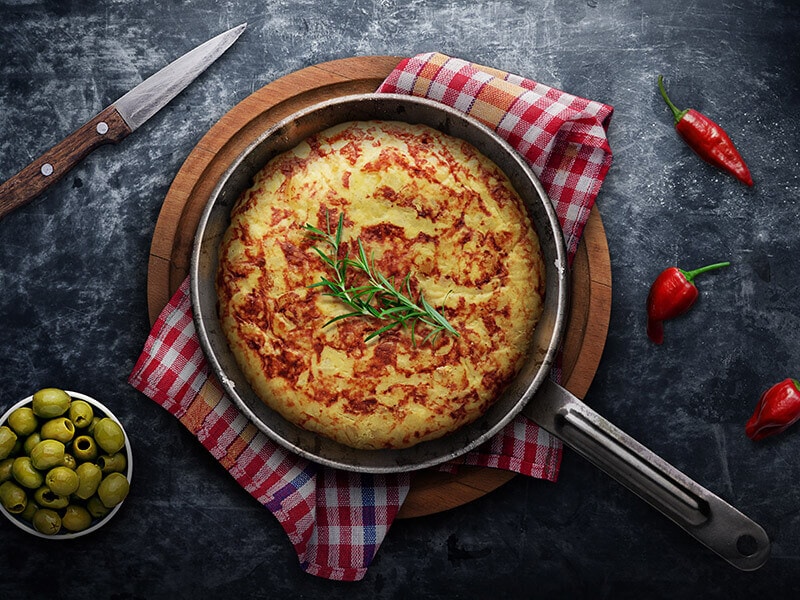 Stimulate Your Senses With These Spanish Appetizers
In this list, I have picked out some of the easiest Spanish recipes you can make at home. Don't worry. The ingredients will be things that you can find at home or in a Walmart near you.
To start things off, let me introduce you to Aioli, which is similar to mayonnaise. This type of sauce goes together with many Tapas. Aioli is very popular in many Mediterranean cuisines, including Catalan (North-Eastern Spain) and Andalusia (Southern Spain)
In the Catalonian language, Aioli literally means "garlic and oil". True to its name, Aioli has two main ingredients: garlic and olive oil. In some Aioli recipes, you will also have to add egg yolks and a squeeze of lemon juice to give the sauce a thicker texture.
In order to create a good Aioli sauce, you will need to stir the garlic and oil regularly until small oil bubbles appear. This gives the sauce a creamy appearance. Once it is done, you can serve it. There's no need to refrigerate the Aioli.
In Spain, especially Catalonia, you can see a lot of appetizers with a small bowl of Aioli on the side. You can spread Aioli on a toast and place a slice of cured meat on top. On the other hand, many Spanish rice dishes also have a thick scoop of creamy Aioli topping.
You can see this video to know more:
When you talk about Spanish appetizers, you cannot miss out on this authentic Spanish side dish called Spanish Garlic Shrimp. There are two ways you can call this dish in Spain: Gambas Al Ajillo or Camarones Al Ajillo.
The special thing about this dish is its seasoning, the Al Ajillo. Many Spanish-speaking countries have their own Al Ajillo. For Spain, the seasoning consists of garlic and paprika oil. It is this seasoning that makes the dish so fragrant.
And for the shrimp, you can peel the shell off, or you can keep them. With peeled shrimps, it's easier for the flavor of the season to penetrate. However, some Barcelonian restaurants serve the dish with unpeeled shrimp. It's your choice for authenticity or pure taste.
Since the dish is very quick to make, it's available in almost every Tapas bar in Spain. So the next time you want to experience what it is like, you know what to make.
There is no need for a complicated appetizer when you know how to make Gambas Al Ajillo.
This next dish I'll be showing you has a lot of similarities to a more famous French Ratatouille. Pisto consists of lightly poached vegetables. It is the Spanish equivalent of Ratatouille from France.
Pisto has its origin in many Spanish regions, including Murcia, Castilla, and Extremadura. That's why each region has its own version of the Pisto.
The ingredient list of Pisto consists of many different vegetables, but the most common you might find are tomatoes, zucchinis, and garlic. The important thing to note about Pisto is that you need to pick out the freshest vegetables for the dish to have the best flavor.
Another key component of Pisto is olive oil. Since you have to poach all of the vegetables in olive oil, it's best that you know how to pick high-quality olive oil. When you poach, the fragrance of olive oil will seep into the vegetables. This process makes them juicy and fragrant.
Pisto is often an appetizer or a type of side dish in many traditional cuisines. However, you can also see some places use Pisto as a filling for Empanadas, which is another starter dish I will talk about next.
Pisto will remind you of a homely meal like its French counterpart.
This dish might not be too strange if you're familiar with South American cuisine. Empanadas originate from the Galician region of Spain. This dish has an E-something name coming from the word "empanar", which means "breaded" in Spanish.
True to its name, the dish is a deep-fried pastry. The filling mostly consists of any protein that you like, vegetables, and olive oil. A simple sheet of dough acts as a shell for Empanadas. The most common cooking method is deep-frying, but you can also use an oven.
When it comes to Empanadas, the filling is the most crucial factor that decides the flavor of the dish. If your ingredients are high-quality, the flavor will seep into the shell. A single bite of that crunchy shell will create an explosion of goodness.
Nobody knows the exact history of Empanadas. The first mention of this dish was in 1520 by a Spanish writer named Robert de Nola. Robert talked about a "breaded seafood pastry that was available in Catalonia, France, Italy, and Arabia" in his cookbook.
Due to the spread of Spanish culture all over the world, many different variants of Empanadas also exist in other countries. People often eat it as a snack.
If you can't think of anything else to cook, why don't you make a simple Empanada.
This next dish is a Mediterranean delicacy that has slowly gained a lot of popularity worldwide in the past 10 years. Calamares, or Calamari, is a seafood dish that consists of deep-fried squid rings.
Different Mediterranean countries will have different ways to prepare this dish. In Spain's case, people prepare a thicker batter, so the dish has a crunchier texture. In some regions, Spaniards replace normal-sized squids with baby squids. They call that dish Puntillitas.
Calamares would go well with a squeeze of lemon juice or mayonnaise. Sometimes, chefs would cook a type of Calameres with squid ink. The result is a very tender squid that goes well with a black ink stew. This recipe is great if you want a Spanish appetizer for a party.
This tutorial will teach you how to make a lot of crunchy Calamares.
Fried potatoes are some of the world's most popular appetizers. Many countries have their own version of this dish, from the Belgian Frietjet to the United States hash browns. Today, I will show you the Spanish version, which is Patata Bravas.
The name of this dish means "spicy potatoes" in English. It's a very well-known dish of Spanish Tapas cuisine. Since the dish is quick to make, you can see Patata Bravas in many bars around Madrid and other parts of Spain.
The most common way to make this dish is to cut the potatoes into thin cubes. Then, chefs just simply deep-fry the potatoes until they turn slightly yellow and crunchy. The final step is to drizzle Bravas sauce, which consists of olive oil and smoked paprika, on top of the dish.
Patata Bravas can be very spicy or mildly spicy, depending on the amount of Bravas you use. If you can't handle spiciness at all, I suggest having the dish with Aioli instead.
In Spanish cuisine, cauliflower is a very versatile ingredient because you can put it into any type of food. You can bake it, put it in a stir-fry, and even turn it into a substitute for rice. However, most Spaniards would agree that cauliflower makes a good Tapas dish.
The most popular way to prepare the cauliflower dish in Spain is pan-frying. The first step is to separate cauliflower stems from the root. After that, you can start pan-frying the stems in hot oil. After everything is done, you can season the cauliflower with a sprinkle of salt or chili powder.
In the Canary Islands, the name of this cauliflower delicacy is Coliflor Al Ajo Y Pimenton. The preparation is similar, but instead of using salt or chili powder as toppings, locals season it with a type of garlic sauce.
If you want a healthy and tasty Spanish snack to munch on, this will be perfect for you. And the best thing is that the recipe is so simple, anyone can enjoy it.
If you ever crave some cold and refreshing appetizers before a meal or just a simple afternoon snack, let me introduce you to this amazing dish called Gazpacho. This dish originates from the Southern part of the Iberian Peninsula or the Andalusia region in Spain.
The origin of Gazpacho might be unclear. One theory states that during the Roman occupation of Spain, the Romans brought the main ingredients for this dish from Italy to Spain. Once they arrived, these ingredients became part of Southern Spanish cuisine.
The dish consists mainly of tomato, cucumber, and stale bread. In many traditional versions of Gazpacho, you pound the vegetables in a mortar. However, some modern versions put the vegetables inside a blender to make them into soup.
This cold version of Spanish soup is great during summer. Nothing feels better than a chilled bowl of Gazpacho with its refreshing vegetables.
A cool bowl of Gazpacho will make all of that summer heat go away.
Since you're on the topic of refreshing vegetables, I might share another great vegetarian appetizer for you to enjoy. Spanish bean salad, otherwise known as "Ensalada de Alubias Blancas", is a chilled appetizer from the Murcia region of Spain.
The dish consists of mostly white beans. However, you can also add other beans like black or Fava beans. Other ingredients include tomato, hard-boiled eggs, and olive oil. Like other salad dishes, you don't have to do much but toss everything inside a bowl.
This dish is perfect for many vegetarians or those who want to eat something healthy to detox their bodies. But if you want more protein, you can always put a few slices of ham or chorizo sausage into the dish.
Another popular Spanish salad that you might enjoy is the Pipirrana. Like many entries in our list, Pipirrana originates from Southern Spain. Legend has it that field workers of Andalusia, Murcia, and La Macha created the dish so they could have fresh vegetables during a meal.
The main ingredients for Pipirrana are just cucumber, onion, and tomatoes. The simplest way to make this dish is to cube all the vegetables up and toss them in a bowl. Like many Mediterranean salad dishes, the dressing for this salad is a combination of olive oil and vinegar.
The salad is very fresh and nutritious since the main ingredients are vegetables. In some cases, if you want to make this dish not vegetarian, you can add tuna. It's still a good salad to help you cool down and a great appetizer for paella, a Spanish rice dish.
Alongside Patata Bravas, this is also a Tapas that you might find in many bars in Spain. Albondigas is a fascinating appetizer using meatballs, similar to other European meatball recipes. However, Albondigas still has a unique flair that makes it stand out from the crowd.
The meat Spain uses for its meatballs is a mixture of beef and pork. The size of a standard Spanish meatball is smaller compared to an Italian meatball. Chefs will pan-fry the meat to create a brown crust. It adds a lot of flavor to the meatballs.
Due to its small size, you will see Albondigas served with a thick tomato sauce. Albondigas also go well with Patata Bravas and a glass of red wine. So the next time you have a wine meet-up with friends, surprise them with this dish.
Albondigas is a good snack to go with your drink.
This dish is an unconventional take on the traditional Spanish dessert Bunuelos, which is fried dough topped with powdered sugar. This version, however, breaks the mold by adding a savory flair to the original recipe.
The focus of this dish is on cod, a type of fish in the Atlantic ocean. In most recipes, Bunuelos De Bacalao will require salt cod. The rest of the other ingredients are eggs, mashed potatoes, and olive oil. The mashed potatoes will be the coating for the cod.
To make this mouth-watering dish, you need to cook the fish by baking it in an oven until it turns golden brown. The result is a very puffy and crispy appetizer. However, other recipes require you to deep-fry the fish instead.
Most of the flavor comes from the salt cod. When you order this dish at a Tapas bar, you will get a side of Aioli or mayonnaise as a dipping sauce.
When it comes to appetizers, nothing can beat a quick Croquette. It's quick, filling, and easy to eat. That's why you see a lot of countries have adapted this dish to their own culture. Of course, Spain is not an exception.
The Spanish version of Croquette, or Croqueta, is similar to that of other Croquettes. The dish consists of an outer shell and a filling. The outer shell is mostly just egg batter and bread crumbs. On the other hand, the filling can be whatever the cooks want.
In Spain, the most popular variant of Croqueta is the Croquetas de Jamon, which means "Ham Croquette". The outer shell is the same in this version, but the filling is a Serrano ham and milk mixture. These fillings give the dish a crunchy bite that explodes into a creamy flavor.
This recipe is a great starter for a potluck party, and you don't want guests to be too hungry before the main party starts. It's a quick and easy dish to make.
Pan Con Tomate, or Pa Amb Tomaquet, is not just a simple tomato-based appetizer from Spain. To many Catalonians, it's the staple of their cuisine. It's a signature dish of many Catalan-speaking regions, including Valencia, Aragon, and the Balearic Islands.
To prepare this dish, you spread a tomato mixture on top of a slice of bread. The tomato mixture is just chopped tomatoes, olive oil, and a bit of seasoning.
On the bread side, there is a special Spanish bread called the Mollette if you want a full Spanish experience. If not, just get yourself a simple ciabatta bread. You can also toast the bread to make it crisp or leave the bread to feel that spongy texture.
In some cases, you can also see versions of Pan Con Tomate with anchovies, slices of cheese, or sausages on top.
Pan Con Tomate is an important part of Catalan Countries' cuisine. However, due to its popularity, many bars and restaurants also serve this dish all over Spain. Similar dishes are available in other countries in Europe like France, Italy, and Malta.
Experience a true authentic Catalonian cuisine with Pan Con Tomate.
Between the 8th and 15th centuries, Spain was under the control of the Moors, which were the Muslims of North Africa. Due to this, Spanish cuisine has gained a lot of influence from Middle Eastern dishes. This includes the skewered starting dish I'm about to introduce.
Pinchos Morunos, or skewered meat, is a lot similar to a Middle Eastern dish named Kebab. Like many Middle Eastern-inspired food in Spain, it comes from Andalusia.
In order to make Pinchos Morunos, you need to cut the meat into small cubes. The most popular types of meat for the dish are chicken and pork. The next steps are to skewer the meat and place them on top of a grill.
In the traditional recipe, people used a blend of spices to season the meat. They call this blend "Ras El Hanout" or "Head Of The Shop" in English. This blend has mostly cumin, oregano, and coriander.
Most people use a charcoal grill to make this dish. However, you can use a normal electric griddle. By grilling, the meat releases a lot of fat. As a result, the meat will be juicy once you bite into it. The spices also compliment the flavor of the meat by adding more depth to the dish.
This dish might be a bit strange for some people, considering anchovies can be a bit of a turn-off. However, it's rather a popular starter for many Spanish parties.
The full name of this dish is Boquerones En Vinagre, which means "Anchovy In Vinegar" in English. The recipe for this dish uses fresh anchovies, vinegar, and olive oil. Since this dish requires raw anchovies, it's best that you get the freshest ones.
The steps to do this dish are simple. You need to marinate the fish in a vinegar mixture and olive oil. On top of that, you can garnish the dish with parsley and garlic.
The dish often goes on top of a slice of toast and a glass of Vermouth. Thanks to the vinegar – olive oil mixture, the smell of anchovies is not too pungent.
If you manage to get rid of the smell, Boquerones is a worthwhile dish to try.
Another unique starter that I want to share with you is the Galician Octopus or Pulpo A Feira. Despite originating from the North-Western region of Galicia, the dish soon gained a lot of following throughout Spain.
Although the dish has a strange ingredient, it is rather simple to make. You only need a pot of boiling water to submerge the octopus in. After around 20-45 minutes, the octopus will be ready, so you can take it out. This should make the octopus a little chewy but not too hard.
Traditionally, Galician only eat the tentacles of the octopus. Locals would cut the tentacles up into smaller bites. Then, they season the dish with olive oil, lemon, and a bit of paprika powder. In many Tapas bars, it accompanies dishes like Patata Bravas and Croqueta.
This is the dish that most Spaniards cannot live without. Spanish Omelet, or Spanish Tortilla, is one of the core pillars of Spanish cuisine since it has a long history within the country. So why is it so important?
There are many counts of origin for the dish. In one example, people said that a Spanish general named Tomás de Zumalacárregui e Imaz created the dish to feed his troops. In another example, some said Spanish war prisoners brought this dish from Portugal to their homeland.
But whatever the origin may be, the dish is now inseparable from Spain. The two main ingredients are eggs and potatoes. The cook would cut the potatoes into thin slices. Then, they would saute the potato slices inside of a pan before mixing them with the eggs.
The result is a very thick omelet that has a lot of flavors. Since the portion is very big, Spanish Omelet is popular with many Spanish families because they can share it with many people. Aside from Spain, the dish is also available in other Spanish-speaking countries.
If you want a nice and warm Spanish appetizer for Christmas, I can introduce you to a popular Tapas in Toledo, Spain. While Toledo might not be popular for its gastronomy, the region still brings a certain uniqueness to Spain.
Carcamusa, otherwise known as Spanish Pork Stew or Spanish Chili, is a typical bar snack and appetizer in Toledo. The main components for this dish are pork, tomatoes, and bay leaves. In most cases, the vegetables in the stew are different based on the seasons.
Just like most stew dishes, you need to cook every ingredient inside of one pot. Once the Carcamusa is done, the cook would serve the dish in an earthenware dish and a few slices of bread.
Carcamusa has a very slight minty flavor, thanks to the bay leaves. The tomatoes also add a bit of umami to the stew. If the pork stays in the stew long enough, it will become so tender you can pull it apart with a simple fork.
Spanish Pork Stew is a specialty that will make your appetizer course more interesting.
Spanish Potato Salad, or Ensaladilla Rusa, is another popular Tapas dish you cannot miss out on. The salad is creamy, starchy, and good for your health since it contains a lot of vegetables. And it does not make a dent in your wallet.
This salad came from Moscow, the capital city of Russia. The original name for the dish is Olivier Salad. The creator, Belgian chef Lucien Olivier, made this dish in the 1860s. However, the salad quickly caught on and became a staple across Europe.
These days, you can find different versions of potato salad in Italy, Portugal, and many Slavic countries. Ensaladilla Rusa was the Spanish variant when the recipe landed in Spain. Nowadays, it is most popular in Seville and Cadiz.
In order to create this salad dish, the main ingredients you will need are potatoes, eggs, and olive oil. You can also add any additional vegetables that you like to the dish. You just put everything in a bowl and mix them. You can add a bit of vinegar for that tangy and sour flavor.
When it comes to pickled vegetables, nobody would think of Spain. However, the country still has a very good Tapas dish that consists of mostly pickled vegetables. Banderillas gets its name from the barbed stick that a Spanish bullfighter uses to puncture the bull.
Of course, the only puncturing you have on this dish is on the vegetables instead. The main ingredients are pickles, olives, and a slice of cold meat. There are additional ingredients that you can add in as well.
Since the serving portion is small, it's a fitting appetizer served for individuals. The explosion of various tastes, from the saltiness of the olives to the tanginess of pickles and the savoriness of cold meat, will leave you wanting more. Banderillas are eaten chilled.
Aside from appetizers with many ingredients, I think it would also be good to find recipes that require one or two ingredients. That is why I'm going to introduce you to the last entry of this list, the Manchego cheese.
This type of cheese originates from La Mancha, Central Spain. The cheese has a very firm, buttery texture. Depending on how the cheese is kept, the color will be either white or a light yellow. Sometimes, the cheese will turn a little beige if the fermentation period gets longer.
There are many ways you can prepare this type of cheese. First, you can deep-fry Manchego with bread crumbs. First, season the bread crumbs with any spices. Then, you need to coat the cheese in breadcrumbs and deep-fry it. This dish goes well with a sour cream dip.
The second way to prepare Manchego is to marinate it. Start with cutting the cheese into small slices. Then, mix olive oil, garlic, and any types of herbs you want. Pour this mixture onto the cheese and let it absorb the flavor.
Manchego cheese tastes very mild and creamy since it comes from sheep milk. Some manchego recipes also add seasoning like paprika on top of the cheese. Manchego cheese can be a great light snack for your glass of Spanish Cava in the afternoon.
These Manchego recipes will diversify the way you prepare the cheese.
Experience A True Spanish Meal Through Appetizers
Thanks to the vastness of Spanish geography, and the influence of different cultures in its land, Spain has very interesting and diverse gastronomy. Unless you are a full-time eater, there is no way to taste all of that Spanish goodness.
However, I hope the list above can help you experience a bit of that side of Spain. Spanish cuisine, especially appetizers, is full of flavors and varieties. Once you successfully master them, you will not want to return to your old starter menu again.
Please give this article a thumbs up if you like what you read. And don't forget to share this on your social media accounts so others can see it. Have a good meal!
Nutrition Facts
2 servings per container
---
Amount Per ServingCalories345
% Daily Value *
Total Fat 26.2g

40

%
Cholesterol 164mg

55

%
Sodium 661mg

28

%
Potassium 961mg

28

%
Total Carbohydrate 23g

8

%

Dietary Fiber 5.6g

20

%
Sugars 12g

Protein 9.7g

18

%
---
Calcium

95

%
Iron

2

%
Vitamin D

15

%
* The % Daily Value tells you how much a nutrient in a serving of food contributes to a daily diet. 2,000 calories a day is used for general nutrition advice.