Do you ask for the best slow cooker pasta recipes that are simple yet impressive? Or do you need suggestions to utilize the pasta and your favorite cookware – a slow cooker at home? If your answer is yes, you will have it all in my sharing.
Indeed, after reading this title, you'll gain the best cooking ideas with a crockpot and pasta. Moreover, you will know their flavors, textures, and cooking guides with many expert tips and tricks for your quality cooking experience.
So why don't you jump into this article now and explore 22 ideas to turn your normal pasta into special delicacies? Let's get started!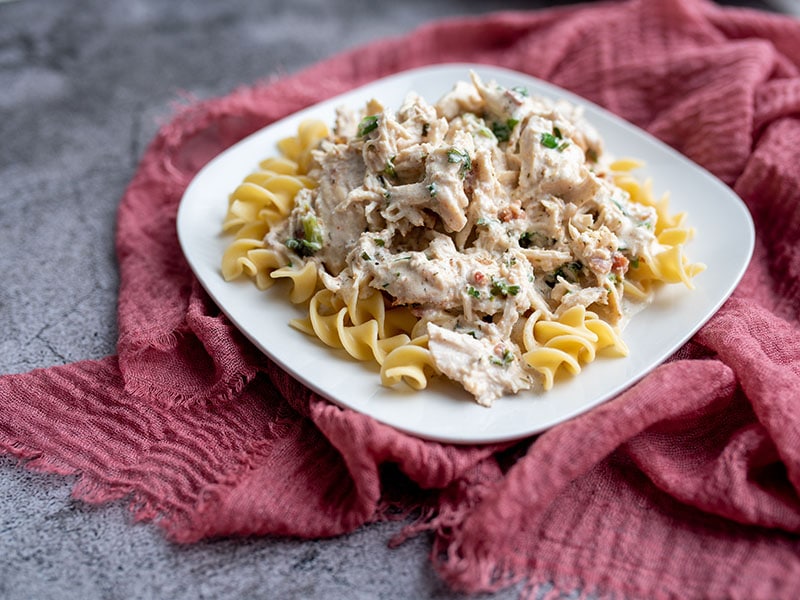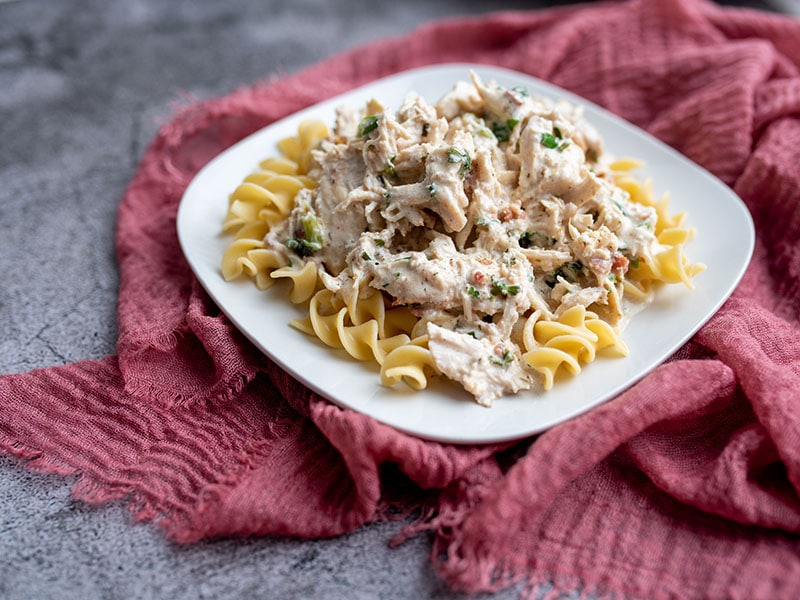 22 Top-Notch And Easy Pasta Dishes Made By The Slow Cooker
Do you have a slow cooker but have never tried to make pasta with it? If yes, you have missed one of the best ways to cook these Italian dishes. Here are 22 yummiest and easiest slow-cooking pasta recipes. Keep scrolling down and check it out now!
Total Time: 8 hours 5 minutes
Meatball tortellini soup is an effortless and inviting pasta soup for your weekday dinners. All you have to do is toss all the ingredients and cook them on the low setting for 8 hours. In the last 30 minutes, add corn, the tortellini, and half-and-half, and cook until tender.
Once cooked, your soup has an attractive orange color with numerous meatballs, tortellini, veggies, and spices. Also, the delight tastes spiced-flavor, meaty, and sweet, which is super pleasant to smell and enjoy. Plus, add some grated parmesan if you desire a cheesier texture.
How can you cook meatball tortellini soup with just a slow cooker? Check this instruction!
Total Time: 4 hours 10 minutes
Feta and tomato pasta is a simple main dish. It is ingenious to utilize cream cheese and feta cheese. When combined with pasta and tomatoes, all of them create a rich creaminess and pleasant tangy note.
Although the recipe requires rotini pasta, you can use other types also, such as rigatoni, bow-tie, and penne. But never swap pasta for egg noodles since they can become mushy after a long cooking time. And no one wants a sloppy dinner, right?
For the best texture, cream cheese and feta cheese are highly recommended. But if you are not a big fan of cream cheese, you can use two blocks of feta instead. On the other hand, you can substitute feta cheese for the same ratio with cream cheese.
Total Time: 6 hours 30 minutes
The hearty pasta is creamy and flavorful, thanks to mushrooms, chicken, and bacon. While the mushrooms and chicken are earthy and naturally sweet, bacon cuts enhance salty and savory flavor. All work together to bring up a rich but not greasy slow-cooked chicken dish.
Plus, easy homemade garlic bread is perfect to serve with carbonara. But if you love to keep things simple, store-bought bread or some parmesan cheese grated is also a great option to spice up your pasta.
In addition, a tip to help your clean-up process a breeze is to cook pasta in the slow cooker. After cooking in the low setting for the first 6 hours, adjust to high in the last fifteen minutes and add pasta. But be sure to skip cornstarch since your pasta can thicken the sauce already.
Total Time: 5 hours 50 minutes
Hailing from Russia, stroganoff is a famous pasta sauce made of meat and sour cream. As the origin, this slow cooker beef stroganoff highlights chunks of beef, pasta, and mushrooms infused with reduced-fat sour cream, which makes it lighter than a classic one.
For that reason, there is no greasy afternote. Instead, tart and tangy tastes interleaved with earthy and meaty notes are prominent.
To handle this Russian pasta, cook mushrooms, beef, and tomato sauce in the slow cooker until the meat is tender. Then whisk in sour cream, cornstarch, soy sauce, and pepper, and cook for extra 30 minutes. Once done, serve beef stroganoff mixture over pasta with fresh parsley.
Plus, you should choose any chuck steak or roast when looking for the meat ingredient. Just cut it into even pieces and cook with low heating for a long time. Then they will come out so tender and tasty.
Total Time: 4 hours 10 minutes
If you need a vegan pasta recipe, you should try this lentil bolognese. It requires only some simple ingredients and mostly pantry items to handle, which is convenient and perfect for your busy weekdays.
To make this luscious vegan crockpot dish, start by sauteing diced onion, carrot, and minced garlic with seasonings. Then add all ingredients to your crockpot and cook. Once completed, top your lentil bolognese on your cooked pasta and serve warm.
Your final result will be a sweet, earthy, and nutty pasta dish with tender and relatively firm lentils in each bite. Essentially, you should adore lentils. They are an excellent source of iron and protein, which is a perfect substitution for meat if you are on a vegan diet.
A little girl can cook this easy slow cooker vegan lentil bolognese, and so can you!
Total Time: 6 hours 20 minutes
Saucy Sunday bolognese pasta will be a welcome slow-cooked food for your children after a long studying day. The aroma of sauce and spices will spread to every corner of your kitchen. And I am sure everyone will sit at the table quickly without a call.
Moreover, your family will have their eyes open to tasty food. They will experience the sweet and salty sausage, tender beef, fatty bacon, and fruity and smoky wine. All combined with dried herbs, there is no perfect word to describe your bolognese pasta.
To enjoy this delight, you should top it with some rustic bread chunks and bread crumbs. You can make this pasta for a Sunday night dinner, and your family will mop up this delicious dinner without wasting a drop. Beer bread is the best option for you to pair with this pasta.
Total Time: 3 hours 5 minutes
Creamy Tuscan chicken pasta is comfort food for both eaters and makers. While the delight satisfies your stomach with the cheesy, garlicky goodness, it cheers you with minimal effort to make. All to do is combine ingredients in a slow cooker, give it a few hours, and your dinner is ready.
Then serve your Tuscan chicken pasta with light side dishes like fall harvest salad, white bean dip with roasted tomatoes, or whipped feta with roasted peppers. Their freshness and greeny flavors will reduce the gooey feeling and add more fibers to enhance after-meal digestion.
Plus, you can make this recipe ahead. The cooked pasta should be good for three days in the fridge and last up to three months if stored in the freezer. When you want to enjoy it, just reheat your dish on a stovetop or in the microwave until warm.
Total Time: 4 hours 15 minutes
This slow cooker goulash version is a trouble-free American-style main dish of pasta. It may take time in the slow cooker but you do not need to monitor the cooking process. Just mix components and choose your preferred setting (high or low) to complete a meaty and cheesy dish for dinner.
However, you need to brown your beef before cooking the dish. That way, your beef will not be lumpy or add excess grease to the food. Besides, this extra quick step also adds more flavors to your meat. So it is a win-win situation.
In addition, you should put the pasta in the slow cooker for the last 30 minutes. There is no need to pre-cook or add it at the beginning. It might be overcooked or mushy as a result.
Total Time: 8 hours 10 minutes
Pasta e Fagioli soup is traditionally a meatless pasta soup, so its name means "pasta and beans". But this recipe has added ground beef and Italian sausage for flavors. So, as a result, this earthy crockpot soup also tastes rich and meaty.
To cook this unique decadent, browning meat is essential to remove grease. Then you can cook it with red wine and tomato paste until well absorbed. After that, transfer everything into the slow cooker (except pasta) and cook until the carrots are tender.
Once served, add cooked pasta to the soup with chopped fresh parsley and grated Parmesan cheese. However, if you do not consume all soup at once, you should store pasta and soup separately. That will prevent your pasta from absorbing the soup liquid and ruining your dish.
Let's explore this trouble-free slow cooker Pasta e Fagioli soup!
Total Time: 6 hours 5 minutes
If you are a big fan of chicken enchilada, you cannot miss the chicken enchilada pasta. This slow cooker version includes chicken, pasta, cheese, and green chiles to make a sophisticated main dish.
Besides, some crucial additions such as red enchilada sauce and sour cream have also upgraded the overall flavor. Together they harmonize to perform a spicy and tangy taste with a creamy and cheesy texture.
But if you want more flavors, adding toppings should be a good idea. Several delightful suggestions are fresh chopped cilantro, flavorful Pico de Gallo, and avocado sauce. Instead of altering your dish, they will help balance the spiciness and make your pasta more enjoyable.
Total Time: 5 hours 55 minutes
This crack chicken pasta is famous for its untroublesome quality. It comprises only accessible ingredients like chicken, bacon, ranch seasoning, and cheese. Plus, the whole process takes place in only one slow cooker. So the clean-up after cooking is just a breeze.
With one bite, you can feel the tender shredded chicken and pasta blend with creamy sauce and salty, umami yet sweet bacon. But if you love to have an extra green, broccoli florets or peas can pair well with your delicacy.
However, please remember that, even if you turn off your slow cooker, its retaining heat will continuously cook your pasta. Thus, you should watch out for the pasta if you keep it in the slow cooker, or it may become gummy by overcooking.
Total Time: 6 hours 15 minutes
Here is a delicious slow cooker recipe for cheesy pasta full of tortellini and cheese. To make this cheesy tortellini, you will need lean ground turkey, two kinds of cheese, pasta sauce, and more. For more accessibility, you can alter turkey to any chicken or beef meat in your fridge.
There are three simple steps to achieve this hearty food. Begin by cooking turkey, onion, and garlic in a large skillet. Then toss the mixture into your slow cooker with pasta sauce and seasoning. After hours in low heat, now it's time to cook tortellini and mozzarella for another 30 minutes.
Finally, top with parmesan and serve. Your final dish should be cheesy and thickened with sweet and acidic notes. Along with its vibrant red color, the overall pasta will stimulate your appetite by both sight and taste buds.
Total Time: 5 hours 20 minutes
Slow cooker taco pasta is an incredibly delectable blend of taco and pasta. This pasta gets a breathtaking flavor from a taco seasoning package. Furthermore, other stars in this delicacy are ground beef, tomato sauce, and cheese.
Similar to the above recipe, let's start by browning beef to drain excess fat. Then combine cooked meat with broth, tomato sauce, and spices into a slow cooker and cook low for 3-4 hours. After that, you can add cream cheese and cook them for an additional 30 minutes.
Once well-combined, add cooked pasta and a handful of shredded cheese, then cook for the last time until melted cheese. For the best result, you should enjoy your dish with a top of sliced tomatoes or salsa. Their sweet and zesty flavor will level your whole meal to the next stage.
Total Time: 4 hours 45 minutes
This recipe will be a hit in your daily meals. It is an easy homemade cajun alfredo sauce stuffed with smoked sausage and seasoned chicken. Thus, smokey, sweetness, and spiciness are what you can find when tasting the food.
Besides, a quick sear of chicken breasts at the beginning is also a plus to enhance the flavor. The technique also provides your chicken with a slightly brown color on the outside.
However, one thing to notice is that not every slow cooker has the same setting. You should increase or decrease the cooking time depending on your slow cooker. And the best way is to check the chicken temperature. So if possible, you can get a meat thermometer for correct results.
Let's figure out this easy slow cooker cajun chicken alfredo recipe!
Total Time: 6 hours 30 minutes
If you need a nice ricotta cheese dish to impress people, these slow cooker stuffed shells are the one. They contain spinach and ricotta cheese inside a pasta shell. Then slow cook in a marinara sauce after topping each shell with parmesan and mozzarella.
Overall, your stuffed shells will coat with the vibrant red color of marinara sauce. Each bite you take is full of cheesy and robust flavor. Plus, a herby and naturally sweet undertone can brighten your creamy decadent.
Total Time: 6 hours 20 minutes
Imagine having this warm braised short rib pasta on cold nights. I am sure this delicacy will light up your Christmas dining table with rich short ribs blended with a savory tomato and red wine sauce. All components will give you and your family a fancy and cozy dining experience.
You should sear your short ribs before simmering for a long period. The natural sweetness and fat of short ribs fused with all remaining ingredients in hours is a key to having the perfect Christmas meals.
And when you wait for the meal to get ready, a warming scent spreads over your kitchen and leaves everyone excited for dinner. With one bite, all the creamy, cheesy texture melts in your mouth and retains just the right amount of garlicky flavors.
Total Time: 6 hours 10 minutes
Baked spaghetti is a comforting dinner that everyone will fall in love with, even the pickiest. This delight features many things at once: the sticky cheese layer on top, and the tender interior with spaghetti, fatty beef, and tangy onion.
Although this crockpot recipe calls for ground beef, you can use any meat on hand. Ground chicken, turkey, pork, or plant-based alternatives will work for the same result. Regarding pasta, you can also choose any pasta you like for this recipe. It is your decision!
If you like a spicy kick to pasta, feel free to put some red pepper flakes on your beef while cooking. That will turn your pasta into a tastier dinner.
Total Time: 3 hours 50 minutes
Lasagna is the family favorite due to its customizable characteristics. Sometimes people put greens, other times they put different types of cheese or meat. But no matter what you add to the dish, it is heavenly delicious. What's better, you do not have to boil the pasta in advance.
All you have to do is brown the meat, mix the cheese, assemble layers, and cook. After a few hours, you remove the slow cooker's lid so it can emit the charming cheesy aroma. And the beef and cheese will melt in your mouth at first bite with a creamy, fatty, and umami flavor.
If your family cannot consume it all at once, you can rest assured that the leftover is freezer-friendly. By storing in an airtight container, it will stay up to 3 months.
When ready, thaw it overnight in the fridge and microwave it the next day with a splash of water. Your lasagna will be as fresh as a beginning.
What is the best way to cook slow cooker lasagna? This tutorial will show you.
Total Time: 6 hours 30 minutes
Pizza casserole is a satisfying dish to feed your family or bring to the potluck. While this lovely food tastes like pizza, the pasta addition has created a strange eating experience, sticky and somewhat tender.
Each bite of this superb casserole made with a slow cooker has a perfect balance of flavors. The salty, spicy, and tangy pepperoni blended with fatty meat and creamy cheese generates a delightful and nostalgic taste that reminds you of the good old days with your family.
A big plus is that this recipe is very adaptable. You can double the dish if you need to feed more and store the leftovers for later serving. Alternatively, you can also make some changes to fancy your meal. Adding veggies or swapping beef for other meat and sausage is a good start.
Total Time: 2 hours 50 minutes
Last but not least, this recipe is truly the king of pasta. Not only is it sweet and umami-rich, but beef ragu also boasts a meaty flavor. Therefore, you can serve its rich sauce with most types of pasta, like fettuccine, spaghetti, macaroni, and penne – you name it.
Regarding pasta, this is the best dish to cook with pappardelle. With its flat strands and toughness, this pasta does not tear apart when dumped in the thick, rich sauce. Instead, it is easy to absorb the spices and cook them evenly to create a bold and delicious pasta dish.
Total Time: 7 hours 20 minutes
This chicken pasta is a perfect combination of pasta and spinach artichoke dip. It calls for boneless chicken breasts, artichoke, spinach, and a lot of spices to create a flavor kick.
Since this delicacy is full of carbs, protein, and fiber from pasta, chicken, spinach, and artichoke, it is a complete meal to enjoy alone. Therefore, an extra side dish or light appetizer just makes your guests feel overwhelmed.
And if you want to relax on your weeknights, you can always make this dish ahead. Simply prepare all the ingredients (except pasta), put them into a freezer bag, and freeze. Do not forget to defrost them entirely and cook as directed before serving.
Total Time: 2 hours 55 minutes
Mac and cheese is not a strange dish, and you can make it anytime to entertain your family at gatherings. This creamy pasta recipe gets rich flavor from up to four cheeses and tangy dijon mustard.
There is no boiling pasta required. You just dump everything you have in the slow cooker – the uncooked macaroni, the milk, the cheeses, and spices. Then stir when halfway through and add more cheese before serving.
Your mac and cheese should be cheesy and creamy at the same time. Plus, serve it alongside a few side dishes like coleslaw and cornbread for a complete meal.
Choose slow cooker mac and cheese for an effortless meal because there are no complicated steps to make it!
Let's Turn On Your Slow Cooker And Cook Pasta!
You have just explored the list of the 22 best slow cooker pasta recipes. Now it is time to grab your pasta and turn on your slow cooker to make some incredible dishes. So which delicacy will you cook first? Let's share your opinions in the comment box!
And if you like my post, please click "like" to show how you love it. Also, don't hesitate to share and tag your family members so they can know what to do with their slow cookers.
Finally, I hope you enjoy this article. Thank you, and have a nice day!