Skewer appetizers are not served on a plate but on a stick that threads several ingredients together. They bring about an unconventional, fun way to eat food. Many dishes of this type are also easy to make, mostly taking less than an hour from start to end.
With that in mind, I have compiled a list of the best skewer appetizer recipes for you. Whether a vegetarian or a regular eater, you will find several names on this list suitable for your preference.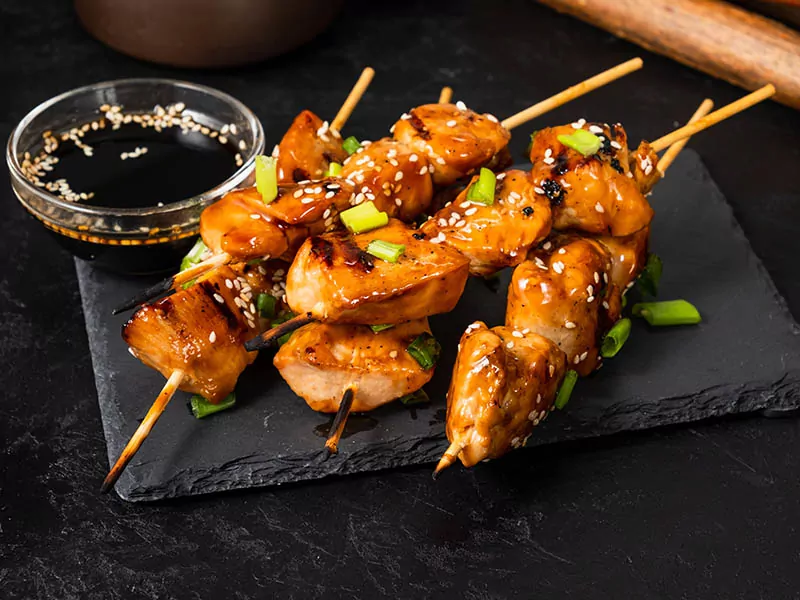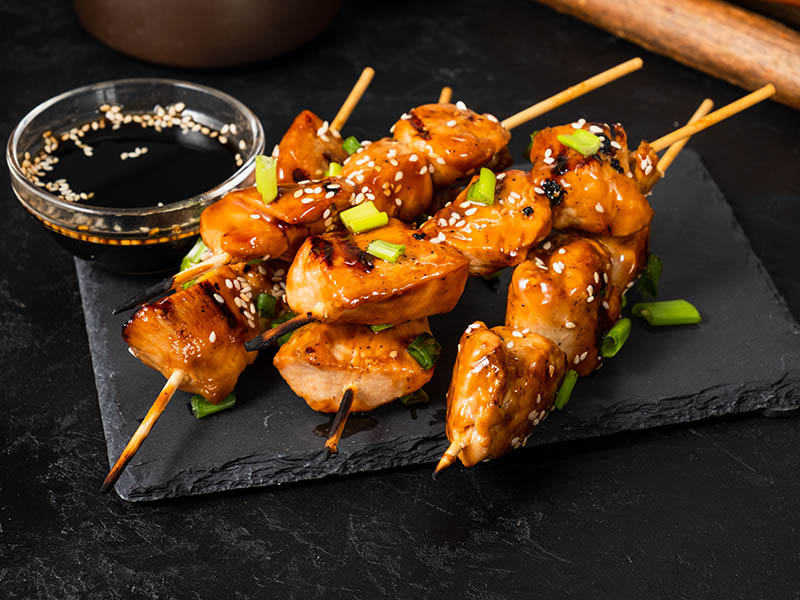 Whip Up These Skewer Appetizers In Your Kitchen Like A Chef
How do you decide what appetizer to make? Are you based on cuisine, level of difficulty, or total time? There are Italian, Asian, American recipes, and more on this list. You will also find extremely simple meal-starters that take only a few minutes to complete.
Total time: 15 minutes
Strawberry feta skewers make the perfect summer appetizer. It's also a good choice if you have little time to prepare. These skewers go well with a glass of cold beer or sangria and are much healthier than many other appetizers.
This recipe uses strawberries, but you can replace them with tomatoes. Strawberries are sweet and refreshing, while tomatoes have their signature flavors. The choice goes down to your appetite.
Total time: 10 minutes
The next appetizer recipe is an interesting dish using cantaloupe and prosciutto ham on a skewer. Besides these two ingredients, you can also find Mozzarella cheese balls and basil leaves.
This meal starter can't be easier to make and should take you no more than 10 minutes to assemble. It's also tasty, cool, gluten-free, keto-friendly, and overall healthy for almost anyone.
These melon Caprese skewers are quite flexible, too. You can replace cantaloupe with another type of melon-like watermelon. The flavor will be different, but I think it's a fun culinary experiment to conduct.
Total time: 5 minutes
This meal starter takes even less time to prepare than strawberry feta skewers. Not just that, they look fancy, making them suitable for formal parties. It's basically the skewed version of Italian Caprese salad.
The recipe for these Caprese bites is extremely simple with fresh basil leaves, mozzarella cheese balls, tomatoes, seasoning, and olive oil. However, because there are only a few ingredients, each must be high-quality.
There are a few ways to serve this dish. You can use mini shot glasses, catering glasses, whiskey tumblers, or a round plate.
You can top these Mini Caprese Bites with Balsamic sauce like in this recipe.
Total time: 15 minutes
Messy as it looks, the wedge salad skewer turns out to be one of the most refreshing appetizers in the summer. The dish also features a cheese dressing for extra creaminess. The dressing also acts as a lubricant to blend all ingredients.
In terms of texture, each skew brings you the juiciness of tomato, smooth avocado, crisp bacon, and the crunchiness of lettuce. On top of that, these skews are colorful and fun to look at. It's a good way to start your meal on a hot day.
Total time: 1 hour and 50 minutes
This skewer appetizer is full of Japanese flavors: sake alcohol, panko (Japanese breadcrumbs), soy glaze ingredients etc. If you're looking for the best Japanese-inspired entrees for your meals, don't miss out on this suggestion.
When frying the meatball skewers, don't add the soy glaze from the beginning. You need to let the meat cook and brown first. Then, when it's almost done, brush the glaze on it. This way, you can make sure the meat is well cooked without being burnt.
This recipe results in 6 skewers, feel free to increase the number of ingredients when you serve many people.
Total time: 10 minutes
If you use this recipe, I guarantee your meal starter will run out instantly before the main course is ready. The reason is that these smoked salmon bites are so delectable and refreshing that anyone can enjoy them as they talk at the beginning of the meal.
This appetizer is extremely simple and quick to make. Regarding the cucumbers, chop them into 1-inch thick circles and chill them in the fridge. For the cream cheese layer, beat this ingredient with dill, heavy cream, and horseradish until they mix well.
Lastly, prepare a thin, bite-sized slice of smoked salmon for each bite. Assemble the dish by sandwiching the cream cheese mixture between the cucumber and the fish. Complete it with dill to balance the salmon taste.
You can make the dish in advance and keep it in the fridge until serving, but I recommend making it as close to the serving time as possible. That way, all the ingredients are fresh.
Total time: 30 minutes
This appetizer is also known as "Devil on a Horseback", a flavor-packed dish belonging to the Cajun culture. If you love spicy food, some bacon-wrapped shrimp Jalapeño poppers are the perfect way to start your meal.
When taking a bite, you will first meet the crispy grilled bacon with a smoky, salty, fatty taste. Then comes the hot peppers, the creamy Cheddar cheese, and chewy shrimp. Each bite comes bursting into your mouth as a feast for all senses.
This appetizer is also easy to put together and suitable for quick party preparation.
Follow this instruction to form a Jalapeno Bacon Wrapped Shrimp in the right order.
Total time: 28 minutes
These mini cheeseburger skewers recreate the same burgers you have eaten hundreds of times, minus the burger buns. It means the dish is completely gluten-free, which is great in case some guests are intolerant.
It's important not to leave out the pickle. It adds an acidity that balances other ingredients' fatty, meaty taste. In terms of serving, you can either drizzle some sauce on top of the skewers or pour the sauce into a small bowl for dipping.
This appetizer is so familiar yet so interesting, intriguing, and yummy. After all, you don't have tiny skewed burgers every day.
Total time: 20 minutes
In Italian, Antipasto means the dish preceding all others or the appetizer. Meanwhile, Tortellini is a type of pasta with a filling that contains meat, cheese, egg, and nutmeg. The marriage of these two creates a perfect pasta appetizer that no one can refuse.
Apart from Tortellini, the dish consists of salami slices, tomatoes, olives, Mozzarella cheese, and fresh basil leaves. It offers a combination of starchy, refreshing, creamy, and chewy foods to prepare you for the meal.
I would try to control myself with these skewers if I were you. Each holds a fair amount of food, and it's so delicious that you may eat too much of it and become too full for other dishes.
Those who want to tweak ingredients for Tortellini Antipasto skewers can refer to this instruction video.
Total time: 10 minutes
Greek salad doesn't have any meaty ingredients, making it a refreshing dish at the beginning of the meal. Instead, it comes with olives, tangy feta cheese, cherry tomatoes, and fresh cucumber. Each of them offers a unique scent and flavor.
This skewed salad is quite simple to assemble, but pocketing a few notes will help you master this recipe. First, don't use a thick skewer or cut the cheese too thin as it may break easily. Also, keep the cheese in the fridge until you use it.
Secondly, you should pick cucumbers the same size as the other ingredients. If you can only find larger cucumbers, chop each circle in half. Next, don't add salt to this salad because the olives and feta cheese are already enough for flavoring.
Total time: 20 minutes
Standing on a feta cheese cube, each skewer looks like a high tower of culinary art. The cucumber ribbons give this appetizer a fancy look, while the red shrimps and watermelon create a color contrast. It reminds you of summer and the beach.
You can place the cheese cubes at the bottom or switch them with watermelon cubes. These are solid enough to act as the base for the other ingredients. Lastly, you can sprinkle a little lemon zest on top of the skewers for garnish and extra flavors.
Total time: 57 minutes
This is a summer appetizer that's not only tasty but also flexible. You should first try following the recipe to see how it turns out, but you can also replace the veggies you don't like to enjoy the dish fully.
Plus, use pineapple pieces instead of zucchini slices if you want to toss in some Hawaiin vibe. At the same time, those who love a meatier skewer can freely swap a veggie for sausage. However, I don't recommend adding more meat as the meal starter should be light.
When making these kebobs, you can use metal or wood skewers. But you must soak wood skewers in water for half an hour, or they will burn when grilled. Metal skewers don't need this.
Here's a different take on Grilled Shrimp Kebobs, which adds pineapple to the dish.
Total time: 30 minutes
Pesto Tortellini skewers make an extremely simple site-sized appetizer, comprising only tomatoes, Tortellini, pepperoni, and mozzarella cheese balls. The pesto sauce completes the dish with its herby, salty, rich, garlicky flavors and grassiness of olive oil.
Regarding the pesto sauce, you can use a store-bought product for convenience or make your own if you have extra time. Anyway, this Italian starter will come out irresistible, especially for those who love the country's cuisine.
There's one note for you to ensure the best-shaped Tortellini pieces. When you mix them with pesto sauce, remember to be gentle in order not to break the pasta.
Total time: 45 minutes
This appetizer is hassle-free to make if you have pre-made tater tots. Yet, if you can't buy tater tots from the store, you can easily make some yourself by putting together potatoes, flour, olive oil, bacon, and spices. It's a fool-proof dish.
After 45 minutes or so, depending on whether you make your tater tots, you will get eight skewers loaded with cheese and packed with flavors. To be honest, it's not the most carb-conscious dish but will surely please even the pickiest eaters.
Place parchment paper under the skewers if you don't want to clean up a mess after baking these bites. It helps you prevent sticking and a dirty baking sheet.
Total time: 50 minutes
Honey Balsamic chicken is extremely flavorful, using several strong seasonings like paprika, salt, black pepper, garlic, and especially balsamic vinegar.
The last ingredient offers a complex mix of sweetness, molasses, and notes of fig, chocolate, cherry, and prune. Balsamic vinegar also gives you traits of the wood it matured in along with slight smokiness. It's so special that it's part of this appetizer's name, and you can't omit it.
It's worth noting that the heat when grilling is not consistent, like using ovens. Therefore, in addition to following the recipe, it's best to look at the chicken to adjust the grilling time reasonably.
Total time: 50 minutes (including 30 minutes of marinade time)
If you are looking for an Asian approach for your meal-starter, look no further than the chicken satay. This Southeast Asian dish is great for parties in summer.
The thing about Asian recipes is that they may intimidate you at first with their long seasoning lists. However, the more you work on them, the easier it gets. Eventually, you can even tell which ingredient is missing without looking at the instructions.
Chicken satay with Thai peanut sauce tastes the best when you serve it fresh from the grill.
Total time: 10 minutes (excluding chilling time)
This type of kabob can be a go-to fruit-packed appetizer for anyone, particularly vegans and vegetarians. You can serve these refreshing, exciting kabobs at the beginning of every meat-free party, and anyone can enjoy them.
The recipe suggests making fruit kabobs with berries, pineapple, and melons. Yet, you can replace these with other fruits available in the season. Yet, you should not choose too soft or juicy fruits as they can easily break when skewed.
Last but not least, don't forget to make the pear dip. A dipping sauce will blend all the fruits and enhance their flavors.
Total time: 1 hour and 30 minutes (including 1 hour of marinade time)
Grilled pork belly has been my no-brainer dish for a very long time. It's delectable, featuring crispiness of the skin, smokiness on the outside, and tenderness on the inside. Grilled pork belly also has a unique flavor of toasted fat.
This appetizer cannot be a success without lemongrass simple syrup. This marinade completes it by combining lemongrass, water, sugar, and cinnamon bark. It enhances flavors and levitates the smell, and lemon helps tend the meat.
As you go shopping for this recipe, remember that some parts of the pork belly have more fat than others. Depending on your appetite, you can go for a fattier part or a less fatty one.
Total time: 1 hour and 35 minutes (including 1 hour of marinade time)
This Japanese-style chicken dish is good in every way. It can be an appealing chicken appetizer, a side dish, or a complete main course. Either way, you will get several tangy, sweet, and sticky chicken skewers that will make your entire meal more enjoyable than ever.
If you want to save time and reduce the failure risk, you can use store-bought Teriyaki sauce. On the other hand, while the recipe calls for chicken breast, you can use chicken thigh instead. It has a different texture that some prefer to the breast.
Wondering how to grill Teriyaki Chicken Skewers? You should go through this instruction video.
Total time: 10 minutes
Caramel apple and brie skewers are nothing short of simplicity. Requiring no cooking, this meal starter or dessert with the appearance of caramel apples is ready within ten minutes. All you need is apples, dried cranberries, Macadamia nuts, cheese, and caramel topping.
There's only one step to making this appetizer. Chop the apple into bite-sized pieces, and skew them with cheese cubes. Then, drizzle the caramel topping and sprinkle on the nuts. It's so easy that even your children can help you.
Got a party to serve and too little time to prepare? Resort to caramel apple and brie skewers!
Total time: 30 minutes
One of the greatest things about beef is that you can serve it rare. I think it tastes the best since it's super tender and juicy. Meanwhile, red-miso paste offers saltier, more assertive, pungent characteristics to the meat.
If you like rare beef, you should make this dish before serving to ensure the desired texture. If you like the beer well-done, you can make it in advance and quickly reheat it to serve.
Lastly, it's your choice to serve grilled beef tenderloin skewers alone or with blanched green beans.
Total time: 1 hour and 15 minutes (including 1 hour of marinade time)
This first-rate recipe from Asia is another way for you to cook beef. Instead of red-miso glaze, you will now make a marinade with soy sauce, ginger, honey, salt, chili flakes, and pepper. Together, these ingredients form a pungent marinade for soaking the beef in.
You may want to take a few notes to produce the best result with this dish. First of all, cut the beef thin, which helps make it easier to chew and absorb the marinade.
Secondly, prepare the dish at least 1 or 2 hours before serving. The goal is to give the marinade enough time to penetrate the meat, enhancing its flavor.
Total time: 3 hours and 25 minutes (including 3 hours of marinade time)
Have you ever combined mushroom with pork? If the answer is no, you must use your first try on this delicious appetizer. It's basically mushrooms, and pork bites skewed and grilled with simple seasoning.
Apart from the two main ingredients, you can throw in onion cubes. They add a bit of sweetness and soft texture to this dish. Regardless, remember to soak it for 3 hours to achieve the best taste.
While Tuscan pork and mushroom skewers often work as a main course dish, you can always serve them ahead of other dishes. It still works; more importantly, it will seed excitement in your guests as they enter an exotic meal.
Total time: 35 minutes
Rainbow grilled veggies bring out a healthy, vegetarian treat for an appetizer. Not only vegetarians but also other people will enjoy these yummy kebabs.
If you don't have time, you can simply season the veggies with salt and ground black pepper. But if you are not in a rush, make an effort and whip up some balsamic sauce. It will make the dish much more flavorful.
Each vegetable in this recipe brings out its own nutritional value. However, you can omit one or two types you don't like or replace them with the ones you crave.
Check out how this chef chops veggies to make Rainbow Grilled Veggie Kebabs.
Total time: 35 minutes
These grilled pizza skewers are as flexible as their traditional counterparts as you can freely tweak the topping ingredients by replacing, decreasing, or increasing their amounts. For example, toss out the tomatoes and add more pepperoni if you are not a veggie fan.
However, unlike conventional pizzas, these skewers don't have cheese, but it shouldn't be a bummer. There are already many tasty ingredients for you. Simply grilled pizza skewers are one of the best meal-starters to put together in your kitchen.
Total time: 35 minutes
This must be the cutest appetizer you have ever seen. It consists of small pineapple and cheese cubes threaded with a tiny rosemary branch.
You may not like pineapple on a pizza, but I guarantee you will fall in love with this cheese-pineapple combination. While the fruit provides a refreshing, fruity touch, the cheese steps in with delicacy, creaminess, elasticity, and consistency.
Especially what levitates this dish's flavor is the coating, which comprises cinnamon, olive oil, salt, and honey. Roasting caramelizes everything and blends all the tastes to create an exotic outcome.
Total time: 1 hour and 10 minutes
This appetizer features a special sauce that caramelizes as soon as it touches the grill. To thicken the sauce and make it sticky, you must simmer it over heat and whisk it consistently during the cooling time.
It's worth noting that sweet sauce can easily burn when grilled. Therefore, don't brush the sauce on the skewers right from the beginning. Instead, grill the meat for 5 to 7 minutes, then add the sauce.
Total time: 20 minutes
Can you feel the natural, forest-inspired vibe coming from the leaves on each skewer? It features green and white colors, while the bamboo skewer adds a natural vibe. This top-tier treat with brie cheese is perfect if you are having a party in your backyard garden.
In terms of flavor, pear and brie cheese salad on a skewer is overall refreshing. It has the signature pear flavor, brie cheese fattiness, nutty walnuts taste, and a sweet and tangy touch of balsamic glaze.
When shopping for pears, don't choose the ones overly ripe. The pears should be ripe enough to eat but not too soft that it's sweeter than they should be.
Treat Your Guests With The Best Skewer Appetizer
My favorite skewer appetizers are those using fruits like the strawberry feta skewers, fruit kabobs, and pear and brie cheese salad skewers. They are delectable, easy to make, and refreshing, a great way to wake up my appetite for the main course.
However, the article introduces many more recipes for you, like the exotic bacon-wrapped shrimp Jalapeño poppers, the vegan rainbow grilled veggie kebabs, the cutest mini roasted pineapples, and the sweet sticky grilled chicken.
I hope through this article, you will find the right recipes to use in your next party's entree. Don't forget to read my notes carefully before working on any appetizer to ensure the best result.
Nutrition Facts
12 servings per container
---
Amount Per ServingCalories33
% Daily Value *
Total Fat 2.1g

4

%
Cholesterol 8mg

3

%
Sodium 106mg

5

%
Potassium 43mg

2

%
Total Carbohydrate 1.5g

1

%

Dietary Fiber 0.3g

0

%
Sugars 1.1g

Protein 1.5g

2

%
---
* The % Daily Value tells you how much a nutrient in a serving of food contributes to a daily diet. 2,000 calories a day is used for general nutrition advice.