Are you looking for sides for shrimp tacos to round out your Tuesday taco night? Well, you'll get plenty of options here!
Shrimp tacos are amazing in their own way, loaded with savory shrimp, avocado, and creamy lime slaw. Yet, in my book (and perhaps yours), the sides are equally important; without them, the taco night will never be complete.
So, why not add more flavors and textures to your Mexican-inspired dinner with some tasty sides? You may think that all the popular accompaniments for shrimp recipes can pair with shrimp tacos with no problems. But let me show you more interesting ideas to refresh your palate.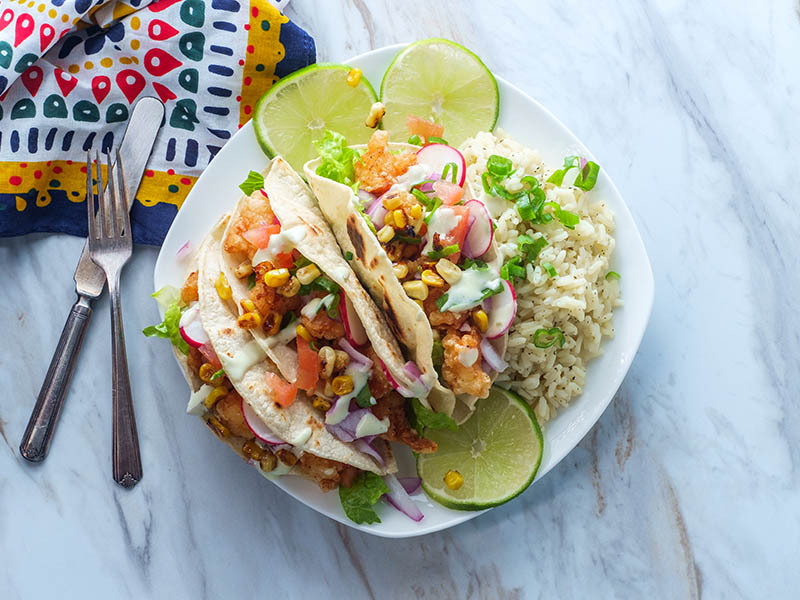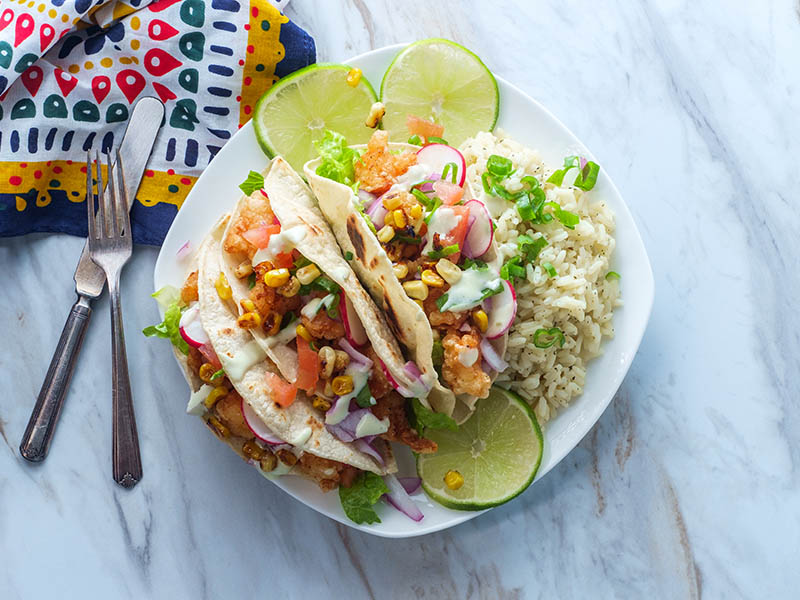 Sides For Shrimp Tacos – 15 Perfect Pairings
Whether you're in the mood for something light and refreshing like salads, wholesome and hearty like bean soup, or filling addictions such as elote and rice, this list will get you covered!
Total time: 10 minutes
Pico de Gallo means "beak of the rooter" in Spanish. It's a raw and fresh salsa, also known as salsa Fresca. Pico de Gallo is chunkier in texture than the classic as it always contains chopped or diced tomatoes. It also has less liquid and thus is less runny in texture.
This recipe only calls for 6 main ingredients and 10 minutes of hands-on time. Toss everything in one bowl, add a squeeze of lime juice to bind everything together, and season with salt and pepper.
There's virtually no secret here to whip up this chunky salsa. But, it would help if you let it sit for at least 10 or 20 minutes, so the salt can have enough time to fully accentuate the flavors of the veggies.
Pico de Gallo is a true multi-tasker, without a doubt! You can throw it onto your shrimp tacos, scoop it up with tortilla chips, and top it with burritos or fajitas, to name a few!
Plus, it can last up to a week when refrigerated. So, there's no need to worry about what you should do with your leftovers the next day (if there are any).
Few things can beat the authentic Pico de Gallo when paired with shrimp tacos!
Total time: 30 minutes
Here is the secret to help plain rice taste better than ever: Spruce it up with a flavorful mix of baby spinach, fresh tomatoes, pinto beans, garlic, and onions. Plus, cook everything in the chicken broth for an extra depth of flavor.
With just 30 minutes, you can whip up a tasty and healthy rice side loaded with carbs, nutrients, vitamins (from the greens), fiber, and protein (from the beans) in one single pot.
Feel free to turn this spinach rice into a vegan-friendly version by substituting chicken broth with veggies broth or plain water. Pair this bowl of fluffy rice with grilled chicken, seared seafood, or your shrimp tacos for the ultimate Mexican-inspired meal!
Total time: 40 minutes
This hearty soup hits the right spot for a cozy shrimp taco night. It's true comfort in a bowl filled with creamy black beans, tomatoes, onions, and aromatic spices.
The best part is that it is simple to put together, gets ready in 40 minutes, and works with canned beans as well as home-cooked beans.
To amp up the flavor and texture, you might want to throw slices of avocados, cilantro, queso fresco, a fresh squeeze of lime juice, etc., on top. However, do not skip the lime juice. It gives a citrusy touch that complements the creaminess and savoriness of black beans.
Is there anyone who says no to this hearty black bean soup packed with flavors, protein, and nutrients?
Total time: 20 minutes
This fruit salsa pairs perfectly with tortilla chips and shrimp tacos. It mixes pineapple, red bell pepper, red onion, and cilantro into a perfect summertime side dish.
For the salsa to live up to its name, you should choose fresh, juicy, ripe pineapple. Frozen or canned pineapples will disgorge plenty of water and turn the dish into a soggy batch that lacks the savory crunch.
In this recipe, the fruit is diced into smaller bits rather than processed in the food processor, and I always like to dice my pineapple and other ingredients finely. The salsa texture turns out much better this way, and on top of that, I can enjoy a little of everything with each bite.
While the pineapple is the star, I shouldn't forget jalapeno and lime juice. The jalapeno adds a kick of heat, and the juice gives the acidic touch that brightens everything up. Both will complement the flavor of the pineapples pretty well!
Total time: 2 hours and 10 minutes
Queso Fundido means "molten cheese" or "melted cheese" and is known as Mexican fondue. This hot dip made with gooey cheese is more than ideal to be a side for shrimp tacos or an appetizer.
This phenomenal Mexican side dish is unfussy to put together. Start with browning Chorizo, toss everything into the slow cooker, and let it handle the rest. In the end, you'll get a thick, gooey dip with just the right touch of spiciness.
Serve a flavorful skillet of Queso Fundido alongside your shrimp tacos, and your guests will dip away the very last bits in the bowl.
Total time: 30 minutes
Cilantro lime rice is a staple in Mexican fiestas. This one-pot rice is basically long-grain basmati rice cooked in plenty of lime juice, zest, bay leaf, onion, and garlic. The grain is bursting with flavors with some jalapeno for a touch of heat and cilantro for a pop of color.
This simple dish using lime may look simple and somewhat plain. But once you taste it, you'll add it to every shrimp taco you've ever made! It's also versatile to go as a base for burrito bowls nicely.
You can substitute white rice with brown rice. It's an equally awesome canvas for the other ingredients to shine through but a bit healthier than their white counterpart!
Make your own cilantro lime rice that can rival the Chipotle restaurants with this easy recipe!
Total time: 15 minutes
Red cabbage coleslaw is a healthier take on the classic coleslaw. Since the recipe is mayonnaise-free, it makes an ideal vegan-friendly side dish! Red cabbage is packed with more nutrients than the white variety, yet it still adds the same (if not better) crunch to your coleslaw.
This recipe forgoes the creaminess of mayonnaise and uses tangy and slightly sweet apple cider vinegar instead. So, if you're looking for something light and refreshing to top your shrimp tacos, this is a great option.
If refrigerated, this taco side can last up to 2-3 days without losing its savory crispiness. Plus, the longer you allow it to sit, the more pronounced the dressing in the salad, and thus the tastier it is.
Total time: 10 minutes
Fresh mango salsa can take your taste buds on an exciting ride. It's sweet, tangy, and salty, with tropical flairs complementing the shrimp tacos or other seafood tacos pretty well.
This fruity salsa calls for 7 simple ingredients, but you can add your favorite mix-ins to boost the flavor. The mango is definitely the spotlight here, which lends the dish a sweet taste and soft and juicy texture.
Yet, to make these tiny chunks of mango even better, toss in cilantro, garlic, and onions to diversify the flavor and texture. As usual, Jalapenos add a savory touch of heat, and lime juice gives the tang and brightness to the whole thing.
You'll love to serve this salsa with almost everything from shrimp tacos and salads to burrito bowls.
When the summer rolls in, go for this refreshing mango salsa instead of tomato salsa!
Total time: 15 minutes
This is my favorite riff on the classic coleslaw! The savory twist of Jicama, a Mexican-native yam bean, lends this taco side extra sweetness and crunch.
Packed with a slew of veggies, this slaw is incredibly refreshing, light, and crunchy. Red bell pepper, red onions, and green apples all come together for a flavor-packed tacos side dish. Jalapeno, with its seeds removed, adds just a touch of heat.
Jicama slaw is awesome when heaped on top of seafood tacos, including fish and shrimp versions. Or it can be a healthy side dish to round out any meal!
Total time: 15 minutes
Add Elote as a side dish to the next taco night so it can rival your favorite restaurant! Elote, also known as Mexican street corn, is a well-beloved Mexican side that has smoky, creamy, tangy, and savory elements all at once.
Char the corn on the cob to perfection before slathering it in a Mexican sauce, and finish with a generous dose of salty Cotija cheese crumbles. And voila, you've got an irresistibly delicious side for your shrimp tacos.
This recipe is incredibly suitable to make ahead so you can avoid last-minute fussing during your taco night. For the best flavor and texture, you should use fresh corn in season.
If you already have shrimp tacos, include some Mexican street corn for the ultimate Mexican-style meal!
Total time: 10 minutes
So whenever you want to play it safe or are short on time, this classic is always a welcome addition to your taco night. Savory, creamy, and perfectly flavored, Guacamole is awesome when served as a dip or a taco topping.
This Guacamole basically contains chopped tomatoes, onions, garlic, cilantro, and a simple mix of seasoning. It also has some lemon juice to add zing to the flavor.
Guacamole tastes the best when served right after it's made. The good news is you can whip it up in a snap, so put aside 10 minutes before starting your dinner for this creamy taco side.
Total time: 35 minutes
Cowboy beans or frijoles charros is a hearty recipe to put together, making it a burrito's favorite element for a classic Mexican meal. Tender pinto beans are slow-cooked in a savory broth of ham, bacon, chorizo, and onions flavored with a dose of spices.
This Mex-Tex starts with cooking chorizo and bacon over medium-high heat, adding ham, onions, garlic, and other ingredients, and allowing the whole batch to simmer. As simple as that!
This hearty soup pairs perfectly with shrimp tacos, chicken tacos, and many other Mexican delicacies such as shrimp Fajitas or Tostadas.
Whip up these hearty Charro beans to serve with your savory shrimp tacos, and you can call it a night!
Total time: 20 minutes
This popular Mexican street food is also known as Esquites – a nice balance of vibrant, fresh produce and flavorful cheese. It's basically another version of Elote but served off the cob and in the form of salad. So, there's no firing up the grill here!
Made with a handful of simple ingredients, each spoonful of Esquites is bursting with flavors: creamy, tangy, salty, and a bit spicy.
The key to nailing this side is to pan-fry the corn kernels until you get a nice char. Then, slather them (and other veggies) with a cheesy, creamy, lime-scented dressing.
Top with crumbled Cotija cheese to introduce the much-awaited creaminess and savoriness to the salad. Serve this side with all Mexican foods, including your shrimp tacos.
Total time: 20 minutes
If you want to introduce some greens and protein into your next Mexican fiesta, this salad hits the right spot!
Quinoa salad contains layers of texture that you'll always love to have in a salad. It's loaded with veggies, including corn, tomato, bell peppers, and red onions (and bonus, black beans). Then, everything is tossed in a zesty cilantro lime dressing to come together.
Crisp, refreshing, delicious, and filling in every spoonful, quinoa salad will effortlessly elevate your taco night to a whole new level!
Total time: 6-8 hours
This rich bean stew is one of the best ways to enjoy beans. It's a versatile dish, which can be savored on the side with tacos, go into a light salad, and become a hearty main on its own.
Frijoles de la Olla means beans in the pot and is also a staple in Mexican cuisine. It's basically dried pinto beans slowly cooked away with garlic, onion, and bay leaves (and a pinch of salt to taste).
Here is the ultimate tip for nailing Frijoles de la Olla: use a Dutch oven because the flavors of all ingredients can penetrate the beans deeper this way.
Have a taste of Frijoles de la Olla, and you'll want to make it again and again!
It's Time To Upgrade Your Taco Menu!
There are many ways to round out your shrimp taco night, but these sides are the classics (and thus, you can't beat them). They are versatile to go with other tacos and Mexican dishes as well, which means that they are likely to disappear in no time from the table!
Leave a comment if any of these recipes can help you spice up your shrimp tacos. As always, share these recipes for home cooks who are searching for ideal sides for shrimp tacos!
Nutrition Facts
10 servings per container
---
Amount Per ServingCalories16
% Daily Value *
Sodium 9mg

1

%
Potassium 28mg

1

%
Total Carbohydrate 3.6g

1

%

Dietary Fiber 0.6g

0

%
Sugars 1.7g

Protein 0.6g

0

%
---
* The % Daily Value tells you how much a nutrient in a serving of food contributes to a daily diet. 2,000 calories a day is used for general nutrition advice.