15 Best Sides For Short Ribs To Perfect Your Dinner In 2023
Are you tired of finding the best sides for short ribs since nothing meets your needs? Don't give up, because I am here to help you with this super informative title. So be rest assured that you will get what you want.
In particular, you will receive the 15 best accompaniments to pair with short ribs. Not only will you gain recipes, but you will also know their taste, how to make instructions, and many tips to conquer these sides. Also, I have inserted some video tutorials for your ease of following.
So have you felt my sincerity yet? If yes, please keep reading to discover many delicious dishes with me!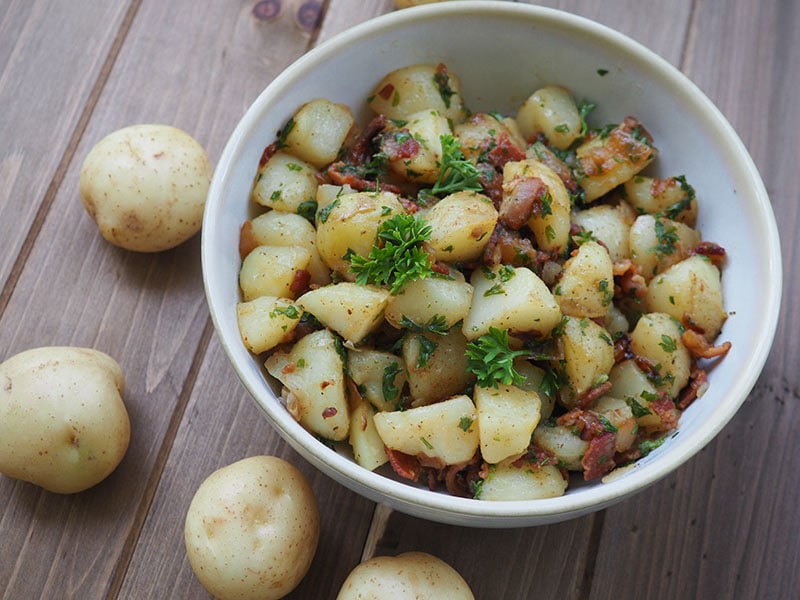 Some Outstanding Side Orders To Upgrade Your Beef Rib Meals
Your short ribs are ready. Your guests are about to come for a couple of hours more. However, you still have no idea what side dishes that are easy to cook and quick to prepare.
Don't freak out. Here is the list of 15 extra-tasty yet simple side dishes for the ribs, such as veggies or bread. So, let's get started!
Total Time: 17 minutes
Garlic sauteed asparagus is a perfect dish for your short ribs. The bittersweet taste of asparagus, followed by a tanginess of lemon juice, garlic, and olive oil, creates an outstanding dining experience when paired with fatty and meaty beef ribs.
In addition to great taste, this side is also easy to make. All you need to do is let everything cook in the pan and drizzle lemon juice before serving.
The lemon juice squeeze is critical for the best side since it has double benefits: perk up your dish with an additional lemony flavor; highlight the green color of the vegetables, making them glossy and greener.
Check how to cook healthy asparagus in one pan at home!
Total Time: 10 minutes
If you are a fan of Korean specialties, you should make spicy Korean coleslaw. The side dish is full of Korean taste with tangy, lightly sweet, and spicy flavors, thanks to the presence of Korean fish sauce, chili flakes, and sesame oil.
Imagine biting a rib with a bit of spicy coleslaw. All three flavors of fatty, spicy, and savory blend together to stimulate your taste buds, making you enjoy the main course at its finest and even want to eat more.
In order to make it in advance, you should separately store the sauce and the shredded vegetables in different containers and then mix them for fifteen minutes before serving the dish on the table. This tip will help have coleslaw fresh and crispy yet harmonious with the sauce.
Total Time: 45 minutes
Unlike other salads, German potato salad is best when served warm. Uniquely, the German-style side delicacy has a distinct flavor with the apple cider vinegar dressing instead of mayonnaise as in regular potato dishes.
People typically prepare the sauce with a frying pan. The sauce mixture includes shallots, garlic, vinegar, and some handy seasonings. This heating technique will double the flavor and allow the sauce to absorb the thick potatoes easier, making sure you have a rich salad for serving.
In addition, you can keep the German potato salad in the refrigerator if there are any leftovers. It will stay up to four days if stored properly in the airtight container. When needed, just microwave it until warm through, then your reheated dish is ready.
Total Time: 15 minutes
Mac and cheese is obviously a legend in American cuisine. It is also a flexible dish that pairs well with numerous main dishes, including short ribs. What's better, mac and cheese is everyone's favorite due to its trouble-free making process.
To make it more convenient, you may turn the dish into a mess-free one-pot pasta specialty by mixing the elements in a deep skillet until you get a prefer thick texture. Thus, mac and cheese will be a top-notch choice if you are in a hurry to serve your short ribs on the dining table.
Noticeably, you should use hand-shredded sharp cheese to make this delicacy, even though pre-shredded bagged cheese is also an option. That's because the pre-shredded cheese will not give you the stringy texture you desire as a hand-shredded one can.
Total Time: 45 minutes
Mashed potatoes are one of the most suitable side dishes for short ribs. They are creamy and buttery with a tangy hint of garlic. These potatoes also have a dense and thick texture that is perfect for placing next to your short rib plate, forming a decent individual-serving side dish.
To make it perfectly, you also need the following tips. Firstly, you should use a blend of buttery Yukon and starchy Russet potatoes to have the ideal texture, of which a 1:1 ratio is the finest.
Moreover, the extra-moist potatoes can destroy your dish's finely creamy texture. In this case, you should cut the potatoes into even pieces for quick boiling or dry the drained potatoes again to reduce the steam, hence preventing waterlogging.
On the other hand, you must remember to stir until just combined if you do not want your side dish to be tough and gummy, which is not how mashed potatoes should be. Do not forget to add salt to intensify the dish's deliciousness.
Let's make your homemade mashed potatoes with a chef!
Total Time: 10 minutes
This recipe makes for a delicate staple using cherry tomatoes to go with short ribs. The dish contains juicy tomatoes smothered in olive oil with lemon juice, garlic, and herbs. All of that adds up to a refreshing and herby flavor that eliminates the greasy feeling of ribs.
If you want to upgrade this side dish with more carbs, you can feel free to spoon it over the toast or bread. Or, if you love some additional sweetness and tanginess, adding in some raw corn will be a great idea. Also, you can treat it as a light snack by serving it along with ruffle chips.
Total Time: 20 minutes
If you find something sweet and light to serve with short ribs, fried carrots should be on the list. Not only do they taste great, but they also require no effort.
To make this delicious dish, you just need to cut the carrots into bite-sized pieces, season them with spices and put them in the air fryer to wait a few minutes before serving. Until done, you will find carrots crispy outside yet soft and tender on the inside with a load of herby flavor.
When using the air fryer for proceeding carrots, you should cut them into even pieces to have them fully cooked. If you do not want to waste time, you can replace regular carrots with baby ones. Both will perform the same results on the same recipe.
Total Time: 10 minutes
Cucumber salad will be a refreshing Asian complementary dish to your greasy ribs. The food consists of crunchy thin sliced cucumbers (of course) and onion coated with a sweet yet tangy dressing, showing the rightly diverse tastes of Asian cuisine.
Indeed, the cooking time for this dish can be less if you have skillful knife use because most of the 10-minute time is for cutting the ingredients. And after that, all you have to do is mix all ingredients up and finish. How can the dish be so quick and effortless!
However, there is one thing to keep in mind. It is not necessary to remove the skin of the cucumber as people often do when you handle cucumbers. Not only does the skin give you a perfect crunch, but it is also rich in nutrients like fiber and antioxidants.
Therefore, feel free to skip the peeling part if you make this dish. That also saves more cooking time and effort for you.
Total Time: 30 minutes
Cornbread is a savory and welcoming side dish to serve on the table with ribs end, especially when delivered in a large pan. Just picture everyone slicing and sharing these cornbread pieces with others. How warm and reunited can it be!
After all the steps, such as mixing the ingredients, pouring them into the mold, and baking, you will produce a beautiful cake with a golden and crumbly outer layer. Meanwhile, the interior will have a tender texture with a sweet scent and flavor.
For the best serving, let the cornbread rest for five to ten minutes. That gives your bread time to be firmer. In addition, the recipe only requires twelve to fifteen minutes in the oven if you bake cornbread in muffin tins. So, please pay attention to your batch of bread while baking.
Also, most cornbread recipes call for a regular oven without a fan. So, just to be sure, you should check the one at home. If you have a fan, review the owner's manual or contact the seller to turn it off.
Let's figure out how professionals make soft fluffy cornbread!
Total Time: 25 minutes
If you want to reduce the heavy spuds of mashed potatoes, polenta will be a superb substitute. Not only does this decadent still have the same creamy texture as mashed potatoes, but it also has lower fat and carbs, which is considered healthier.
With the origin of corn, this delight tastes somewhat corn-likely aromatic in companion with the cheesy flavor of Parmesan and a sweet hint of chicken broth. For that reason, the dish is suitable to scoop over the short ribs to add nutty and sweetness to it.
Besides, a big plus of this dish is that you can flexibly change the types of ingredients. For instance, you can use stone ground, medium ground, or coarse cornmeal to make polenta. Or you can replace the chicken broth with vegetable broth if you want a vegetarian version.
Moreover, feel free to use any milk you have at home with the same ratio. Instead of heavy cream, you should use a little less than the instructions to prevent greasiness. In general, all can tailor according to your purpose!
Total Time: 14 minutes
Sauteed mushrooms are right for your ribs if you are looking for a unique add-in flavor and texture. Specifically, these tiny veggies have a meat-likely firm yet juicy texture after being twice sauteed, bringing you the compelling experience when popping one in your mouth.
When starting to bite, the juice inside will overflow in your mouth, the inherent earthiness of mushrooms combined with the fatty and tangy afternotes of garlic butter lingering on your tongue until the end of eating.
Another advantage of this delight is that they are incredibly untroublesome to make. Simply start by preparing and drying mushrooms, then dry them in the pan until drained. After that, saute it again with butter, garlic, and oil. Once golden brown, sprinkle fresh parsley and serve.
If you desire more flavors, you can try a variety of seasonings, like Worcestershire, cooking wine, or soy sauce. They will soak up the mushrooms well and make them tastier.
Total Time: 40 minutes (Resting time: 10 minutes)
French bread is a delightful additional dish to short ribs. It especially pairs perfectly with the juice from meat. Just grab one and dip it into the rib juice. You can feel chewy and nutty bread comes after a rich and beefy flavor, setting up a plate full of nutrients and flavors.
Egg wash is a must during baking to have beautiful golden bread. Depending on your wishes, you can use egg white only or a beaten whole egg. Simply brush the egg wash on the loaves and bake. In addition, brush once again halfway through baking for a nice crusty.
However, French bread will be spoiled easily after a couple of days since it contains no preservatives. Therefore, if you plan to use it beyond two days, you should freeze it in the freezer. It will be available within two months with a plastic wrap cover.
Total Time: 24 minutes
Spanish rice is a noble replacement for white rice if you are bored with it. Instead of white rice's plain taste, you can use Spanish rice as a reliable recipe for partnering with tacos. These ingredients toast in a savory tomato sauce and tangy garlic, herbs, and paprika.
Another bonus is you can easily alter this tasty Spanish side dish. Feel free to add or replace any ingredients in the recipe. For example, use fresh tomato instead of tomato sauce or add finely diced veggies and spices in your preference to add extra texture and flavor.
However, not easy as it seems, this dish requires you to be observant, especially with the rice handle. First, you should pay attention to the amount of liquid and the time used to cook rice. Specifically, you need to increase or decrease the water depending on the temperature you set.
Also, avoid cooking the rice for too long if you do not want the whole food to be mushy. Besides, remember to do the rice toast step in the beginning until almost translucent to make sure overall cooked.
Check out the guide to cooking Spanish rice at home from A to Z!
Total Time: 35 minutes
Butternut squash soup is a delectable side to short ribs. Not only does it help eliminate the greasy feeling in your mouth, but it also helps support the digestive system after eating heavy food, thanks to its excellent fiber source.
Besides, this soup is also unchallenging to do with just some handy pieces of equipment like a pot, knife, and blender. To begin the making process, peel and cut the squash into 1-inch cubes accompanied by preparing other veggies.
After that, saute all the veggies and seasonings in the pot until soft and transparent. Then add the butternut squash to the sauteed mixture with vegetable stock and boil covered. Once the cubes are fork tender, turn off the heat, add coconut milk and blend into a puree before serving.
For the best visual, you can scoop the soup into the white bowl. Then garnish with fresh thyme and yogurt or coconut cream on the surface. If you are not ready to eat it, you can store it in the refrigerator to serve at an appropriate time. Rest assured that the soup will be fine.
Total Time: 15 minutes
White bean puree is a national side dish that everyone from babies to the elderly can eat and even like. That's because of three main reasons: the pleasant texture and flavor, health benefits, and ease of making.
Specifically, when eating a spoon of white bean puree, you will feel its taste nutty and earthy, bursting with lemony and sweet hints of lemon and stock. Thus, all the flavors combined will create a comfortable and close feeling, making anyone fall in love at first eat.
In addition, this super healthy delight has cannellini beans as a key ingredient. These beans are rich in fiber and protein, plus with excellent iron content. Thus, consuming this puree will help maintain healthy blood and boost your overall health.
Furthermore, a huge advantage of white bean puree is that it is simple to make. Just saute the onion and garlic to release the sweetness. After that, blend all the ingredients until the puree, and that is it! Super easy and quick!
So if you need something to treat healthily and quickly for the young and elderly, you should pick white bean puree. It will be a crowd-pleaser at your party.
It Is Time To Enjoy Your Short Ribs And Their Delightful Sides!
Congrats! You just have known all the best sides for short ribs and nothing that can stop you from enjoying them at their finest. But first, let's pick some recipes, grab some ingredients, and work on them. These side dishes will entirely highlight your delightful short ribs.
Do not forget to share your experience in the comment box after you have tried these. I would love to receive your good news. Also, please share this post with your friends and like it if you think it is helpful for your upcoming dinner party.
These actions of you will be strong support for me! Thank you, and I hope you will have a great time with your family or friends with these easy side dishes. Enjoy!
Nutrition Facts
4 servings per container
---
Amount Per ServingCalories120
% Daily Value *
Total Fat 10.7g

16

%
Sodium 4mg

1

%
Potassium 251mg

8

%
Total Carbohydrate 5.9g

2

%

Dietary Fiber 2.5g

8

%
Sugars 2.3g

Protein 2.8g

4

%
---
* The % Daily Value tells you how much a nutrient in a serving of food contributes to a daily diet. 2,000 calories a day is used for general nutrition advice.