It's not easy to find the best side dishes for pastrami sandwiches, one of the most iconic street foods in New York City. The taste of the sides has to balance and complement the rich flavor of the meat-based sandwiches.
The pastrami sandwiches first appeared around the 19th century and soon became a part of American street food culture. Their ingredients consist of pastrami (smoked beef brisket), rye bread, onions, and mustard.
Typically, the sandwich flavor is salty and peppery with a sweet citrus tang. It can vary depending on how the meat is prepared. Anyways, no matter how flavorful your sandwiches are, plenty of side dishes will go well with them, from Sauerkraut and coleslaw to even soups.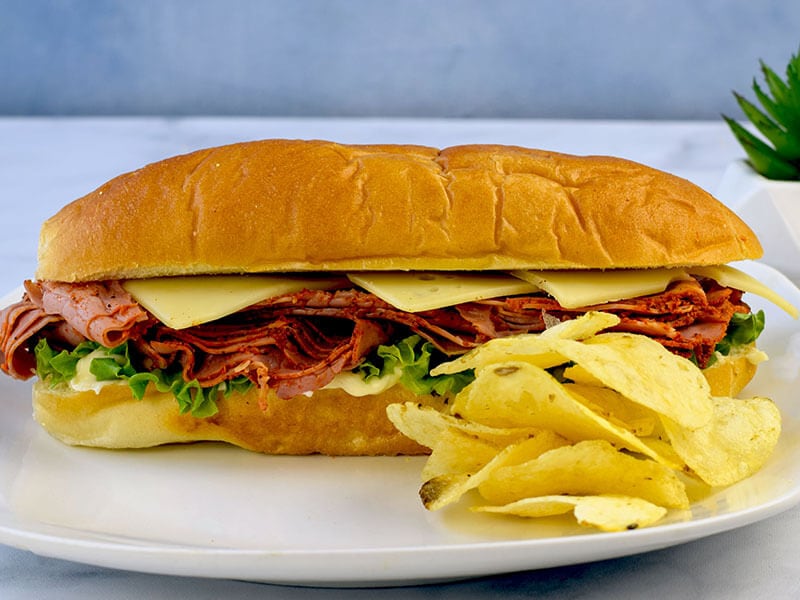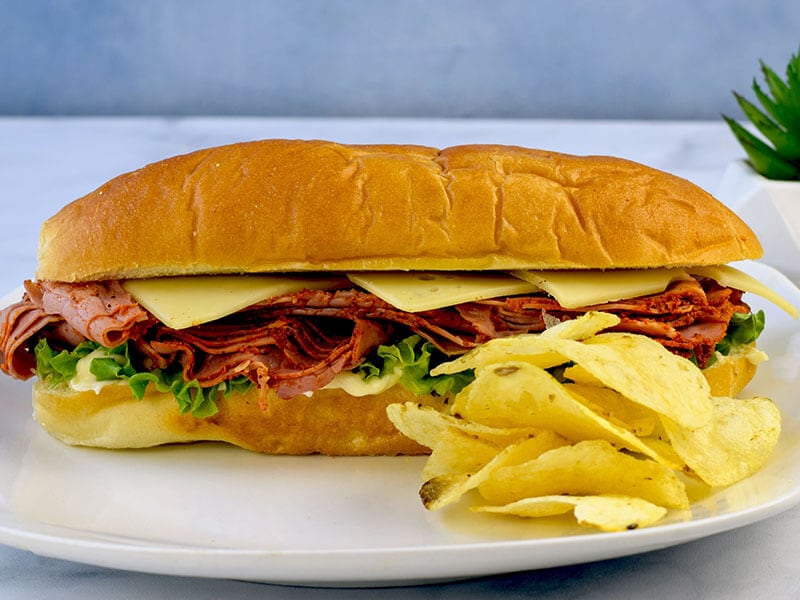 Must-Try Sides Dishes For Pastrami Sandwiches
Pastrami sandwiches are one of the easiest ways to enjoy classic American foods. They are simple, filling, and can go well with many side dishes. Check out the side dish ideas below to upgrade your favorite sandwich into a complete meal.
Total time: 5 minutes
The Russian dressing is meant for Reuben sandwiches (North American corned beef sandwiches), so it will taste well with pastrami sandwiches. The sweet acidity of this sauce harmonizes with any sandwich or salad, thanks to the white wine vinegar and ketchup.
The Russian dressing is a combination of onion, mayonnaise, ketchup, and white wine vinegar. And salt and pepper are here to taste. If you want to spice things up, some horseradish will work. Add pickle relish for a sweeter dressing.
The only knife work you're going to do is mincing the onions. After that, combine all the ingredients, and your Russian dressing is ready. Sweet, slightly sour, and creamy, this top-notch dressing fits perfectly with any sandwich or salad.
Total time: About 1 hour 15 minutes (not including the fermenting time)
Regarding side dishes for pastrami sandwiches, you shouldn't pass this name: Sauerkraut. With only cabbage and sea salt, you can make this famous sandwich side dish with minimal prep work and effort.
Sauerkraut is a German word translated to "sour cabbage", one of the most wonderful cabbage-related sides to accompany any savory menu item. It is a traditional German food by fermenting the vegetable with salt for a few days.
Your cabbage jar will stay at room temperature for 3 – 7 days in this recipe. After that, it can be stored in the fridges for about 4 – 6 months.
Talking about flavors, the longer the sauerkraut ferments, the sourer and saltier it becomes. Some say that Sauerkraut tastes like kimchi without the intense and spicy flavors. Moreover, this fermented food is good for your health. It's a great ally in fighting digestive problems.
Making Sauerkraut is simple but requires patience.
Total time: 1 hour and 15 minutes (including 15 minutes of cooling time)
You will never go wrong with potato salad or deviled eggs because they always tango well with any sandwiches. Today's deviled egg potato salad takes you to a new level of deliciousness. It gets the rich flavors from your two favorite dishes.
The egg yolk is spicy and zesty due to the Dijon mustard, pepper, and relish. At the same time, onions and celery add a crunchy bite. Best of all, the salad's flavor will improve over time. Allow it to chill before serving. It will give a depth of flavor to the dish.
Moreover, this side dish also offers many vitamins, minerals, and fiber. If you choose russet or Yukon Gold potatoes, remember to leave the skin on because they contain high nutrients.
This salad is a great make-ahead option. Prepare it in advance and let the salad stay in the refrigerator for 3 – 5 days. However, freezing is a solid no because it will ruin the salad's texture.
Total time: 1 hour and 40 minutes (including 1 hour of chilling time)
Needless to say, coleslaw is one of the most reliable pairings for sloppy joes and pastrami sandwiches. Who can say no to extra crunchiness in their sandwiches? This homemade creamy coleslaw consists of fresh cabbage, creamy mayonnaise, tangy sour cream, and Dijon mustard.
Although this recipe includes mayonnaise, replace it with plain yogurt if you prefer. Likewise, skip the sour cream if desired. Or, if you're in a pinch, go for the store-bought cabbage mixture. But remember, the pre-shredded slaw mix is often of low quality.
Cabbage contains a high water content, leading to a watery coleslaw. Therefore, salting the cabbage is a must. Salt the veggie and allow it to rest for about 30 minutes. Then drain the excess water and pat dry the cabbage before combining it with other ingredients.
Total time: 13 minutes
More fried food is on the way, and allow me to introduce this goodness: crispy onion strings. Fried foods with their crispness are a hit with your flavorful pastrami sandwich.
This recipe calls for two types of flour: all-purpose and rice. To add a punch of heat, try cayenne pepper. Also, opt for Spanish onions because they are sweeter and juicier than the regular ones.
Preparing the fried onions one hour in advance will save you more time to make other dishes. To reheat, toss them in the oven at 350°F, and they are ready to devour.
Total time: 12 minutes
There is nothing like fresh and juicy pineapples. But have you ever thought about grilling pineapple? Grilled pineapples taste differently with butter, brown sugar, and cinnamon. Not to mention, the grill marks are a plus for the overall look.
With only four ingredients and about 12 minutes of cooking, this will be your go-to side dish for many entrees, including the pastrami sandwich. Salted or unsalted butter is optional, according to your preference. Also, it's best to use brown sugar but go for whatever sugar is available.
Grilling steps up the flavors of pineapple when the caramelization leaves a beautiful brown glaze on the slices. The grilled pineapples are inherently sweeter and juicier, with a hint of smoky flavors. Also, the dish is low in calories, so it's good for weight loss.
Grilled pineapples will be a great side dish to your summer grill menu.
Total time: 55 minutes
Sweet, slightly sour, and punchy, this beet relish is all you need for a pastrami sandwich's side dish. You may have had all the ingredients on your hands, such as beets, apple cider vinegar, granulated sugar, and celery seeds.
The highlight of this recipe is that you will roast the beets in foil. Remember to rinse and peel the skin to remove excess dirt and grits. If you prefer the relish on a more sour side, go for ¼ cup of sugar and ½ cup of vinegar.
Fermented foods can last for a long time in your fridge, about a month or so. Apart from that, beet relish is a probiotic powerhouse. Probiotics improve gut health and have many other health benefits.
Total time: About 1 hour and 15 minutes (including 1 hour of chilling time)
When the hot summer hits, it's time to make this refreshing and vibrant Texas Caviar. It will give a nice balance that will pair perfectly with your meat-based sandwich. Combine black beans, corn, bell peppers, and more, then you will have a whole summer in one salad bowl.
The diverse flavors and textures of Texas Caviar will dance in your mouth. Feel the corn's sweetness, black beans' nuttiness, and scallions' peppery in every spoon. Not to mention, bell peppers and onions offer extra crunchiness. And lime juice will keep your salad fresh and bright.
Like any salad, it's best to give your Texas Caviar a chilling time for the flavor to meld. Keep it covered under cold temperature for about 1 – 24 hours. This salad walks on a blurring line between a side dish and a dip. Thus, serve it with your sandwich or pair it with tortilla chips.
Total time: 40 minutes
If you haven't figured out what to serve with pastrami salad, these air-fryer potato chips are always a safe bet. Fried chips often get a bad rap for the high fats, but this air-fryer version will be a game changer. It will be a healthier side dish that any kid and adult will enjoy.
Any potatoes will do, but I recommend low-moisture types such as russets or Yukon Gold. This popular air-fried side recipe uses olive oil, but avocado or sunflower oil is fine. In terms of seasoning, some sea salt and cracked black peppers are enough to create a robust flavor for your chips.
The cooking time depends significantly on the thickness of the potato slices, so try to cut them evenly. If the chips are undercooked, let them stay in the air fryer for an additional 2 minutes.
Air frying requires less oil, and homemade potato chips don't need preservatives. Therefore, you don't need to worry much about your waistline and health when consuming them.
Total time: 2 hours and 21 minutes (not including fermenting time)
Canned pickles are available at any store, but homemade brings a different vibe as a pairing to your favorite chicken salad sandwich at any time of the day. In addition, these salty and sour dill pickles are the perfect guilty pleasure to serve alongside your pastrami.
To make a perfect pickle jar, prepare cucumbers, organic sugar, vinegar, and sea salt. Cucumbers are a crucial part of this recipe so choose the best ones. The mini cucumbers with thicker skin, such as the Kirby variety, are best for cold pickling.
Fermented pickles offer many nutritious benefits, such as helping keep your body healthy. Cucumbers are also rich in antioxidants, vitamins, and dietary fiber. In conclusion, these pickles are safe and suitable for moderate daily intake.
Total time: 30 minutes
Crispy potato slices or pieces and sandwiches are a classic combination. But instead of regular Friend fries, why don't you shake things up with these Parmesan roast potatoes? They are less greasy and packed with cheese's umami flavor.
The recipe comes together with a few ingredients. Only oil, Parmesan cheese, potatoes, and some seasonings are enough. Also, sprinkle with some Cajun seasoning or taco seasonings if the salt and pepper are not enough to your taste.
The potatoes, Parmesan cheese, and seasonings stay in your oven at 400°F for 20 – 25 minutes. Remove the mixture from the heat until it turns golden brown and crisp. Allow the potatoes to sit for 5 minutes to cool down before breaking them and serving.
Double the recipe of these Parmesan roasted potatoes because you won't be satisfied with one batch.
Total time: 48 hours and 23 minutes (including 48 hours of refrigerating time)
If you've already made canned pickles, there is no reason you cannot try this flavorful recipe using cherry tomatoes. Besides, they're quick, easy to make, and will freshen up your meaty sandwiches.
For pickling, you will use fresh cherry tomatoes, garlic cloves, and rosemary sprigs. Also, you need a brine to preserve and flavor the vegetables. Its ingredients consist of white vinegar, black peppercorns, red pepper flakes, and a few more.
Remember that this recipe is for refrigerated pickles. Therefore, leave the jar in the fridge immediately after filling the pickled tomato with the brine. The pickled tomatoes will improve their flavor as they age, so let them stay under cold storage for at least two days before using.
Total time: 15 minutes
Crunchy, sweet, and salty, this tomato cracker salad is an excellent addition to your pastrami. Wait and see what unexpected results the duo of tomatoes and crackers will bring.
Apart from tomatoes and crackers, you only need mayo, salt, and pepper to complete this dish. The process is simple to make. Toss all the ingredients into a bowl and give them a good stir. Adjust to taste with salt and pepper, and your salad can be on the table now.
In addition, you'd better enjoy the tomato cracker salad immediately after finishing making it. The moisture from tomato juices and the mayonnaise makes the dish lose its original texture quickly over time.
To buy more time, remove the tomato seeds. Otherwise, spread the cut fruits on paper towels and let them dry a bit.
Total time: 54 minutes
While your pastrami sandwiches are already flavorful, this BBQ braised cabbage with bacon will bring more fun with its rich flavors. This salad is a delicious dish whether you enjoy it warm or cold, making them perfect for storing and making ahead of time.
Its basic ingredients include red cabbage, bacon, white onion, and barbecue sauce. To make this recipe gluten-free, choose your sauce carefully. The bacon has multiple uses in this recipe. After cooking the bacon, save the grease for braising to add a boost of flavor.
Sweet, salty, and smoky is the flavor explosion you get in the first bite. The cabbage gets sweeter as it cooks, while BBQ sauce adds spice with a smoky undertone. What's more, the bacon gives a hint of saltiness, and its grease enhances the dish's flavor.
Total time: 20 minutes
The pastrami sandwich is about meat, cheese, and other condiments. So why don't you serve fruit salads with the freshness and juicy bites that the sandwich is missing? This fruit salad with honey poppy seed dressing is so flexible that you can use whatever fruits you have on hand.
Take advantage of your summer fruits, such as strawberries, apples, or bananas. Sour cream or plain yogurt is equally delectable in this recipe. And the remaining ingredients are honey, lemon juice, and poppy seeds.
Prepare the fruit in one bowl while mixing the dressing ingredients. Drizzle the poppy seed dressing over the fruit and toss to combine. If you store the salad properly under cold temperature, it will remain the flavor for about 3 – 5 days.
Take the fruit salad with honey poppy seed dressing to the next potluck and wait for the crowd's reaction.
Total time: 35 minutes
If you intend to turn pastrami sandwiches into a complete meal, serve it with this tomato and basil soup. Also, the eye-catching colors from the reddish-orange soup and green basil leaves add a nice touch to your table.
This recipe needs tomatoes (fresh and sauce), onion, vegetable broth, and Italian seasonings. Regarding the taste, the soup is bursting with rich and deep flavors from herbs and vegetable broth. It's also tangy, sweet, and umami-rich from tomatoes and Parmesan cheese.
This soup is healthy for your health due to its many nutritious ingredients. Surprisingly, the amount of nutrients in Roma tomatoes is terrific. Plus, this soup is freezing-friendly. Therefore, prepare a big batch in advance and freeze it during weeknights.
Steal The Show With These Pastrami Sandwich's Sides
Pastrami sandwiches are easily made and portable, often present at potlucks or outdoor parties. Choosing the right side to become their delicious accompaniment will steal the hearts of the crowds.
So, have any recipes below caught your eye? Tell me your favorite ones. Or, if you know any yummy side dishes outside this article, comment and introduce them to other foodies and me. In addition, please hit the like button and give me a share on your social media. Thank you a lot!
Nutrition Facts
8 servings per container
---
Amount Per ServingCalories69
% Daily Value *
Total Fat 4.9g

7

%
Cholesterol 4mg

2

%
Sodium 225mg

10

%
Potassium 44mg

2

%
Total Carbohydrate 6.4g

2

%

Dietary Fiber 0.1g

0

%
Sugars 3.5g

Protein 0.3g

0

%
---
* The % Daily Value tells you how much a nutrient in a serving of food contributes to a daily diet. 2,000 calories a day is used for general nutrition advice.