16 Side Dishes For Curry To Spice Up Your Indian Meal 2023
Finding appropriate side dishes for curry is not challenging but also not easy at all. To save you more time and effort, I have rounded out a list of sides to pair with curries. Whether your curry is meat-based or vegetarian, there is always at least one suitable option for you.
Curry is a delicate Indian dish featuring a blend of spices and herbs, such as turmeric, cumin, or cilantro. Therefore, your job is to find suitable side dishes with compatible elements so that they can taste heavenly with curries.
From flatbread and raita to salad, these side dishes' purpose is to balance the heat of the curry. Pick one or try them all to make your Indian meal more diverse.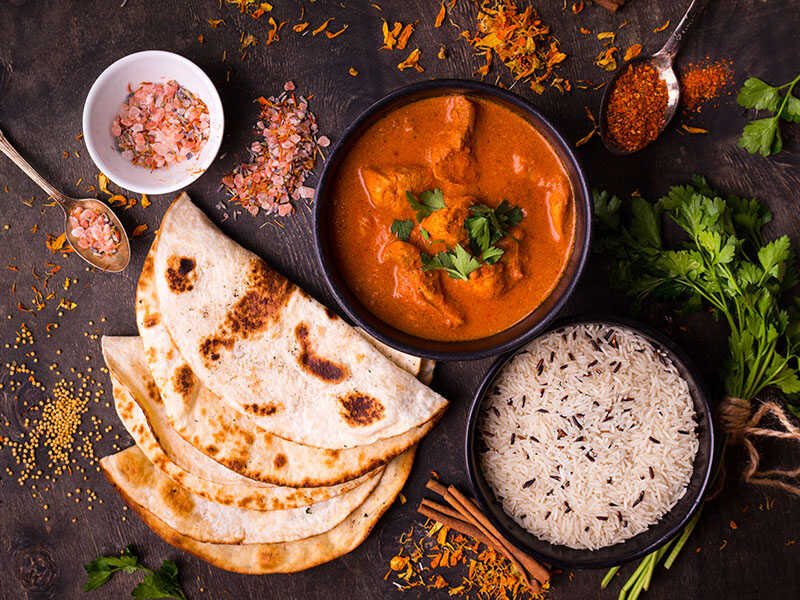 Complete Your Indian Meal With These Curry Side Dishes
Curries are tasty, but combining a suitable side dish will take the flavor game to another level. You will find both traditional Indian side dishes and some innovative ideas on the list below.
Total time: 10 minutes
Light up your Indian-themed dinner with this Kachumber salad. It's a classic Indian side dish with onions, tomatoes, cucumbers, and some other raw veggies. This colorful salad adds a crunchy fresh, juicy, and cooling flavor that works well with the hot and spicy curry.
Little do you know, Indian Kachumber and Mexican Pico de Gallo share the same ingredients. This Kachumber version calls for onions, tomatoes, and cucumbers, but other veggies will also work. Therefore, you could think this salad is an Indian version of Pico de Gallo.
The only knife work you do is chopping the ingredients into bite-size pieces. A julienne peeler will make this task easier. Another thing I have to mention is that this inviting vegetable side dish is oil-free. The dressing combines lemon juice with salt, giving the dish a piquant flavor.
Make the easiest Kachumber salad following this tutorial, and your side dish is good to go.
Total time: 15 minutes
Crunchy and fresh, this hydrating Thai cucumber mango salad is ready in about 15 minutes and is so fun to eat with your favorite curry. What I love about the dressing is that it's full of Asian flavors, thanks to fish sauce or sesame oil.
Like other salads, you have to combine all the ingredients, drizzle dressing over the mixture, and serve. Basically, this dish is gluten-free and vegan-friendly, which suits most people. However, to feed the little eaters, skip the Thai chili.
This Thai-theme dish is a flavor explosion, from sweet and slight tart to saltiness. Mint leaves a lingering cooling effect on your tongue, while Thai chiles add a subtle kick. All of the fresh elements of the salad are the right cut through the greasy and heavily-seasoned curry.
Total time: 1 hour
If you don't mind extra curry on the table, this spectacular plant-based side of curry lime fries with curry Sriracha mayo will make your taste buds sing. Delicious, fabulous, and out of the ordinary, these Indian-style fries win the classic French version in a heartbeat.
Compared to deep-fried fires, these oven-baked ones are healthier. Even better, you also use a drizzle of avocado oil for a better taste. It will take about 30 – 35 minutes to get your fries done. Don't overcrowd the slices; you'll need to flip them halfway through the bake time.
The curry lime fries are already delicious. However, give this curry mayo sauce a go because the spices perfectly complement the flavors on the curry chips. More specifically, the acid from lime juice will wake your taste buds, while refreshing cilantro offers a cooling condiment.
Total time: 18 minutes
Complete your Indian dinner night with these onion bhajis. Crispy, aromatic, and full of spices, this dish is everything you look for in standard Indian-style fritters. Plus, the stark contrast of crispy fried foods and greasy curry sauce is 100% addictive.
Bhajis literally means "fried vegetables" in English. It is a spicy Indian side dish with a lot of chilies. And instead of salting a finished dish, using a squeeze of fresh lemon enhances the overall flavor. This version also has cashew nuts for extra nuttiness and crunchiness.
Fried foods often get bad raps, but not with onion bhajis. This dish gives you high energy-giving carbohydrates and antioxidant nutrients, thanks to onions and other hidden veggies. If you want to save these bhajis for later use, they will last in the fridge for three days maximum.
Crispy and light onion bhajis will hit your palate from the first try.
Total time: 25 minutes
For chicken curries, turmeric rice is always an ideal accompaniment. The warmth and bright color of turmeric are unbeatable. Add the spice to this nutty rice side, and you'll have a beautiful and flavorful side dish that matches most curries perfectly.
Turmeric offers a bitter flavor and is slightly peppery to every dish it's in. While the taste is impressive, its bright golden color is just as remarkable. Even better, turmeric is present in curry and rice, making this combo more linkable.
The golden rice possesses signature features from turmeric, so it's warm, earthy, and aromatic. At the same time, this dish is packed with health benefits. Consuming it will boost your brain function, prevent heart disease, and aid inflammation.
Total time: 30 minutes
For a perfect midweek Indian dinner, this mushroom bhaji is another excellent pick. This dish comes packed with mushrooms, garlic, ginger, and other Indian spices. This side dish goes great with anything from vegetable curry to meat-based ones.
Freshness mushrooms are the ace card in this recipe. Button mushrooms, oyster mushrooms, or the Portobello types are the best choices. When roasting or pan-frying these ingredients, avoid putting in too many mushrooms. Leave enough room for their liquid to evaporate.
This dish can be relatively spicy due to the chili elements. Therefore, adjust them to suit your spicy food tolerance or nix the chili if necessary. To take the flavors further, switch vegetable oil with the unscented coconut or premium olive oil to fry the mushrooms.
Total time: 1 hour
Crispy on the outside and squishy-mushy on the inside, these Bombay potatoes are big in taste. This delicacy is a delight for vegans full of potatoes and traditional Indian spices. It's good enough to be the main dish, but it will complement any Indian meal, including your curry.
Regarding taste, these little beauties are full of curry flavor. Turmeric gives this dish a gorgeous yellow color and an earthy note. At the same time, black mustard seeds add their pungent, spicy aroma and flavor to the overall taste.
This potato dish is a great way to add more healthy vegetables to your curry dinner. Its earthy notes and slight bitterness add more flavors to the curry once you taste them together.
Other Bombay potato recipes involve boiling and frying, so this roasted version gets more healthy points. After a quick boil with seasoned turmeric water, the potatoes will move straight to the oven. This way, they will be the most flavorful crispy roast potatoes you'll ever make.
Total time: 1 hour and 35 minutes (including 1 hour of soaking time)
There is something unique about this Dry Moong Dal that you can't miss. Dal, or dhal, refers to an Indian side dish made with moong dal (split yellow lentils), cumin seeds, and chilies that will accentuate your curry meal.
The star of this dish, moong dal, has an unmistakable sweet, earthy and beany flavor. These lentils are used in soups due to their soft texture. However, behold to taste their deliciousness in this dry dish version too.
Caramelized onions are good but don't over-brown them because it will affect the overall flavor. Most noteworthy, overcooked dal is mushy, while undercooked one is bland and rock as stone. If you do it right, the perfect result should be a soft and thick dal with separated grains.
Curries aside, you can pair dal with roti to make a complete meal. Cut your roti into bite-sized pieces and eat them with dal. Alternatively, a hearty bowl of cucumber salad is also an excellent candidate. Otherwise, make a full combo with dal, archer (pickle), and raita.
Total time: 50 minutes (including 20 minutes of resting time)
Flatbread is a safe bet when you need something to pair with curries, and these Parathas are no exception. Flaky, chewy, and golden-brown, this tasty flatbread recipe is sure to please. The unleavened bread is made by roiling whole-wheat dough into layers and finishing with shallow frying.
Parathas' dough combines whole-wheat flour, salt, and oil. Making this dough requires delicate work. To make a lump-free dough, knead it thoroughly after adding the oil. Moreover, don't put too much pressure on rolling to avoid overworked dough.
Regarding serving, parathas always make the best couple with curries. Similarly, another way to enjoy parathas is by serving them with a cup of hot ginger tea. To eat it this way, roll the paratha into a tube and dip it into the hot tea for a quick breakfast treat.
Chewy and flaky; these parathas will knock your socks off.
Total time: 12 minutes
Ready in about 10 minutes, you can quickly whip up this jeera rice and take care of the curry pot simultaneously. Fluffy, non-sticky, and flavorful, this Indian cumin rice is a dream with butter, whole spices, and jeera (cumin).
A perfect jeera rice should contain separate buttery cooked grain. Secret solved – cook the spices in butter before adding them to the rice. Plus, keep in mind the ratio of 1:2 for rice to water. It will be 1:1.5 if you use a pressure cooker and 1:1.25 for the instant pot.
Most noteworthy, this recipe needs multiple cleansings of rice, at least three times for about 30 minutes. As a result, your rice can get rid of excess starch and prevent glugging. This dish is best when served hot; don't forget to garnish it with chopped coriander.
Total time: 1 hour and 50 minutes (including 1 hour of rising time)
This quick and easy samosa recipe is favored by most newbies in Indian cooking. Each piece provides a satisfying experience with a crisp outer layer and seasonal vegetable filling. What's more, you can enjoy this amazing air-fried side dish without guilt as it is very healthy and low in oil.
Traditionally, a samosa has flour, ghee (clarified butter), and salted crust. Meanwhile, the filling is a mixture of vegetables, including potatoes, peas, or more. People usually fry samosas in oil for a crispy texture. Yet this recipe requires no deep frying, only air frying to golden perfection.
To make these pockets, toss them in the air fryer with some oil and cook at 350°F for 20 minutes. Flip the samosa after 10 minutes to cook evenly.
Easy as it sounds, but make sure to cover the sides of the dough well. Otherwise, the samosas may leak their contents during cooking.
Total time: 10 minutes
This cucumber raita is a fantastic accompaniment to tone down the heat of spicy food such as curries, biryani, or kebabs. Cucumber, yogurt, fresh herbs, and spices are the key elements in making this wonderful side dish.
Yogurt is an indispensable ingredient in most Indian meals. Because Indian foods are often spicy, yogurt will help tone down the heat. Plus, cumin offers a cooling flavor, while chili powder adds a punch of heat. That's why this cucumber yogurt dip goes along with your spicy curry.
Lucky for you, this recipe offers more than one method to approach, so choose which suits you best. If there is excess cucumber juice, save the liquid and use it to adjust the yogurt's consistency. Remember to keep your raita cold until ready to serve it.
Light and refreshing, this easy cucumber raita will complement any Indian meal.
Total time: 40 minutes
An authentic Indian cuisine lover will understand the importance of Bombay chutney in a meal. Pairing the chutney with a sandwich and enjoying it with leftover curry will ensure zero waste in your kitchen.
Interestingly, Bombay chutney goes by other names, such as kadalai maavu chutney or besan chutney. It is a thick spiced gravy made with chickpea flour and spices. Making the chutney from scratch isn't that challenging, with a total time of 40 minutes and easy-to-find ingredients.
This Bombay chuckey offers a thick and luscious texture. Thus, it can be spread on a sandwich too. Pair it with plant-based dishes such as roasted veggies or vegetarian curry if you care about the calorie intake. In addition, rotis, naans, and white rice are great accompaniments.
Total time: 5 minutes
Even though it's not original, this carrot and coriander salad is a mess-free side dish to serve on your Indian-theme night. A mixture of grated carrots, shallots, fresh lime, and sesame dressing is a great way to sneak more vegetables into many oily meals.
Soy and sesame dressing brings an Asian twist. The contrast between the crunchiness of fresh veggies and the greasy gravy of curries will delight diners. A drizzle of honey will change this salad into a sweeter side. And to add a subtle kick, some red chili flakes are fine.
As a powerful source of vitamins A, consuming this salad only brings the best for you. Carrots are always a great ally to improve your eyesight. In addition, like other salads, the longer this dish sits in your fridge, the better its flavor becomes. But you'd better finish it within 48 hours.
Total time: 9 minutes
Regarding curry side dishes, Naan bread is a name not to miss. Quick, easy, and cheap, the naan bread is an excellent kickstart for novice bakers. With minimal ingredients, this yeast-free version is good to go under 10 minutes.
Naan is a traditional bread from India. This Indian version is flat-like, oven-baked, and usually softer than regular bread. Most ingredients are easy to find, such as flour, yogurt, baking powder, and salt. Commonly, naan will pair up nicely with curry, soup, or dipping sauce.
Since this recipe is yeast-free, you can skip the dough's rise time. Alternatively, baking powder will help your naan puff up. As a side note, your pan has to be hot enough before placing the bread in to ensure the fluffiest result.
This airy-perfect naan bread will bring joy to your palate with only four ingredients.
Total time: 20 minutes
Packed with cauliflower and potatoes, Aloo Gobi is truly a delight for vegans. This side is a delicious addition to complete a curry meal, but it's also filling enough to become a stand-alone dish. This Indian vegetarian stir fry is ready in 30 minutes, thanks to the instant pot's magic.
Aloo means potatoes, and the Gobi means cauliflower in Hindi. To keep things low carb or keto, replace the potatoes with another cup of cauliflower.
With this instant pot version, your Aloo Gobi is slightly wet because the pot prevents moisture from escaping. But a quick saute at the end will dry it up. If you love the Punjabi-style dry version, making it on the stovetop or with the air fryer is possible.
Refrigerating Aloo Gobi helps expand its shelf life to four days. Meanwhile, freezing is unsuitable as it will ruin the dish's flavor and texture through the later defrosting.
Have You Decided On Which Side Dish To Serve With Curries?
A perfect side dish intensifies curry's flavor and makes it more nutritious and beneficial. After reading through all the above ideas, I even got stuck in a dilemma because they all look equally delicious.
Most of the above dishes are not time-consuming, and their ingredients are accessible and economical. Especially the ground spices, they can last forever in your pantry. Take advantage of these benefits and treat your loved ones to the best Indian meals.
Please remember that I appreciate each of your comments and sharing. They keep me motivated and produce better content every day. So continue doing it and give me more feedback. Thank you!
Nutrition Facts
4 servings per container
---
Amount Per ServingCalories200
% Daily Value *
Total Fat 3.7g

5

%
Cholesterol 8mg

3

%
Sodium 7mg

1

%
Potassium 68mg

2

%
Total Carbohydrate 37.3g

13

%

Dietary Fiber 0.7g

0

%
Sugars 0.1g

Protein 3.4g

6

%
---
* The % Daily Value tells you how much a nutrient in a serving of food contributes to a daily diet. 2,000 calories a day is used for general nutrition advice.