18 Side Dishes For Chicken Tenders You Will Love 2023
If you are looking for ideal side dishes for chicken tenders, you have come to the right place because this list is for you. From easy recipes to more complicated ones, they are delicious, quick, and worth being in your next meals.
Chicken tenders, also known as chicken fingers, and chicken fillets are a savory food very popular at a dining table. Although they are incredibly tasty, an excellent side dish is necessary to boost the flavor of this delight.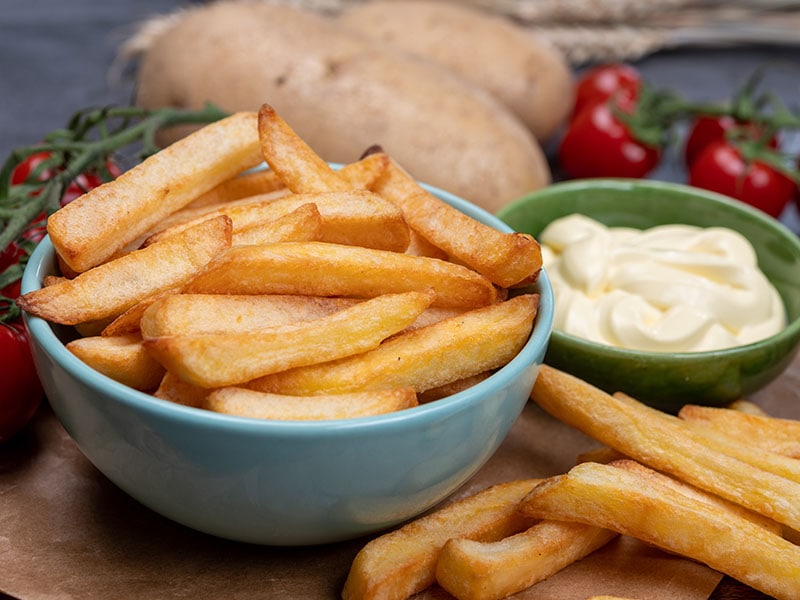 These Ideas Will Make Chicken Tenders Become A Complete Meal
There are a lot of confusing answers when it comes to what to serve with chicken or chicken tenders in particular. But this extensive list of suitable side dishes will give you a reliable and concise guideline. Check it out now!
Total time: 25 minutes.
What could go better with chicken tenders than a fried delicacy, right? Coming out with a signature golden color, these hush puppies notice the crunchiness outside and the tenderness on the inside.
This recipe is an excellent combination of simple ingredients, such as cornmeal, all-purpose flour, eggs (as a binder), and other things. The addition of cayenne pepper gives this delight a slight level of heat, making it more addictive.
If you don't use up this delicious treat, feel free to keep them in the fridge for about three days. Their shelf life can extend to 3 months when placed in the freezer. Remember to reheat your hush puppies for a few minutes before tasting.
Eager to make hush puppies at home? Check here for the answer!
Total time: 25 minutes.
Have you ever heard of fried pickles? If it sounds weird to you, you should try it today! Although many people often serve this delight as an appetizer, fried pickles will surprise your taste when paired with chicken tenders.
To receive the most required outcome of the food, you should pay much attention to the temperature of the oil. Please preheat it to 375 degrees F before frying so that the coating of breadcrumb and milk will be much crunchier.
When taking your treat out of the pan, quickly put them on a layer of paper towels, and the food is ready. I guarantee that the distinctive vinegary flavor from pickles can be the true star of your chicken tender feast.
Total time: 20 minutes.
Do you want to have a recipe that makes use of leftover apples for your upcoming course? Let this fried apple recipe give you the best solution. You can use many types of apples in the delicacy; however, the tart ones will work better.
The sourness of your apples blended well with the sweetness of brown sugar and honey yields a balanced-flavored side dish. This also plays an essential role in making this dish one of the brightest candidates to serve alongside chicken tenders.
Don't worry if you don't have an instant pot to finish the cooking process. A stovetop also gives you a side dish with a soft and thick texture. It only requires a little more cooking time than an instant pot.
Total time: 25 minutes.
When mentioning mac and cheese, what will you think of first? Delicious, creamy, and versatile, this side dish is not only easy to prepare but also one of the best sides for chicken tenders.
This dish is a combination of different dairy-based items, including cheddar cheese, butter, milk, and parmesan cheese. This perfect blend gives your mac and cheese a significant level of creaminess and milkiness.
Yellow mustard is also a flavor booster in this delicacy, providing your side dish with a distinctive tangy taste. You can also alter this ingredient with its counterparts, such as dijon mustard and spicy mustard.
Besides chicken tenders, mac and cheese is an ideal accompaniment to pot roast, meatloaf, and grilled burgers.
Learn how to make mac and cheese through this tutorial right now!
Total time: 35 minutes.
Coming out with a gorgeous caramelized appearance, these glazed carrots will tell you how delicious a chicken tender feast can be! Any types of carrots you have in the kitchen are suitable for this recipe.
This recipe begins with cutting carrots into same-sized chunks to ensure they are cooked evenly. After that, add the remaining ingredients one by one to your carrots and roast the mixture well.
Your results should be tender but still stay a little bit crispy. The roasting step plays a crucial role in making this recipe since it will help intensify the natural flavor of carrots.
With the inclusion of brown sugar, your dish will be very sweet. If you don't prefer this level of sweetness, feel free to decrease the amount of brown sugar to suit your appetite better.
Total time: 1 hour.
Nothing is healthier than an accompaniment full of vegetables to elevate your diet right? This recipe's intriguing feature is that you can choose any of your favorites, from eggplants and zucchini to mushrooms and red bell peppers.
What you need to do is prepare all the necessary vegetables. You have to slice several bell peppers, peel some onions, cut a few eggplants, and so on. When everything is well-prepared, you just need to brush them with olive oil and season them.
Cooking them on the grill is, of course, the final step to complete. You can keep these outrageously delicious veggies in the fridge for up to 5 days. However, remember to remove the juice from your dish before storing them for the best result.
Total time: 30 minutes.
Let's continue the list today with one of the exquisite sweet bread staples that fit any meat-based delicacy, cornbread. Combine all the prepared components until getting a smooth consistency, and bake your cornbread. It's even easier than you might think, right?
This cornbread features a creamy and fluffy texture with a savory taste. You can prepare a large batch of this side dish to use for a week when storing it in the fridge. Moreover, if you keep it in the freezer, its shelf life can extend up to 2 to 3 months.
Curious about the way to make cornbread? The instructions are here.
Total time: 1 hour 3 minutes (including 30 minutes of soaking time).
There is nothing to say about French fries since this dish and chicken tenders are true best friends. However, it would be much better to cook it with less oil by utilizing an air fryer, and here is my suggested way for you.
Using Yukon Gold potatoes is the best choice because their outstanding buttery flavor provides an unforgettable experience, even when you only pair French fries with simple spices. Parmesan, garlic powder, and some parsley are good enough to go with your side dish.
You can enjoy these air fryer-fried French fries alone, as the recommended flavoring mix is perfect already. However, serving this treat with your favorite sauce will be better.
Total time: 35 minutes.
It's fantastic to serve chicken tenders with a typical summer side dish! Not requiring any fussy ingredients, this grilled zucchini pasta salad is perfectly delicious, refreshing, and bursting with flavors.
Once tasting, you will feel the tanginess of red wine vinegar. Moreover, the flavor of this delight is intensified thanks to the addition of olive oil. Therefore, I don't encourage you to replace olive oil with other components.
Remember that the tenderness with a slightly crispy sensation of zucchini plays a vital role in achieving success in this recipe. So, don't overcook this summer ingredient unless you want to ruin your side dish.
Total time: 5 minutes.
It would be a crime to finish this list without mentioning a coleslaw recipe! This treat's balance of sweetness and tanginess makes it one of the best accompaniments to your chicken tenders.
This coleslaw can't get the best result without an utterly delicious dressing. To whip it up, you just need to combine apple cider vinegar, tahini (a sesame seeds-based condiment from the Middle Eastern), maple syrup, and other seasonings.
Whether you are practicing a vegan diet, a gluten-free diet, or a refined sugar-free diet, this plant-based delicacy will never let you down. Give coleslaw a chance, and it will make you want to try more and more.
Total time: 5 hours 15 minutes.
It's time to create your batch of this baked beans recipe at home to make your chicken tenders great again. You don't need to prepare any special equipment; just an oven and a simple casserole dish are enough.
While white pea beans are the soul of this delight, so you need to opt for those with the best quality. On the other hand, you should add spices and condiments based on the suggested ratio because this will help you have a mouthwatering plate of baked beans.
Although all the steps seem complicated, the result is so indulgent that it is worth your effort. Since baked beans are an easy pairing option for various main courses, you can reserve the leftovers for the next meal.
Making baked beans will be easier with this guide.
Total time: 1 hour 15 minutes (including 30 minutes of soaking time).
What if you don't have an air fryer on hand? Try this recipe of baked sweet potato fries instead. This food is not too different from previous French fries; their main distinction lies in sweet potatoes' pronounced sweetness.
The small tip to make your fries crispier after baking is you should cut them evenly in size and rinse in cold water before moving to the next steps. About the flavoring of the fries, I love using garlic powder, paprika, and black pepper.
These spices seem simple, but they can ultimately assist you in lifting the quality of your fries. Finally, this food needs 5 minutes to cool down and become crispier, so don't rush; just wait a little more before devouring it with your tasty chicken tenders.
Total time: 25 minutes.
How can a chicken tender meal be fabulous without pairing it with an excellent potato-based dish? Trust me, the starchiness and creaminess of this ingredient are the best way to bring your chicken tenders to a higher level.
Before making the salad, you should boil your potatoes first. Be mindful that it is necessary to cut the potatoes into uniform chunks and boil them in salted water for the best results. Moreover, you shouldn't cook them on high heat to prevent them from cooking unevenly.
Following a healthy diet, you can substitute yogurt for mayonnaise. Be comfortable about adding any other types of food, such as boiled eggs, bacon, and cucumber, to this recipe if this makes the salad suit your appetite better.
This guide will help make potato salad without difficulty.
Total time: 15 minutes.
As chicken tenders are usually oily, serving some sauteed veggies on the side is a great match. Among various other kinds of vegetables, green string beans, with their gentle starchy and neutral taste, are the top recommendation.
Before sauteeing your beans, don't ignore the steaming step since it helps your vegetables to be partly softened and shortens the primary cooking process later.
Besides, never forget the salt, pepper, and additional ingredients like lime juice and zest since these components can balance your side dish better.
On display, green beans should be bright green, which means you have perfectly cooked them, and the taste they offer will be the best. Enjoy your meals!
Total time: 40 minutes.
Well, I must admit that you can feature asparagus in various decadent entrees or as magnificent sides, as they always taste fantastic for accompanying chicken tenders. Furthermore, you may create a healthier dish with asparagus and alter the frying process into baking.
Trust me; the outcome is still great as the fries' exterior is crunchy and toothsome. More importantly, the baking method prevents your trimmed and thoroughly-coated asparagus from getting soaked with oil and becoming less attractive later.
Once eating, you can still feel the refreshing sweetness and the signature bean-like taste of these beloved veggies.
Learn how to make parmesan asparagus fries by following these steps.
Total time: 50 minutes.
These roasted rosemary garlic potatoes are the next recipe that you should take a look at. Although these roasted potatoes are slightly crispy on the outside, the tenderness inside will surprise your taste buds.
Because this delicacy is used as a side dish for chicken tenders, I suggest you keep the flavor mix simple with only rosemary, garlic, and pepper. Olive oil and butter match the aroma of those substances so well, making this delight more delectable.
It's not exaggerating to say that making this dish is only a child's play. You just need to season your potato chunks with prepared condiments. The final step is to bake your dish and wait for your results.
Total time: 34 minutes.
Who can resist something both appealing and palatable like this roasted Brussels sprout recipe? With a perfect golden brown appearance and a glittering effect from vinegar glaze, the veggie side dish looks like a masterpiece on a plate.
Being a common type of vegetable, Brussels sprouts' distinctive sweetness, nuttiness, and smokiness, along with their exquisite creamy texture (inside), raise the deliciousness of chicken tenders to a greater level.
I suggest using maple syrup for this dish. It would be your mistake to ignore this culinary delight because even vegetable haters will enjoy this combo.
Total time: 10 minutes.
What are you waiting for without spending only 10 minutes to have an ideal option which brings your chicken tenders to a new level? This homemade pesto sauce features a thick but smooth consistency with a characteristic green color.
While fresh basil gives your sauce a slightly peppery flavor with anise and mint notes, parmesan cheese provides your side dish with a fruity and nutty taste, making it more addictive and delicious than ever.
To make this pesto sauce at home, you should start with frying pine nuts in a pan until they turn golden. The next step is to put all the components (excluding olive oil) in a blender and gradually add olive oil until you achieve the desired consistency.
Pesto sauce is a great side dish for chicken tenders.
Diversify Your Chicken Tender Meals With These Ideas Now!
After walking through this article, I think you have found more than one ideal option to serve with your chicken tenders. Most of them don't require any fussy ingredients and are very straightforward to make. Give them a chance, and I assure you will love them.
If you find this list of accompaniments of chicken tenders useful, please comment below to let me know your thoughts. I will be happier seeing you share this post on your social media. Thank you, and I hope you will have a good eating experience.