17 Best Side Dishes For Catfish That You Should Try 2023
Some of the best side dishes for catfish are cornbread, fried okra, or white rice. But let's put aside those familiar dishes for now and welcome more changes with the new recipes below. I guarantee that they will not let you down.
Catfish is a staple on the dinner table in the Southern region of the US. When cooked, its flesh has a mild sweetness and a dense and moist texture. Like regular fish, there are many ways to prepare catfish, from frying and baking to grilling.
From cheese grits and corn maque choux to remoulade sauce, they are all a suitable match for catfish. And luckily for you, I know not one or two but more than ten side dishes to pair with your favorite seafood.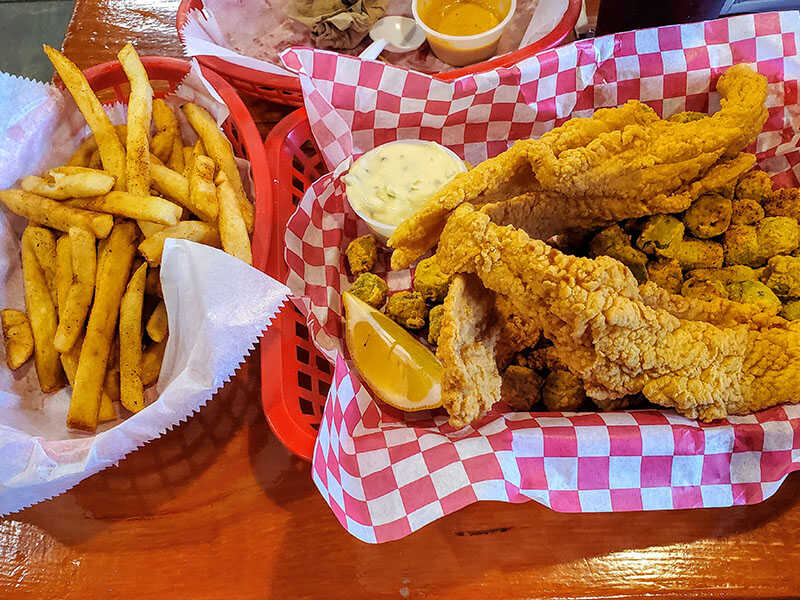 How Many Of These Best Side Dishes For Catfish Do You Know?
Below is a list of side dishes that go well with these sweet filets. Notably, some of them are Southern classics. Scroll down to check out and see how many familiar faces you already know.
Total time: 1 hour and 20 minutes
No matter the main course, a good bowl of rice will always go great with it. Therefore, this Charleston red rice will be a great start to kick off this side dish list. This sweet American South staple will be a great companion to any Southern meals, especially fried catfish.
Charleston red rice was initially brought to the US by enslaved Africans. The main components of this dish include long grain white rice, bacon, and tomato paste. Also, onion and garlic are traditional aromatics used for seasonings. If you like, add bell peppers for more textures.
After nearly an hour and a half of cooking, the result is satisfying with eye-catching orange color and tender texture. Once you taste it, you can sense an intense tomato and garlic flavor, with a bit of nutty sweetness and a gentle smokiness.
Total time: 40 minutes
Regarding comfort foods, these cheese grits are a lovely indulgence. You can also enjoy this staple with any main course and any time of the day. Cheese grits and the crispy fried catfish will make an authentic Southern-style meal.
Your cooking time depends on the grits type. Stone-ground grits take longer but will give you a better taste and texture. Meanwhile, quick grits are acceptable, but instant grit will be a solid no.
Also, go with any cheese you want, but the key here is to make sure you use a cheese that melts well. Also, to add more creaminess to the cheese grits, you can add half and half. Otherwise, sub to heavy cream or milk.
Keep things simple with only salt to taste, or add a blend of cayenne, smoked paprika, and garlic. Before putting them into the grits, let the cheese and cream come to room temperature. And be sure to stir the grits frequently to keep them from sticking to the pan.
Check out these cheese grits because they taste amazing.
Total time: 3 hours and 30 minutes
There's not much to say when you bust out this luscious crockpot staple to please the crowd. Crock-pot Mac and Cheese will bring more warmth and contentment to your table. I'm sure many stomachs will sing when it appears at dinner.
Slow cooker macaroni and cheese is a welcome change from the classic dish. Toss all the ingredients in the crock pot and return after 3 hours and 15 minutes to transfer the result to a serving plate/bowl. This simple "set it and forget it" method is suitable for busy weeknights.
The ingredients for this recipe are no different from other versions, such as milk, cheddar, or eggs . But you may want to choose hand-grated cheddar over pre-shredded cheese because it gives a better melting effect.
Go for any combination of cheese you like. Also, feel free to replace rotini pasta with elbow macaroni.
Total time: 31 minutes
Brighten your plate and palate with this corn salsa. This nutrient-packed side dish is simple enough for weeknight dinners and fancy enough for an elegant party. Besides, corn salsa will be a perfect topping for the grilled catfish.
Corns, bell peppers, onion, and lime juice are the perfect mix to create a crowd-pleasing dish without using meat. Plus, a hint of jalapeno adds a slight kick of heat. In this recipe, choose any corn, even frozen ones or leftovers. And be extra cautious when handling the jalapeno pepper.
Corn on the grill delivers extra smoky flavors to the dish. Yet if you are short on time, toss it into the oven. There are many options to garnish your corn salsa. Try fresh cilantro, avocado slices, black olives, or black beans. Even a dollop of sour cream would be delicious too.
Total time: 30 minutes
Let's put a classic note to the list with these homemade hush puppies. These balls are ready in about 30 minutes with a few pantry ingredients such as cornmeal, buttermilk, flour, and eggs. They are a popular side dish to serve with seafood, along with fried catfish filets or fried shrimp.
If you want to turn up the heat, add more spicy peppers. The Cajun seasonings also give a hint of spice. What's more, consider using peanut oil for frying as it has a high smoke point and can prevent off-flavor and odor development.
It is best to serve the hush puppies hot and immediately. Yet, if necessary, keep them warm in the oven for 30 minutes until serving. In addition, they can be made ahead of time and stay in the refrigerator for four days. Frozen hush puppies will last for three months.
You will never go wrong with these good old Southern hush puppies.
Total time: 1 hour and 15 minutes
While sheet pan catfish is on the table, a brilliant side serving of veggies will add more variety to your dinner. With a perfect balance of sweet and tangy, the balsamic glaze ties all the ingredients together and gives a dark rich color to the dish.
Make great use of any available vegetables. For example, this recipe opts for summer veggies such as zucchinis, eggplants, and bell peppers. Be flexible because this recipe has no exact measurements or fixed ingredients.
It's worth remembering that your cooking times vary based on the vegetables you choose, but they often need to cook for 40 to 60 minutes.
To start, you need to roast the chopped vegetables in the oven. Meanwhile, make the glaze by combining balsamic vinegar and honey. Add the mixture to the veggies and mix until coated evenly. Return the vegetables to the oven and bake until the sauce thickens.
Total time: 1 hour and 20 minutes (including 30 minutes of soaking time)
If you are a fan of French fries and potato wedges, perhaps you will also adore these parmesan potato pennies. Savory and crispy, these parmesan potato slices have everything you look for in a fried catfish side dish.
Once roasted, these potato slices stay crispy outside yet soft-fluffy inside. The keys to a crispy penny are to cut all the slices in the same size so they can get cooked evenly.
Plus, soaking the potatoes in ice water for 30 minutes will remove excess starch and ensure crispy results. Because too much starch can lead to unevenly cooked potatoes.
Garlic and Parmesan are a dynamic duo, adding so many flavors to these roasted bites. While garlic brings out a pungent taste and a salty odor, the Parmesan cheese coating delivers a nutty flavor to the potatoes. In addition, this recipe uses both shredded and grated Parmesan.
Total time: 25 minutes
Corn is a popular ingredient in the catfish's side dishes. But forget about classic corn on the cob or cornbread, and welcome this fried corn and onions side dish. This delicacy is easy to make and has a satisfying simplicity.
Anyone who has a chance to taste it will get hooked from the first spoon. The sweet buttery flavor enhanced by sprinkled salty will complement the naturally sweet flavor of catfish filets.
Because this recipe calls for fresh corn, the first step will be cutting corn off the cob. Then sautee the corn kernels and onion with butter over medium heat. Stir the mixture regularly until the onion becomes crispy. Add salt and pepper to taste and serve.
Total time: 30 minutes
Corn and other summer besties come together and create this fresh corn maque choux. It's flavorful, colorful, and everything you could expect for a beautiful catfish's side dish.
Maque choux is a vegetable side dish made from corn on the cob, onions, bell peppers, and tomatoes. With a bit of Cajun touch, the dish easily becomes a reliable choice to accompany surf and turf during your special dinner. Furthermore, it is a popular side dish in Louisiana.
Moreover, feel free to customize the ingredients to your liking. For instance, choose garlic clove over garlic powder, or use butter instead of bacon grease. Substitute frozen corn for the fresh one if you want. But remember to thaw it first and drain it well before using.
Most notably, to have a nice caramelization, cook over high heat. Thus, stir the contents occasionally to prevent burning and sticking to the pan's bottom.
This corn maque choux will be your new favorite corn dish.
Total time: 25 minutes
Whether a pollock, BBQ party or a picnic, you can always count on this fried potato salad. Therefore, serving it with your catfish filets, fried or grilled, makes sense. Don't worry; you're not going to bring a boring salad. Fried potatoes will make this side dish stand out.
This recipe is a great excuse to use your leftover fried potatoes or turn your favorite snack into a different form. All you have to do is toss the fried potatoes in a large serving bowl and stir with red onion, mayo, hard-boiled eggs, and the rest of the ingredients. Sounds easy?
Most ingredients are similar to the original salad so the taste won't be much different. Of course, the fries won't remain crispy after all that "toss and stir," but they bring a new twist to your traditional potato salad.
Total time: 25 minutes
If you don't mind extra grease to serve with fried catfish, these fried onion rings are for you. You can find this dish at any restaurant in the US, a great side dish that can go great with anything. No longer wait in line to order one because you can make these yummy fries at home.
Different types of onions carry different flavors, so choose carefully. Yellow onions are preferred because of their mild flavor. As for seasonings, this recipe uses paprika, granulated garlic, salt, and pepper. Alter granulated garlic to garlic powder if it's more convenient.
Panko bread crumbs set this version apart from other recipes, which use a beer batter to coat the onion rings. Panko is better at giving a crispier texture to the rings.
Even though the onion rings are already tasty and flavorful, double your joy by dunking them in ketchup, ranch, or any sauce of choice.
Fried onion rings never go out of style. Check how to make them here.
Total time: 15 minutes
A fresh cabbage mix bowl is an excellent support to any main dish. This Southern coleslaw is so simple that everyone can nail it. All you have to do is stir all the ingredients together until the shredded cabbage is evenly coated with the sauce.
You will have a flavorful and refreshing side dish with several simple ingredients in under 20 minutes. Of course, coleslaw isn't a food for dieting. But with 300 calories in total, you don't need to feel much guilt when enjoying this.
The best thing about coleslaw is that the longer you let the flavors settle, the richer the flavors become. Therefore, eat it immediately, or allow the coleslaw to stand in the fridge for a few hours before serving.
I promise this coleslaw's sweet and sour flavors will kick up your taste buds right away.
Total time: 20 minutes
It is wise to serve roasted asparagus alongside any grilled fish, including catfish. So there's no need to miss out on this roasted asparagus recipe with pine nuts and parmesan cheese. Plus, this veggie side is simple to make when it only needs a few ingredients to cook perfectly.
The asparagus will be tender and more flavorful when out of the oven because it's perfectly seasoned with salt. Pine nuts add a nice crunch bite, while parmesan cheese brings a rich umami-packed flavor. To finish the dish, a drizzle of balsamic glaze will tie it all together.
This roasted asparagus side dish is ready in a few minutes and is perfect for any potluck, BBQ party, or for your weeknight dinner. In addition, a balsamic reduction can last at room temperature for about one week, so make it in advance if you want.
Total time: 15 minutes
Lime goes great with numerous seafood dishes due to its zestiness. Thus, there's no reason you cannot include more lime–flavored foods such as cilantro lime cauliflower rice to serve with catfish.
Cauliflower rice is considered a healthy keto-focus side for traditional rice with lower carbs. Using store-bought frozen cauliflower as a shortcut or making it from scratch is up to you. Also, add extra cayenne pepper or chopped jalapeno if you prefer spicy foods.
Just like regular rice, cauliflower rice can take on any flavor. Consequently, when infused with fresh lime juice, cauliflower rice becomes a citrus delight to pair with sweet catfish.
Making a bowl of cilantro lime cauliflower rice is never this easy. Try it here.
Total time: 40 minutes
Try out some oven-roasted cauliflower steaks if you're searching for a solid side dish to serve with cod or catfish. Worry about the plain taste? These roasting flowers have a nice hint of smokiness and are flavorful, thanks to salt and other fine herbs.
Make sure to choose high-quality cauliflowers for the best results. Pick the cauliflowers with tight-packed florets and slightly heavy ones. Also, it's best to avoid cauliflower with spots, even though they are edible, and you can cut those spots off.
This side dish tastes not only pleasing but also good for you. Cauliflowers are an ideal source of vitamin C, fiber, and antioxidants. This means that these veggies aid in cancer prevention and brain protection. In addition to being low in calories, they are also good for your weight loss.
Total time: 1 hour and 5 minutes (including 1 hour of chill time)
Serving catfish without a dip is like eating a burger without fries. Therefore, I will introduce you to this famous remoulade sauce. This sauce is loaded with flavors and promises to rock any fried or Cajun catfish dishes.
Besides the essential ingredients, this recipe also steps up the game with an addition of hot sauce, pickle relish, and horseradish. These additions will bring extra tang, spiciness, and more authentic flavor to the sauce. Feel free to adjust the spices to suit your taste.
To save time, ensure that all the ingredients are on the table so that you can make the sauce faster. Using the same bowl to mix and store the sauce is best to cut the cleaning steps short. Also, allow your sauce to chill for 1 – 2 hours for the best flavor.
Total time: 35 minutes
I believe any Southern side dish will make a great pair with catfish, and this succotash is no exception. Tangy and sweet at the same time, this side dish includes many of your favorite ingredients, such as sweet corn, bacon, butter, or lima beans.
Originally, succotash comes from a Narragansett Indian word "msíckquatash," roughly translated to "boiled whole kernels of corn." That's why the main ingredient of succotash is always sweet corn with lima or shell beans.
The secret to bold and elegant succotash is the layers of flavors. Multiple flavors are added to this dish, from sweet corn and salty bacon to rich butter and nutty beans. Not to mention, tomatoes, bell peppers, and okra add beautiful brightness to the dish.
Are you ready to make succotash, a traditional Southern side dish for your catfish?
Complete Your Southern-Style Dinner With These Catfish Side Dishes!
Do you know what to serve with catfish now? Whether your catfish is grilled, baked, or fried, there will be a perfect option to serve on the side. And yes, it's always good to have recipes prepared in mind so you can use them immediately when needed.
If you have any tips or suggestions, don't be shy and share them with fellow readers and me. Plus, please know that your shares help this site grow, and I appreciate each and every one of them. See you next time!
Nutrition Facts
4 servings per container
---
Amount Per ServingCalories127
% Daily Value *
Total Fat 1.6g

2

%
Sodium 315mg

14

%
Potassium 449mg

13

%
Total Carbohydrate 28.3g

10

%

Dietary Fiber 4.5g

16

%
Sugars 6.9g

Protein 4.6g

8

%
---
* The % Daily Value tells you how much a nutrient in a serving of food contributes to a daily diet. 2,000 calories a day is used for general nutrition advice.