12+ Easy Ritz Cracker Appetizers To Try Now 2023
Do you know that you can make many easy Ritz cracker appetizers with that Ritz box sitting in your pantry for far too long? Yes, they are a thing, and you can find the most amazing and effortless ways to make them in this article.
These recipes can be a lifesaver when you have an unexpected guest come visiting or an urgent urge for some crunchy appetizers. Ritz crackers can be more than just a snack to enjoy occasionally. With some twists, they can be a great way to start your meal.
I believe that's enough praise for such a small yet versatile biscuit. Now let's get into the main part: how you can incorporate Ritz crackers into your meal effortlessly with some fun and unique takes.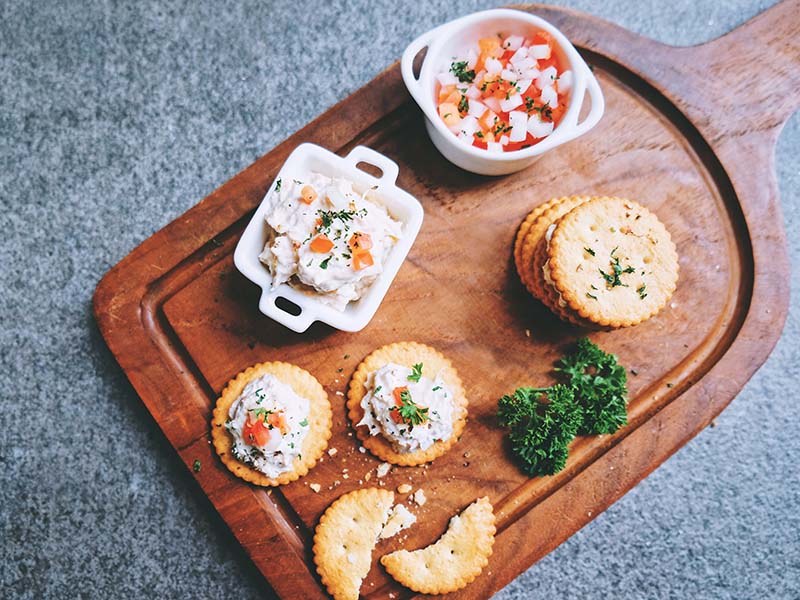 Learn How To Whip Up Easy Ritz Cracker Appetizers Without Breaking A Sweat
The flaky and buttery disc-shaped Ritz crackers with a sweet-salty taste make for a perfect base. They are already delicious on their own. However, you can improve them with all sorts of mouth-watering toppings and cooking methods.
Total time: 20 minutes
Do you like both strawberries and chocolate? Then I have good news for you: this recipe has both items. Plus, there's no cooking involved. All you have to do is prepare and assemble all the ingredients.
Besides the Ritz, you need baking chocolate, frozen whipped topping, strawberries, mint leaves, and chocolate bars. There are just 3 main steps: whisk the whipped topping, spoon the chocolate topping into a pastry bag, and top with strawberries, chocolate shavings, and mint leaves.
After less than 30 minutes, you get chocolate-flavor treats with strawberries and mint fragrant. You can serve them at any occasion, be it a birthday party, baby shower, bridal shower, etc. You simply must showcase this delicious recipe to the world.
Total time: 10 minutes
If you are wondering, BLT stands for bacon, lettuce, and tomato, which pretty much sums up what goes into this recipe. For a more enjoyable experience, the guide instructs you to utilize spring mix salad and mayonnaise.
As you can tell, the items required are all widely available and may have already been sitting in your pantry. All you need to do is chop and mix the bacon and salad into smaller portions. Then slap them all onto the top of Ritz crackers – today's star.
These mini bites can be fixed in a jiffy, yet the bacon, veggies, and cracker hit hard with their combined flavors. Unlike BLT bits using sandwiches, there's no meal prep required when using Ritz.
Total time: 20 minutes
The following cream cheese starter recipe screams holiday season, and the finished product surely will make your holiday spirits sing. The best thing about it is you can let the guests spread cranberry cream cheese to the crackers on their own, sort of like a simple buffet.
What's more, you need to get 3 ingredients, and you are 80% there already. The only thing left to do is spread the cream with a table knife and serve them on a plate. If you don't like cranberry, feel free to use blackberry jam, fruit jelly, jam, or preserves.
There's no better appetizer to share and enjoy at family get-togethers after a long year than cranberry cream cheese appetizers. 'Tis the season, after all.
Total time: 5 minutes
If you want an appetizer that is a perfect combination of sweet, salty, and savory, then you can't go wrong with these Ritz biscuits, Brie, and jam bites. The butteriness, smoothness, and sweetness of those three all combine nicely to create a balanced flavor.
The best thing about this dish is you can use any jam of your choice, especially spiced jam works well here. Brie and jam, sometimes it's the simple thing in life that gets you going, isn't that right?
To make such a simple yet tasty Brie cheese recipe, simply arrange the crackers on a tray, then top them off with Brie slices and a dollop of jam. If you want the meal to be creamier, add some more cheese. And that's it. The making process couldn't be simpler.
Learn how to fix several nice servings of Brie bites with cranberry jam in a snap.
Total time: 40 minutes
The recipe makes for a perfect appetizer for any game day. Besides the Ritz crackers, you need lots of cheese, milk, flour, butter, and noodles, all the basic ingredients for whipping up a Mac and Cheese. While you are at it, grab a pack of Coca-Cola, too.
The yummy and cheesy Mac and Cheese bites combined with refreshing cups of coke will surely excite everyone when watching the game on the big screen. You can be a little more creative and serve them with some fruit dipping or jam.
Total time: 5 minutes
Most of the recipes you've discovered so far have something on top of them, but this one has caramel-chocolate fillings stuffed in two slides of crackers in a sandwich-like manner. In short, it's a combination of Ritz and Rolo. Do I need to say anything more?
You'll be glad to realize that you have this combo in your notebook when in a pinch because the Rolo-stuffed Ritz recipe is oh so easy, simple, and quick to make. Just bake the crackers topped with Rolo candies. Afterward, top them with another slide of crackers and press down.
Explore how to make Rolo stuffed Ritz crackers with this easy-peasy cooking guide here.
Total time: About 10 minutes
Are you bored with all the sweet cracker appetizers and crave something with meat in it? Worry not, because the cheesesteak cracker appetizer fits the bill just fine. Plus, it also comes with some peppers, both red and green variants.
The dish is anything but bland, for sure. Let's have a quick look at the main ingredients: roasted vegetable Ritz crackers, slices of eye round roast beef cold cuts, and provolone cheese. You can imagine the saltiness, savor, and even sweetness you can get from this list.
There are two main cooking steps. They are so simple that even your kids can lend a helping hand. First, saute the peppers and onions until tender. Then, place everything onto the crackers and microwave the whole thing for 25 seconds.
Total time: About 5 minutes
Caprese is an Italian-inspired salad from Capri island, mostly consisting of tomatoes, basil, and Mozzarella cheese. People believe this dish got its name from its birthplace, Capri island. Incorporating this salad onto the Ritz crackers make for a light and refreshing recipe.
The sweet, tangy balsamic glaze combined with the cheesy Mozzarella and fresh basil will get you good. You should make a large batch of these because they will disappear so fast. It's a good thing you can make them in a snap.
You can make cracker Caprese without much time and effort.
Total time: About 5 minutes
Like any Ritz crackers appetizers, the making process is straightforward. The only cooking involved is broiling the shrimp coated in Sriracha, olive oil, garlic, vinegar, etc. It doesn't take longer than 2-3 minutes for you to cook them thoroughly.
Then you put guacamole, pineapple preserves, and the cooked shrimp on top of the crackers. For the last step, garnish the finished products with snipped chive tips for a nice touch of onion flavor.
Let's look at what makes them such fantastic shrimp appetizers. The magic is from a blend of spicy shrimp, garlicky Sriracha, sweet pineapple preserves, and creamy Guacamole. Everything comes naturally together, and the results are a balanced and sumptuous taste.
Total time: 10 minutes
The list of seafood you can put on Ritz crackers isn't limited to shrimp. Tuna salad provides a good amount of proteins and nutrients. Thus they are good to balance out the included crackers, which are not the healthiest treat.
The only hard work is whipping up the tuna salad, which is not difficult to achieve at all. Just gather the ingredients and give them a good and thorough mixing. The unsung hero here is the torn lettuce. A piece of this veggie helps bind the tuna salad and the cracker base.
This yummy seafood appetizer recipe uses the original variant of Ritz crackers. You can go for the same route if you want a no-fuss experience, as the base ones have a rich, buttery taste suitable for most toppings. Having said that, you can choose any other types and experiment with them.
Everyone can make tuna salad over crackers effortlessly with this cooking guide.
Total time: 40 minutes
You can trace back the origin of Sloppy Joe sliders to a cafe in Sioux City, Iowa. People believe it was a cook named Joe who invented them in 1930. True to the original spirits, the Ritz crackers variant consists of ground beef and Worcestershire Sauce.
The seemingly long cooking time can be intimidating. But fret not, because no professional cooking skills are required. You'll spend most cooking time simmering all items on low heat.
After making the fillings, simply put them in between two slides of crackers like a sandwich. If the savory and meaty stuffing is still not enough for you, consider putting in shredded cheese for that extra creaminess.
Total time: 15 minutes (Excluding 1 hour of chilling time)
If you have enough of those Ritz crackers with something on top of their recipes, you should take a look at these ball bites. You turn the Ritz biscuits into crumbs and coat them over the prepared cheese ball bites by the rolling method.
As a result, the olive-stuffed cheese balls have a nice bit of crunchy outer skin. It's a nice addition to the gooey cheese and grassy Oregano. Within 15 minutes, you can make about 20-24 servings to enjoy at a Christmas party or any social gatherings.
As the recommended chilling time ranges from 1 hour to overnight, you can make the bites ahead and store them in an airtight container the night before. Remember that they are best to consume on the following day, so don't leave them in the fridge for too long either.
Total time: About 10 minutes
Here's another beautiful canape dish to enjoy on holiday occasions alongside your loved ones. These colorful crackers are the best way to taste what springtime has to offer.
The recipe is highly customizable, as in you can layer the ingredients on crackers base however you like. Yes, you heard that right.
From a list of spreads, feel free to make any crazy combinations and top them off with any garnish of your choice.
Making these colorful treats is as simple as learning the alphabet. Here, I will write out what you need to do: purchase all the ingredients, lay out all of the items, and let your friends and family work their way to their ideal versions of Ritz cracker Canapés.
Then just gladly let you and your close ones enjoy all of your beautiful creations! There's fun to have in the making. It's a unique experience eating something you make with your own ideas and twists.
Explore the best way to recreate the delicious Ritz cracker Canapés.
Upstage Your Starter Game With These Amazing And Easy Ritz Cracker Appetizers
So what do you think about all of these extraordinary and easy Ritz cracker appetizers? Some include meat. Some have high customization, while others are sweeter. Don't be shy and comment below your opinions and preferences to surprise me and others with your ideas.
The saying "less is more" can be applied to most of the recipes I've covered above. Anyone can fix multiple servings of them with just a few shelf-stable ingredients. They all have their own beauty all the while being simple, easy, and budget-friendly.
Don't forget to share this article so it can help those who don't know the greater ways of consuming these tasty, buttery Ritz crackers. Plus, sharing this post may lead to you and other people going into the kitchen and making these recipes together.
Nutrition Facts
12 servings per container
---
Amount Per ServingCalories124
% Daily Value *
Total Fat 6.7g

10

%
Cholesterol 7mg

3

%
Sodium 292mg

13

%
Potassium 158mg

5

%
Total Carbohydrate 11.7g

4

%

Dietary Fiber 0.9g

0

%
Sugars 2.5g

Protein 3.9g

6

%
---
* The % Daily Value tells you how much a nutrient in a serving of food contributes to a daily diet. 2,000 calories a day is used for general nutrition advice.