27 Easy Recipes With Tortillas To Fuel Your Day In 2023
I wish I had discovered these easy recipes with tortillas sooner because they are so tasty, nutritious, and simple to prepare. This dish consists of diversified dishes, from traditional Mexican dishes like tacos, quesadillas, and burritos, to filling sweet treats.
Their fabulous tastes of veggies mixed with rich spices and meat are so flavorful that you can never get bored with them. When combined with the crispy and filling taco bread, these recipes become more hearty and delicious than ever.
My recipes are ridiculously easy and can easily impress everyone at the table. One thing to remember: don't forget to prepare the best side dishes for these fajitas, flautas, burritos, tacos, and other Mexican delights. Your extra effort will make your meal healthier and more fulfilling.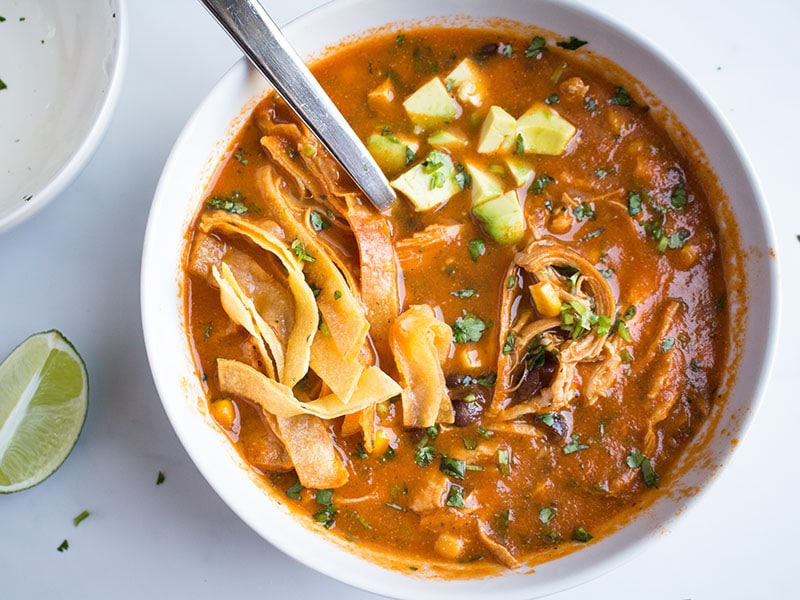 Enjoy The Essence Of Mexican Cuisine Through these Easy Tortillas Recipes!
Tortillas feature many similar ingredients to traditional bread, but it brings a much healthier texture with fewer calories and carbs. Their thin, small, and crispy slice also adds more beauty to this filling food.
Many of those recipes call for commercial tortillas sold in grocery stores to make the preparation more convenient and time-consuming. Now let me walk you through the list.
Total time: 20 minutes
Wraps are very easy to make and taste more delicious than sandwiches due to their rich and crispy tortilla bread. When added with more hot sauce, these buffalo chicken wraps represent a spicy and savory flavor.
This recipe calls for the Franks Buffalo Hot Sauce mixed with ranch dressing and mayonnaise for the base flavorings. They bring the wraps filling a super tender and creamy texture that will melt softly in your mouth.
High flexibility in the choice of ingredients is the thing I love about this recipe. You can use any kind of tortillas, hot sauce, and cheese you like since they all combine miraculously. Use garlic and onion powder to give chicken breasts a more subtle spicy undertone.
It's nearly effortless to make these buffalo chicken wrap. This video will tell you why!
Total time: 20 minutes
Migas is a Spanish word that can be translated to "crumbs." As the name suggests, it's a famous Mexican dish consisting of crispy corn tortilla strips soaked in whipped eggs and flavorful spices.
This easy Migas recipe makes things more simple by using the instant tortilla chip, jalapeno eggs, onion, and salsa for the flavoring. The slightly sweet and spicy flavors of salsa will bring this Migas onto another level.
A light, glistening, and fully scrambled egg texture is the key to a delicious Migas. Ensure that you don't overcook the eggs or make the egg's base turn brown. You can serve Migas in flour tortillas, but they don't deliver as high quality as fresh corn tortillas.
Total time: 15 minutes
Tortilla pizza is a go-to dish when you're feeling lazy. Its flavor is very simple but still sufficient for a yummy and filling breakfast. Plus, it takes only a few minutes to assemble the ingredients and bake this pizza. It's hard to demand an easier and more convenient food.
The great thing about pizzas is that you can garnish them with any favorite toppings to achieve a rich and satisfying flavor. Some red onions, veggies, spinach, parmesan cheese, and red pepper flakes would be perfect for this recipe.
The crispy browned crust combined with the pleasant sweetness of the tortilla flour pizza makes a great base for this dish. Spread on it some hot sauce for extra spiciness and mozzarella cheese for a creamy texture.
Total time: 2 hours and 10 minutes (including 2 hours of freezing)
Look at those beautiful fiesta pinwheels! They will make a gorgeous side dish for any fancy meal with the greenish tortillas swirls and creamy vegan cream cheese filling. Garnish the pinwheels with some red bell pepper, and they look more classy than ever.
This recipe is very healthy, with all vegan ingredients like fresh herbs, flour tortillas, and dried seasonings. You can use more toppings, like sun-dried tomatoes and artichoke hearts, for a more exotic flavor.
Ensure that the tortillas are really fresh so they won't crack when rolling. After assembling the pinwheels, cover them in plastic wrap and freeze them for a few hours to harden. You can serve the pinwheels hot or chilled, which both bring fantasy flavors.
Learn how to make vegan Fiesta pinwheels through this simple guide!
Total time: 30 minutes
How about an old-fashioned French toast tortilla served with strawberry compote for breakfast? Its satisfying flavors from sweet strawberry, maple syrup, and savory pork bacon will make you feel ecstatic.
The idea of mixing strawberries with savory eggs and bacon may seem weird, but their flavors just combine like magic in this recipe. With some added lemon juice and sugar, these creamy tortillas get so tasty that no one can resist.
I would love to enjoy these French toast Tortillas with ice cream for a pleasant afternoon tea break. If you don't have strawberries, use the other kinds like blackberries, raspberries, or blueberries.
Total time: 4 hours and 30 minutes
This slow cooker chicken tortilla soup tastes so special with its delicious Tex-Mex flavor from Picante sauce and condensed cream. It's an ideal recipe for those looking for an easy and comforting dish on cold winter days.
The canned condensed cream gives this soup a super creamy and dense texture with a bright yellow color. The added shredded cheddar cheese also brings an extra buttery taste that well complements the soup's sweet and filling flavors.
Of course, you need the corn tortillas strips along with some rich veggies and chicken breasts for this recipe. Keep in mind that you have to use boneless chicken breasts and shred them into tiny pieces before adding to the soup.
Total time: 10 minutes (plus 10 seconds of cook time)
Churro is a popular snack in Latin American countries and Mexico, which can be served as a dessert, snack, or even breakfast. This recipe replaces coupe pastry in the original version with flour tortillas for a more filling and sweet flavor.
These banana churros are briefly fried for a crispy texture with a beautiful golden brown color. They are filled with fried bananas, giving a satisfying blend of sweet and organic taste. Save a little Nutella and strawberry for the garnishing, and you'll have a heavenly snack.
It surprised me that the churros take only a short time to fry. You can secure the churros with a toothpick and flip them easier when frying. Finally, remove the toothpick and soak the churros in the cinnamon sugar mixture for extra sweetness.
Total time: 40 minutes (including 25 minutes of baking time)
This classic Mexican Tex-Mex dish possesses a bright and colorful appearance that reminds me of real firecrackers. Its classy look and delicious taste are perfect for celebrating New Year's eve or special occasions.
Its vibrant reddish texture comes from hearty ingredients like ground beef, black beans, and diced tomatoes. Scoop out the fluffy casserole filling, and you will see the delicious base of condensed mushroom soup.
If you love spicy foods, the powerful spiciness from chili powder and the mild sweetness of cheddar cheese will make you really happy. Another thing I love about this casserole is that you can make it ahead of time and refrigerate it for later use.
Total time: 25 minutes
The vegan black bean burritos are a delicious and healthy dish made of tomato, white rice, tortilla flour, and black beans. These ingredients are both tasty and inexpensive, making them a perfect filling for vegan Mexican burritos.
Inside the crispy burrito is a creamy and flavorful filling. The black bean and white rice are seasoned with sea salt and chili powder for a super spicy and savory flavor. The burritos taste even better when adding vegan cream cheese, salsa, and sour cream.
This recipe works well with both white and black wine. You can also use canned black beans to save time in preparation. I recommend you add more veggies like avocado and shredded lettuce to the filling to make it more delicious.
Total time: 45 minutes
The shredded chicken Tinga mixed with green chiles, chipotle peppers, and veggies is the best filling for these Mexican Flautas. The ingredients come together like magic in this dish, making it a perfect appetizer for fancy parties and weeknight dinners.
The tortillas deliver a crispy and crunchy texture with a spicy and cheesy flavor from the shredded chicken filling. You can serve chicken flautas with sour cream, guacamole, and shredded lettuce to achieve the tastiest flavor.
You can microwave the tortillas first to make them more pliable for preparing this dish. Another tip is to spear the Flautas with toothpicks so they won't lose the roll shape when frying.
This simple instruction for making chicken Fajitas is so relaxing to watch!
Total time: 25 minutes
I prefer simple and delicious desserts to celebrate special holidays, and this apple pie taquito is my go-to dish. It's super crispy and sweet with the filling apple pie assembled in the taquitos form.
This recipe calls for very few convenient ingredients like apple pie filling, tortillas, and sweeteners. The caramel syrup and butter added to the filling bring a satisfying blend of buttery and sweet taste to each bite.
Meanwhile, the taquitos are coated with cinnamon sugar, giving a decadent undertone. The extra cinnamon also boosts the fruity apple pie flavor and adds more complexity to this dish. You can serve the taquitos with caramel sauce or your favorite toppings.
Total time: 20 minutes
The chilaquiles verdes is a simple and delicious Mexican dish that represents the classic traits of this country's cuisine. It consists of fried tortilla strips tossed with cheese, fresh veggies, and fried eggs.
The crispy fried tortilla strips are slathered in salsa and enchilada sauce, giving an incredibly spicy and savory taste. If you cannot eat spicy food, then feel free to use your favorite sauce for the flavorings.
This recipe only adds a fried egg to keep it simple. The fried eggs should have a crispy texture with the runny yolk in the middle. You can serve the chilaquiles Verdes with meat and extra veggies like beans or cactus for a more yummy and nutritious meal.
Total time: 30 minutes
Quesadilla is another famous Mexican corn tortilla filled with cheese, meats, and flavorful spices. If you love the delicious taste of shredded chicken breast in the slow-cooked tortilla chicken soup, this dish won't let you down.
The main fillings for these fryer Quesadillas are bacon, cheese, and especially salsa verde chicken. It's basically chicken breast mixed with green salsa, giving a super tangy and tasty flavor.
These fryer chicken Quesadillas are all about their crispy and crunchy texture. They can be enjoyed with a little green onion garnishing and light sour cream for a healthy and convenient snack.
This is the only instruction you need to make the mini air fryer chicken Quesadilla!
Total time: 16 minutes
I discovered that sweet potato tortillas make a perfect ingredient for burritos, quesadillas, and enchiladas with their super sweet and tasty flavor. Within only 16 minutes, you can prepare a healthy and nutrient-packed snack. It's also an ideal dish to make using leftover sweet potatoes.
This dish is ridiculously simple with only two ingredients: whole wheat flour and sweet potato. The tortillas are finely fried without using any oil, giving them a super soft and tender texture. The recipe also works with potatoes, but I don't think it brings a delicious taste.
These sweet potato tortillas can last for many days in the pantry. You should cover the fried tortillas using a clean kitchen towel to retain their soft texture. I have tried filling the tortillas with some veggies mixed with shredded meat, and they tasted so amazing.
Total time: 40 minutes
The classic Mexican Enchiladas stuffed with white chicken and topped with spicy chili sour cream sauce make the best dinner ever. You will fall in love with its creamy and soft texture combined with the milky-white color of cheese and sour cream.
The creamy Enchiladas are garnished with fresh cilantro, diced green chiles, and thin lemon slices. Add fresh veggies like diced avocado or tomatoes, and the dish looks perfect for a classy party.
You can eat the enchiladas as the main meal or serve them with Mexican rice and beans for a fuller culinary experience. If you prepare it in advance, wrap the Enchiladas in an airtight container before refrigerating.
Total time: 45 minutes
My mood instantly lights up every time I see this Huevos Rancheros breakfast bowl. It possesses a vibrant and colorful texture with familiar ingredients like turkey bacon, fried eggs, and veggies.
Similar to the other breakfast bowl recipes, Huevos Rancheros is full of nutrients and savory taste. The protein-packed black beans combined with healthy veggies like avocado and hash browns can make you full for the whole day.
The avocado chunks will turn brown when exposed to the air for a long time. You can prevent this phenomenon by garnishing them with lemon juice. It will keep the breakfast bowl fresh and tastier with a delightful sour flavor.
This short guide will show you how to make the tastiest Huevos Rancheros breakfast bowls!
Total time: 20 minutes
You can stuff the corn tortillas with basically everything, from vegetables to savory meat. But how about some leftover meatballs in the pantry? These meatball Quesadillas will make you feel good with their delicious taste and filling texture.
The frozen meatball still delivers a good taste long as it is cooked. Of course, the sauce will elevate the flavor of your already superb quesadillas. This recipe calls for marinara or spaghetti sauce for the best flavor, but you can definitely use your favorite one.
The Quesadillas feature a cheesy and creamy layer from a ton of mozzarella cheese sprinkled on the tortilla flour. If you don't have mozzarella cheese, any kind of store-bought or grated cheese will work.
Total time: 20 minutes
Even on the busiest weekdays, I never skip breakfast because it's the most important meal of the day. With these simple and tasty make-ahead freezer burritos, you will never have to rush to work with an empty stomach again.
The burritos are full of nutrients and flavors from brown rice, gooey cheddar, and black beans. The earthy and nutty taste of brown rice combines so well with the soft and creamy black bean's texture.
These two ingredients will soak up the cheesy and fatty undertone of cheddar cheese, giving each burrito a satisfying burst of flavor. Ensure that you fry the burritos until crispy and let them cool before freezing, or they will become soggy.
Total time: 20 minutes
Is there a dish that looks like a pizza but resembles the tacos' flavors? This skinny BBQ chicken Tostada is the answer with its savory taste and beautiful appearance from chicken, veggies, and Mozzarella cheese.
You can combine all types of meat like sausage, ham, chicken, and bacon for a more diversified and filling meaty taste. Some extra pineapples would be great with their refreshing and sweet undertone, which complements the meats and veggies so well.
The chicken Tostadas are a great snack to prepare for grilling parties with your friends and loved ones. Though BBQ sauce would give the most authentic flavor, you can use your favorite substitutes like marinara or Alfredo sauce.
Learn to make the BBQ chicken Tostadas in the true Mexican style with this simple instruction!
Total time: 25 minutes
The distinct crunchy and sweet taste of pomegranate salsa is the perfect accompaniment for these vegan breakfast tacos. They possess a festive and classy look of the crispy tacos filled with veggie crumbles and pomegranate salsa.
I initially thought that tacos could not taste good without meat and fried eggs, but this outstanding pomegranate dish soon changed my mind. The refreshing and sweet note of pomegranate salsa combined with the tacos filling is so hearty and delicious.
You will use the veggie crumble ground for this dish, which has a similar brown consistency and savory taste to ground beef. Plus, it adds a ton of protein and nutrients to the dish without giving your body any unhealthy cholesterol.
Total time: 40 minutes
This baked chicken Chimichangas will make you forget about all the hustle and bustle in life with its classic Tex-Mex flavor. They also contain fewer calories than the traditional Chimichangas and have a crispy oven-fried texture.
The golden brown chimichangas are garnished with veggies on the side and topped with cheese sauce for a mouth-watering texture. You can serve them with refried beans and Mexican rice for a full and delicious meal.
Traditional chimichangas are deep-fried, but this recipe is healthier using the oven. Baking helps you get rid of the excessive oil without sacrificing the chimichangas' crispy and crunchy texture.
Total time: 15 minutes
These homemade tortilla chips are your answer to a delicious and simple air fryer vegetarian dish. Some flour or corn tortillas, olive oil, coarse salt, and 15 minutes are all it takes to prepare these delicious bites.
The flavors of these tortilla chips are fairly simple, with the sweetness and salty taste from coarse salt and tortilla flour. You can dip them in salsa, guacamole, or cheese salt for a more satisfying flavor.
This recipe uses the air fryer for more convenience, but you can definitely bake the chips. Remember to lay them on the foil-lined baking sheet and bake until they turn crispy. Also, tortilla chips can last for two weeks at room temperature, so do not freeze them.
Making the homemade air fryer tortilla chips is ridiculously simple. Follow this video to find out!
Total time: 23 minutes
The first time I saw this berry cheesecake chimichangas, I thought it was a dessert served in fancy 5-star restaurants. The flour tortilla swirls filled with airy cream cheese and fresh strawberries make them more beautiful than any store-bought treats.
The chimichangas are baked in the oven for an oil-free and crispy texture. They are stuffed with the freshest fruits like blueberries and strawberries, giving a pleasant and refreshing sweetness.
With a ton of cream cheese and sour cream added, their creamy and gooey texture will melt softly in your mouth. If the berries are not satisfying enough, soak the chimichangas in sugar and vanilla to indulge your sweet tooth.
Total time: 45 minutes
These Huevos Rancheros cups and citrus salad are perfect for the tiring days you don't want to cook but still want a comforting and tasty treat. They are effortless to make, ready in the oven, and can be reheated the next day.
This seemingly simple dish is actually very classy, with the crispy tortilla chips topped with ranch eggs and served with ranchero sauce. The side ingredients like black beans, potatoes, and cotija cheese also add a ton of flavors to this salad.
The Ranchero sauce takes around 30 minutes to simmer, so you should prepare it in advance. Assemble the dish nicely and serve with a tall glass of wine for the party. It will impress all your friends and family members.
Total time: 10 minutes
These nachos will be vegetarians' favorite snacks. They consist of healthy ingredients like black beans, frozen corn, tortilla chips, veggies, and a bunch of strong spices. If you have had enough of oily and sugary fast food, this recipe will be a game changer.
There can't be a simpler dish than these loaded vegan nachos. You just need to spread black beans and tortilla chips on a baking sheet and bake for around minutes. The preparation is complete when you top the baked chips with veggies and spices.
Since there is no sugar or flavorings added, the nachos may taste quite bland. Serving them with salsa on the side would be perfect. Its mild blend of savory, sweet, and zesty taste served with tortillas and veggies cannot go wrong.
Why not start with these loaded vegan Nachos? They are incredibly easy and delicious!
Total time: 40 minutes
Baby spinach isn't everyone's favorite veggie with its mildly sweet and lingering bitter taste from oxalic acid. But if you find it delicious, this spinach tortilla is a must-try. Their beautiful greenish color and tender tortillas texture are top-notch.
There is no sugar or sweetener involved in this recipe, just a little salt for the savory undertone. You can add cumin powder, Italian seasoning, and onion powder for a more satisfying twist of flavor.
These spinach tortillas are very nutritious and wholesome. They can be stored in the fridge for up to 4 months, making them a perfect way to supply your body with greens and calories.
Total time: 9 hours and 40 minutes (including 9 hours of freezing time)
If you enjoy the tortilla dishes on the list, why not finish them with a Mexican-style tortilla dessert? This fried ice cream tortilla bowl is filled with cinnamon sugar and wrapped in crunchy flour tortillas for a unique and exciting culinary experience.
Seriously, this is the most peculiar dessert I have seen in a while. The frozen vanilla ice cream chunk is coated with egg whites and cornflake crumbs before frying quickly in hot oil. It is crispy and crunchy on the outside with a super sweet ice cream filling.
Holding the fried ice cream are the tortilla bowls. You should soften the tortilla flour in the microwave so it can be folded easier.
Ensure that cornflakes fully cover the ice cream chunks, or they will melt when frying. You can decorate the ice cream with honey, melted chocolate drizzling, whipped ice cream, and your favorite toppings to serve!
Tortillas Are More Than Food; They Are A Culinary Beauty
These easy recipes with tortillas not only fill your appetite but also give you more insights into the beauty of Mexican cuisine.
Nowadays, tortilla-related dishes are served in every corner of the world, from small street vendors to fancy five-star restaurants. It's not so surprising since the dishes made with tortillas are so tasty with their unique flavor and texture that other ingredients can resemble.
I hope that these simple yet delicious recipes can bring you an energetic and joyful start to the long day ahead. It's also a special dish to bring everyone closer during family meals. If you love the recipes, please give me a thumbs up and share the list. Have a great day!
Nutrition Facts
6 servings per container
---
Amount Per ServingCalories224
% Daily Value *
Total Fat 9.4g

14

%
Cholesterol 33mg

11

%
Sodium 300mg

13

%
Potassium 135mg

4

%
Total Carbohydrate 24.2g

8

%

Dietary Fiber 3.2g

12

%
Sugars 1.1g

Protein 11.4g

22

%
---
Calcium

171

%
Iron

1

%
Vitamin D

1

%
* The % Daily Value tells you how much a nutrient in a serving of food contributes to a daily diet. 2,000 calories a day is used for general nutrition advice.