These small and adorable and delicious ramekin desserts have their own charm. Whenever I whip up a small batch of chocolate souffle in this little cookware, my kids always relish having their own pots (they're not in the mood for sharing sometimes).
Ramekins make me feel like I'm totally in control of what I eat to avoid overindulging myself in sweet goodies. Or from time to time, when the sugar craving hits, I don't want to down a big cake but only need a small portion to feel satisfied. Ramekin desserts are what I turn to.
They are also perfect for a date night. Ramekin chocolate mousse for two is a romantic and sweet way to end your dinner with your other half. If you're totally convinced right now, here are 20 desserts best served in ramekins.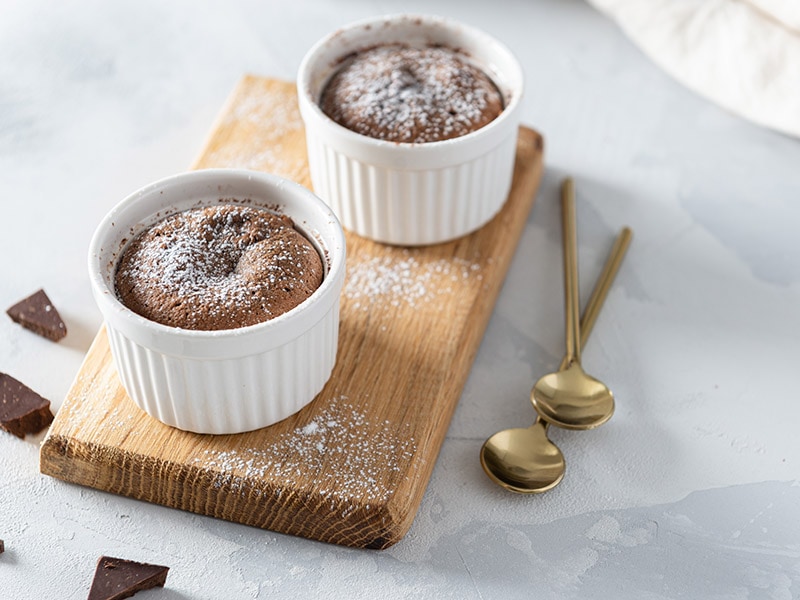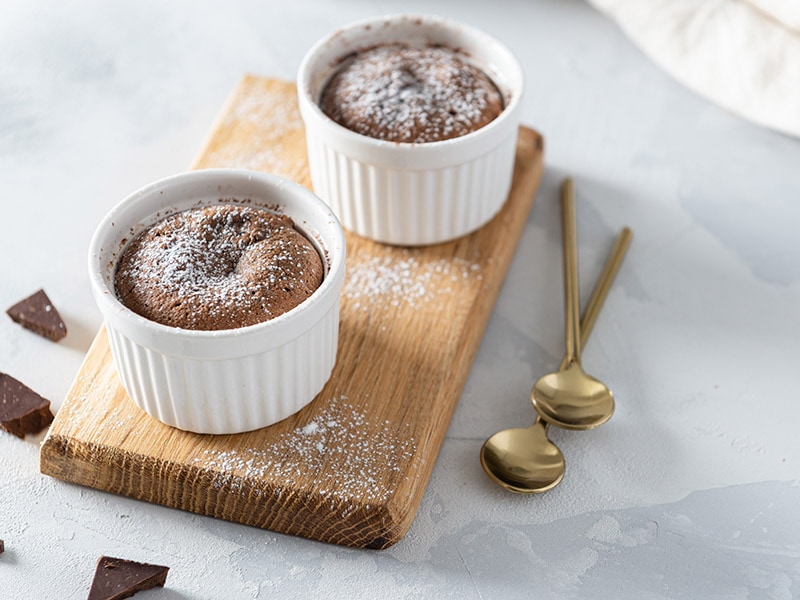 20 Ramekin Desserts For When You Want A Little Something
These delicious and sweet ramekin-friendly desserts are a nice choice when you only crave a bite or two of something sweet. Most of them are simple and quick to make, and you'll love them as much as the full-size version.
Total time: 1 hour.
If whipping up a full-size Creme Brulee sounds intimidating to you, why not start small with this scaled-down ramekin version?
Classic French Creme Brulee is basically a rich and creamy vanilla custard topped with a brittle top of caramelized sugar. The name "brulee", which translates to "burned" in French, indicates the sugar on top should be burned with a torch until caramelized and crunchy.
This burned layer is not only for an elegant presentation but also offers a nice textural contrast with the silky smooth cream right beneath.
This recipe only calls for several pantry ingredients, such as egg yolks, heavy cream, vanilla beans, etc. Of course, to nail the classic Creme Brulee (and that delicate layer that cracks when the spoon digs in), a torch is a must-have item.
Simple ingredients come together in this recipe for an exquisitely rich and elegant Creme Brulee.
Total time: 1 hour and 20 minutes + 2 hours of pastry chilling time.
This fabulous strawberry treat layers a sweet-tart filling and rhubarb with a subtle note of orange. It also features a buttery and flaky oatmeal crust on top that is buttery, flaky, and gluten-free.
The rhubarb is definitely one of the show stars here. This seasonal veggie is quite sour and tart (think of it as sour celery). However, if you incorporate it into baked goods properly along with sugar, it delivers a unique tangy wonderfulness.
Besides, use fresh strawberries for this pie to ensure the best flavor. Frozen strawberries can be a substitute, but you'll need to drain off all the extra moisture.
Total time: 40 minutes.
These brownie pots hit the right spot when your sugar craving strikes, but you only want something small to tame it.
They feature a decadent cocoa flavor, but the richness and sweetness are the spotlights. Each spoonful will reveal the slightly cakey outer edge and the heavenly rich, gooey center.
These rich and gooey brownie pots are made of 6 ingredients, all of which are pantry staples. Here is a friendly reminder: they call for a lot of sugar and butter to have their signature indulgent flavor.
You can use less sugar, but this means the cocoa flavor will be more pronounced than the signature sweet and rich taste.
All brownies are better with ice cream, but you can spruce things up by serving these little beauties with caramel sauce, whipped cream, or fresh berries.
Learn to make delicious chocolate brownie pots that have a crispy top and a gooey chocolate center.
Total time: 1 hour and 10 minutes + 8 hours of chilling.
Add a bit of sunshine to your day with these delightful lemon-based treats in the form of Pots de Creme. Light, refreshing, yet still lusciously creamy with lemony notes, this ramekin dessert is perfect for entertaining in summertime.
Despite the fancy look, lemon Pots de Creme, or many other Pots de Creme, can come together in a cinch. You'll only need to whisk heavy cream, lemon zest, sugar, and egg yorks well together. Then, add the lemon juice and bake the mixture in a water bath.
While the syrup takes extra elbow grease, it's truly amazing how it can give the Pots de Creme a sweet and tart kick. That's always what lemon lovers like me look for in a dessert.
Total time: 4 hours and 5 minutes + 4 hours of refrigerating.
Almost no one can resist the creaminess of the classic cheesecake. Scale this popular dessert down this time by making it in ramekins, and you'll be amazed that the cheesecakes turn out just as delicious!
This cheesecake for two only takes 5 minutes to whip up, and despite it going without the crust, it tastes every bit addicting, just like the full-size version.
Best of all, there's no baking involved, which means that you can enjoy those luscious bites with less hassle. All it takes is beating the ingredients well, dividing the mixture into the ramekins, and letting the cakes sit in the fridge for 4 hours.
If you don't want a regular full-sized cheesecake, this mini version baked in the instant pot is worth considering.
Total time: 40 minutes.
A cobbler is a deep-dish sweet dessert with a fruity filling topped with a biscuit-like dough. This recipe calls for fresh peach as the key ingredient. This mini peach cobbler strikes a nice combination of sweet peach filling and flaky crust that is so addicting with each spoonful.
Although everything is made from scratch, this single-serving cobbler is incredibly simple to assemble in 40 minutes.
As always, you can't go wrong with putting some ice cream on top of this delectable dessert. The ice cream will melt nicely into the warm and gooey cobbler, creating a bite that is nothing sort of divine.
Total time: 1 hour and 10 minutes.
In addition to Creme Brulee, chocolate souffle is a well-loved classic French dessert. The taste of a chocolate souffle is often described as ethereal, and that's what exactly you'll achieve with this recipe.
This ramekin souffle carries varying textures that will excite your taste buds with each spoonful. It is a perfect balance of firm yet creamy center, light and airy middle layer, and a sweet and crusty coat.
To enjoy these textural marvels, you should serve them right after baking. Leftovers can be good within 3 days at room temperature, but they'll develop a denser texture that might not be to everyone's liking.
With a handful of pantry ingredients, you can whip up a chocolate souffle guaranteed to impress everyone.
Total time: 40 minutes.
The batter in this recipe graciously turns into a moist chocolate cake, and with a simple chocolate sauce, it can become a delectable treat that no one can turn down.
Chocolate sauce is definitely the spotlight here. The good news is that it's not at all a hassle to make. When you're done with the batter, add sprinkles of cocoa and sugar on top and carefully pour in the boiling water.
The water goes further to the bottom when in the oven and makes the pudding so deliciously moist. The sauce then reduces gradually, and at the end, you'll get a thick sauce that perfectly complements each scoop of the pudding.
Total time: 24 minutes.
Chocolate lava, also known as chocolate moelleux or chocolate lava cake, was created by master chef Jean-Georges Vongerichten in the late 1990s. The name indicates the dessert's oozing chocolate center, which pours out like lava when the spoon slices into it.
These little chocolate lava cakes are always no-fuss to make and can get ready in less than 30 minutes.
Bake them in ramekins until the center is a bit soft and the edges are properly set and firm. This normally takes only 12-14 minutes but is quite a high temperature, so the molten heart of the cake is just cooked and slightly oozes onto the plate as it should.
Here's the baking tip for these lava cakes: add some espresso powder into the batter. ½ tbsp should suffice to lift the chocolaty flavor nicely but not overpower it.
It couldn't be easier to enjoy this chocolate lava cake that takes no more than 20 minutes to come together.
Total time: 1 hour and 15 minutes.
Banana bread pudding is a classic Southern dessert. Grab your day-old bread and ripened bananas to whip up a delectable dessert that everyone can indulge in forever.
In this marvelous banana-dependent dessert, bread cubes are tossed in a mixture of cream, sugar, vanilla extract, and egg. Then, two mashed bananas and chocolate chips are added. Bake the resulting mixture until the bread cubes are golden brown.
Since the prepping takes quite a while, you can mix bread cubes and bananas beforehand and toss them in the fridge. Take them out and bake them when you and your guests start dinner. You'll get a spectacular after-dinner treat in time.
Total time: 1 hour.
This British dessert has its own appeal that has stood the test of time. Queen of puddings typically contains a custardy crumb bread base, a bright layer of jam, and a fluffy and chewy meringue crown. The meringue crown gives it an elegant appearance worthy of its name.
Meanwhile, the meringue only calls for two ingredients: sugar and egg whites. Whisk your meringue up when you finish baking the base and jam, then add it to the ramekins and bake for another 10 minutes. And voila, you can finish your dinner in a royal fashion.
You should include Queen of puddings in your party dinner menu because they're sure to be a winning dessert.
Total time: 30 minutes.
When paired with a scoop of vanilla ice cream, this cute dessert pot pie will surely delight the crowd.
The blueberry-infused dessert possesses a soft puff pastry layer, then baked in individual ramekins. The pastry gives the pie a tasty crust, which contrasts nicely with the soft blueberry filling inside.
Because the pot pie requires only 20 minutes of baking, you can assemble them beforehand. Then, send them to the oven right before dinnertime, and you'll get a soul-satisfying dessert just right on time to wrap up your dinner.
Total time: 50 minutes.
This quick, easy, festive dessert is so tasty that it won't leave a lot of leftovers. If there are any, they're also good if rewarmed the next day.
These apple crisps contain sweet apple filling topped with a fetching topping of brown sugar, oats, and cinnamon. The whole thing is then baked until the filling is tender and the top achieves crunchy and golden perfection.
Drizzle these apple crisps with caramel sauce and serve them warm. Top off with a scoop of vanilla ice cream if desired.
These salted caramel apple crisps are another nice way to end your weeknight dinner.
Total time: 30 minutes.
These funfetti cakes (or sometimes called confetti cakes) are light and fluffy with colorful sprinkles mixed into the batter.
Each spoonful of these cakes is full of vanilla flavor from the batter. The frosting on top is also made from vanilla extract and has a smooth, creamy texture that complements the vanilla cake underneath.
Funfetti cakes are always a welcomed addition to any birthday celebration. Kids always love the sweet crunch of those rainbow sprinkles on top. Plus, as these cakes come in individual ramekins, they will definitely enjoy the fun of having their own sweet treat.
Total time: 30 minutes.
Who can resist these gourmet, delicious deep-dish chocolate chip cookie pots?
Total time: 50 minutes + 4 hours and 20 minutes of cooling time.
With a handful of pantry ingredients and fresh berries, you can assemble these luscious and sweet ramekin cheesecakes that everyone loves to dig in. The huge bonus is that they are so good and filling to qualify as a breakfast.
These cheesecakes are made of two kinds of cheese: ricotta and mascarpone. The latter helps the texture gain more creaminess than the classic Italian version that uses only ricotta.
As with many baking recipes, the only secret here is to pour hot water into the casserole dish before baking the velvety mascarpone-filled delight. This prevents direct heat exposure to the cake so the cheesecake top won't crack.
Total time: 1 hour.
Sometimes the best dessert is the simplest one, and this classic French cheese souffle is proof. Soft and fluffy texture, and with only the flavors of egg, cheese, and bread, but when it's done right, French souffle is what you'll keep returning to tame your sugar craving.
Souffle means "to blow" or "to breathe". And what enables these cakes to rise inside the oven is the air bubbles you manage to create from the egg whites. Therefore, preparing the egg whites and the mixture is all it takes to achieve that famous rise of the souffle.
The sauce in this recipe is slightly thicker than the classic ones so that the cake can retain its shape for longer.
The best thing is that this miniature ramekin French souffle only takes half the time to make compared to its full-sized version. So you and your guests can enjoy their own dessert pots in much less time.
If you're embracing retro desserts, this classic cheese souffle will fit the bill.
Total time: 1 hour.
If you feel like your bread pudding couldn't get any better, this individual almond croissant pudding will make you think twice. This decadent after-dinner treat offers a wonderful combination of soft and crispy texture and the extra crunch from the almonds.
You'll only need to put aside 20 minutes for prepping this dessert. Toss your stale croissant and slivered almonds into the egg mixture so they can absorb the custard, and then send them to the oven. As simple as that!
Serve this almond croissant bread pudding warm, and add a drizzle of salted caramel sauce and whipped cream, which will always be welcome additions to the dessert.
Total time: 45 minutes.
With this recipe, you can enjoy a dessert with a pumpkin taste in every bite. It uses no sugar or gluten-containing ingredients, which means those adhering to a sugar-free or gluten-free lifestyle can enjoy a good dessert without compromising.
This light pumpkin pie custard might look fancy and elaborate enough to go on a Thanksgiving dinner table. But it can come together in a snap.
All you need to do is whisk all the components until achieving a smooth consistency. Then, pour this tasty scale-down version of pumpkin pie filling evenly into ramekins. Finally, bake and you'll get a Thanksgiving dessert ready in no time.
If you don't want the hassle of making the pie crust, this pumpkin pie custard is exactly what you need!
Total time: 50 minutes.
The crowd-pleasing berry cobbler is a perfect combination of flavors and textures. It's loaded with fresh, juicy berries and topped with a scrumptious biscuit-like dough. The fruity filling is somewhat jammy when baked, and the dough will turn into a crispy crust.
As the cobbler bakes, the berry juices will bubble into the pastry and even out over the top of the ramekin, giving the dessert a rustic feel.
You can serve this cobbler warm with a generous scoop of ice cream or cool with whipped cream. Your baked cobblers can stay in the fridge for two days.
Grab Your Ramekins, Bake, And Enjoy Your Own Single-Serving Dessert!
Ramekin desserts are a great way to satisfy your sweet tooth without whipping up an entire cake. This means less effort, less mess, and less leftover, but rest assured, you'll still have endless possibilities of flavors and mix-ins.
Don't leave your set of ramekins to gather dust somewhere in your kitchen. Instead, you can make the most of the cookware with these single-serving ramekin recipes.
If you've tried any of these ramekin-friendly sweet treats, let me know by leaving your comment. Share this indulging collection if you find it helpful to any dessert-lover!
Nutrition Facts
6 servings per container
---
Amount Per ServingCalories250
% Daily Value *
Total Fat 18.6g

28

%
Cholesterol 230mg

77

%
Sodium 22mg

1

%
Potassium 46mg

2

%
Total Carbohydrate 19.1g

7

%
Protein 3.1g

6

%
---
* The % Daily Value tells you how much a nutrient in a serving of food contributes to a daily diet. 2,000 calories a day is used for general nutrition advice.