12 Best Pumpkin Appetizers To Start Your Party 2023
Pocketing the best pumpkin appetizers to serve at your gatherings is never a bad idea. Although pumpkin is associated with autumn, no one says you and your guest cannot enjoy these lovely finger foods all year.
As you read, you'll know how to make the most use of pumpkin, from fresh to canned. Behold to witness how much this food contributes to the dish's overall flavor and texture. Whether sweet or savory appetizers, pumpkin nails them all.
From hummus and soup to crostini, everything with pumpkin is incredibly delicious. Your only problem now is whether you should select one or serve all the picks at the next party.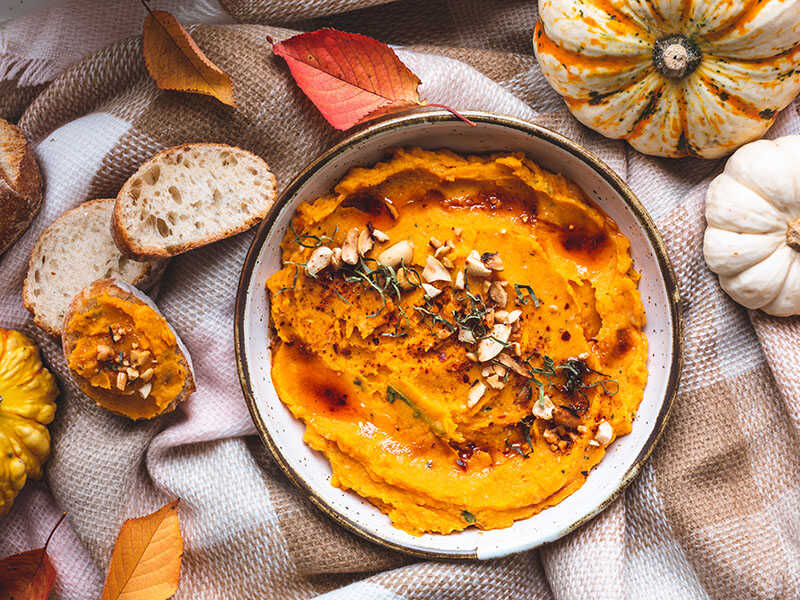 Feast Your Guests With These Pumpkin Appetizers
If you never serve pumpkin appetizers at parties or dinner meals, it's time to surprise your guests at the next gathering. Trust me; they are simple and suitable for all home cooks.
Total time: 48 minutes
It's no exaggeration to say this pumpkin and Brie crostini with candied nuts are tiny pieces of heaven. This masterpiece uses canned pumpkin as its bedrock. However, the buttery Brie cheese and snackable candied nuts also contribute to this recipe.
Because the pumpkin puree and cheese are soft, the crostini has to be crunchy and crispy to balance the texture. Homemade toast baguettes or store-bought ones are all fine. Also, cold Brie will be easier to cut.
For decoration, homemade candied nuts will do. On that note, they will tag along with some extra melted butter to spoon over the crostini. Also, top with the rosemary to give the dish a finishing pop of color and extra herby flavor.
Total time: 1 hour and 5 minutes
Whether it's a weekend snack or a big party, your guests will love this signature Indian appetizer called pumpkin fritters. This recipe stands out because you'll use Calabaza (West Indian pumpkin) to turn regular fritters into a new deliciousness.
The West Indian pumpkin flesh is firm with a sweet flavor similar to butternut squash. Accordingly, the fritters also have a natural sweetness. Soft in the middle and crunchy at the edges, every bite will bring great satisfaction.
Pay attention to the fries during frying because they get burnt quickly. Use cooking spray if you prefer, but it won't ensure a crispy result. And you can add some nutmeg to spice things up or include eggs in the mixture for a fluffier effect.
Total time: 40 minutes
Here's one recipe that makes you the rockstar of the party: pumpkin pinwheels. You only need eggs, pumpkin, brown sugar, and puff pastry to make these devilishly delicious appetizers. Thanks to the simplicity of ingredients, the pumpkin flavors really shine here.
If you are a new baker, I suggest using store-bought puff pastry for more convenience. Also, be cautious because rolling the dough up with pumpkin filling is a bit messy. These pinwheels need high heat baking, so set your oven at 400°F.
A bonus point, you can easily make ahead this palatable puff pastry appetizer recipe. Slicing the unbaked pinwheels would be better for frozen storage, but it's optional. Prepare the pinwheels one month in advance. Then you're free to cut and bake them just before the guests arrive.
These pumpkin pinwheels with basil will be your new go-to vegan treat. Check them out now!
Total time: 1 hour (excluding 30 minutes of resting dough time)
Next up on the list is this brown butter pumpkin galette, a solid 10-point appetizer for your holiday table. The caramelized onions, goat cheese, and sage make this dish even more appealing. Plus, the recipe is simple to attempt and ace.
You must love this galette's crispy crust. The cold dough is the key to a flaky pie crust. On that note, put the dough in the freezer for several minutes if it's warm. Let the tart hang in the freezer for a short time before baking too. An addition of egg will keep your tart stay intact.
Once you bite in, the nutty and earthy flavor will hit your palate. Later on, the sweetness of pumpkin and sage will linger on your tongue. Of course, brown butter makes baked goods better with caramel notes.
Total time: 40 minutes
Let's kick off the fall season with another flavorful dish using Brie cheese. Oogey baked Brie cheese stuffed in a sweet pumpkin with apricot preserves on top – what can go wrong with this? Ready in 40 minutes with four ingredients, this pumpkin appetizer is a keeper.
There are no limits on the preserves, so opt for any jam you like. Remember to choose a pumpkin that fits your Brie wheel. Otherwise, feel free to cut the cheese into pieces. Don't forget to remove the Brie's rind because it won't melt.
The best part is that your pumpkin will keep the cheese warm long enough during the party. For serving, sliced baguettes are the best option here. Bread and cheese are a powerful couple, but the sweet-and-sour taste of apricot jam will make you take more dips.
Total time: 40 minutes
These Masala pumpkin quesadillas are an excellent pick if you're more into savory appetizers. Although pumpkin is often used in sweet recipes, it does great with onion, colored peppers, and other Mexican spices.
The spices blend perfectly with sweet pumpkin, buttery Jack cheese, and crunchy peppers. All that delicious filling combines in the crispy tortilla. Moreover, some nice side dishes for this quesadilla, like the tangy garlic yogurt dipping sauce, will make every bite tastier.
These flavorful quesadilla dishes are also nutritious. Bright pumpkin is a superfood with a high level of antioxidants and vitamin A. It helps heal wounds and promote your immune system. In addition, you'll balance out a high-protein menu with the right choice of tortillas.
Total time: 10 minutes
Here's one tasty appetizer that compliments well finger foods like cookies, crackers, veggies, or fruits. This pumpkin cheesecake dip is easy to make with pumpkin puree, Neufchatel cream cheese, and Cool Whip. No baking is a huge plus point for this recipe.
Remember that this recipe needs pure pumpkin puree, not pumpkin pie filling. The latter will make your dip overly sweet. Moreover, if the cream cheese is inaccessible, try mascarpone. Whipped cream is also a great substitution for Cool Whip.
Pumpkin is a fall item so this is a perfect appetizer for Halloween or Thanksgiving party. If there are leftovers, store them in a zip-top bag or a bow with plastic wraps to prevent separation when they stay in the fridge. This way, the hummus will last for four days.
Be prepared because once you taste this pumpkin cheesecake dip, you won't be able to stop.
Total time: 30 minutes
Appetizers aren't all about sweet or savory finger food since these spiced pumpkin bisque shooters work too. This charming, warm, and light soup will immediately awaken your guests' taste buds. Spoiler alert – it will go in shots, so the soup won't make you feel full.
Greek yogurt Skyr adds extra healthy points to this hearty soup. It has higher levels of protein than regular Greek yogurt. Furthermore, its ginger and orange flavor harmonizes with the sweet-and-savory soup. The yogurts also add smoothness and richness to the overall texture.
It's possible to make these shooters in advance to avoid party stress. Remember not to temper and add the yogurt into the soup until ready to serve it. If you intend to serve the bisque in shot glasses, it's better to keep the soup warm rather than hot.
Total time: 1 hour and 11 minutes
This pumpkin pesto bruschetta with goat cheese will make you happy. What's more, the color combination of this dish is insane: golden brown from toasted bread, orange from pumpkin, and green from the pesto.
Traditionally, the Italian bruschetta refers to the tomato topping on the toasted bread. However, this version involves pesto, pumpkin, and goat cheese for the topping. This bruschetta takes a bit more than one hour to finish, but its flavor is worth your effort.
Each bite of this pesto bruschetta comes in a diverse texture. The toasted bread makes a crunching bite, while the pesto and pumpkin are tender enough to melt in your mouth. If you are in a rush, use canned pumpkins instead of fresh ones. Note that it will affect the overall texture.
Total time: 10 minutes
This pumpkin hummus is the savory appetizer you need this fall. All the essential ingredients remain the same, but adding pumpkin puree gives your hummus a lighter flavor. Not to mention, cayenne is also here to pump up the spice.
This fall version of hummus is good for your health. It possesses proteins, fiber, omega, and a lot more nutrients.
The standard way to serve hummus is to enjoy it as a dip with pita bread, crackers, or fresh veggies. Other ways are to use it as a salad dressing or spread it on toast. With only 90 calories, you don't have to worry much about the waistline while enjoying it.
How about trying this savory pumpkin hummus instead of making a regular dip?
Total time: 45 minutes (excluding 10 minutes of cooling time)
Do you know that these pumpkin pasties are inspired by those sold in the Hogwarts Express? No need to wait in line anymore because now you'll be able to make a big batch at home.
In general, pumpkin pasties are a common dish in England. They are small pastry pockets stuffed with delicious pumpkin filling. Some say that they resemble Cornish pasties. Compared to the ones sold in Hogwarts Express, this version is on the more savory side with extra cheese.
For a flaky final, the pie crust always starts with cold butter. The pastry also needs to stay in the refrigerator for several hours before ready to use. Also, keep your hands cold when preparing the dough by washing them with icy water.
Total time: 45 minutes
Feast your eyes on this baked pumpkin with garlic yogurt sauce. This 5-star restaurant-worthy appetizer goes with another name Kaddo Bourani, an Afghan favorite that plays around with some unique flavor combinations.
This dish is about sweet pumpkin mingles with cinnamon and tangy garlic yogurt. This seemingly disparate combination manages to come together wonderfully. The tomato sauce is a part of the original version, but you will skip it here for a light appetizer.
Most importantly, this version requires baking the pumpkins twice. The first time is 5 – 10 minutes for each side. And the second bake takes about 30 minutes. To make the sauce, mix the yogurt with garlic. Use milk or water to thin out the sauce.
These Pumpkin Appetizers Are A Real Deal
After reading this article, you no longer remember pumpkin dishes as just a pie or soup for Thanksgiving or autumn dinners. This ingredient is more than that since it can become delicious appetizers to start any party.
Pumpkins always offer something in taste, whether it is the main star or a supporting element. If you don't trust me, try all these recipes and come back later to give your reviews. Don't forget to share this post with any pumpkin fans you know.
Nutrition Facts
12 servings per container
---
Amount Per ServingCalories157
% Daily Value *
Total Fat 9.9g

14

%
Cholesterol 21mg

8

%
Sodium 57mg

3

%
Potassium 68mg

2

%
Total Carbohydrate 14.2g

5

%

Dietary Fiber 0.7g

0

%
Sugars 12.3g

Protein 1.7g

2

%
---
* The % Daily Value tells you how much a nutrient in a serving of food contributes to a daily diet. 2,000 calories a day is used for general nutrition advice.