If you're looking for a unique potluck dessert to bring to your next gathering, you've found it! From decadent cakes to easy-peasy cookies that take the stress factor out of cooking, there're plenty of ways to make yourself the life of the party.
Before you know it, potluck season is just around the corner. It's the greatest time for friends and co-workers to share food, and good things happen. A delicious dessert might just be the key for you to connect with people.
For a shared meal, a good tip is to stick to the theme, be it Christmas, church, work party, or simply a casual get-together with your friends and family. Whether you want to get a jump on it or are looking for a last-minute fix, I've got just what you need!
Don't fret about what dessert to bring to the potluck. All the answers are right here!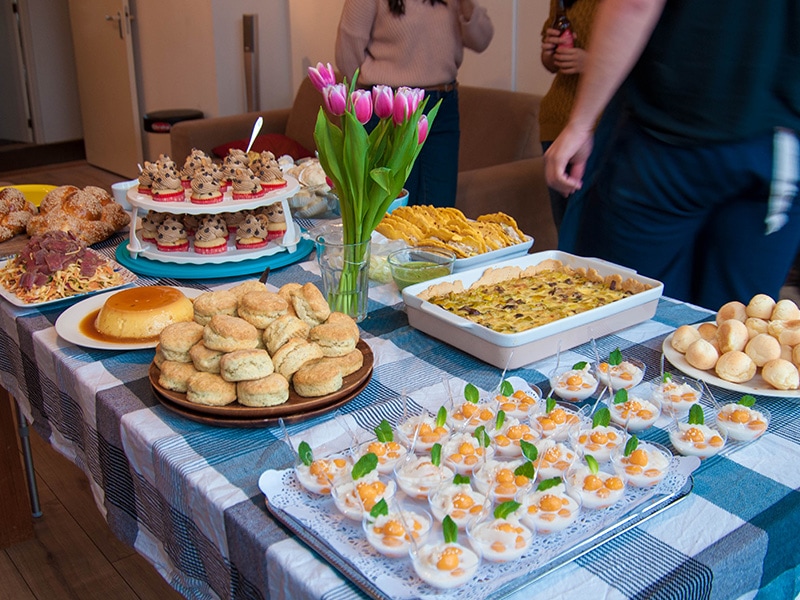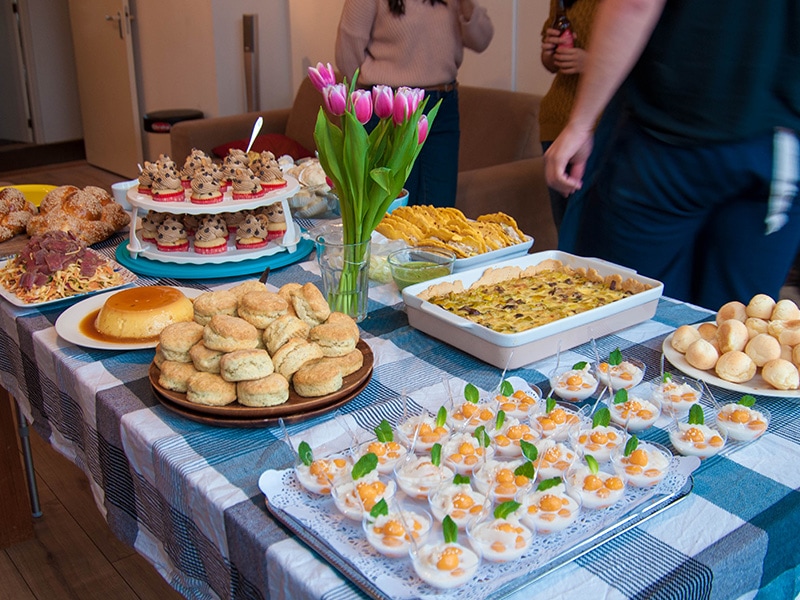 What're The Best Potluck Desserts For A Crowd?
Are you tired of the same old potluck dishes every time? These crowd-pleasing potluck desserts are guaranteed a big hit and make you the center of attention.
Potluck Cakes
1. Apple Yogurt Cake
2. Brownies
3. Funfetti Cupcakes
4. Louisiana Crunch Cake
5. Madeira Cake
6. Orange Bundt Cake
7. Strawberry Shortcake
8. Tiramisu
9. Upside-Down Banana Cake
Potluck Pies
10. Apple Pie
11. Bourbon Pecan Pie
12. Custard Pie
13. French Silk Pie
14. Ginger Pumpkin Pie With Gingersnap Crust
15. Lemon Meringue Pie
16. Strawberry Slab Pie
Potluck Cookies
17. Angel Crisp Cookies
18. Chocolate Chip Cookies
19. Chocolate Crinkle Cookies
20. Coconut Macaroons
21. Red Velvet Cookies
22. Sandbakkelse (Sand Tarts)
23. Thumbprint Cookies
Potluck Dessert Bars
24. Chocolate Caramel Slice
25. Lemon Bar
26. Nutella S'mores Bar
27. Scotcheroos
28. Seven Layer Magic Cookie Bar
29. Sopapilla Cheesecake Bar
30. Strawberry Lemonade Bar
31. Sweet Potato Cheesecake Bar
31 Of The Best Potluck Desserts For Your Next Gathering
Before you know it, the potluck season is just around the corner. Whether it's a last-minute fix or that you want to get a jump this time, here're the best potluck dessert recipes to have on hand.
Yummy Potluck Cake Ideas To Win The Crowd Over
If you think about it, delicious cakes are the centerpiece of so many celebrations. For your next potluck or other gatherings, bring these cakes and watch them disappear before your eyes.
Seriously, what's not to love about this gorgeous apple yogurt cake? More than an ordinary baked good, this dessert is truly a work of art. The thin apple sliced is carefully placed in a circular pattern atop a fragrant batter, creating an eye-popping look.
For a finishing touch, bakers often glaze the cake with apricot jam and give it a sprinkling of cinnamon and powdered sugar. In fact, the stunning appearance might even make you hesitant to slice your knife through.
Fluffy, light, and super moist, this old-fashioned recipe is destined to please your palate. The key to a successful apple cake is by using a diverse variety of apples. It's fairly easy to whip up and is the wonderful fall dessert that's worth making all season.
You can just never go wrong with a tried-and-true brownie when it comes to pleasing a crowd. Cakey on the surface yet soft, moist, and gooey on the inside, a good old brownie is crazy addictive, not to mention it's a breeze to pull together.
This comfort baked good is made in a square pan with a handful of pantry staples such as flour, sugar, butter, cocoa powder, and vanilla extract. For a visual test, a crackly, glossy top is a big hallmark of a good brownie.
Thanks to cocoa powder, brownies deliver a rich, complex, and often potent chocolate flavor that's enough to keep your sweet tooth satisfied. Whether it be the church, work, or family potlucks, this dessert is always the life of the party.
The best brownies are the ones fresh out of your oven. See how it's made here!
Soft, fluffy, and bursting with bright colors, funfetti cupcakes are a favorite dessert for kids and adults alike. This lovely mini dessert calls for creamed butter, cake flour, sour cream, egg whites, and 20 minutes in the oven to get ready.
At its best, a funfetti cupcake is light in both flavor and texture. It's tender, rich, and delivers a delicate crumb as you take a big bite. Top it with vanilla cream and customize your own blend of sprinkles to match the potluck's theme.
While the sprinkles don't add up to the taste, a bright pop of color tends to boost your appetite. These funfetti cupcakes might just be the first to disappear, especially if there're lots of kids at the party.
One of the best Southern classics of all time, Louisiana crunch cake is undoubtedly a sweet treat of heaven. You can tell how good it is just by looking at the golden, buttery batter and the decadent coconut glaze on top.
There's never a bad time to work a little bit of Louisiana taste into a get-together. This cake yields just the right amount of sweetness and tanginess that we all know and love. Plus, it's fluffy without being too dense or light, making every bite a pure bliss.
Let it sit for a few minutes, and then you can start slicing and serving it around. Chances are, people will gobble it down to the last crumb. There's no need to wait till a potluck to savor this baked good since it's the perfect way to spend every of your lazy Sundays.
An impressive traditional British dessert, Madeira cake is something you'd spot occurring on a classic afternoon tea table. In essence, it's a sponge cake subtly flavored with lemon and almond. Its crumbly, firm texture is well-suited for relishing with a hot cup of tea.
Despite the plain and dry look, Madeira cake is surprisingly moreish. Simple as it is, the cake turns out super-rich, delicate, and often with a lovely spark of lemon that makes every bite irresistible.
Regardless of the occasion, this quintessential English cake is sure to bring people of all ages together. It's typically eaten on its own, but if you plan to step up the game, a dollop of vanilla ice cream tastes great with these slices.
Instantly recognizable for its doughnut shape, this bundt cake is an extremely moreish orange dessert that everyone raves about. Beyond its pleasing appearance, this dessert yields an amazing citrus flavor infused with fresh oranges.
If you're preparing for a potluck in late winter, early spring, when the oranges are super ripe, this bundt cake is your go-to option. It's soft, tender, and often with a moist crumb that gives you a satisfying mouthfeel.
One thing I love about this treat is how gorgeous it turns out every time with minimal decoration. Just drench it in an orange glaze, take a big slice, and you'll understand why this tasty spring dessert is a Southern favorite for so many years.
If you want a potluck recipe that makes people fall head over heels just by looking at it, you've found the right one. At first glance, a strawberry shortcake is a feast for the eyes. Strawberries and whipped cream truly go hand in hand to create a scrumptious flavor bomb.
Fluffy and thick layers of vanilla cakes are sandwiched together with a generous amount of whipped cream. The frosting is smoothed out over the top layer and garnished with fresh strawberries.
What's not to love about this state-of-art dessert? Each bite delivers a decadent, sweet, and mesmerizing taste to your taste buds. Be it summer or holiday potlucks, this strawberry and vanilla dessert never disappoints.
Make your own strawberry shortcake at home with this tutorial!
This sweet Italian specialty claims its throne as one of the most famous desserts in the world for good reasons. "Tiramisu" literally translates to "pick me up" in Italian, which is a reference to its coffee infusion. And it's true. Take one bite, and your whole mood will be uplifted right away.
In a nutshell, tiramisu consists of layers of coffee-soaked ladyfingers stacked with mascarpone cheese. Espresso and cocoa powder collide to give this dish its special identity. Robust, rich, soft, and with a subtle blend of flavors, tiramisu is on another level of dessert.
The good news is, this fancy dessert full of mascarpone richness is darn easy to whip up. The whole thing takes just 30 minutes, even though it tends to look like you've spent lots of time on it. Bring this to the next potluck, and you can expect people to request the recipe.
If you're not yet familiar with an upside-down cake, trust me, it's the banana heaven to win the crowd over. Caramel and banana are a pure match made in heaven in this delicious classic. The dessert features a thick banana cake and a rich caramel sauce drenched on top.
Upon baking, the caramel sauce trickles down and infuses the batter with an out-of-this-world flavor. Made from scratch, it has a moist, dense, gooey texture and a fragrance that mesmerizes you while still in the oven. The cake is baked upside down and flipped over when it's done.
No doubt, this banana baked good is a cinch to make. Serve it in square or triangle slices, and folks won't be able to stop after just a slice or two.
Popular Potluck Pie Recipes To Satisfy A Sweet Tooth
Next time you're bringing a potluck dessert, reach for these scrumptious potluck pies. Easy to make and bursting in flavors, they're guaranteed a huge hit on any occasion.
A classic, delicious dessert like apple pie never goes out of style. That's for sure! Apple slices under a buttery lattice crust drenched in a sweet buttery sauce then baked for an hour taste like something your grandma used to make.
Any seasoned baker knows the secret to success with apple pie is by using a diverse combination of apples for the filling. The sweet, tart apple flavor pairs well with the buttery and rich crust, creating a dish that's too good to resist.
Folks around the table will gobble up the plate. On a side note, if you're baking your apple pie totally from scratch, it's best to start with the crust a day or two in advance and let it chill in the fridge.
Fingers crossed, bourbon pecan pie is a cut above the rest compared to regular pecan pies. This classic recipe is infused with pecans and a Southern kick of bourbon. The end result is an over-the-top dessert with the most complex flavor profile you've ever tasted.
Toasted pecans, rich maple syrup, and woody bourbon give this classic its special identity. Combined with the flaky crust, it's a texture explosion that's hard to pass. Thanks to the chocolate chunks, its sweetness is subtly elevated without being cloying.
One small thing that contributes to this Southern classic's success is the resting time. Preferably, it's best to let it chill for at least two hours before serving at the party. Otherwise, if you cut it too quickly, it will fall apart.
Don't you just love a timeless Southern dessert? Originating over 200 years ago, this gourmet custard dessert still occupies a special place in the heart of many people. As the name suggests, it's extremely rich, smooth, and indulgent.
In a nutshell, a custard pie consists of creamy custard nestled in a buttery pie crust. With eggs and milk often playing the starring role, this sweet treat delivers an eggy, sensational taste. It can be recreated as a tasty Instant Pot dessert to make the preparation even easier.
Just one single bite is more than enough to bring you to your knees. You won't believe how ridiculously easy it is to pull this dessert together. For a finishing touch, try sprinkling the top with some cinnamon.
No lie, French silk pie is a dream come true for any chocolate lover out there. Despite the label, this recipe is all American. In fact, the pie was the runner-up in the 1951 Pillsbury Bake-Off competition created by Betty Cooper.
The dessert actually gets its name from the velvety, silky-smooth chocolate mousse sitting nicely atop a flaky pie crust. A top layer of heavy whipped cream totally balances out the decadence of chocolate, which results in a delightful harmony of flavors.
On a side note, since this silk pie is so delicate, every ingredient has to be correct and measured out if you want to ensure success. Plus, it can be made 4 hours in advance without watering out to suit your schedule.
The return of autumn only means this dessert: pumpkin ginger desserts. Traditional pumpkin pies are loaded with pumpkins, heavy cream, gingers, cornstarch, and a bit of black pepper.
At its best, the outer edges of the pie have to be firm, while the pumpkin filling is smooth and jiggly in texture. An addition of ginger gives this festive treat an extra kick that it needs to balance out the sweetness.
As a final touch, go out of your way and decorate the top with grated nutmegs, pumpkin candies, or give it the taste of a sweet cinnamon dessert. When you gather around for a Thanksgiving potluck, this heavenly dessert is the way to go!
When summer is in full swing, this lemon meringue pie deserves a high spot on your list. At its best, this easy summer dessert feels like a slice of sunshine. It's bright, citrusy, and refreshing enough to uplift your mood instantly.
There're three elements that make up the perfect classic lemon meringue pie. At the bottom layer is a buttery, crispy pastry crust. Sitting nicely on top is a lemon filling that packs a punch of tangy, sweet flavor. Finally, a silky, lightly browned meringue topping finishes off the look.
It's safe to say that this classic delight fits almost any occasion. As with other pies, it tastes best on the day it's made. But if you really want to get a jump on it, the pie stays fresh for the next 2-3 days in the fridge.
Get that scrumptious lemon meringue pie on the table right now!
Rethink your usual round pie dish! When it comes to feeding a huge crowd, a slab pie, with its rectangular shape, is easier to transport, slice, and serve. This refreshing summer dessert is a doddle to make and especially fits the bill for summer potlucks.
In this recipe, a pastry crust perfectly encases a delicious filling of strawberries, cornstarch, orange zest, and granulated sugar. Then, instead of fooling with a traditional round pan, it's up to you to roll the pie into any shape you want and bake it in a sheet pan.
Ideally, the bake time takes 30 minutes. You know it's ready to go when the top is golden brown while the inside is bubbling. This feed-a-crowd pie almost requires no fork or plate to enjoy; just slice it out, and it should be gone in a flash.
Quick And Easy Potluck Cookies To Share Around
With work in sessions and a busy schedule, maybe you just don't feel like cooking in the kitchen all day to serve a crowd. In times like this, these easy-peasy potluck cookies will be your game-changer.
Out-standing in its simplicity, angel crisp cookie is an old-fashioned recipe that proves true deliciousness requires no decoration. There's nothing much fancy going on with these cookies. It's a simple mix of brown sugar, eggs, vanilla, shortening, and butter.
The texture's soft, tender, and airy, which pairs well with the little sparkly, crunchy sugar layer on top. Imagine taking a bite and feel the flavors dancing across your tongue. These angel crisp cookies are totally worth their name.
Though most bakers tend to serve this treat plain as it is, you can always dress it up a little bit with some sprinkles or cream frosting. However, these cookies don't pack well, so be careful if you have to bring them a long way to the potluck.
When you're not sure of what to bring to the gathering, chocolate chip cookies are the way to go. A classic combination of melted butter, egg yolks, white and brown sugar can guarantee you successful results every time.
The best chocolate chip cookies are actually the ones with chewy middles, crispy edges, and loads of melted chocolate chips with delicate shavings. This finger food packs all the flavors in one bite, making it easier to share around the table.
I'll let you in on a small little secret. A well-kept trick to nailing this sweet every time is to not over-bake them. Also, always make sure to measure each ingredient so that the cookies turn out perfectly balanced.
If the upcoming potluck has a Christmas theme, don't be shy to steal the spotlight with these chocolate crinkle cookies. Unlike other flexible cookies, a crinkle cookie dries out before it's finished spreading and rising, which results in a beautiful cracked exterior.
Thanks to the sticky dough, this cookie is super soft, moist, and fudgy. A coating of powdered sugar reaches the cracks to make it even more irresistible. You should be extra careful handling these bits to avoid breaking their delicate sugar coating.
No wonder these classic Christmas cookies are always quick to disappear at shared meals. A big batch of them takes no more than an hour of your time. As the gathering season arrives, crinkle cookies are a foolproof recipe to keep up your sleeve.
Ensure success with this stepwise guide for making chocolate crinkle cookies!
Tired of those plain boring party desserts that never seem to excite you? Coconut macaroons are just the ideal coconut dessert to send you to heaven. This delicate recipe is essentially a drop cookie that gives the starring role to sweet shredded coconut.
Slightly crunchy on the outside and moist, chewy on the inside, coconut macaroons offer a delightful texture contrast. The coconut flavor really shines through. Though this finger food is great served plain, dipping it in melted chocolate is a whole new level.
The whole thing takes 30 minutes to pull together, which is why it can be a last-minute fix if you forgot about the upcoming potluck. The original recipe is wonderful enough, but you can always give it a tweak with nuts and chocolate if your heart desires.
Let's be real! Just the gorgeous red color is enough to die for. Bakers often use a mixture of light chocolate cake and a drop of red food coloring to create a mesmerizing look. Soft, chewy, and downright delicious, what's not to love about this charming sweet treat?
As soon as things look smooth from the oven, you're good to go with the decoration. Nothing pairs better with red velvet than a layer of cream frosting. Or else, dip each cookie into melted chocolate and dress it up with festive sprinkles.
Be it the Fourth of July, Valentine's Day, or the holiday season, a platter of red velvet cookies just feels like home. I bet this pretty dessert will make you the center of attention at any potluck or party.
Why not treat your friends and co-workers to some special cookies that they've probably never had before? Sandbakkelse is a beloved Norwegian cookie made from crumbly dough, which is where it gets its name from.
Traditionally, this authentic cookie is baked up in a special sandbakkel mold. The end result is a cup-shaped treat that's practically begging to be filled. From jelly, jam to whipped cream, there're plenty of ways you can play with the filling.
Sweet, delicate, and bursting in an almond flavor, these little hand-held sweets might just be your new favorite. When the holiday season arrives, Sandbakkelse is amazing for satisfying a sweet tooth.
Thumbprint cookies are one of an all-time Christmas party specialties. Some might even say these little bites of goodness are Santa's favorite too. They bake up wonderfully with a crumbly, soft texture that's intended to melt in your mouth.
The name of these cookies has said it all! To pull this treat together, all you need to do is form a shortbread dough into a ball and gently press your thumb to create an indentation in each cookie before filling in with any sort of jam of your liking.
A tart, thick jam that packs a bright punch of fruity flavor perfectly complements the buttery, sandy cookie texture. Besides tasting like the summer of your dream, these little sweets also have a lovely appearance that draws kids to them at any party.
Unique Potluck Dessert Bars To Make You The Life Of The Party
Before you know it, the potluck season is just around the corner. With these heavenly and comforting potluck dessert bar recipes up your sleeve, you don't even have to try to make people love you!
The pinnacle of caramel dessert has to be this chocolate caramel slice. Basically, it consists of a buttery shortbread crust, a smooth caramel filling, and a silky chocolate topping. Layers upon layers, this wonderful caramel dessert is a marriage of flavors and textures.
Nutty, crumbly, and with extra sweetness loaded, each bite tastes like a dessert lover's dream come true. Before you know it, the chocolate just melts as it enters your mouth, leaving behind a lingering sweet aftertaste.
Made-from-scratch chocolate caramel slices are a snap to make. In fact, the hardest part is about cutting the slices without breaking the chocolate topping. The trick is to let it sit for half an hour before scoring through the layers with a sharp knife.
While delicious year-round, lemon bars are an especially huge hit at summer potlucks. Typically, this dessert bar features a buttery shortbread crust and a thick, creamy lemon curd filling which yields the perfect contrast in texture.
On the flavor side, lemon bars pack a big punch of lemon flavor. It's delicate, bright, slightly tangy, and sweet without being cloying. It's essential to let the bars set for at least half an hour before cutting and serving to get the sharp edges.
From start to finish, a big batch of lemon bars takes an hour to come together. This heavenly sweet is great for sharing around to end the meal on a sweet note that everyone will remember.
These palatable Nutella S'mores bars have everything a sweet lover could possibly desire. The gooey texture, the softness, and a wonderful blend of vanilla and chocolate that lingers in your mouth. No doubt, this bar is a comfort treat at its finest.
With so many delicious layers, this bar will make you throw your diet plan out the window. The marshmallow crème and Nutella come together with a dusting of graham cracker crumbs and lots of chocolate chips.
Even if you don't have time to bake on the day of the potluck, don't stress! Everything can be made in advance, and let chill in the fridge. These slices are best cut 2-3 hours before serving.
If you haven't ventured into the world of scotcheroos just yet, you're missing out. This no-bake dessert bar is a combo of Rice Krispie treats, butterscotch, chocolate, and peanut butter, all stacked nicely atop each other.
Basically, this sweet treat is everything your sweet tooth can desire. The flavor is divine and oh-so-sweet, while the soft and chewy texture is just waiting to melt across your mouth. Bring it to a potluck, and it'll be the first dish to disappear.
The beauty of scotcheroos is that there's no baking involved. You can just boil the chocolate mixture, combine the right ingredients, and it's good to go.
Treat yourself to some scrumptious scotcheroos following these tips and tricks!
This crowd-pleasing dessert bar gets its name from the seven layers it's made of. You can also find it with other names such as hello dollies and magic bars; it's the same thing. Complex as it looks, this sweet is assembled with mostly pantry staples.
In this recipe, a buttery graham cracker crust is the base for generous layers of chocolate chips, chopped nuts, coconuts, butterscotch, and pecan. Finally, a blanket of sweetened condensed milk goes to top it all.
Each layer is such a bummer with additive flavors. Soft, crunchy, gooey, and with an extra dose of sweetness, the magic cookie bar will be a surefire hit at any party. Ready in minutes, this dessert would be a lifesaver if you forgot about the potluck till the last minute.
If you're a Mexican food fanatic, you'll fall in love with this Sopapilla cheesecake bar. In essence, this delight features a creamy cheese filling between two layers of pastry. The whole bar is then drizzled with a generous dose of cinnamon sugar.
Warm, comforting, and totally satisfying, this dessert has it all. Leftovers can be easily kept in the fridge for later indulgence. However, chances are, you won't have any leftovers to deal with, considering how rich and delicious this cheesecake bar is.
If summer was in the form of a dessert, this strawberry lemonade bar is it! A lovely marriage of sweetness and tartness makes this summer favorite something you'll long for the whole year. The recipe is so simple, and you can get it on the table in less than an hour.
Imagine a strawberry pie combines with a lemon bar. That's what you get with this dessert. The strawberry lemon custard makes a good match with the shortbread crust. Then, a sprinkle of powdered sugar adds a touch of beauty to this lovely treat.
When the fall's first chill arrives, this cheesecake bar is the comforting dessert with sweet potatoes everyone craves. This three-tiered delight begins with a sugar graham crust at the bottom, moves on to a luscious cheesecake, and finishes with a sweet potato topping.
In other words, this dessert tastes like an orchestra of textures from crispy, velvety to smooth. All the flavors marry well, resulting in an oh-so-good mouthfeel that's sweet, rich, and creamy; it may even send you off to heaven.
Also, did I mention that this cheesecake bar requires no baking at all? It's true. Unless you're baking your own cheesecake, bringing it to life is mostly about assembling the right layer, which anyone can breeze through.
Share The Love And Sweetness!
Potlucks and gatherings can be tons of fun as long as you bring a delicious dessert to the table. If you're all set to make a big impression and send people home with something to talk about, fancy cakes and pies might just do the job.
On the other hand, if cooking is simply not your thing, opt for a big tray of cookies and biscuits. These little bites of heaven are super crowd-pleasing without the stress or high cost. Whatever it is, I hope these potluck sweets will make it easier for you.
With a great dessert, you don't even have to try, and people will gravitate towards you, asking for the recipe. Sure, a few compliments don't hurt, neither does the love and attention!
If your favorite potluck dessert is missing from the list, please let me know. Also, don't be shy to tell me all about your potluck experience in the comment bow right here!
Nutrition Facts
16 servings per container
---
Amount Per ServingCalories157
% Daily Value *
Total Fat 7.4g

11

%
Cholesterol 38mg

13

%
Sodium 40mg

2

%
Potassium 40mg

2

%
Total Carbohydrate 22.8g

8

%

Dietary Fiber 0.7g

0

%
Sugars 18.3g

Protein 1.8g

2

%
---
Calcium

6

%
Iron

1

%
Vitamin D

2

%
* The % Daily Value tells you how much a nutrient in a serving of food contributes to a daily diet. 2,000 calories a day is used for general nutrition advice.