23 Traditional Portuguese Recipes To Make At Home 2023
If you love the Mediterranean diet and seafood, Portuguese recipes might just be your new favorites! With its big geological advantages, the country's cuisine is quite focused on meat, seafood, and a wealth of vegetables.
There's a whole world of food culture beyond caldo verde, Portuguese's most famed soup recipe, that many foodies may have yet to discover. From sweet pastries to smoked sausage stews and distinctive bread, it's indeed a wonderful cuisine to devour.
In this culinary guideline, we're taking an in-depth look at the best gourmet dishes from Portugal. This way, it's easy to dial your cooking skills up a notch and have a good idea of what to try when you set foot in this country.
If you're all set, pull up a chair and find out what Portuguese recipes are in store for you today!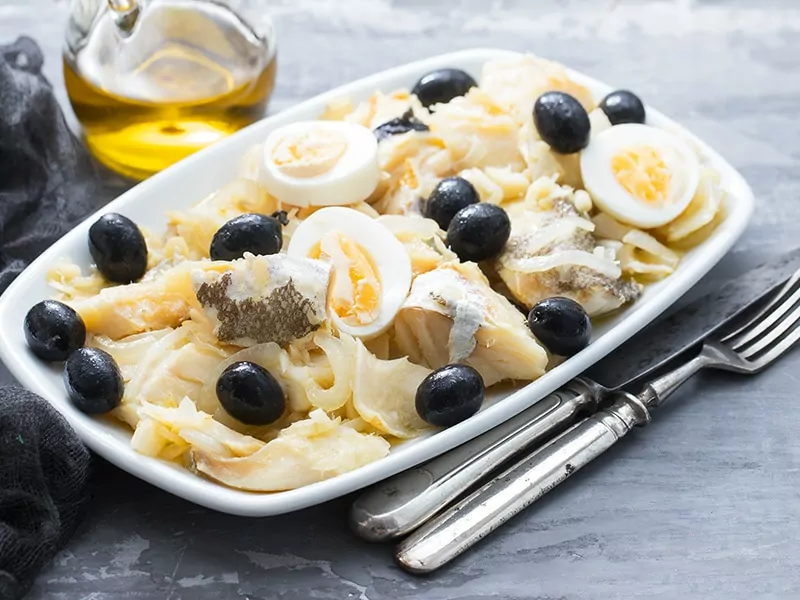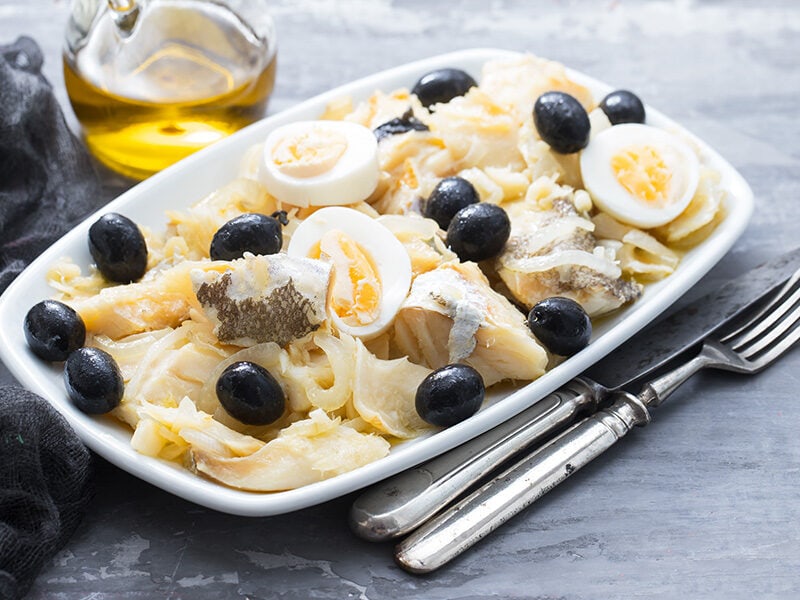 Best Gourmet Portuguese Recipes For The Soul 2023
When it comes to Portuguese food culture, the main staples often involve bread, rice, seafood, spices, sausages, and pastries. Let's see what authentic Portuguese recipes are in store for you to create wonderful meals today!
Portuguese Breakfasts
Bolo Levedo (Portuguese Muffin)
Broa De Milho (Portuguese Corn Bread)
Papas (Portuguese Porridge)
Portuguese Baked Eggs
Portuguese Main Dishes With Seafood
Arroz de Marisco (Portuguese Seafood And Rice)
Baccalao (Portuguese Salt Cod Stew)
Caldeirada (Portuguese Fish Stew)
Camarão Moçambique (Portuguese Shrimp Mozambique)
Sardinhas Assadas (Portuguese Grilled Sardine)
Portuguese Main Courses Featuring Meat
Bifana (Portuguese Pork Sandwich)
Cozido À Portuguesa (Portuguese Boiled Meal)
Febras Assadas (Portuguese Barbecued Pork)
Portuguese Prego Roll
Portuguese Soups
Caldo Verde (Portuguese Green Soup)
Portuguese Bean Soup
Portuguese Tomato Soup With Poached Egg
Portuguese Desserts
Arroz Doce (Portuguese Rice Pudding)
Pastéis De Nata (Portuguese Custard Tart)
Queijada (Portuguese Custard Cupcake)
Salame De Chocolate (Portuguese Chocolate Salami)
Portuguese Christmas Recipes
Aletria (Portuguese Sweet Pasta)
Bolo Rei (Portuguese King's Cake)
Massa Sovada (Portuguese Sweet Bread)
What Are The Most Scrumptious Portuguese Recipes To Try?
Fingers crossed, Portuguese cuisine is the Mediterranean diet at its finest. Warm, full of spices, vibrant, and a little bit mysterious, here are the best classic Portuguese recipes to dial your menu up a notch.
Easy Portuguese Breakfast Ideas For Busy Mornings
From delightful bread to satisfying baked eggs made in Portuguese style, these Portuguese breakfast ideas will have you looking forward to waking up!
At first glance, these Portuguese muffins somewhat resemble English muffins that you may be familiar with. However, they tend to be slightly bigger in size and are a lot sweeter, denser than their counterparts.
Thanks to the soft and tender texture, these flatbreads are usually eaten with a cup of tea or coffee for breakfast. Many folks slather them with butter or jam, while others slice them open to make big sandwich buns.
Freshly cooked, these muffins give off a mesmerizing smell and the perfect golden brown exterior that's sure to satisfy any foodie. While they're most popular during the holiday season, these wonderful sweetbreads are great for enjoying year-round.
Here's a quick tutorial if you need help baking up these Portuguese muffins!
2. Broa De Milho (Portuguese Corn Bread)
Starting as a staple in the poorer region of Portugal, broa de milho is now an appreciated breakfast delicacy across the country. From the first look, the bread has many cracks on top, which hides a beautiful golden color inside.
On the flavor, it's characterized by a sweet taste and moist, soft texture, which ideally accompanies soups and stews. It may be a tiny bit of a challenge to bite through the crusty exterior, but the delicate, toothsome center will blow your taste buds away.
While the baking takes 40 minutes at much, you'll need extra hours for the dough to sit and rise. Thus, it's best to plan ahead if you're attempting this project at home. There're endless ways to make use of the leftover cornbread, so don't be shy to make a big batch!
For a chilly winter morning, nothing warms your tummy better than a bowlful of porridge. This delicious recipe can be made with grit, cornstarch, or wheat flour; basically anything you have in your pantry.
Rich, tasty, and soothing, papas are the perfect comfort food for whenever your craving strikes. To add some flavor to it, most folks tend to sprinkle cinnamon and sugar. Like other porridges, this Portuguese recipe is best eaten warm.
The best part is that a bowlful takes only 15 minutes in the making. It's easy to double or even triple the portion, especially if you're preparing a quick family breakfast with little time to spare.
If you're looking for a versatile and out-of-this-world egg recipe that goes down wonderfully for breakfast, brunch, and even dinner, you've found it! Portuguese baked eggs are a hearty and easy dish that's a favorite for the whole family.
In this heavenly meal, the eggs sit nicely on top of a bed of creamy ricotta cheese mixed with vegetables. Occasionally, locals also toss in some bacon bits and jalapenos to create an extra dimension of flavor.
Unlike other mediocre egg recipes, this delight is simple yet super satisfying for your stomach and your soul. The best way to relish this savory meal is right out of the oven, when the eggs remain soft, alongside a couple of country-style toasts.
Authentic Portuguese Main Dishes Starring Seafood
With its geological advantages, seafood plays an important role in Portuguese cuisine. If you're a seafood lover, you'll likely fall in love with these gourmet Portuguese seafood main dishes.
From the bountiful coasts in Portugal comes a famous seafood dish that's near and dear to every local's heart. As its name suggests, this specialty typically comprises rice and several types of seafood like shrimps, mussels, and scallops.
The variety of seafood varies from region to region. When all the ingredients are cooked together in a tasty broth, they create a wonderful texture with complexity in flavor. Creamy, rich, and fresh, this dish is sure to win the crowd over.
Besides tasting absolutely delicious, Arroz de Marisco is also a celebration of bright colors. Its excellent presentation makes the perfect treat for special occasions as well as casual family lunches.
It comes as no surprise that cod and Portuguese food culture indeed go hand-in-hand. This delicate, white-fleshed fish is central to many of the country's traditional delicacies. Salted cod stew is an easy yet satisfying recipe that you'll downright fall in love with.
Visually, this cod stew is a celebration of colors. The unique taste of salt cod, the light kick of paprika, and the depth of the broth gives it a special Portuguese identity that no one can miss.
Essentially, this savory stew is fairly easy to make. However, to get the most of its distinctive flavor, it's best that you let it soak overnight and change the water twice at the very least.
A rustic one-pot meal that's perfect for sharing with friends and family, Caldeirada is a traditional fish stew made in Portuguese fashion. This recipe contains a mixture of fish and shellfish slow-cooked in a savory broth for 25 minutes.
Simply put, this iconic fish stew is winter comfort food at its best. It's light, warm, mouth-watering, and super aromatic. The dish is typically flavored with tomatoes, peppers, and saffron, but it's so versatile you can whip it up with the veggies you have on hand.
On the side, you'll want to serve this rich stew over rice or with some nice crusty bread to soak up the flavorsome sauce. It doesn't take much time or effort to come together and is a lovely way to turn leftover fish into wonderful meals.
Caldeirada is easier than you may think. Here's how to succeed with this dish!
Shrimp mozambique gets its name from the former African colony. Don't let the exotic name mislead you! This seafood delight is actually super easy that anyone can whip up at home without much hassle.
If you haven't made it before, the dish is essentially a spicy shrimp stew. The shrimps are drenched in a buttery, garlicky sauce. At its best, the shrimps should be tender and firm, with a delectable flavor that's sure to deliver smiles.
Fingers crossed, shrimp mozambique is a whole party all on one pan. This delight can be offered as an appetizer and an elegant main course over a bed of white rice or crusty bread.
No doubt, sardines play an important role in Portuguese food culture, considering the country is located near the Atlantic ocean. Hence, grilled sardines are a big staple in many summer festivities as well as the main course in daily meals.
Believe me! This much-appreciated recipe is way easier than it may seem. After being coated in sea salt, the fish is then cooked over a charcoal grill. The seasoning only consists of salt and olive oil to let the fresh, superb sardine taste shine through.
Simple as it is, this dish is packed with an incredibly bold flavor. The smoky, crispy skin covers the rich and smooth meat beneath as you bite into it. You can eat it as a whole on its own or pair it with a green salad or a humble boiled potatoes dish.
Gourmet Portuguese Main Courses With Meat To Try Out
When it comes to meaty main courses, Portuguese food culture has a lot to offer. Here're the best traditional Portuguese recipes featuring meat and sausage that you can dish up at home.
It's safe to say that bifanas are a big culinary delicacy that the Portuguese take pride in. In a nutshell, it's a classic sandwich typically made with a papo seco, a Portuguese bread roll filled with slices of marinated pork, and lots of paprika.
Bifana is one of the most popular street foods that you can see on a trip to Portugal. The tenderness of the pork and, the savory sauce, and the little kick of paprika all bine together to create one of the most mouth-watering sandwiches that you can't stop after just one.
If you're attempting Bifana at home, the secret to success lies in the marinade and how you shouldn't be shy with it. Pair these sandwiches with a glass of cold beer, and here you are, enjoying Bifana like a true local.
Shake your mealtime up with this Portuguese pork sandwich recipe right here! You can see this video to know more:
Getting dinner to the table for the whole family and eating healthy is such a cinch with this hearty boiled meal from Portugal. In essence, it's indeed a dream come true for any meat lover, with so many varieties of meats, vegetables, and sausages slow-cooked to perfection.
The end result is a heart-warming feast with many layers of textures and flavors that's sure to satisfy everyone around the table. The best part is all the ingredients are cooked in one single pot, making it easier to clean up after the meal.
If it's your first time trying this one-pot course at home, it's essential to test the meat every once in a while with your fork or knife. This will make sure its tenderness is perfect as you like.
With the barbecue season fast approaching, Portuguese barbecued pork is a great recipe to have in your back pocket. Essentially, this dish is made with pork loin marinated in a mixture of wine and smoked paprika, then grilled to perfection.
The end result is a wonderful storm of texture and flavors. Juicy and tender on the inside yet crispy on the outside, each slice of the pork is sure to melt in your mouth. It's also super rich in flavors with a sweet and savory taste.
Any barbecue enthusiast knows the best way to serve a thick, nice cut or barbecued pork is alongside some crunchy chips. Also, you can give it light squeeze of lemon juice and mayo for an extra kick.
Should you ever find yourself walking on the streets of Lisbon, these prego rolls deserve a high spot on your must-try list. In this street delicacy, juicy, tender steaks are covered in an aromatic peri-peri garlicky sauce and stuffed in between a light, airy rolls.
It's so delicious and flavorful; some might even say this prego roll falls in line with the best sandwiches in the world. You can eat it for just any meal of the day, whether breakfast, lunch, or an afternoon pick-me-up snack.
The whole thing takes around 20 minutes from start to finish, making it a great go-to for when you crave a quick dish. It's super filling and delectable as a standalone meal but also goes down wonderfully with some baked potato wedges or salad on the side.
Toothsome Portuguese Soup Recipes For Your Indulgence
Nothing fills your tummy and soothes your soul like a piping bowlful of soup, especially when it's cold outside. Below are some of the most delicious Portuguese soup ideas to incorporate in your weekly menu rotation.
Nothing's like a hot bowlful of green soup to warm your soul when it gets cold outside. Caldo verde is a quintessential Portuguese recipe that calls for kale, potatoes, chouriço sausage, collard greens, onions, and extra herbs.
This warm soup born for fall and winter days is customizable and easy to make based on your available ingredients. The basic version comes together in less than an hour. However, if you fancy some depth to the dish, you can also use ham hocks or shanks for the soup base.
Hearty, rich, and full of flavors, caldo verde is comfort food at its best. The soup is so satisfying and gets even better the next day, so it's best that you make a huge pot and stash the rest for a couple of days.
Recreate caldo verde to perfection from the first attempt with this stepwise guide!
With its rich brown color and a heavenly fragrance, Portuguese bean soup is a comfort recipe that'll mesmerize you even before taking a bite. Whether as an appetizer, main course, or a quick meal to tie you over, this soup is perfect for any time to curb your cravings.
For this classic to work, you'll need a few key ingredients such as Portuguese sausages, ham hock, red beans, carrots, onions, and macaroni. In essence, it's the ultimate comfort food for your soul with a rich, tender texture and a crazy delicious flavor profile.
It's safe to say that this one-pot dish has all the essential elements for a full, hearty meal. It doesn't require any side to shine, but some crackers or homemade bread might just be a good match for the rustic sauce.
A heartwarming dinner recipe that doesn't take hours to get ready? Count me in! Tomato soup with poached eggs is a classic Portuguese meal that comes together in less than 40 minutes and is nutritious without skimping on the flavor.
In this recipe, a rich tomato-based soup combines with sausages, smoked bacon, and a host of herbs. Next, the eggs are added to poach in the soup. Its wonderful fragrance alone is enough to draw everyone towards it.
Some crusty slices of bread are the perfect match for this hearty soup. Cut the bread into bite-sized pieces, pour the soup on top, finish it off with some sprinkling of chopped coriander, and you're all set to enjoy the tastiest meal ever.
Elegant Portuguese Desserts To Wrap Your Meal On A Sweet Note
Fingers crossed, Portugal is hiding a wealth of appetizing sweet treats that you definitely don't want to miss out on. The next time you want to win the crowd over, bake up these wonderful Portuguese desserts!
A signature dessert that many Portuguese grew up eating, arroz doce is a traditional rice pudding made with rice, lemon, milk, eggs, and cinnamon. Unlike other rice puddings, this delicacy is flavored with a wealth of lemon peel and cinnamon.
With such simple ingredients, arroz doce turns out to be a unique and delicious dish. Sweet, thick, and creamy, it's mostly enjoyed as an after-meal treat to leave a lingering sweet aftertaste in your mouth.
For a contrast in texture, some people love to sprinkle some finely grated nutmegs on top. You can serve it warm on cold days or chilled during the hot weather as your heart desires, and it always delivers a super moreish taste.
Originating from the suburb of Lisbon, pastéis de nata is a delish Portuguese pastry that you can find in patisseries all over the world. This custard tart consists of crisps, puff pastry crusts, and a creamy, sweet egg yolk filling.
Despite being a tart, pastéis de nata is surprisingly light with the finest balance of flavor that you've ever tasted. Each little bite is creamy, rich, and delicately smooth. Whether you're a big sweet tooth or not, it is an egg yolk treat you must try once you've set foot in Lisbon.
Fresh out of the oven, the pastéis de nata is often finished off with a squeeze of lemon or a sprinkling of ground cinnamon. To bake it to perfection, you should pop it in the oven for 12 minutes until the tops start to blister and caramelize.
For visual instruction, here's how you can whip up pastéis de nata from scratch!
One of the most signature pastries across Portugal, Queijada is a sweet cheese pastry that you can find at almost any celebration. Traditionally, this dessert has a flaky crust and a creamy, soft egg custard filling on the inside.
While Queijada may look like it just came out of a cookbook, it's actually a simple recipe that anyone can master at home. Locals often mix sugar and cinnamon to sprinkle on top, but other flavor variations like oranges and almonds also exist to suit your fancy.
In Sintra, where this pastry hails from, it's common to end a meal with a subtle dessert like Queijada. Plus, this delight is an essential staple at most holidays, birthdays, and family gatherings.
For folks who haven't tried this unique chocolate sweet treat, salame de chocolate is exactly what it sounds like: a log of salami made of chocolate. In essence, this delicacy is a combination of dark chocolate, butter, biscuits, and eggs.
Many food enthusiasts may call this chocolate salami one of the best in Portuguese dessert making. It's ready in no time, and there's no need to heat up the house for baking, especially during the summertime.
Sweet, crunchy, and rich, these chocolate salamis are a wonderful treat for gatherings and dinner parties. They tend to taste even better after a few days as the biscuits absorb the moisture. Thus, if you're preparing a big batch for the next meal, it's best to get a jump on it.
Cherished Portuguese Christmas Recipes For Your Holiday Table
Like other cuisines, Portugal offers a wide array of holiday foods. Whether you plan to go mass on Christmas festivity or simply celebrate a cozy family meal, these are the perfect centerpieces for your festive table.
No Christmas table in Portugal is completed without aletria. This traditional dessert occupies a special place in the hearts of many locals for good reasons. Essentially, it's a cross between pasta and sweet pudding.
To prepare aletria, a thin variety of pasta like capellini or angel hair pasta is cooked up in a flat baking pan with egg yolks, sweetened milk, cinnamon, and lemon. After it's done, locals often lightly sprinkle it with ground cinnamon in a crisscross pattern
Sweet, homey, and soothingly soft, this sweet pasta dessert is a favorite by all ages. You can easily find a big tray of aletria on any Portuguese table when Christmas arrives. It's super simple to make and tastes heavenly, either served warm or chilled.
Bolo rei literally means king's cake in Portuguese, and the dessert's definitely worth its salt. This cake has its origin in France and was first brought to Portugal in the nineteenth century under Louis XIV's command.
Since its debut, bolo rei has been an indispensable staple during Christmas. This round, sweet bread with a hole in the center is studded with traditional Portuguese fruits and nuts. It's super-rich and delicate, making each bite a pleasure in your mouth.
Before serving, the king's cake is typically dusted with a generous amount of icing sugar. The whole process is likely to take 40 minutes in the oven. This festive treat is so nice to look at, not to mention it'll make you feel like sitting on the throne.
As the holiday rolls around the corner, it's time to bake up a big batch of massa sovada! Traditionally, this Portuguese sweet bread is often associated with Christmas, Easter, and other times of sharing in the year.
To recreate this classic sweet bread, combine simple ingredients like milk, yeast, sugar, eggs, and flour together. It yields a mildly sweet flavor, sometimes infused with lemon or orange zest to create a subtle hint.
Soft, moist, and incredibly airy on the inside, this sweet bread tastes amazing on its own or topped with butter or jam. Besides, a thick slice is perfect as a toast for enjoying in breakfast, alongside a hot cup of tea or coffee.
Begin Your Portuguese Food Adventure In Your Home!
When it comes to a typical Portuguese meal, bread, seafood, pork, and sausages are some of the major players. It's not much of a big stretch to say that the country's cuisine is a melting pot with a blend of so many ingredients, yet each of them remains its special identity.
Portuguese food culture has a lot to offer that not many food lovers outside of its border know. Trying out these new recipes may take some trials and errors. However, I can assure you that the end result will be a pleasure in your culinary journey.
What else are you waiting for? It's time to change up your regular dinnertime staples. Let me know what your favorite dish is in the comment box right here!
Nutrition Facts
4 servings per container
---
Amount Per ServingCalories371
% Daily Value *
Total Fat 14.7g

22

%
Cholesterol 154mg

52

%
Sodium 1137mg

48

%
Potassium 998mg

29

%
Total Carbohydrate 23g

8

%

Dietary Fiber 2.7g

8

%
Sugars 6g

Protein 33.2g

66

%
---
Calcium

104

%
Iron

10

%
Vitamin D

2

%
* The % Daily Value tells you how much a nutrient in a serving of food contributes to a daily diet. 2,000 calories a day is used for general nutrition advice.