These best popcorn desserts work double duty as a beautiful party treat and a delicious snack to devour in your free time. Long gone are the days when popcorn was only a movie snack. They have become a new decadent dessert to end your meal these days.
Whether in sweet or savory recipes, as the main ingredient or added element, popcorn always brings a unique character to whatever dishes it's in. Thanks to its versatility, the options for this goodness are unexpected and endless.
From flavored popcorn and cupcakes to a milkshake, there are no boundaries when it comes to popcorn desserts. Let your imagination run wild and start making your own best version.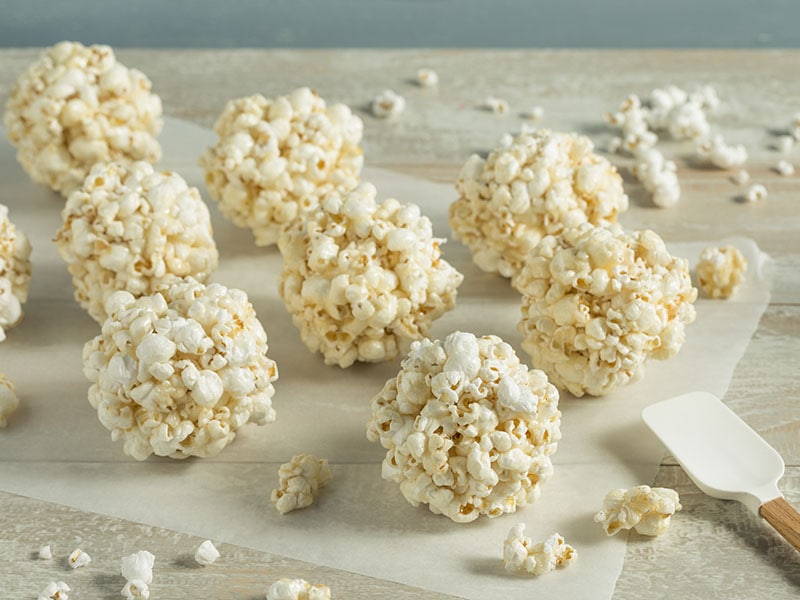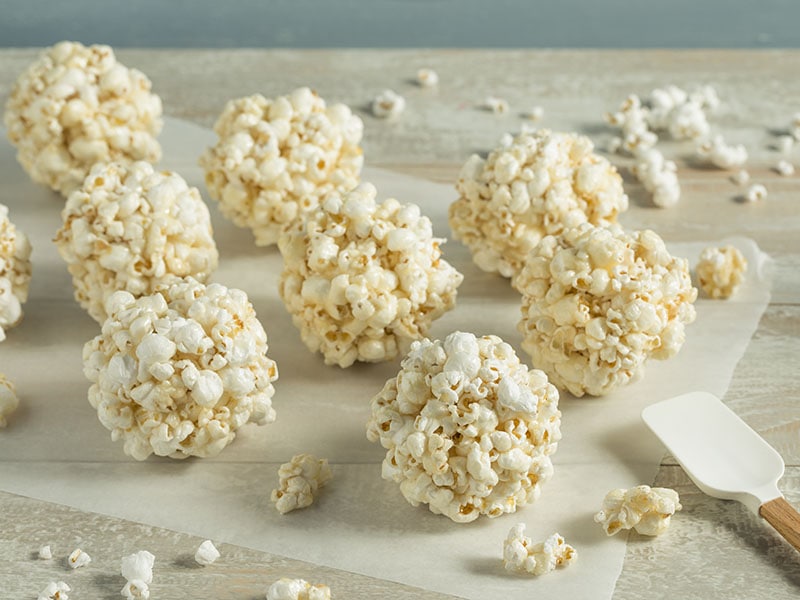 Best Popcorn Desserts For Sweet Tooths
Raise your hand if you're a fan of popcorn. Fun, delicious, and addictive, these recipes below will make your dream come true. This list is a happy journey for any sweet tooth with a wide variety of flavors.
Total time: 30 minutes
Let's start with one of the classic flavored popcorns: cinnamon popcorn. You will get addicted to this salty, buttery, and sweet version.
The best part is that it tastes almost identical to cinnamon rolls. This recipe can be a great snack to savor during movie time or a special treat for your party.
Here is a simple, gluten-free, vegan-friendly recipe you can master in about 30 minutes. I suggest utilizing the microwave to make this treat in paper bags. If you don't have a microwave, use a stovetop or instant pot to make it.
Get creative with many variations from pumpkin spice or chai spice. For a vegan version, substitute the butter with vegan butter and opt for vegan-friendly sugar. Avoid pairing the sugar with ghee or coconut oil because the flavor won't have a cinnamon churro taste.
Total time: 30 minutes
Although popcorn balls aren't in their prime time, they are still a beloved old-fashioned dessert. This homemade recipe may become your new obsession. It's a sticky, sweet, and crunchy treat that you won't be able to stop eating.
Popcorn ball's popularity peaked in the early to mid-20th century as a part of 1950s trick-or-treating. This old-school dessert is an excellent result of a popcorn kernel, sugar, and corn syrup. Some say these sweet balls cross between caramel corn and a rice Krispie treat.
Get creative with the decoration. For a festive look, add food coloring to the mixture. Also, make your sweet balls fancier with extra mini-colored marshmallows, chocolate, or candies. Otherwise, insert a mini candy cane into the top to resemble an ornaments hook.
With the addition of marshmallows, these classic popcorn balls are even yummier.
Total time: 1 hour
Sweet, buttery, and crunchy, these oven-baked caramel corns are dreams for every popcorn lover. Moreover, this recipe lets you flex your caramel-making skills but is forgiving enough that the caramel doesn't need to be perfect.
The caramel mixture from butter, brown sugar, corn syrup, and salt conveys a nice sweet-and-salt flavor to your popcorn. In addition, a melted chocolate coat is another excellent option instead of a caramel mixture.
Baking soda is the secret weapon here. It helps the caramel mixture to foam and possesses lighter colors. I suggest using a candy thermometer to measure the temperature while making your caramel.
Total time: 2 minutes
This S'mores popcorn will remind you of campfires and childhood memories. Golden Grahams, mini marshmallows, popcorn, and chocolate are the stars of this showstopper dessert. You got them all in this easy dessert: salty, crunchy, and chocolatey.
Pop corn kernels on medium-high heat and transfer them into a bowl when finishing. Add in the cereals, marshmallows, and chocolate chips. Then pour them out on baking sheets and top with the melting chocolate. Once the popcorn is cool, break it into chunks and serve.
Ideally, nothing's better than enjoying fresh s'more goodness immediately. The day-old popcorns still taste amazing, but they will be chewier and lose their crunch because of absorbing the moisture from the marshmallow mixture. They can last a few days if sealed tightly.
Total time: About 42 minutes
When it's hot and steamy in the summer, it's a universal sign to eat this potato chip popcorn ice cream. Unique and refreshing, a scoop of popcorn ice cream with potato chips covered in chocolate is sure to cool off the heat immediately.
Popcorn ice cream may be one of the unique flavors you've tried. This ice cream is low fat, so feel free to enjoy it without guilt. To get the most authentic taste, boil milk concoction and popcorn. After heating, eliminate the popcorn and add the mixture to the ice cream.
Another oddity of this recipe is the chocolate-covered potato chips. The presence of vegetable oil in the chocolate mixture adds extra flavor and smooths its consistency. Thanks to the outer chocolate layer, the chips won't get soggy when staying with the ice cream.
Total time: 15 minutes
Popcorn isn't limited to movie theater snacks. This birthday cake popcorn can become the ultimate dessert with cake mix, marshmallows, and popcorn.
Grease or wet your hand before forming the popcorn balls to prevent them from sticking in your hand. You may notice that the popcorn turns out to be sticky and messy – that is expected. However, the sweet flavor of each bite melting in your mouth is worth it all.
To feed a big crowd, divide this sweet into individual portions. Or place it in a big bowl with a serving spoon or measuring cup on the side.
Ideally, you'll serve this confection after assembling it for the freshest flavor. For the make-ahead option, prepare it no more than two days in advance. Keep the popcorn dry and clean in an airtight container. The leftovers retain their quality for two days at room temperature.
Breathe a new air to your birthday party with this birthday cake popcorn.
Total time: 2 hours and 5 minutes (including 1 hour of chilling time)
Popcorn and cake appear to be an unthinkable match, but this salted caramel popcorn cake makes it possible. On top of the three cake layers is the generous layer of caramel corn, peanuts, and salted dulce de leche drizzle. Sounds tempting?
Your delicious cake fulfills those sweet and salty caramel cravings. The crunchiness of pecans and popcorn are scattered between the sweetness and tenderness of the brown sugar layer. Furthermore, the salted dulce de leche sauce balances out the sweetness.
Don't expect your cake to rise much because of its tender texture. However, you can still level it with a serrated knife. Moreover, your dulce de leche should be thin enough. If it's not, adjust its consistency with some heavy cream and heat.
Total time: 12 minutes
Gone by the day, buttery popcorn is your only choice. The muddy buddy version will be your new go-to dessert with its addictive sweet-meet-salty flavor. This new spin on popcorn steps up the game with a chocolate and peanut butter combo.
Muddy buddies, or Puppy Chow, are a no-bake snack mix combining cereal, peanut butter, chocolate, and vanilla. In this recipe, popcorn is the substitution for cereal, and they have done a great job. Extra chocolate or candies are optional to make your dessert sweeter.
The key to making a mess-free muddy buddy coating is scooping the mixture into a ziplock bag. Shake the bag until the popcorns are evenly coated with the powdered sugar. Otherwise, put all the ingredients in a bowl and cover the lid. Again, shake the bowl until the mixture combines.
Total time: About 7 minutes
This Oreo-based dessert only needs several ingredients and a few minutes to make. The cute colors of M&M make it a perfect gift for Valentine's Day. At the same time, this lovely popcorn will also be a big hit on your next movie night or a yummy dessert after dinner.
I love this recipe because you can easily customize the add-ins. Go for any color of the candy according to your liking. This recipe includes white chocolate chips, but almond bark is acceptable too.
Although it's always best to finish these goodnesses immediately, they can keep well in an airtight container for two weeks. When Valentine's Day hits, it's time to make a few batches, place the popcorn in unique baskets or mason jars, and give them to your loved one.
Total time: 31 minutes
If you are a caramel and popcorn fan, don't miss these crumbly caramel popcorn cookies. Satisfy your sugar craving with a buttery cookie base paired perfectly with silky cream cheese frosting. But there's more to tell – the caramel corn and sauce are the true stars of this recipe.
Interestingly enough, these homemade cookies are similar to the original Crumbl ones. Even better, their ingredients are mostly pantry items, such as butter, brown sugar, or flour. Therefore, no more waiting in line, and you also get the same taste at a more economical price.
Due to the frosting, it's better to store the cookies under cold storage. Refrigerating cookies will last for about seven days. Remember to separate the frosting and cookies in airtight containers if you prefer freezing. Thaw them in the fridge overnight before devouring them.
Total time: 7 minutes
This confetti popcorn is another excellent way to turn boring popped kernels into a unique dessert. The sweet, crunchy popcorn with rainbow sprinkles and white chocolate is perfect for celebrating a special day.
Fresh stovetop or air-popped popcorn is acceptable in this recipe. Besides, any confectionary that gives you a vanilla candy coating will work. Especially, go wild with the sprinkles. Traditional rainbow sprinkles or special themed ones will be fine.
Start with popping kernels using your preferred method and spread the finish on a parchment-lined surface. Then drizzle with white chocolate and add sprinkles on top. All that is left to do is wait for the chocolate to set, break popcorn into bite-size clusters, and serve.
Simple, delectable, and fun, this confetti popcorn will spoil your taste buds.
Total time: 5 minutes
This Cracker Jack caramel popcorn milkshake goes above and beyond the regular ones. A cold and creamy sweet treat infused with caramel popcorn and Cracker Jack is a fun twist on the classic vanilla milkshake.
Judging from the presentation, I think this milkshake deserves a solid 10, with a huge topping of golden brown popcorn and strips of caramel sauce streaming down the glass. The ombre color changing from creamy white to light orangish brown is also impressive.
Any ice cream will do but choose the one with the premium quality and natural ingredients for the best result. If you prefer a thicker shake, crush some ice cubes to speed up the chill in the milk and bolster the texture. Decorate the glass with caramel before pouring the milkshake in.
Total time: 1 hour and 10 minutes
These salted caramel popcorn brownies should stay on top of your must-bake list, a show-stopping dessert for parties or baking with the kids. A gorgeously thick layer of chocolate brownie pairs perfectly with caramel popcorn and decadent salted caramel sauce.
The fudgy brownie base with a layer of caramel popcorn creates an excellent texture contrast. Meanwhile, the combination of caramel and chocolate is the pinnacle of deliciousness.
Despite the speed and ease of making, the brownies need a little time to set before slicing, so prepare plates and forks.
It will take about 30 – 40 minutes to bake or even longer. The toothpick test won't work for fudgy brownies, as they should be gooey in the center for a standard texture. To be sure, bake a bit longer than the time range stated in the recipe.
Total time: 3 hours
Next on today's menu is the caramel popcorn macarons. Look at these creamy round cookies featuring salted caramel buttercream filling and eye-catching caramel popcorn. Their bite-size nature, tempting texture, and appealing look make them irresistible.
This recipe uses homemade popcorn. No fancy gadget is needed because it will be cooked on the stovetop. Did I tell you that adding crushed popcorn to the caramel buttercream will bring extra flavors? Blend the popcorn in the food processor before combining it with the buttercream.
To prevent grease from being attached to the meringue and batter, brush vinegar on all the equipment before using them. Coloring your macarons with gel food coloring is tricky since it will change the batter profile. If you're a novice baker, don't go overboard on this part.
Total time: 35 minutes
With an exciting twist from flavored Jello, the pink color of Jello popcorn makes it a cute endnote for a sweet Valentine's meal. Jello's tangy and fruity flavor makes this treat a new standard in popcorn land. Set aside the candy thermometer because you won't need it.
Be cautious when working with hot sugar because it can burn your finger. Noticeably, the sugar mixture will cool fast, so you'd better mix it with the popcorn quickly. Moreover, baking is necessary because it will help your sticky candy-coated popcorn become crunchy.
For the fluffiest results, air-popped popcorn is a great idea, and the salted ones bring a better flavor. Likewise, this version calls for cherry Jello, but other flavorings will do. For storing, a plastic airtight container is best to keep the popcorn fresh for a while.
Test your cooking skill and be adventurous with this Jello popcorn.
Total time: About 45 minutes (including 30 minutes of refrigerating time)
Even the name of these chocolate peanut butter popcorn truffles is enough for you to stop and check them out. Glorious popcorn balls covered with a blanket of dark chocolate will make your next movie night extremely memorable.
Each tidbit will fill your mouth with crunchy popcorn, sweet-and-bitter dark chocolate, and natural peanut butter. This recipe is enough to feed a big crowd with 20 – 24 portions. However, you should prepare a bigger batch for your guest because they will ask for more.
Due to their appearance and flavor, these truffles are great candidates for your Halloween-themed party. But you're free to enjoy them any time. Unfortunately, the truffles get softer over time, so it's best to finish them within a day. Keep them in the fridge until serving.
Total time: About 20 minutes
What not to love about these circus animal cookie popcorns? Colorful, tasty, and with many layers of texture, these cute tidbits win over the hearts of both kids and adults.
Yummy and colorful Circus Animal cookies are the guilty pleasure of the sweet tooth with their sweetness and earthy aroma. When combining them with chocolate, popcorn, and sprinkles, all the flavors will mingle harmoniously and bring the tastiest treat for you.
In addition to being a dessert, these sweets make a fun and wholesome gift for dear ones on Valentine's Day. Place the popcorn in a decorative bag or a mason jar. Tag along a sweet little note, and you're good to go.
Total time: 15 minutes
Mark my word – this sweet and salty monster munch will become your new favorite dessert. The contrast between orange-colored popcorn and black chocolate sprinkles fits right in your Halloween dessert tray. Plus, you'll experience making instant pot popcorn too.
Strange at first, but making popcorn with the instant pot is easier. Set the machine to saute mode, and these crunchy treats will be ready in 5 minutes. To double the recipe, make sure to cook the kernels in batches. Overcrowded corn leads to the kernels popping unevenly.
Remember, adding artificial coloring to white chocolate will ruin its texture. Alternatively, mixing the chocolate with melted orange candy produces a better result with the right consistency and vibrant colors.
For decoration, change up toppings to make this recipe enjoyable any time of the year. Orange brings out the Halloween vibe, but you're welcome to go beyond with other colors.
Total time: 45 minutes (including 25 minutes of setting time)
If you're a chocoholic and popcorn lover, these milk chocolate fudge-covered popcorn bars are what you've been looking for. Consider these condensed milk sweet treats a grown-up version of popcorn balls. Underneath a layer of chocolate fudge topping is a crispy marshmallow popcorn mixture.
Apart from the popcorn, sweetened condensed milk is the highlight of this recipe. The ingredient offers creaminess, sweet, and milky flavor to whatever it's in, especially your chocolate fudge topping.
The number of bars varies from 18 to 24 based on the piece's size. Therefore, adjust the servings to suit your party scale. The result you get is popcorn bars with a lovely crunchiness, accompanied by a bit of gooeyness.
Total time: 1 hour
This sticky bun popcorn is another way to make your popped kernel less boring. Everyone loves traditional popcorn, but it doesn't hurt to style them with crunchy pecans and delicious cinnamon syrup.
When cooking the sauce mixture, make sure to stir it constantly. After 3 minutes, the sauce will have a deliciously rich smell. Another thing to remember is to turn your pans 180 degrees about halfway through the bake time. By doing so, each side will receive the same amount of heat.
Be generous and make a big batch because this sweet goodness can stay in your pantry for about a week. Of course, it will get soggier over time, but the taste is still outstanding.
This sticky bun popcorn may be a new experience for you, but it won't let you down.
Total time: 40 minutes
Rich in flavor and impressive appearance, these buttered popcorn cupcakes are guaranteed to please. Decorated in a movie theater-style popcorn bucket, these sweet-and-buttery yellow cupcakes with glorified buttercream swirls are genuinely out of this world.
Buttered popcorn flavoring oil is the secret card to creating a delicious base. Fats help convey flavor and odor better. Meanwhile, Swiss meringue buttercream is also a right fit for the job. Unlike the American ones, it's silky smooth and less sweet.
Be generous and top the cupcake with a large double swirl of buttercream. Otherwise, you'll get a lot of leftover frosting. However, reduce the buttercream recipe if you prefer a more modest look. Don't garnish with the popcorn until serving, as they will be softer over time.
Total time: 25 minutes
Do these rocky road popcorn look tempting to you? The combination of peanuts, chocolate, and marshmallows hit all the right notes: sweet, salty, chewy, and crunchy. Best of all, they are easy to make within 25 minutes.
Ensure that all the elements are in a warm condition before mixing them. If your caramel is too hot, it will make your popcorn soggy. After combining the marshmallow mixture with the popcorn, don't forget to let it rest for a few minutes so other ingredients do not melt.
This recipe yields six servings, so feel free to double or even triple the ingredients for a bigger batch. Scoop some into pretty bags for homemade gifts if necessary.
Pop Your Popcorn And Turn It Into Delectable Desserts
Reading until here, you must know how far and bold you can go with these popcorn desserts. They can become a quick savior when your sugar craving hits. At the same time, these unique sweets can put a sweet ending to your dinner or party.
I guarantee these dishes will lighten your spirit. Scientifically speaking, popcorn is a powerful source of antioxidants, which help reduce depression and provide energy to your body. Therefore, enjoying it at a moderate intake is good for you.
Have you found a favorite recipe? Comment to tell me your thoughts. Also, if you know any popcorn lovers, share this article with them. I know they will love it as much as you do. Ciao! See you next time!
Nutrition Facts
16 servings per container
---
Amount Per ServingCalories121
% Daily Value *
Total Fat 3g

5

%
Cholesterol 5mg

2

%
Sodium 48mg

2

%
Potassium 1mg

1

%
Total Carbohydrate 24.8g

8

%

Dietary Fiber 0.8g

0

%
Sugars 13.2g

Protein 0.8g

0

%
---
* The % Daily Value tells you how much a nutrient in a serving of food contributes to a daily diet. 2,000 calories a day is used for general nutrition advice.