These best pistachio desserts are among the most delicious and popular ones. There are many options, from the good old pistachio salad to mouth-watering pistachio cakes and gourmet barks. You just have to pick one and try it yourself.
With a distinctive flavor and nutrition-rich profile, pistachios have become a widely consumed food, either as a snack or as an extra ingredient. As a snack, pistachios are a super food for their rich amount of vitamin B6, calcium, and protein, which are great for your health.
As a partner to other foods, pistachios lend their pretty light green color, nuttiness, and crunchiness, but they also help enhance the overall flavor of the food. That's why desserts with pistachio are incredibly eye-catching and super rich in flavor.
In the following article, you'll get to explore the best pistachio desserts ever. Let's get straight to the list!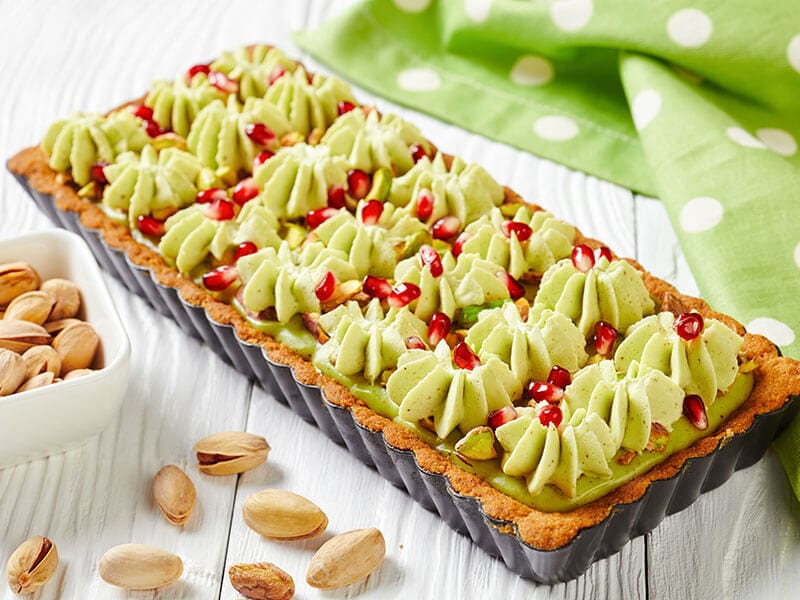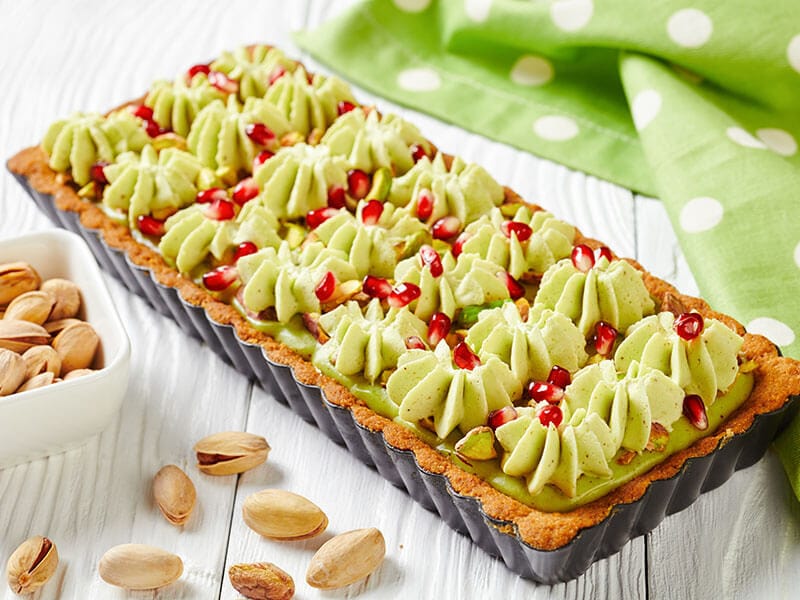 22 Best Pistachio Desserts That Will Suit Every Palate
This hand-picked list covers all types of different pistachio treats for you to choose from. Whether it's a baked or no-bake dessert, pies or barks, you will always find some good ones here.
In addition, all desserts included here are just so yummy that they will get your mouth watering just by reading the content. If you are a huge fan of pistachios, you'd better be prepared.
Total time: 1 hour 20 minutes (8 hours of cooling time excluded)
Pistachio cheesecake embraces a beautiful green color and a unique rich flavor profile. It makes an impressive, crowd-pleasing dessert for special occasions like St. Patrick's Day and Christmas.
The best part here is the crust. Besides the traditional graham crackers, the crust takes on roasted pistachios as one of the key ingredients. As a result, it gets a mild sweetness, crunchiness, and subtle nutty flavor.
Ultimately, the crust perfectly blends with the cream cheese filling's delightfully creamy texture and taste, creating a well-rounded, greenish dessert that melts in your mouth.
Total time: 24 minutes
Next, I will introduce you to one of the best desserts for gatherings: the pistachio wedding cookies. These lovely bite-sized balls are based on a shortbread and wedding cake, which provides a soft and chewy texture and a buttery taste.
Meanwhile, the pistachio pudding mix lends them a delightful, minty green hue. Along with a sweet, white sugar coating, these cookies offer a pleasant taste and a cute festive look. Ultimately, they make a fantastic pistachio dessert you can bake and enjoy all year round.
Total time: 8 hours 30 minutes (8 hours of cooling time included)
The beautiful pistachio filling delivers a velvety and smooth texture, which really stands out on the firm Oreo crust. With a divinely rich and nutty smell, no-bake pistachio pie will surely make everyone crave a bite.
The dessert takes on its nutty flavor from pistachio paste, one of the key ingredients. Meanwhile,adding white chocolate and cream cheese helps enhance the overall green hue of the paste. Also, they bring creamy goodness to the filling.
These flavors blend beautifully together to form a delectable, well-rounded pistachio pie. Along with a touch of crunchiness and a buttery note from the crust, the dessert will give everyone an amazing flavor experience.
Total time: 1 hour 10 minutes
For new people, baklava is a classic layered dessert that pays homage to Ottoman cuisine. Good old baklava often includes filo pastry, chopped nuts, and sweeteners like syrup or honey. As a result, the dessert often turns out flaky and incredibly sweet.
Of all variations, pistachio baklava is among the best because of its distinctive flavor profile. In addition to sweetness, this recipe takes on a nutty and floral undertone from the pistachio filling and Lebanese syrup.
All the flavors are balanced together, creating a beautiful, tasty dessert without cloying. To serve, cut the baklava into small pieces and let everyone enjoy them.
This step-by-step tutorial will help you make the best pistachio baklava.
Total time: 2 hours 20 minutes
Flaky and crusty on the outside, creamy and citrusy on the inside, these pistachio lime squares are a definite heaven-sent.
Pistachios offer a hint of nuttiness and enhance the flaky texture of the light brown, buttery crust. Meanwhile, the combination of fresh lime juice, egg yolks, and condensed milk creates a perfect, refreshing lemony taste without overpowering the pistachio flavor.
Ultimately, they create a wonderful dessert that melts in your mouth. Bring these bite-sized squares to your next party, and I'm sure they will disappear quickly.
Total time: 30 minutes
What's better than moist and chewy butter cookies? Pistachio-flavored ones, for sure. Adding these nuts gives an earthy tone and a crunchy touch, breathing a new life into the original version.
In addition, the perfectly baked butter cookies give an interesting flavor experience. They are flaky and crispy outside but soft and chewy inside.
Ultimately, these cookies turn out with a perfect blend of flavors. If you are a fan of butter cookies, you will definitely fall in love with the pistachio version.
Total time: 1 hour 20 minutes
Pistachio pudding cake is a delicate pudding dessert that has been popular since the 1950s. And it continues to grow its reputation as the best pistachio dessert. Why? It's because this cake is so simple yet irresistible.
The soft and spongy pistachio-flavored cake pairs nicely with a smooth and velvety layer of cream cheese frosting and a sprinkling of chopped pistachios. Altogether, they create a gorgeous and flavorful mint green dessert.
Every small bite is bound to give you a burst of richness. And you don't have to make any effort to recognize the fresh and nutty flavor of the pistachios.
Total time: 2 hours 40 minutes
These pistachio macarons are just hard to resist. These delicate French-style sweet treats look so appetizing with the minty color and the fluffy buttercream. Meanwhile, their shells have a slight crunch with an overall soft, chewy mouthfeel, creating a tempting texture.
About the flavor profile, pistachio macarons embrace a perfect balance of sweetness and a nutty undertone. What a tasty dessert to please everyone's taste buds.
I used the following guide to make these macarons, and the result was unexpectedly good.
Total time: 15 minutes
If you love the combination of pistachio and white chocolate, you'll surely love cranberry bark. It not only is tasty but also has a festive presence. Thus, cranberry pistachio chocolate bark makes a perfect dessert to put on the party table.
Overall, this yummy dessert with cranberries boasts the buttery taste of white chocolate. Meanwhile, the addition of shelled pistachios offers hints of salt and nuttiness that balance out any extra sweetness from the chocolate.
Meanwhile, the supplement of cranberries gives a unique twist to the white bark with their tart flavor and bright color. When combined, they create an eye-catching and well-balanced pistachio dessert to satisfy the guests.
Total time: 5 minutes
Pistachio salad is a classic dessert that everyone should try once. And watergate salad is no exception.
This fluffy dessert is characterized by a mild sweetness and a creamy texture from the pistachio pudding. Meanwhile, pineapple juice helps balance things out with its tart flavor. And the addition of red cherry on top makes the dessert stand out.
Along with rich and chewy marshmallows, watergate salad offers a pleasant aroma and a well-balanced profile that will definitely please your taste buds. Also, you can have fun with the ingredients, and the result still turns out unexpectedly satisfying.
Total time: 4 hours 10 minutes (3 hours 30 minutes of cooling time included)
These pistachio shortbread cookies are among the best of all baked goods. The superb combination of light yellow shortbread cookies, melted dark chocolate dip, and lightly salted pistachio makes an amazing gourmet dessert.
Melted chocolate and crunchy pistachios give a unique twist to the soft and crumbly shortbread cookies, leading to a rich sweetness, salty touch, and an earthy undertone.
These cookies produce a perfect melt-in-your-mouth flavor experience. What a beautiful treat to have on holidays and occasions like Christmas and New Year's Eve!
Total time: 2 hours
Made with finely ground pistachio, homemade pistachio cake comes with a slight pistachio flavor with a natural light green hue, completely different from those artificial flavoringsl.
This moist, springy cake takes on a slightly tone from the raw pistachios. Meanwhile, the cream cheese frosting layers provide a touch of creamy goodness. These two harmonize with each other, giving a rich mouthfeel.
With no pistachio pudding mix, artificial coloring, and flavoring, authentic pistachio cake will hit you right at the first bite.
If you are making a pistachio cake for the first time, here is the beginner-friendly guide you will need.
Total time: 4 hours 30 minutes (4 hours of cooling time included)
These delicious cookies are a symphony of chocolate, pistachios, and salt. While the chocolate chunks lend them a rich and slightly bitter flavor, pistachios help enhance the overall flavor with a touch of mild sweetness and earthy tone.
Finished with a sprinkling of coarse salt, the dessert provides a gourmet taste that will surely impress every cookie lover. If you want some good recipes to please the crowd, you should definitely make these salted chocolate cookies.
Total time: 2 hours 20 minutes (2 hours of cooling time included)
Appetizing and super easy to make, this toothsome pistachio pudding icebox cake is a real showstopper.
The soft and creamy combination of the cream cheese layer and the rich, mellow pistachio pudding is wonderful. Moreover, it pairs nicely with the gently sweet, baked graham cracker crust.
Sprinkled with chopped pistachios, the dessert brings in an oddly satisfying taste. Make the cake for Christmas or St. Patrick's Day, and your family will surely beg you to make more.
Total time: 55 minutes
If you love the flavor of pistachio cream, you can't miss out on these appetizing bars. With a wonderful combination of soft, crumbly shortbread and smooth, velvety pistachio filling, the dessert is a definite treat to your taste buds.
At first glance, pistachio cream bars attract attention with their lively, greenish look. Taking one bite, you can feel the buttery taste of shortbread crust harmonizing beautifully with creamy and earthy notes from the pistachio-flavored cheesecake pudding.
Utterly, these lovely cream bars will melt in your mouth, giving out a refreshing and pleasant feeling.
Total time: 1 hour 30 minutes
Out of all gelato variations, the pistachio one attracts people with an uplifting green look and a distinctive flavor profile.
Compared to ice cream, gelato has a much softer texture. It's sweet and creamy but not that fat. Meanwhile, the nutty flavor of real pistachios really makes the dessert stand out.
To get the full flavors, I like to serve pistachio gelato plain. However, it also pairs well with sweets like cookies and crispy ice cream cones. Either way, the dessert will take you to the sweet summer in Italy you've always dreamed of.
The following tutorial will show you how to make the perfect pistachio gelato at home.
Total time: 25 minutes
Pistachio fudge is always my go-to when I need a quick and easy dessert for holiday gatherings. With minimal effort and hands-on ingredients, chocolate pistachio fudge comes with an eye-catching look and deliciousness, making people gobble to the last piece.
The combination of dark chocolate and condensed milk creates a rich chocolate fudge with a heavenly smell. Meanwhile, the addition of pistachios brings a festive look and earthy tone to the dessert.
When combined, these two create a mouth-watering, luxurious treat with hints of saltiness and sweetness. Chocolate pistachio fudge is definitely the best pistachio dessert I have ever made.
Total time: 1 hour 20 minutes
Pistachio pound cake wins the heart of cake lovers with its simplicity. Aside from the filling, cream cheese frosting, and complicated toppings, the humble dessert only features pound cake, vanilla bean glaze, and pistachios.
The airy golden brown cake offers a sweet note with a dense and velvety texture. Meanwhile, the thin layer of glaze and roasted pistachios set it apart with an eye-catching look and a rich and crunchy mouthfeel.
All the flavors balance out beautifully, creating an irresistible dessert to enjoy with your friends and family on holidays.
Total time: 2 hours 30 minutes
The combination of pistachio butter, mascarpone cream, and ladyfingers is a real hit. The soft, coffee-flavored ladyfingers offer a robust and sharp taste.
On the other hand, the creamy, airy mascarpone gives mild sweetness and nuttiness. Adding pistachios helps boost the overall flavor and lends the cake a crunchy touch.
Every component harmonizes perfectly, creating a flavorful ladyfinger dessert with an exceptionally balanced flavor profile. If you love the original, you will absolutely love the pistachio version.
Total time: 45 minutes
Tasty and simple, these classic Italian-style desserts are a must-try.
Different from the signature crunchiness of biscotti, the pistachio version takes on a nice, chewy texture that melts perfectly in your mouth. Meanwhile, the combination of cocoa powder and pistachios brings out a chocolatey and earthy tone.
These flavors blend well with each other, creating a delightful treat. Yummy and easy to wrap, these cookies are a great dessert for every event and occasion. You can either make these for holidays or send them out as a gift.
The following guide will teach you how to make the best pistachio biscotti.
Total time: 1 hour
Orange and pistachio are like a match in heaven. And there is just no excuse not to explore their delectable flavor in orange thyme and pistachio butter cake.
Freshly squeezed orange juice and roasted pistachios really brighten the dessert with a zesty and citrusy flavor. Meanwhile, fresh thyme gives the orange-based dessert an aromatic and herbal touch.
Served with a thin layer of orange glaze and chopped pistachios on top, the dessert will surely make everyone mouth-watering.
Total time: 1 hour
Finishing the list is the elegant pistachio cupcakes. Featuring a beautiful green color, these cuties make a perfect dessert for holidays like St. Patrick's Day. With a perfect balance of sweetness and creaminess, these cupcakes will definitely please your taste buds.
The best thing about these cupcakes is the ubiquitous presence of pistachios. You can sense the nutty flavor with a slightly minty note in every inch of the cake, from the beautifully-baked cupcakes to the divinely soft frosting.
Pistachios Add A Delicious Twist On Your Favorite Desserts
Featuring a fresh and earthy flavor and having a lot of health benefits, pistachios quickly become a favorite treat. While you can enjoy them in many ways, pistachios pair exceptionally well with desserts.
With a light flavor profile, pistachios really help brighten up a good old dessert, giving it a better twist without overpowering the overall taste. My humble list above includes the pick of the best pistachio desserts, which will surely drive you nuts, but in a good way.
Thank you for your time, and I hope you can find some good desserts to save to your must-try list. If you find it helpful, like and share the post. Also, kindly drop a comment below so I can know what you think about these treats!
Nutrition Facts
12 servings per container
---
Amount Per ServingCalories308
% Daily Value *
Total Fat 12.5g

19

%
Cholesterol 72mg

24

%
Sodium 1250mg

53

%
Potassium 262mg

8

%
Total Carbohydrate 35.4g

12

%

Dietary Fiber 0.5g

0

%
Sugars 22.7g

Protein 13.4g

26

%
---
Calcium

212

%
Iron

1

%
Vitamin D

8

%
* The % Daily Value tells you how much a nutrient in a serving of food contributes to a daily diet. 2,000 calories a day is used for general nutrition advice.