22 Best Phyllo Cup Appetizers To Save In Your Cookbook 2023
Phyllo cup appetizers are always a favorite of both adults and children. I've always loved phyllo cups because of their lovely and crispy appearance. They're not only delicious, but they look great on the party table.
Phyllo cups pair well with sweet and savory dishes, so I have many phyllo cup spread recipes. This post will bring you the most popular and easy-to-make yummy phyllo cup spread.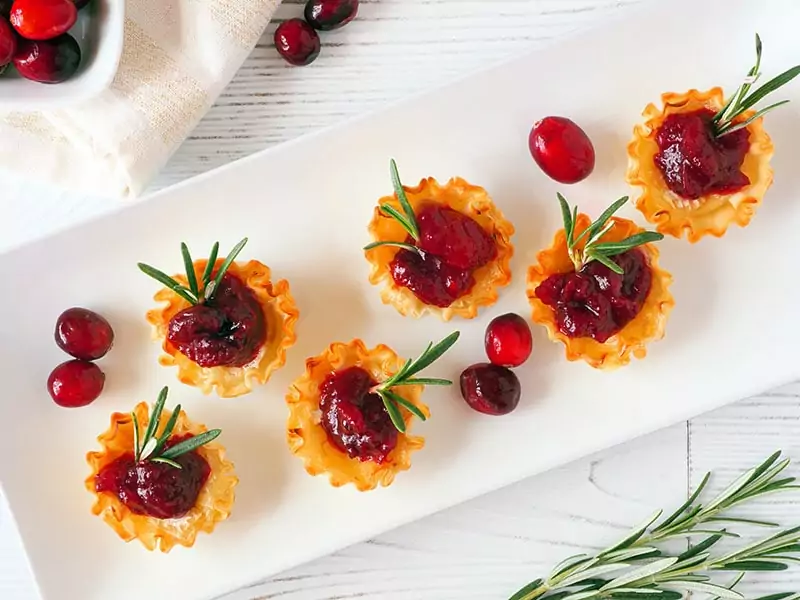 22 Phyllo Cup Ideas For A Crispy Starter
Hi my friends, are you looking for a snack that can be made with phyllo cups? Luckily, I have so many of the best and easiest recipes you can make with these cups. Please refer to the following recipes.
Total time: 5 minutes
The total time that you spend on this dish is 5 minutes! Yes, you are not mistaken, exactly 5 minutes. You just put shrimps, mayonnaise, seafood seasoning, and fresh dill into phyllo cups, and you have this instant dish.
If you don't like mayonnaise, you can replace it with olive oil or Greek yogurt. Also, any regular shrimp can go with this recipe.
This crave-worthy shrimp appetizer is ideal for picnics or parties, but you should separate the shrimp salad mixture into a bowl and store this mixture in the fridge to extend the storage time. Pour the shrimp salad mixture into the phyllo cup when you're ready to serve it.
Total time: 30 minutes
Mini quiche bites can be an ideal dish for breakfasts, brunch, or appetizers! If you are a big fan of egg dishes, you should not miss this recipe.
Quiche bites combine eggs, cheese, bacon, heavy cream, chives, and some other spices. You can find this combination in breakfast dishes, but now with phyllo cups, they bring a new twist to the traditional breakfast dish or aperitif on your dining table.
If you are a vegetarian, you can easily replace the bacon with diced bell peppers and adjust the other ingredients to suit your diet better. You can pre-cook many quiche bites and then put them in the freezer to serve for days later. That's a pretty convenient way!
Detailed instructions for mini quiche Lorraine bites so you can make them anytime at home.
Total time: 20 minutes
If you have too much cheese in the fridge and don't know what to do with them, these delectable Brie specialties will satisfy your culinary passion and help you process all the cheese quickly.
You need to prepare five ingredients for this recipe: bacon, Brie cheese, apple, pepper jelly, and phyllo cups. It's easy to take advantage of what's available in your home to make a simple snack.
You can prepare this one day in advance for the party. Make the filling and slice some blocks of cheese, then store them in the refrigerator for the next day.
Total time: 27 minutes
With just 4 ingredients (breakfast sausage, Ranch dressing, cheese, phyllo cups) and 12 minutes in the oven, you can make an epic and delicious taste that's not inferior to the finger food of five-star chefs. Don't believe it? This recipe will prove it for you.
You can make the fillings a day in advance and pour them into phyllo cups when you need to bake. If you love spicy dishes, you can use spicy sausages or add ½ crushed chili or a spicy dressing to the filling.
Sausage ranch phyllo cups don't need a lot of hard-to-find ingredients and don't take much time to prepare. You can make these little savory phyllo cups whenever you want to eat them. Try it now!
Total time: 20 minutes
Goat cheese tart with spring herb flavor will be the right hors d'oeuvre to help refresh your energy after a long hard work day.
It's amazing how a small phyllo cup can contain so many flavors: the sweetness of honey, the richness of goat cheese, and the aroma of fresh herbs. I believe you will not be able to resist this seductive taste.
If you want to impress your guests with the dishes at your party, start with this toothsome goat cheese-stuffed delight. Don't forget to make a large batch because I am sure it will be all gone as soon as it is taken out.
Total time: 20 minutes
There aren't many phyllo cup antipasto recipes with crab filling. So today, I will introduce you to the crab rangoon phyllo cup recipe that I believe is worth trying. This crab dish will be a delicious and unique canapé for your cozy party.
This recipe will need about 1 lb of Alaskan king crab legs. Fresh Alaskan crab is quite expensive, so buying pre-cooked Alaskan crab legs at the supermarket is more convenient and affordable.
Total time: 27 minutes
You're looking for an easy starter that doesn't contain too many calories? This spinach artichoke dip phyllo is just what you need.
Usually, appetizers are high in calories, and consuming too many will make you gain weight. Therefore, I want to help you find a way to replace high-calorie ingredients with lower-fat ones in this recipe.
You can change a few ingredients in this easy spinach starter recipe to make it healthier. For example, it is a good idea to replace fat cream with low-fat or sour cream and mayo with Greek yogurt.
Detailed guidelines to make spinach artichoke dip phyllo cups in a few minutes.
Total time: 30 minutes
Next, I will introduce to you a dish with a southwest taste. You can find all kinds of sour, salty or sweet flavors inside this delightful hors d'oeuvre. Especially, all those flavors are gathered in a small and crispy phyllo cup.
This dish may be a bit spicy for some people, but that's okay. The sour cream sauce inside will help you cool down. You should not make this savory too soon before serving time because the cups will quickly get soggy.
With only 30 minutes, you have a savory taste with a phyllo cup, which I promise anyone can't stop at the first bite. Are you ready to go to the kitchen to try this special recipe right away?
Total time: 15 minutes
This recipe is quite simple and easy to make if you need an instant snack. No need for an oven; arrange the toppings and sauces into the magic phyllo cup. And boom! A perfect snack appeared.
You can also prepare lots of these sweet strawberry cups and store them in the freezer so you can use them anytime. However, for honey and balsamic glaze, you shouldn't drizzle them early to avoid your crunchy cup getting wet before serving.
Anyone will love the little phyllo cups with creamy insides and juicy red strawberries. Do not forget to decorate the cups with cool green leaves of mint or basil, the contrast between red and green will make your cups more eye-catching.
Total time: 35 minutes
What kind of hors d'oeuvres are suitable for a fancy party? I immediately think of the mini phyllo cups with crab meat and cream cheese inside. I will introduce a delicious and simple phyllo cup recipe that you can apply to any party, whether casual or luxurious.
This dish is inspired by crab Rangoon but is much more amazing. You don't always have to find dipping sauce when all the flavors you need are in the tiny cup in your hand.
You can make the filling and store it in the fridge for the next day's party. This crab phyllo is suitable for eating both hot and cold, you can add the filling and decide whether to put them in the oven or not.
Total time: 15 minutes
Another recipe with a unique flavor that you should try once is fig and goat cheese phyllo cups. Serve these impressive fig and goat cheese tastes in only ten minutes, and your guests will be blown away.
You can serve these easy tastes at your next holiday gathering, New Year's Eve party, or any other party! These simple appetizers are quick and easy to make whenever you want.
If you are a big fan of phyllo cups, you should not skip this recipe. This sweet tidbit is not only delicious but also adorable to decorate your table.
Total time: 15 minutes
I will introduce to you an appetizer recipe with a Mediterranean flavor. This dish is easy and quick to make but still ensures the delicious taste and quality.
You can pre-make this savory by preparing the filling and placing it in the fridge instead of pouring all the filling into phyllo cups. The reason is that the filling is made up of olive oil and lime juice so that it will soften your crispy phyllo cups.
I believe you can succeed with this recipe right on the first try. Let's surprise your family with the dish you just learned.
Enrich your list of appetizers with Greek feta dip phyllo cups.
Total time: 25 minutes
Do you need an attractive appetizer or snack to add to your list of interesting ideas for Monday night dinners? If so, I've got just the thing for you: easy yet pretty baklava cups. They feature an impressive list of vegetarian ingredients that please anyone's taste buds in perfect unison.
All you have to do is simply fill crunchy phyllo cups with melted butter, honey, and spices before baking them for a few minutes until golden. You can cool mini baklava cups and store them in a tight-lidded container at room temperature for up to 5 days.
Total time: 15 minutes
What do I have in this delicious little bite-sized dish? All of those ingredients create an explosion of flavors.
This spread deserves to be present at any gathering, even the most luxurious. Blackberry cups make a delicious appetizer at any party, especially when paired with a chilled glass of white wine.
You can prepare these cups in advance and keep them in the freezer. When you need to serve, take these freeze phyllo cups straight from the freezer to the oven, you don't need to defrost them.
Total time: 30 minutes
With only 15 minutes of preparation and 15 minutes of baking, you will have warm Brie and pear tartlets of the same quality as in the most luxurious restaurants.
Have you tried combining pear and cheese in your recipes? I love the rich aroma of cheese and the sweetness of diced pears when combined in a phyllo cup. It always makes me want to eat another bite until I realize I am full.
A simple, delicious, stunning antipasto for your house party! What are you waiting for without discovering my tartlets with phyllo cups recipe?
Total time: 17 minutes
Here's a no-oven recipe for those who are too busy here. Let's see what I have in this recipe! You might find sweet bites with white and dark chocolate and sweet honey on top of dried cranberries.
All of these great flavors are wrapped up in a cute and crispy phyllo cup. You can assemble dried cranberry, honey, and white and black chocolate into phyllo cups and store them in the fridge. I guarantee they still taste as good the next day.
Want to take this dish to the next level? Combine this dish with toasted pistachios and pecans on top, and you won't imagine how great they taste. Or you can also try grated fresh orange zest on top of melted white chocolate for an orange aroma.
Total time: 35 minutes
The name of this sinfully seductive appetizer with fruits always evokes the rosy and irresistible scent of blueberries. Oh yes, these wild blueberry cheese bites are even more tempting than those made from ordinary fruits; they are a delicious and cute small food that every kid will love.
It's fantastic not to have to touch the oven and still be able to make these lovely little tastes like this. This appetizer dish can be eaten cold, so you don't have to worry too much about how to bring it to the table in time while they are still hot.
The cheesecake filling is served in a small phyllo cup and topped with wild blueberry sauce. What an attractive dish that can satisfy even the most demanding guests!
A step-by-step tutorial makes wild blueberry no-bake cheesecake bites easy for anyone.
Total time: 21 minutes
I promise that this Hoisin mushroom combination won't let you down. This is a new recipe with a filling of mushrooms and a mixture of Hoisin sauce. If you're tired of sweet phyllo cup recipes, you can try this savory version of the phyllo cup recipe.
If you are on a vegan diet, you can also use agave nectar in this finger-licking mushroom starter dish. Agave nectar brings sweetness to the filling without having to rely on animal-derived products.
The mushrooms need to be diced before mixing them. It takes about 30 minutes from start to finish. And I promise you that nothing is too complicated!
Total time: 20 minutes
Welcome to the super-easy spread that I present to you right now. I believe it will perform well as an appetizer for your house party.
You can store this dish well in the refrigerator, so you won't have to worry about having too many leftover bites after the party. Make as much as you like, and you can keep leftovers in the fridge for up to 3-4 days.
If you are too busy with other dishes at the party or holiday, you can prepare this aperitif a day in advance. Fill all the cups and place them in the refrigerator. The next day, taking them out to bake will save more time.
Total time: 55 minutes
Chaat or Chat is a spicy, sweet, or savory dish served as an appetizer, entree, or snack. The diverse combination of flavors and textures is always why everyone loves Chaat dishes.
Aloo Chaat in phyllo cups combines goat cheese, cream cheese, honey, phyllo shells, and some herbs. It is also garnished with crunchy chickpea snacks (Sev) and bright red pomegranate pearls. This mouthwatering snack is one of the most effortless party favorites.
Although it is not a complicated dish, it requires a few things to prepare in advance. If you don't want to spend too much time on the preparation, you can make the sweet yogurt and potato filling a day in advance and store them in the refrigerator.
Total time: 20 minutes
I love filling phyllo cups with a variety of flavors and prioritizing healthy ingredients. In this recipe, I used cucumber, roasted pepper, parsley, hummus, and feta cheese to fill the cup.
Peppers can be purchased directly from the store or prepared at home. If you dislike peppers soaked in oil like the store-bought peppers, you should try roasting peppers at home.
Buy phyllo cups from the grocery store to save more time! Defrost cups for 10 minutes before filling them with healthy ingredients. No need to bake, you can already enjoy mini hummus and roasted pepper phyllo cups.
Total time: 15 minutes
Your party guests will love these phyllo cups filled with pimento cheese and topped with pepper jelly! The cups are full of butter, warm and creamy pimento dip, and salty bacon. The bites melt in your mouth!
You shouldn't prepare this dish early, which can cause the phyllo cup to lose its crispiness. I recommend that if you intend to make this dish, you should make and eat it in one day to enjoy its best taste.
This is a proper dish to serve at birthday parties, baby shower parties, or to eat at home on a normal day.
You will regret skipping Pimento cheese pepper jelly phyllo cups.
A Huge Selection Of Phyllo Cup Recipes You Must Try Today!
Remember to save these useful recipes. You'll need them when you need aperitif for a party, holiday, or camping. After applying the recipes above, I believe you will become a superstar in the field of dishes with phyllo cups.
Please share this article with your friends or relatives, so they have more exciting recipes with phyllo cups. They will not forget to thank you.
If you have any questions or want to share your cooking experience with the recipes above, don't hesitate to write them down in the comment section below. I am happy to receive your feedback.
Nutrition Facts
15 servings per container
---
Amount Per ServingCalories145
% Daily Value *
Total Fat 11.3g

17

%
Cholesterol 20mg

7

%
Sodium 294mg

13

%
Potassium 26mg

1

%
Total Carbohydrate 6.2g

2

%

Dietary Fiber 0.2g

0

%
Sugars 0.7g

Protein 5.3g

10

%
---
Calcium

89

%
Iron

1

%
Vitamin D

1

%
* The % Daily Value tells you how much a nutrient in a serving of food contributes to a daily diet. 2,000 calories a day is used for general nutrition advice.