I'm here to share a list of easy pasta soup recipes you can whip up anytime. These hearty soups can both satisfy your taste buds and comfort your cravings with their irresistible flavors. More than that, all of the recipes are versatile and family-friendly.
Soup is one of the most universal foods and has many different types worldwide. You can put anything into soup, from vegetables, meat, and nuts, to pasta. These recipes below won't disappoint your expectations with numerous kinds of delectable pasta soups.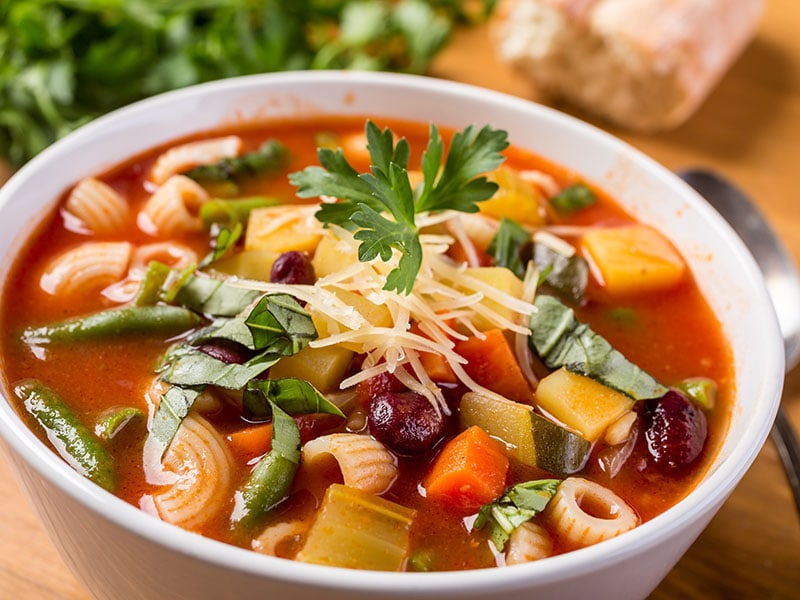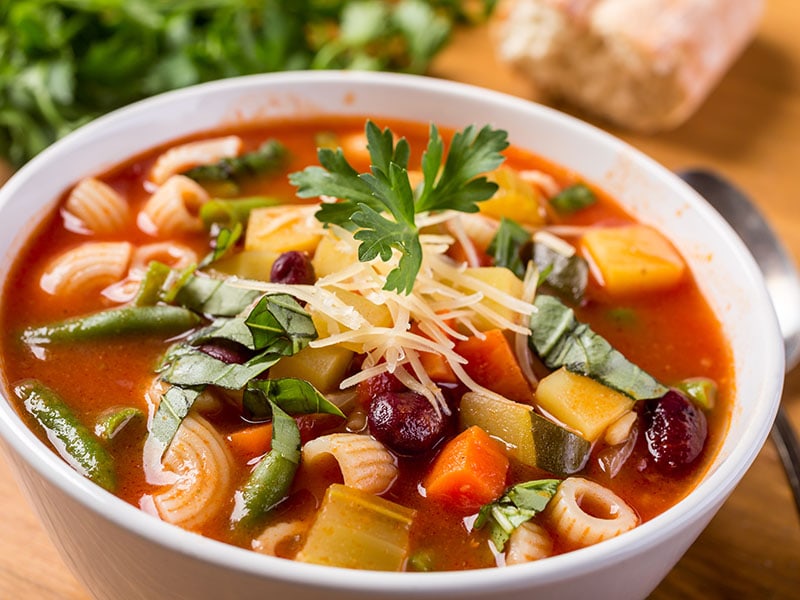 19 Delicious Pasta Soups That Comfort Your Stomach
Though people usually eat soups on chilling nights, there is nothing wrong adding these recipes to your summer pasta list to diverse your cooking arsenal. Let's whip up all of the pasta soup recipes in this post whenever you want with a few prepping steps.
Total time: 40 minutes
A classic lemon chicken orzo soup is what you are craving for a warm and delicious dinner. Chicken thighs, carrots, onions, and orzo are what you need in one pot and quickly cooked until tender. Dish up crusty bread alongside a bowl of steaming soup on the table. So irresistible!
You can prepare the chicken broth on your own or grab one at the grocery store. If you use store-bought broth, you should choose a low-sodium type. It'll be easier to adjust the seasoning. Also, add bay leaves to the broth for an aromatic fragrance.
You can store this chicken orzo soup in the freezer for 2 months. That means you can follow the instructions to make the soup, keep the food frozen, and serve it on busy days. Note that if you're planning to freeze the soup, don't cook the pasta until ready to ingest.
Lemon chicken orzo soup is a must-try dish for every season.
Total time: 1 hour 15 minutes
This satisfying recipe using rigatoni will fill your empty stomach with a rich, cheesy, and meaty flavor. The meatballs made with ground beef, dried oregano, and basil are more tender and tastier than any store-bought ones.
Assembling bite-size meatballs isn't problematic. Place all the ingredients you need in a bowl and mix them well. Use a tablespoon to scoop even portions and form the meatballs by gently rolling them in your hands.
If you intend to prepare the food ahead, separate the cooked rigatoni from the soup. When you want to serve, place the pasta and the meatball soup in a bowl and sprinkle some mozzarella cheese on top.
Total time: 40 minutes
The winning combination to create a fast, aromatic, and flavorsome soup is wheat lasagna and ground turkey sausage. You can whip the soup up by cooking everything in a large stock pot. This recipe is a must-try for a busy dinner.
For newcomers, lasagna is a pasta type shaped into wide and flat sheets. Thus, before adding the pasta to the soup, you should break it into smaller pieces to fit your spoon. Your kids won't be comfortable when chewing large pasta.
Total time: 45 minutes
Let's make life easier with your instant pot! This Tuscan ravioli soup is comforting, cozy, and ready to dish up in under an hour when cooked in the instant pot. The liquid food is incredible, with a creamy soup base, cheesy ravioli pasta, and rich Italian sausage.
This is how you can prepare a tasty soup with an instant pot. First, saute the sausage and onions for 5-8 minutes. Add sun-dried tomatoes, herbs, and broth, then cook on high pressure. Lastly, quickly release the steam and cook the pasta and spinach until tender.
It's advisable to use fresh and refrigerated ravioli for this recipe. However, frozen pasta is still acceptable, but don't forget to cook it for some additional minutes.
Total time: 9 hours
I know that when it's chilly outside, you just want to cuddle under a blanket. But don't let your stomach be empty. This slow cooker recipe with pasta will be your lifesaver. You only need to spare a little time to prepare the ingredients. Your crockpot will take care of the rest.
Begin by cooking the ground meat, sausage, garlic, and onion in a skillet. Next, place everything in the crockpot and cook for 7-8 hours on low. Add the pasta last and cook for 30 minutes. Your bowl of soup will be yummier when topped with ricotta and parsley.
Total time: 25 minutes
It's still mac and cheese, just in a soup-like form. There is no need to mention it, but you'll know how cheesy the soup is. It's ready in under half an hour, and you can make it even on tight-schedule days. The soup is so tasty that your kids will beg you to give them more.
Do you ask for the secret of the super bold cheese flavor? It's simply a combo of cheddar and Velveeta cheese. Also, you can spice up the meal by adding a little cayenne pepper to trigger your taste buds.
Cook the pasta al dente in salted water. Just be sure not to overcook it since the pasta shells will slightly cook more when mixed with the hot soup liquid.
Even the pickiest eater will fall for this mac and cheese soup.
Total time: 1 hour
This creamy chicken tortellini soup is rich, luscious, and perfect for a healthy and cozy meal. Because of the mixture of butter and all-purpose flour, the luscious creamy soup is slightly thick and extremely addicting.
After eating a spoonful of the soup, you can instantly feel the tender shredded chicken, pillowy tortellini, and mildly sweet corn in a milky broth. Besides, adding a teaspoon of Italian seasoning and salt will create a delicate flavor for the dish.
Store the soup in the fridge if you can't finish it within a day. To reheat, cook over medium-high heat on the stovetop, stirring occasionally. Don't bring it to a boil, or the milk may get curdled.
Total time: 25 minutes
Do you wake up in a hurry and want to start your day with something simple and warm? Give parmesan pasta soup a try. The cheesy breakfast requires a few ingredients and is peaceful to assemble.
Butter, parmesan, broth, parsley, and pasta are everything you need for this recipe, and I bet they are all available in your home. This is the fastest and simplest vegetarian dish with pasta you will make from time to time.
Pairing the food with any of your favorite salads or chunks of baked bread is the best.
Total time: 30 minutes
Creamy gnocchi soup is suitable for a heartwarming one-pot pasta meal on the dinner table at family gatherings. Everyone will love to try the food with a milky and thick consistency combined with soft gnocchi, tender mushrooms, and peas.
You'll never expect this yummy gnocchi soup to be totally vegan. Besides veggies, the recipe only uses dairy-free products, from milk to cheese. Plus, you can freely substitute vegetables to meet your taste. It won't make your dish worse.
Most people don't quite prefer the starchy and bland taste of gnocchi since it mainly contains potatoes. How about using gluten-free cauliflower gnocchi? This type is advisable because it's sweeter in flavor and healthier.
Total time: 40 minutes
Not a fan of too thin soup? This pasta fagioli recipe will become your favorite Italian soup option at the next meal. It's thick and bold in flavor thanks to the borlotti beans, also called cranberry beans. Unlike minestrone, pasta fagioli soup doesn't include plenty of chunky veggies.
If you use a small tube-shaped pasta like ditalini, cook it for 7-8 minutes. Add the pasta when you want to serve it immediately, or it may get mushy. Leftovers can last for 2-3 days in the fridge. Or you can freeze it for longer as long as the soup doesn't contain pasta.
Pasta fagioli soup is pleasantly aromatic, savory, and family-friendly.
Total time: 1 hour 30 minutes
Have you ever tried Vietnamese soup? You won't stop making this macaroni soup with pork ribs since it's heavenly good. The pork ribs are deliciously meaty, combined with the tenderness of carrots and daikon radish.
The cooking time may be long because you have to slow cook the pork ribs. But the prep work is very quick. To remove unpleasant odors and make the soup cleaner, you should parboil the ribs first. Besides, while simmering the meat, skim off the foam occasionally.
As for the pasta, use any short pasta such as elbow macaroni or fusilli, your choice.
Total time: 15 minutes
What makes this Hong Kong-style soup so impressive? That's because there are fried eggs with crispy edges and a slice of chewy ham on top of the Chinese food. Hongkongers frequently enjoy this to start the day, but it can also be a light lunch or a pleasant dinner.
You will succeed with this recipe if you know these tricks. Fry your egg in oil over medium-high heat to get the desired texture. Don't cook the ham in the broth. Just blanch it for a few seconds to keep the meat tender.
Total time: 1 hour
Is there any spaghetti stored in your kitchen cabinet when the weather is cold? If yes, it's the perfect time to make spaghetti and meatball soup. The soup base is a mix of beef broth, tomatoes, veggies, and cheesy parmesan.
The star of the spaghetti soup is the golden brown meatballs. After forming the meatballs, pan-frying them over medium heat or oven-roasting them at 350°F for 20–25 minutes is the best option.
Total time: 45 minutes
Are you a massive fan of pizza? This pizza pasta soup will please your heart. Also, the Italian dish is vegan, low-fat, and oil-free. The blend of all the vegetables, sauce, and black olives makes your dinner packed with nutrients and flavors.
Pasta shells are one of the main components that make the food more tempting. However, your soup may become too thick if you add more pasta than requested. Make sure to stick strictly to the instructions for the expected result.
Don't forget to use low-sodium vegetable broth, plain plant milk, and plant-based cheese to keep the soup vegan.
Total time: 1 hour
Italian minestrone soup is ideal as an accompaniment to pasta dishes for your next meal. For those who may not know, minestrone is a thick Italian soup that commonly includes stock, beans, veggies, cheese, and pasta.
Use both chicken broth and beef broth in this recipe. They make the soup more flavorful compared to using only beef broth. You can simmer parmesan rind with the stock if you want to add depth to the minestrone soup.
Besides the listed ingredients, this warm food is savory and smokey due to pancetta (also known as Italian bacon). Cook the bacon first over medium-high heat for 6 minutes or until crispy. Set aside and sprinkle it on the soup before serving to add more flavor.
You can use any pasta for this Italian minestrone soup.
Total time: 1 hour
Look at the stunning color of this tomato fusilli soup! I'm sure this is making you feel hungry right now. The warm meal only contains commonplace ingredients but is heavenly addictive. Its rich flavor and pleasant smell will bring everyone running to the table.
Canned tomatoes, tomato paste, and sauce are the crucial ingredients in this recipe. They deepen the taste and create a charming look for your dinner.
To make the rich soup covered in a wonderful aroma, saute the garlic, onion, and tomato paste before adding the broth. In addition, blending the soup to a puree after simmering can help the dish be extremely smooth.
Total time: 50 minutes
Loaded with fiber, potassium, iron, and protein, lentil pasta soup will be a wise choice for a healthful and meatless meal. This hand-off recipe doesn't require sauteing, frying, or roasting. All you need is a large pot, brown lentils, pasta, and spices.
You'll be amazed after realizing the magical benefits of lentils for your health. Apart from being nutritious, eating lentils can help prevent digestive diseases, reduce blood pressure, cholesterol, etc.
This lentil soup will fill you up without consuming many calories. It's a perfect recipe if you're on a diet. Though the dish consists of fat from butter, you can skip it without affecting the taste.
Total time: 30 minutes
Italian chicken and star soup will warm up your stomach on freezing days. The food is easy to make and best when you serve it to your family for Christmas dinner. All will fall for this loveable and full-flavored soup, from young to old.
Stelline stars bathed in the mixture of garlic, marinara sauce, and chicken broth are tempting. Besides, the tender chicken and vegetables make it a super hit. Leftovers can last for 2-3 days in the fridge. So you can eat this through the holiday season.
Total time: 1 hour
Eat wedding soup even if there isn't a wedding? It sounds amazing! This Italian wedding soup includes acini de pepe pasta, turkey meatballs, and veggies. No pan, oven, or heating up your kitchen; this recipe only calls for an instant pot.
You can make turkey meatballs ahead of time and store them in the freezer. This will save you time when cooking the soup. Besides turkey, you can use ground chicken or beef as a substitute. Browning the balls first is important since it adds a deep flavor to your soup.
Everyone can prepare this instant pot Italian wedding soup without too much effort.
Pasta Soup Is Hearty And Savory
All these pasta soup recipes are fuss-free to prepare by simply choosing your favorite pasta and adding a few components to a pot. There is never anything wrong when somebody eats soup for breakfast, lunch, and dinner. Soup is unbeatable!
I always love to know your opinions, so remember to leave a comment before you go. If you enjoy the post, let's hit the share button to support me and let more soup lovers know about this. There are still a ton of fantastic recipe collections that you have yet to check out.
Nutrition Facts
4 servings per container
---
Amount Per ServingCalories233
% Daily Value *
Total Fat 5.3g

8

%
Cholesterol 65mg

22

%
Sodium 809mg

34

%
Potassium 737mg

22

%
Total Carbohydrate 15.6g

5

%

Dietary Fiber 2.2g

8

%
Sugars 3.6g

Protein 30.2g

60

%
---
* The % Daily Value tells you how much a nutrient in a serving of food contributes to a daily diet. 2,000 calories a day is used for general nutrition advice.