24+ Delightful Pasta Appetizers For Any Party 2023
Pasta appetizers are the ideal dishes for any party. However, there is a wide range of pasta types whose uses are, of course, wildly different. Inappropriately cooking pasta or combining it with unsuited ingredients can take your time and money.
More than a sufficient collection of toothsome pasta appetizers, this post provides you with the right methods to prepare many types of pasta, cooking tips, and suggested dishes to pair with them. You'll also know more tasty recipes to use up the leftover pasta that has been sitting in the fridge.
After this post, cooking pasta will never be a problem. Scroll down to explore many yummy starter dishes!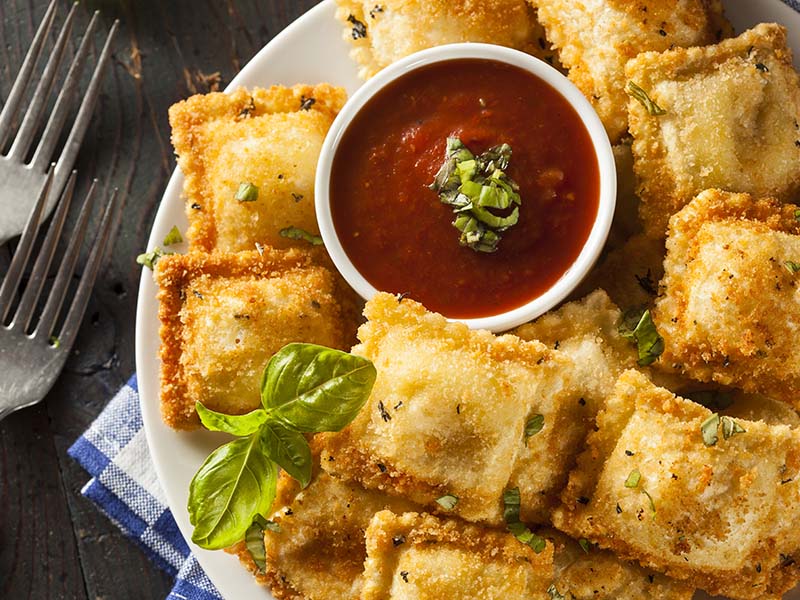 25 Mouth-Watering Pasta Appetizers That Will Amaze Your Guests
There's no need to worry about what appetizers to serve for the next party because this list is here to help you. From perfect penne pasta recipes to interesting delicacies made from pasta shells, you can find them all. Let's see what they are!
Total time: 25 minutes
Air fryer pasta chips are an excellent pasta finger food for every game day. To be honest, these pasta chips are additive with a golden-brown coat, a super crispy texture, and a delicious garlic parmesan flavor. The recommended pasta for this dish is rigatoni.
To make the pasta chips in the air fryer as crunchy as you desire, make sure to line them in a single layer before placing them in the air fryer. You can divide them into batches to avoid overlapping. Once finished, toss the pasta with garlic, pepper, and salt to enhance the flavor.
Don't forget to prepare a dipping sauce to serve with this attractive air fryer vegetarian dish. It can be marinara sauce, garlic sauce, or whatever you want. If there's no air fryer available, cooking pasta chips in the oven is also acceptable. Just preheat the oven to 425°F and bake for 20–25 minutes.
Air fryer pasta chips are the gold standard appetizer for every get-together.
Total time: 40 minutes
Spaghetti and meatball appetizers can cheer your party up with a satisfying flavor and a lovely appearance. The appetizer is a meatball and mini spaghetti on a stick and is packed with meaty, cheesy, and savory flavors. That's why your guests will fall for it immediately.
When choosing the type of meatballs for this pasta dish, you have several choices. You can use both pre-cooked or homemade meatballs, depending on your personal taste and preference for cooking time.
Total time: 20 minutes
These Italian-style spaghetti fritters won't let you regret making them. The spaghetti appetizer only takes a few minutes to prepare, but the finish is completely amazing with a crunchy exterior and loaded with a spicy, garlicky, and appetizing taste.
These are some handy tips to help you whip up the fritters easily. To make the pasta al dente (to the tooth), just cook it for about 8 minutes. A small amount of flour can keep panko crumbs from falling apart from the batter and help your fritters be more crunchy.
The fritters tend to be less bold in flavor after you finish frying or baking. So you can add more salt to the raw form, making it saltier than usual to make sure it reaches the desired taste after finishing. You should use non-stick, stainless steel, or cast-iron pans to get the best outcome.
Total time: 30 minutes
These fun and creative treats are a wise choice for the next game day. Spaghetti cups are crispy and full of buttery and garlicky flavors on the outside but filled with spaghetti on the inside. All of the flavors are going to explode in your mouth after the first bite.
For the cover, you can use crescent roll dough sheets or triangle crescent rolls as long as they can cover the filling well. For the stuffing, let's choose thin spaghetti noodles for the best finish. Feel free to add ground meat or sausage if you prefer a meaty flavor to the treat.
To store the leftover spaghetti cups, you can place them in airtight containers and keep them refrigerated for 3–4 days. These pasta cups can last for 6 months if you put them in freezer bags and keep them frozen.
Total time: 25 minutes
Deep-fried shrimp skewers wrapped in spaghetti are a very easy-to-make but extremely tasty and good-looking dish for any party. In contrast to the treat above, the spaghetti wraps around the shrimp and creates a crunchy nest. What a smart way to cook spaghetti!
Wrapping spaghetti around the shrimp skewers will be effortless when done in the right way. The trick is to cook the pasta al dente before drizzling it with a little extra virgin olive oil to keep it creamy and non-sticky.
Remember to use peeled and tail-off shrimp. The taste will be yummier if you serve the dish with basil pesto sauce.
Total time: 43 minutes
The game day party is coming, but you still don't have any ideas for outstanding finger food yet. Leave it to me. Air fryer taco stuffed shells will impress your guests. Inside the crunchy jumbo shells, there's something cheesy, meaty, and loaded with flavors.
You may feel this tasty air-fried dish for dinner will take a lot of time and effort, but that isn't the case. Before starting to cook the stuffed shells in the air fryer, spray them with non-stick spray to get a slightly crispy texture. Also, don't flip the shells while cooking in the air fryer.
Serve this with any type of dipping sauce you like or sour cream seasoned tacos. The crispy stuffed shells will last for 2 or 3 days if you place them in an airtight container and keep them refrigerated.
Air fryer taco stuffed shells are so crispy and yummy.
Total time: 1 hour
Looking for a vegan pasta appetizer that is still meaty, cheesy, and crunchy? That's a tough question, but I think deep-fried vegan jumbo stuffed shells can help. Is this really vegan? Absolutely, this pasta treat is totally vegan and still surprisingly delicious.
Deep-fried stuffed shells contain 100% vegan ingredients such as vegan ground meat, vegan mozzarella, and herbs. All you need for a fun and tasty finger food is the crispy exterior texture combined with the tender and flavorful filling inside.
Here are some cooking tips for the perfect crispy dish. When coating stuffed shells, let them be coated in wet batter first. Next is the flour, wet batter again, and finally, the panko crumbs. You should fry them for 10-12 minutes. Don't reduce the cooking time, or the inside will stay raw.
Total time: 16 minutes
With these pasta salad skewers, you don't need to worry about the appetizer for the next time you host a game day. It's not only kid-friendly; even adults will love this colorful pasta treat.
Some recommended ingredients for multicolored skewers can be sliced salami, tomatoes, zucchini, bell peppers, mushrooms, etc. The mix of many ingredients creates a distinctive taste, a combination of the sweetness of veggies and the meaty taste of sausage.
As for the pasta, you can choose tortellini, rigatoni, orecchiette, etc. To keep the cooked pasta from sticking, you can line a sheet pan with parchment paper in a single layer. Serve the pasta skewers with any sauce you like to improve the flavor.
Total time: 18 minutes
Here is one more brilliant pasta idea for your summer get-togethers. The taste of these easy pesto tortellini skewers is a mix of herby pesto, pleasantly acidic sun-dried tomatoes, and tender tortellini pasta.
You should drain the cooked tortellini and sun-dried tomato for a better finish. Also, if not serving instantly, keep the skewers refrigerated. Doing so will keep this appealing appetizer always suitable for potlucks, BBQ picnics, or even normal meals.
To form an eye-catching treat, let's skewer tortellini first, followed by a tomato, and repeat. You can use a mix of spinach and tortellini to make the dish even more awesome.
Total time: 4 hours 22 minutes (including 4 hours of freezing)
If you want to turn classic lasagna into something eye-catching and teeth-pleasing, this deep-fried lasagna recipe is for you. Chilled lasagna and batter ingredients are all you need for super crunchy deep-fried lasagna.
The deep-fried lasagna is appealing golden brown triangles. To form the triangular shape for the dish, you just cut the large chilled classic lasagna into 12 squares, then continue cutting each square into 4 triangles.
After finishing cutting, cover them and freeze them for at least 4 hours before coating them in the batter. Why? Frozen food is able to coat with the bread batter better, so it won't seep too much oil inside when you deep-fry it.
Total time: 30 minutes
What exactly are lasagna egg rolls? They're simply egg wrappers rolled in the cooked lasagna filling, mixed with mozzarella cheese, and pan-fried. Wrapping lasagna rolls can be fun and very easy. It's a great idea to let your children join in making them.
These golden brown, crispy lasagna egg rolls are kid-friendly finger food that can pair well with any dipping sauce such as BBQ sauce, marinara, or ranch sauce. It'll be easier and faster to prepare if you buy frozen pre-made lasagna.
You can freeze the wrappers for later serving. However, after defrosting, the rolls can become soggy. Don't worry; just reheat them by sprinkling some oil outside and baking for about 10 minutes at 400 °F or air frying for about 5 minutes at 360 °F on both sides.
You can whip up this crispy lasagna egg roll recipe in no time.
Total time: 30 minutes
On game days, crowd-gatherings, Thanksgiving, or Christmas, these mini lasagna roll-up appetizers can always be a big hit. This elegant pasta dish consists of soft lasagna roll-ups filled with a mixture of green spinach and gooey cheese.
Wonderfully, the lovely appearance of these lasagna pieces is extremely easy to create. Once you finish rolling up the cut lasagna with the spinach ricotta mixture, top the rolls with marinara sauce and cheese slices, and bake them.
For garnish, use appetizer picks to hold the basil leaves.
Total time: 1 hour 35 minutes (including 45 minutes of freezing)
This pasta treat is also lasagna rolls but ultimately crumbly, tempting, and especially vegan. Without meat, the lasagna fritta is also cheesy, delicious, and packed with flavors thanks to tofu, vegan mozzarella, pepper, and other spices.
You can purchase non-dairy milk and vegan parmesan cheese as vegan ingredients to make the batter. Use vegetable oil to pan-fry the fritta over medium-high heat. However, you can always use air fryers for low-fat frying. Also, frozen fritta can last up to 3 months.
Total time: 1 hour
There is another lasagna cup recipe, but it's a pasta treat suitable for any vegetarian. Nobody can guess that this golden, crispy, meaty–tasting treat is actually vegan. One more thing that makes this pasta recipe stand out from others is the homemade ragu-style sauce.
Lasagna, or any other type of pasta, tends to be tasteless. That's why, to make the pasta intense in flavor, you can add a generous amount of salt to the water while boiling the pasta to the desired softness.
The muffin tins can help you form perfect circle shapes for the pasta cups. While making circles from the lasagna pasta sheets, make sure they're fit or bigger than the tins so the pasta can keep the filling well.
Total time: 20 minutes
Cooking is an art, and there are endless ways to create new dishes from familiar ingredients. This tender and hearty vegetarian pasta recipe will soon become your family's favorite appetizer for any BBQ picnic or weeknight party.
For this flavorful salad, it's better to use penne pasta (cylinder shape) or rotini (helix shape). Moreover, fresh baby spinach will enrich the taste because it's much more tender than regular spinach. When sauteing the spinach, don't cook it for too long or it'll be soggy.
Before combining the pasta and spinach in the salad, make sure they are already cool. Prior to serving, let the salad chill for at least 4 hours or overnight. For storing, the mixed salad is still good after 3 days in the fridge if you place it in a closed container.
Total time: 20 minutes
Toasted ravioli can be a favorite family appetizer for all weeknights. It's the combination of the crunchy ravioli texture and the cheesy, hot, and tasty filling. Even the pickiest eaters can not resist this pasta.
What's more, you can deep-fry, air-fry, or even bake these stuffed shells. If you want the finished look of the dish to be golden and super crispy, you can use cooking spray or oil.
When boiling pasta, do not change the heat or add too little water, as this will cause the pasta to cook unevenly and become sticky. Serve the toasted ravioli warm from the oven. It's not recommended to refrigerate or freeze for a later serving.
Let's impress your guests with this yummy toasted ravioli.
Total time: 12 minutes
There will never be a lack of ideas for pasta treats for your next party. Crispy parmesan fried tortellini is toothsome and ready to serve within a few minutes. This is a suitable choice when you don't have much time.
You should fry the pasta in less than one inch of oil in a large skillet for about 2 minutes and cook on both sides. Serving together with marinara sauce will make the finger food more flavorful. Everyone can't wait to try this super crunchy and cheesy dish.
Total time: 25 minutes
What's amazing about this recipe? That is, you don't need to boil pasta. With a few available ingredients and several simple steps, you can make the best finger-licking appetizer ever. The golden crispy pasta dipped in cheese dipping sauce will take its taste to the next level.
Some key ingredients for the best outcome include cheese tortellini without sauce, parmesan cheese, and fat-free skim milk. Besides, you can consider trying to make the cheesy dipping sauce from mozzarella cheese, dry mustard, cayenne, and sweet paprika.
Total time: 15 minutes
If you're looking for a pasta appetizer that is completely different from regular crispy finger food, why don't you try cheese tortellini in garlic butter sauce? The tender cooked tortellini tossed in the garlicky and cheesy mixture creates a distinctive flavor for the hearty dish.
To prepare the best pasta, you should boil it in chicken or vegetable broth rather than water. And besides butter sauce, you can use other types of flavorful pasta sauces that suit your preferences. Also, watch out for the differences in the cooking times for dried, fresh, and frozen tortellini.
You should cook chilled tortellini for 2 to 3 minutes, frozen pasta for 5 to 7 minutes, and dried pasta for 10 to 11 minutes. The easier way to check the doneness is when the internal temperature reaches 165°F or if there is some pasta floating on the surface.
Total time: 40 minutes
Mini macaroni and cheese bites are a quick and easy appetizer for all family get-togethers. These bites are definitely a hit because they give a crunchy texture, are a mini-sized bite, and offer a supreme cheesy and creamy taste.
If you're quite busy and want to prepare the bites ahead of time, you can wrap the unbaked mini bites with the food wrap and store them in the fridge until you want to serve.
Garlic and herb cheese can make your treat loaded with flavors. You can add more pepper and salt to let them meet your taste. One small note is that this finger food is supposed to be less creamy than regular ones. Otherwise, the components will not stay together.
No one can resist eating these cute and delightful mini macaroni and cheese bites.
Total time: 35 minutes
What gnocchi-based party food can be so yummy and elegant? That's definitely fried gnocchi, prosciutto, and pecorino appetizers. They are tiny skewers, including crispy fried gnocchi, cheesy pecorino, and meaty prosciutto crudo.
To make the fried gnocchi more flavorful, let's fry it in olive oil over medium heat with rosemary and salt to taste, and cook for about 10-15 minutes. How about those colorful skewers? Add gnocchi at the end of the stick, followed by prosciutto, pecorino, and an olive.
Total time: 22 minutes
For those who do not know about gnocchi and au gratin, gnocchi is a traditional type of Italian pasta and has a small dumpling shape. The term "au gratin" refers to a cooking method that is topped with cheese or breadcrumbs to build a browned crust.
That is also the texture of this gnocchi au gratin, a yellowish-brown color mixed with a creamy and savory taste. You can serve this with French bread to dip in the soft gnocchi. This appetizer can also work as a side or main dish.
As for making ahead, cover the gnocchi mixture and let it sit in the fridge for no more than 2 days. Whenever you want to save it, drizzle cheese and parsley on top. Then, bake for 10–25 minutes at 400F and broil for 2-3 minutes if needed.
Total time: 1 hour 5 minutes
Crow-pleasing ravioli nachos are a must-cook appetizer for any game day, picnics, or dinner party. The things that help this nacho-like appetizer satisfy both kids and grown-ups are the inviting appearances and the irresistible taste.
Homemade ravioli nachos can be crumbly, savory, and easy to prepare. All the ingredients for this flawless pasta dish may be available in your kitchen. After baking the food, let's sprinkle it with onions and sliced ripe olives to make it more interesting.
Everyone will fall for these crowd-pleasing ravioli nachos.
Total time: 8 minutes
Simple is always the best! Pan-fried gnocchi is a fast but toothsome treat on busy days. Don't underestimate its taste! You won't be able to resist the perfection of the crispy outside texture combined with the fluffy and tender center.
This recipe will save you time and effort because you don't have to boil the gnocchi first or fry it for a long time. However, one downside of this is that you should serve the treat right away because any leftovers will lose their moisture and taste worse.
Total time: 45 minutes
I'm not going to lie to you; these lovely rigatoni treats are worth all your time and effort. The salty, crunchy rigatoni pasta stuffed with the creamy and herbed filling will become the highlight of your next weeknight parties.
Follow these instructions for full-flavored chips. Starting with cooking the pasta in salted boiling water for half the recommended cooking time, deep-frying, draining well and drizzling with sea salt. This preparation will prevent your fried pasta from being distasteful.
These recipes above are my collection of pasta courses, which are easy to make and extremely appetizing, as well as fitting into any type of party. Aside from that, you can do your best with the many cooking tips provided, even if you're not a skilled cook.
What do you think about these pasta recipes? Leave a comment to let me know your opinions and your results as well. If you enjoy the post and find it interesting, let's share it so that more pasta lovers can gain more ideas for their parties. Thank you!
Nutrition Facts
6 servings per container
---
Amount Per ServingCalories134
% Daily Value *
Total Fat 9g

14

%
Cholesterol 18mg

6

%
Sodium 455mg

19

%
Potassium 14mg

1

%
Total Carbohydrate 10g

4

%

Dietary Fiber 0.1g

0

%
Sugars 0g

Protein 4.3g

8

%
---
* The % Daily Value tells you how much a nutrient in a serving of food contributes to a daily diet. 2,000 calories a day is used for general nutrition advice.