The best pappardelle pasta recipes are comforting dishes that will leave you feeling warm and satisfied. If you're a true fan of Italian cuisine, you must try this famous pasta. Otherwise, this is your calling to taste another different aspect of Italian pasta cuisine.
Pappardelle is wide-shaped noodles made from eggs dough pasta, originating from Tuscan, Italy. Because of its large surface and firm texture, pappardelle goes best with rich and robust sauce. It usually takes 8 – 10 minutes to cook this pasta until al dente.
From ragu and pesto to Afredo, I have ensured that you can try as many approaches to this pasta as possible. So what're you waiting for? Tie your apron and get down to the business now.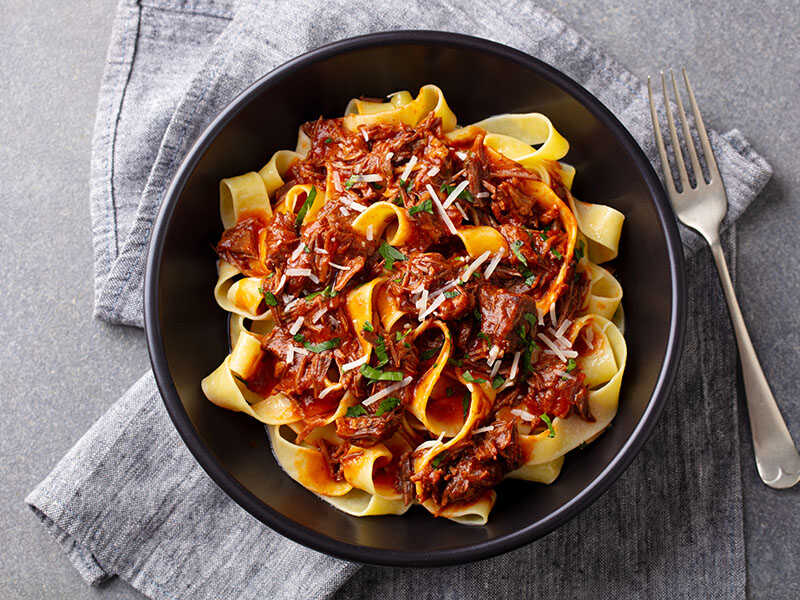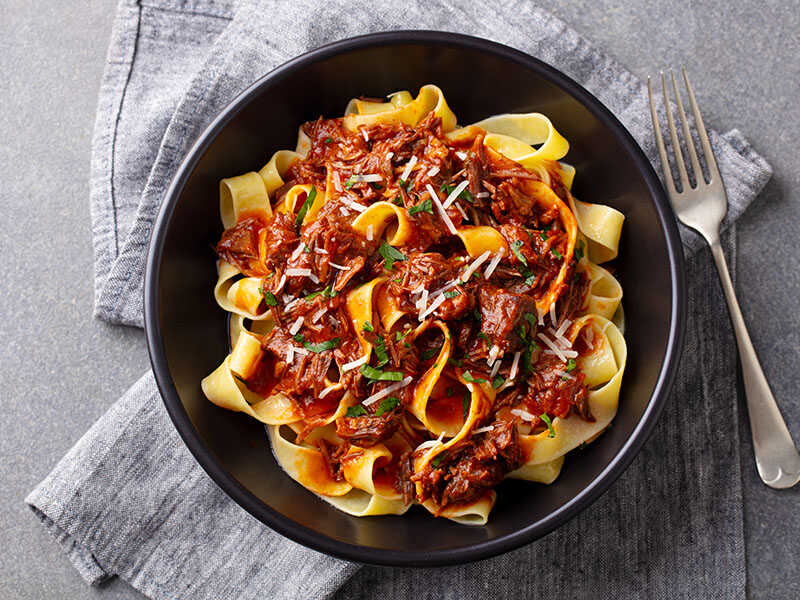 Best Pappardelle Pasta Recipes For A Taste Of Italy
Even though there are many pappardelle dishes with different seasonings and ingredients, I'm sure the below recipes will bring a more or less Tuscan vibe to them.
Total time: 20 minutes
Loved by children and adults alike, this lemon Afredo pappardelle is perfect for your pasta night rotation. With lemony flavors, salty pancetta, and nutty peas, there's nothing I'd like to change about this recipe.
The pappardelle texture is perfect for holding the rich sauce. However, other shaped noodles also work if it's unavailable, such as tagliatelle or rigatoni. Similarly, although fresh peas work best here, the frozen ones are fine as long as you defrost them before use.
While the pappardelle is cooking on a non-sticking pan over high heat, add olive oil to enhance the flavor. Creamy pasta and light salad match each other like peanut and butter. Keep things low-key with some lettuce salad, or go bold with the flavor combinations if you want.
Total time: 30 minutes
Give this ricotta pesto pappardelle a chance and see how delicious these green noodles can be. Coupled with the pesto, your pasta will get a bright and herby flavor from the basil, while it tastes creamy and salty with parmesan and toasted macadamia nuts.
Start by blending the nuts, basil, olive oil, and others in the food processor until the green mixture is smooth. Transfer it to a bowl and whisk along with cheese and lemon juice. After that, mix the cooked pasta with pesto until they combine into one.
When cooking the pasta, reserve the water before draining. Don't skip this step because this liquid is starchy and helps the sauce come together. Although this dish requires no garnish or decoration, it still brings a pop of color to your dinner table, so give it a try.
Don't you want to surprise everyone on the table with this eye-catch green pesto pappardelle?
Total time: 35 minutes
Hello, spicy food lovers! This Cajun garlic shrimp pappardelle is for you. Look at those noodles and buttery shrimp soaked in an addictive luscious pasta sauce. Simple and packed with delectable Cajun flavors, this dish is an excellent pick for your dinner meal.
What's unique about this recipe is that it's another version of Vietnamese Cajun food. The taste of garlic butter sauce, Cajun, and Old Bay seasoning permeating the noodles and shrimp is delectable. It also has a bit of heat that perfectly accentuates the overall flavor.
Pappardelle often takes about 10 minutes to cook, or longer (if you want) until it reaches al dente. Also, note that store-bought Cajun seasoning's saltiness depends on the brand, so it's best to start with one tablespoon and taste before adding more.
Total time: 25 minutes
This simple yet delicious creamy chicken Alfredo pappardelle is a perfect blank canvas for other colorful dishes to shine in your Italian-themed meal. Super creamy and full of authentic Italian flavors, this pasta is a real keeper.
An authentic Alfredo sauce should be thick and creamy. It's got the nuttiness from parmesan and notes of garlic. When combining it with al dente pappardelle and grilled chicken, the flavors will explode in your mouth. Turn this pasta vegetarian by skipping the chicken if desired.
The chicken pasta deserves to be eaten as fresh as possible. Nevertheless, the leftovers can stay in cold storage for four days. Just reheat it properly in the microwave or over medium heat on the frying pan.
Total time: 35 minutes
Buttery and aromatic, this pappardelle pasta with truffle oil and shrimp hit all the right notes. Combined with a bit of garlic, it offers many flavors in the most pleasing way possible. What's more, this bright-colored dish is a perfect summer pasta-centered recipe.
The pasta, lime juice, and truffle oil are gently tossed in a cream-based sauce, giving the dish a light creaminess and tangy flavor. All combine perfectly with the shrimp protein and tomato acidity. Of course, truffle oil is the show's star as it adds a fancy finishing touch.
Italian food always goes best with wine. The light truffle flavor tastes excellent with Baloro, or pair it with your choice of wine for the best experience.
Total time: 10 minutes
Do you know that you only need 10 minutes to whip off this creamy mushroom pappardelle? Nothing can beat the combination of earthy mushrooms and hearty pappardelle. Together, they are soaked in a rich cream sauce that is 100% delicious.
The wild mushrooms give the hearty pasta an earthy flavor and meaty texture. Meanwhile, the overall taste is rich, thanks to the fruity note of white wine and the heady smell of garlic. Best of all, you can finish cooking this sauce and pappardelle at the same time.
To create this 10-minute pasta, saute the mushrooms with butter and oil. Then add the rest of the sauce ingredients and stir to combine. All that is left to do is toss the cooked pappardelle in the sauce mixture and top with parsley. And voila, your pasta is good to go.
Despite the absence of wine and a change of cheese, this creamy mushroom pasta still wins over your heart.
Total time: 30 minutes
Here comes another simple pasta for your dinner: pappardelle with shrimp, garlic, and olive oil. As there are only a handful of ingredients on the table, focus on their quality to create the best experience.
Both fresh and frozen shrimps are acceptable. However, if you prefer the latter, thaw them under cool water before using them. The thing I love most about it has to be the zesty lemony sauce. Combined with Italian seasoning and garlic, it offers tons of flavor.
The combination of orange shrimp, bright yellow pappardelle, and creamy white parmesan cheese will satisfy your eyes and tummy. Containing no more than 300 calories but supper filling, this pasta is what you need for lunch to give you strength for the rest of your workday.
Total time: 30 minutes (including 5 minutes of additional time)
With a modest presentation, this recipe using leek, pancetta (cured pork), and pappardelle pasta seems not to offer much. However, one bite of it will convince you otherwise. Aside from its simplicity, what I adore about this recipe is that it's only for two people.
Try the store-bought egg pappardelle pasta one for more convenience. Be more adventurous with the homemade one if desired. Leeks are expensive, but their delicate and sweet flavor is worth every penny. Remember that only the white and light green middle parts are edible.
Add some real shaved parmesan cheese on top, and your glorious dish is complete. Rich, indulgent, and sophisticated, the flavors make you think the dish came straight from an Italian restaurant. However, this pasta only needs more or less than 30 minutes, from start to finish.
Total time: 25 minutes
Simple, outstanding, and full of surprising elements, this stewed tomatoes, pancetta, and pappardelle pasta contains many hidden gems to unveil. Read on and find out more about how fried pancetta and San Marzano tomatoes improve the deliciousness of this dish.
It's no exaggeration to say this pasta is a complete package of flavor. Canned San Marzano tomatoes give the right sweet acidity, while the fried pancetta is full of umami and porkiness. Of course, velvety heavy cream will tie all the flavors together.
Even though this recipe uses pappardelle, any broad pasta is acceptable. And for whole chili substitutions, red pepper flakes are ideal. They are pretty spicy so adjust them slowly, most ideally after the tomatoes are cooked.
Total time: 20 minutes
Raise your hand if you're a corn fan! This creamy sweet corn pappardelle must be your dream. It is a great way to make the most of your summer produce, such as corn, basil, and lime fruit. Due to all plant-based ingredients, it is also a pasta delight for vegetarians.
The sauce is a blend of cashews, lemon juice, smoked paprika, and black pepper. Thus, you can expect it to be mildly spicy and nutty. To achieve your desired consistency, adjust with water.
An interesting thing about this recipe is that you utilize the corn kernels and the "milk" scraped from the cob too. This milky liquid is a perfect alternative to dairy cream. Spoiler warning: it brings a unique flavor and nutrient boost for you.
Total time: 30 minutes
This black garlic pappardelle pasta is light, delicious, and versatile enough to suit your needs. The black garlic shares its spotlight with olive oil, wine, and more. Serve this showstopper at any dinner meal or party, and I'm sure people will finish it in a blink of an eye.
For your information, black garlic is aged garlic with brownish-black color. This ingredient is getting more recognition thanks to its fantastic taste and health benefits. It will help you reduce bad cholesterol, prevent inflammation, and regulate blood flow.
Keep the sauce and pasta while playing with protein elements to create your version. Seafood and chicken are both great ideas. Add some spinach or grilled chicken to make this pasta a heavier and more filling meal, or just enjoy it as it is.
Total time: 3 hours and 10 minutes (including 2 hours of resting time)
Thanks to the puttanesca sauce, the pappardelle pasta has all the classic moves from olive, tomatoes, and herbs. Moreover, the sauce gives this Italian dish full of bold flavors. Sweetness, spiciness, and meatiness, this pasta got them all.
This pasta is basically a combination of boiled pappardelle with puttanesca sauce and finishing off with Italian herbs and spices. Puttanesca sauce improves its taste over time, like salad or soup, as the flavors have time to mingle and settle. Simmer it on low heat for the best results.
It's possible to prepare the puttanesca sauce two days in advance. Warm it up over low heat for about 1 hour before using it. Likewise, this sauce is freezing-friendly as well, with potential shelf life reaching about three months.
Are you ready to mesmerize your dinner guests with this pappardelle Alla Puttanesca?
Total time: 2 hours and 20 minutes
If red ragu pasta is a too-familiar dish to you, make sure to give this white Bolognese sauce version a try. This plate is a new spin-off from the traditional ragu pasta when you leave the tomatoes out.
Bolognese, or ragu, refers to meat sauce, an original dish from Bologna, Italy. Unlike the American meat sauce, the Italian tomato-based version is richer and creamier. However, different from the original Bolognese, this version stands out due to the white ragu.
About the ingredients, it combines sofrito (carrot, onion, and celery) with ground meat and no tomatoes. Unlike red Bolognese, this version uses white wine instead of red wine to not change the overall color.
Total time: 30 minutes
Once you have tried this fennel and pork pappardelle, you may want to double the recipe. Delicious pork sausages combined with fennel and cream sauce will take this pasta to a new level.
When frying the fennel and pork, stir them regularly and set the heat at medium-high. You want to ensure that the fennel is tender and the pork sausages are browned at the end.
The pasta is rich and creamy but still bright and fresh, thanks to the lemon juices. Sprigs, parsley, and rosemary are here for visual decoration, as well as for adding more flavors to the cream sauce. Therefore, making this 30-minute pasta for dinner will guarantee no leftovers.
Total time: 40 minutes
Bookmark and save this pappardelle recipe with corn, blistered tomatoes, and basil cream for the summer days when you'll need it. This is a light, summery, and vegan dish that your family will love.
Despite the absence of heavy cream, you still get a thick-and-creamy corn sauce mixed with pasta water. Plus, the secret to perfect pasta is finishing the noodles with sauce in a heated pan. By doing so, the sauce will cling to the noodles rather than slip off.
Moreover, when reheating this corn pappardelle, wait until it's hot enough, then top with parmesan, basil, and black pepper. For serving, this pasta is full of summer flavors, so it would make a great pair with light salad dishes, such as tomato salad or mozzarella Caprese.
Total time: 2 hours and 15 minutes
A good pappardelle Bolognese is always a safe choice when you're stuck on a dinner rut. The remarkable thing about Bolognese is that you must be patient because the long and slow simmering helps the sauce become richer and creamier over time.
Pappardelle is ideal for handling the rich Bolognese sauce. Make sure to cook your noodles until it's al dente: slightly soft but with enough chewiness. Use milk for a thicker sauce that clings to your pasta like vinaigrette to salad greens. And for cheese lovers, be generous with fresh parmesan.
For a vegan version, go for ground meat alternatives and non-dairy milk. If there are leftovers, let them stay in the fridge for five days and in the freezer for three months.
Learn how to make pappardelle Bolognese with this step-by-step tutorial.
Total time: 45 minutes
Pappardelle Aglio E Olio is a fabulous pasta dish in a delicious sauce of garlic, olive oil, red pepper flakes, and parsley. It is another vegan dish that's so rich and creamy that even meat lovers will go crazy about its taste.
Undoubtedly, Aglio E Olio is one of the most straightforward pasta recipes. Its highlight is the easy oil and garlic sauce. However, you're free to get creative with add-ins and go all the way with the wine.
In this recipe, you'll make the pappardelle from scratch. Homemade pasta delivers a better texture than the store-bought version – it's fresher, plumper, and airer. The whole making process will produce quality pasta that puts a smile on your face.
Total time: 25 minutes
How about serving this recipe full of Burrata, pancetta, and pappardelle pasta for tonight's dinner as a surprise to your family? The rendered fats of pancetta blending with the creaminess of Burrata are such a guilty pleasure. Your family will love it.
You should use homemade pasta for optimal texture and flavor. Don't forget to thicken the sauce with pasta water. The starch in it combines greatly with the fats in the pancetta, resulting in a velvety and luscious sauce.
Ensure to cook pancetta until the fat renders and the flesh is crispy. Also, there is no need to use oil here because plenty of fats are leaking out from the pancetta. Always serve Burrata at room temperature, and avoid heating it.
Total time: 30 minutes
Brighten up your dinner table with this creamy lemon and scallop pappardelle pasta. It's summer pasta with light sauce from ricotta and mascarpone cheese paired with lemony scallops. You only need to spend 30 minutes and seven ingredients to prepare it.
Before you sear scallops, they must stay dry to have nice caramelization and natural sweet results. To do so, dry them with paper towels and salt for a more efficient browning. And remember not to overcook the scallops. 1 – 2 minutes per side is ideal.
In addition to scallops, lemon juice and zest also play a crucial role in this pasta. The citrus note brings a summer vibe to the dish and works well with the briny flavors in the seafood.
Total time: 2 hours and 50 minutes
Why settle with plain old spaghetti when you can always make this unique duck ragu pappardelle pasta? Every strand of noodles is flavored with cinnamon, white wine, and orange. And if they are not enough to impress you, duck meat is also present in the ragu sauce.
Duck meat is not common in pasta, but it turns out to be a great substitution for turkey or chicken. Remember to sear the duck first to maintain its juiciness. Additionally, sear the skin lightly before simmering the meat with the sauce.
Take one bite, and you can sense the savory sauce with a hint of cinnamon. The duck is also flavorful after soaking in the sauce, while the sauteed vegetables add more depth to the flavor. Together, they create an irresistible pasta dish.
This duck ragu pappardelle will be one of the most unique and tastiest pasta dishes you've ever made.
Total time: 1 hour and 45 minutes
Don't be fooled by its fancy name. Making this pappardelle Alla Boscaiola is not as hard as you think. A mixture of fresh (and dried) mushrooms gives this pasta the most complex and earthy flavor. Plus, the combination of cream and tomato is best for cold-weather pasta dishes.
Taste the sauce, and you immediately sense the earthy flavor of mushrooms and a silky garlic-herb tomato cream sauce. Fresh porcini is the best for the sauce. However, if necessary, opt for a mixture of fresh mushroom and dried porcini.
When simmering the sauce, check the mushrooms' moisture to adjust the sauce's thickness. For a thinner consistency, try adding wine or hot water. Conversely, use heavy cream to thicken your sauce. To save time, I suggest preparing your pasta while simmering the sauce.
Total time: 40 minutes
Mushrooms and pasta are a match made in heaven. And you will meet them once again in this mushroom lover's pasta. This time, your long ribbon pappardelle and mushrooms infuse with a balsamic butter sauce for a wholesome combination. Freshly grated parmesan is here, too.
If you prefer fattier pasta, add more heavy cream. Alternatively, omit the wine and replace it with vegetable stock for a lighter flavor. You're also welcome to go for different herb combinations. Besides, add more protein like chicken or shrimp to make this pasta more filling.
For the best results, make sure your pasta is done at the same time the sauce is finished simmering. Add a dash of pasta water to thicken the sauce, and enjoy the pasta warm. Don't forget to use salt, pepper, or chili to taste.
Your Family Will Love These Pappardelle Pasta Recipes!
Who doesn't love pasta? This food receives love from adults and children alike and can be served at almost any meal. It is also a lifesaver for you at the last-minute party. Compared to traditional pasta noodles, the pappardelle will wow your eaters even more.
The above pappardelle dishes don't limit to tomato sauce or meat ragu. Customize them with other flavorings and ingredients to make your variation. From chicken and seafood and vegan versions, there is no boundary for creativity here.
Make sure you don't lose this list by bookmarking and sharing it on your social media for later use. If you have succeeded in making any of these recipes, be sure to tell me the results in the comment.
Nutrition Facts
4 servings per container
---
Amount Per ServingCalories506
% Daily Value *
Total Fat 18.6g

28

%
Cholesterol 47mg

16

%
Sodium 478mg

20

%
Potassium 50mg

2

%
Total Carbohydrate 57.3g

19

%

Dietary Fiber 3.9g

12

%
Sugars 8.1g

Protein 21.8g

42

%
---
Calcium

291

%
Iron

2

%
Vitamin D

4

%
* The % Daily Value tells you how much a nutrient in a serving of food contributes to a daily diet. 2,000 calories a day is used for general nutrition advice.