28 Extraordinary Pakistani Foods To Try And Love 2023
The best Pakistani foods are not only special in taste but also in their variety as well. You'll find that people incorporate high-quality fruit and vegetable products from Pakistan as well as meat into the dishes.
Most Indian and Pakistani foods share some similarities. Initially, both of them were one country. Since Pakistan gained its independence, it has taken bits and pieces from Indian cuisine and pinned its own twist on the foods. The result is totally similar yet different and unique dishes!
What's more, Pakistan isn't afraid of embracing the cooking methods and recipes from other countries while developing its own Pakistani-made foods. Let's see some of the best meals this country has to offer!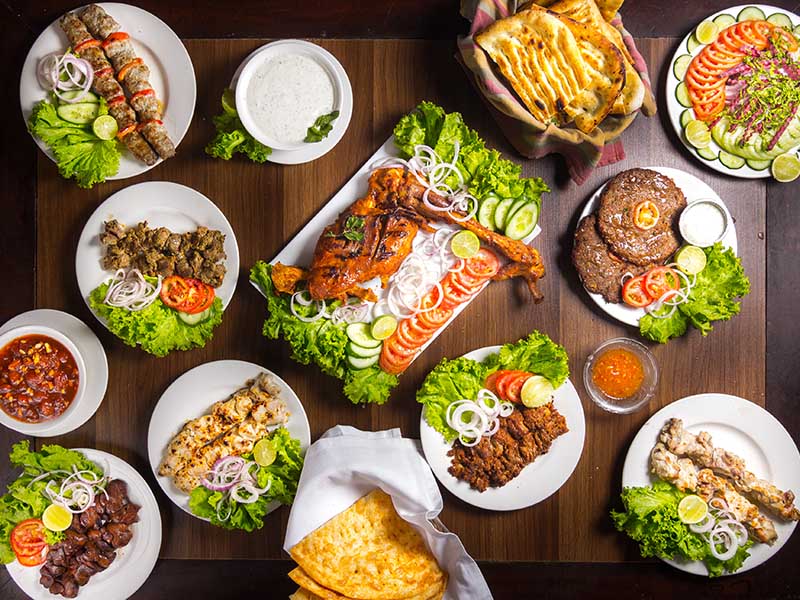 Pakistani Snacks & Starters That You Can't Get Enough Of
In this category, you would find fast foods and appetizers that will fill your stomach with just a few bites, or at least provide you with energy to get through the day. You can find most of these at a food stall or vendor on the street. Let's explore some of the most noticeable options!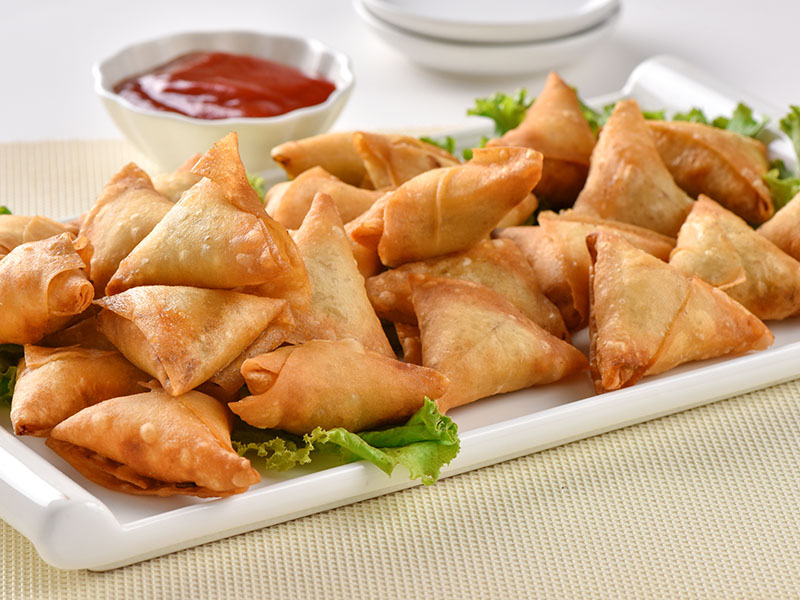 Samosa is a popular food in Doha and Qatar, Pakistan, and other countries in the Middle East, Asia, and Central Africa. People in Portugal and many Portuguese-speaking countries call it "pastéis".
It is believed that the origin of this snack came from Central Asia. The first mention of Samosa is by an Irian historian in his work, Tarikh-i Bayhaqi.
The traditional version of this fulfilling snack is in triangle form filled with mashed potato. However, there are numerous potato-free versions. You can stuff it with chocolate, paneer mixture, Maggi seasonings, eggs, etc.
Typically, people in Southern Sindh province and Eastern Punjab make their Samosa spicier with potato or veggie fillings. In comparison, the Samosa varieties in the West and the North of Pakistan are less spicy and often filled with minced meat.
The crunchy skin with flavorful taste makes people keep munching the Samosa. No one can eat just one of these and stop: you'll keep craving for more.
You can totally make this delish Samosa at home! Learn and try it out here.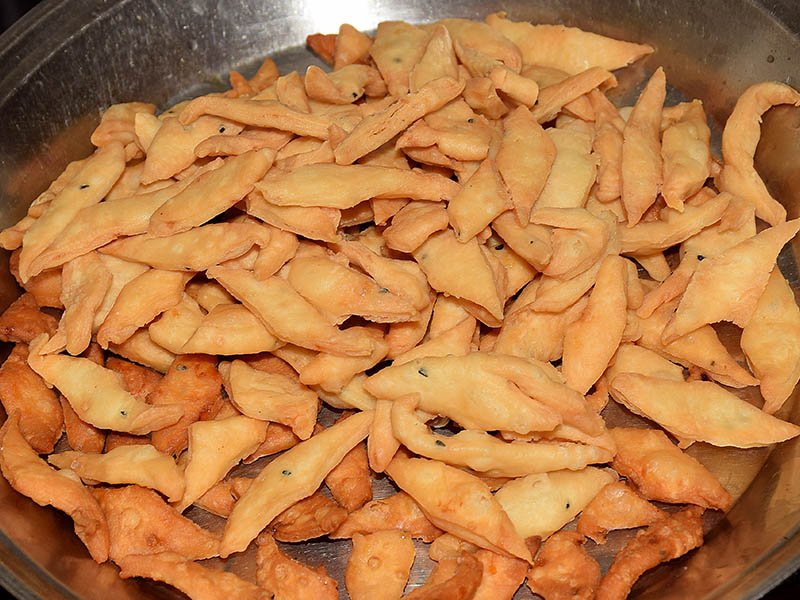 Another street food to munch on while exploring Pakistan on foot. At the vendors, the sellers deep-fry pieces of plain, spice-flavored dough, and another batch of Namak Para is ready to be served. It is a close sibling of Samosa in terms of texture, flavor, and outer appearance.
For a healthier homemade version, you can air fry or oven-bake this beloved snack with restaurant-quality recipes. The procedure is fairly simple: mix the dough, shape it, then just deep fry or air fry it. You can enjoy the final products with tea for a better experience.
This food is perfect if you want to balance all the sweet Pakistani beverages you've consumed with something salty. Here is a little heads up. Savory and delicious as they are, Namak Para is also high in calories. So for your own good, don't try to consume too much of it.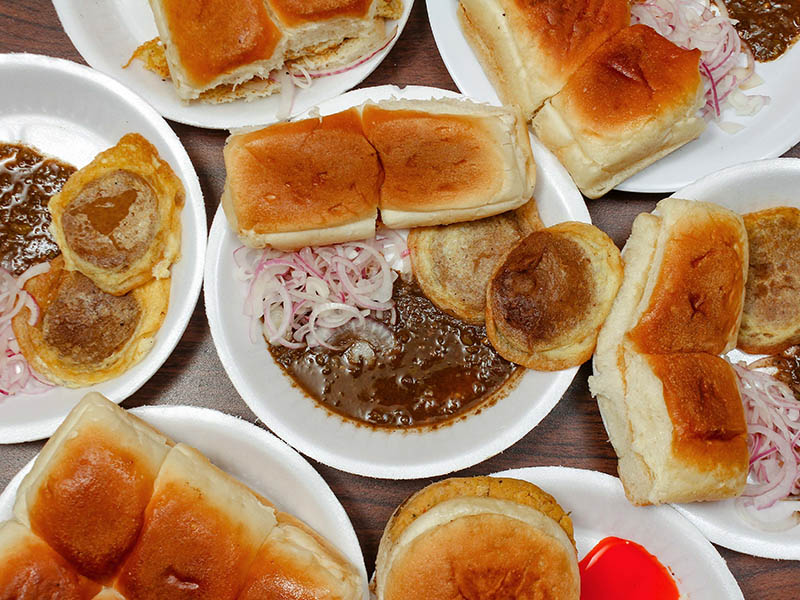 Bun Kabab is a type of fast food indigenous to Pakistan. This is the signature dish of the large cities like Karachi and Lahore. However, you can still find them being sold throughout the country as well as in neighboring nations.
Similar to the Pakistani appetizers covered so far, you can easily purchase a serving of Bun Kabab from roadside stalls and fast-food restaurants.
Basically, it's a burger bun stuffed with fried kebab or lentil patty and topped with other ingredients (more on this later). What's special about this burger is the chutney. It can elevate or lower your enjoyment with these Bun Kabab.
There are many ways to prepare Bun Kabab. Some eat it with chutney, some without. While some put in an omelet, some don't, and others put ketchup into theirs. There are meat and vegetarian versions. It's great that you can twist it a little to your liking.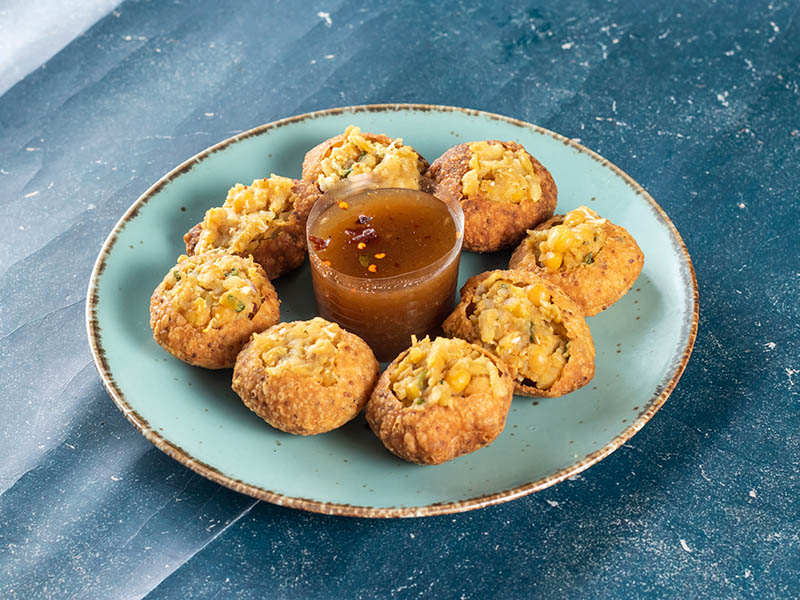 Another popular street snack that you can munch on regardless of the time of the day. In some parts of Pakistan, this treat is also known as Gol Gappa. It's a hollow fried ball of dough (Puri) filled with boiled potatoes and dunked in a tangy, spicy chutney.
There is a wide range of flavors to choose from. Some taste spicy and tangy, while some taste milder and sweeter. Nontraditional Pani Puris are also worth exploring. For instance, you can find chocolate-coated Pani Puri, ice cream-filled Pani Puri, Pizza Pani Puri, and many more!
Legends have it that Kunti (one of the principal female protagonists in the epic Mahabharata) gave her daughter-in-law Draupadi some leftover potatoes and a little dough, then told this girl to make foods that could feed five of her hungry sons.
And that's the mythical version of how the first Pani Puri was invented. People say that Kunti blessed the dish with immorality because she was so impressed with it, something you can chew on (no pun intended) while enjoying the dish.
Watch how people sell and consume Pakistani Pani Puri here.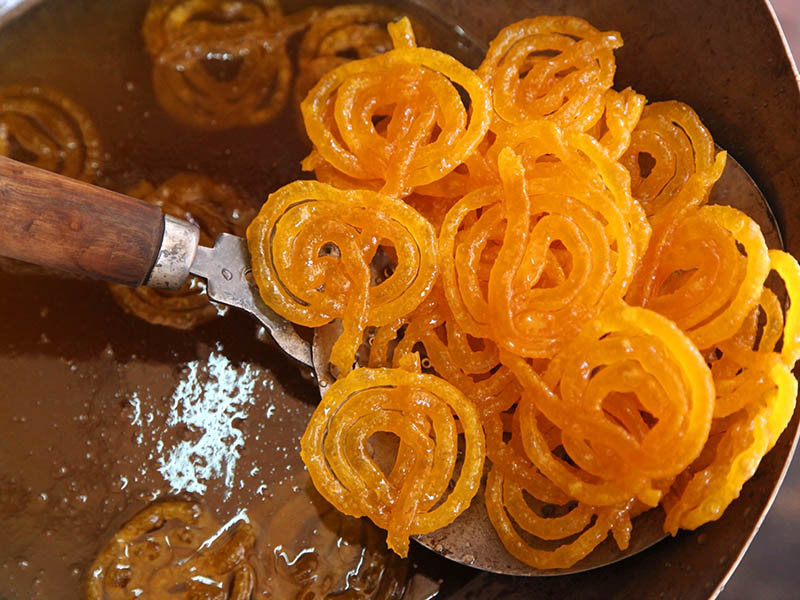 You may think that most Pakistani starters are spicy or crunchy, but Jalebi is an exception. True to its name, Jalebi (Sweet Coil) is sugary and fulfilling to the stomach. You can serve it warm or cold.
Jalebi's origin remains unknown to this day. The oldest mention of this orange circular-shaped food was in an ancient Persian cookbook in the 10th century. The book states that people distributed and ate Jalebi among themselves during Ramadan and other festive occasions.
Anyone can bite into this sweet and widely available treat at the closest halwa (sweet shop) at a reasonable price. Alternatively, you can also make Jalebi at home and enjoy its richness anytime you want.
The cooking is simple. First, you need to prepare the syrup by mixing water with sugar and cardamom powder. Then make a Jalebi mixture using flour and other listed ingredients. Next, leave the Jalebi mixture to ferment overnight or for a few hours.
Pour batter in a circular motion into the oil to deep fry it. Finally, dry and immerse the final products in the syrup. Voilà! You just made a fulfilling batch of sweet Jalebi.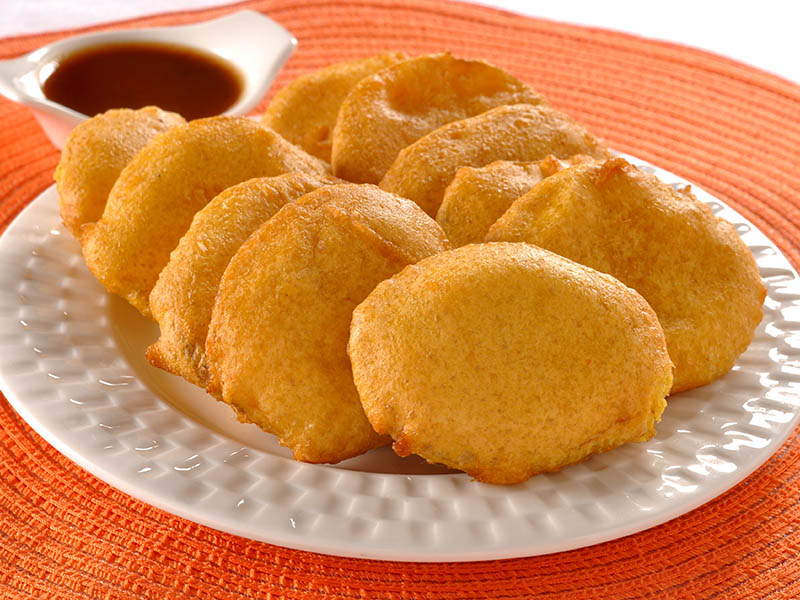 In any Iftar (a fast-breaking meal during Ramadan), you would always find a plate of Pakora. It often has vegetable fillings coated with seasoned and deep-fried batter.
There are meaty Pakora variants (such as fish filings), but the classic version is entirely vegetarian. The batter is typically made of gram flour. Pakora is easy to make; you just need some species and a little bit of water.
People advise making a huge batch of the fritters. Let's be honest here: it is hard to eat just one finger-licking Pakora and not crave for more. Once you have a taste of them, Pakora may become your favorite snack alongside Samosa for a rainy day or on Iftar.
Note: Don't add in too much water when making the batter. This is a small but costly mistake many people make. You will end up with soft and soggy Pakoras.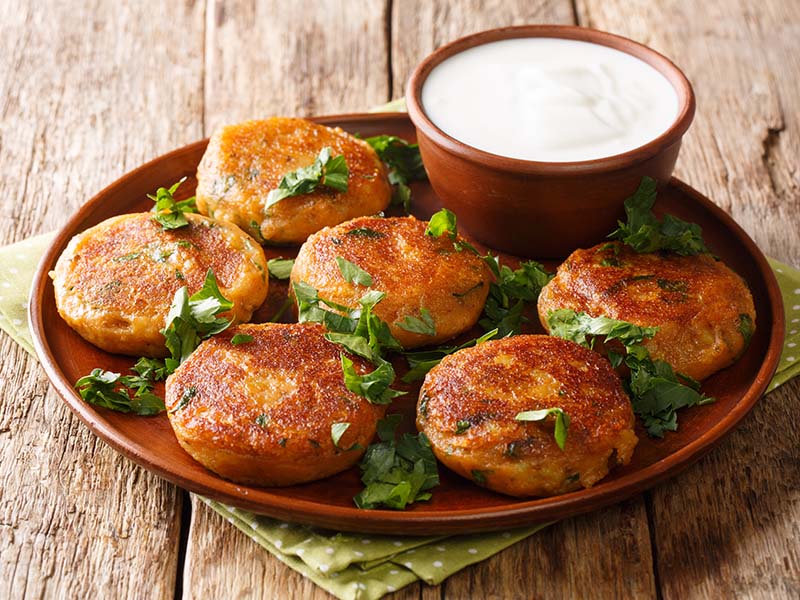 Here comes another mouth-watering Pakistani-style potato cake, Aloo Tikki. This crispy and savory appetizer deserves to be a snack or side dish on your table. In the afternoon teatime, I recommend trying this with Karak chai, a thick and tasteful drink of Qatar, Pakistan, and other countries in the Middle East.
Basically, Aloo Tikki is a potato cutlet that is infused with more spices and herbs. Hence, its flavor is more wholesome than your everyday potato cutlets. If you want a more vegetarian-friendly version, switch the eggs with gram flour.
There are a variety of different versions of this dish from India and Pakistan to Bangladesh. They are also available in the West at select shops. You can even buy ready-to-eat packs of Aloo Tikki from brands like McCain, ITC Master Chef, etc.
Ready To Be Amazed By These Iconic Pakistani Meat-Based Dishes
In Pakistani kitchens, chicken is cooked less frequently than goat or lamb meat. One major reason for this is that red meat plays a big part in their culture and religion. However, you'll soon find out that these meat-based meals often come with veggies and herbs also.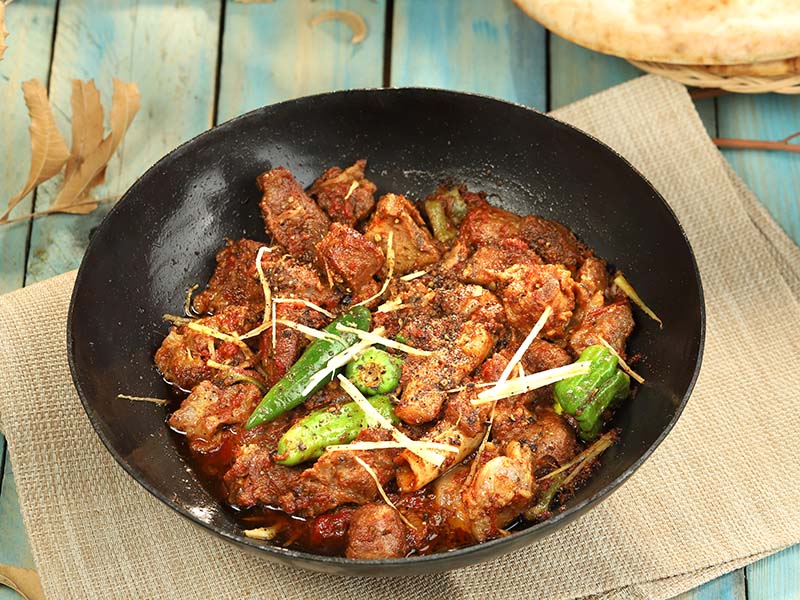 The name of this dish originated from the kitchen utensil used to cook it. Karahi, by definition, is a Hindi name for a deep, circular cooking pot that looks like a wok (Kahari means "wok"). This traditionally iron-casted vessel is a common sight in Indian and Pakistani cuisine.
Typically, the Pakistan version of Karahi doesn't include onions and green peppers, while its Indian counterpart often has these ingredients. Nonetheless, you can add or remove these ingredients based on your personal preference.
Chicken Karahi is served at celebrations and functions alike. The dish can become a crowd favorite because it is quick and easy to prepare (45-50 minutes of cook time). The thick gravy sauce is perfect for scooping up with flatbreads like Naan or Roti.
Get started with cooking the street food version of Pakistani chicken Karahi!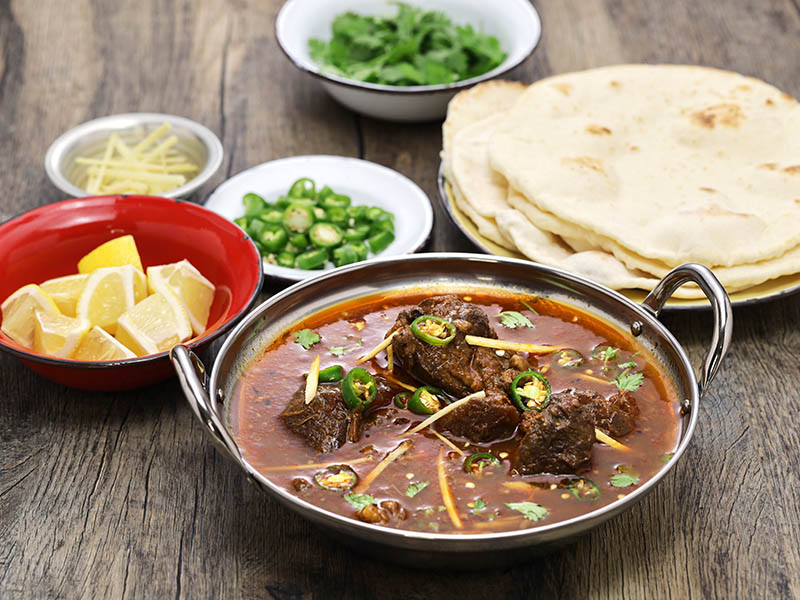 Nihari is derived from the Arabic word "Nahar" which means "day" or "morning". Nawabs (noblemen, rulers, or princes) in the Mughal Empire ate it as breakfast after finishing their morning prayers. It later became the food for the laborers due to being an energy-boosting meal.
In general, Pakistan-style Nihari comprises beef, preferably the shank part. But people also cook it using lamb, goat meat, or chicken. The stewing time takes about 6-8 hours, not including the meal prep time.
Specifically, on low heat, it takes about 8 hours and 10 hours to make stew and shanks, respectively. If you change to high heat, this number reduces to 6-7 hours. Traditionally, people used to cook Nihari in large pots overnight.
Notes: The cooking time varies depending on the meat and slow cooker that you use. Just make sure that the beef is fall-apart tender.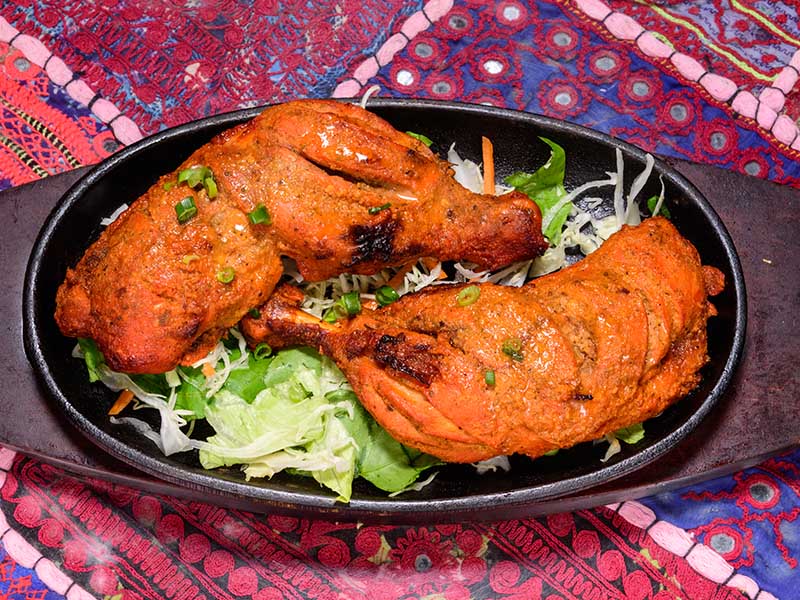 Traditionally, this Pakistani cuisine consists of bone or boneless chicken pieces grilled to perfection. You need to marinate the pieces with spiced yogurt and lemon juices. It takes about 8-10 minutes to bake each side on a skewer stick on top of red hot coal.
There's another method of baking, the Dhungar method, which involves burning and smoking a piece of charcoal in a pot to give your chicken Tikka a "smoky" aroma. People often brush in ghee at intervals to enhance its flavor.
Its origin is similar to other Pakistani dishes on this list. You can trace it back to the Indian subcontinent during the Mughal era. For the best enjoyment, you want to serve chicken Tikka with onion rings and lemon slices.
Notes: Be careful when burning charcoal. It's safer to grill the dish outside. Remember to always follow fire prevention and safety tips.
Yet another Chicken Tikka Masala recipe for you to learn. Try it out now!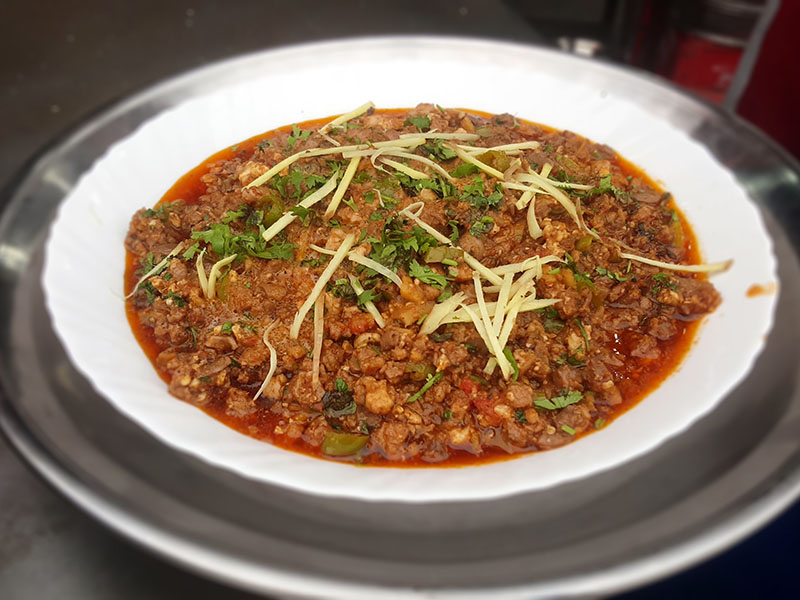 The name "Kata Kat" refers to the clanging sounds the flat spatulas produce while the cooker chop and mince foods on the pan (but there's some debate about whether it's actually "kata-kat" or "tak-a-tak"). Its origin is from Karachi, Pakistan.
The ingredients are the cow and goat parts that can't be used in other recipes. Typically, these meat parts consist of hearts, lungs, tongue, brain, and liver. This combination is then cooked with garlic, tomatoes, spices, and yogurt.
There's also a fish-based version where the goat or cow meat is replaced with boneless fish, opening up new (and less controversial) flavor possibilities.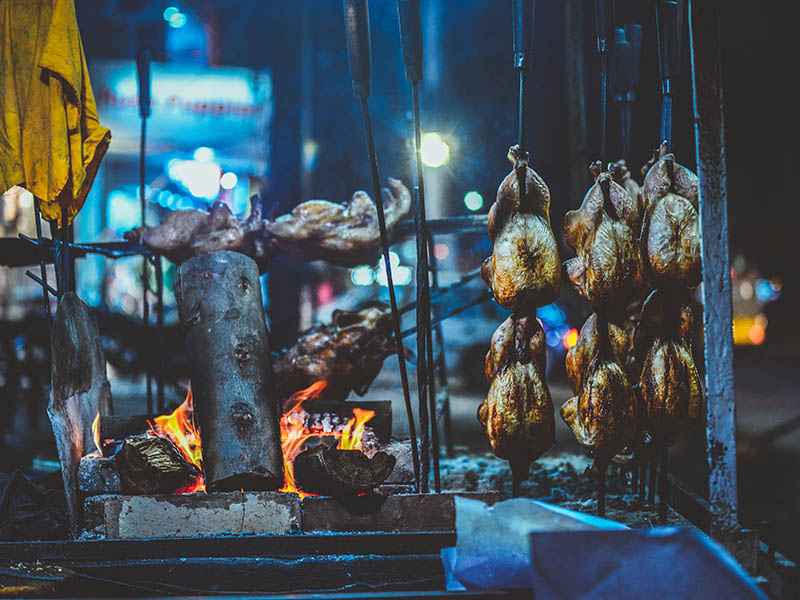 Sajji is native to the Balochistan province of Pakistan. People marinate and roast whole chicken or lamb on a skewer stick over an open fire. Thus, Balochi Sajji has a smoky flavor to it.
At Rawalpindi and Islamabad, you can easily spot the scene of these skewered whole chickens being displayed around coal fires at the markets. You can even watch (and enjoy the aroma of) Balochi Sajji being roasted at the fire pits right outside of local Pakistani restaurants' entrances.
A properly prepared Balochi Sajji should be crisp on the outside while the inside is tender and oozing delicious juices. Sometimes this grilled dish is stuffed with rice and potatoes. In the original recipe, people don't even roast the meat with oil or add spices; they only use salt.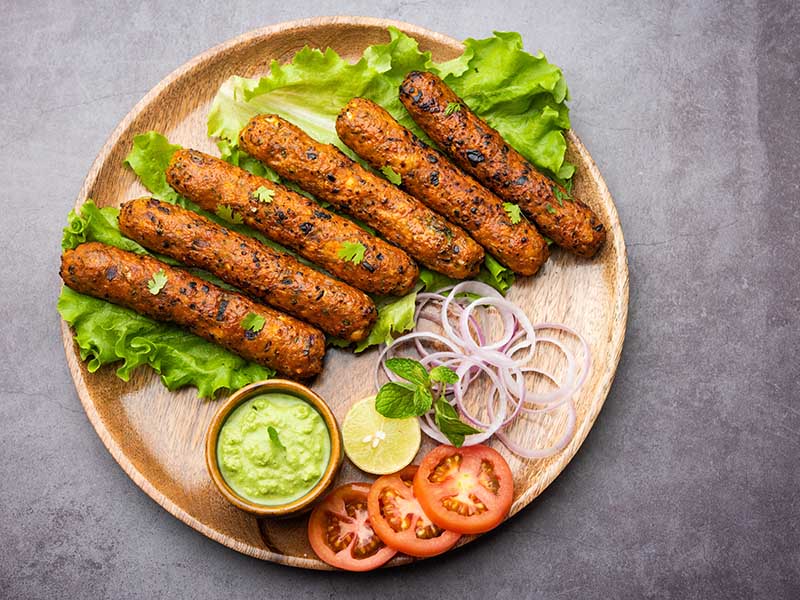 This is another widely loved and available offering that will satisfy any meat lover. Have one look, and I'm sure that anyone will want to grab a bite of it. Seekh Kebab is normally grilled outside over a coal fire. People use various kinds of minced meat to make this dish, from lamb, goat, to chicken.
What sets Pakistani Seekh Kebab apart from its Indian counterpart is that the former uses ground beef while the latter uses ground lamb or ground chicken.
Typical of traditional Pakistani grill dishes, Seekh Kebab has various spices and herbs such as garlic, ginger, green chili peppers, etc. Therefore, the flavor is much richer and more diverse than your average grilled meat.
Let's cook a homemade version of Seekh kabab in your oven.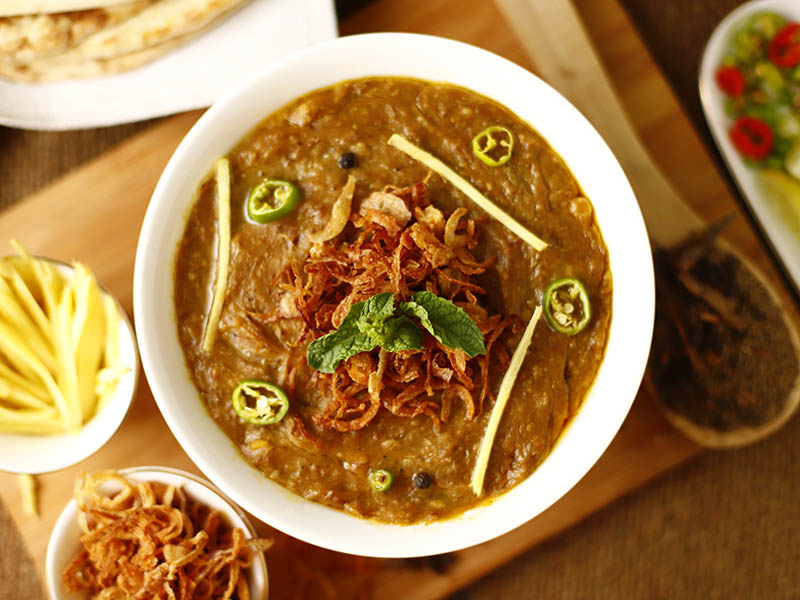 Haleem is another porridge wonder that makes it to this list. The sticky consistency is the distinguishing feature, which makes it all the more warm and comforting. Besides Pakistan, people from the Middle East, Central Asia, and the Indian subcontinent also consume Haleem.
However, to achieve it, you may have to commit to a constant stirring. Haleem means "patient" in Arabic. What a fitting name for a slow-cooked meal!
To sum it up, Haleem is a thick stew made with items like grains, lentils, and meat. As mentioned above, the thick and luscious texture is a result of slow-cooking until the components are melted together.
Similar to Nihari and Biryani, people often serve Haleem at large gatherings or/and on special occasions. It is also a favorite food during Ramadan because of its high-calorie properties that give Pakistani people a perfect meal to eat after a long day of fasting.
7 Amazing Green and Rice Dishes That Will Become Your Favorites
Pakistani cuisine is not all about meat. There is also an abundance of Pakistani vegetables or rice dishes. This Muslim country is a major exporter of rice, so it's no surprise that people consume a lot of rice here. Not all Pakistani recipes taste the same; read more to find out!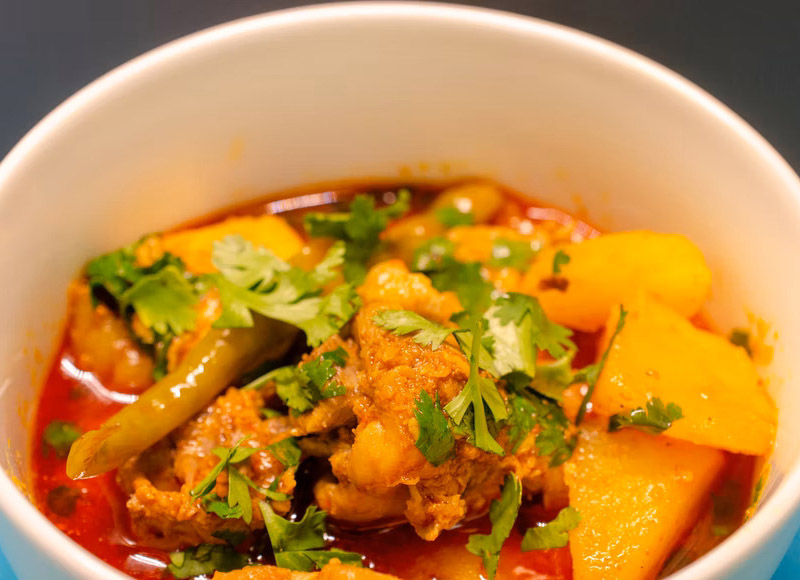 Jeera Aloo Sabzi makes for a comforting dinner with its hearty offering. The name also tells you all about it: "Aloo" means "potatoes"; "Jeera" or "Zeera" means "cumin seeds".
The flavor doesn't come from the spices but from the potatoes and cumin seeds themselves. It's more of a home-style Pakistani potatoes-based dish rather than your average street food.
It's not only the satisfying taste but also the simplicity that makes this dish appealing. It requires a short prep time, a few ingredients, and not so much effort to put them together. Therefore, this Pakistani food is a perfect suit for lazy Sunday noons or busy days.
Come and see this cooking guideline that will help you make Jeera Aloo Sabzi in no time.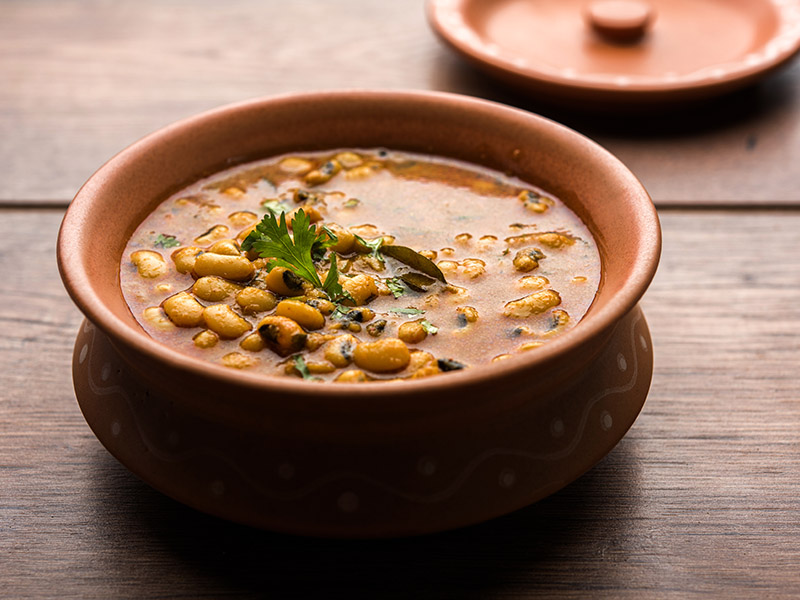 If you want to avoid oily or junk foods, then this curry can be a much healthier option as it contains beans. Most housewives prefer to cook this dish using an instant pot or pressure cooker instead of the traditional pot to save time and effort.
Aside from the black-eyed peas, you use the typical ingredients of any Pakistani curry: salt, tomato sauce, green/red chili powder, turmeric powder, and coriander. It's uncomplicated, yet the flavor of the peas really shines! You could just scoop a spoon or eat it with Naan or rice.
Tips: It's recommended to soak the beans for at least an hour before cooking. This is so that you can get all the nutrients, reduce the cooking time and make the beans easier to digest.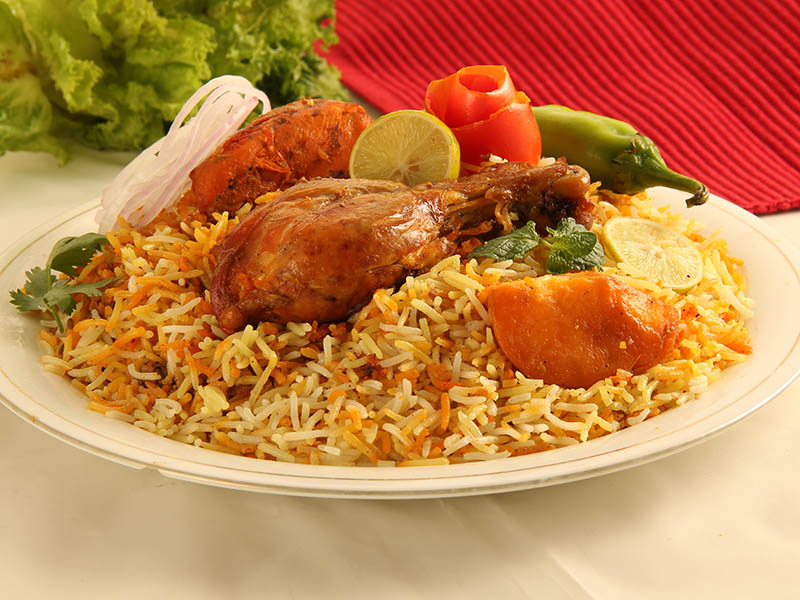 This classic dish is popular in Bangladesh, India, and Pakistan. Biryani is anything but plain white rice; it's a mixed rice meal with layers of curried meat and colored rice. There are two variants: raw and cooked.
In Pakistan, you would often find the latter one. People make Pakki (cooked) Biryani by steaming the cooked meat and parboiled rice together. For that, one must mention Sindhi Biryani when talking about Pakistani-inspired cuisine.
The spicy Sindhi Biryani originated from the Sindh province, which is in the southeastern parts of Pakistan. There are also other regional varieties of Biryani in Pakistan. A few examples are Punjabi Biryani, Afghani Biryani, Mughlai Biryani, etc.
Fun fact: Pakistan International Airlines serves Sindhi Biryani on most of the company's international flights. It's truly the most well-known food in Sindhi cuisine and Pakistani cuisine alike.
Would you look at that, an ancient Biryani cooking method! See it here.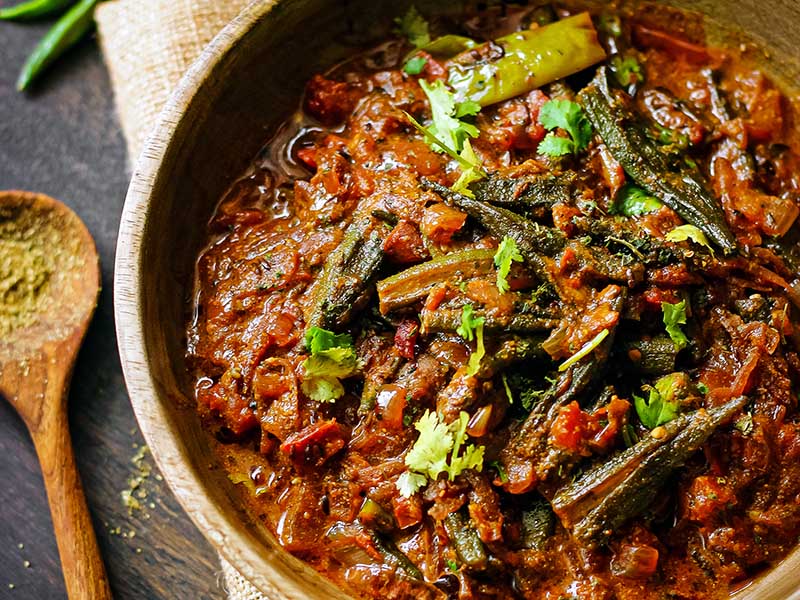 Okra is called Bhindi in Hindi or Lady Fingers (usually) in Indian English. It is a veggie that looks like pepper but is more tender. Since orka is available all year round, Bhindi Masala has become a common dish in every household in Pakistan.
If not cooked or prepared properly, okra becomes very slimy and makes your meals also sticky and gooey. Some recipes, such as gumbo, take advantage of this sliminess, but most people would prefer their Bhindi Masala "dry".
To prevent this, you should wipe the okra clean of water or moisture. Next, stir-fry it until there's no trace of sticky substances left. Pakistani okra curry side dishes often include rice or quinoa.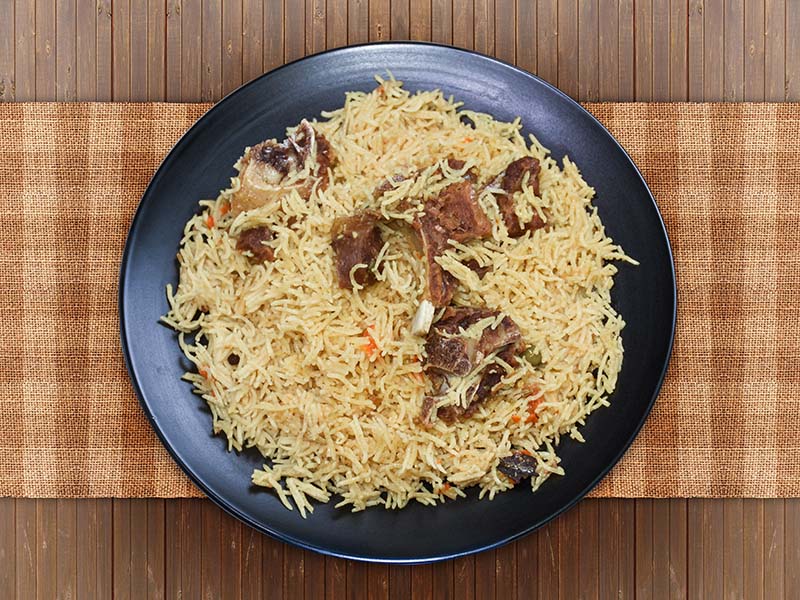 Pulao (or Pilau, Pilaf, Polao) consists of rice and meat/veggies cooked in flavored stock or broth with whole spices. Its fragrance and taste are subtle. When you talk of Pulao, most Pakistanis think of a meaty meal. But there are as many vegetarian versions as meat-based ones.
Apparently, the Mughals brought this recipe from Perisa to the Indian subcontinent. From there, it spread and became popular in India and Pakistan.
There are stories that during his campaign in Central Asia, Alexander The Great loved the recipe so much that he brought it back to Macedonia. From there, it spread throughout his land. From India to Pakistan, and even to Greece, this dish sure gets around!
Tips: To get the color right, pay attention to the browning of the onions. Try to fry them to a nice brown color, neither too bright nor too dark.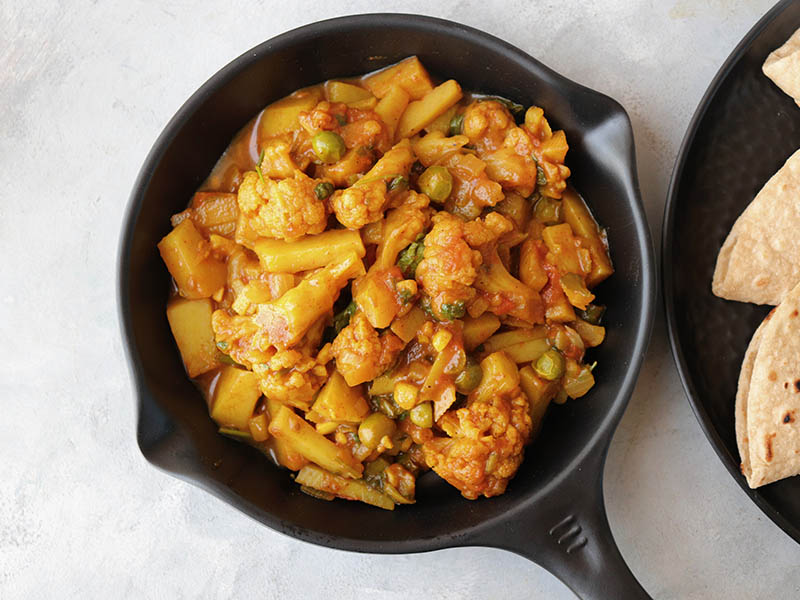 Aloo Gobi is another traditional Pakistani dish and also a dry curry. As the name implies, the ingredients include spiced potatoes and cauliflower. Naturally, Aloo Gobi is a Pakistani vegan dish that is perfect for a quick meal.
For a better eating experience, you want to eat it either as a main meal or a side dish with mint raita, salad, or roti. The mouth-watering property of cauliflower combined with potatoes makes for an elevated flavor.
Similar to other Pakistani recipes, there are as many versions of Aloo Gobi: Aloo Gobhi Ki Sabji, Aloo Gobi Masala, Aloo Gobi Matar, etc. Aloo Gobi, or Pakistani cuisine, is so versatile!
You've known about Aloo Gobi, now learn how to make them here.
Check Out These Pakistani Desserts That Everyone Loves
I'm sure this is the section that the sweet-toothed readers look forward to the most, and you won't be disappointed! They have it all, from creamy pudding and tempting sweet rice to hearty ice cream.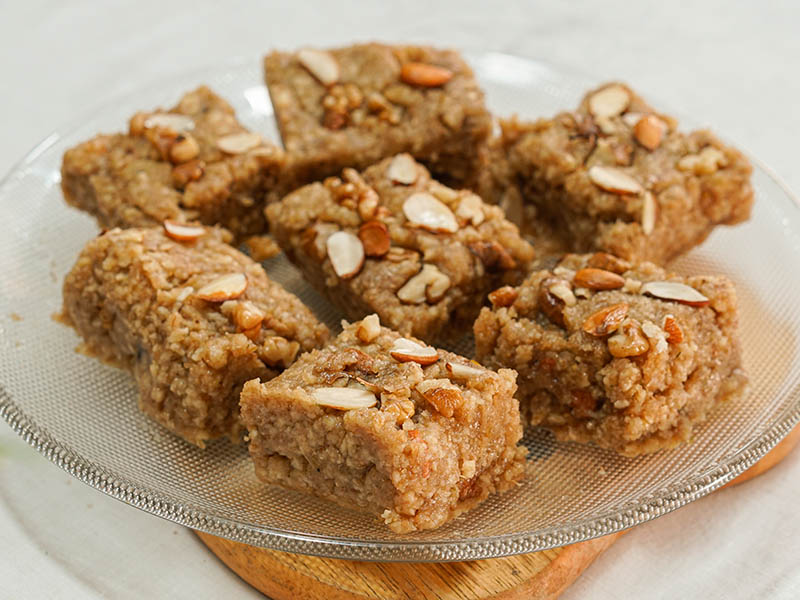 Halwa is a type of confectionery that is made from seed or nut butter. You can trace the origin of this desi dessert back to Persia. The first known recipe for this treat is from the text of a 13th-century Arabic cookbook, Kitab al-Tabikh.
Hafiz Sohan Halwa is a famous brand of this treat. And it's the best Sohan Halwa that you can get from Multan in particular and Pakistan in general. The Hafiz family has been making this treat since the 1930s.
At every Multan bus stop, railway station, and even airport, you will find Sohan Halwa selling like hot cakes, and not without good reasons. This rich and crunchy dessert captures the hearts of many with its dense and robust sweetness that is far more flavorful than sugar.
Unlike most halwas in other parts of South Asia, Sohan Halwa is solid and often available in a disc-shaped form. The Multani Sohan recipe is the most accessible and delicious of all varieties. This variant is darker in color with a more milky taste.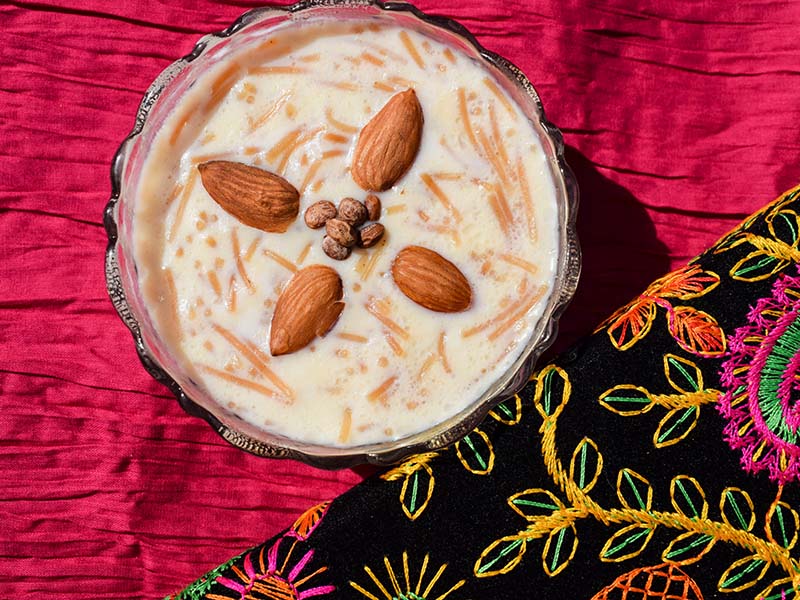 Kheer is made by cooking raw rice grains with sweet milk and sugar. In short, it's an Indian/ Pakistani pudding infused with spices.
In India, people often put in ghee (Indian clarified butter), while Pakistani-style Kheer often includes green cardamom and some nuts. Basmati rice is the predominant ingredient as it's widely available in both countries. However, you can use any types of rich rice you want
The majority of Kheer has a slightly runny consistency, not liquidity like your typical pudding. This is because people slow cook the rice for a few hours to get it right. Some people advise using instant pot instead of traditional pot, as that is a better time-saving alternative.
This Pakistani food is truly a labor of love! And a comforting dessert deserving to be on your list of must-try Pakistani cuisine.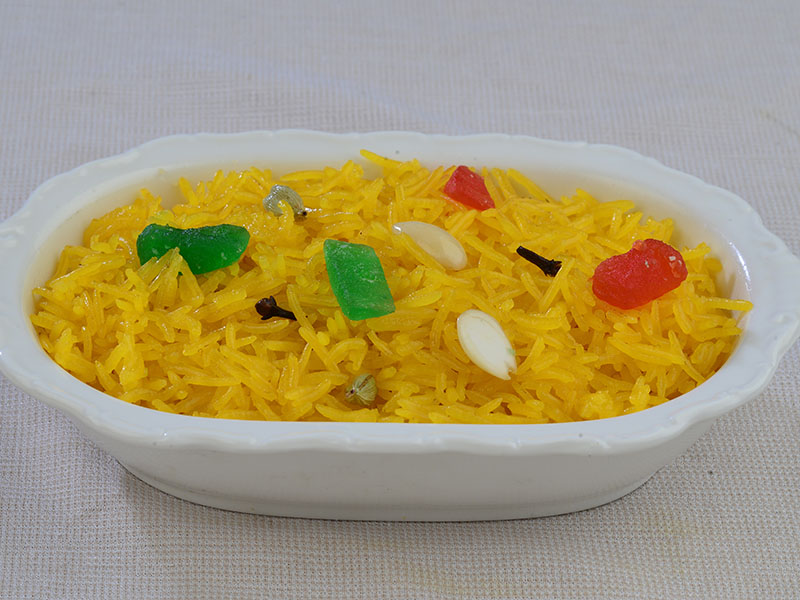 Although Zarda is technically a rice dish, people often treat it as a sweet dessert. If you encounter this food, chances are you are on festive occasions like Eid (an important Muslim festival that takes place twice a year) or weddings.
Pakistanis will often serve this dish alongside a Biryani or a Pilau. The sweetness of Zarda is great after you taste the spicy and meaty Biryani. It's a great way to end your meal.
In Urdu language, "zard" means yellow, which is the name and color of Zarda. The yellow here refers to the bright hue of orange or yellow of the rice when it is served.
If you don't want to use food coloring, there are other alternatives such as saffron, turmeric, or any natural food coloring of your choice.
The ingredients list is also pretty short: Basmati rice, sugar, aromatic spices (cardamom or cinnamon), dry fruits, and nuts. It's also very easy to make. Within 30 minutes, you can get yourself a delicious Pakistani rice treat.
Cook a hearty Zarda for your whole family!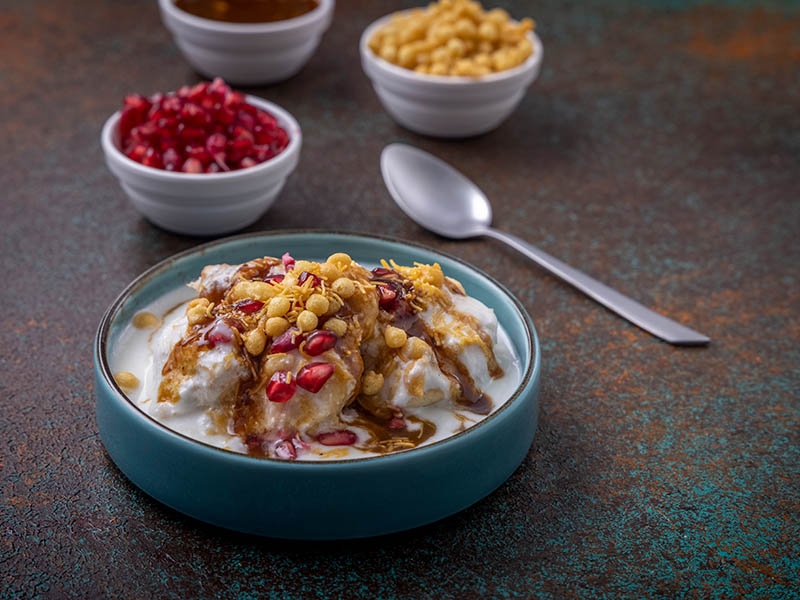 Dahi Bhalla also goes by the name of Dahi Vada. It's a famous Indian/ Pakistani snack food that is simple and easy to make. Basically, Dahi Bhalla is deep-fried lentil fritters coated with yogurt and chutneys. There are different varieties with different stuffings and toppings.
Being a Pakistani deep fry dish, many would imagine that it's oily and heavy. But here's the thing: sometimes it's not! This is because some people soak them in water during the cooking procedure, which is a genius move.
As mentioned above, Dahi Bhalla is street food, but many Pakistanis would eat it as a side dish along with their main meals.
What makes the Pakistani version different from its Indian counterpart is that it has a soft texture and unique taste. They also add cumin powder, red chili powder, and local chat masala, whereas the Indians don't.
4 Side Dishes That Go Well With Everything Pakistani
Most of the foods in this category are flatbread dough, which serves as a staple food for the people of Pakistan, India, and other Asia countries. They especially complement the main dishes well.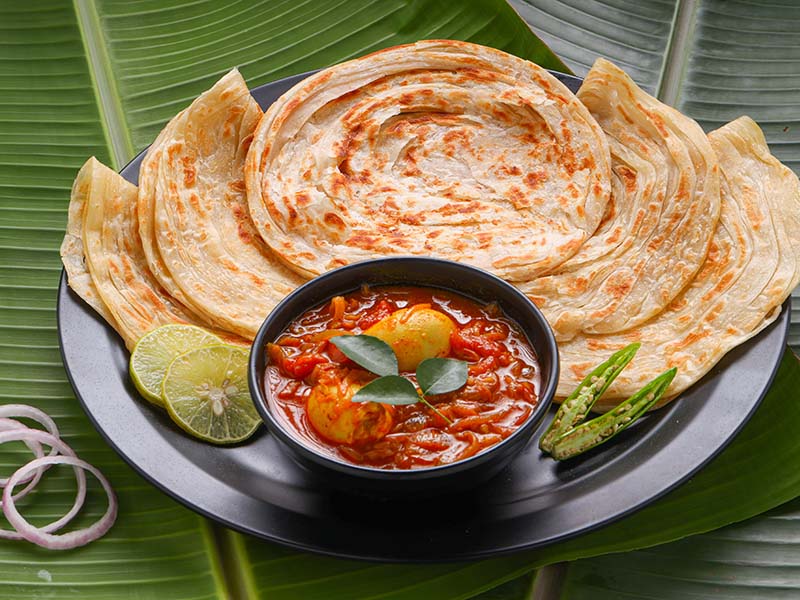 It's the ultimate staple food for many Pakistanis. For many of them, the morning starts with a cup of chai (tea) and a serving of crispy, oily, and hearty Paratha. Nonetheless, you can also eat these soft, thin, and flaky flatbreads for lunch or dinner.
People make plain Paratha by kneading whole wheat flour with salt and water. The dough is then cooked in oil or ghee. Roti and Paratha are different from Naan. The first two are made of whole wheat flour, whereas in the latter case, it's all-purpose flour. Also, Paratha is the flakiest of all.
It also comes in many shapes: round, triangle, and square. How you shape the dough will decide their finished forms. There are at least two varieties: plain and stuffed. The cooking is pretty straightforward with simple ingredients.
With just a few simple ingredients, you can effortlessly make Paratha!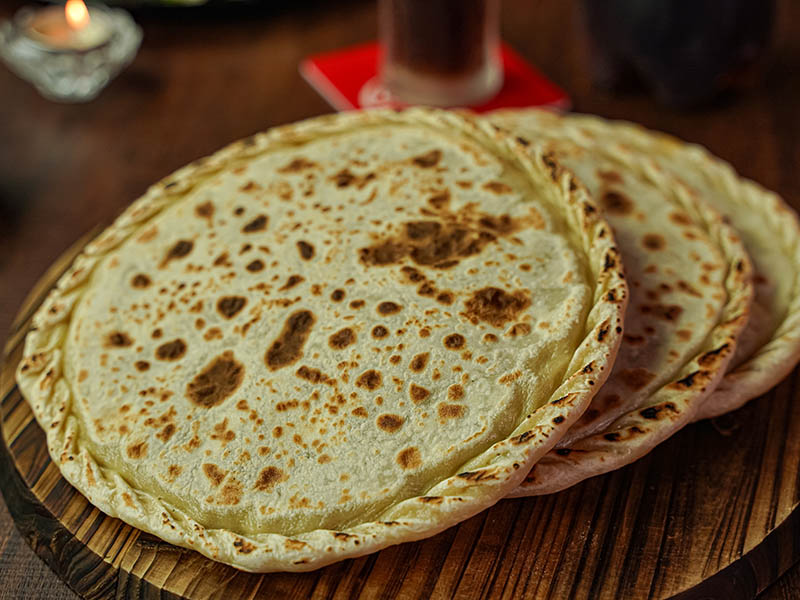 One of the most iconic dishes that you can find in Gilgit – Baltistan. This place is located in the northern region of Pakistan. You can describe it as a flatbread (Naan) filled with a mixture of chopped meat, oil, seasoned vegetables, and fresh coriander leaves.
The best part? You can eat this round and pie-like bread with a meat filling of your choice: it can be lamb, beef, chicken, mutton, or yak. This Hunza Valley-originated dish will surely provide you with a chock-full of carbohydrates, fats, and proteins.
If you want to eat the most delicious treat in Pakistan, people would often tell you to go to Jugloot Gouro. This is the most famous place for making the best Chap Shoro.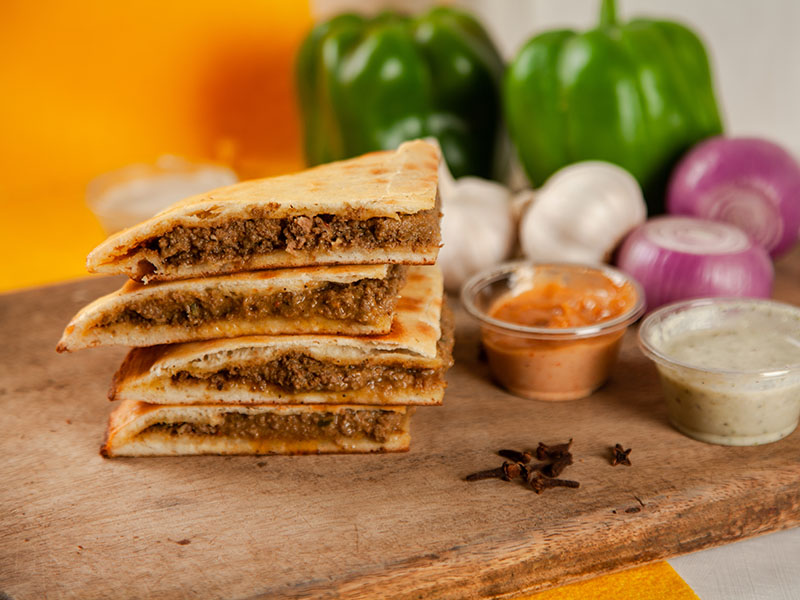 Keema Naan is Naan with a twist. Pakistanis stuff it with lamb or goat meat and coat it with a generous amount of butter. You can eat it with curry, mint chutney, or yogurt. Else, it's possible to consume this dish on its own. It's a major win either way!
Traditionally, Pakistanis cook it in a hot clay oven. Not many have access to that, but you still can use your family oven or stove-top. There won't be much difference in flavor, only slightly more or less browning on the appearance of the dish.
Loli is a traditional kind of flatbread in the Sindh province of Pakistan. The Sindh often eat Mitho Lolo with chilled buttermilk, which is known as Mitho. This dish tastes unlike usual flatbread, very thick and sweet. This is because it's made of pure ghee.
This sweet dish also plays a significant role in Sindh culture. Noticeably, people consume it during the Thadri festival, a day of celebration for the Goddess Jog Maya.
You're not supposed to do any cooking activities during this time. So Pakistanis cook Mitho Lolo one day ahead and eat it on that occasion.
After someone has made a full recovery from serious illnesses, people prepare Mitho Loloas as an offering. On special religious occasions, people also give this dish along with milk to the poor.
Now You Know What Foods You Should Try Once Visiting Pakistan
Now that you've finished reading this article, what Pakistani foods would you try first once you have the chance? Nonetheless, with the sheer variety of this rich food culture, there's something for everyone! It's unlikely that you will go wrong with your choices.
Make sure to share this article so that more people, especially those who are close to you, get to know about this beautiful country's food culture. And make sure to leave a comment below to share what kinds of Pakistani foods you've eaten or want to try.
I hope that this list of Pakistani specialties has somewhat expanded your horizon about different cuisines of the world. Now, all that is left is jumping at the chance to try them out yourself. Bon Appétit!