You should try Pakistani drinks once you have the chance. They are as amazing as the much-talked-about delicious Pakistani dishes. The taste and texture are not only pleasant and sensational but also quite diverse, just like the country's rich culture.
The sheer amounts of beverages from this corner of Asia can be a little overwhelming at times. To survive the relentless heat, Pakistanis have adopted and created numerous refreshing and unique drinks to stay cool.
It's hard for one to fathom (and try) all of the amazing drinks that Pakistan has to offer, from yogurt-based beverages to soda and milk liquid mixture. Let's take a closer look at some of the most noteworthy ones.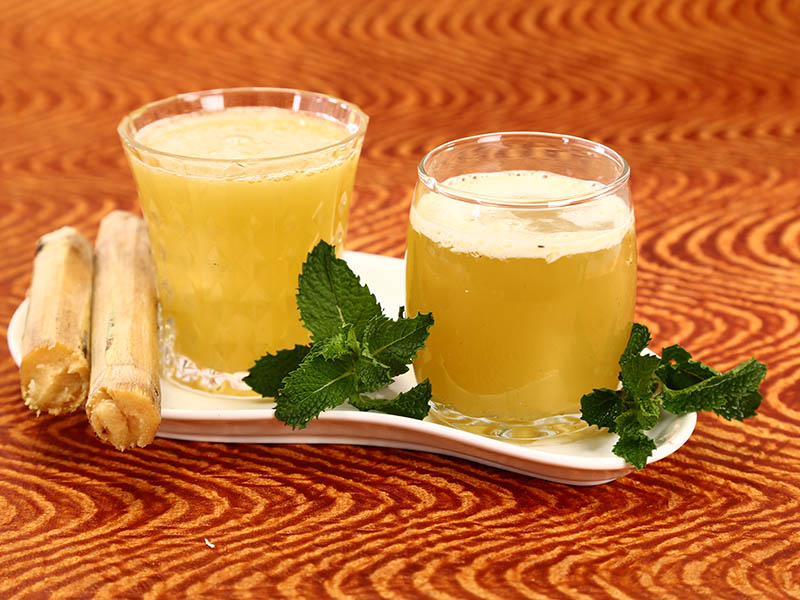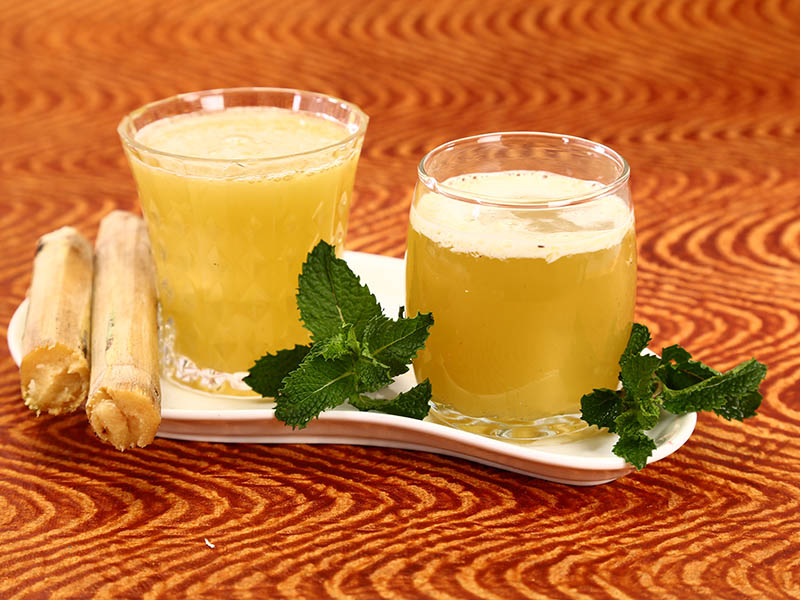 What To Keep In Mind About Pakistani Drinks
Some things you need to learn beforehand before deciding to visit this cultural country. They're there, some widely known, some unspoken. Nonetheless, with proper knowledge and preparation, you can still have the best experience while visiting this beautiful country.
Alcoholic Beverages Are Legally Banned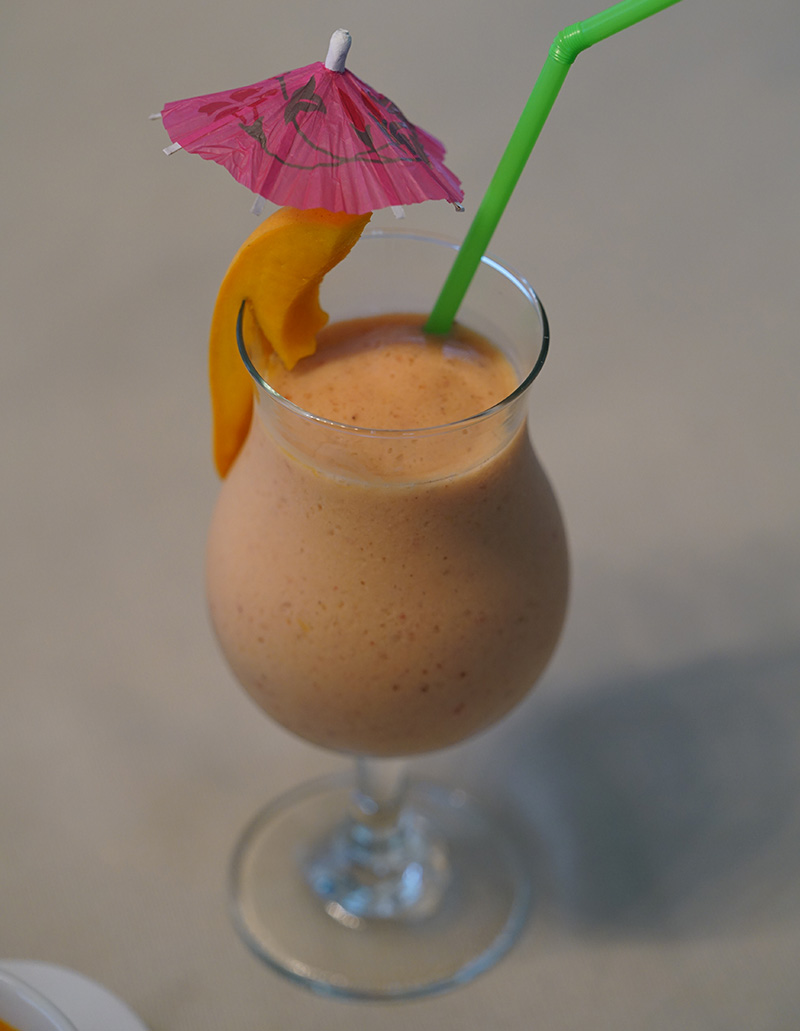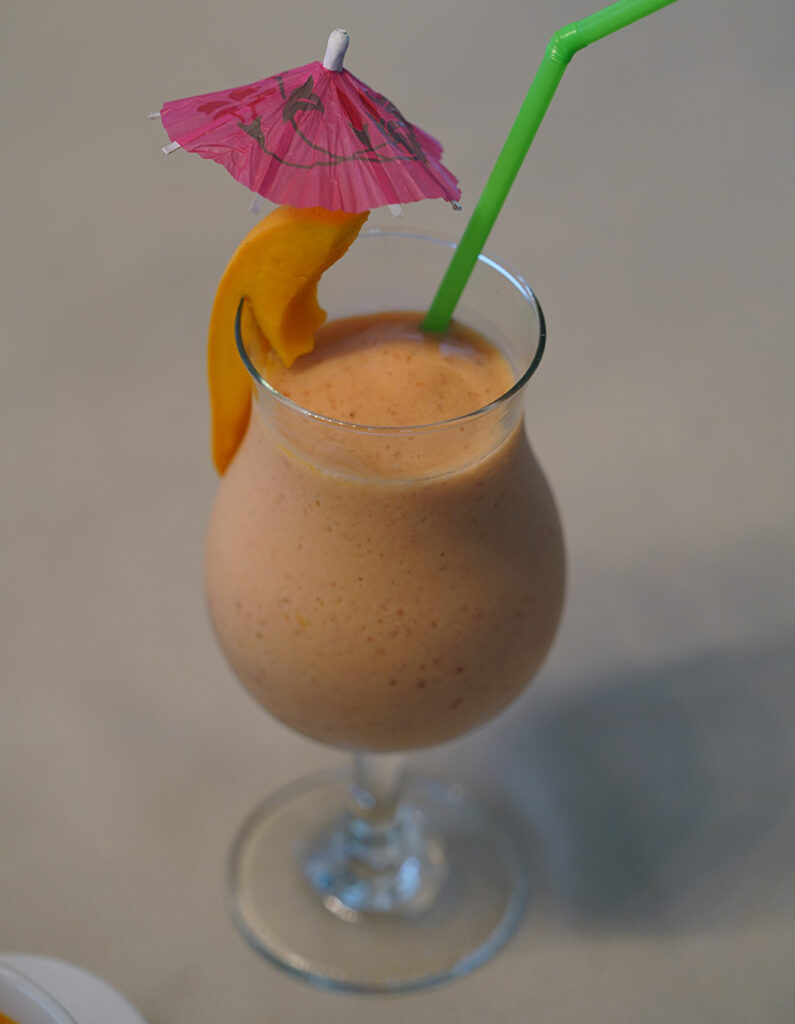 This law only applies to Muslims, who comprise 97% of the country's population. That's why all of the drinks listed here are non-alcoholic. The majority of Muslims see alcohol as haram (prohibited or sinful) in their religion.
Having said that, there is a Pakistani alcoholic drink manufacturer, Murree Brewery. It is the country's largest and oldest producer of alcoholic and non-alcoholic products. They even export their products to foreign nations.
You can also buy non-alcoholic beers. For example, Cindy and Malt 79 are such options widely available in Pakistan stores. Non-Muslim foreign tourists can purchase alcoholic beverages at five-star hotels. To do so, you need to get a license from the government first.
You Shouldn't Eat Or Drink Anything In Public During Ramadan
The no-drinking law is strictly enforced during the holy month of Muslims. During this time, everyone, including non-Muslims, must refrain from eating and drinking in public during the day.
The fasting lasts from sunrise until sunset. Remember that you can still eat and drink as normal; just do it behind closed doors. You can also attend iftar, a large meal that is eaten alongside family and friends after the day's fast.
Tips: You should join the iftar. Muslim people in general and Pakistanis, in particular, would love to make iftar a big communal meal. It's a good chance to not only try Pakistani foods but also meet and greet new people.
Alcohol is banned, but don't worry, follow this guide to see a lot of alternative drinks that you could try.
Pakistanis Have A Sweet Tooth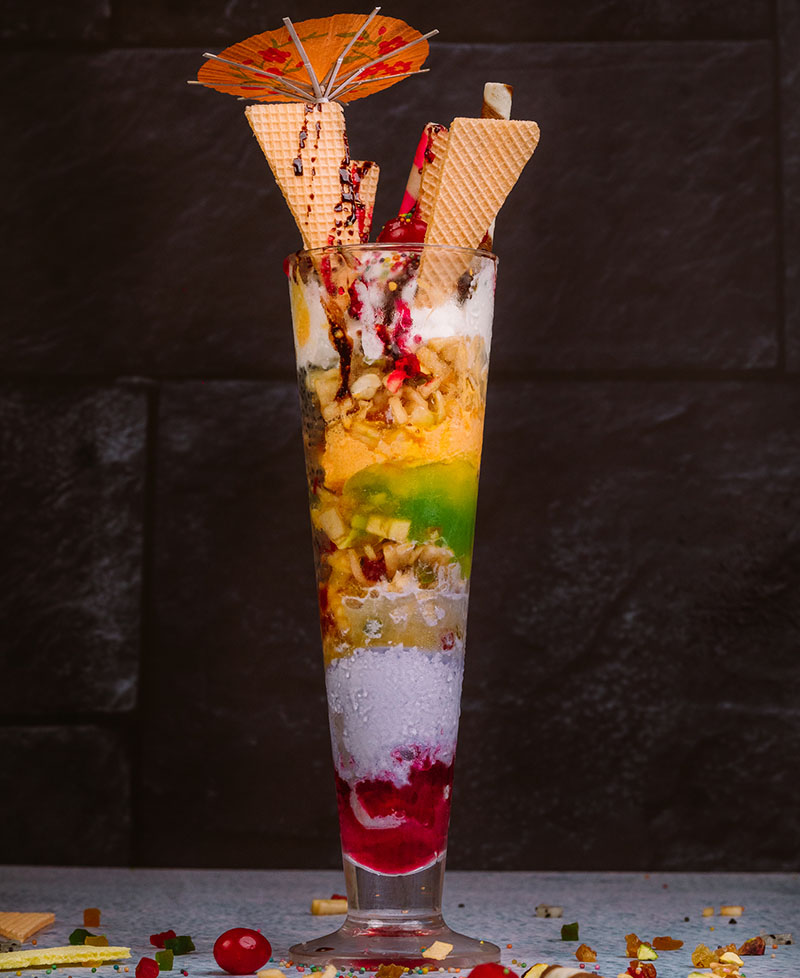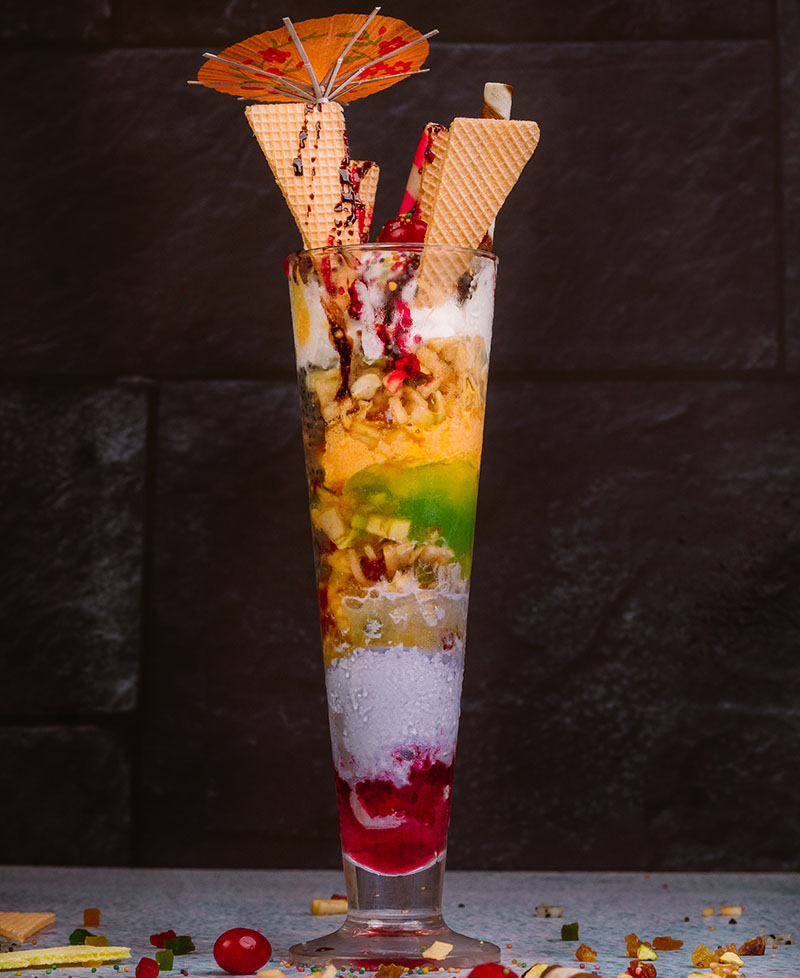 If you prefer anything that has to do with sweetness, like milk or tea, you are in for a treat when you come to Pakistan! To beat the heat, the drinks are often made from various ingredients and chock-full of nutrition.
Some people may not be used to the tastes at first, as they are often distinctive with some punch undertones. It's an acquired taste, if you will. But don't worry, hot or cold, sweet or salty, liquidy or creamy, they have it all! Everyone will find one or two that suit their tastes.
Drink In Moderation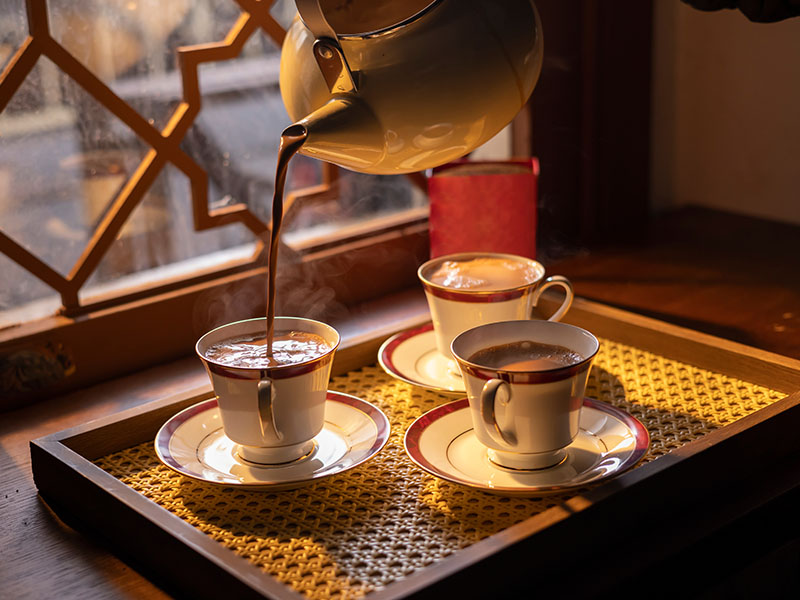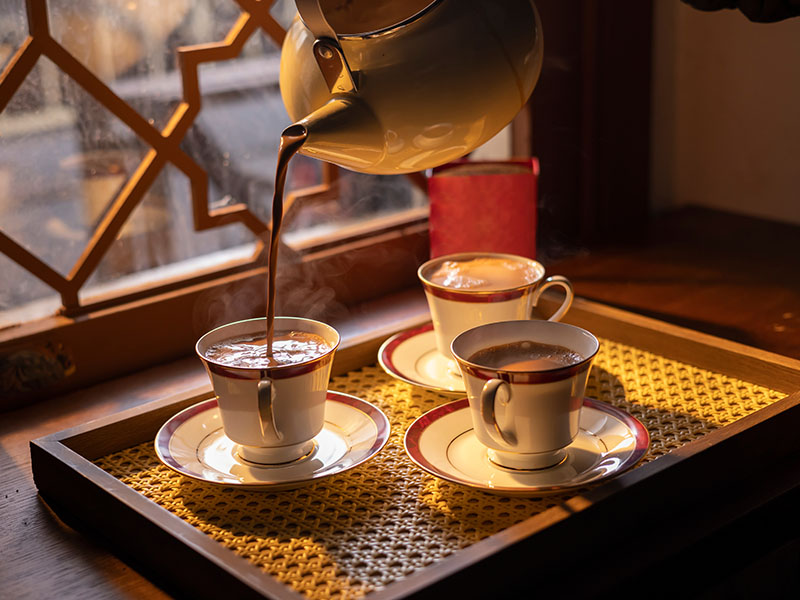 Some Pakistani drinks have high sugar content due to being highly processed. Nothing excessive is ever good for your health, so remember to drink them in moderation according to your physical conditions and stay hydrated with water.
5 Amazing Pakistani Juices And Milk-Based Drinks That People Keep Talking About
Given the abundance of fruits and green veggies in Pakistan, there's no way you can't mention this country's juices and milk-based drinks. I'm sure you'll love drinking these while exploring many exciting spots of Pakistan.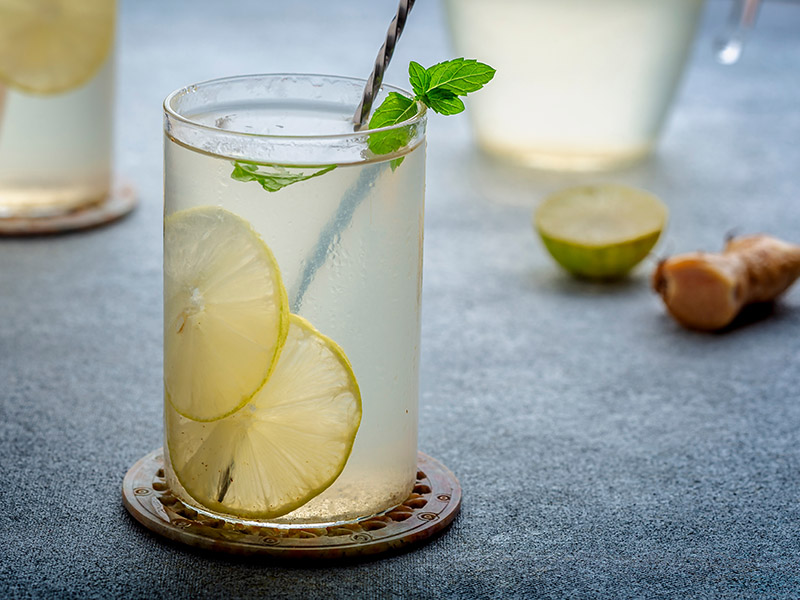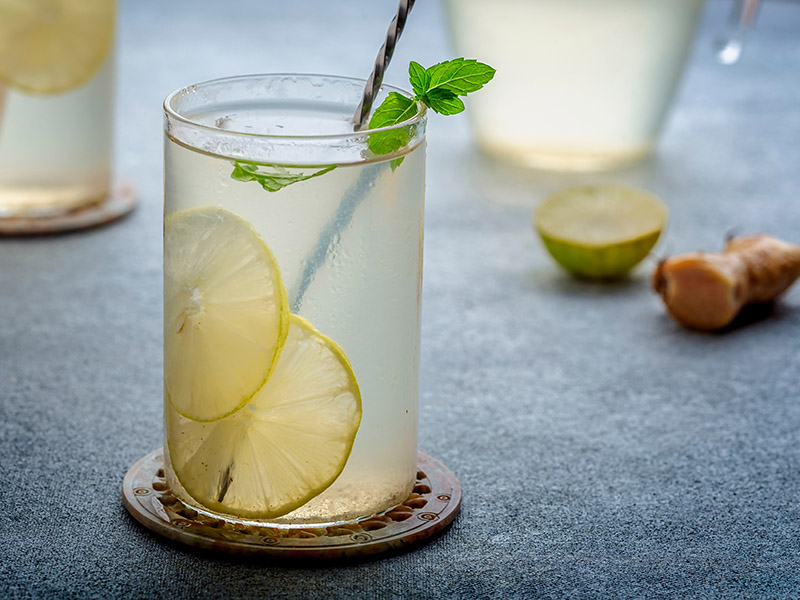 Shikanji, also going by other names like Shakwanji or Shikanjbeen, is an Indian-style variant of lemonade with origins in the Punjab region, which is in the northern part of the Indian subcontinent.
But this lemon-based drink has made its way to Pakistan and become popular there. I can see why: the cool Shikanji is an ideal way to hydrate yourself and beat the heat off.
As its name implies, Shikanji has lemon juice as its ingredients. But people toss in more items, such as salt, saffron, pepper, ginger, or cumin. The result is a richer fragrant drink with a more distinctive flavor.
Instead of lemon, lime is also a great choice for any Pakistani Shikanji recipe. You can either purchase them at street vendors or make one at home. It's fairly simple and easy to make.
Experience Pakistani street-made Shikanji here.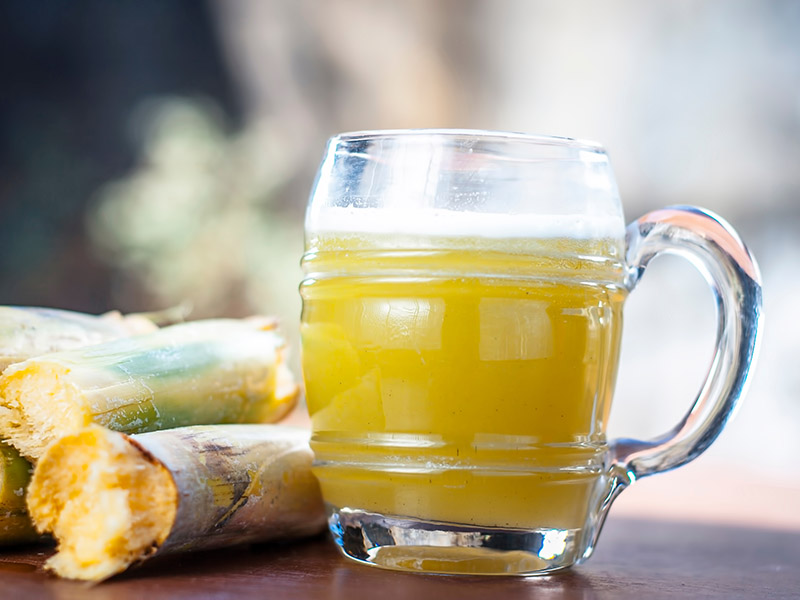 In 2019, the Pakistan government declared Ganne Ka Ras the "national drink". A Twitter poll in which 81% of people voted for this sugarcane juice decided the result. The remaining 15% and 4% voted for orange and carrot juice, respectively.
People selling Ganne Ka Ras on the street and using an extractor to get the juice out of sugarcane is a common sight. If you buy a cup of Ganne Ka Ras from these street vendors, you can observe how the sellers operate the machine and extract the juice from beginning to end.
People often serve Ganne Ka Ras with black salt, mint, ginger, and mint. It has a high concentration of magnesium, calcium, potassium, and iron. Drinking these is a great way to energize and hydrate yourself.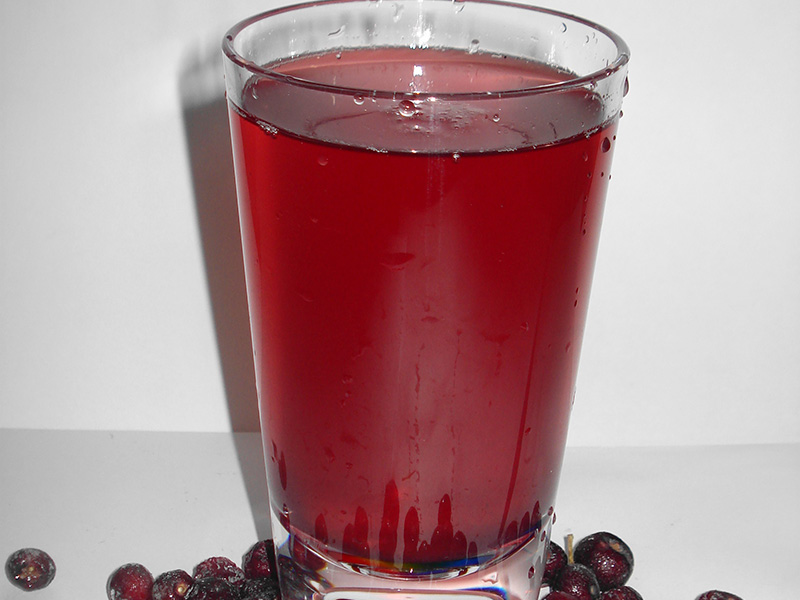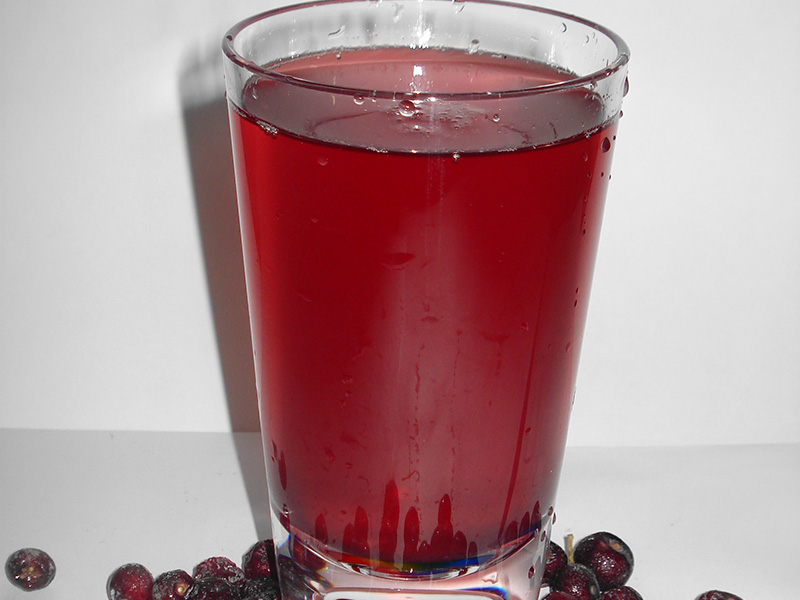 Another sweet red Pakistani drink that you don't want to miss. Aside from buying these from street stalls, you can easily find bottled versions for an affordable price.
Falsa/Phalsa is a tropical berry. You can also find it in summer in Uttar Pradesh, India. This red berry originates from India and then finds its way to other countries, later growing and even becoming more common in Pakistan.
The predominant color of the fruit is black with some reddish hue. Its season typically lasts for around two and a half months. Falsa berries are sweet, acidic, and sometimes sour.
Aside from cooling your body down, Falsa Sharbat also helps with cholesterol, heat strokes, and diabetes. To quip up this red Pakistani drink, toss Falsa, ice, and sugar into the blender. Then strain the liquid into another container to leave out the seeds and pits.
Rabri Doodh is a sweet, creamy dessert that is popular in Pakistan or India. Typically, people make a Pakistani Rabri dish by cooking sweetened condensed milk for a long time.
When the mixture becomes a thick pudding-like consistency, they add chopped cashew nuts, khoya, cardamoms, and sugar. That's how people make a good glass of Rabri Doodh.
Sweet, creamy, and gluten-free are the words people often use when describing this drink. There's nothing better than eating a chilled and freshly-made Rabri Doodh to respite from the heat.
The Rabri Doodh is commonly served at social gatherings and parties. This dessert is so rich and nutritious that you may become full after eating just one or two servings. That's how much of a full meal they are.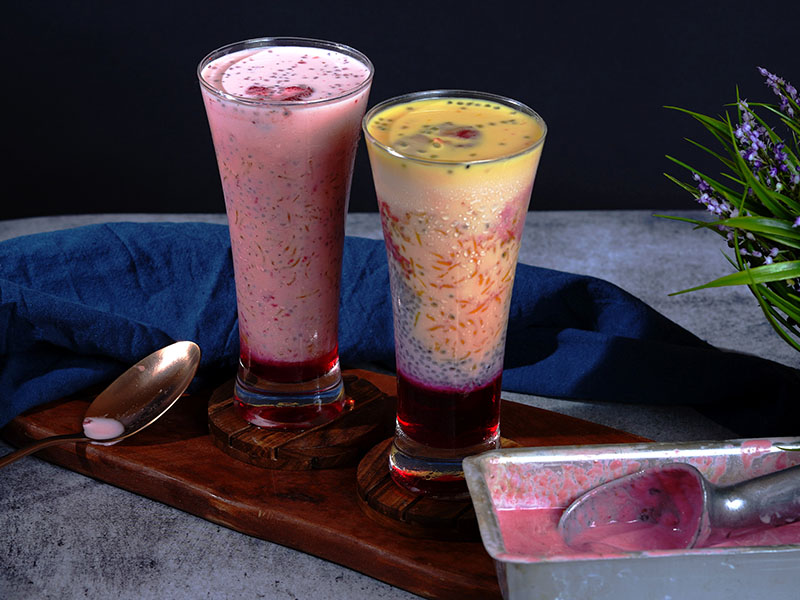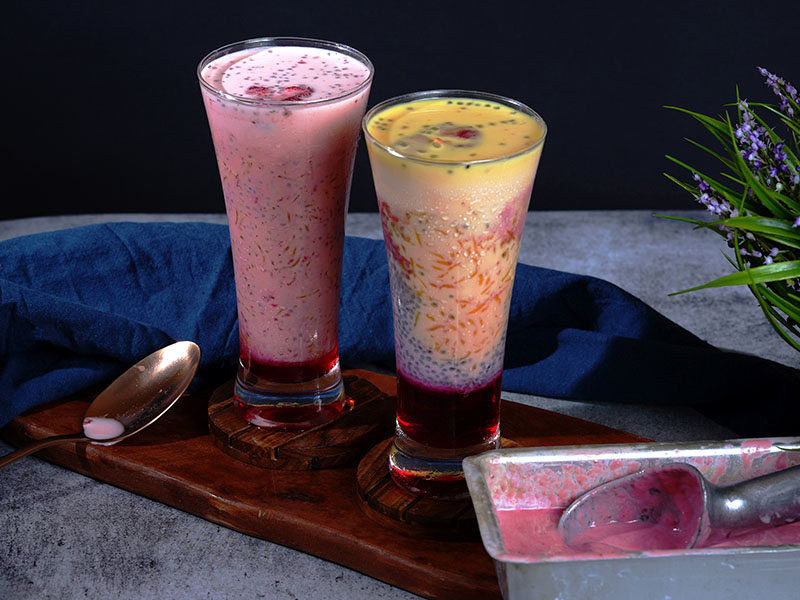 Falooda is what you would call a cross between a dessert and a beverage. It's jelly-like, but you can't sip it away. You have to scoop it up with a spoon to eat this treat. Generally, it's a concoction of vermicelli noodles, basil seeds, milk, ice cream, and (usually) rose-flavored syrup.
It is one of the oldest desserts, allegedly first appearing in 400 BC. In Pakistan, people serve Falooda as an ice cream sundae float. It's a popular dessert in many large Pakistani cities, such as Lahore, where you'll find it served in many forms. One notable example is the Kasuri falooda variant.
Usually, you will see people serving Falooda in a tall glass. This makes the ingredient layers visible and thus making the treat more inviting. What's a dessert appealing to both the eyes and the stomach, right?
5 Amazing Chai (Tea) That Pakistan Has To Offer
Pakistan was the world's largest tea importer in 2020. So it's no surprise that tea consumption in this country is high. Chai (tea) is a warm beverage consisting of tea leaves, water, spices, milk, and sugar.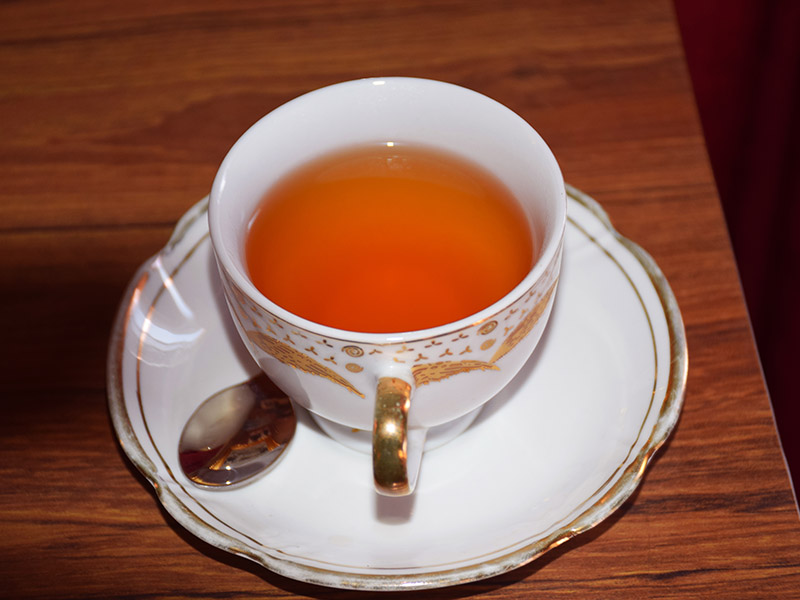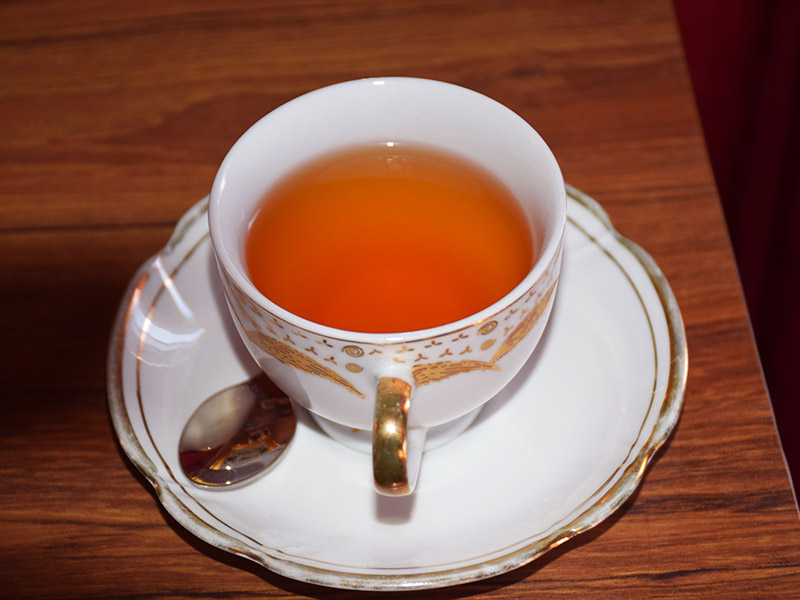 Kahwa is traditional green tea with spices and sweeteners. People in Northern Pakistan, Afghanistan, and some regions of Central Asia drink it. To prepare this aromatic green tea, you need boiling water, tea leaves, cinnamons, and cardamom.
Traditionally, Pakistanis prepare Kahwa in a brass or copper vessel known as Samovar, which has a cavity to place coal to heat the water. Then people add tea leaves, sugar, powdered cinnamon, and cardamom to the boiling water.
There's a milk and sugar-free version called Kashmiri kahwa, which people with diabetes can enjoy. You can find Kahwa tea served at celebrations or to guests.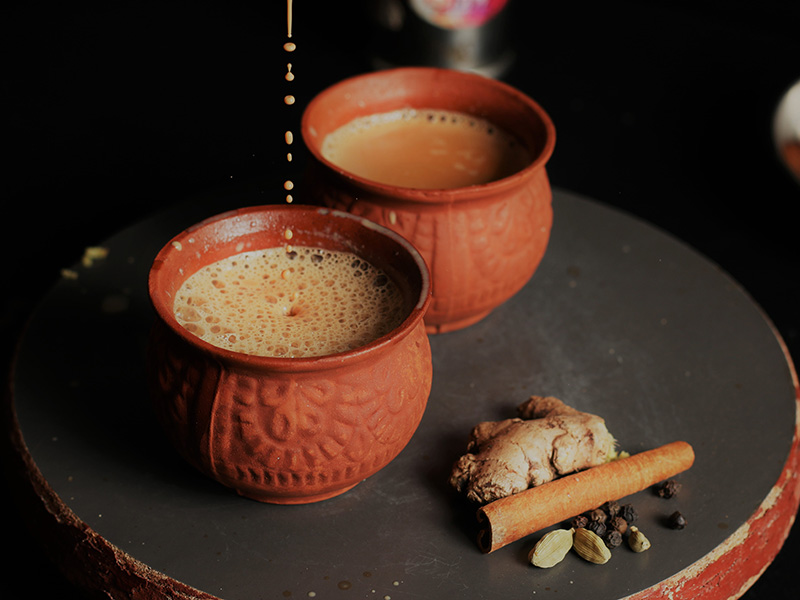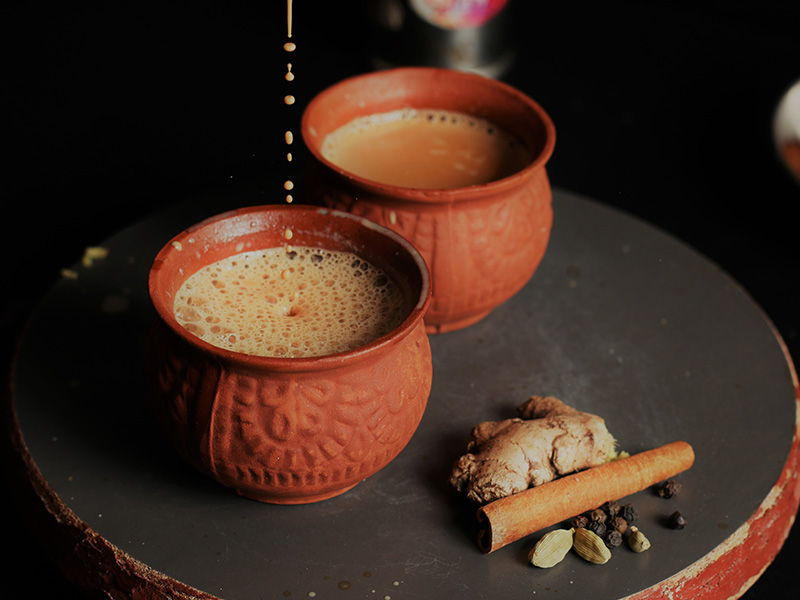 If you fancy a warm and soothing Pakistani chai recipe, you can't go wrong with Masala Chai. This spiced and creamy tea can be refreshing compared to the all too familiar teabags you have at home.
"Masala" means "spices", and "'Chai" means "tea". Connecting the dots, you can see that Masala Chai is tea with spice. It doesn't get simpler than that. Besides black tea, milk, and sugar, you'll find a variety of fragrant and warming spices infused here.
Pakistani chai wallah (tea vendors) would often aerate the Masala Chai by repeatedly and expertly scooping up and pouring the tea back into the small cups.
The flavor and fragrance in every Pakistani Masala Chai recipe are not the same. They change depending on what type of spices you put in.
Making the best Masala chai is not difficult at all! Just follow this guideline.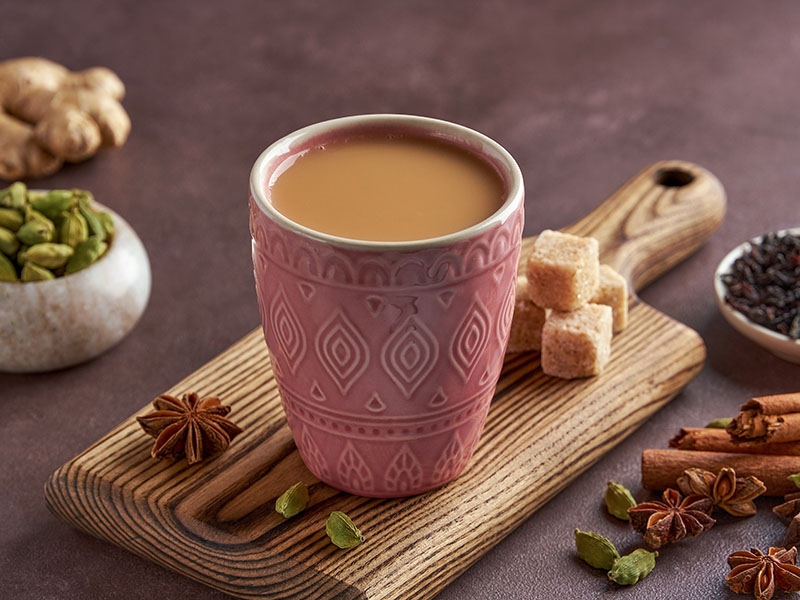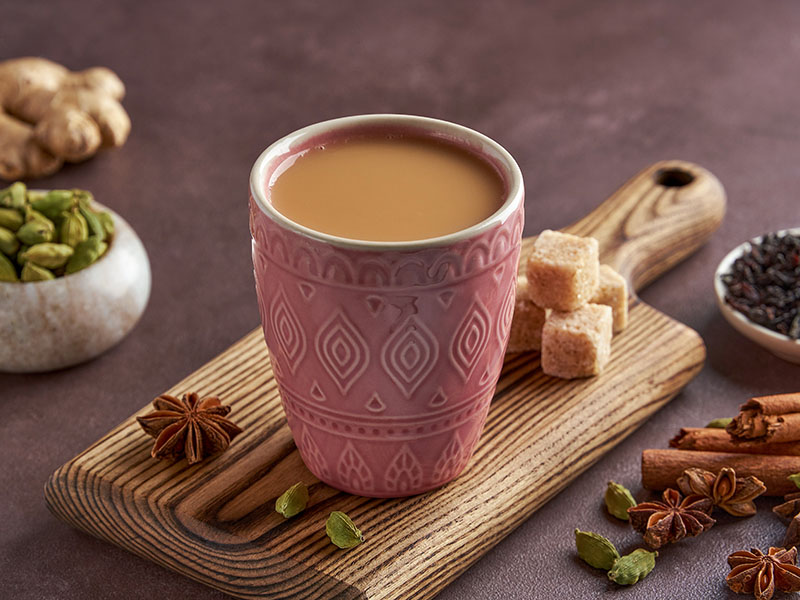 People often confuse Karak Chai with Masala Chai, as both of them are black tea with spices added. The main difference is that Pakistani households make Karak chai by adding fewer spices than Masala chai. Masala means "spices", after all.
As for Karak Chai, "karak" literally means "strong". So this Pakistani beverage's name is a strong tea. Simple, right? The way to make it is also not so difficult, but the end result is such a delicious drink.
Aside from packing comforting flavors, Karak Chai also is chock-full of health benefits. For instance, cardamom and ginger, two of its ingredients, can help with digestive problems because they have antibacterial and anti-inflammatory properties.
This Indian-originated delicacy is not only popular in Pakistan but is also a beloved beverage in Qatar. Workers from India and Pakistan who came to help with building Qatar's infrastructure around the 1950s and 1960 brought Karak Chai to this country. Since then, it has become a big part of Qatar people's daily lives.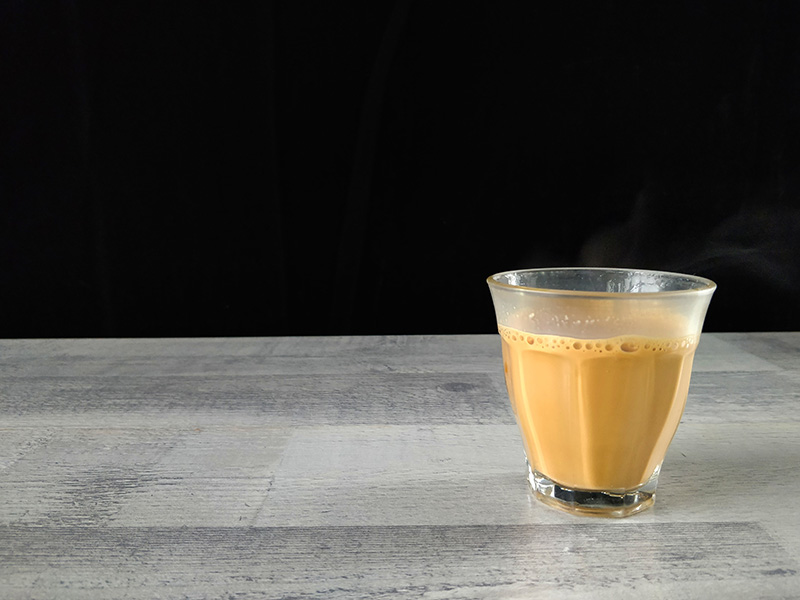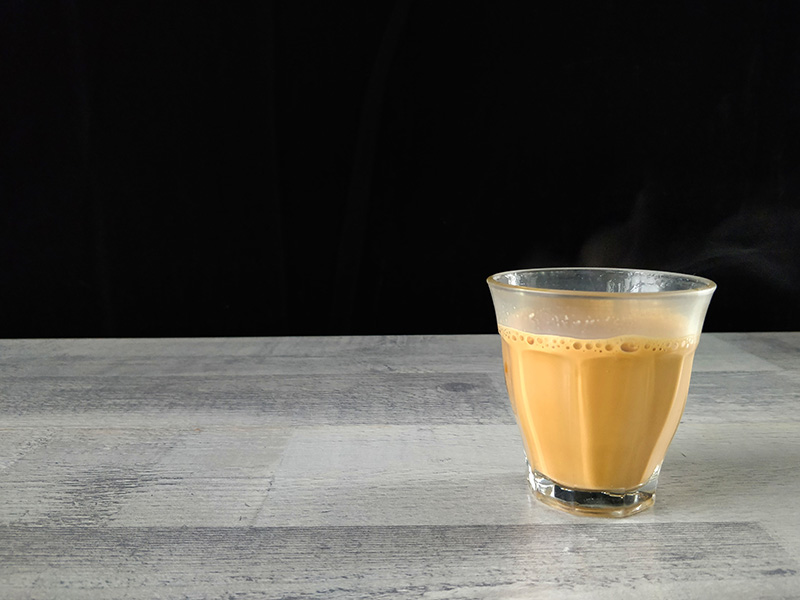 Similar to any Pakistani chai, this pastime drink is a combination of boiling water, milk, and sugar. You can trace back its origin to the Indian subcontinent, where it always remains in high demand.
Doodh Patti is available at dhaba (roadside stalls) or chai wallah, but typically most households would make it at home. Some may even call this the "king of chai" in Pakistan, and not without good reasons.
The flavor is strong yet comforting, ideal for enjoying it leisurely after a hectic day. The balance between sugar and milk is just right while still strong enough to kick-start your day (or afternoon). It pairs well with samosa, a well-known street food specialty in the region.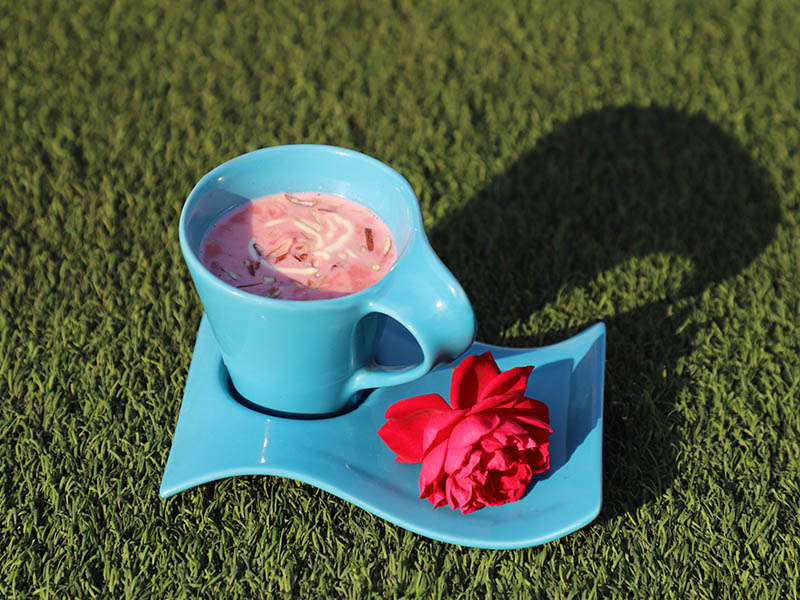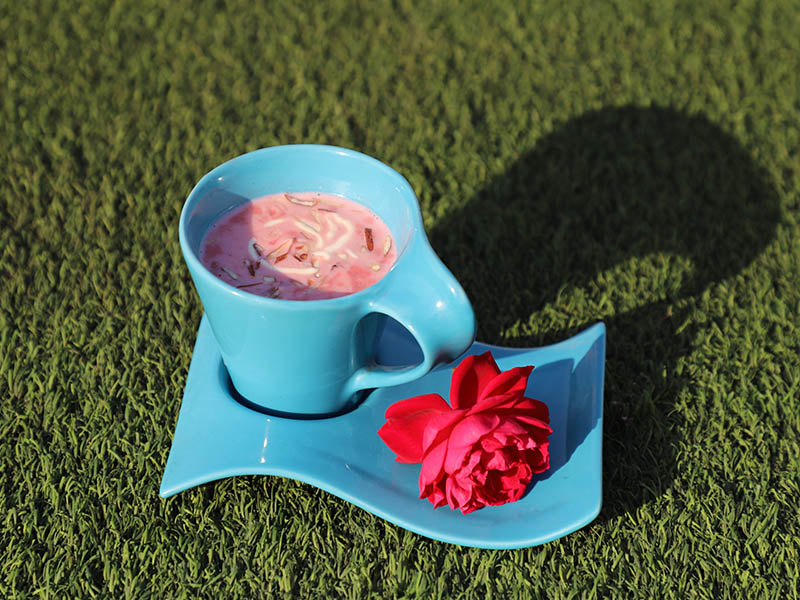 Kashmiri Chai, also known as pink tea or Noon tea, is a traditional Indian beverage originating from the Kashmir Valley. Originally, Kashmiri Chai was salty ("Noon" means "salt" in the Kashmiri language), but Pakistanis add in sugar, making this sweeter.
Its signature color is not a result of artificial or natural coloring. Rather, it comes from the reaction of chlorophyll available in tea. Getting the right shade of pink is a daunting task. The key here is to experiment until you find the right ratio of water, leaves, and soda.
Unlike other types of chai which are typically made with black tea, Kashmiri chai recipes require the use of baking soda (not baking powder). You can buy pre-prepared Kashmiri chai at the market. However, it likely has artificial coloring.
Here is a closer look at Kashmiri chai and its story.
Pakistani Beverages With Unique Ingredients That Will Amaze Your Senses
Those in this category are the drinks that include not-so-conventional main ingredients like soda, syrup, etc. Generally, these beverages often have milk or sugar, but they aren't present too much in quantity like the Pakistani refreshments or teas in the above sections.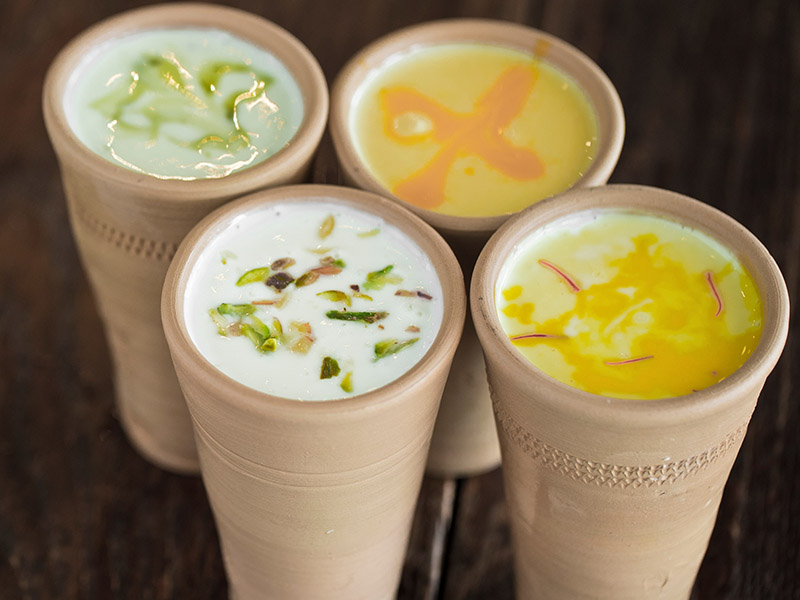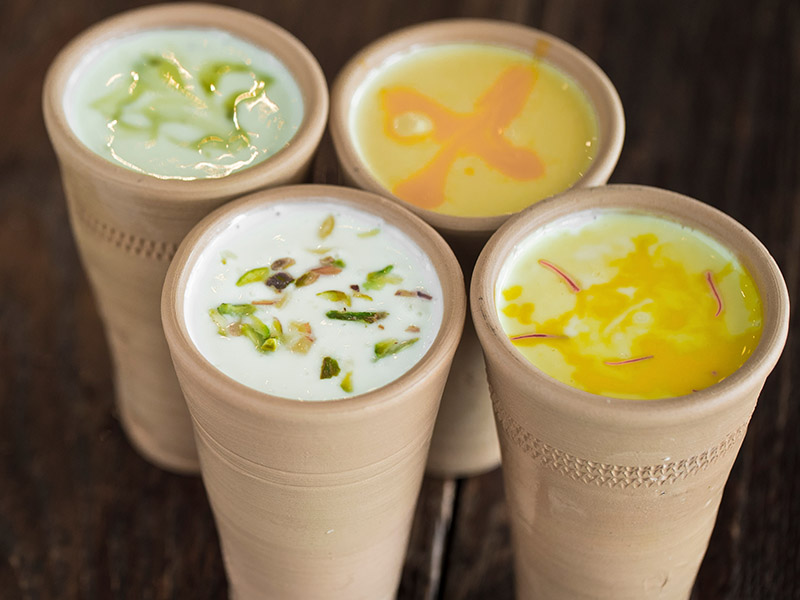 This is the most iconic drink of all. It's a crime not to mention Lassi when talking about either Indian or Pakistani beverages. To make this milkshake-like drink, you need to blend water, yogurt, sugar or salt, spices, and a flavoring of your choice.
There are two main types of Lassi: salty (meethi lassi) and sweet (namkeen lassi). The classic version is the latter one. There's nothing quite like enjoying a creamy and frothy Lassi at a street food vendor to combat the summer heat.
The most popular variant of all must be Pakistani-style Mango Lassi. Just like its name implies, this is a sweet combination of yogurt and everyone's favorite fruit in summer. Its cooling qualities are even better (and more delicious) when you throw in fruits and vegetables!
12. Pakola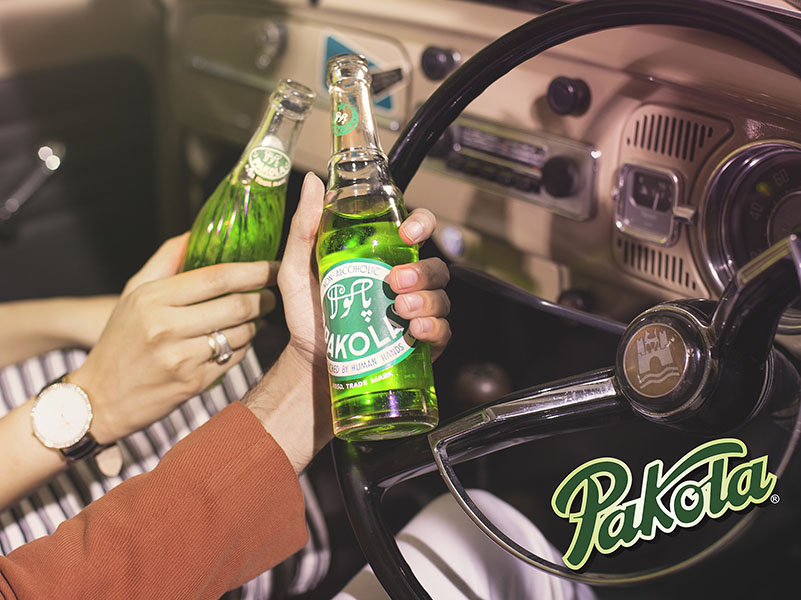 Pakola is a product of Mehran Bottlers (Pvt.) Limited, a Pakistani manufacturer and retailer of carbonated beverages. It is one of the very few carbonated Pakistani-made drinks that are exported globally. The fizzy taste is the main reason why it is ideal for sipping at an iftar party.
Its name is a short form for Pakistan-cola. Since Pakola's first introduction in 1950, there have been many variants from the company: Pakola Orange, Pakola Fresh Lime, Pakola Raspberry, etc. But none have overtaken the original drink.
From its green color to the logo with a star and crescent (similar to the Pakistani flag), this "ice cream soda" forges the nation's identity. Anywhere on the street, you would often find Pakistanis selling Pakola with milk, juices, or even Falooda (a kind of dessert).
If Lassi is the first thing people think of when asked about Pakistani drinks, then Pakola may come in second. Pakola is certainly one of Pakistan's de facto national soft drinks (there's another drink on this list that is also fit for this title, read more to find out).
Learn about the story of Pakola throughout the years here.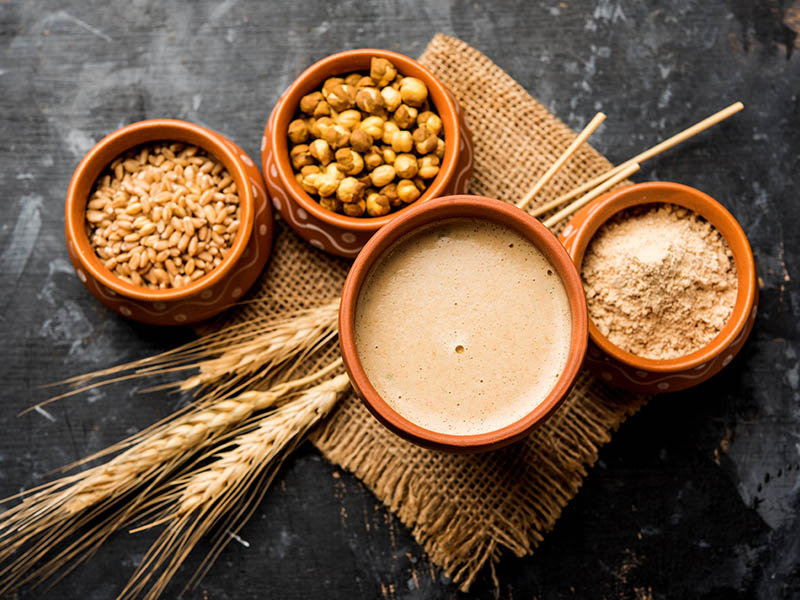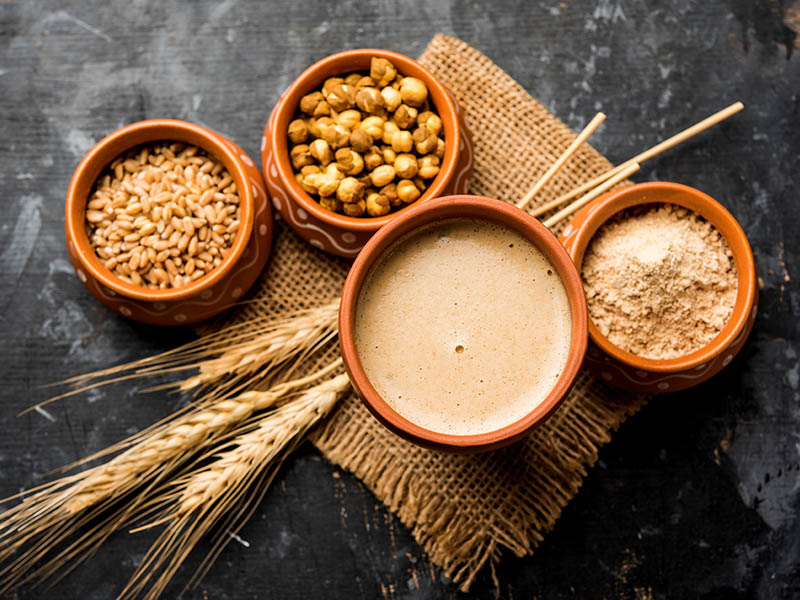 Sattu is a type of powdered flour that consists of various cereals and ground pulses. For an easier understanding, think of it as the Pakistani version of lemon barley water – a well-loved beverage in Australia. This drink is popular as the ingredients are cheap and readily available.
All you need are Sattu, spices, organic brown sugar (or jaggery), and a generous amount of lemon juice. Within less than 5 minutes, you can get yourself a summer favorite beverage!
Sipping this may avert your health problems thanks to the drink being nutrient-rich. There is protein and fiber from the flour, which can help with blood circulation, cardiac arrest, and kidney failure. Is there no reason to consume this lip-smacking drink every day?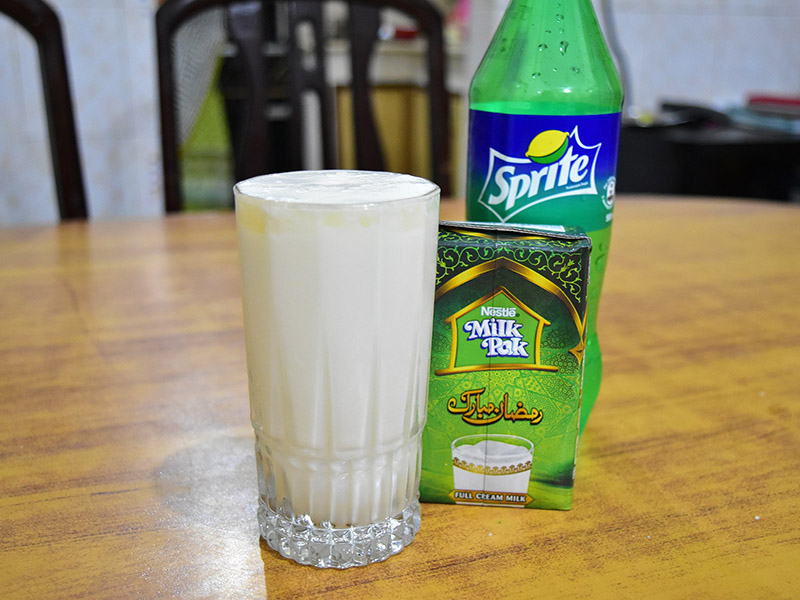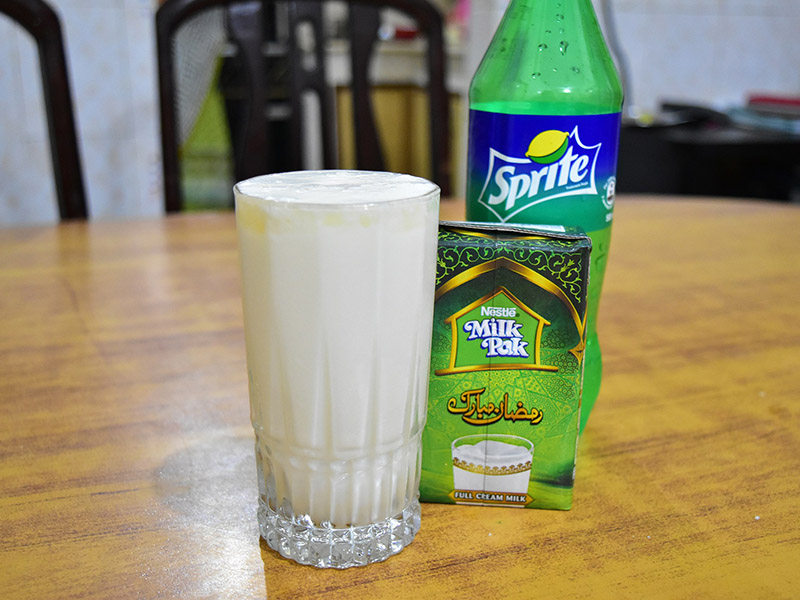 Here's another carbonated Pakistani refreshment on the list. Doodh Soda includes just two simple items: milk and soda water. Isn't it curious that these two ingredients often share the same space in most households' refrigerators, yet not many have thought of combining them?
The recipe of this original Pakistani beverage is no secret: lemon-lime beverage (like 7-Up or Sprite) combined with cold milk (often with crushed ice). The result is a fizzy and creamy beverage that is still lighter than Lassi or other milk-based drinks.
This summer drink is popular in Pakistan and North India. What's more interesting about Doodh Soda is that you can trace back its origin to Victorian England around the 1880s.
At first, the English thought that soda water could be medicinal. Thus, after a race, some cyclists drank it as a healthier option than beer. But the taste put them off, so they started mixing milk with soda water. This recipe later found its way to the Indian subcontinent, and the rest is history.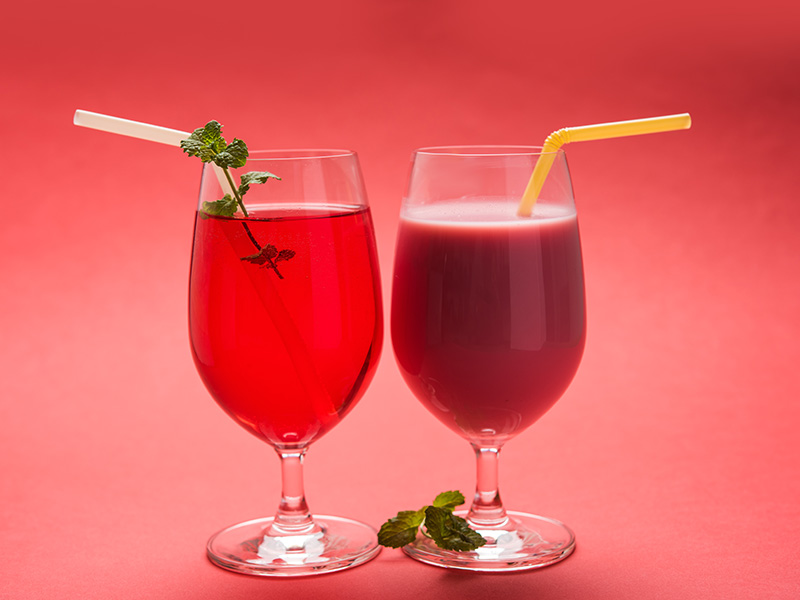 The most well-known red drink across India, Pakistan, and Bangladesh. Rooh Afza is a strong competitor for being Pakistan's de facto "national drink". Rooh Afza literally means "soul refresher", a very poetic name. Looking at its most interesting history, you'll see why.
The record shows that Hakim Hafiz Abdul Majeed, a young herbalist, formulated the drink in 1906 as an attempt to create a remedy that eases people in Delhi under the unbearable heat. He used a mixture of water, sugar, extracts of herbs, fruits, vegetables, and flowers.
After his death, the wife declared the recipe a trust with their two sons as the trustees. After the India-Pakistan Partition, the elder son stayed in Old Delhi to oversee Rooh Afza India while the younger one migrated to Pakistan and started the Rooh Afza company there.
Some people confuse Rooh Afza with rose syrup. They share the same rose-like color, but they're not the same, with various differences in flavor and ingredients. Rose syrup includes water, sugar, and rose petals.
Explore the interesting story behind the Pakistan-originated Rooh Afza and how it came all the way to India.
Pakistani Drinks Recipes That You Can Fix At Home With Minimal Effort
Do you want to make some drinks for yourself, whether it's Indian drinks or Pakistani-style? Then just read and follow these 3 simple guides, and you will yourself some refreshing drinks in no time!
Ka Ras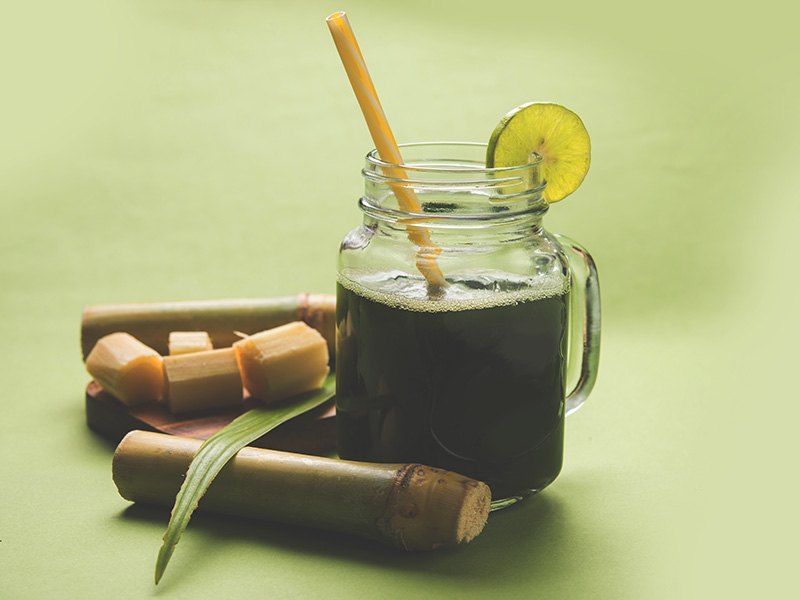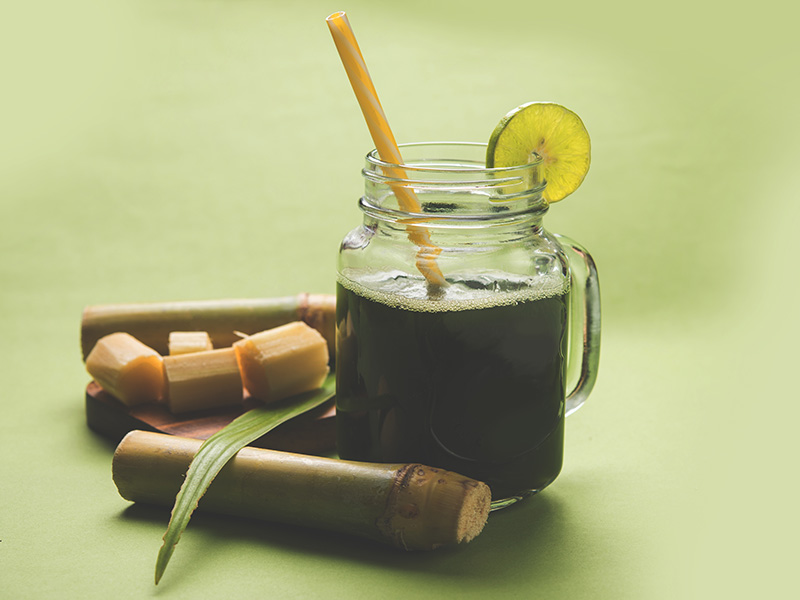 A glass of Ganne Ka Ras will freshen and revitalize your body and mind. Everybody, young and old, should consume this nutrition-rich beverage daily. Get your sugar substitute from the juice instead of peeling and munching on the cane!
Ingredients: Sugarcane, lemon juice, ice cubes, salt
Instructions:
Step 1: Chop the sugarcane into bite-sized pieces.
Step 2: Strain the juice from them. You should use juice.
Step 3: Pour the juice into individual glasses or containers.
Step 4: Squeeze in lemon juices and salt.
Step 5: Stir well and add ice cubes.
Step 6: Sieve or refrigerate the juice for 20-30 minutes (optional).
Step 7: Serve chilled.
Kashmiri Chai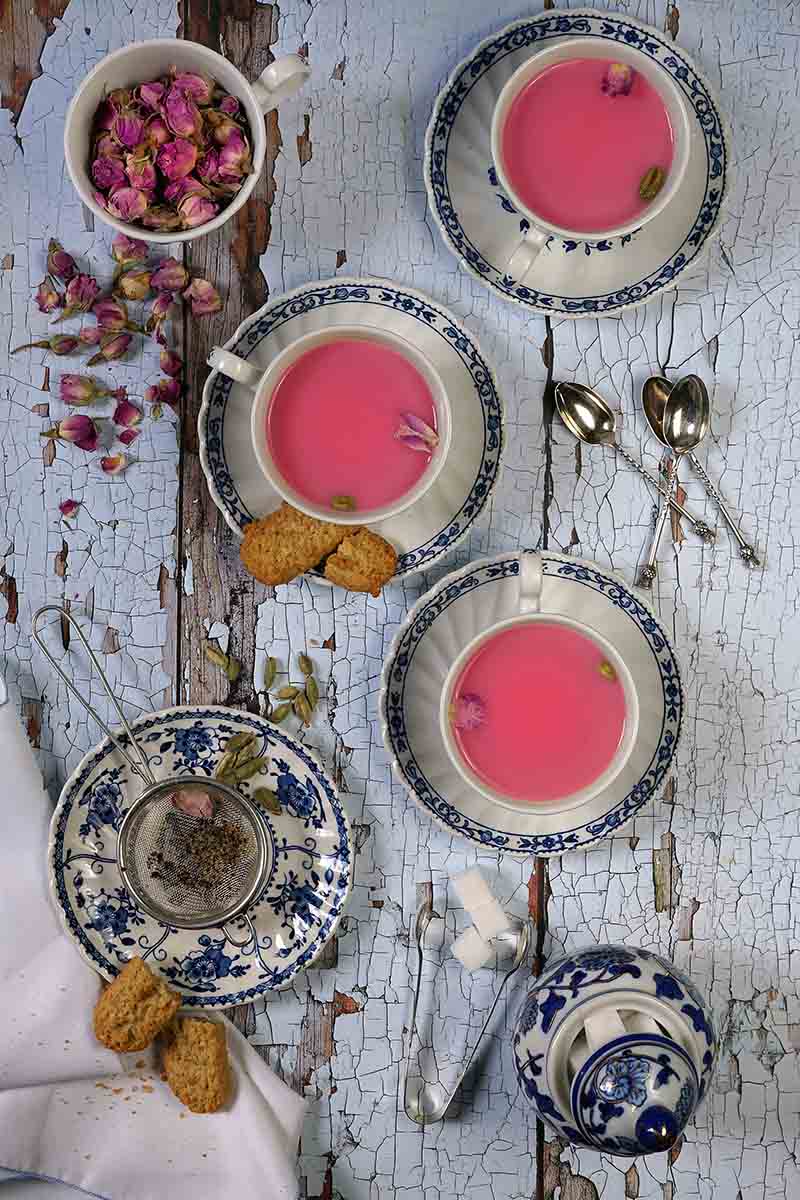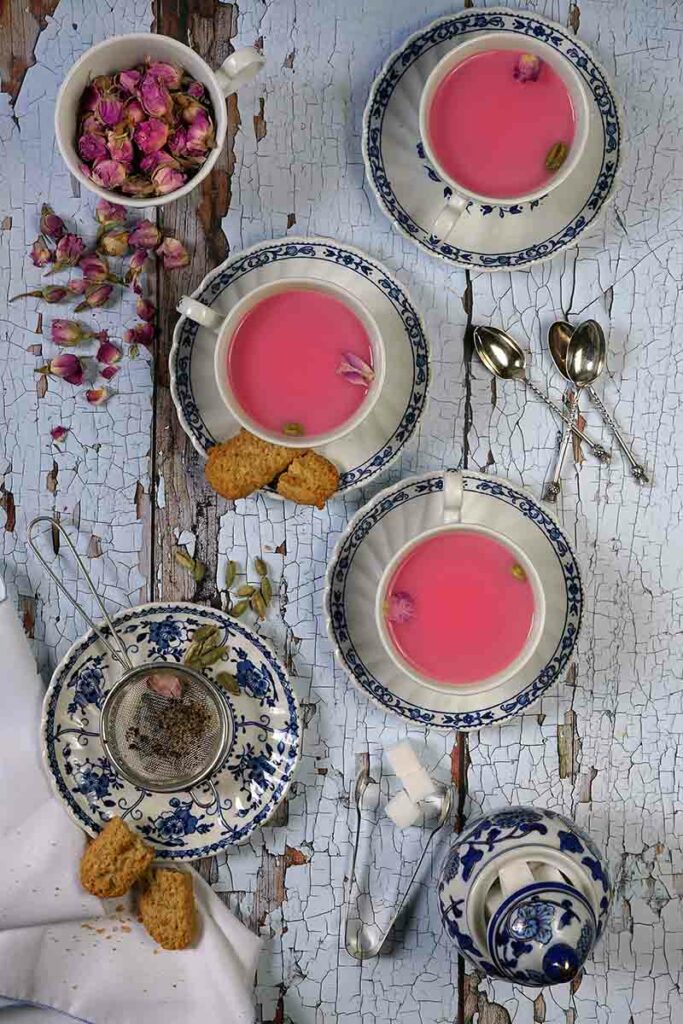 Kashmiri Chai definitely earns the top spot as a must-try Pakistani drink on a lazy day, especially during winters. A refreshing treat for a lazy afternoon. Its rosy color and rejuvenating taste have captured the hearts of many people, and maybe yours, too!
Ingredients: Tea leaves, salt, milk, sugar (optional), baking soda, cardamom
Note: Ideally, for tea leaves, you should use Kashmiri tea, but green tea is fine too. But you may have to wait for one more hour for the desired maroon color.
Instructions:
Step 1: Prepare ice water: Toss ice cubes into the water and set aside for now.
Step 2: Pour in cold tap water. Add the tea leaves and cardamom into a wide pan.
Step 3: Bring everything to a boil. Add salt and baking soda when the boils come.
Step 4: Simmer briskly on low to medium heat for about 25 minutes.
Step 5: When water is reduced to half or ⅓, add the prepared ice water from a height. Keep simmering for at least another minute.
Step 6: Strain the tea leaves. At this step, after cooling you can store this concentration in the fridge.
Step 7: Add the milk. If you like it sweet, add sugar.
Step 8: Boil for a few more minutes. Then remove from heat and serve it.
Rooh Afza
Another refreshing and cooling drink for the summer. Quick and easy is that people would describe this recipe. You can buy a bottle of Rooh Afza and start making it now! You'll soon see why so many people fall in love with it.
Ingredients: Rooh Afza, milk or sparkling water (optional), ice cubes
Instruction:
Step 1: Purchase Rooh Afza (from Amazon, for example. You may find it under another name: "Hamdard" – the original name from 1906).
Step 2: Open your bottle of Rooh Afza and pour it into a jug.
Step 3: Add the ice cubes. If you want, you can add milk or sparkling water for a new flavor.
Step 4: Mix well, very well!
Step 5: That's it! Pour everything into a glass and start serving.
Pakistani Drinks To Opt For Once Visiting This Beautiful Country
That concludes my picks of the best Pakistani drinks. Now you know at least 15 things to order the next time you visit this distant and fascinating nation. You even know a little bit about the dos and don'ts of alcoholic beverages law and how to behave during Ramadan.
If possible, you should spread the word about this article and what you've learned from reading it. It's a great way to further promote this South Asia country's great and beautiful culture.
Did I miss anything? Don't be shy to leave a comment below to tell me about it. Or share with others your favorite Pakistani beverages or your own tried-and-true recipes.