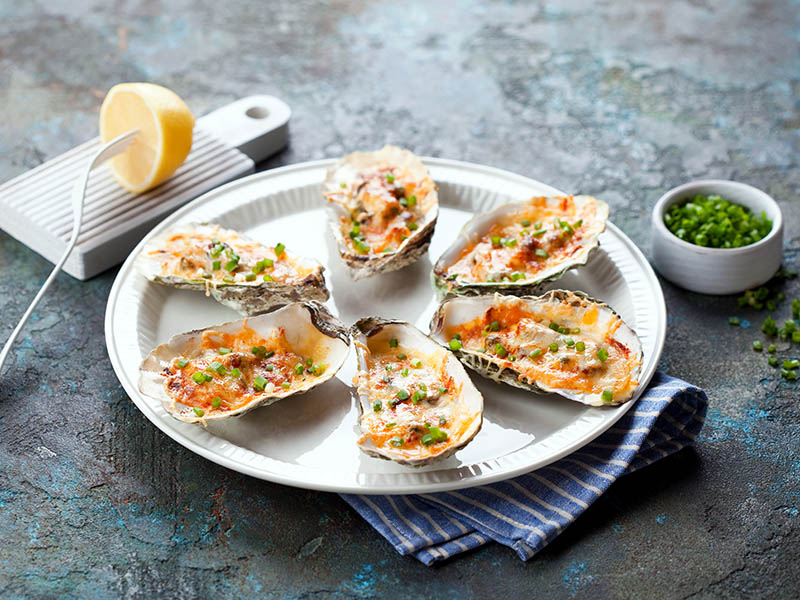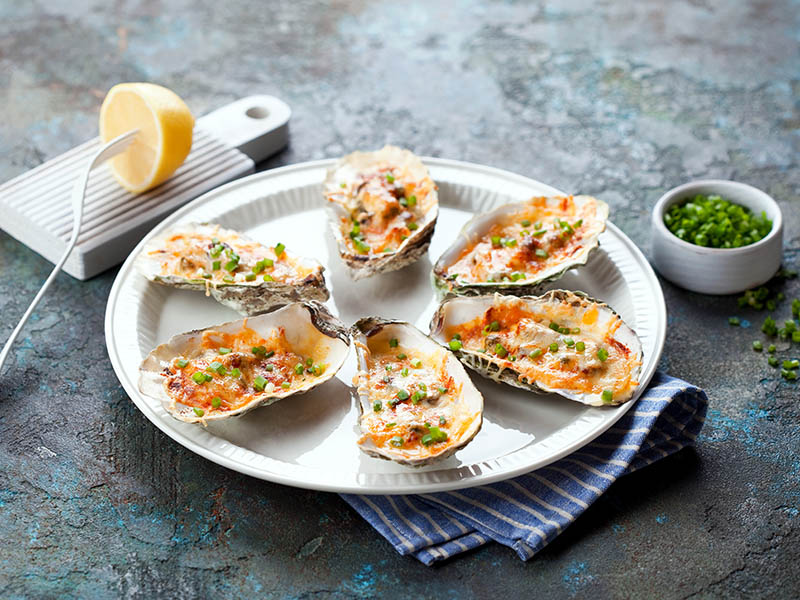 Whether you're looking for the best oyster appetizers to wow your guests or level up your oyster game, this list is exactly what you need! These prized bivalves are so amazing that it doesn't need fancy recipes to transform into a restaurant-style, decadent seafood starter dish.
Dress your oysters with Mignonette, wrap them up in crispy bacon, or dredge them in flour, and you'll get flavorful appetizers that please everyone on the guest list.
Check this list out to get inspiration for amazing ideas to kickstart your party with oysters as the spotlight. I'm pretty sure that you'll convert some oyster haters into oyster lovers along the way.
13 Best Oyster Appetizers For Your Next Party
There are many ways to enjoy all the goodness of these mollusks besides serving them raw. If you're searching for new oyster appetizer ideas, add these recipes to your repertoire to make the most of these ocean jewels!
Total time: 20 minutes
These much-loved mollusks are amazing when naked but even better when dressed right. The classic sauce – Mignonette – is unbeatable when it comes to oyster dressing.
In this recipe, the made-from-scratch Mignonette sauce introduces brightness and vibrancy to the buttery and briny oysters on the half-shells. The shallots also go a long way to lift the signature flavor of the freshly-shucked oysters.
You'll only need three ingredients for this classic Mignonette: shallots, vinegar, and coarsely crushed peppercorns, and it is straightforward to whip up.
These oysters on the half-shell with Mignonette are bound to impress the crowd.
Total time: 20 minutes
Fried oysters are among the signature dishes of the Southern culinary tradition. The oysters are first given a buttermilk bath and then dredged in the cornmeal mixture for the savory crispiness.
Specifically, the buttermilk bath in this recipe also has some hot sauce to add a spicy touch to the fried oysters. The crispy and slightly spicy coating and moist oyster flesh on the inside offers such a savory contrast that only keeps you coming for more.
These little fried nuggets are bound to pique your taste buds right from the first bite. Serve them hot with cocktail sauce, tartar sauce, or remoulade.
Total time: 30 minutes
This is one of the most classic and brilliant ways to show off fresh oysters at a party. Soft, tender, and delicate, these oysters will surely offer your guests a fine dining experience.
The oysters on their half-shells are topped with a rich sauce, shredded Parmesan cheese, prosciutto ham, and baby spinach. The prosciutto ham creates a nice contrast of texture with the mollusks.
Garnish them with some wedges of lemon for a restaurant-style presentation.
If you're an enthusiast oyster-slurper, this oysters Rockefeller should be high on your appetizer list.
Total time: 10 minutes
These flavorsome bites are perfect as a cucumber entree or a snack for a lazy afternoon. Top cucumber slices with smoked oysters, lemon zest, lemon juice, and pickled ginger carrots. Finish with a sprig of fresh dill as a garnish for a nice presentation.
The crunchy cucumbers provide a textural contrast to the fresh mollusk's soft, springy, and slightly chewy texture, while the lemon juice and zest help brighten up the flavors.
The addition of raw, pickled ginger carrots is quite interesting for the entree. Not only do they provide extra texture, but they also help balance out the richness of the mollusk, thanks to the warm bite of ginger.
Total time: 23 minutes
These deep-cupped beauties are also fantastic on top of a hot grill. In this appetizer, butter, as usual, is a great complementary ingredient for briny oysters. Yet, the white wine takes things over the top, lending the shellfish an extra depth of flavor.
These grilled oysters start with ladling the white wine compound butter on the freshly shucked oysters, placing them on the grill, and counting for 4-6 minutes.
These few minutes allow the butter mixture to melt nicely and combine with the juices released from the oysters for a finger-licking good briny sauce.
The best oysters for this recipe should have round and deep cups, so all the goodness of oyster juices and melting butter won't escape easily. Also, shoot for larger bivalves as they can hold up on the flame better.
Total time: 1 hour
Bacon makes everything better, and oysters are no exception! This unexpected combination of surf and turf will surely draw the crowd right at the beginning of the party.
All you need to do is wrap the slices of bacon around the mollusks before throwing them on the fire. Bake these delicious bacon appetizers until the bacon is crispy and the oysters melt in your mouth.
Bacon is a great wrapping for oysters, yet ensure they are thinly sliced so they won't crack or tear apart while wrapping and baking.
You may want to try these crowd-pleasing bacon-wrapped oysters in your next holiday get-together!
Total time: 20 minutes
Not everyone is partial to raw oysters, and these deep-fried oysters will be a gateway offering for those who are new to oysters or don't like to eat these mollusks raw.
Coat your freshly-shucked oysters with flour and fry them to crispy perfection. To amp up the umami level of this hors d'oeuvre, spend some more minutes whipping up a knock-out Remoulade sauce.
This sauce is creamy, citrusy, and tangy with a nice kick of heat from Tabasco. Right from the first bite, you'll notice how amazing the crispy cornstarch crust and the soft oysters are when dipped in this sauce.
Put these crispy oyster nuggets on the party table, and I'm pretty sure everyone will keep returning for their seconds and thirds.
Total time: 30 minutes
This refreshing take on the classic oysters with Mignonette will enliven your oyster happy hours. The briny oysters are flat-out delicious when paired with this dressing. The lime juice, as always, brightens up the mollusks' flavor.
The serrano chili gives a nice kick to the dish, whereas the honey provides extra sweetness. If you don't have serrano chili in stock, jalapeno would be a nice substitute.
These elements create a sweet-and-spicy harmony that not only goes well with oysters but also with fish or chicken tacos. For an elegant presentation (and extra flavors), garnish the oysters with fresh cilantro and chives on top.
Total time: 20 minutes
Oyster Kilpatrick is one of the most well-loved dishes in Australian cuisine. In this recipe, the oysters are topped with crispy bacon and a rich, creamy Worcestershire sauce and then baked to perfection.
Adding tomato sauce to the Worcestershire sauce offers an extra depth to the flavor. Plus, some liquid smoke will give the oysters a nice kiss of smokiness.
Serve your Australian oyster Kilpatrick with a tiny fork so you and your guests can take the flesh out more easily.
The Aussie classic oyster Kilpatrick is a sensational appetizer you shouldn't miss!
Total time: 34 minutes
These creamy and flavorful baked oysters are a welcome addition if you're not really a raw oyster person.
Each bite of these baked mollusks will take your taste buds on an exciting ride. This recipe mixes butter with hot sauce, chives, cayenne, paprika, and lemon zest for the ultimate burst of flavor.
Spread this butter mixture on the oysters and then bake them until the panko breadcrumbs on top are perfectly golden.
While whipping up these baked oysters takes some effort, the steps are actually easy to follow. Another huge plus is that everything except the baking can be done beforehand, saving you from the last-minute hustling before the party.
After topping the mollusks with butter mixture and breadcrumbs, you can keep them in the freezer for up to 6 weeks.
Total time: 5 minutes
This thick and creamy cream cheese dip can't be simpler. Blend the cream cheese, half of the smoked oysters you plan to use, lemon zest and juice, and other spices well until you get a smooth and creamy paste.
Then proceed to add some more oysters into the blender, but only coarsely mince them this time to add texture to the dip. Finish with some garnishes on top, and voila, you have an amazing dip to draw the crowd.
Since it is super quick to put together and only calls for 4 simple ingredients, this spread is a perfect appetizer for a crowded party or accommodating unexpected guests.
All you need to do is stock up on plenty of crackers or toasts because the spread is so addictingly delicious when served on them.
Total time: 10 minutes + 60 minutes of chilling time
Oysters are such a lavish ingredient that, when served in transparent shot glasses, they offer an adept and fancy way to kick start any holiday party.
This oyster shooter is a mixture of 8 ingredients sandwiched between oysters and chilled tequila. The best way to enjoy it? Drink them the same way as you would while drinking shots!
Before assembling these shooters, keep the shot glasses in the freezers for at least 30 minutes. This allows them to chill thoroughly. The same goes with the mixture; chill it for around 30 minutes or more for the best-quality shooters in town!
If you're interested in this fancy appetizer, don't miss this version of oyster shooters!
Total time: 25 minutes
In this Vietnamese-inspired recipe, briny and flavorful oysters are topped off with scallions and fried shallots and then grilled until bubbling. These key ingredients help enhance the saltiness of the mollusks.
The fried shallots add plenty of aroma and texture to the shellfish. However, if they're unavailable in your area, you can make them from scratch by frying thinly sliced shallots until crispy and golden.
These grilled mollusks are best served hot, either by slurping them up or with small forks. Yet, be careful to avoid burning your fingers and mouth as the scallion oil will be piping hot right after removing from the grill.
You Have Plenty Of Options Besides Eating Oysters Raw
For most oyster-lovers, slurping on the shellfish with a glass of wine in hand sounds like a great idea. However, not everyone sees the appeal of eating raw oysters, especially those who are trying them for the first time in their life.
You can turn oysters into a friendlier appetizer by putting on some dressing, grilling, deep-frying, or baking them. Whichever you choose on this list, I'm sure you will whip up crowd-pleasing appetizers with minimal effort.
I'm looking forward to hearing about your experiences with cooking these oyster appetizers. Drop your comment to tell me how your diner reacts to your appetizers, and share this article with your bivalve-loving forks in your life.