Top 20 Incredibly Easy Ninja Blender Recipes 2023
There are so many easy ninja blender recipes for you to choose from to unleash your creativity when making a smoothie or dessert. Indeed, with only 2 basic ingredients: vegetable or fruit, and liquid, or anything you want, they can create a perfect treat to enjoy.
By following these 20 delicious smoothie recipes that can easily be made with a ninja blender, you can surely surprise your family and guests.
Ninja blender is a small yet powerful kitchen blending appliance. Besides smoothie-blending, it is capable of other tasks like chopping hard ingredients and making sauce or salad dressing. Overall, a Ninja blender is sturdy, long-lasting, and has outstanding built quality.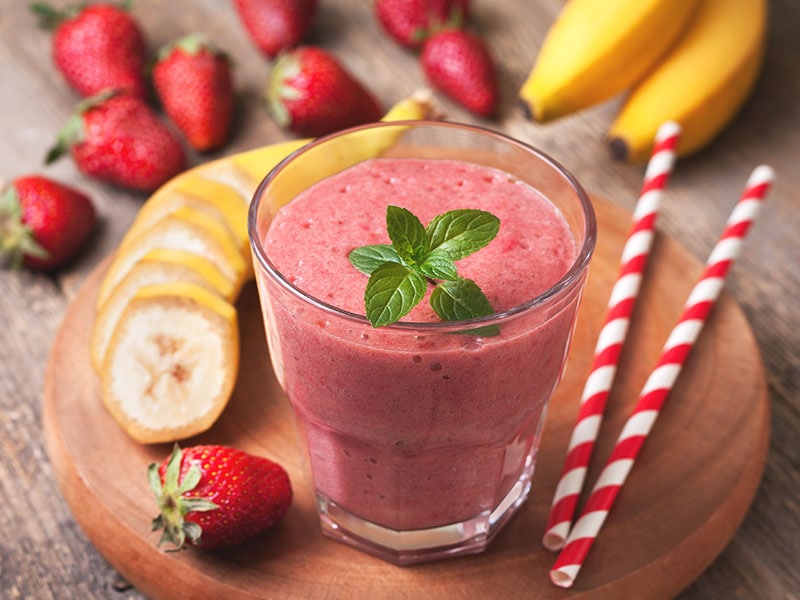 Let's Explore Delicious And Nutritious Sweet Treats Made With A Ninja Blender
From the following list, there are so many good recipes for smoothies and desserts that you can choose to enhance vitamins and nutrients in your family's daily diet.
Total time: 5 minutes
Berries are a great source of calcium, vitamin C, and other nutrients. There are many ways to enjoy berries, but I would love to introduce to you this berry smoothies drink that provides so much energy and is delicious at the same time.
Three types of berries are used for this recipe: blueberries, strawberries, and raspberries. Based on the seasonality of the berries, you can diversify your smoothie recipe but don't forget to add some banana, milk, coconut yogurt, and sugar or honey.
The ninja blender is also suggested for this recipe. Its powerful integral intuition always results in a perfect smoothie texture. Try making this recipe using a ninja blender, and you no longer feel the grainy texture of unblended fruits.
Discover how to make the mixed berries smoothie with this guide.
Total time: 11 minutes
If you are tired of your child not eating green vegetables to absorb fiber, give this easy green smoothie recipe a try. Packed with vitamin A and C, this drink supports your diet, making it an ideal drink for your health.
The secret to this appealing smoothie is that you will not notice the presence of spinach, thanks to the sweetness and sourness of pineapple, grapes, and bananas. This smoothie is also dairy-free so it is a perfect way to balance your diet.
If you own a Ninja blender at home, this smoothie recipe is just the right match as you may prepare it immediately in a cup and carry it with you.
Total time: 5 minutes
Blueberry superfood smoothie, just like its name, is extremely appealing and healthy. It has a very eye-catching presentation with the natural dark purple color of the blueberries.
Frozen blueberries are suggested to prepare for this smoothie as they provide a frosty touch to the mixture. Another ingredient that makes this smoothie special is a little strike of cocoa powder for a surprising note of chocolate flavor.
For a powerful blender like the Ninja, the blending process takes less than 2 minutes and results in a smooth texture.
Total time: 5 minutes
Let me introduce you to a no-fuss and nutritious Daniel Fast recipe. This cinnamon apple smoothie will keep you energized for a few hours and provide all the nourishment that your body needs.
The best thing about this smoothie is that it does not require any dairy products. All the ingredients used in this smoothie are plant-based. No-sugar oat milk is a perfect replacement for normal milk, even though it may affect the smoothie's texture.
This smoothie is just so refreshing, thanks to the apples and spinach. And you cannot forget a little touch of cinnamon powder to balance everything. You can also freely customize the smoothie with any of your favorite ingredients.
Total time: 5 minutes
If you're tired of smoothies with bananas as a base, why not try this delicious and easy recipe with mangoes? The combination of sweet and sour of both mango and pineapple are refreshing.
All it takes is 4 simple ingredients, namely frozen pineapple, mango, yogurt, and almond milk. Please note that this smoothie is already sweet due to the mango and pineapple, so I recommend that you should not add any more sugar or honey to it.
For processing, if you need a powerful, affordable, and suitable machine for all types of smoothies, go for the Ninja blender. Even though it is durable, you should add your liquid first before adding any firm ingredients to preserve the blades.
Total time: 5 minutes
This almond joy protein shake recipe is inspired by the favorite almond joy candy and is packed with creaminess and chocolate flavor with a little hint of banana. This protein shake provides calories that are equal to a normal meal.
The secret of this protein shake is plant-based protein powder and coconut milk. These two create a creamy texture for your smoothie. It tastes similar to an almond joy bar but is more healthful.
You can whip it up with your Ninja blender in no time. It only takes 1 to 2 minutes to finish blending. Speed 7 is highly recommended for this protein shake. After finishing blending, you can top it with some coconut flakes for the extra crunchiness and nutrients.
Total time: 5 minutes
What is that gorgeous purple drink? Many people would ask you this question if they caught you drinking this antioxidant-boosting smoothie. This eye-catching smoothie is full of antioxidants that prevent heart diseases and some types of cancer.
Blueberries, bananas, oranges, and chia seeds are enormous sources of antioxidants. For this recipe, you can use any milk you prefer as long as it is non-dairy. Add vanilla extract to your mixture to reduce its sourness from blueberries and oranges.
The Nutri Ninja blender is recommended for use with this recipe. It just works so well with smoothies. Honestly, I cannot think of any better way for your body to absorb antioxidants better than by enjoying a cup of smoothie.
Total time: 5 minutes
Isn't it strange to have sweet potatoes in your sweet treats? Yes, it is, but you will be surprised by how sweet potato puts this delicious smoothie recipe to the next level.
Sweet potato provides a large amount of vitamin C and adds extra sweetness to the drink. In general, it is unimaginable yet incredibly tasty.
For this recipe, you must cook the sweet potato beforehand and smash it because even the powerful Ninja blender cannot handle a whole raw sweet potato. Remember to toss in some chia seed for additional omega-3 acid for your diet.
Total time: 3 minutes
Another purple smoothie that I want to introduce is the pear blueberry smoothie. There is no limit when it comes to smoothies. The blending of pear and blueberry is just another tasty and creative recipe.
Like other smoothie bases like apple or pineapple, pear contains so much juice when it ripes, which is perfect for making smoothies. Blueberry, as a source of antioxidants, adds a refreshing taste and color to the smoothie.
For a vegan version, plant-based milk like oat milk, almond milk, and coconut are preferred. If you are using a Ninja blender, do not forget to chop your pear into small pieces so it can blend easily without damaging the blades.
Total time: 6 minutes
A strawberry banana smoothie is a perfect sweet for breakfast or afternoon snacks. This dairy-free smoothie is loaded with sweetness and nutrients. You can taste real peanut flavor without all the fat and calories with a small touch of peanut butter powder.
For this recipe, you will need strawberry, banana, oat milk, or almond milk; some peanut butter powder is optional. After that, toss everything in and let the Ninja blender finish the work.
If you are the type of person who likes super thick smoothies, you can add some cottage cheese or Greek yogurt to make the mixture more creamy. For extra fat intake, you can just switch almond milk or oat milk with normal cow milk.
Here is a very simple and tasty strawberry banana smoothie that doesn't take much of your time.
Total time: 5 minutes
This creamy cranberry pie smoothie is a fantastic way to add more protein and fiber to your diet. It is rich and features the tangy flavor of cranberry. Moreover, you can also notice a touch of banana in the mixture.
What makes this smoothie special is that you can use cranberry sauce as an alternative to fresh ones, and the flavor remains unchanged. A scoop of vanilla protein and flax seed is more than enough for nutrition.
A pie smoothie recipe will be incomplete if there is no pie flavor in the smoothie. Don't worry because a little pudding mix will solve all problems to create a mouth-watering creamy cranberry pie smoothie.
Total time: 5 minutes
The name of this smoothie says it all. It works perfectly if you are looking for a smoothie recipe that relieves all the stresses from your daily life. This smoothie tastes similar to orange Julius but with a hint of carrot flavor.
This recipe will need fresh orange and orange juice for the full orange flavor. Besides, some frozen bananas create that creaminess in the mixture. Add some carrots to this recipe for extra flavor, vitamins, and minerals, but it is optional.
This smoothie is a perfect match for the Ninja blender, thanks to the automatic features that come in handy when processing different textures of ingredients.
The orange smoothie is just so good and effortless with this tutorial.
Total time: 5 minutes
You can tell that this smoothie is tart and tangy by its name and appearance. This refreshing recipe using kiwi will lighten your day just with one sip. Apart from kiwi, spinach, and pineapple, this smoothie recipe has no milk or powder.
Besides the combo mentioned above, frozen banana is also included in this recipe. This drink is extremely healthy and provides so many nutrients because all the ingredients are fresh. Plus, no processed ingredients are added to the smoothie.
There is no need to put everything in turn because with a ninja blender, you can toss all the ingredients and it will finish the work without difficulty. You won't find any chunk when this machine is done blending.
Total time: 5 minutes
The next specialty that I would like to introduce to you is another pie-like smoothie. This apple pie protein smoothie recipe tastes undoubtedly like an apple pie slice. It has a super thick and creamy texture and provides so much protein to your body.
There is no need for the banana to create such thickness in this smoothie because oats are more than enough. The two ingredients – almond butter and Greek yogurt, also play a huge role in creating the smoothness of this smoothie.
The ultra-powerful ninja blender can simplify your blending process. It is fast, cheap, and versatile. Even though it is quite loud, the advantages of a Ninja blender outweigh its drawbacks.
Total time: 17 minutes
When I first saw the name mango, pineapple, and vodka slush, all I had in my mind was a picture of me lying on the beach on a sunny day and enjoying this ultimate sweet and cool treat. Honestly, this mango pineapple vodka slush is just out of this world.
To prepare for this smoothie, you will need mango, pineapple, syrup, and vodka. And you will be surprised how fast and effective the ninja blender carries out the work. Everything is just so easy and quick with this machine.
You can always use hot water to quicken the syrup-making process because sugar melts faster at high temperatures. Take advantage of the syrup boiling time to prepare all the fruits needed. This mango pineapple vodka slush is refreshing with a little alcohol kick to it.
Total time: 2 minutes
If you are craving some chocolate on a hot day, congratulations! You have come to the right place. This chocolate frosty is everything you asked for. It is easy to prepare yet delicious and creamy. What's more, it's even faster to make if you use a Ninja Foodi Cold & Hot Blender.
Just like its name, all it takes to complete this frosty is some heavy cream, ice, and chocolate syrup. Ninja blender only needs 2 minutes to finish this dish. Yes, you heard me right, only two minutes for an icy, creamy, delicious dessert.
There is also a dairy-free option for this frost. Some coconut milk would be a perfect replacement for heavy whipping cream. Believe me when I say coconut goes hand in hand with chocolate.
Total time: 2 hours 3 minutes (freezing time: 2 hours)
For the next entry, I want to introduce an ultimately tasty ice cream dessert loaded with sweetness and creaminess. This dessert is also quite simple. All it takes is a few basic ingredients and a powerful blender, for example, the ninja countertop blender.
In this particular recipe, you will need to prepare milk, honey, and peaches. Then, blend them until they become incorporated with your top-tier ninja blender. After a few hours in the freezer, the perfect homemade ice cream is ready to serve.
Similar to other blender desserts, you can always customize your ice cream. Coconut and oat milk are great alternatives if you want to reduce fat intake.
You can also choose all types of peach for this dish, but please note that fresh peach slices need to be refrigerated before use.
The blender peach ice cream is just so tasty and mouth-watering with this tutorial.
Total time: 10 minutes
If you want to experience the orange creamsicle taste in your smoothie, a cup of orange creamsicle smoothie would be great since it is packed with vitamin C, full of calories, and super low in fat. This smoothie is super quick and simple to make.
Besides the sweetness that comes from orange juice, the extra sourness and sugar of vanilla, mango, or pineapple chunks add another layer of savory to this smoothie. A powerful ninja blender is more than enough to mix all the flavors.
This smoothie is perfect for breakfast or an afternoon snack as it provides all the nutrients your body needs. More than just a delicious dessert, this smoothie is the healthy alternative to the all-time favorite orange creamsicle.
Total time: 5 minutes
Here comes another tropical smoothie that you add to your smoothie recipe list. This coconut pineapple smoothie is straightforward, especially if you own a ninja blender. This delicacy gives you a feeling of the famous piña colada.
The best thing about this smoothie is that it only requires 4 basic ingredients with no dairy product involved. You'll need bananas, pineapple, coconut milk, and honey or syrup for the extra sweetness. These fruits provide so many vitamins and minerals to your diet.
You can make this smoothie by tossing coconut milk first, then bananas and pineapple. Again, this task can be easily executed with a ninja blender which is highly recommended for every smoothie recipe.
Total time: 5 minutes
Craving for chocolate sweetness but still want to be healthy at the same time? That is not impossible at all with this chocolate banana smoothie idea. This beverage is loaded with fresh fruits and vegetables while having that chocolate flair to it.
The ingredients for this recipe are banana, avocado, spinach, ground flaxseed, chocolate protein powder, almond milk, and cocoa powder. Just by listing the ingredients, you can see that this recipe is nutrient-rich.
The chocolate flavor mostly comes from cocoa powder and protein powder. There is no sweetener in this drink, as the sweetness comes from the fruits' natural sugar.
This chocolate banana smoothie recipe will teach you how to make the perfect smoothie for your family.
Life Would Be Easier With A Ninja Blender To Make Various Treats!
The number of smoothies or desserts that you can make at home with leftover fruits or other ingredients is countless.
However, there are just so many, and deciding what to make is a difficult task. So I hope you will have your picks on making the best smoothie for your family with this list.
And when it comes to making smoothies and desserts, how can you not mention a ninja blender? Extremely versatile, powerful, and efficient, I believe this is the essential household appliance that should exist in every kitchen.
As always, if you like the recipes above, remember to smash the like button. Please share this post with your friends and family on social media so the next time they want a smoothie or other delights, they will know where to look for the recipes.
Nutrition Facts
1 servings per container
---
Amount Per ServingCalories389
% Daily Value *
Total Fat 5g

8

%
Sodium 270mg

12

%
Potassium 345mg

10

%
Total Carbohydrate 78.6g

26

%

Dietary Fiber 7.2g

29

%
Sugars 72.4g

Protein 9.5g

18

%
---
* The % Daily Value tells you how much a nutrient in a serving of food contributes to a daily diet. 2,000 calories a day is used for general nutrition advice.